With two dozen books set in this beloved world, there are a few ways to read the Outlander books in order.
A series that arguably defies genres, Outlander by Diana Gabaldon has captured the hearts and minds of readers around the world. Whichever order you choose to start this historical fiction series in, it is guaranteed to pack a punch with romance, intrigue, and time-traveling adventures.
Whether you've been a fan since the first book was published in 1991 or discovered the story of Claire and Jamie through the hit TV adaptation, this list will be a useful guide to the book series.
With the imminent release of the seventh season of the TV show, now is the perfect time to learn more about the Outlander world and fully experience this epic tale for yourself. Here are two possible ways you can read all the Outlander books in order.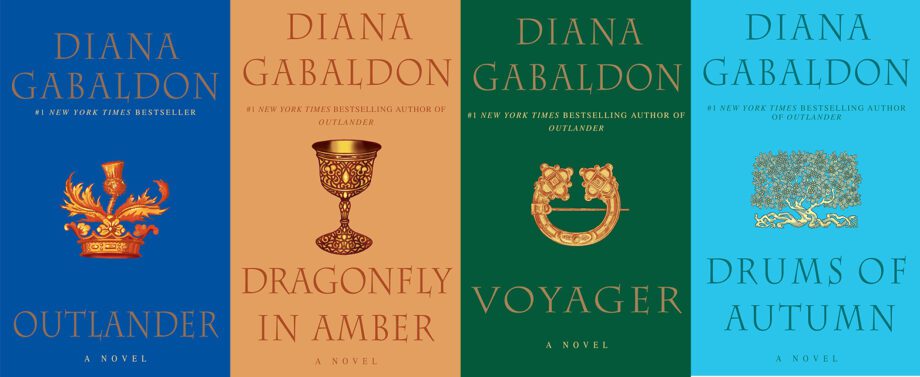 What is the Outlander Series?
The series begins with the titular novel, Outlander, which was first published as Cross Stitch in the UK.
The book opens in 1945. Following the end of the Second World War and the end of her duties as a combat nurse, Claire Randall embarks on a second honeymoon with her husband. While out exploring, Claire is drawn to a standing stone in an ancient circle and is inexplicably whisked through time. She then finds herself an "outlander" in eighteenth-century Scotland.
It is here that she meets the gallant young warrior James Fraser. From a relationship born of necessity blossoms a fierce love that tests the limits of Claire's heart.
As Claire must navigate life in 1743, she also struggles to reconcile the love of her future with the love of her past and present. She must chose between fidelity to her twentieth-century husband or her desire for this eighteenth-century Scottish warrior.
The fiery story of Claire and Jamie has captivated audiences through the books and on screen. The books have been published in 26 countries, translated into 23 languages, and adapted into a hit TV show.
The Starz adaption boosted Outlander to the number one spot on the New York Times Bestseller list following its premiere. The show has also won a slew of awards, notably from Critics' Choice and People's Choice.
Diana Gabaldon resides in Scottsdale, Arizona. When she began writing the epic, fantastical love story of Claire and Jamie she had never visited the idyllic moors of Scotland, but she has since visited the picturesque country and backdrop to many of her books multiple times.
Before she was an award-winning author, Gabaldon taught as a university professor for a dozen years. She holds three degrees in science, a Ph.D., and an honorary doctorate.
The Outlander Books in Order of Publication
If you'd like to discover more books by the same author, check out our ultimate guide to all the Diana Gabaldon books in order.
But first, let's start with a list of the Outlander books in order of publication, and the most straight-forward way to begin this series. It is recommended to read the books in this order.
Note that the titles marked with an asterisk and bolded below are what Gabaldon fondly refers to as her "Big, Enormous Books." More on that further down, but these titles are the books that follow the main journey of Claire and Jamie.
Outlander (1991) *
Dragonfly in Amber (1992) *
Voyager (1993) *
Drums of Autumn (1996) *
The Fiery Cross (2001) *
Lord John and the Succubus (2003)
A Breath of Snow and Ashes (2005) *
An Echo in the Bone (2009) *
The Custom of the Army (2010)
The Scottish Prisoner (2011)
A Plague of Zombies (2011)
The Space Between (2012)
Virgins (2013)
Written in My Own Heart's Blood (2014) *
A Fugitive Green (2017)
Besieged (2018)
Go Tell the Bees That I Am Gone (2021) *
Untitled Outlander Book 10 (TBA) *
The Perks of Reading the Books in Order of Publication
Reading the books in order of publication allows you to experience the world in pace with Gabaldon's creative process. If you read the books in the order of publication you're able to watch the story build and amplify as it did when Gabaldon was writing it.
If you choose to read the books in this order, you might also be able to discover an Easter egg or two for future books without exposing yourself to any spoilers.
The Outlander Books in Chronological Order
But in a series about time travel, there is bound to be an interest in reading the Outlander books in order chronologically. This list is for those of you who want to keep track of every beat of the story as it unfolds across the centuries and across continents.
Is Reading the Books Chronologically Right For You?
As mentioned, this is a book series about time travel, with frequent jumps between time and place, so reading the books chronologically might unintentionally reveal spoilers for future plot points and is not recommended for new readers.
I would recommend this reading order only if you are an epic fan seeking something new in a reread. This order will allow you to place your favorite characters in time and track their movements as the series builds.
Is the Outlander Series Complete?
According to Diana Gabaldon's website, the Outlander book series is not yet complete. A tenth book in the series is planned, but it currently does not have a name.
Considering the ninth book was published in November 2021, I don't think there is too much cause for concern just yet. Yes, most authors publish books on a yearly basis, but it's not unusual for the publication process to take a little longer. Especially when a series is this far along.
As soon as I know more, I'll be sure to update my list of all the Outlander books in order with the newest information.
The Big Books, The Shorter Books, and The Bulges
On her website Gabaldon separates her Outlander works into three main categories.
"The Big, Enormous Books"
"The Shorter, Less Indescribable Novels"
"The Bulges"
The big books are the ones in the main series that tell the tale of Claire and Jamie Fraser, the shorter books focus predominately on Lord John Grey while intersecting with the larger books, and the bulges are excerpts that fit somewhere within the storyline of the novels and frequently feature secondary characters.
Gabaldon says that her shorter novels and novellas are designed so that they may be read alone and in any order, but she recommends reading the "Big, Enormous Books" in chronological order.
In the lists above I've marked each "Big, Enormous Book" with an asterisk for your ease. The ninth book in the main Outlander series was published on November 23, 2021. Gabaldon has confirmed the tenth and final book of Claire and Jamie's journey will follow.
But this won't be a goodbye to the beloved world Gabaldon has introduced readers to, as she has said there are other ideas featuring side characters or a prequel still percolating within her mind.
The Outlander Books Are a Hit TV Show
As previously mentioned, Outlander has been adapted into a hit TV show starring Caitriona Balfe and Sam Heughan. The show began by adapting the Outlander books in order so that Season 1 corresponds with Book 1, Season 2 with Book 2, and so on.
The Starz show has received four Primetime Emmy nominations. It has received an incredible total of 71 overall nominations and 32 wins since it first aired in 2014.
The seasons are predominately filmed in Scotland, which brings Gabaldon's scenic descriptions to life. As well, the adaptation has stayed true to the books with each season corresponding to one book. Some liberties have been taken, notably beginning in the third season, in order to condense the chunky books into a single season.
For die-hard fans of the books, Gabaldon is a consultant on the show offering input alongside the filming and production process. She has even written a few episodes. While she admits there are changes to make the story better fit the screen, Gabaldon is happy with the adaptation.
There are currently six seasons available to stream and binge. If you haven't watched the TV show yet, make sure you're up-to-date before the seventh season, based on An Echo in the Bone, airs.
This season will actually be split into two parts. The first half will premiere on June 16, 2023 releasing one episode a week until August 4, 2023, while the second half will premiere in 2024. This will be the longest season of the show since season one with 16 episodes.
But if you're just starting on the show, keep your eyes peeled for a sneaky cameo of Gabaldon in the first season.
Will There be an Outlander Season 8?
Outlander is such a beloved book series and TV show, and fans always want to know if there'll be another season. The good news is that there will be an eighth season, but unfortunately it will be the last.
This means fans, and Diana Gabaldon, will not get a single season adaptation for each main book in the series. The final season will likely combine the eighth and ninth books: Written in My Own Heart's Blood and Go Tell the Bees That I Am Gone.
It was confirmed in January 2023 that the final season will have 10 episodes. However, the Outlander prequel: Blood of My Blood, about Jamie's parents, is still in the works.
The "Big, Enormous" Outlander Books in Order
But perhaps you've already binged all six seasons of Outlander and are desperate for more Claire and Jamie content. Look no further! Here are the main Outlander books in order so you can follow along with Claire and Jamie's epic love story.
1. Outlander
Outlander introduces us to our beloved couple Claire Randall and Jamie Fraser. Claire finds herself inexplicably swept back in time to the unfamiliar landscape of Scotland, 1743. It is here that she meets Jamie.
A relationship is born out of necessity to ensure her safety, but it quickly blossoms into something more. Claire must then reconcile her fidelity to her twentieth-century husband with her desire for the Scots warrior in front of her who has shown her a love she didn't know existed.
---
2. Dragonfly in Amber
It has been twenty years for Claire Randall since the events of Outlander, and in this second installment she returns to the majestic Scottish countryside with her grown daughter in tow to reveal the mysterious secrets of her past. Claire finds herself entangled in something far beyond her imaginings once more however, as she struggles in the Paris court of Charles Stuart to save both her child and the man she loves.
---
3. Voyager
The threads of time continue to weave a complicated story of Claire and Jamie's love. Claire Randall left Scotland believing Jamie Fraser to be dead in the Battle of Culloden, but her love and desire for him never ceased. She gave birth to their daughter in the twentieth century, but now finds herself shocked to discover that Jamie lives.
In a struggle between wanting to stay with her daughter or return to her one true love, Claire must choose her destiny and face a daring voyage into the unknown once more that will either reunite or forever doom her timeless love.
---
4. Drums of Autumn
In a tale that spans continents and centuries, Claire Randall has returned to Scotland of a bygone era to find Jamie Fraser, leaving behind their daughter Brianna and half her heart. But something foretold within the pages of history hints that a happily-ever-after might not exist for Claire and Jamie.
Thus, Brianna follows in her mother's footsteps. Leaping into the unknown in a desperate attempt to save her mother and the father she never met. Brianna risks her own life and future to change history, but her journey into the past just might show her where her heart and soul belong.
---
5. The Fiery Cross
It is now 1771. Claire and Jamie Fraser have made a life and a family for themselves. But as someone who has travelled through time, more than once, Claire's prophetic knowledge tells her that war is imminent.
Even though the idea fills him with dread, Jamie must believe his now-wife and the love of his life. Will Claire's knowledge be a beacon to see him through the years of revolution ahead, or will it set their life aflame and leave only ashes in its wake?
---
6. A Breath of Snow and Ashes
The extraordinary story of Claire and Jamie Fraser continues in 1772 on the brink of the American Revolution. Jamie must unite and safeguard the colony for King and Crown, but through Claire he knows the fruitlessness of such an endeavour. For the end of the Revolution will bring with it independence from the Crown and death or exilement to any of its supporters.
To complicate matters further, there is a newspaper article from 1776 that reports the death of Jamie and his family. The future of the Fraser's will rest on this time-travelling family being wrong about the future.
---
7. An Echo in the Bone
The saga of Claire and Jamie Fraser continues in 1778 against the backdrop of the American Revolution. Jamie becomes a reluctant rebel knowing the Americans will win, but his role doesn't guarantee survival. Despite this, Jamie will do anything to avoid opposing his illegitimate son — a young lieutenant in the British Army — on the battlefield.
Prophetic time-travelling Claire knows the outcome of the Revolution, but not the cost. Claire also knows that she will do anything to protect her husband's life and happiness.
---
8. Written in My Own Heart's Blood
While the tides of the American Revolution appear to be turning in the favor of the rebels during June 1778, things couldn't be more complicated for Claire Fraser and her time-travelling family.
Jamie has returned from the dead and demands to know why Claire has married his best friend Lord John Grey in his absence. Lord John's son grapples with the truth about his biological father, while falling for a woman who has just agreed to marry his new-found cousin, Ian Murray. Life remains complicated in the twentieth century for Claire and Jamie's daughter Brianna who must protect her son from nefarious harm while her husband Roger has disappeared into the past.
---
9. Go Tell the Bees That I Am Gone
For our time-travelling pair, history is threatening to repeat itself. With their family finally together in one time and place — the North Carolina backcountry, 1779 — and the threat of war looming ever closer, more is at stake than ever before.
William Ransom is still coming to terms with the discovery of his true father's identity, and Lord John Grey is making reconciliations for himself and his son. Meanwhile, Brianna and Roger question whether the dangers of the twentieth century might catch up with them, and whether bringing their children into the 1700s — amidst disease, starvation, and war — was the right decision.
---
Looking for more like Outlander books in order?
Check out this list of The Dresden Files Books in Order.