Looking for a list of Clive Cussler books in order? We're here to help.
Clive Cussler's books are a favorite for many people. One of his most popular series involves Dirk Pitt, an oceanographer and marine engineer. The U.S. government often calls upon him to investigate maritime mysteries such as sunken ships or art treasures.
But Cussler has written other popular mystery series that often involve maritime themes: The NUMA Files, the Oregon Files, Isaac Bell and more.
---
Recent & Upcoming Clive Cussler New Releases
Condor's Fury (Expected: September 5, 2023) (NUMA Files)
The Corsican Shadow (Expected: November 7, 2023) (Dirk Pitt)
The Heist (Expected: May 7, 2024) (Isaac Bell)
The Serpent's Eye (Expected: June 4, 2024) (Fargo Adventures)
---
Clive Cussler Books in Order by Series
Dirk Pitt Books in Order of Publication
The Dirk Pitt series is the first in a long list of the Clive Cussler books in order. It centers on Dirk Pitt as he investigates maritime mysteries and worldwide conundrums.
However, beginning with Black Wind, Clive Cussler's son, Dirk Cussler, began writing the series with him. Clive Cussler even named his iconic main character after his son. Following Clive Cussler's death in 2020, Dirk Cussler took over authoring future books.
NUMA Files in Order of Publication
The NUMA Files, a spin-off of the Dirk Pitt series, is an underwater exploration series featuring Kurt Austin, the leader of the Special Assignments Team at the National Underwater and Marine Agency (NUMA). Austin's missions take him all over the globe hunting for people who want to exploit the world's natural resources.
The series is co-written with Paul Kemprecos for earlier books and Graham Brown for the later books. Graham took over the series following Cussler's passing in 2020.
Oregon Files in Order of Publication
What are the Oregon Files books about? These books are about Juan Cabrillo, his crew of mercenaries who have a conscience, and the rest of his gang. Cabrillo and his crew operate from aboard the ship: Oregon.
This series was co-written with Craig Dirgo, Jack Du Brul, and more recently, Boyd Morrison. It appears that Morrison will not continue the series following Clive Cussler's death. Mike Maden is the author of the most recent installment.
Clive Cussler Books in Order – Isaac Bell
Isaac Bell features a new hero who is tall, slim, and a no-nonsense detective. Driven by a sense of justice, he travels early-twentieth-century America pursuing thieves and killers. This series was co-written with Justin Scott and, most recently, Jack Du Brul.
Clive Cussler Books in Order – Fargo Adventures
Sam and Remi Fargo are the central characters of this adventure. They travel to various locations around the globe to solve ancient mysteries. They also find long-lost and forgotten treasures while on their quest.
The series was co-written with Grant Blackwood, Thomas Perry, Russel Blake, and most recently, Robin Burcell.
Clive Cussler Books in Order – Children's Books
The Adventures of Vin Fiz (2006)
Clive Cussler Books in Order – Non-Fiction
Clive Cussler Book to Movie Adaptations
I always love it when my favorite books are made into films. Some have been done poorly, but most are enjoyable enough. So, what about Clive Cussler's books? Which ones have been made into films?
Raise the Titanic!
The book was made into a feature film in 1980 by Jerry Jameson. It starred Jason Robards, Richard Jordan, Anne Archer, Sir Alec Guinness, and David Selby. Unfortunately, the film failed to make it as a major box office success, only earning a fraction of its $40 million budget.
Sahara
Sahara is an action-adventure movie that Breck Eisner directed in 2005. It is based on Clive Cussler's 1992 Dirk Pitt bestseller. The film stars Matthew McConaughey, Penelope Cruz, and Steve Zahn. It follows the adventures of a treasure hunter and a WHO doctor who team up to locate a missing American Civil War Ironclad warship.
Filming took place in Morocco and the United Kingdom in 2003. It was notable for several production problems, including the doubled production budget of $80 million to $160 million, lawsuits among its crew, and accusations of violating international law.
Sahara earned $119 million at box offices worldwide. However, it failed to recoup its entire costs and is notable as one of the worst box-office failures.
Who is Clive Cussler?
Clive Cussler is an adventure writer and a well-known author. He was born in Aurora, Illinois, on July 15, 1931. However, he spent most of his childhood in Alhambra, California. Cussler died on February 24, 2020. After attending Pasadena City College for two years, he joined the U.S. Air Force during the Korean War.
After leaving the military, he became a copywriter before working at two advertising agencies as the creative director. Cussler produced many radio and television commercials that won international awards during his time at the ad agencies. In addition, Cussler began work on his first Dirk Pitt novel between 1965 to 1973.
His novels are known for their perfect mix of high technology, high adventure, and beautiful women. Many of his novels were based on historical perspectives. For example, he considered whether Atlantis was real or if Lincoln was kidnapped. More than 17 of his books have been on the New York Times bestsellers list.
A Summary of Oregon Files Books in Order
Below you will find summaries for the first 10 Oregon Files books in order. This will help you learn a little bit more about the rakish, one-legged Juan Cabrillo and his crew aboard the Oregon. The exploits of these former military and spy personnel are compelling and will have you hooked to reading these Clive Cussler books in order.
---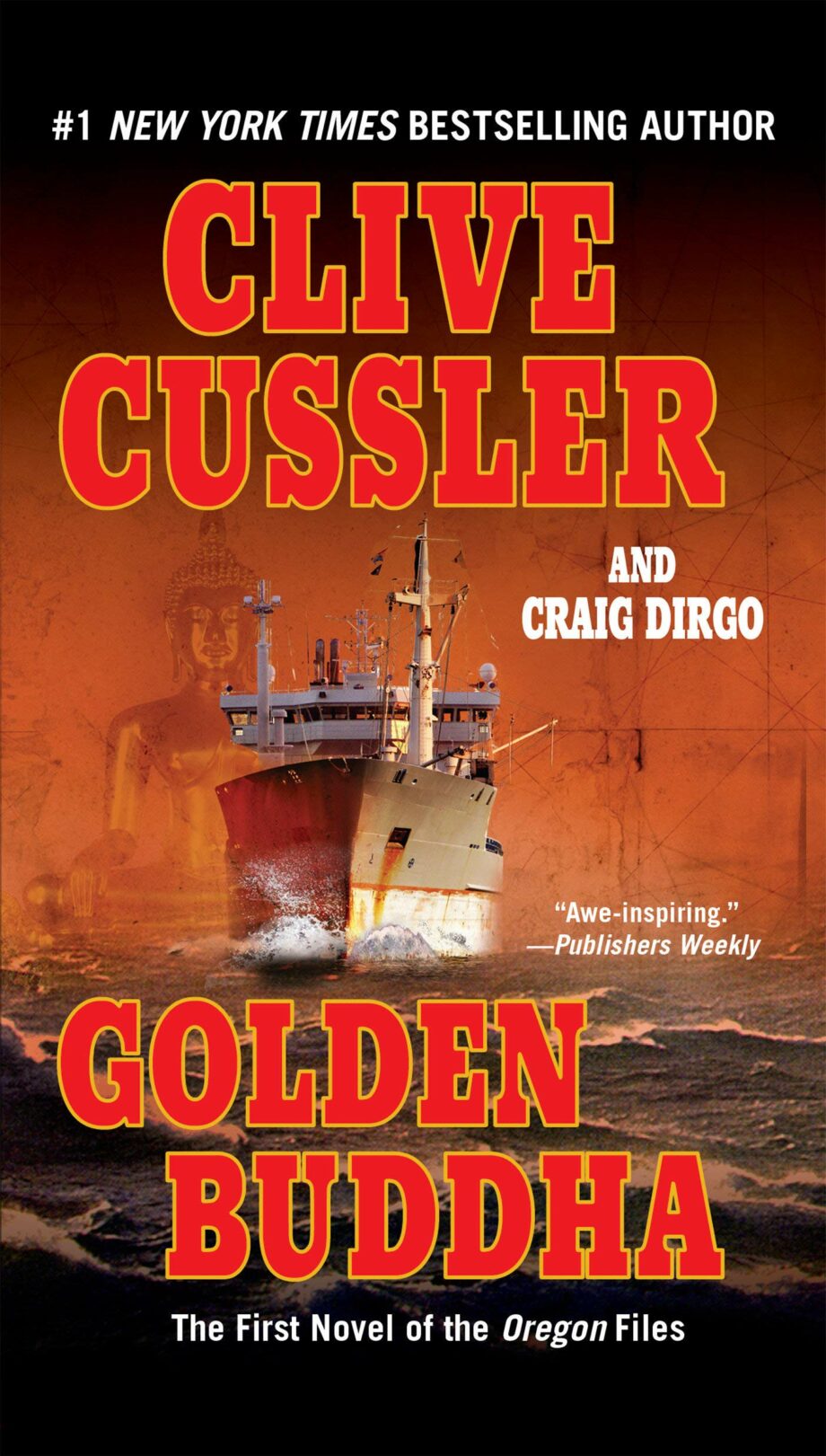 1. Golden Buddha
Only Cabrillo could convert the interior of a nondescript lumber hauler into a state-of-the-art spy ship — and only he could take the helm on the dangerous covert missions it carries out for whichever U.S. agency pays the price.
In this first feature-length adventure, Cabrillo and his crew of expert intelligence and naval men must put Tibet back in the hands of the Dalai Lama by striking a deal with the Russians and Chinese. His gambling chip is a Golden Buddha containing records of vast oil reserves in the disputed land.
But first, he'll have to locate — and steal — the all-important artifact. And there are certain people who would do anything in their power to see him fail.
The co-author for this book is Craig Dirgo.
---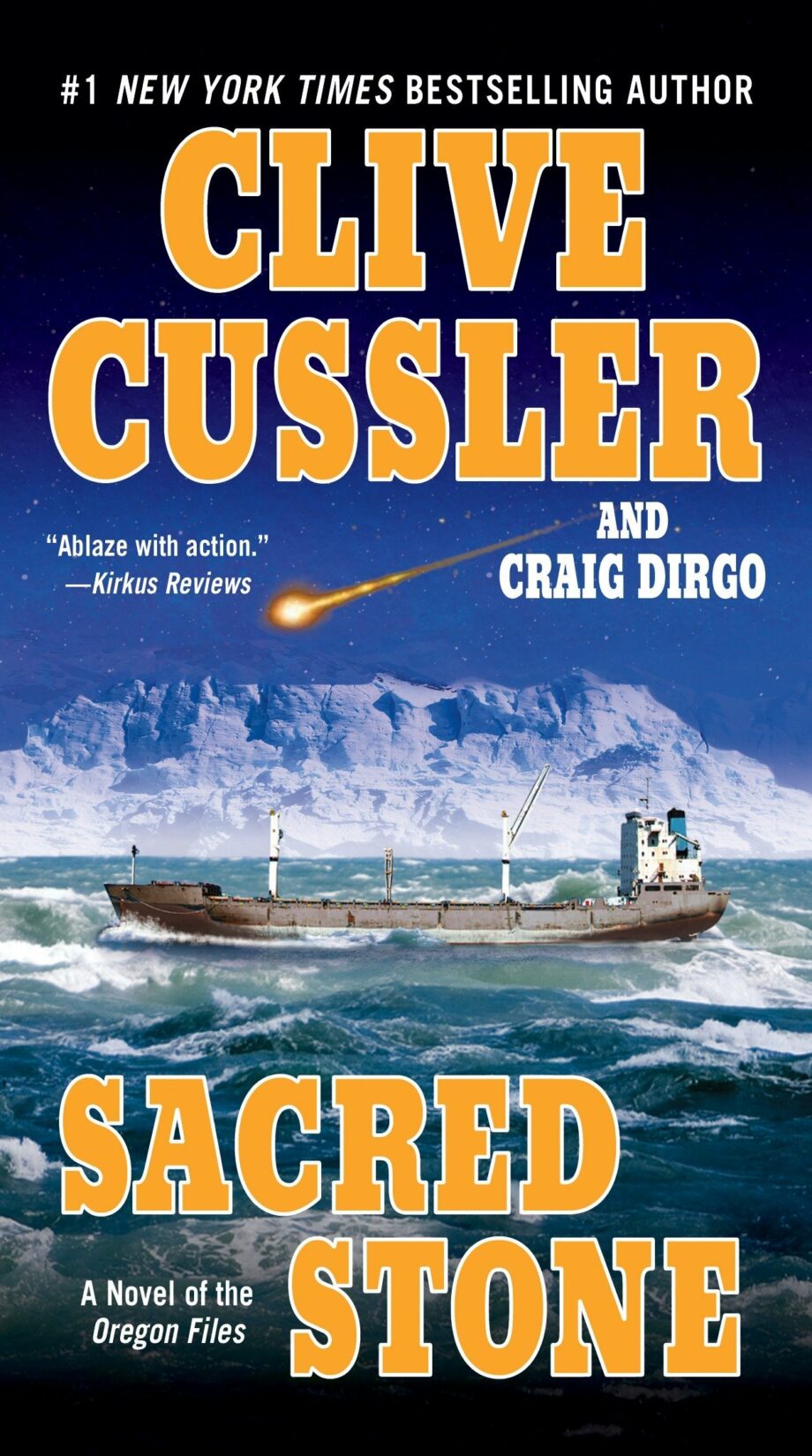 2. Sacred Stone
In the remote wastes of Greenland, a young scientist has unearthed an artifact hidden in a cave for a millennium: A 50,000-year-old meteorite known as the Sacred Stone, which possesses potentially catastrophic radioactive power. But the astounding find places him in the crosshairs of two opposing terrorist groups who seek the stone for themselves.
One is a group of Muslim extremists who have stolen a nuclear device. With the power of the meteorite, they could vaporize any city in the West. The other group is led by a megalomaniacal industrialist who seeks to carry out the utter annihilation of Islam itself.
Caught between two militant factions bent on wholesale slaughter, Juan Cabrillo and his ship of high-tech mercenaries known as the Corporation must fight to protect the Sacred Stone — and prevent the outbreak of World War III.
The co-author for this book is also Craig Dirgo.
---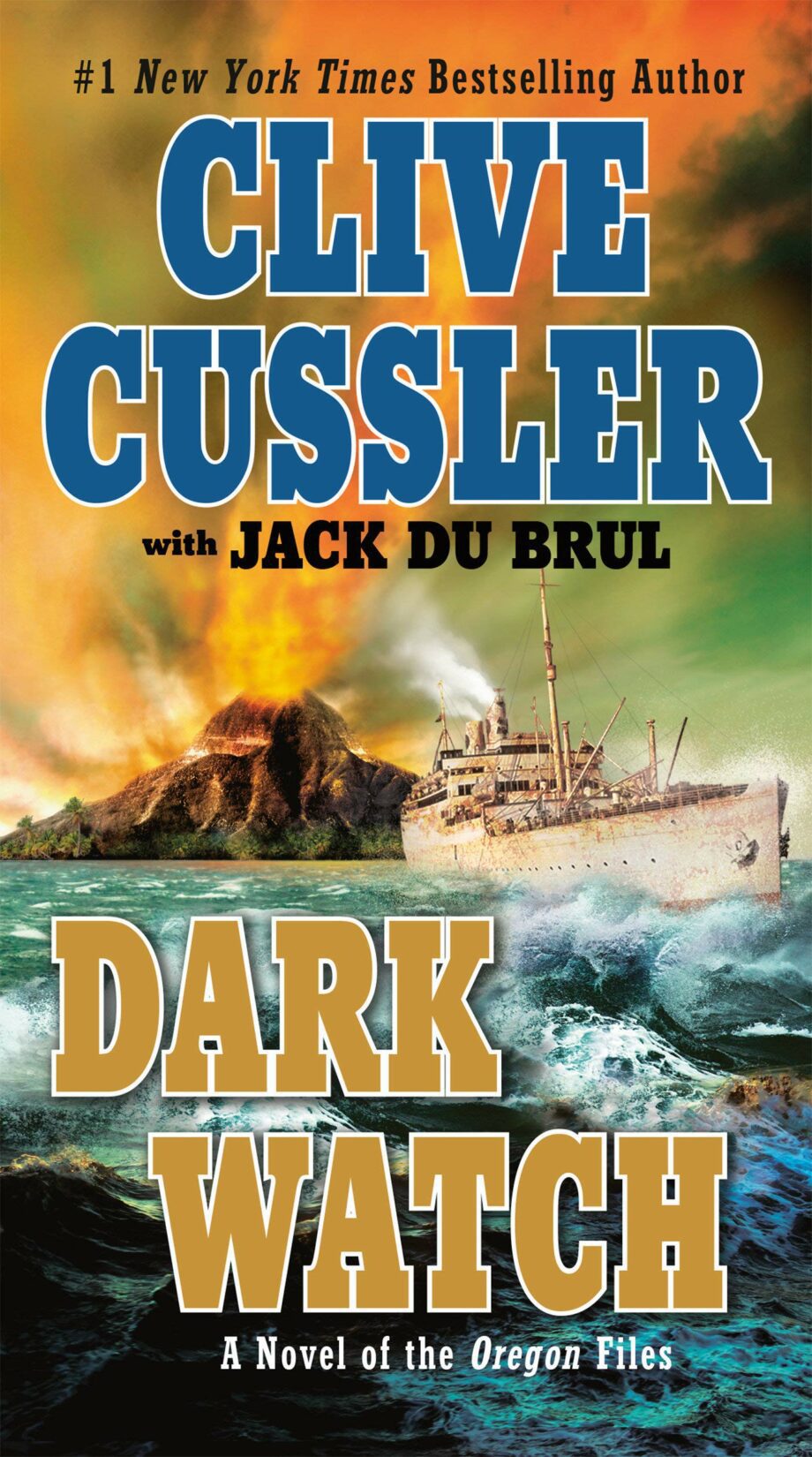 3. Dark Watch
Cabrillo and his motley crew aboard the clandestine spy ship Oregon have made a very comfortable and very dangerous living working for high-powered Western interests. But their newest clients have come from the Far East to ask for Cabrillo's special brand of assistance: A consortium of Japanese shipping magnates whose fortunes are being threatened by brutal pirates trolling the waters of Southeast Asia.
Normally, such attacks on the high seas are limited to smaller ships and foreign-owned yachts — easy targets on the open ocean. Now, however, giant commercial freighters are disappearing.
But when Cabrillo confronts the enemy, he learns that the pirates' predations hide a deadly international conspiracy. A scheme of death and slavery that Juan Cabrillo is going to blow out of the water.
The co-author for this installment is Jack Du Brul.
---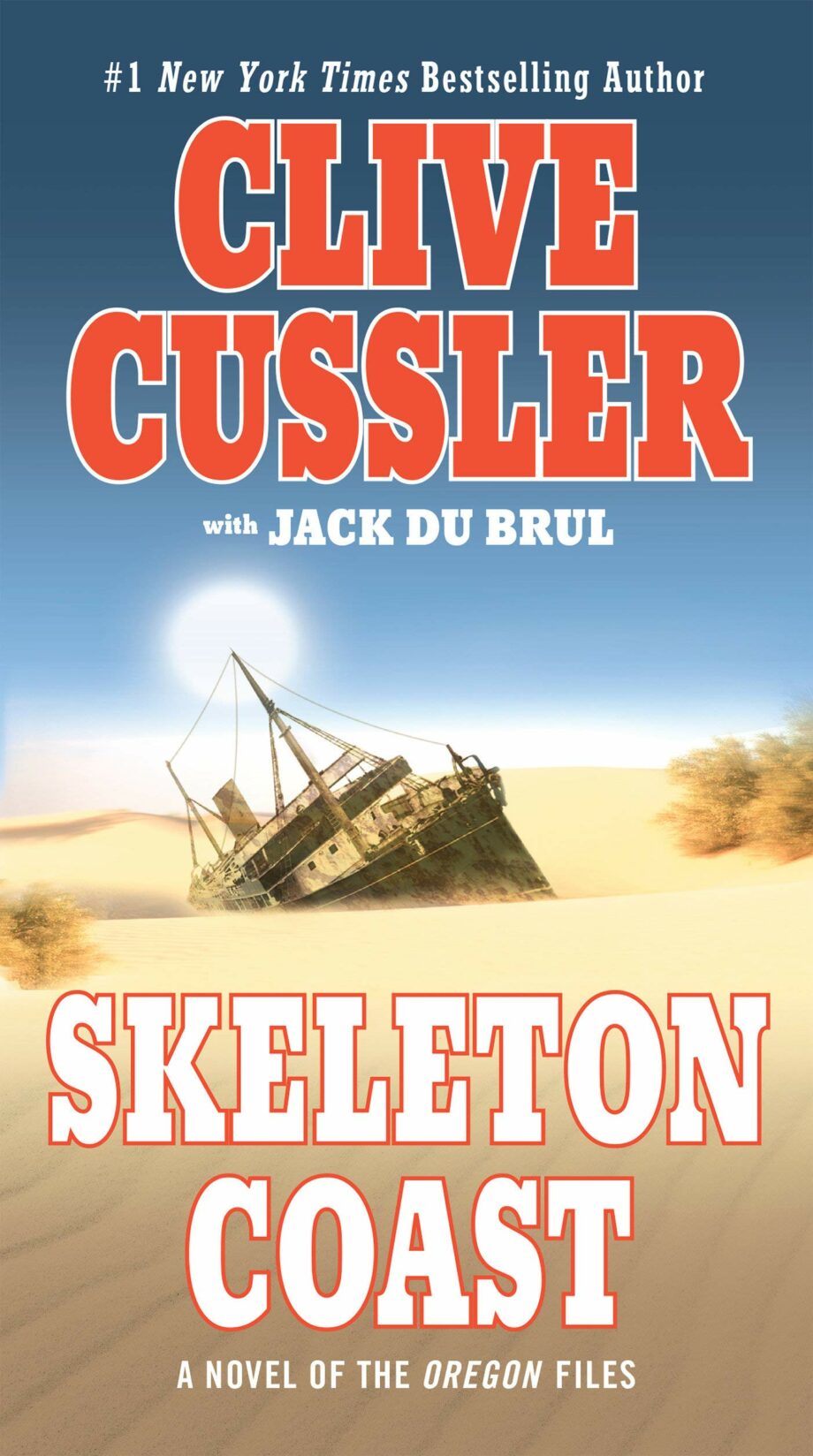 4. Skeleton Coast
Juan Cabrillo and the crew of the covert combat ship Oregon have barely escaped a mission on the Congo River when they intercept a mayday from a defenseless boat under fire off the African coast.
Cabrillo takes action, saving the beautiful Sloane Macintyre — who's looking for a long-submerged ship that may hold a fortune in diamonds. But what surprises Cabrillo is her story about a crazy fisherman who claims to have been attacked on the open sea by giant metal snakes in the same area.
What begins as a snake hunt leads Cabrillo onto the trail of a far more lethal quarry — a deranged militant and his followers who plan to unleash the devastating power of nature itself against all who oppose them.
The co-author for this installment is once more Jack Du Brul.
---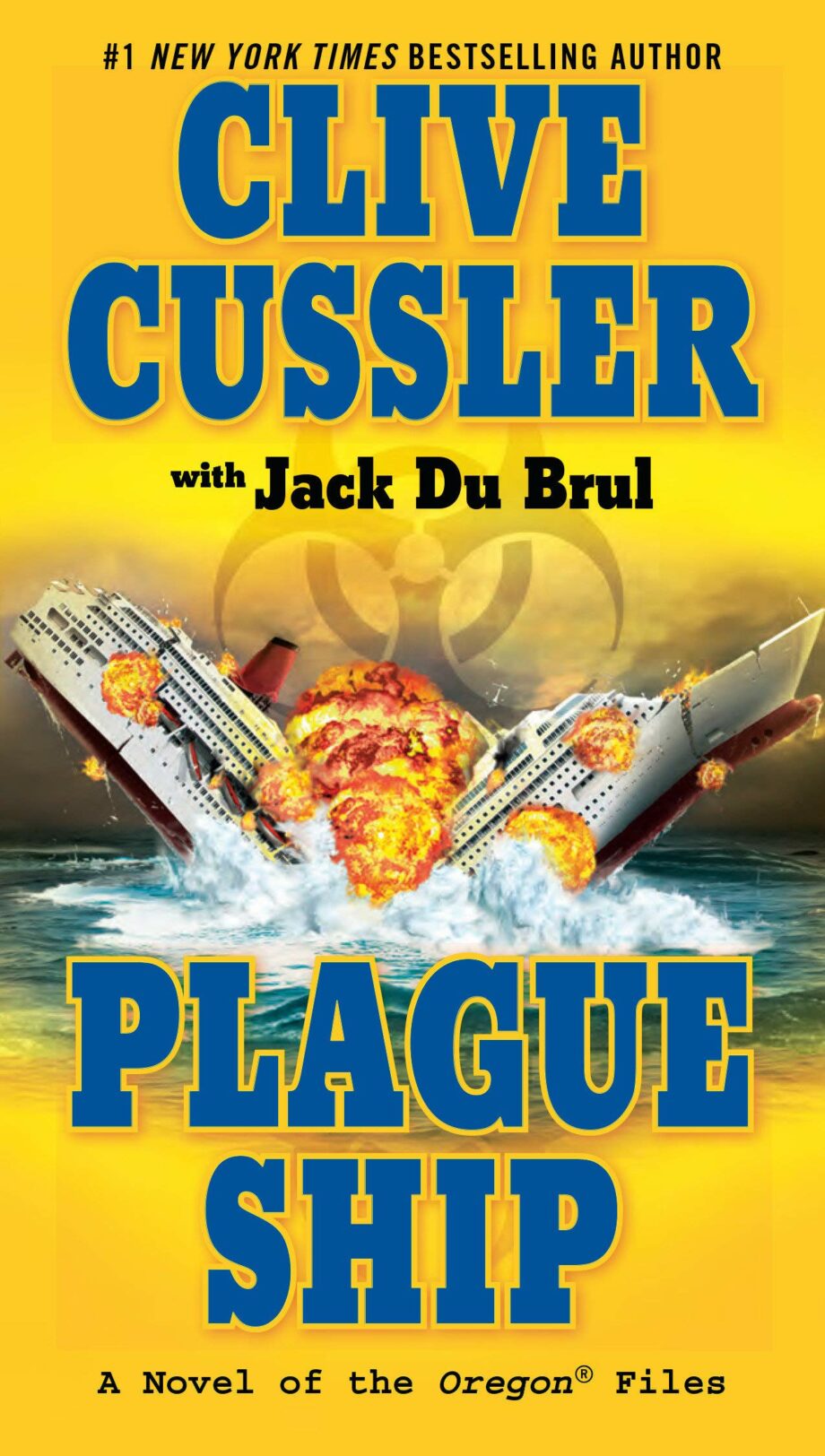 5. Plague Ship
The crew has just completed a top-secret mission against Iran in the Persian Gulf, when they come across a cruise ship adrift in the sea. Hundreds of bodies litter its deck, and as Cabrillo tries to determine what happened, explosions rack the length of the ship.
Barely able to escape with his own life and that of the liner's sole survivor, Cabrillo finds himself plunged into a mystery as intricate — and as perilous — as any he has ever known, while pitted against a cult with monstrously lethal plans for the human race…plans he may already be too late to stop.
The co-author for this installment is, once again, Jack Du Brul.
---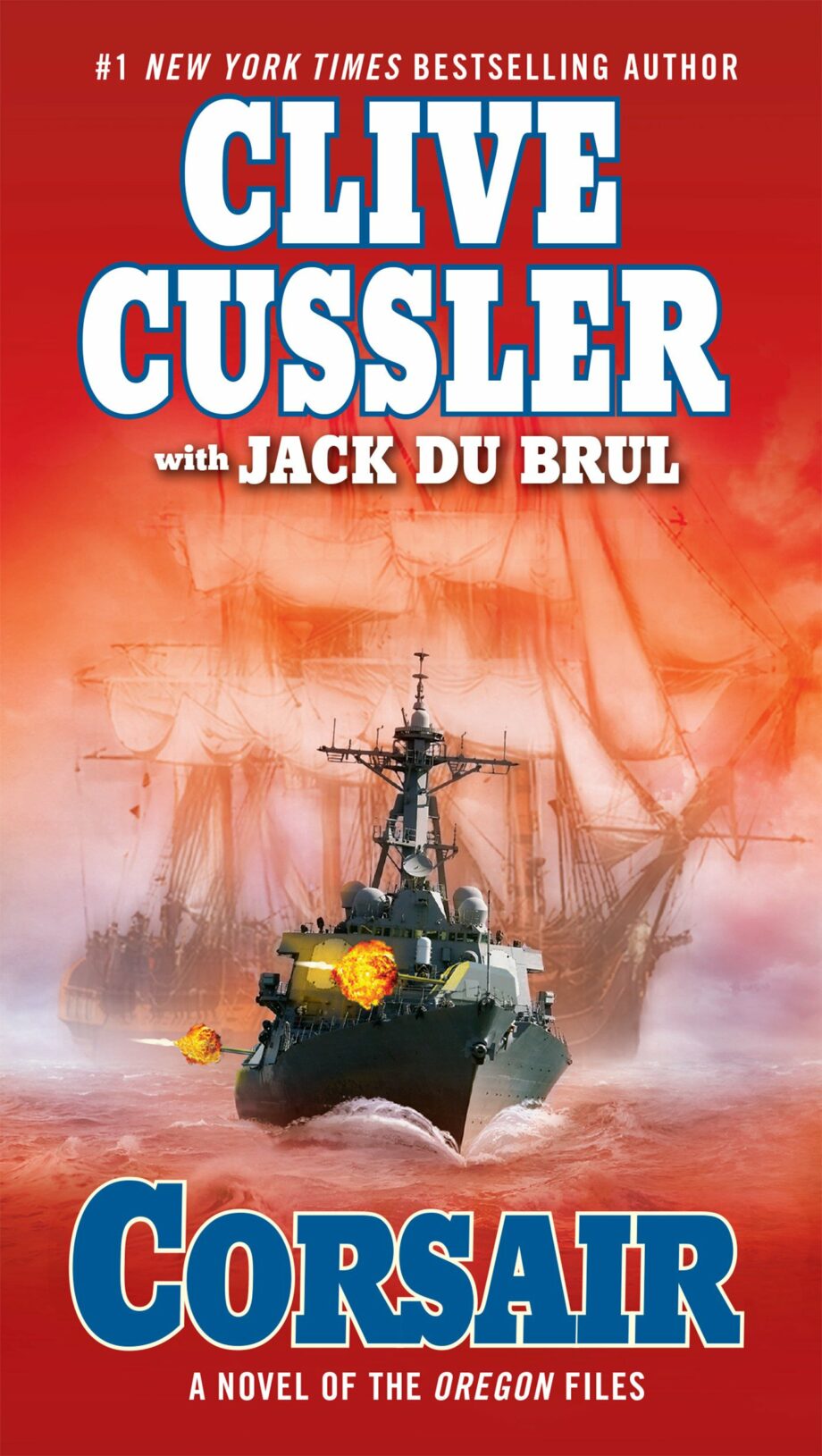 6. Corsair
Corsairs are pirates, and pirates come in many different varieties. There are the pirates who fought off the Barbary Coast in the late eighteenth and early nineteenth centuries, the contemporary pirates who infest the waters of Africa and Asia, and the pirates…who look like something else.
When the U.S. secretary of state's plane crashes while bringing her to a summit meeting in Libya, the CIA, distrusting the Libyans, hire Juan Cabrillo to search for her, and their misgivings are well-founded.
The crew locates the plane, but the secretary of state has vanished. It turns out Libya's new foreign minister has other plans for the conference, plans that Cabrillo cannot let happen.
But what does it all have to do with a two-hundred-year-old naval battle and the centuries-old Islamic scrolls that the Libyans seem so determined to find? The answers will lead him full circle into history, and into another pitched battle on the sea, this time against Islamic terrorists, and with the fate of nations resting on its outcome.
The co-author for this installment is also Jack Du Brul.
---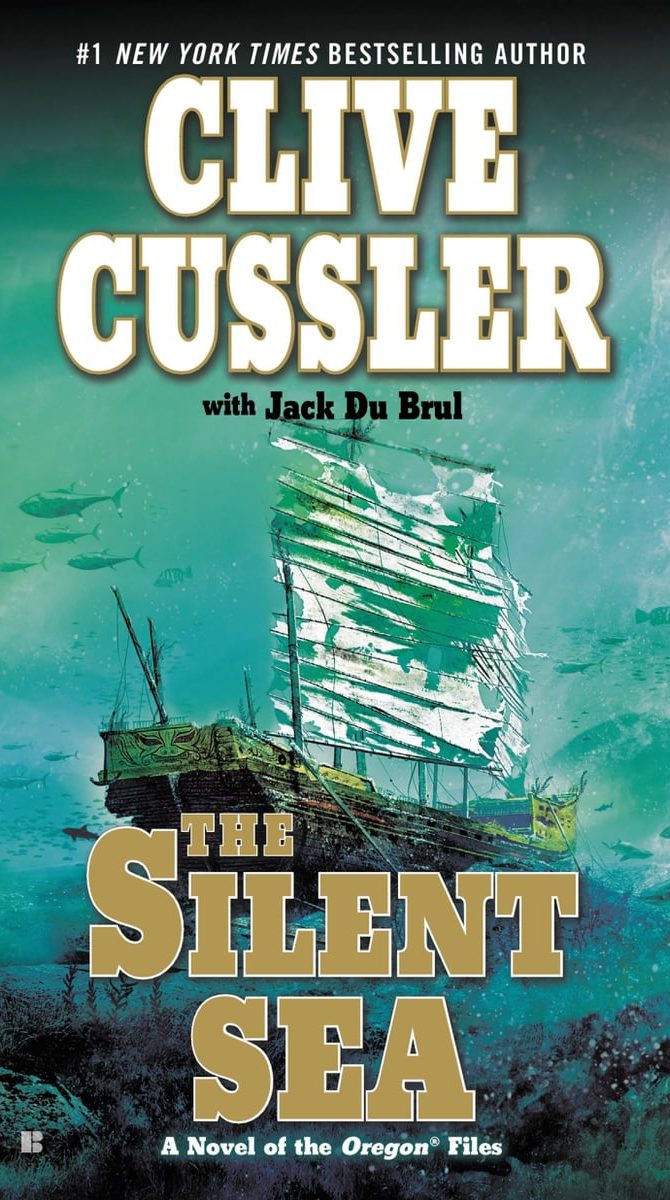 7. The Silent Sea
On December 7, 1941, five brothers exploring a shaft on a small island off the coast of Washington state make an exciting discovery, only to be interrupted by news of Pearl Harbor.
Then, in the present, Cabrillo, chasing the remnants of a crashed satellite in the Argentine jungle, makes a shocking discovery of his own. His search to untangle the mystery leads him first to that small island and its secret. And then much further back, to an ancient Chinese expedition, and a curse that seems to have survived for more than five hundred years.
If Cabrillo's team is successful in its quest, the reward could be incalculable. But if not…the only reward is death.
The co-author for this installment is, once again, Jack Du Brul.
---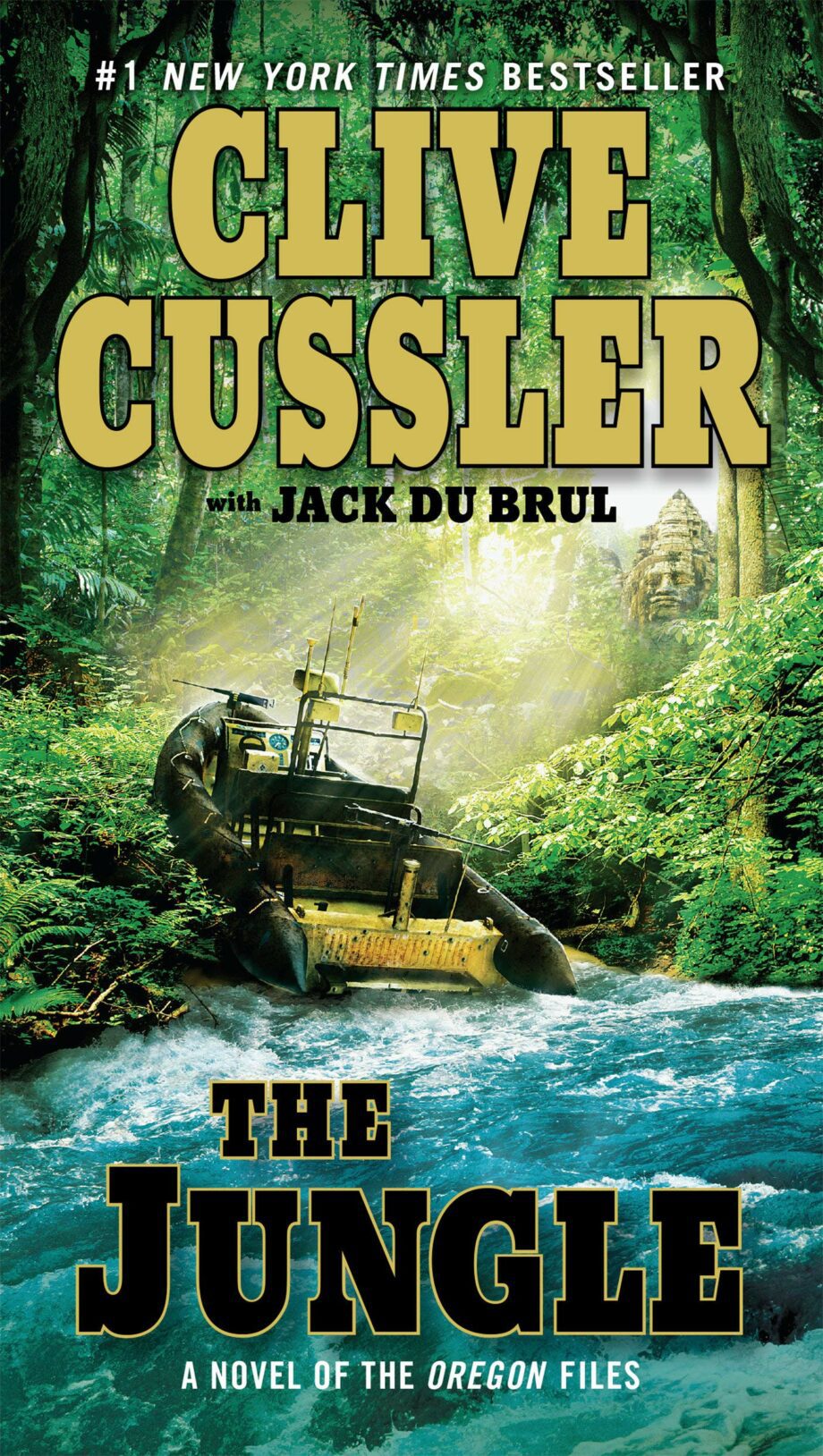 8. The Jungle
Jungles come in many forms. There are the steamy rain forests of the Burmese highlands. There are the lies and betrayals of the world of covert operations. And there are also the dark and twisted thoughts of a man bent on near-global domination.
In order to pull off their latest mission, Juan Cabrillo and the crew of the Oregon must survive them all.
Firstly, it will involve a devastating new weapon unleashed in thirteenth-century China. Then, a daring rescue in the snowbound mountains along the Afghanistan/Pakistan border. And, finally, a woman gone missing in the jungles of northern Thailand and Myanmar.
For Cabrillo and his crew, all of these events will come together — leading to the greatest threat against U.S. security that the world has ever known.
The co-author for this installment is Jack Du Brul.
---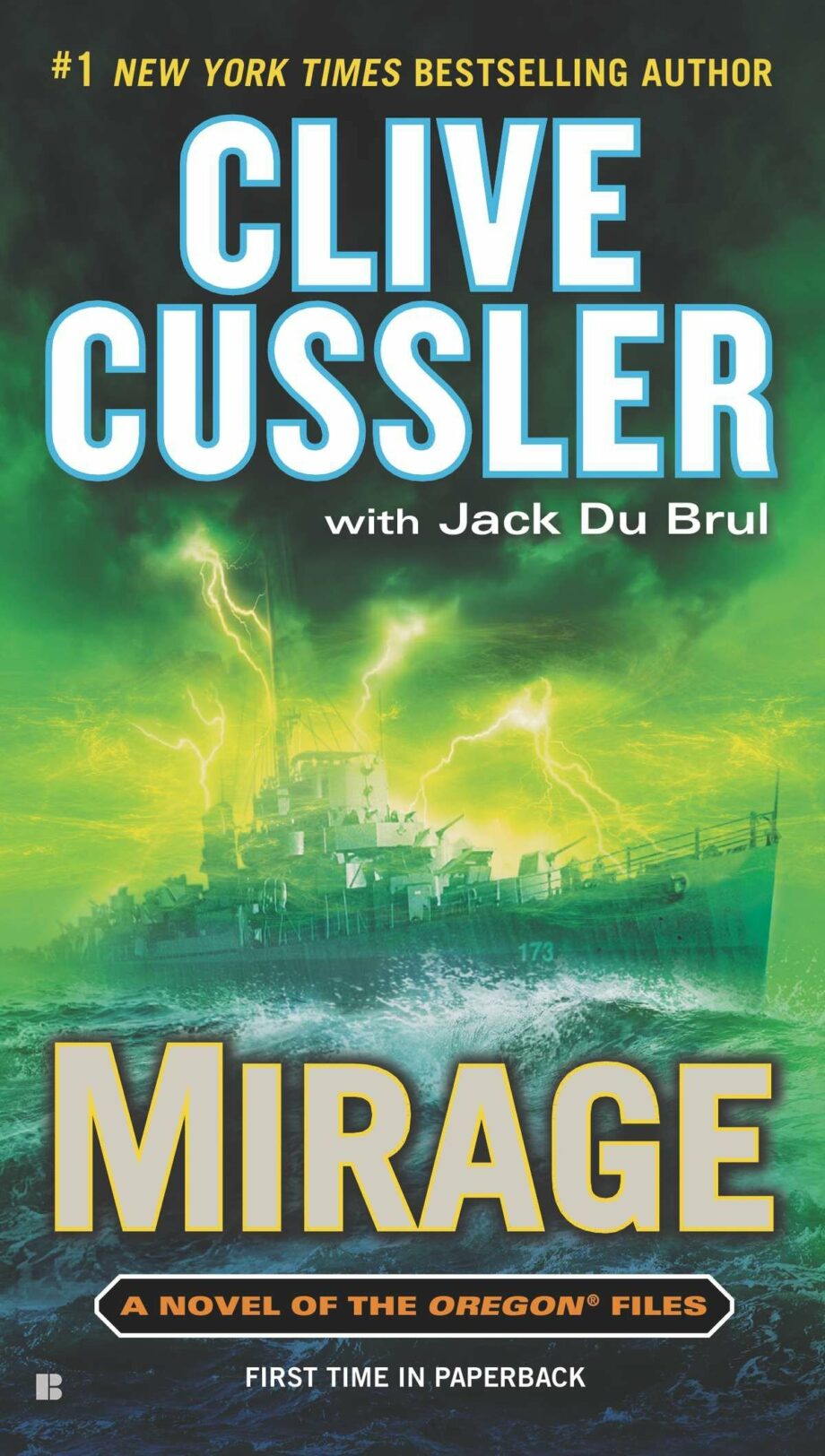 9. Mirage
In October 1943, a U.S. destroyer sailed out of Philadelphia and supposedly vanished, the result of a Navy experiment with electromagnetic radiation. The story was considered a hoax. But now Juan Cabrillo and his Oregon colleagues aren't so sure.
There is talk of a new weapon soon to be auctioned, something very dangerous to America's interests, and the rumors link it to the great inventor Nikola Tesla, who was working with the Navy when he died in 1943. Was he responsible for the experiment? Are his notes in the hands of enemies?
As Cabrillo races to find the truth, he discovers there is even more at stake than he could have imagined — but by the time he realizes it, he may already be too late.
The co-author for this installment is Jack Du Brul.
---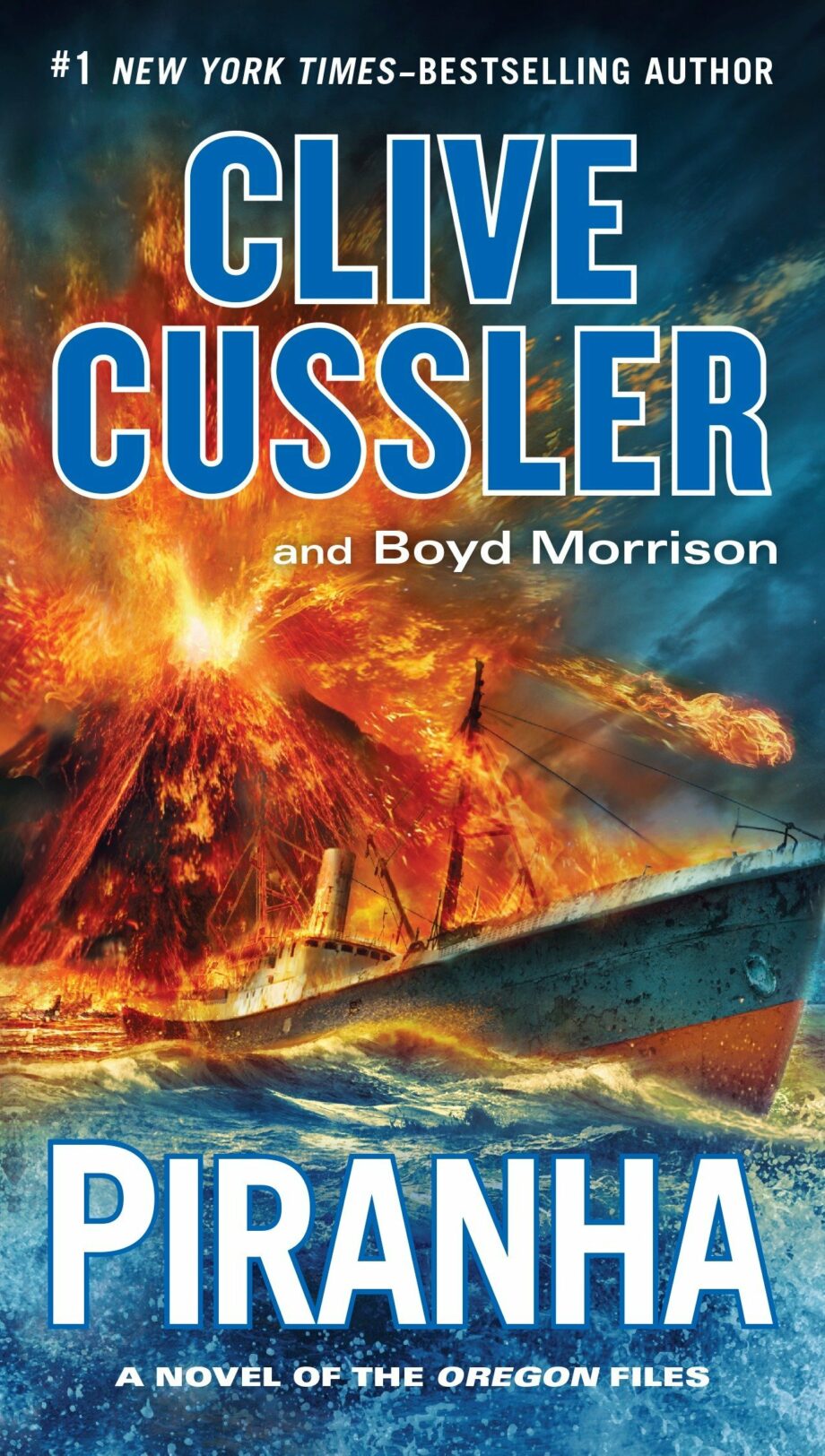 10. Piranha
In 1902, the volcano Mt. Pelée erupts on the island of Martinique, wiping out an entire city of thirty thousand — and also sinking a ship carrying a German scientist on the verge of an astonishing breakthrough. More than a century later, Juan Cabrillo will have to deal with that scientist's legacy.
During a covert operation, Cabrillo and the crew meticulously fake the sinking of the Oregon — but when an unknown adversary tracks them down despite their planning and attempts to assassinate them, Cabrillo and his team struggle to fight back against an enemy who seems to be able to anticipate their every move.
They discover that a traitorous American weapons designer has completed the German scientist's work, and now wields extraordinary power. It sends the Oregon on a race against time to stop an attack that could lead to one man ruling over the largest empire the world has ever known.
The co-author for this book is Boyd Morrison.
---
Conclusion
Now you know a bit more about the Oregon, a ship that does not match the eye with its cunning crew and state-of-the-art weaponry. These are great Clive Cussler books in order to read. While you can enjoy the books as standalones, your experience will be increased if you follow along with Juan and his crew in chronological order.
Cussler is a hugely successful novelist, and his books have been translated into 35 languages. Which of the Clive Cussler books in order is your favorite?
Looking for more books in order?
Check out my list of John Sandford books in order.