L'Amour is one of the most prolific authors, so reading all the Louis L'Amour books in order would be a tremendous feat. In his lifetime he published dozens and dozens of books, short stories, and collections. Since his passing in 1988, his son has continued to publish and complete some of the work his father left behind unseen.
While his career spanned decades, L'Amour still wrote with a ferocity to achieve the number of publications that he did. He proudly called himself an American storyteller and captured the imaginations of millions with his frontier novels. In addition to craving his name within the definitive tapestry of the Western genre, L'Amour also wrote poems and explored other genres.
About Louis L'Amour
The man who would become one of the fathers of frontier novels was born in Jamestown, North Dakota in 1908 as the youngest child of seven children. His father had Anglicized their French-Irish surname to LaMoore, but as the youngest child carved a name for himself he reverted to the original French spelling.
Growing up, L'Amour spent time at the local library where one of his siblings was the librarian. While L'Amour said he wanted to be a writer since he was a young child, he held a multitude of jobs first and travelled the world. He was a seaman, a laborer, a professional boxer, and much more.
Amidst all that, he had also begun to write. L'Amour began by writing adventure stories for pulp magazines before he enlisted in the Second World War. However, upon his return to America the tide of demand had shifted. Pulp magazines were no longer selling and the public's appetite had shifted to Westerns.
So, L'Amour stepped up to the plate.
As is the case with any genre that becomes culturally and commercially popular, there was disdain from certain circles of literature concerning Westerns. L'Amour wanted to show the critics they were wrong by writing important historical stories that are vital to the American identity. He cared passionately about the genre in which he did most of his writing.
In his collection of short stories, Yondering, L'Amour says that above all else he wanted to tell stories that would connect with readers, that they would love and remember. From his impressive bibliography, more than 30 titles have had their adaptation rights acquired and there are an estimated 182 million copies of his works in print around the world.
L'Amour tapped away at a typewriter to tell his tales, and the world stopped to listen.
Louis L'Amour Books in Order
Following the death of Louis L'Amour, his estate has been led by his son Beau L'Amour. The younger L'Amour has oversaw the Louis L'Amour's Lost Treasures project which has seen the release of manuscripts, both unfinished and finished, for the very first time as well as the rerelease of L'Amour's earliest works.
Some of these rereleases have new material added in that was unearthed in the family archives including outlines, plot notes, and alternate drafts. However, the titles have been listed in order of original publication date below.
Hopalong Cassidy Books
The very first full-length novels that Louis L'Amour published were under the pseudonym Tex Burns. The Hopalong Cassidy books are quintessential cowboy novels that are filled with adventure. These books also show the beginnings of what would become L'Amour's signature voice.
Kilkenny Books in Publication Order
Next in our list of the Louis L'Amour books in order are the first books that had his name on the front cover. This series follows the titular character of Lance Kilkenny who is a reluctant gunslinger with a bad reputation and a troubled conscience. There are two ways to read this series, and the first is the way original readers would have encountered the series.
Kilkenny Books in Chronological Order
The second way to read these Louis L'Amour books in order is by following the chronological order. This reading order is almost always only recommended for those who have already read the series. This is especially true with prequel short stories, as the enjoyment of these is only increased when there is already an understanding and connection with the main character.
In reading Kilkenny first, you will be introduced to the character in the way L'Amour originally intended, even though this book takes place much later in the chronology. Even unintentionally there can be nuance that is lost when an author jumps around a timeline, which makes publication order the best way to read this series first.
Sacketts Books in Publication Order
This next series is another one in which the publication order does not match the chronological timeline. It is a multi-generational saga that follows the Sackett family and brings to life the American frontier.
Each book can be read as a standalone. However, if you intend to read the series in its entirety, following the publication order is the best way to experience this series for the first time.
Sacketts Books in Chronological Order
The second way to read these Louis L'Amour books in order is by following the chronological order. However, again, this order is best experienced as a reread to piece together the timeline as you may encounter inadvertent spoilers in books that were published first, but take place earlier in the chronological timeline.
Talon and Chantry Books in Publication Order
Next is the penultimate series that L'Amour began writing during his lifetime, the Talon and Chantry books. Again, the recommended reading order for a first read of this series is by following the publication order.
This will first introduce you to Tom Chantry who went west to buy cattle, quickly found trouble, and now faces a perilous journey ahead of him. The following books will introduce you to different members of the Chantry and Talon families on their own perilous journeys that require every scrap of courage they have.
The Man from the Broken Hills also features a connection to the Sacketts series.
Talon and Chantry Books in Chronological Order
Each Talon and Chantry book can be read as a standalone with its own contained adventure and conclusion. As well, almost every book in this series follows a different member of either family. The exception to this is The Man from the Broken Hills and Milo Talon, which both follow Milo Talon.
The chronological order of this series will help you better understand the timeline from when the first Chantry immigrated from Ireland to Milo Talon riding the Outlaw Trail.
Chick Bowdrie Books
This series is a duology which follows the adventures of Chick Bowdrie, who strikes fear in the hearts of even the most ruthless gunmen. Chick is a Texas Ranger, chasing down wanted men, and the best of his kind. Each book contains a self-contained story, but the best way to experience this series is by following the publication order.
Bowdrie (1983)
Bowdrie's Law (1984)
Standalone Books
While Louis L'Amour wrote a handful of series during his career, the largest chunk of his bibliography are standalones. These novels are also the ones that firmly cemented his name within popular culture. John Wayne said that Hondo was his favorite Western novel of all time.
While the vast majority of these Louis L'Amour books in order are Westerns, this list of his books also features his exploration into different genres. For example, The Walking Drum takes place in the 11th century, Last of the Breed takes place during the Cold War, and The Haunted Mesa is a science fiction novel.
There are also several titles on this list that were published posthumously.
Collections
During his lifetime, Louis L'Amour published around a dozen different collections. His estate published the grand majority of the collections listed below after his death. Some of the collections have since gone out of print, but links to second hand copies have been included below whenever possible.
Novellas and Short Stories
In addition to the collections above, several of Louis L'Amour's short stories and novellas were published posthumously as well. The majority of the list below includes titles that were published after his death as his estate continues to find more and more unpublished works.
Nonfiction Books
Finally, Louis L'Amour published four nonfiction books during his lifetime which include memoirs, quotations, and companion books. Then two nonfiction books were published after his death.
Book-to-Screen Adaptations
The adaptations of Louis L'Amour's works are numerous and include some of the most iconic faces of Western productions. For example, Sam Elliot, Sean Connery, John Wayne, and Tom Selleck. The many movie and TV show adaptations of his books would be an article in and of itself.
The very first L'Amour story which made it onto the screen was Wells Fargo Gunmaster in 1951, which was shortly followed by Hondo in 1953. Hondo, starring John Wayne, and the novel with the same story truly broke L'Amour onto the scene.
Hondo was nominated for an Oscar in the category of Best Writing for a Motion Picture Story in 1954. However, its nomination was questioned for the origin of the story and the nomination was ultimately withdrawn.
L'Amour has more than 40 writing credits for movies and TV shows, but other honorable mentions include The Sacketts TV mini-series in 1979 which was based on The Daybreakers and Sackett. This two-episode production starred Sam Elliott, Tom Selleck, and Jeff Osterhage as the Sackett brothers.
Elliot, Selleck, and Osterhage allegedly had so much fun they asked L'Amour to write another Western for them which resulted in the 1982 movie The Shadow Riders. Elliot and Selleck were stars in a handful of other L'Amour adaptations including Conagher and Crossfire Trail.
Another popular L'Amour TV show was Five Mile Creek which ran from 1983 until 1985 and was based on The Cherokee Trail. It stars a young Nicole Kidman. Then the last L'Amour adaptation was in 2001, The Diamond of Jeru. However, t was not as well-received as the previous L'Amour movies and shows.
A Summary of Louis L'Amour Books in Order
If you are overwhelmed with where to begin reading Louis L'Amour's works, it is no wonder with the sheer number of books and stories he has written. Below are summaries to ten of the standalone Louis L'Amour books in order to help you choose which book to pick up first.
---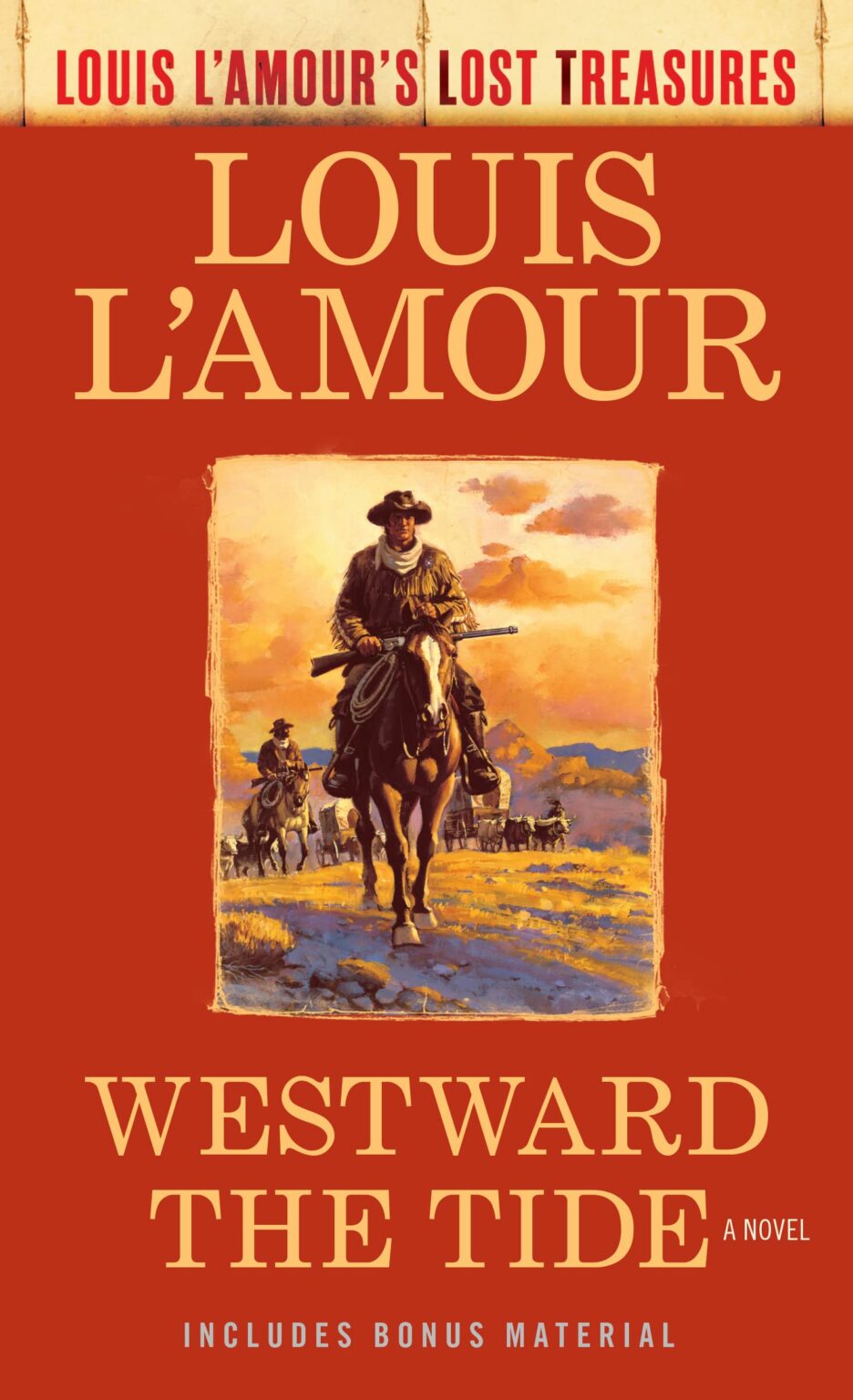 1. Westward the Tide
Matt Bardoul was a good friend, a fierce enemy, and a drifter. Then he meets Jacquine Coyle and finds his match. He decides to join her and her father on an expedition into the Bighorn Mountains seeking gold.
But after he joins their party, he realizes that it includes a group of outlaws he doesn't trust for a minute. It doesn't take long for Matt to discover that he is the only man standing between innocent people and a horrible conspiracy of greed, lust, and murder.
---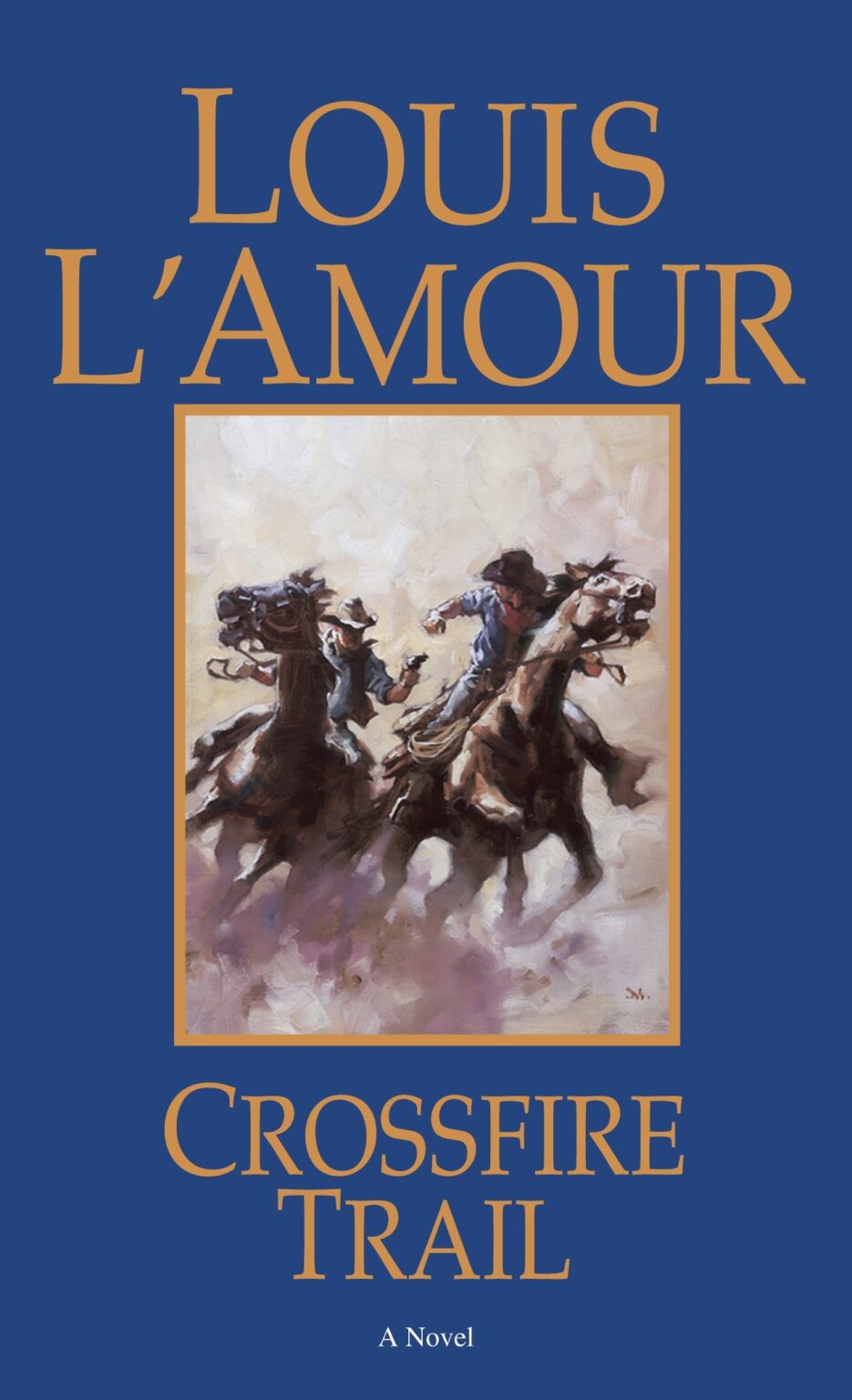 2. Crossfire Trail
Rafe Caradec is a gambler, soldier of fortune, and a wanderer. But he is also a man who keeps his promises, and he made one to a dying man, Rodney, that he would save his ranch in Wyoming for the man's wife and daughter.
There are powerful men out to get the ranch thanks to a secret hidden deep in the land. Rodney's daughter doesn't trust Rafe and is playing right into the hands of the men trying to steal the ranch, but Rafe has an idea to save the land and the girl.
---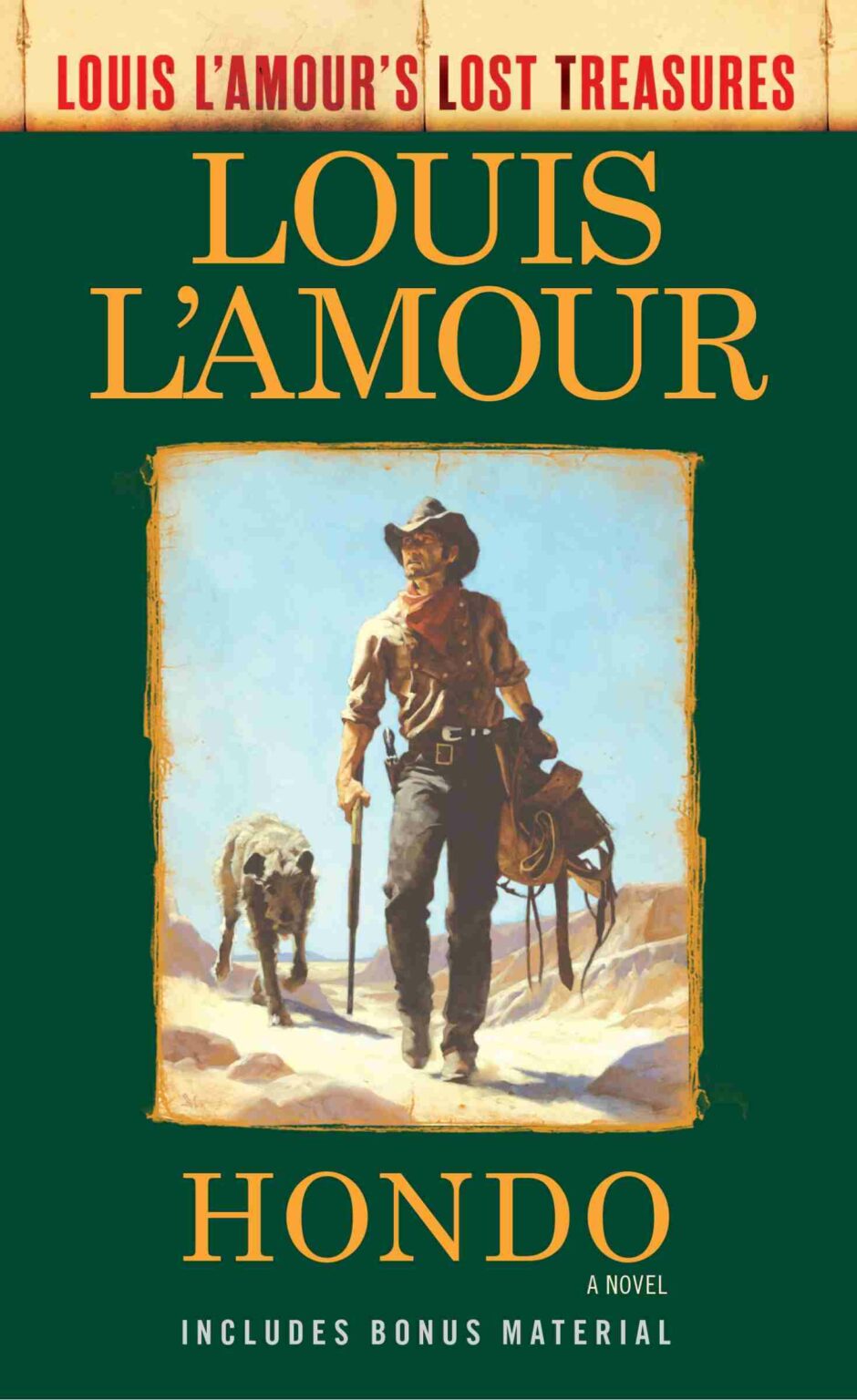 3. Hondo
Hondo Lane was a broad-shouldered man who knew the ways of the Apache and how to stay alive. Angie Lowe was all alone raising her young son on a remote Arizona ranch. Between them was Vittoro, whose people were preparing to rise against the white men.
All three of them — gunman, pioneer woman, and Apache warrior — are caught in a drama of love, war, and honor.
---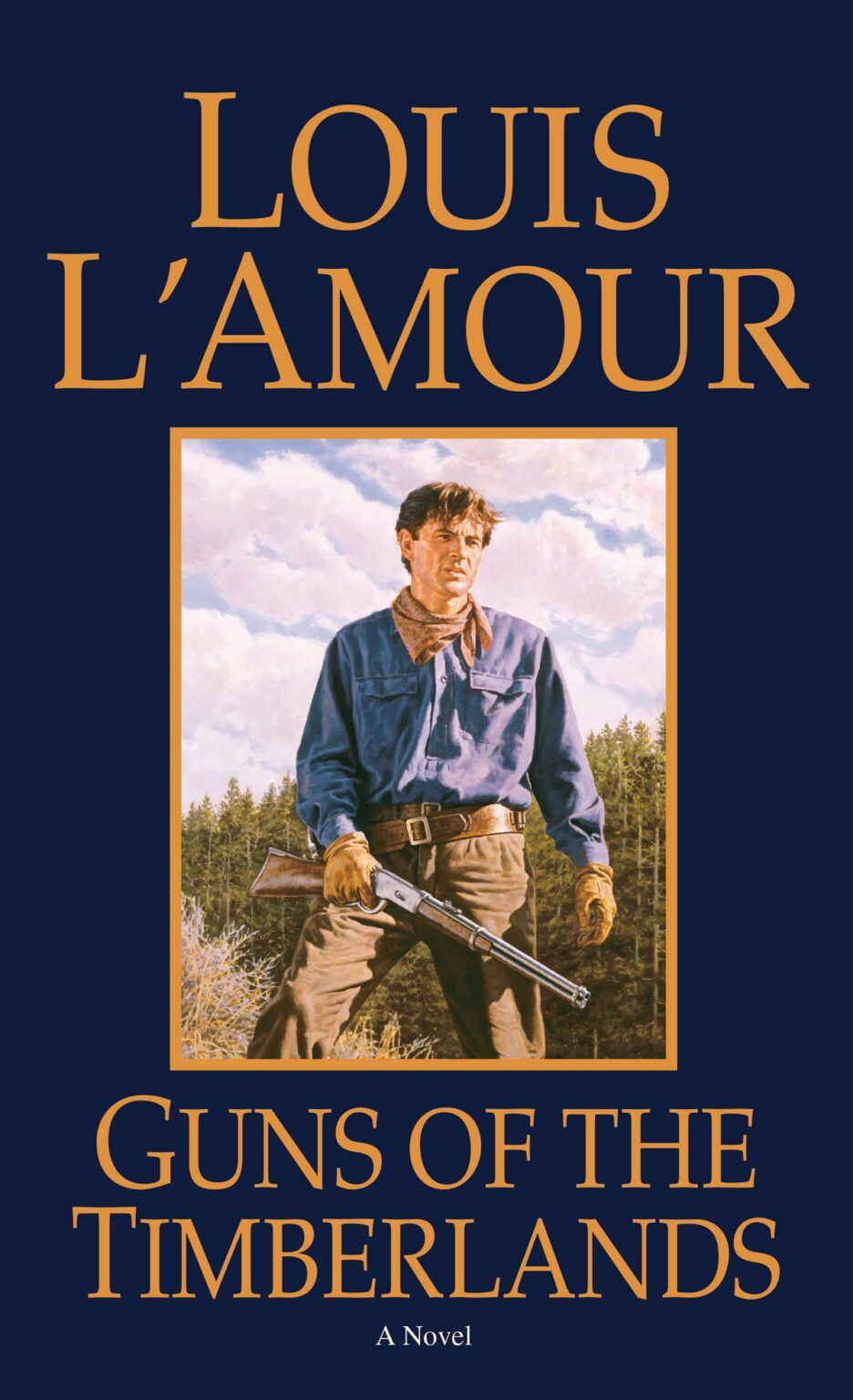 4. Guns of the Timberlands
Clay Bell has spent six years fighting everyone and the wilderness to make his ranch the best in Deep Creek Range. But now Jud Devitt is threatening everything he has worked for.
Devitt has a contract with the Mexican Central to deliver railroad ties and wants to harvest the timber where Clay grazes his cattle. There are shady politicians, a dishonest banker, and fifty tough lumberjacks in his corner.
But Devitt's fiancée, Colleen Riley, realizes what he is doing and her disapproval, along with Bell's integrity and charm, pull her toward a destiny that will tip the scales in their battle over timber and cattle.
---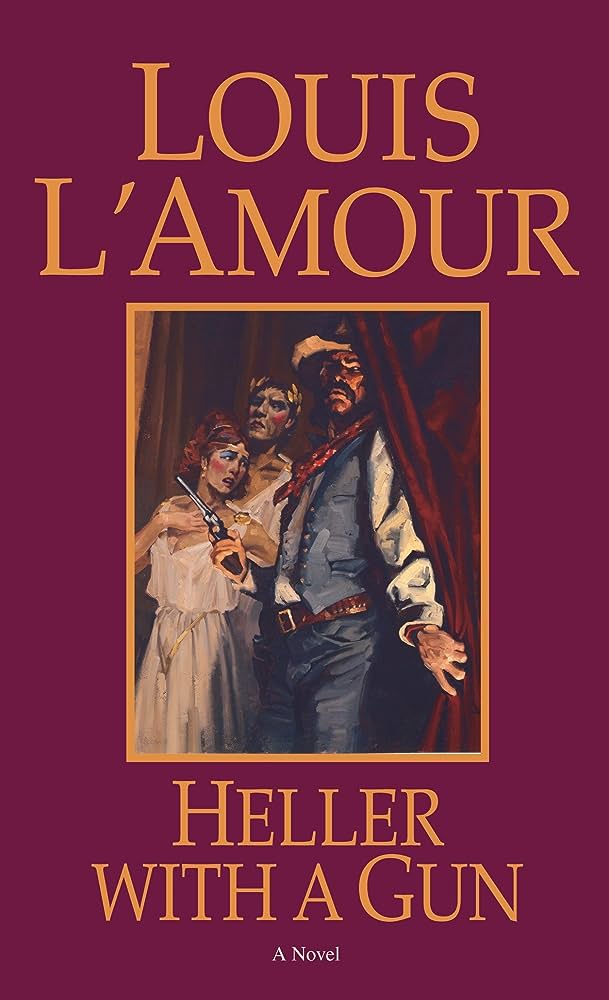 5. Heller with a Gun
Tom Healy and his theatrical group need to get to Alder Gulch, Montana quickly. He's reluctant to trust Andy Barker and his promise to get them there safely, but time is running out. However, when King Mabry shows up Tom notices how he makes Barker uneasy, so Tom invites Mabry to join them on their journey.
It is fortunate that Tom did because Barker had a mischievous plan. He knew that their wagons were carrying something more than just the actors and props. He was planning on stealing it at all costs, even murder.
---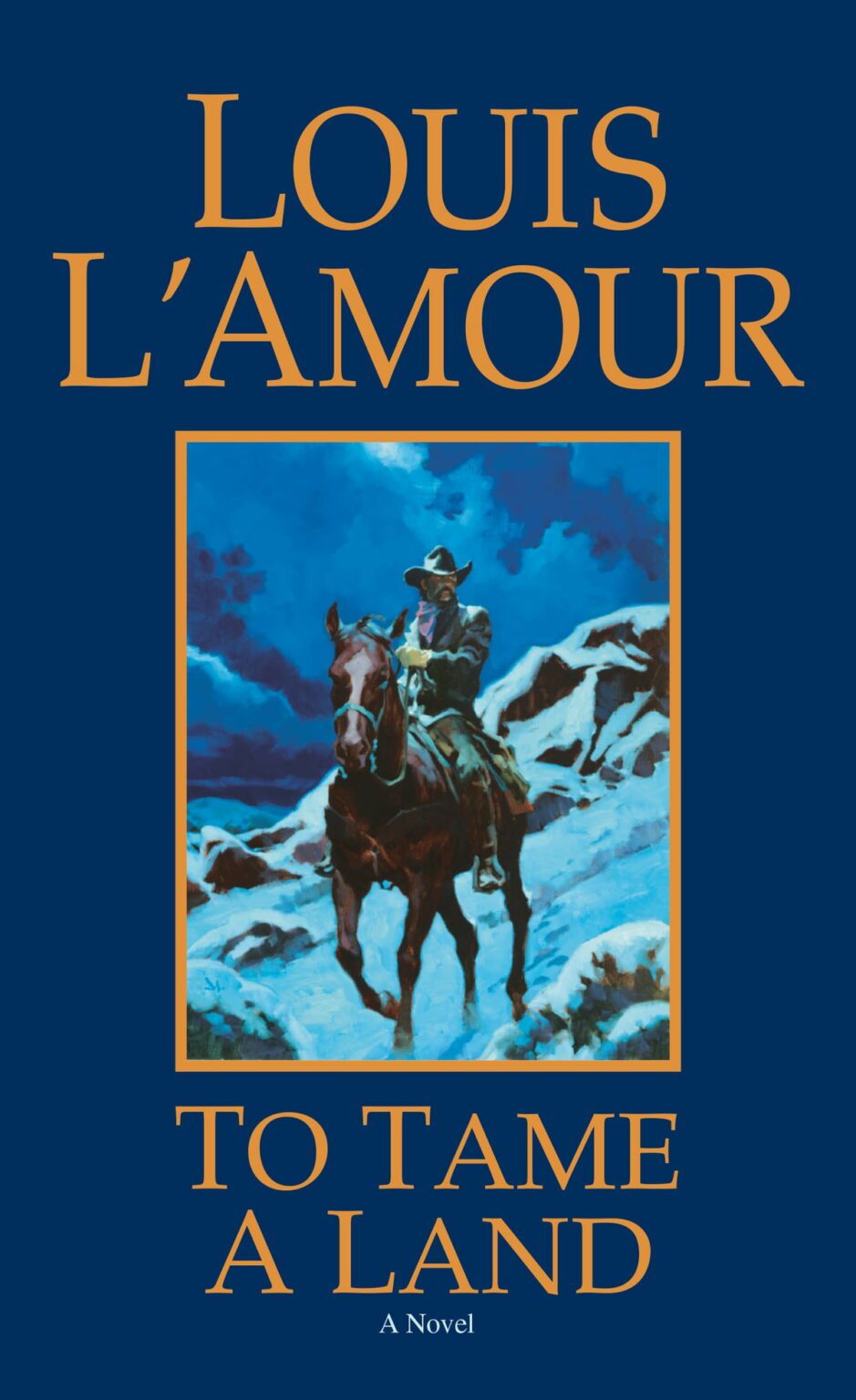 6. To Tame a Land
Rye Tyler's father was killed in a raid when he was only twelve. A mysterious stranger adopted him, but after killing a man, Rye must leave his new home. Eventually he finds a job breaking horses and meets Liza Hetrick.
Rye falls hard for Liza and after establishing himself as marshal of Alta, he returns only to find that she was been kidnapped. After tracking her, Rye is face-to-face with the man who took him in and taught him everything he knows… Who will walk away?
---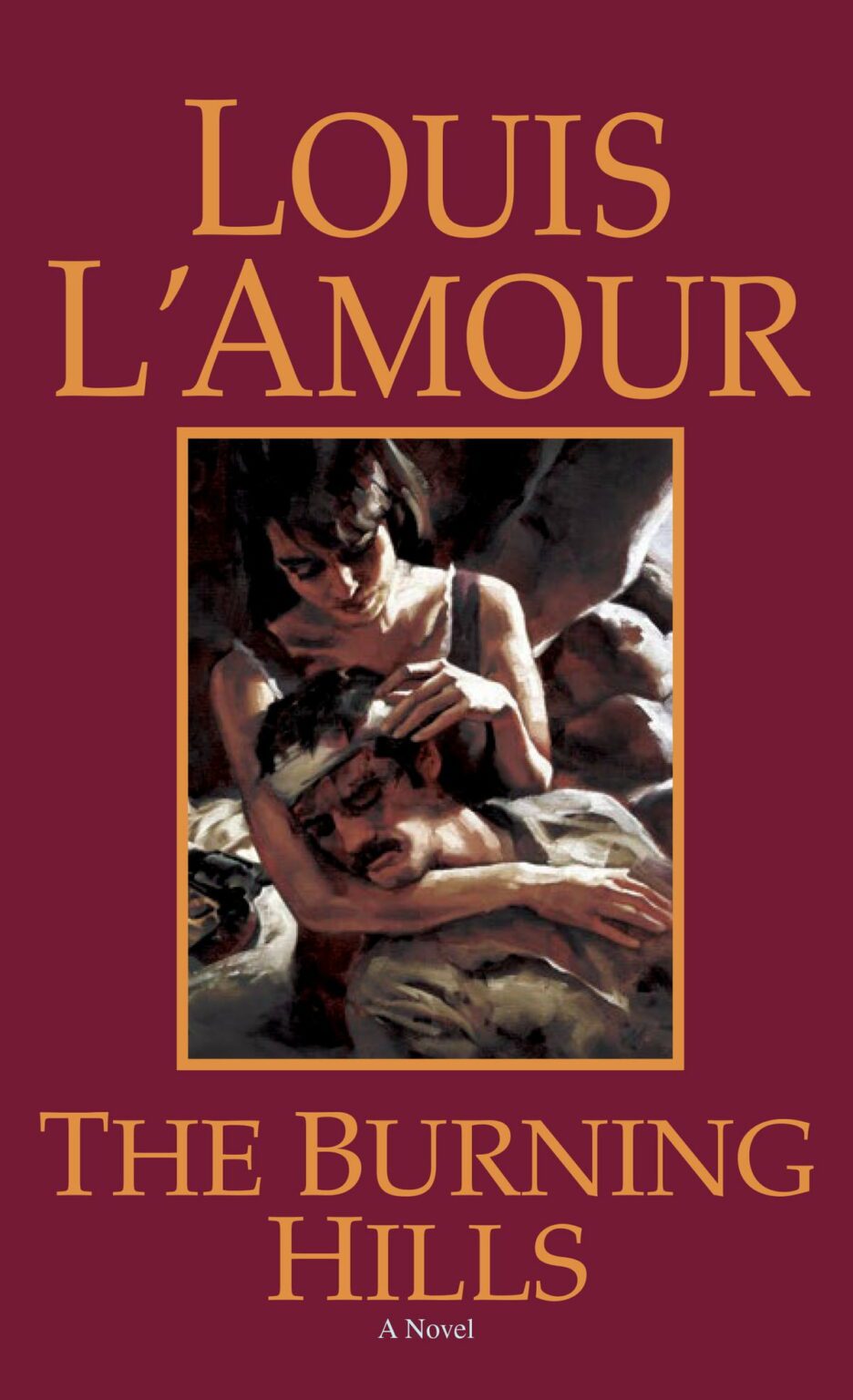 7. The Burning Hills
Trace Jordan is wounded, dehydrated, escaping a fight, and near collapse when he finds solace from the heat of the desert in a secluded canyon. Then he wakes up to discover a beautiful woman is nursing him back to health.
Maria Cristina has suffered at the hands of Bob Sutton and his men, who are the reason Trace is in his condition. It left her hostile and defiant and Trace is intrigued by her grit and determination, but his attraction turns her into a target.
That's because Sutton's men are watching and waiting. If he escapes, he will leave Maria to face them alone. But if they escape together they will have to survive the dangers of the desert.
---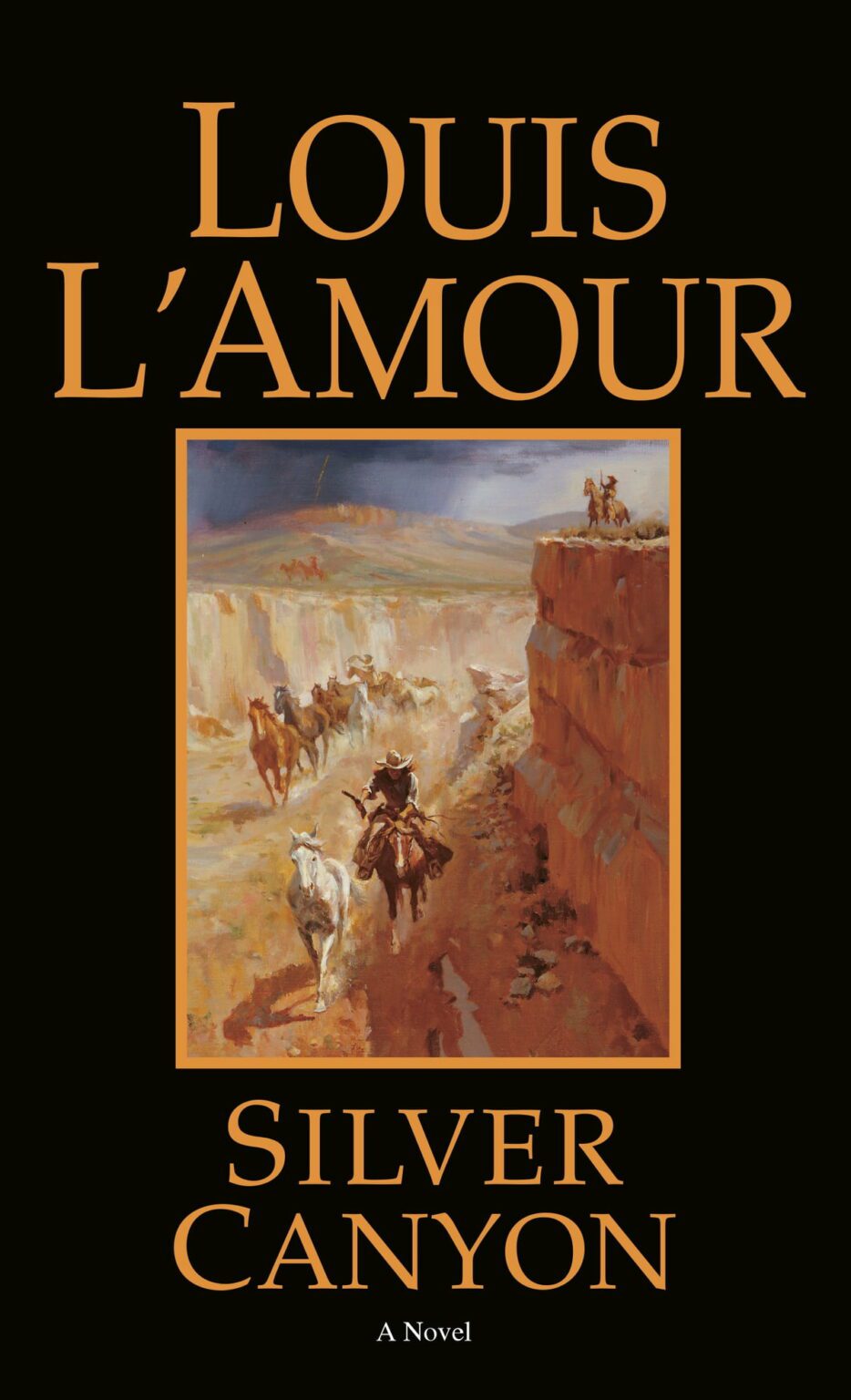 8. Silver Canyon
When Matt Brennan arrived in Hattan's Point he was told he wasn't wanted, but he refused to leave town before he got to know Moira Maclaren. Violence is brewing in the town too with men picking sides.
At first Moira didn't see Matt as anything more than a ranch hand passing through, so Matt is determined to prove her wrong. It will require him to solve the mystery at the heart of the growing tensions in town to do so and it could leave a man rich…or dead.
---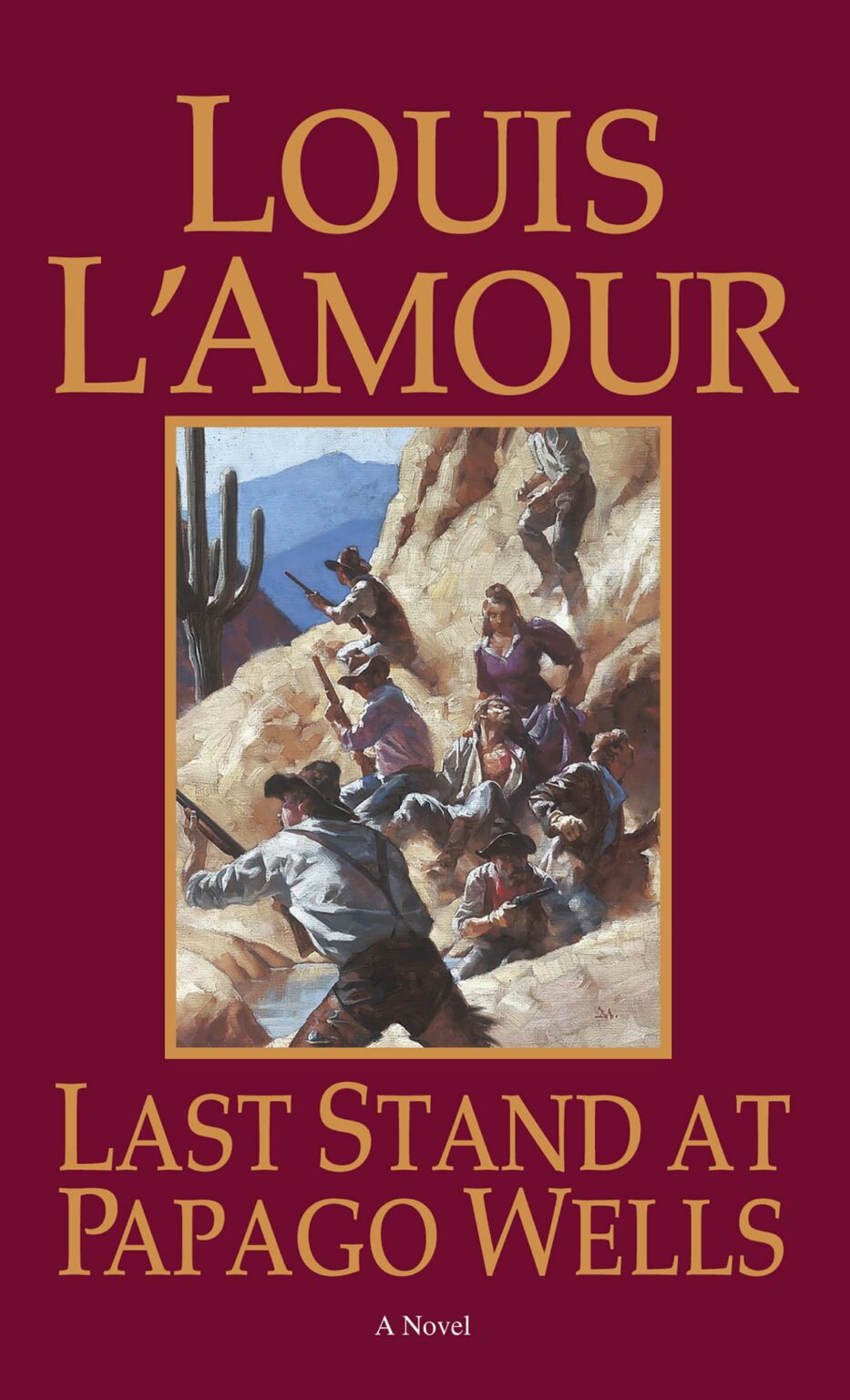 9. Last Stand at Papago Wells
Papago Wells is the only water for miles in the desert, which is why Logan Cates is headed for it. But he isn't the only one. Other travelers are fleeing the fierce Churupati and his Apache warriors, but when they caught up, a relentless and unforgiving siege began.
Cates does not want to be responsible for these thirteen desperate strangers and a shipment of gold, but he's their only chance at survival. He also knows that some of the travellers are willing to die or kill to get their hands on the money. If he wants to ensure their survival, he'll need to get them to work together.
---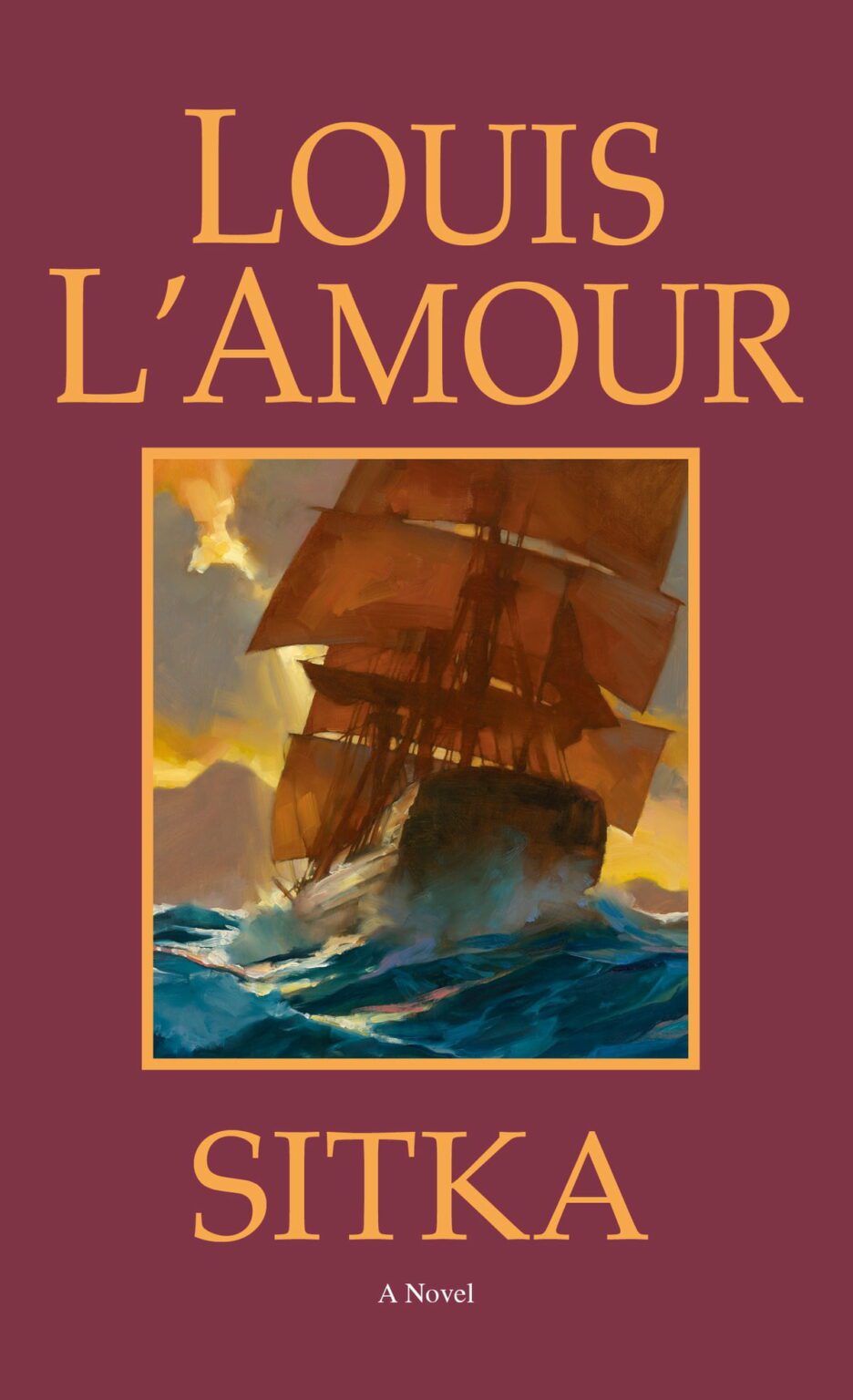 10. Sitka
Sitka rose out of the icy waters, a majestic gateway to the wilderness of Alaska that drew all kinds of adventurers, including Jean LaBarge. He left the swamps of the Susquehanna for the frozen frontier, but the Russians have already established themselves in Sitka.
They won't give it up without a fierce and dangerous struggle that stretches from San Francisco to St. Petersburg. Now Jean is facing the most dangerous fight of his life: A fight for a passionate woman and the right to claim Alaska for America.
---
Final thoughts on Louis L'Amour books in order
Louis L'Amour made a name for himself as a storyteller of frontier novels. The language and stereotypes that he used writing throughout the twentieth century is no longer used by many, but the themes of adventure, resilience, and bravery throughout his writing has kept the Louis L'Amour books in order so popular.
More Western Literature Resources