With all the news surrounding a new movie, you may be wondering how to read the After books in order. This will be your ultimate guide to the internet sensation that started on Wattpad before selling millions of print copies globally.
The After series is a new adult contemporary romance following the lives of Tessa, the quintessential good girl, and Hardin, the bad boy with a prickly exterior. The books feature the beloved trope of enemies-to-lovers, which unfolds on a university campus. Tensions flare, sparks fly, and drama ensues as Tessa and Hardin embark on a turbulent path of love.
These books have become an undeniable success and marked Anna Todd as a trailblazer. Keep reading to find out more about the After books in order.
#1 – After Books in Order of Publication
One thing many fans of the series agree on, however, is how addicting the books are. If you are reading the series for the first time, it is recommended to read the After books in order of publication.
This reading order places Before at the end of the series so it does not reveal any spoilers.
#2 – After Books in Chronological Order
Now, this order might divide fans slightly as this is not the recommended reading order if you have never read the series before.
While Before is really the fifth book in the series, it is also a prequel of sorts, with events taking place before, during, and after the After books. It delves into Hardin's life before he met Tessa, gives new insights into their relationship, and reveals new perspectives to the events from the After novels. Therefore, it will contain massive spoilers for the series if you have not read the other books before.
After Spin-Off Books
Landon Gibson Series
If you have already read the five main books in the After series, but are still eager for more from this world, you're in luck. This is because Anna Todd has published a duology that follows the perspective of a supporting character: Landon Gibson.
These two books follow Landon after he moves to New York City with Tessa. The series takes place after the events of After Ever Happy, but it is also a new adult contemporary romance in an academic setting. It follows Landon as he tries to carve his path through life and love, with a little advice from Tessa.
Nothing More (2016)
Nothing Less (2016)
Graphic Novel
But if you're looking for more of Tessa and Hardin's love story with a new twist, you're also in luck as Todd has published a graphic novel adaptation of her debut novel.
This is the first publication by Todd's imprint company collaboration: Frayed Pages x Wattpad Books. It is the first volume of a planned multi-title collection. However, there has been no announcement of a second volume as of yet.
After Movie Adaptations
As previously mentioned, there are also multiple After film adaptations. However, things have gotten slightly more convoluted with the film franchise continuing to create movies after the adaptation of the last book.
The first adaptation, After, premiered in 2019. Jenny Gage was the director and it stars Josephine Langford as Tessa Young and Hero Fiennes Tiffin as Hardin Scott. It also stars Dylan Arnold and Selma Blair. While it did not receive a positive critical reception, it grossed $69 million on a budget of $14 million.
The sequel, After We Collided, premiered in 2020. In addition to the return of Langford and Fiennes Tiffin, it also stars Dylan Sprouse and Candice King. The third film, After We Fell, premiered in 2021; it also stars Arielle Kebbel and Carter Jenkins.
The fourth After movie is the final adaptation of Todd's books and it was marketed as the final film in the franchise. It premiered in 2022. This film was shot back-to-back with the previous installment, so that the two blend seamlessly together.
More After Movies?
However, there are more After movies at various stages of production. Castille Landon became the director for the franchise with After We Fell in 2020. The following year producers announced that they would be creating a prequel and a sequel to the franchise with Landon at the helm.
Author Anna Todd has not been a producer on the films or associated with the production company since the second adaptation. She will not be involved in either of these two additional movies, or the fifth After movie, which caused a stir online.
The fifth movie, After Everything, will premiere on September 13, 2023. It is, once again, being marketed as the final chapter. Langford will direct and she also wrote the original screenplay.
Reaction to the new movie has been mixed to say the least. Todd described it as fanfiction of her work and fans are conflicted by how Hardin and Tessa's love story is being portrayed. A new love interest from Hardin's past plays a large role in the new movie: Nathalie, who will be played by Mimi Keene.
A Summary of the After Books in Order
By now you know almost all there is to know about the books, so let's finally dive into the summaries of the After books in order of publication.
Again, this is the recommended reading order if you're picking up the series for the first time. If you haven't read these books before, read the below summaries with caution as they may contain spoilers about Tessa and Hardin's relationship.
---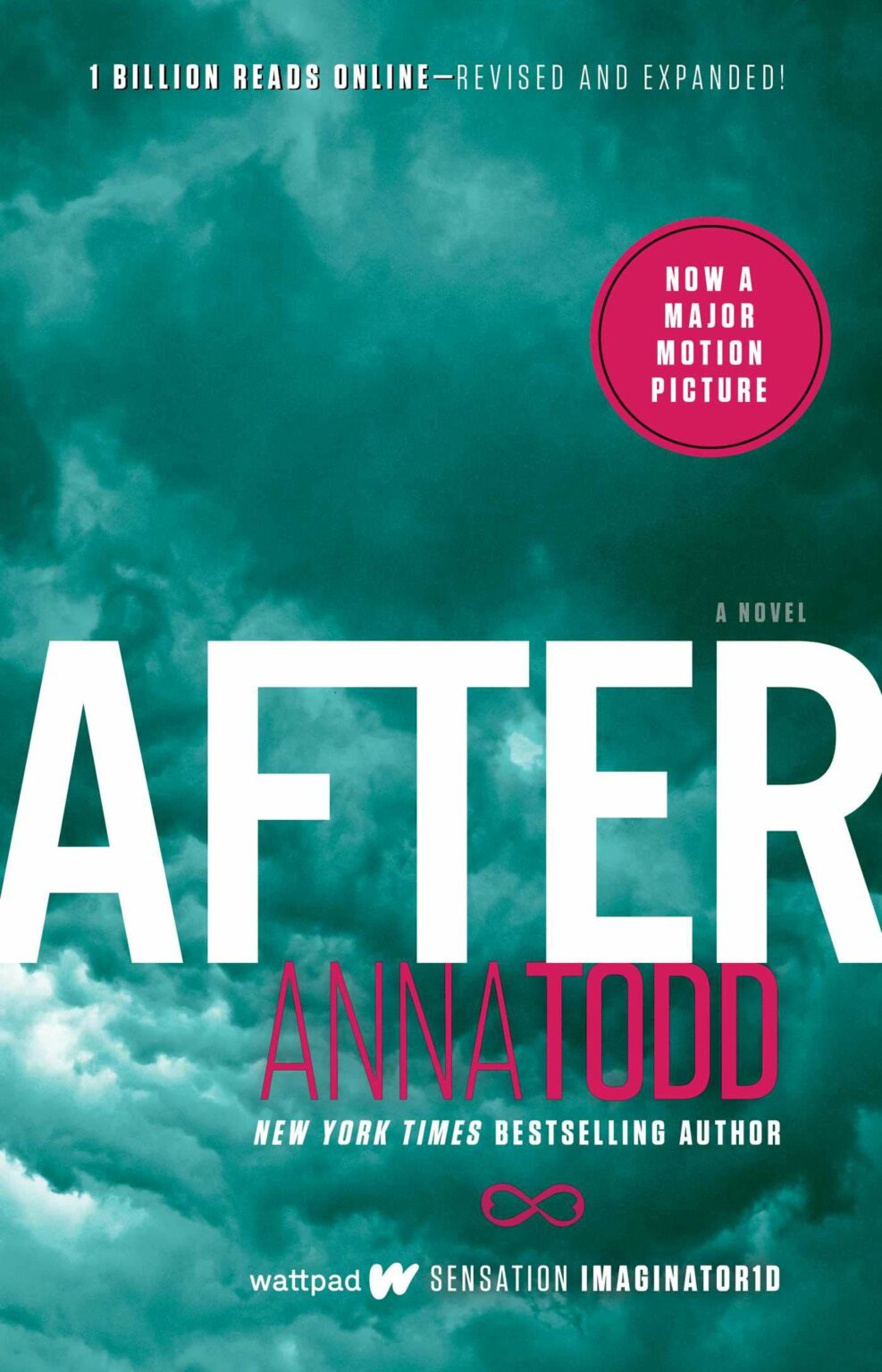 1. After
Tessa is a good girl with a sweet, reliable boyfriend back home. She's got direction, ambition, and a mother who's intent on keeping her that way.
But she runs into Hardin almost as soon as she moves into her freshman dorm. With his tousled brown hair, cocky British accent, and tattoos, Hardin is cute and different from what she's used to.
But he's also rude — to the point of cruelty, even. For all his attitude, Tessa should hate Hardin. And she does — until she finds herself alone with him in his room. Something about his dark mood grabs her, and when they kiss it ignites within her a new and exciting passion.
He'll call her beautiful, then insist he isn't the one for her and disappear again and again. Despite the reckless way he treats her, Tessa is compelled to dig deeper and find the real Hardin beneath all his lies. He pushes her away again and again, yet every time she pushes back, he only pulls her in deeper.
Tessa already has the perfect boyfriend. So why is she trying so hard to overcome her own hurt pride and Hardin's prejudice about nice girls like her?
Unless…could this be love?
---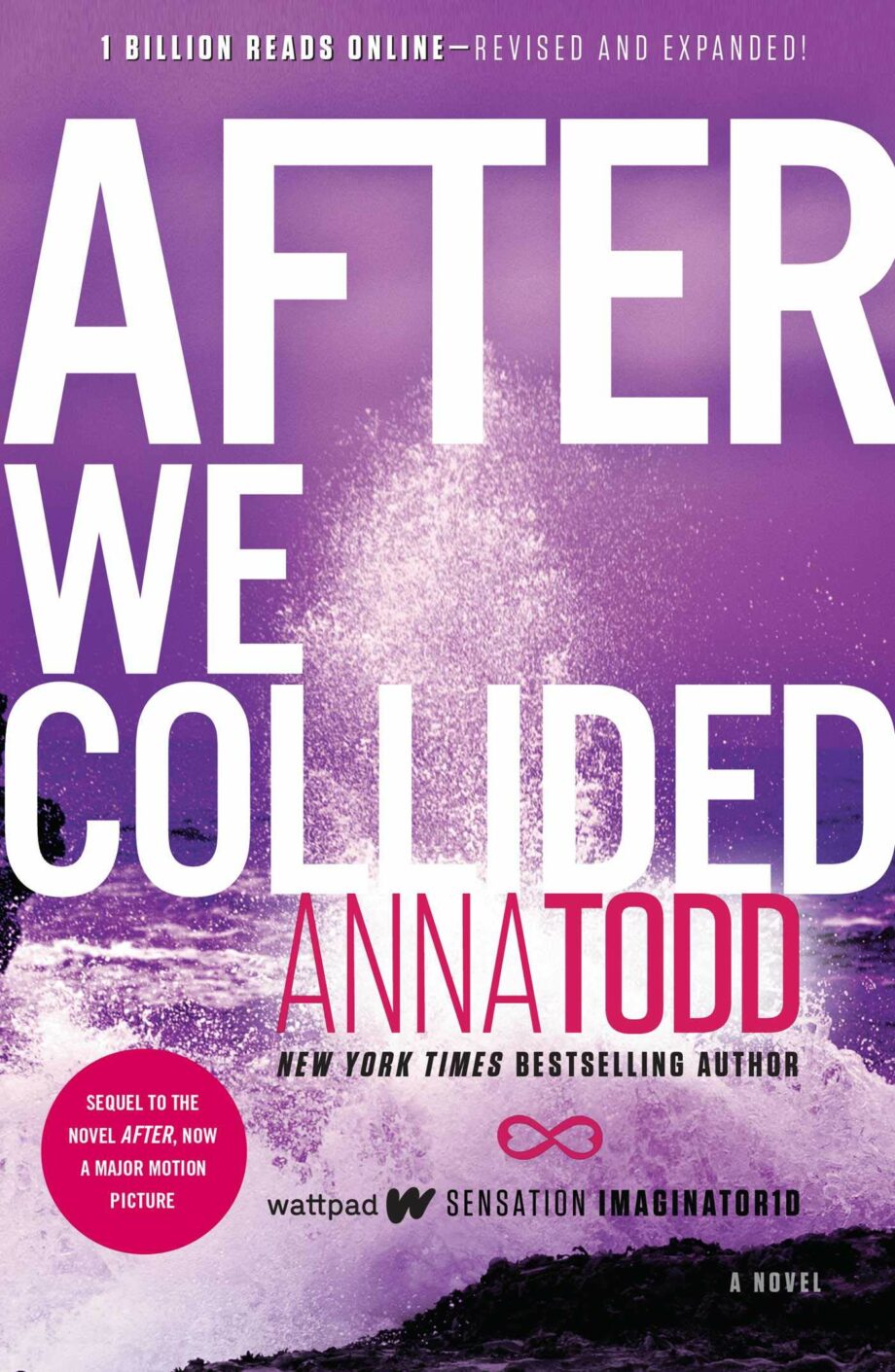 2. After We Collided
After a tumultuous beginning to their relationship, Tessa and Hardin were on the path to making things work. Tessa knew Hardin could be cruel. But when a bombshell revelation is dropped about the origins of their relationship — and Hardin's mysterious past — Tessa is beside herself.
Hardin will always be…Hardin. But is he really the deep, thoughtful guy Tessa fell madly in love with despite his angry exterior? Or has he been a stranger all along?
She wishes she could walk away. It's just not that easy. Not with the memory of passionate nights spent in his arms. His electric touch. His hungry kisses.
Still, Tessa's not sure she can endure one more broken promise. She put so much on hold for Hardin — school, friends, her mom, a relationship with a guy who really loved her, and now possibly even a promising new career. She needs to move forward with her life.
Hardin knows he made a mistake, possibly the biggest one of his life. He's not going down without a fight. But can he change? Will he change…for love?
---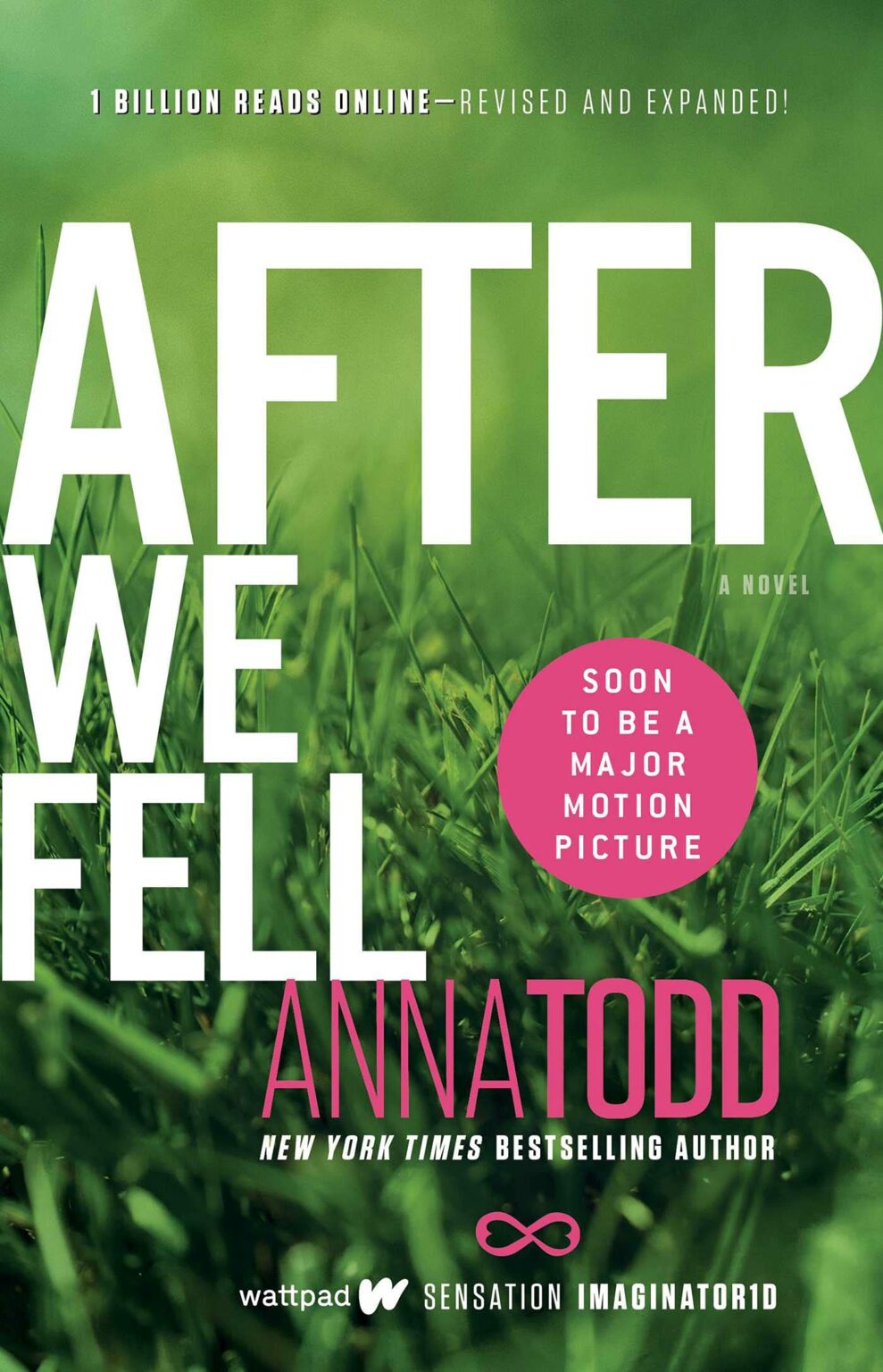 3. After We Fell
Just as Tessa makes the biggest decision of her life, everything changes. Revelations about first her family, and then Hardin's, throw everything they knew before in doubt. It makes their hard-won future together more difficult to claim.
Tessa's life begins to come unglued. Nothing is what she thought it was. Not her friends. Not her family.
The one person she should be able to rely on, Hardin, is furious when he discovers the massive secret she's been keeping. And rather than being understanding, he turns to sabotage.
Tessa knows Hardin loves her and will do anything to protect her. But there's a difference between loving someone and being able to have them in your life. This cycle of jealousy, unpredictable anger, and forgiveness is exhausting.
She's never felt so intensely for anyone, so exhilarated by someone's kiss. But is the irrepressible heat between her and Hardin worth all the drama? Love used to be enough to hold them together. But if Tessa follows her heart now, will it be…the end?
---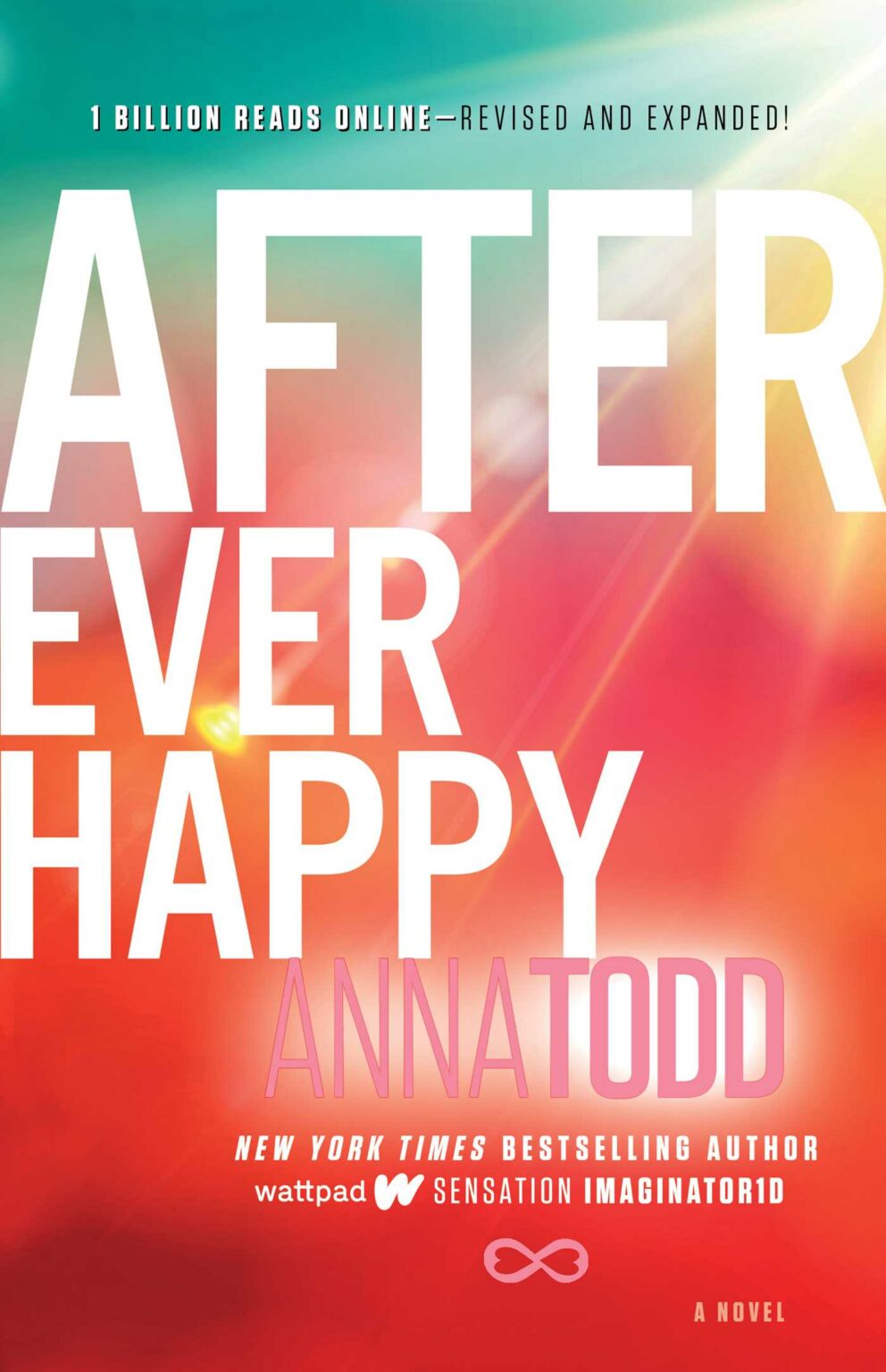 4. After Ever Happy
It's never been all rainbows and sunshine for Tessa and Hardin. But each new challenge they've faced has only made their passionate bond stronger and stronger. But when a revelation about the past shakes Hardin's inpenetrable façade to the core — and then Tessa suffers a tragedy — will they stick together again, or be torn apart?
As the shocking truth about each of their families emerges, it's clear the two lovers are not so different from each other. Tessa is no longer the sweet, simple, good girl she was when she met Hardin — any more than he is the cruel, moody boy she fell so hard for.
Tessa understands all the troubling emotions brewing beneath Hardin's exterior, and she knows she's the only one who can calm him when he erupts. He needs her.
But the more layers of his past come to light, the darker he grows, and the harder he pushes Tessa — and everyone else in his life — away. Tessa's not sure if she really can save him — not without sacrificing herself.
She refuses to go down without a fight. But who is she fighting for — Hardin or herself?
---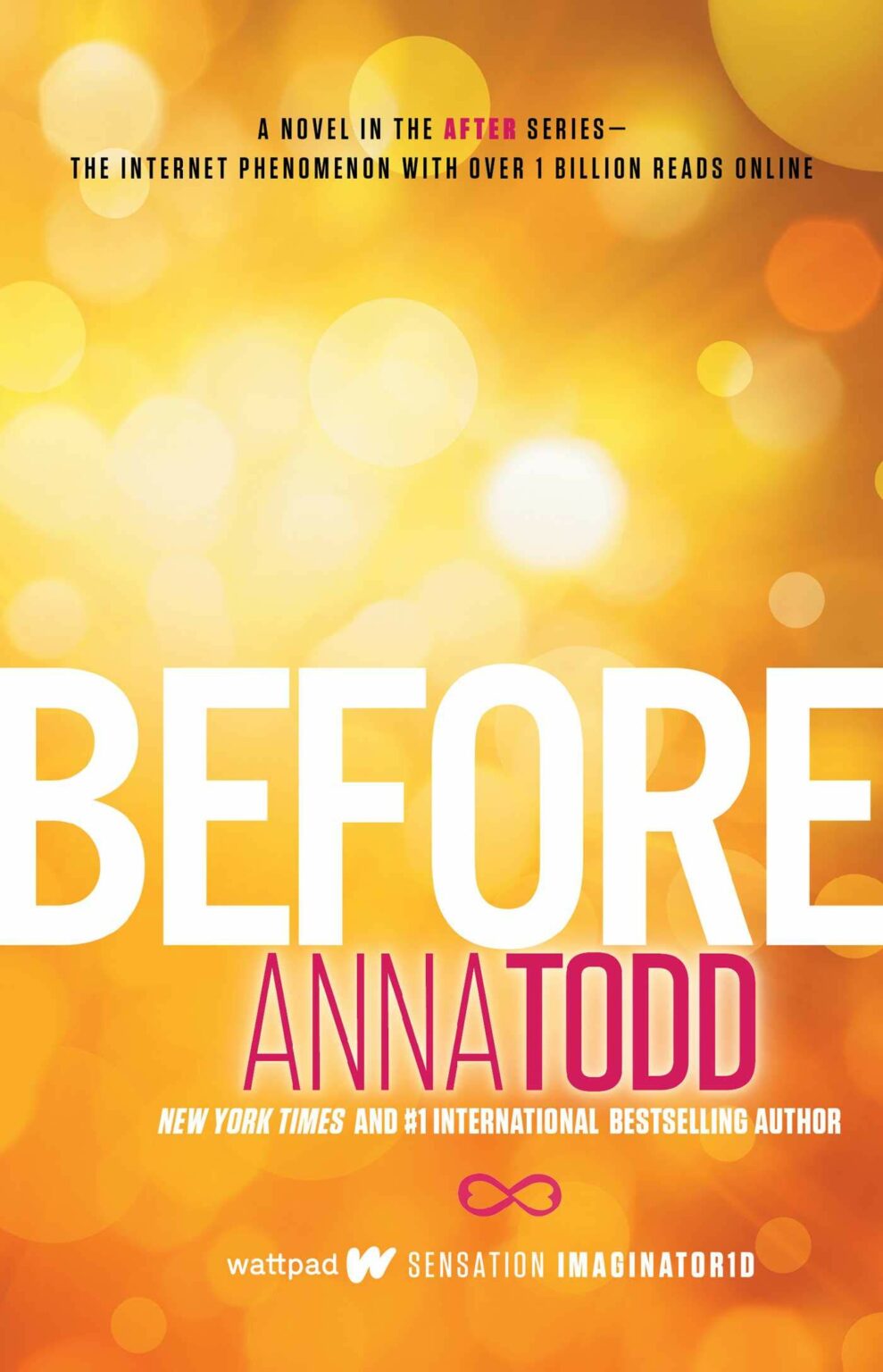 5. Before
Before explores Hardin Scott's life before Tessa, reveals what happens after After, and gives new insights on their turbulent #Hessa romance.
He was a raging storm before he met Tessa. During those first moments they met, he realized he needed to keep her for himself — his life depended on it. After they got together, the world would never be the same.
Hardin and Tessa's dramatic love affair became a vortex pulling in everyone around them. For the first time these others are given voice as they appear before, during, and after the events of the original After novels. Alongside them, is Hardin's account of his first encounters with Tessa — which will change what you thought you knew about the brooding boy and the angel who loved him.
---
Final thoughts on the After books in order
Whether you adore the After books and are looking for a recap before a reread or are just beginning your After reading journey, it is undeniable that Anna Todd has accomplished incredible feats within the last decade. The After series has become an iconic new adult contemporary romance.
Have you read the After books in order? Let us know in the comments below.
More Contemporary Romance Resources