Most of the Nevada Barr books in order are part of her popular and award-winning Anna Pigeon series. These books about a national park ranger are captivating mysteries with evocative settings in parks across the U.S.
Barr pulls from her own lived experience as a former national park ranger in writing these books which lends a credible, realistic nature. She has also written or contributed to a handful of other books and anthologies.
About Nevada Barr
Before she became an author, Nevada Barr worked a whole host of different jobs. She was an actor for 18 years, an executive assistant, and also a restaurant critic. She then became a national park ranger, but throughout all of this the written word was close to her heart.
It was her second attempt, Bittersweet, which would make it to publication. There was then a ten-year period in which Barr wrote four novels, which are still sitting in her garage.
But then came the beginning of the Anna Pigeon series. These books are by far her most well-known. Track of the Cat is the first book in the series and it won both the Agatha and Anthony awards for best first mystery.
Barr grew up in a family of pilots. Her mother was the first woman lead pilot for the U.S. Forest Service. She was also the first woman to fly for the service in 1974. This upbringing and trailblazing example instilled a sense of adventure and appreciation for nature in Barr.
That lived experience, as well as her time as a national park ranger, shines through in her Anna Pigeon books. Amidst the murder investigations and threats of danger, these books are a love letter to the national parks across the U.S. and showcase their beauty.
Nevada Barr Books in Order
Standalone Books
Nevada Barr's debut publication was a standalone novel. However, Bittersweet was actually the second book Barr wrote, as her first book was never published. Her boss at the time described Bittersweet as a neo-gothic lesbian western.
Barr's most recent publication is also a standalone. What Rose Forgot is a mystery thriller about a grandmother trying to escape a nursing home, with her life on the line. Meanwhile, her other standalone, 13 ½, is a psychological thriller which takes place in Rochester, Minnesota and New Orleans, Louisiana.
Bittersweet (1984)
13 ½ (2009)
What Rose Forgot (2019)
Anna Pigeon Books
The Anna Pigeon books are the largest part of the Nevada Barr books in order and also her most popular. These are wilderness suspense novels which teem with the beauty of nature and the horrific tendencies of humanity. Unfortunately, there has not been a new book since 2016, but there have been no announcements that Barr has concluded this series.
The publication order of the Anna Pigeon books is nearly the same as the chronological order, but there is one exception. That's because The Rope is a prequel which winds the clock back to Anna's first case. However, new readers should not begin this series with the prequel.
Instead, readers should follow the publication order. This will feature the slow build of anticipation as more and more of Anna's past is revealed and not spoil that trepidation. Readers will also have a stronger connection with Anna if they wait to read the prequel, which will make her ordeal all the more impactful.
Nonfiction Books
Nevada Barr has only written one nonfiction book, which documents her spiritual journey for the meaning of life.
Short Story
Barr has also written one short story. It takes place in New Orleans and follows a woman who witnesses a murder by a serial killer. She then decides the city's high crime rate should be a resource rather than a curse.
Smoke and Murders (2011)
Anthologies
Finally, Nevada Barr has contributed to a handful of anthologies throughout her career.
A Summary of Nevada Barr Books in Order
While she has written other books, by far what Nevada Barr is most well-known for is her Anna Pigeon series. These wilderness suspense novels are incredibly popular. Each book follows a new investigation and often a new locale, but it is best to read these Nevada Barr books in order of publication for the best character development experience.
---
1. Track of the Cat
Patrolling the remote West Texas backcountry, Anna's first job as a national park ranger is marred by violence she thought she had left behind: The brutal death of a fellow ranger. When the cause of death is chalked up to a mountain lion attack, Anna's rage knows no bounds.
It's up to her to save the protected cats from the politics and prejudices of the locals — and also prove the kill was the work of a species far less rare…
This novel pulls from Nevada Barr's own experience as a park ranger in the Guadalupe Mountains, which was her second duty station.
---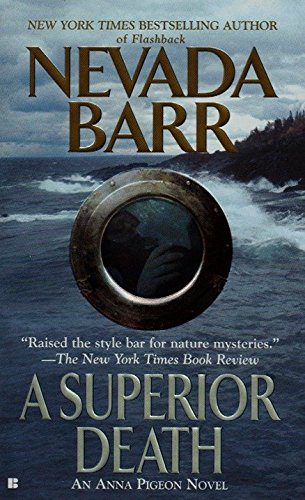 2. A Superior Death
Leaving behind memories of the Texas high desert and the environmental scam she helped uncover, Anna is adjusting to the cool damp of Lake Superior and the spirits and lore of the northern Midwest.
But when a routine application for a diving permit reveals a grisly underwater murder, Anna finds herself 260 feet below the forbidding surface of the lake, searching for the connection between a drowned man and an age-old cargo ship.
This novels takes place in Isle Royale National Park. This was Nevada Barr's first duty station as a seasonal law enforcement ranger.
---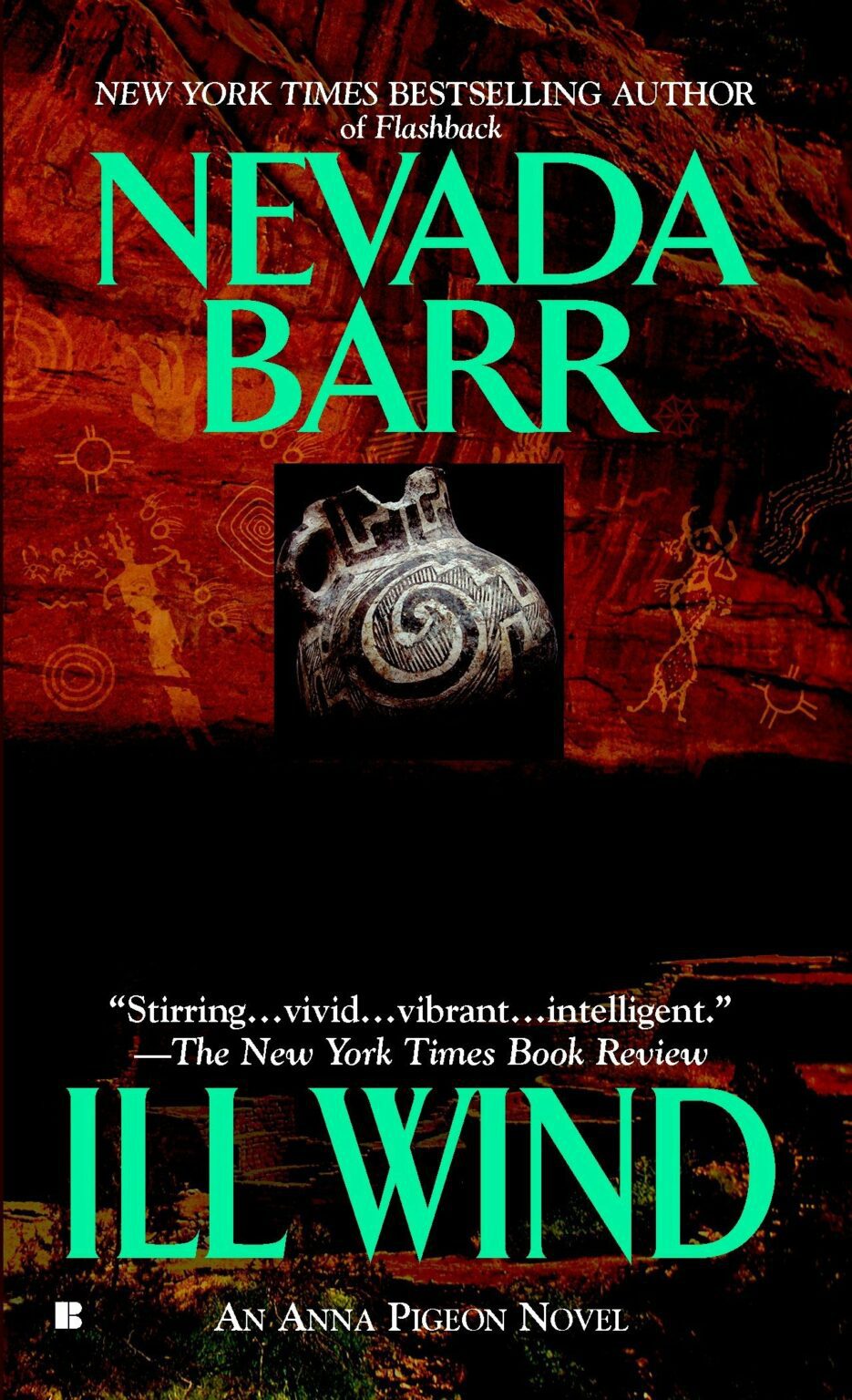 3. Ill Wind
Next, Anna Pigeon travels to Mesa Verde National Park. Nevada Barr worked in this park as a ranger in 1991 and 1992 during the summer.
It is here that Anna finds herself separated from friends and family, while also haunted by personal demons. She also finds solace in the quiet ruins of the Anasazi civilization of Colorado's Mesa Verde. But the rugged beauty of the park and the mystery of the Anasazi are cast in a cruel shadow of danger and death.
---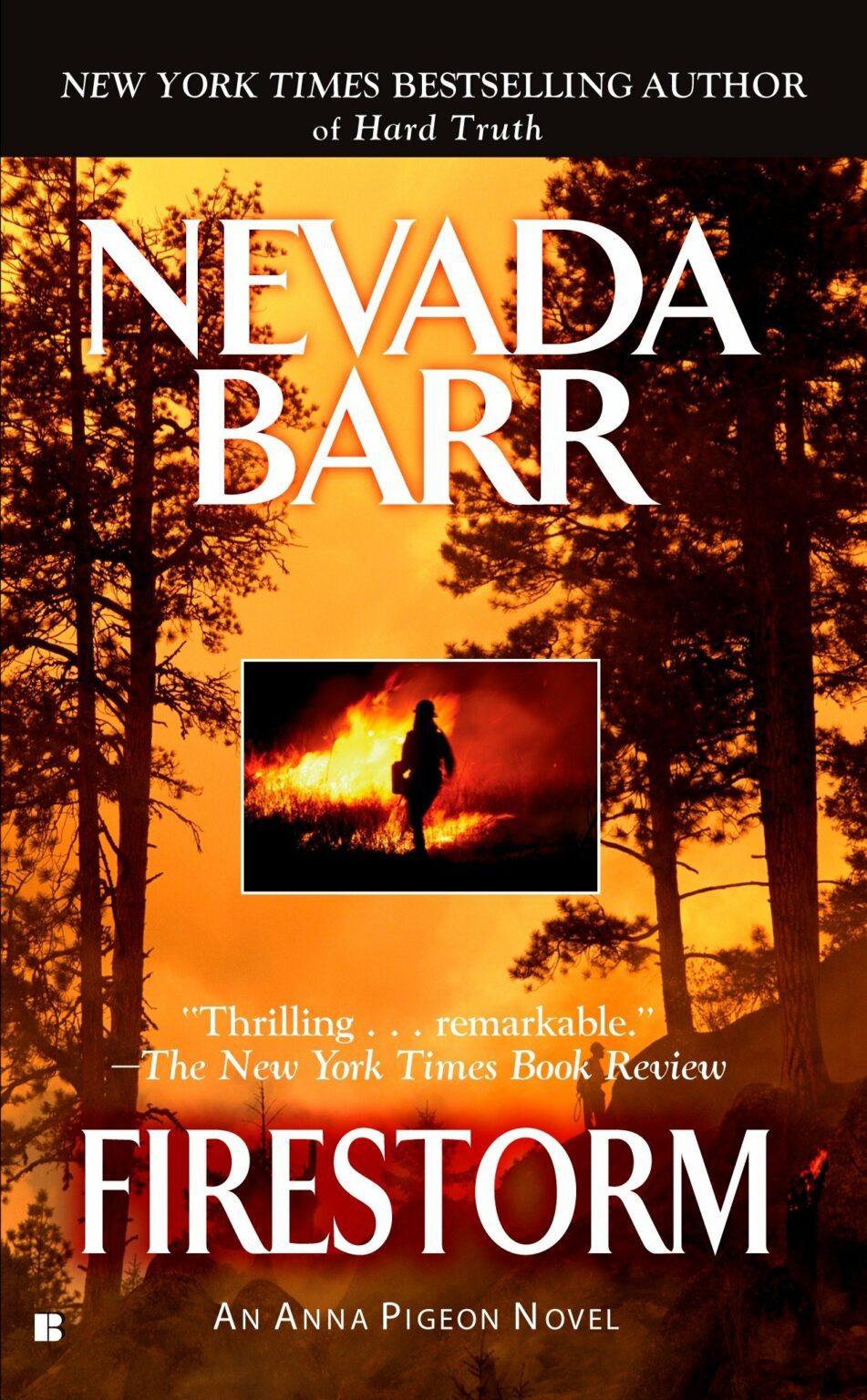 4. Firestorm
This book takes place in Lassen Volcanic National Park. Barr grew up near Lassen and says she was captivated by the hypnotic magic of the volcanic activity as a child. Barr also used her own experience working as a spike camp medical technician amidst wildfires.
In her capacity as spike camp medic and security officer, Anna is part of the army battling the Jackknife fire in Northern California's Lassen Volcanic National Park. Then conditions conspire and turn freakish causing Anna and her crew to be caught in a firestorm. When the storm passes, a crew member is dead, and not due to natural causes…
As a rampaging winter storm descends, cutting the survivors off from civilization, Anna must uncover the murderer in their midst.
---
5. Endangered Species
Time is weighing heavily on Anna while she waits out a stint of fire detail on Cumberland Island off the coast of Georgia. Then a plane crash in the inland thickets calls her and her crew to duty. The flames are quickly extinguished, but suspicions begin to smolder over the cause of the accident…
Barr also once worked pre-suppression duty on Cumberland Island National Seashore, although Barr's detail was only 16 days and not three weeks like Anna Pigeon.
---
6. Blind Descent
Anna swallows her paralyzing fear of small spaces and descends into Lechuguilla to help a friend in need. But worse than the claustrophobia that haunts her, are the signs — some natural and some, more ominously, manmade — that not everyone is destined to emerge from this wondrous living tomb alive.
This book takes place in Carlsbad Caverns National Park. Barr largely fictionalized the cave Lechuguilla for her plot and also because the cave has been closed to visitors. However, during her time as a ranger, Barr did descend into Lechuguilla.
---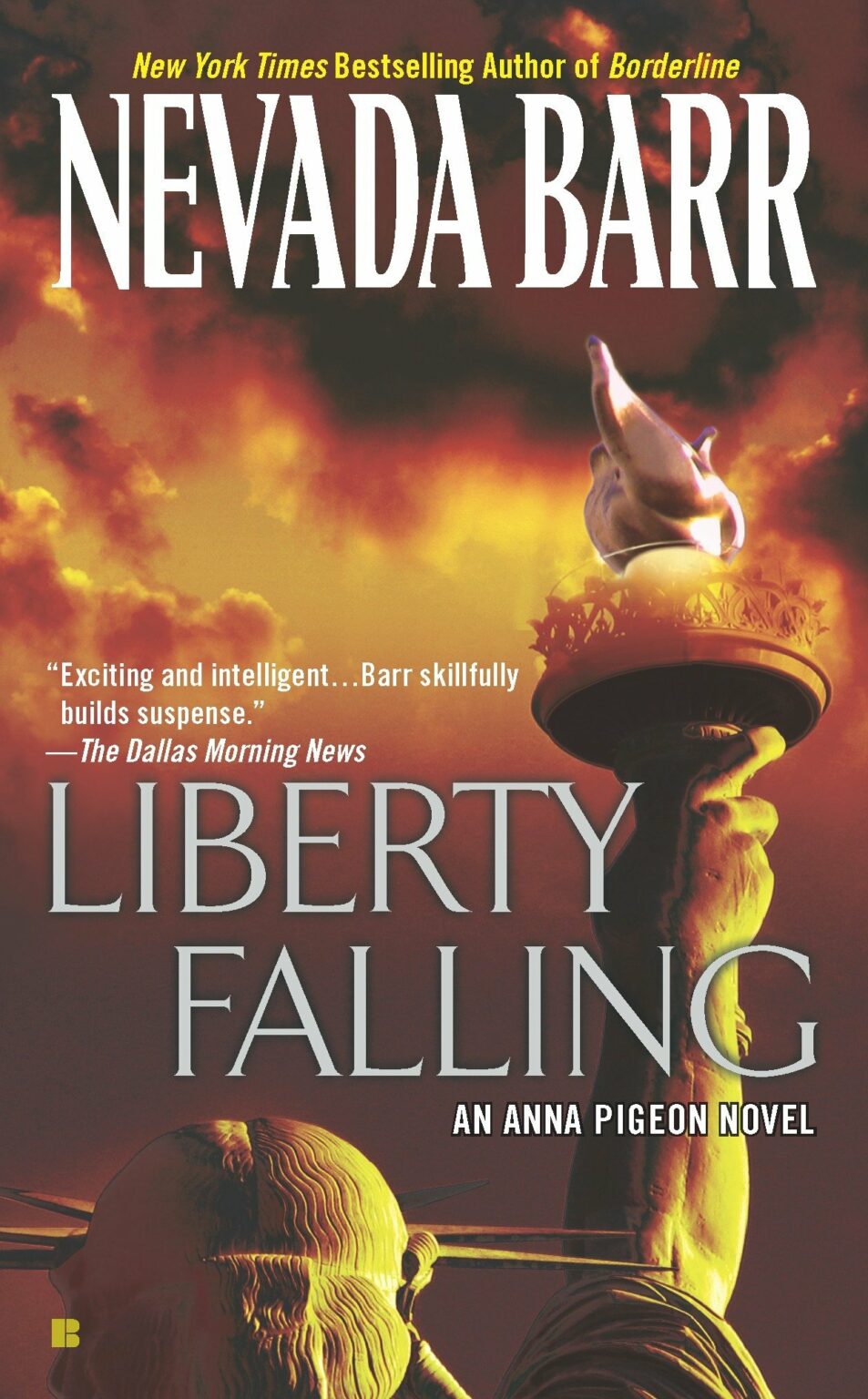 7. Liberty Falling
When Anna's beloved sister, Molly, falls ill, Anna rushes to New York City to be by her side. She stays with friends on Ellis Island while she waits out Molly's ordeal.
She also decides to explore the Statue of Liberty in her spare time. While there, a young girl falls to her death when exploring the Statue of Liberty. Anna suspects it was a homicide and not a suicide, and so begins an investigation that puts her in the line of fire.
Nevada Barr also explored the Statue of Liberty when a girlfriend was transferred to Ellis Island National Monuments. That experience, as well as the time she lived in New York City, bleeds into this book with her vivid descriptions of the history, ghosts, and possibilities.
---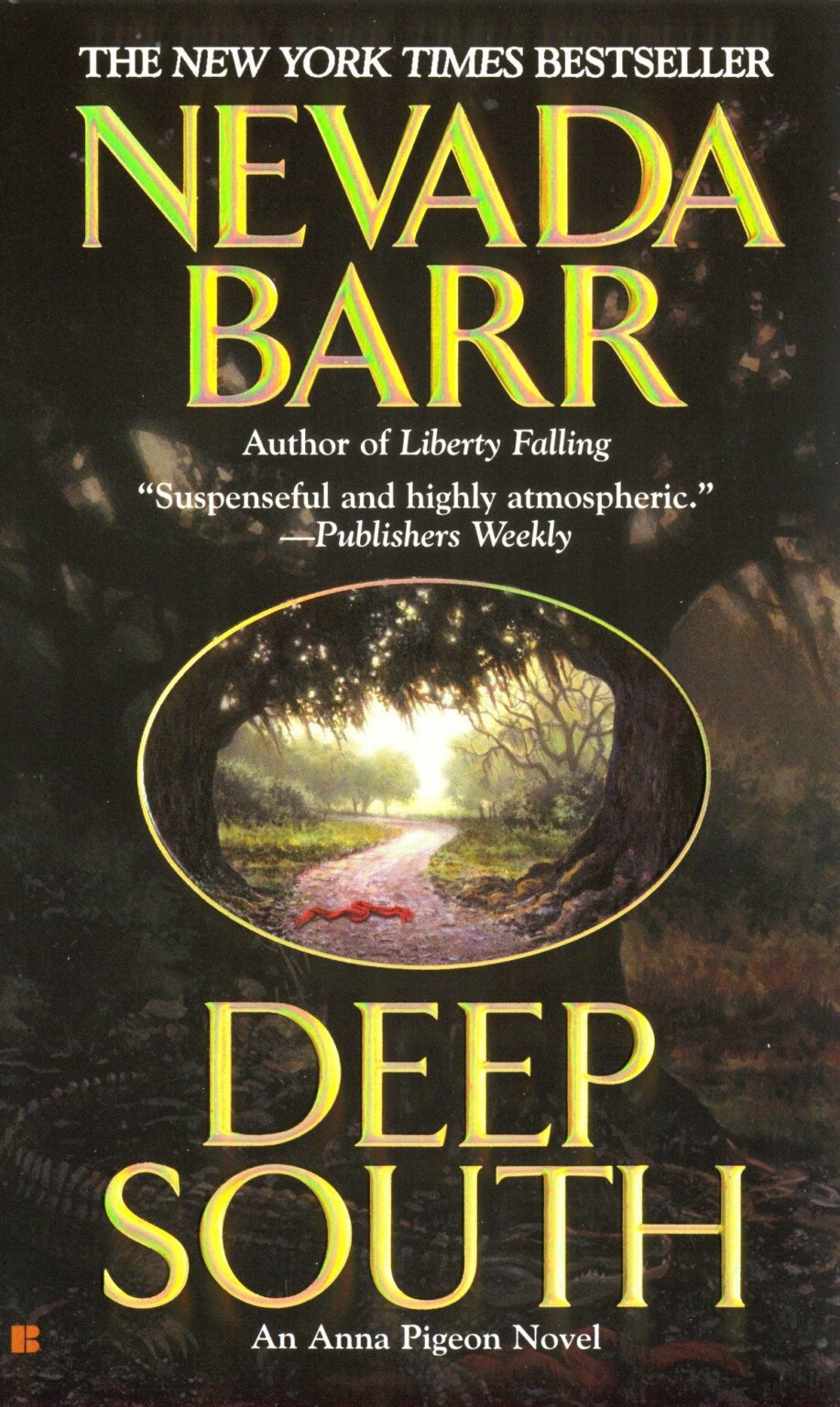 8. Deep South
Anna Pigeon finally gives in to her bureaucratic clock and signs on for a promotion. Next thing she knows, she's knee-deep in mud and Mississippi. It's not exactly what she had in mind.
Almost immediately, as the new district ranger on the Natchez Trace, Anna discovers the body of a young prom queen near a country cemetery, a sheet around her head and a noose around her neck. It's a bizarre twist on a best-forgotten past of frightening racial undertones. But as fast as the ever-encroaching kudzu vines of the region, the roots of this story run deep — and threaten to suffocate anyone in the way, including Anna…
Barr worked for two years in Mississippi on the Natchez Trace Parkway. She lived very nearby in Clinton and was long inspired by the mystery and characters of the area to write a book in this setting.
---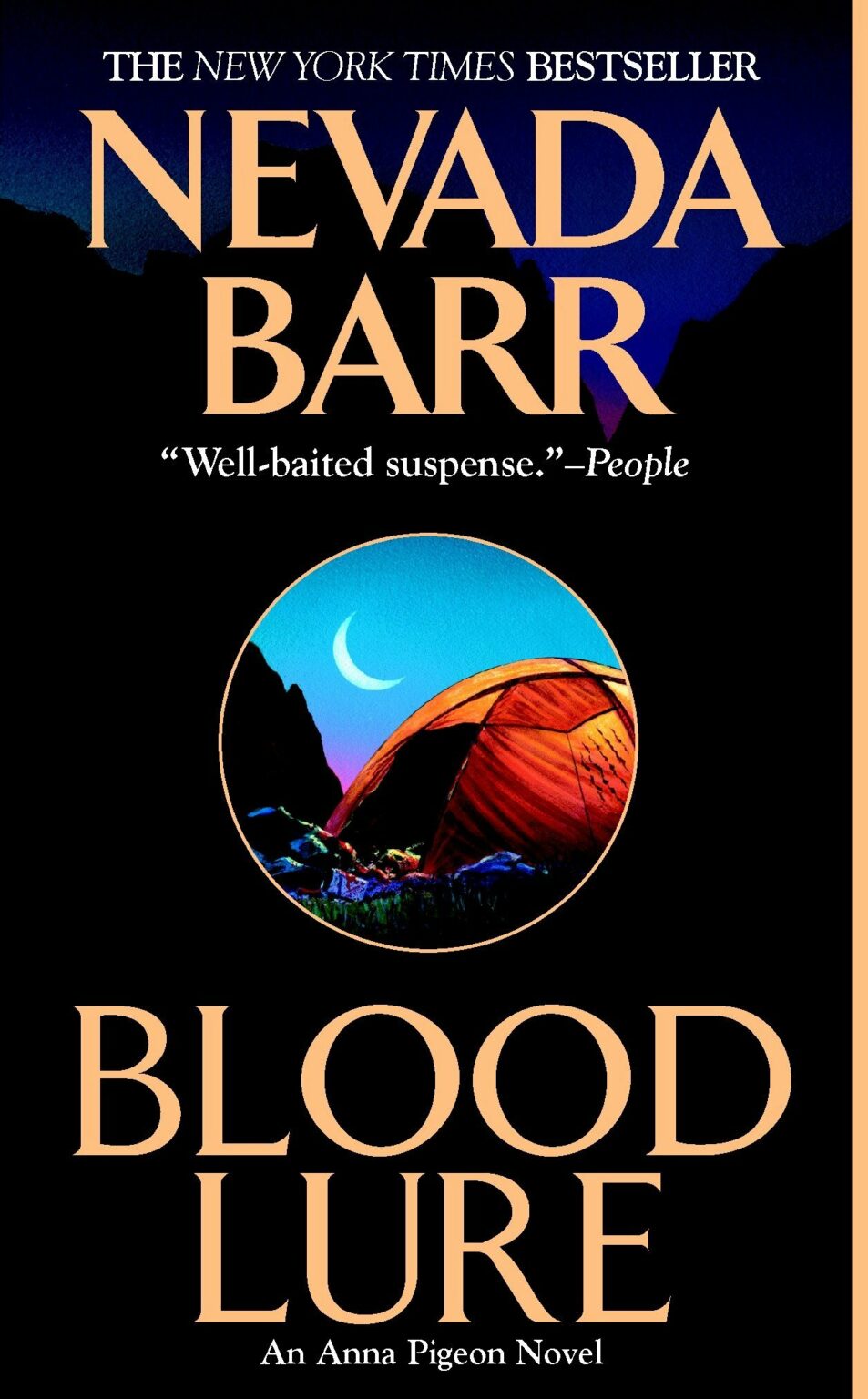 9. Blood Lure
Straddling the border between Montana and Canada lies the Waterton-Glacier International Peace Park. This becomes Anna's home away from home when she is sent on a cross-training assignment to study grizzly bears.
Along with bear researcher Joan Rand and a volatile, unpredictable teenage boy, Anna hikes the back country, seeking signs of bear. But the tables are turned on their second night out, when one of the beasts comes looking for them. Daybreak finds the boy missing, a camper mutilated, and Anna caught in a grip of fear, painfully aware that her lifelong bond with nature has inexplicably snapped…
Nevada Barr explored the Glacier as a guest of the superintendent at the time with her husband. The plot she had been tinkering with was swiftly cast aside when she fell in love with the park's bear DNA research project. It became the inspiration for this book.
---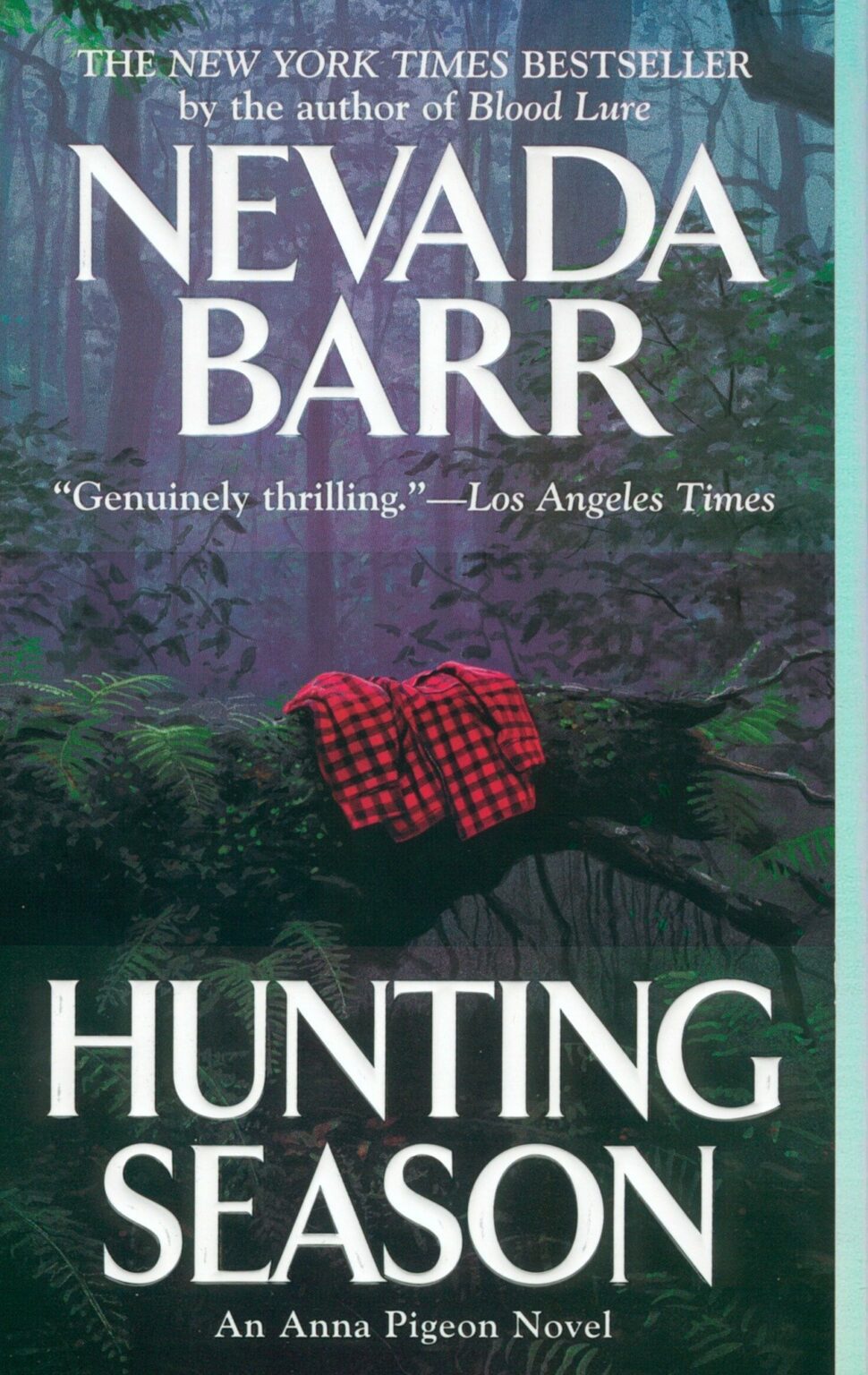 10. Hunting Season
In this book Anna returns to the Natchez Trace Parkway in Mississippi. The quiet beauty of autumn is swiftly shattered when Anna answers a call to Mt. Locust, once a working plantation and inn, now a tourist spot.
But the man Anna finds in an old bedroom is no tourist in distress. He's nearly naked, and very dead — his body bearing marks consistent with sex games gone awry. On a writing table nearby is an open Bible with ominous passages circled in red.
There are secrets that prominent men in this God-fearing country wish to keep under wraps — and Anna has stumbled into a nest of them. When hidden agendas and old allegiances are revealed, it's suddenly Anna's life that's on the line.
---
Final thoughts
Any fan of nature and the outdoors will love reading the Nevada Barr books in order and her popular Anna Pigeon series. Her books pull from her lived experience to create realistic settings, while her imagination creates captivating scenarios that will have you on the edge of your seat.
More Mystery Thriller Resources