Victoria Thompson is most well-known for her mystery series Gaslight Mysteries and Counterfeit Lady. However, before she turned to that genre, Thompson was a romance author for many years. Both the mystery and romance Victoria Thompson books in order will be collected here, alongside everything you need to know about the author.
About Victoria Thompson
Victoria Thompson credits her start as a historical romance author for inspiring her passion for the nineteenth century. That period comes to life in her Gaslight Mysteries and Counterfeit Lady books.
Like many other authors, Thompson never imagined that her Gaslight Mysteries would last as long or become as popular as they have. Readers adore the dynamic of her characters Sarah Brandt and Frank Mallow and how they work together to solve the murders that plague the streets of New York City.
Thompson has her own favorite sleuthing pairings too which include Hester and William by Anne Perry and Inspector Ian Rutledge and Hamish by Charles Todd.
She also says that she comes from a family of storytellers. She can remember creating stories in her mind since she was a child and everything she overhears or sees is the genesis of her ideas.
Uniquely, Thompson also says that she is a one-draft writer, but admits it is primarily due to laziness. She re-wrote her very first book three times and it took so much work that she made the decision to learn how to do it right the first time going forward.
When she was writing historical romances, she would create an outline and generally follow it every time. She would read the previous day's work each morning and make any necessary edits before moving on. However, for her mystery novels, Thompson does not utilize an outline at all.
She says that if she knows who the murderer is at the beginning of her writing process that she makes it far too obvious, so she lets the inspiration come to her while writing as the puzzle pieces slot into place of who wanted the person dead the most.
Victoria Thompson Books in Order: Mysteries
While Victoria Thompson had already been a published author for more than a decade when her first mystery hit bookstore shelves, this is the genre in which she has found the most success. It is best to read these Victoria Thompson books in order of publication for the best reading experience. That is because while each book contains a new mystery, there are recurring characters and each book builds upon the previous installment.
Gaslight Mysteries
Our list of the Victoria Thompson books in order begins with the Gaslight Mystery series. Again, these books should be read in order of publication because this will provide you with the best introduction to the characters.
The first book in this series introduces Sarah Brandt who is a midwife in New York City during the turn of the nineteenth century and has a fierce sense of justice. After a routine delivery she is pulled into a murder investigation when another woman is killed and Sergeant Frank Malloy asks her to help by searching the woman's room. The duo reunite again and again in each subsequent book to help bring murderers to justice.
Counterfeit Lady Books
Relatively recently, Victoria Thompson also began a new historical fiction mystery series. The Counterfeit Lady series is different in tone than her popular Gaslight Mysteries with more humor. Also, rather than have two protagonists out of the gate who bounce off one another, the focus in this series rests upon Elizabeth Miles at first.
In the first book, readers meet Elizabeth living on the edge of society outsmarting men with ill-gotten gains, but then she crosses a brutal and greedy man. She needs to blend in quick but ends up forging an unlikely alliance with a group of wealthy women. In order to keep her ruse up, Elizabeth must rely upon her wits and courage to stay alive.
Victoria Thompson Books in Order: Romances
Before she became a bestselling and award-nominated mystery author, however, Victoria Thompson wrote historical western romance novels. All of these books have since gone out of print, but links to second-hand copies have been included below.
The Cowboy and the Lady Books
This series includes Victoria Thompson's debut novel and set her on the path to becoming a successful author. The books follow new couples and are connected through shared themes and setting, so you can read these books in any order you choose. Thompson utilizes the opposites attract trope frequently, creating fiery tension between her leads.
Lady and the Scoundrel Books
The next romance series in the Victoria Thompson books in order are also connected through trope, theme, and setting. Each book in this series features a woman of a different social class than the man who catches her eye and follows what happens next when sparks fly.
Texas Vixen (1986)
Rogue's Lady (1988)
Fortune's Lady (1989)
The Hired Gunslinger Books
These books each follow a new couple and are connected through shared themes, so again, it is not necessary to read these Victoria Thompson books in order of publication. As you might gather from the title of the series, each book involves a gunslinger who is hired to protect the ranch of a captivating lady and ends up falling in love too.
The Tates of Texas Books
Like the previous romance series, each of The Tates of Texas books follows a new couple, but are interconnected through setting and themes. The pairings within the series face an undeniable passion as they pursue love against the odds.
Standalone Books
Victoria Thompson also wrote a handful of standalone romance novels.
Anthologies
Finally, Victoria Thompson has also contributed to two anthologies during her career.
Malice Domestic 11 (2016)
Malice Domestic 14 (2019)
A Summary of Victoria Thompson Books in Order
While Victoria Thompson has written more than 50 books, the Gaslight Mystery series is by far her most popular. So below, we have summarized the first ten books in that series so you can better understand the dynamic between Sarah and Frank as they solve murders in the Big Apple.
---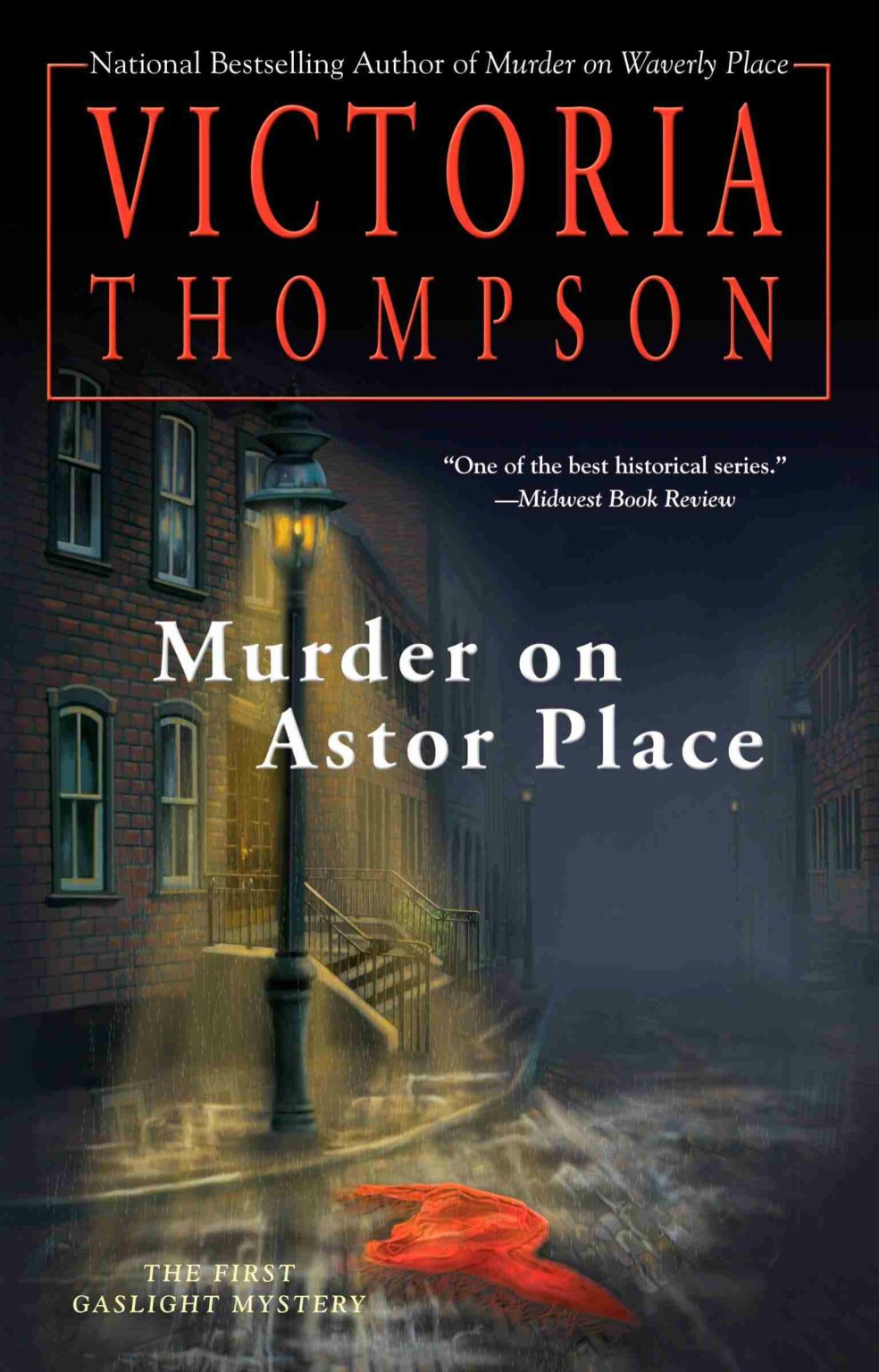 1. Murder on Astor Place
Sarah Brandt is a midwife in New York City at the turn of the nineteenth century. She is conducting a visit to one of her patients after a routine delivery when she finds out that another boarder in the rooming house, a young woman, has been killed. She searches the young woman's room at the request of Sergeant Frank Malloy and finds out that she was a member of one of New York's most prominent families and the sister of an old friend.
Unfortunately, the family refuses to allow an investigation into her death because they are fearful of the potential scandal. But Sarah begins a dangerous mission with the help of Malloy to bring the murderer to justice before they kill again.
---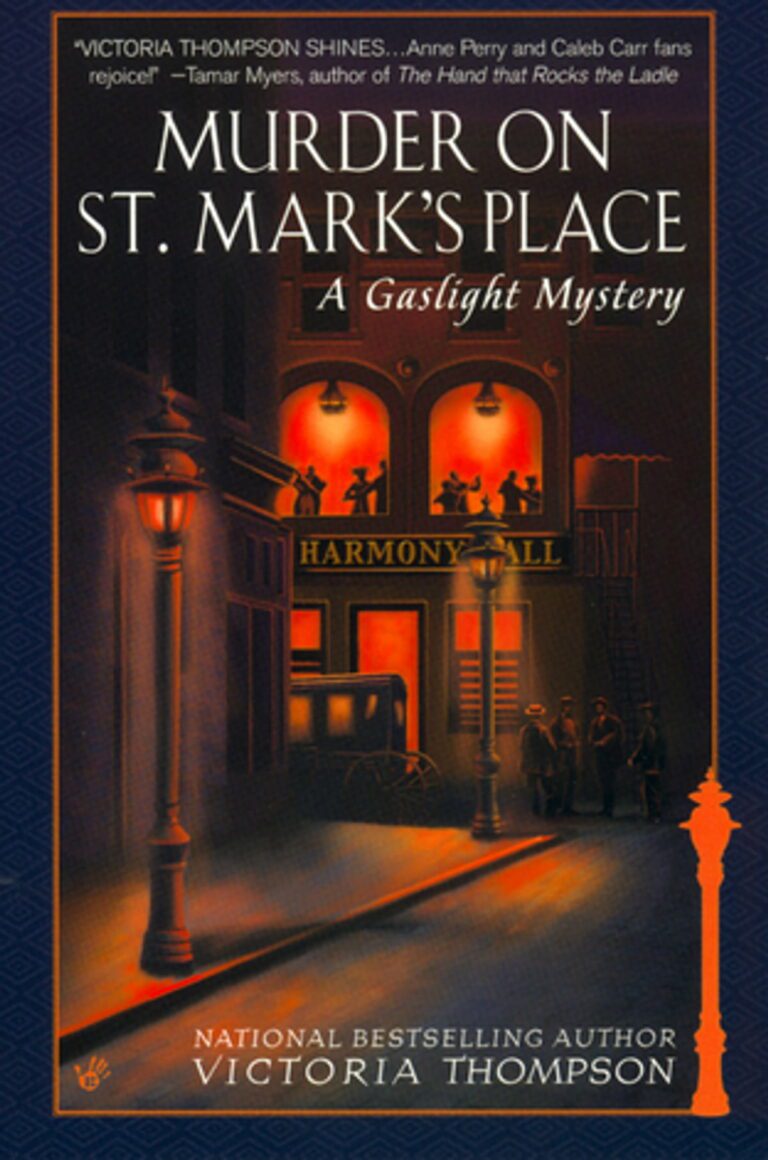 2. Murder on St. Mark's Place
Sarah has seen a lot in her time as a midwife, especially with the crime-ridden streets of New York City at the turn of the century. She is summoned by Agnes Otto believing it's for a routine delivery, but instead she is met with the news of an untimely death.
Gerda was Agnes's beautiful younger sister and had become caught up in the false glamour of the nightlife, trading her company and favors for gifts and entertainment. The perpetrator of her murder is likely one of her gentlemen friends.
Sarah seems to be the only one who cares about women like Gerda, and she vows to find the killer. She turns to Sergeant Frank Mallow for help and together they pursue an investigation that leads them across the city and learn that the cost of justice may be steep.
---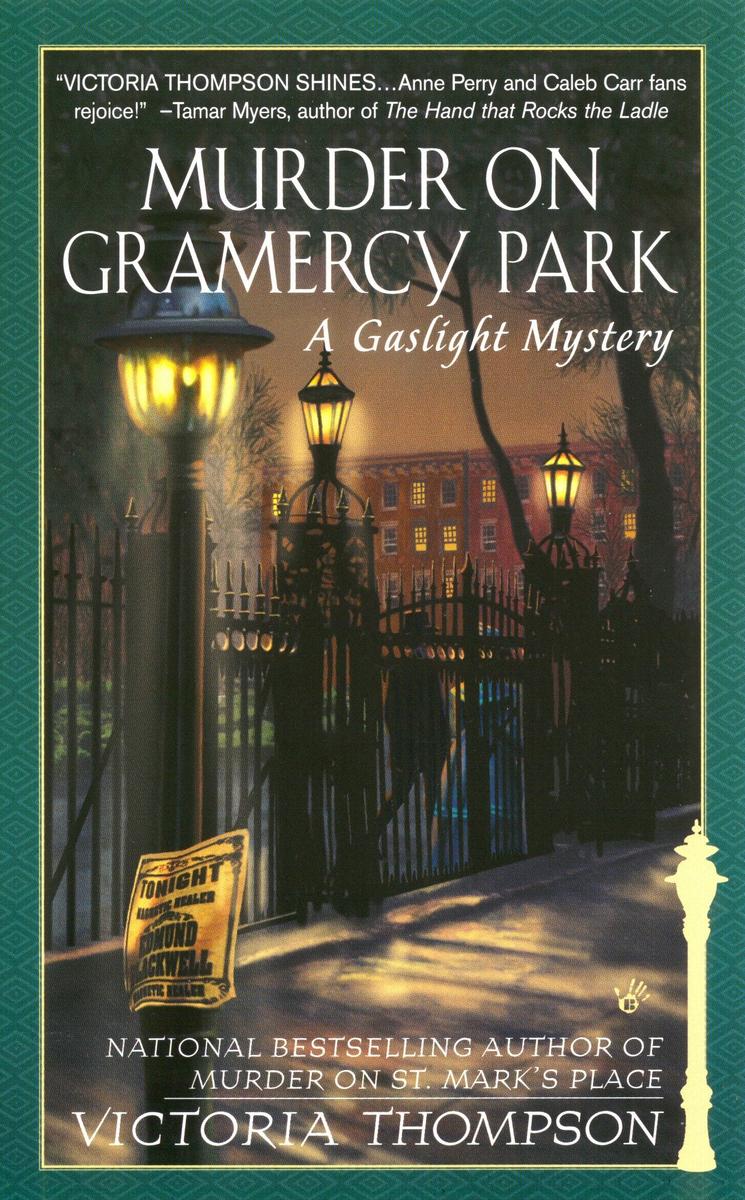 3. Murder on Gramercy Park
Sarah receives a call from Detective Sergeant Frank Malloy summoning her to the elegant home of magnetic healer Edmund Blackwell to help his wife through her labor. She is shocked to find Blackwell dead and she seems to be the only one who sees the apparent suicide for what it is: Murder.
After the delivery, the Blackwell baby mysteriously falls ill and Sarah must rely on her training as a nurse and woman's intuition to discover the source of the baby's illness. But with that discovery she uncovers a scandal that leads down a path of greed, deception, and desire.
---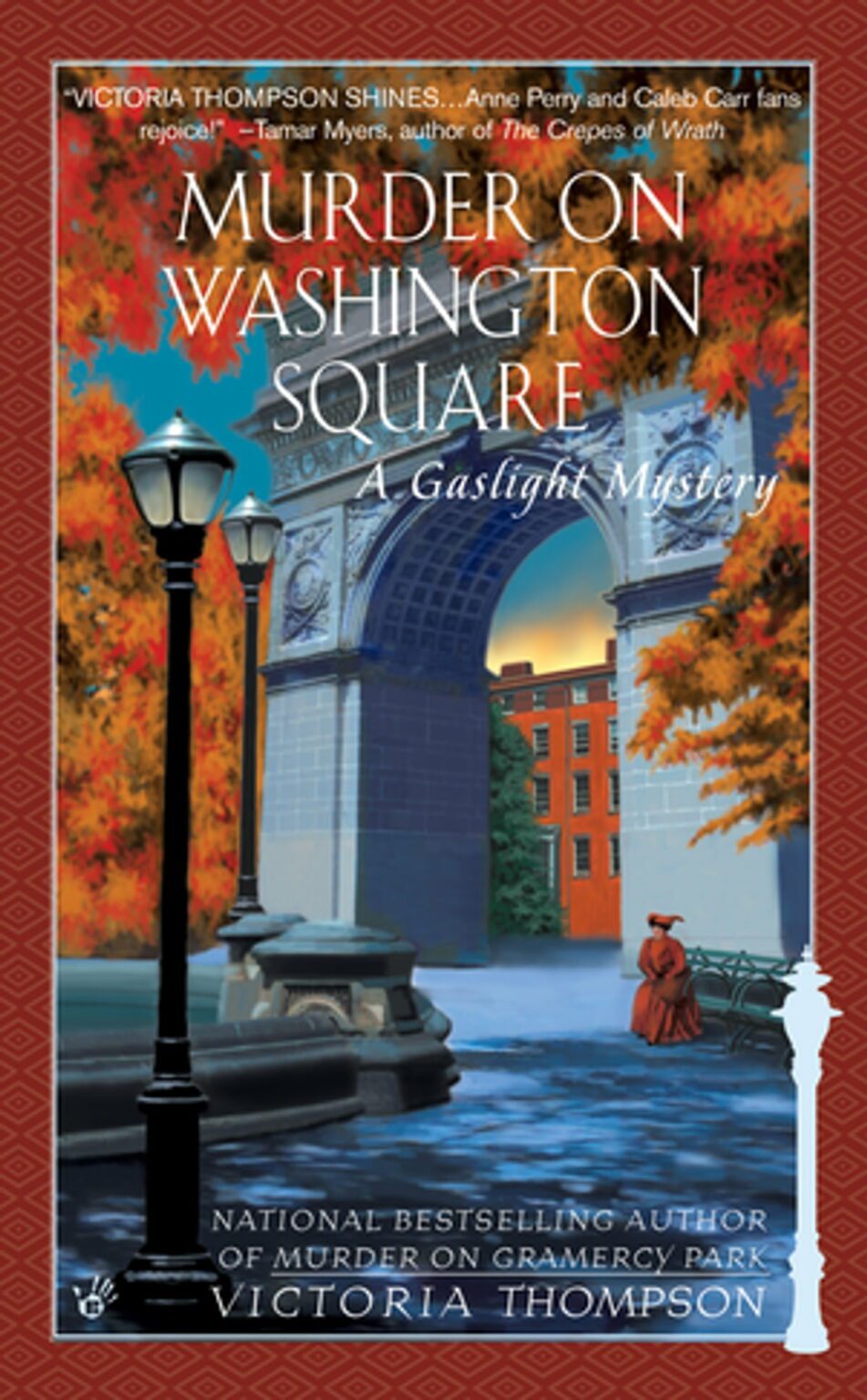 4. Murder on Washington Square
It is a surprise when the son of Sarah Brandt's superstitious next door neighbor knocks on her door seeking her professional help. That's because mild-mannered Nelson Ellsworth has a mistress and she is now with child. But then the woman turns up dead under the hanging tree in Washington Square and Nelson is the prime suspect.
But Sarah knows that he must be innocent, so she turns to Detective Frank Malloy to help her find the real killer. However, when the crime gets into the media, there is a maelstrom of fear mongering to convict Nelson before he has even been charged with the crime. Sarah must prove that in this case the victim may have been the victimizer.
---
5. Murder on Mulberry Bend
The Prodigal Son Mission is a refuge for women who would otherwise be forced to sell their bodies. Sarah finds the work and cause so impressive that she volunteers to help in any way that she can. Then one of the women is found dead and refused burial because of her former life, which ignites Sarah's passion for justice.
Sergeant Frank Malloy only reluctantly agrees to investigate and his decision is predominately so that Sarah won't endanger herself by looking into things alone. But she noses her way into his investigation anyway and ends up in deadly danger from an unexpected source.
---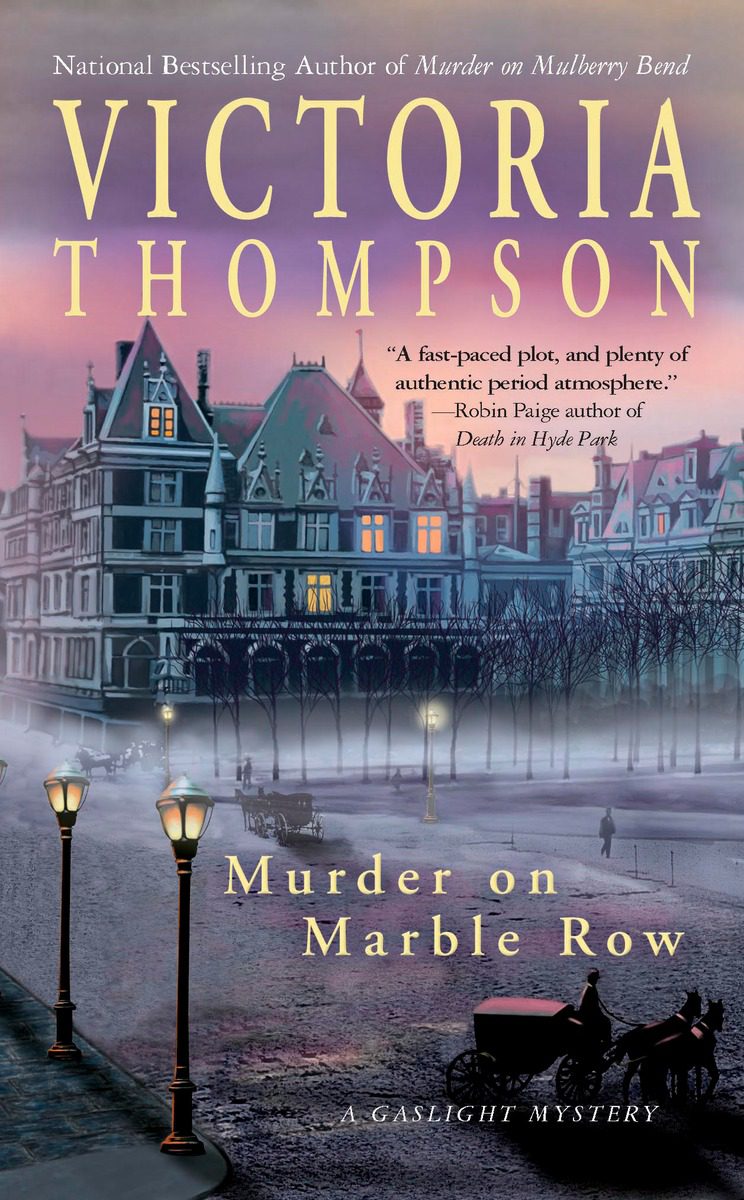 6. Murder on Marble Row
Gregory Van Dyke, a wealthy industrialist, dies in an explosion, which prompts Police Commissioner Teddy Roosevelt into believing that anarchists are responsible and he asks Detective Sergeant Frank Malloy to track them down. Malloy faces another challenge when he finds Sarah Brandt visiting the Van Dykes to give her condolences.
That's because he had vowed never to see her again after confronting the impossibility of his true feelings for her. But they end up together again anyway because Frank knows he needs her help as Fifth Avenue harbors just as many dark secrets as the Lower East Side.
---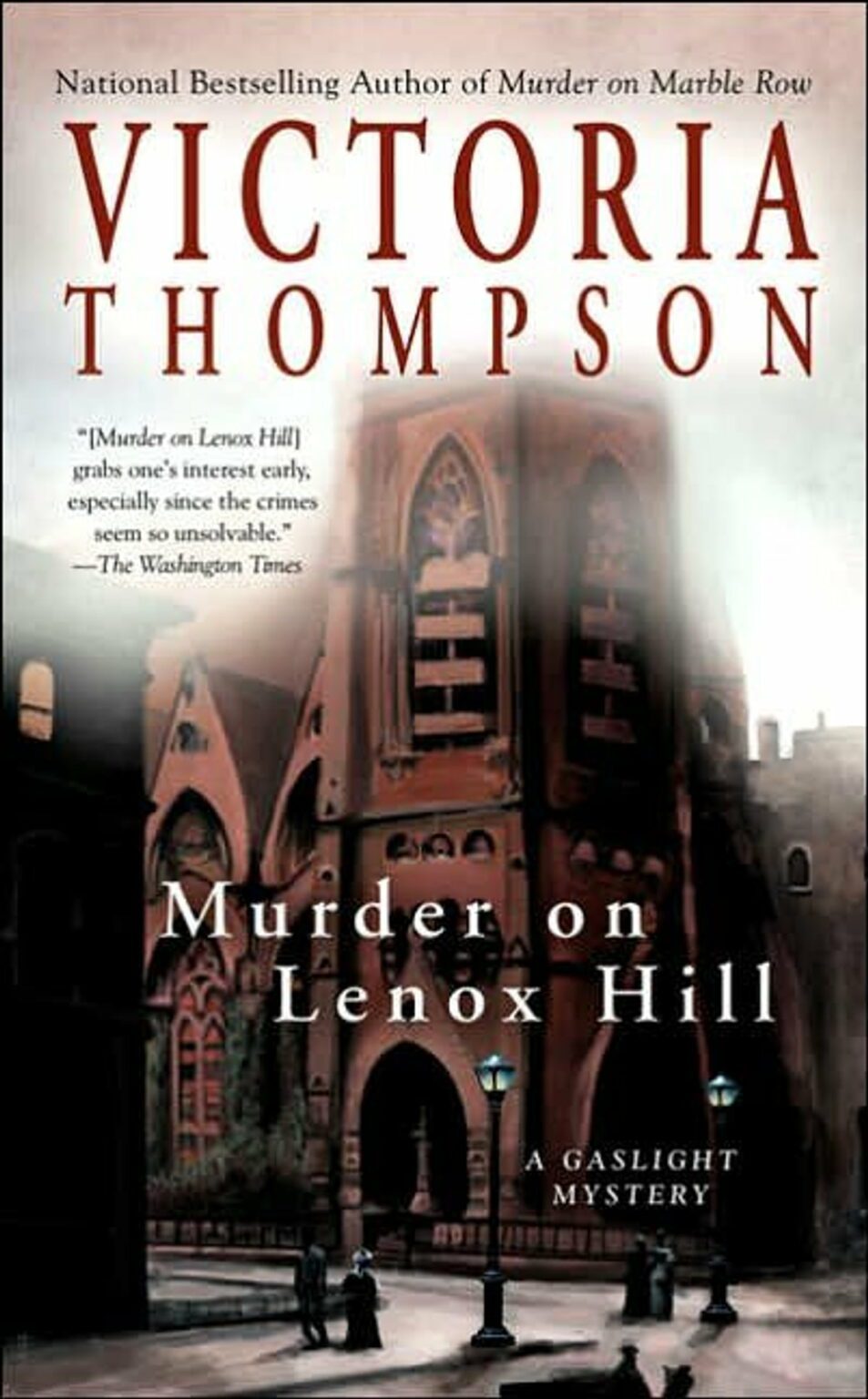 7. Murder on Lenox Hill
The wealthy Lintons of Lenox Hill ask Sarah to examine their teenage daughter and their worst fear comes true: She is pregnant. But the young woman is mentally still a child herself and claims no man has hurt her. She is also never left on her own.
The situation casts suspicion on all those around the Lintons, including Reverend Oliver Upchurch. Then as Sarah and Frank begin to investigate, someone murders the reverend during a service by poisoning the wine in his chalice with cyanide. Now the pair must learn the truth behind the mysterious pregnancy and also solve the murder of the reverend.
---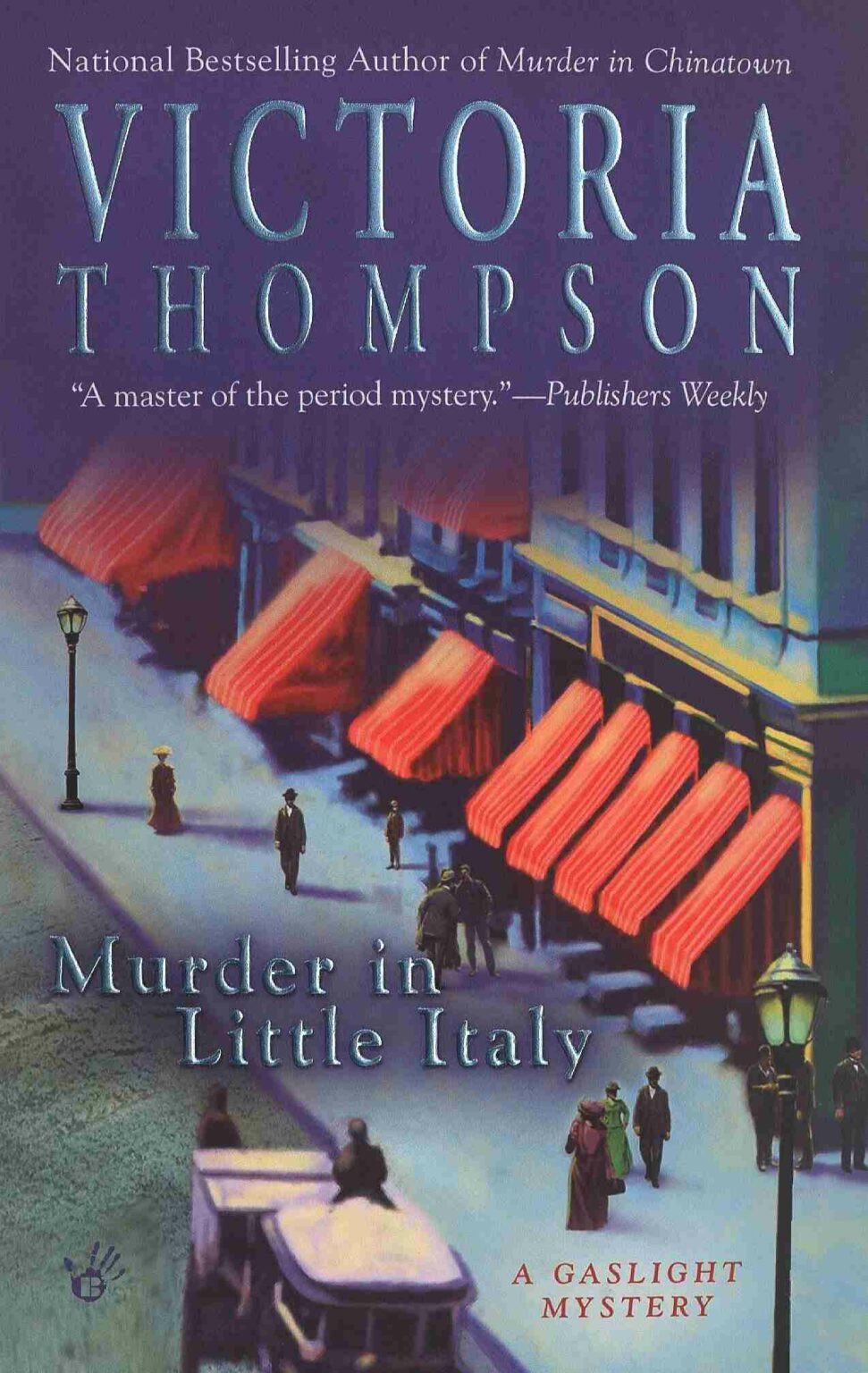 8. Murder in Little Italy
Sarah Brandt is visiting Little Italy to check in on a mother who gave birth yesterday, but instead she finds the woman dead. The family insists that it is due to childbirth complications, but Sarah doesn't think so. The woman's own mother, an Irishwoman, doesn't believe it either and spreads the story that the woman's Italian in-laws murdered her, which incites tensions between the two immigrant groups.
Then there is a second death in the tenements and riots break out in the streets. Political factions and organized crime have taken sides amidst wild rumors and accusations. Detective Sergeant Frank Malloy needs Sarah's help to unravel the secrets and bring the murderer to justice.
---
9. Murder in Chinatown
The world of Chinatown can be quite secretive, which Sarah learns when she arrives to attend to the Irish-American wife of a Chinese merchant. The American government has prohibited the immigration of Chinese women, which means many Chinese men in the city have married Irish women. Although they face prejudice from the white community, the women are happy with their decision.
But their children aren't quite as happy and when one of the girls runs away, Sarah helps the family track her down. Unfortunately, the girl is later murdered and Sarah must ask Detective Sergeant Frank Malloy for his help. Before they can find the killer, Sarah and Frank must learn to understand the Chinese culture.
---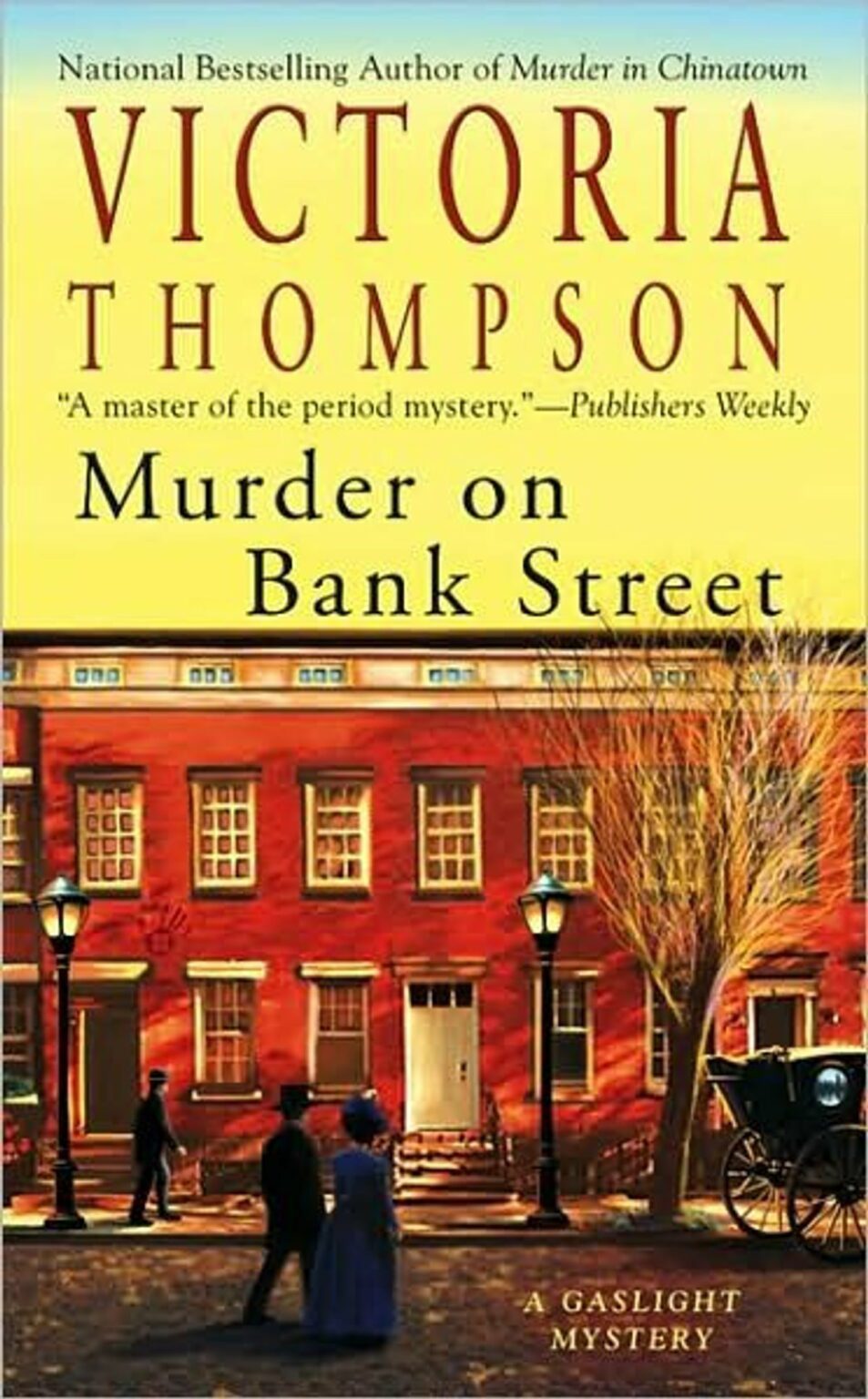 10. Murder on Bank Street
Detective Sergeant Frank Malloy has taken it upon himself to solve the murder of Dr. Tom Brandt, Sarah's late husband. It is going to be difficult to find reliable witnesses and evidence after four years, but with Sarah's wealthy dad, Malloy has unlimited resources at his disposal.
When Frank learns that Dr. Brandt was treating several dangerously delusional women, he thinks that the unsuccessful treatment might have led to vengeful families seeking retribution. However, when he finally discovers what he believes to be the truth, it may destroy Sarah and any hope of a future with her.
---
Final thoughts
The Victoria Thompson books in order can be easily split into her romance era and her mystery era. While her debut and subsequent books are historical romances, Thompson found great success within the mystery genre. Her Gaslight Mystery books have become her most popular by far and received many nomination nods throughout the years.
More Historical Mystery Resources