Rhys Bowen is the New York Times bestselling author of more than 50 titles. She has written dozens of cozy mysteries and funnier tales alike which are rich with historical detail and endearing characters. Keep reading to find out how to read all of the Rhys Bowen books in order.
Who is Rhys Bowen?
First, a bit about author Rhys Bowen, which is actually a pseudonym for Janet Quin-Harkin. Under her name Janet Quin-Harken, she wrote children's and young adult books. That was until she felt the need to shift genres and created the moniker of Rhys Bowen in the 1990s.
Bowen was born in Bath, England but now divides her time between California and Arizona. Before she became a published author she worked as a drama studio manager for the British Broadcasting Company.
The first mystery series she wrote, Constable Evans, was inspired by time spent in Wales during her childhood. She then took inspiration from a trip to New York City to pen the tales of a fiery Irish immigrant sleuth, which became her second mystery series: Molly Murphy.
Her third mystery series is Royal Spyness, which is lighter in tone than Molly Murphy and more comical with the way it pokes fun at the British class system.
Her books have been translated into 22 languages and The Tuscan Child, her second standalone, has sold more than half a million copies to date. Bowen has won numerous awards including multiple Agatha, Anthony, and Macavity awards.
Rhys Bowen Books in Order
Constable Evans Series
Constable Evan Evans is new to the Northern Welsh village of Llanfair, but he soon discovers the small town is full of humor, charm, and the occasional mystery. As the only constable in town, it falls onto his plate to placate the locals and solve the crime before chaos runs rampant. With the below 10 books this series is complete.
Molly Murphy Series
The next series Rhys Bowen wrote is the Molly Murphy series, which is ongoing. The latest book and forthcoming title are written in collaboration with Bowen's daughter Clare Broyles.
*Those titles are marked below with an asterisk.
While the main mystery of each novel will be solved upon its conclusion, the books greatly build upon one another with character development and setting. Therefore, it is important to read these Rhys Bowen books in order. The publication order is the same as the chronological order.
This series introduces Molly Murphy as she must flee Ireland to evade hanging from the gallows for the crime of murder in self-defense. She embarks for New York eager for the promise of freedom, but crime and murder follow her to the distant shores. Molly must now prove her innocence to this new crime before her past comes back to haunt her.
Molly Murphy Short Stories
In addition to eighteen, soon to be nineteen, novels, Rhys Bowen has also written three short stories to accompany the Molly Murphy series.
The first, The Amersham Rubies, is a prequel which harkens back to Molly's upbringing in Ireland. The next, The Face in the Mirror, takes place between Hush Now, Don't You Cry and The Family Way. Finally, the third, Through the Window, takes place between events of The Family Way and City of Darkness and Light.
The Amersham Rubies (2011)
The Face in the Mirror (2013)
Through the Window (2014)
Her Royal Spyness Series
Next Rhys Bowen began another mystery series with a lighter, more comical tone.
Her Royal Spyness follows the life of Lady Victoria Georgiana Charlotte Eugenie, more commonly known as Georgie. While she is a cousin to King George V of England, Georgie is also penniless and struggling to survive in London during the 1930s.
The hilarity that ensues as the 34th in line to the throne tries to survive as an ordinary person reaches new heights when Her Majesty the Queen asks Georgie to spy for her.
Royal Spyness Short Stories
Similarly to Molly Murphy, Rhys Bowen has also written a prequel short story for Her Royal Spyness. This short story takes place after Georgie's first season out in society during a ball in which nothing is as it seems.
Masked Ball at Broxley Manor (2012)
Red Dragon Academy Series
Before they co-wrote two Molly Murphy books together, Rhys Bowen and her daughter Clare Broyles wrote the first book in a planned middle grade fantasy series. Plans for another installment have not been announced.
This series follows seven children with seven special powers up against one enemy. Addy, the main character, is sent to a strange boarding school in Wales following the death of her mother.
Then she finds that the entirely different universe of Gallia is accessible through a hallway in her new school. Suddenly her vivid dreams have much more power and make her the enemy of Grymur, the ruler of Gallia.
Dreamwalker (2014)
Rhys Bowen Standalone Books in Order
If you prefer to read standalones, then you're also in luck as Rhys Bowen has written half a dozen standalones.
Her first standalone, In Farleigh Field, is a riveting World War II mystery in which a soldier falls to his death due to a failed parachute on the estate of Lord Westerham. M15 operative and family friend Ben Cresswell must now determine if the man was a German spy.
All of her standalones are historical mysteries with themes of class, love, and self-discovery at their core.
Rhys Bowen Short Stories in Order
Bowen has also published two short stories. Low School is available in the anthology An Apple for a Creature, and What Child is This is a Christmas-themed story during the London Blitz in World War II.
Low School (2012)
What Child is This (2018)
A Summary of Rhys Bowen Books in Order
Now that you know all that Rhys Bowen has written, at least under this pseudonym, let's take a closer look at one of her series: Molly Murphy.
This series is arguably her most well-known, so here are summaries for the first 10 books of the series. If you haven't read these books before, proceed with caution as the summaries will contain spoilers for previous installments.
---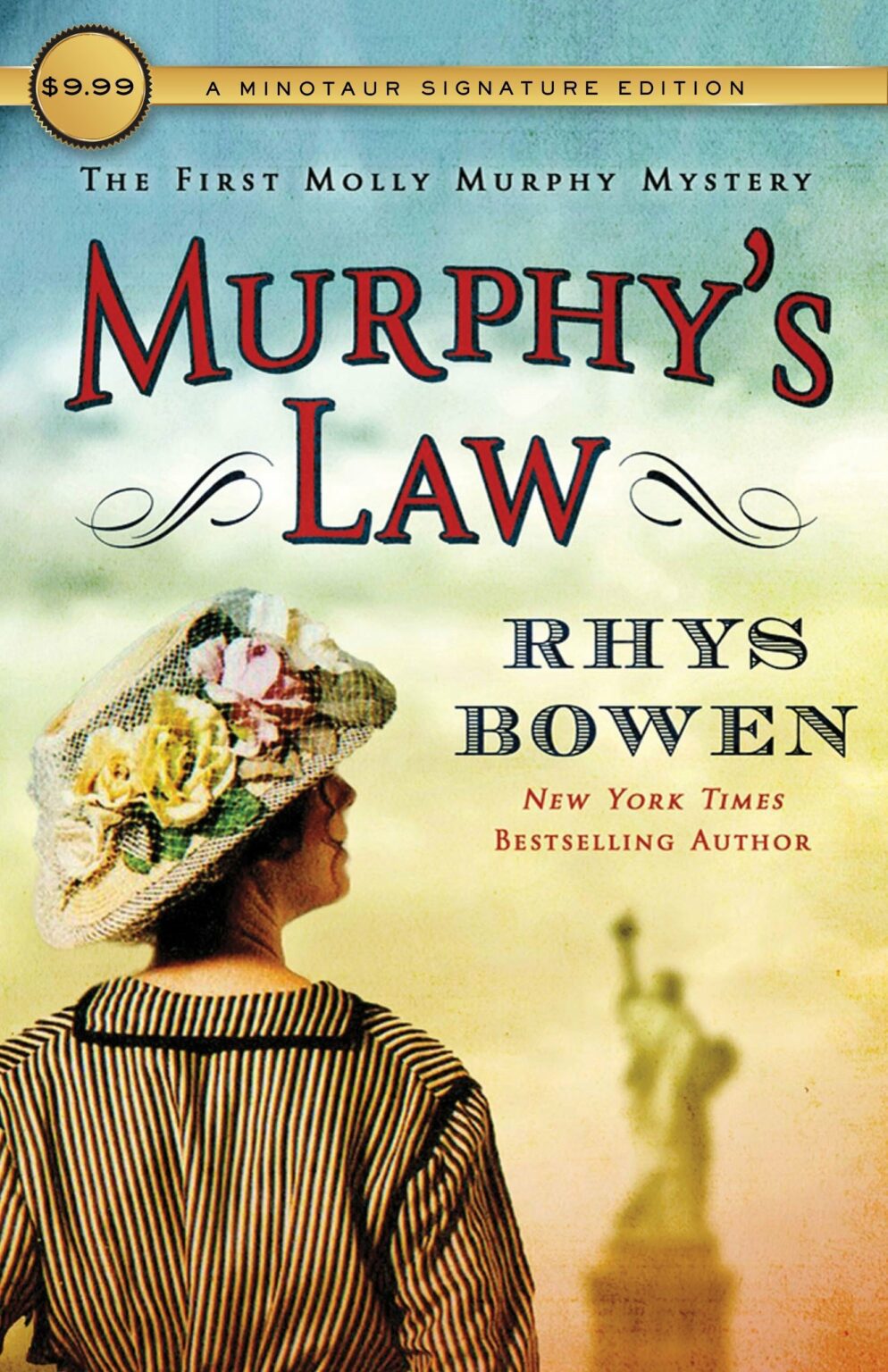 1. Murphy's Law
Molly Murphy always knew she'd end up in trouble, just as her mother predicted. So, when she commits murder in self-defense, she flees her cherished Ireland. Under cover of a false identity she departs for the anonymous shores of late nineteenth-century America.
When she arrives in New York and sees the welcoming promise of freedom in the Statue of Liberty, Molly begins to breathe easier. But then a man is murdered on Ellis Island, a man Molly was seen arguing with. Now she becomes a prime suspect in the crime.
If she can't clear her name, Molly will be sent back to Ireland where the gallows await. So, using her Irish charm and sharp wit, she escapes Ellis Island and sets out to find the wily killer on her own. Pounding the notorious streets of Hell's Kitchen and the Lower East Side, Molly undertakes a desperate mission to clear her name before her deadly past comes back to haunt her new future.
---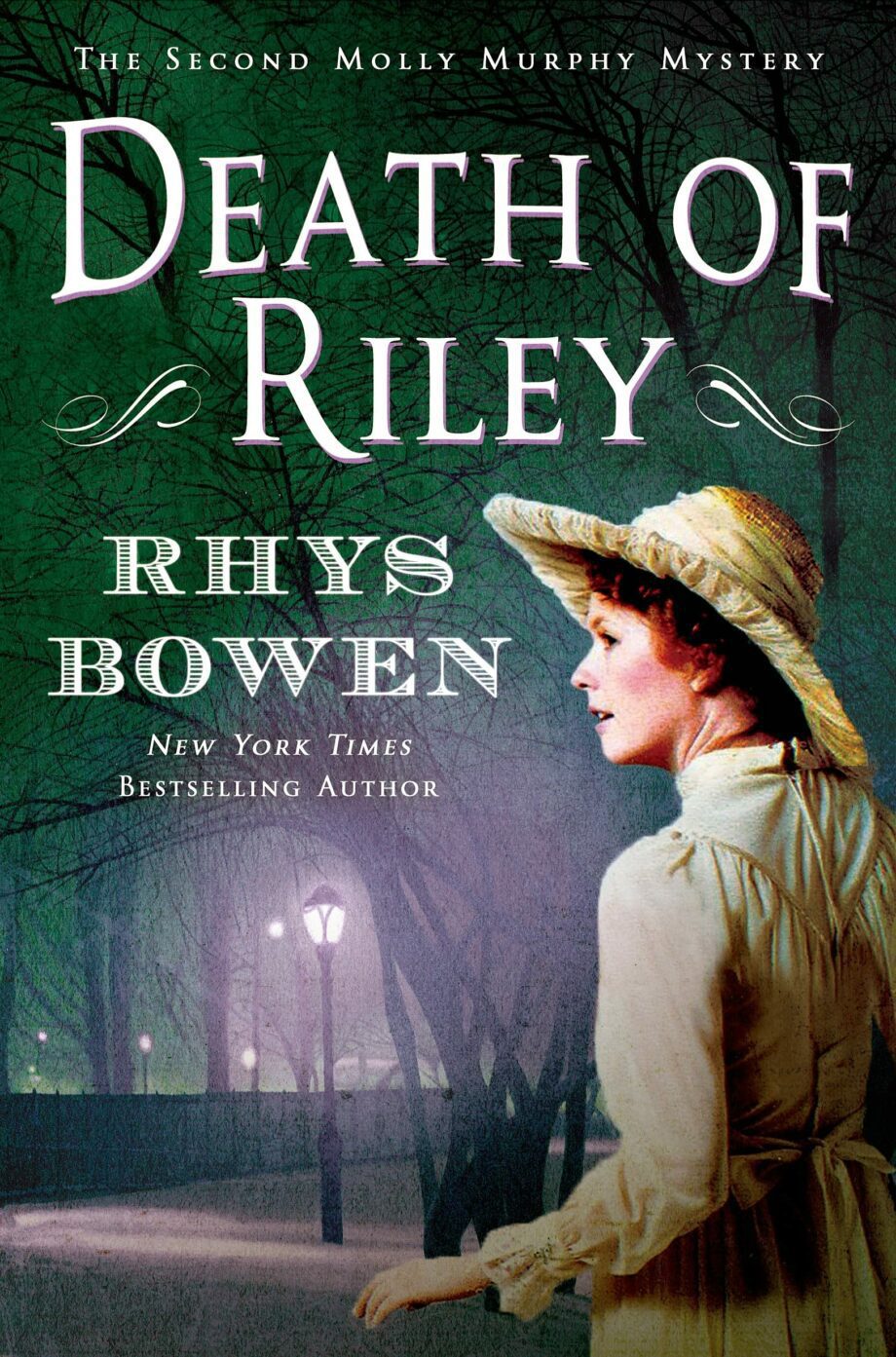 2. Death of Riley
Molly Murphy has finally begun to forget the unpleasant murder of a would-be rapist back in Ireland. That's not to mention her investigation into the murder of a fellow recent Irish immigrant. But now she is finally free to begin her life in New York City.
Given her experiences so far in the New World, Molly has decided that her first order of business is to become a private investigator. She wants to become a people finder of sorts, working for families in Europe who've lost touch with relatives in America. Not only might this put some food on her table, but her second order of business is to hook the handsome NYPD police captain Daniel Sullivan, and she envisions lots of opportunities to "seek his counsel" in her new profession.
Paddy Riley is a tough old Cockney P.I. who specializes in divorce work, and with a little persuasion he's ready to take on Molly as an apprentice. It's not exactly what she imagined, but she plans to make the most of it. That is, until she comes in to work one day to find her new world turned upside down and all expectations for her professional life suddenly up in the air.
Before long, Molly has set off on a journey that will take her through the back alleys of Manhattan and into the bars and lounges of the literary scene, where she spends time with writers, actors, poets, and musicians. It's quite an eye-opening turn for innocent young Molly, but she's resolute in her decision to find out exactly what happened that day in the office of Paddy Riley.
---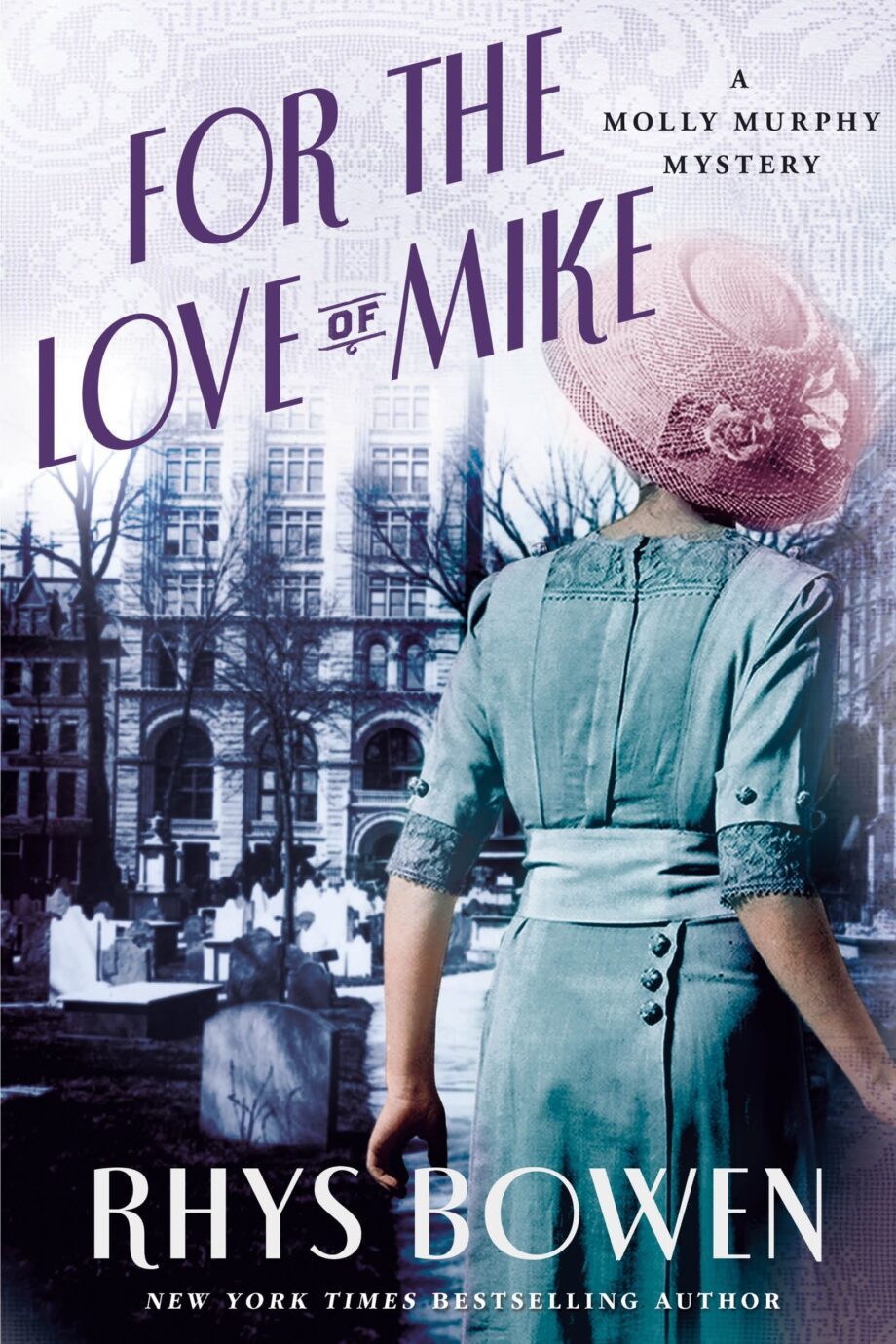 3. For the Love of Mike
Molly Murphy is starting to think the cards are stacked against her. She's determined to be a private detective, but her gender is hampering her investigations. She's finding many places in turn-of-the-century New York City where women are not welcome, something that's as frustrating to her fiery Irish pride as it is to her rapidly emptying pocketbook.
Then two business opportunities pop up simultaneously. An aristocratic family in Dublin fears their daughter has fled to the New World with her unsavory boyfriend, and they hire Molly to track the two down and send the young woman back home.
Before she has time to consider her good luck, she's asked to go undercover as a piece worker in the garment business and investigate a potential case of industrial espionage. Now if she can only solve both cases without the help of Daniel Sullivan, the police captain who claims he loves her but who is engaged to someone else…
---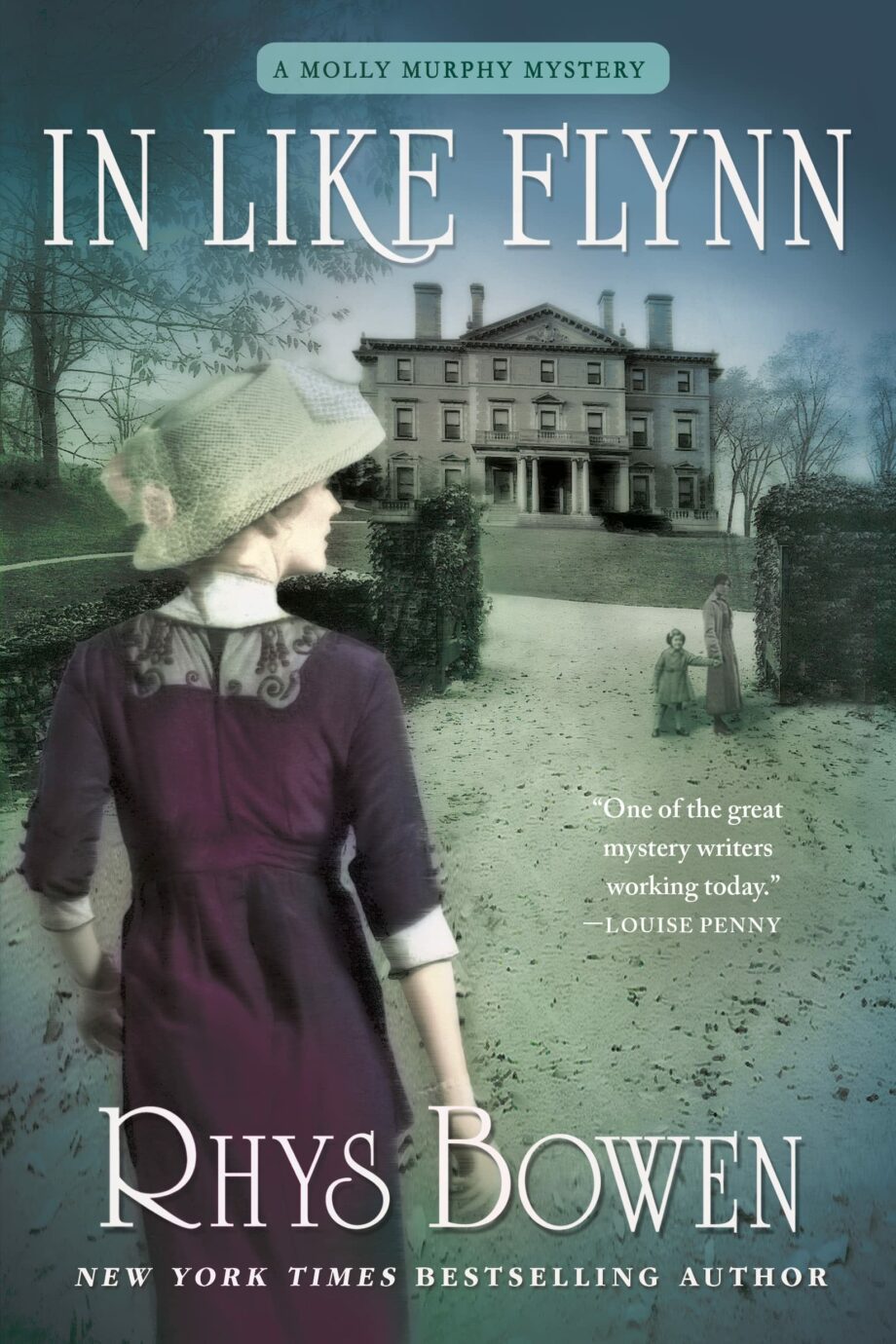 4. In Like Flynn
Fledgling private investigator Molly Murphy's latest assignment gives her the opportunity to escape the typhoid epidemic sweeping across New York City in the summer of 1902 for the lush Hudson River Valley. And it comes from an unlikely source — Captain Daniel Sullivan, a New York City police detective and erstwhile beau of Molly's. She has vowed to keep him at arm's length until he can rid himself of his socialite fiancée, but she can't pass up the chance to take advantage of his offer of a real detective job.
Daniel hires Molly to go undercover inside the country household of Senator Barney Flynn, in Peekskill, New York. Flynn's wife, Theresa, has become the latest devotee of a pair of spiritualists known as the Sorensen Sisters.
The frail Theresa is desperate to use the sisters' alleged abilities to hold a séance to contact her infant son, who was kidnapped five years ago and never found; the accused kidnapper was killed before he could tell police where the boy was being held. But the police are sure the women are frauds.
When Molly allows herself to be distracted from the Sorensen Sisters and the members of the Flynn household by the unsolved kidnapping, it is a race against time to find out what's really going on before it's too late.
---
5. Oh Danny Boy
In turn-of-the-century New York City, Irish immigrant Molly Murphy is contemplating giving up P.I. work for something a little less complicated, less exciting. Molly has had quite enough excitement recently, thank you very much. Especially from the handsome but deceptive NYPD captain Daniel Sullivan, whom she'd like to avoid completely.
But when Daniel is accused of accepting bribes and lands himself in the Tombs, the notorious city jail, he begs Molly to help prove he was framed, and after everything they've been through, she cannot turn him down.
As she finds herself drawn further and further into the case, she begins to fear that Daniel's trouble is related to one of his investigations — catching the Eastside Ripper, a serial killer who is targeting prostitutes.
---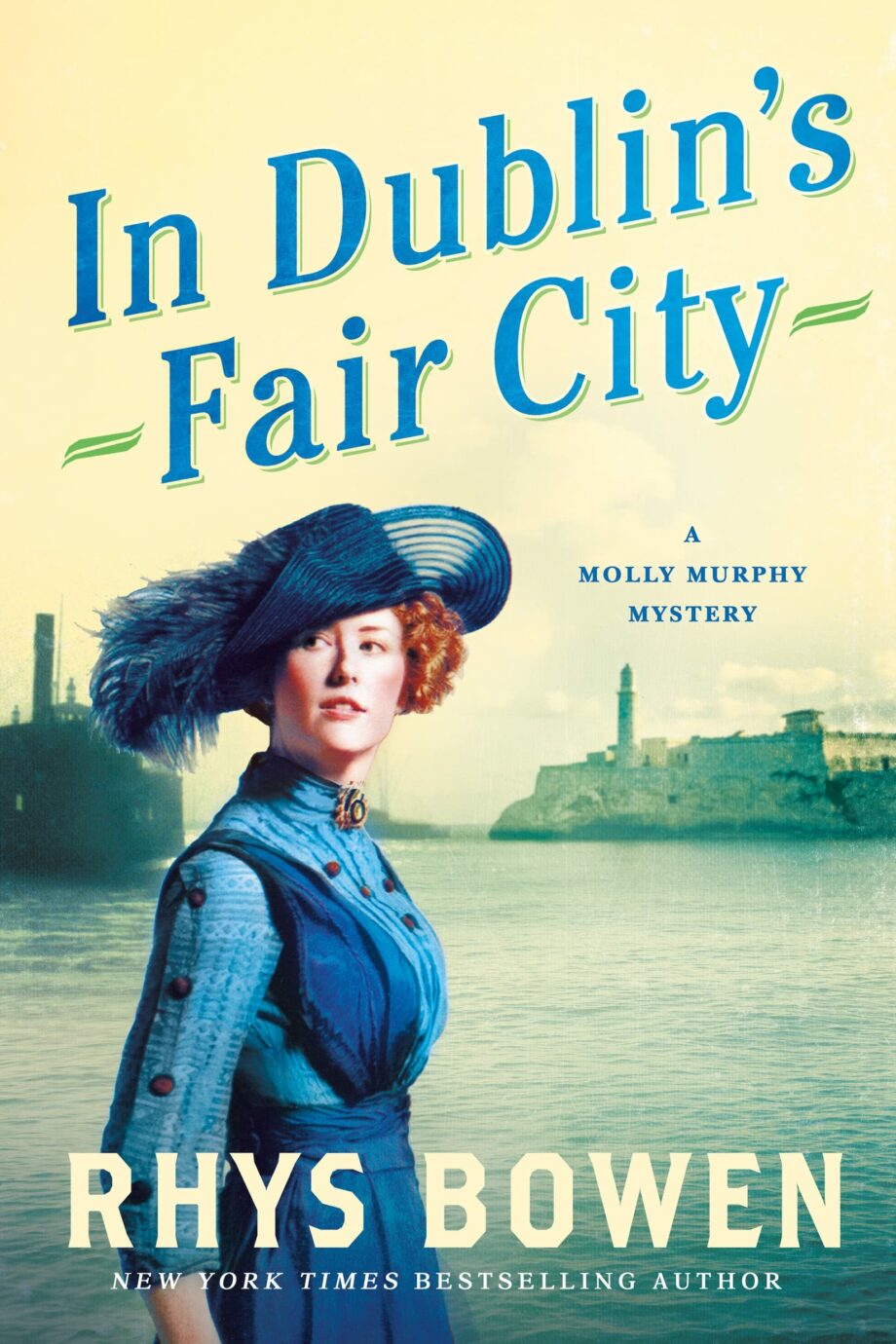 6. In Dublin's Fair City
Molly Murphy's beau Captain Daniel Sullivan may be out of jail on bail, but he's still a ways from clearing his name. His foul mood has Molly in search of a little breathing room. That's when providence steps in in the form of a proposition from New York City's renowned theatrical impresario Tommy Burke.
America has been very good to Tommy. Now that he's getting on in years, he'd like to pass some of that good fortune on to his family back in Ireland. That's, of course, if Molly can find the long-lost baby sister his family left in the care of a parish priest when they fled the famine, and avoid the warrant out for her arrest that forced Molly to flee herself.
The prospect of going home for the first time in years and putting her fledging detective agency on firm financial ground is incredibly tempting. So Molly throws caution to the wind and climbs aboard the White Start Liner Majestic with hopes of sneaking on and off the isle without raising a peep.
But even before Molly lands on the other side of the Atlantic, Broadway's leading actress, Oona Sheehan, has gone missing from the ship. Then her maid is found dead in her cabin.
---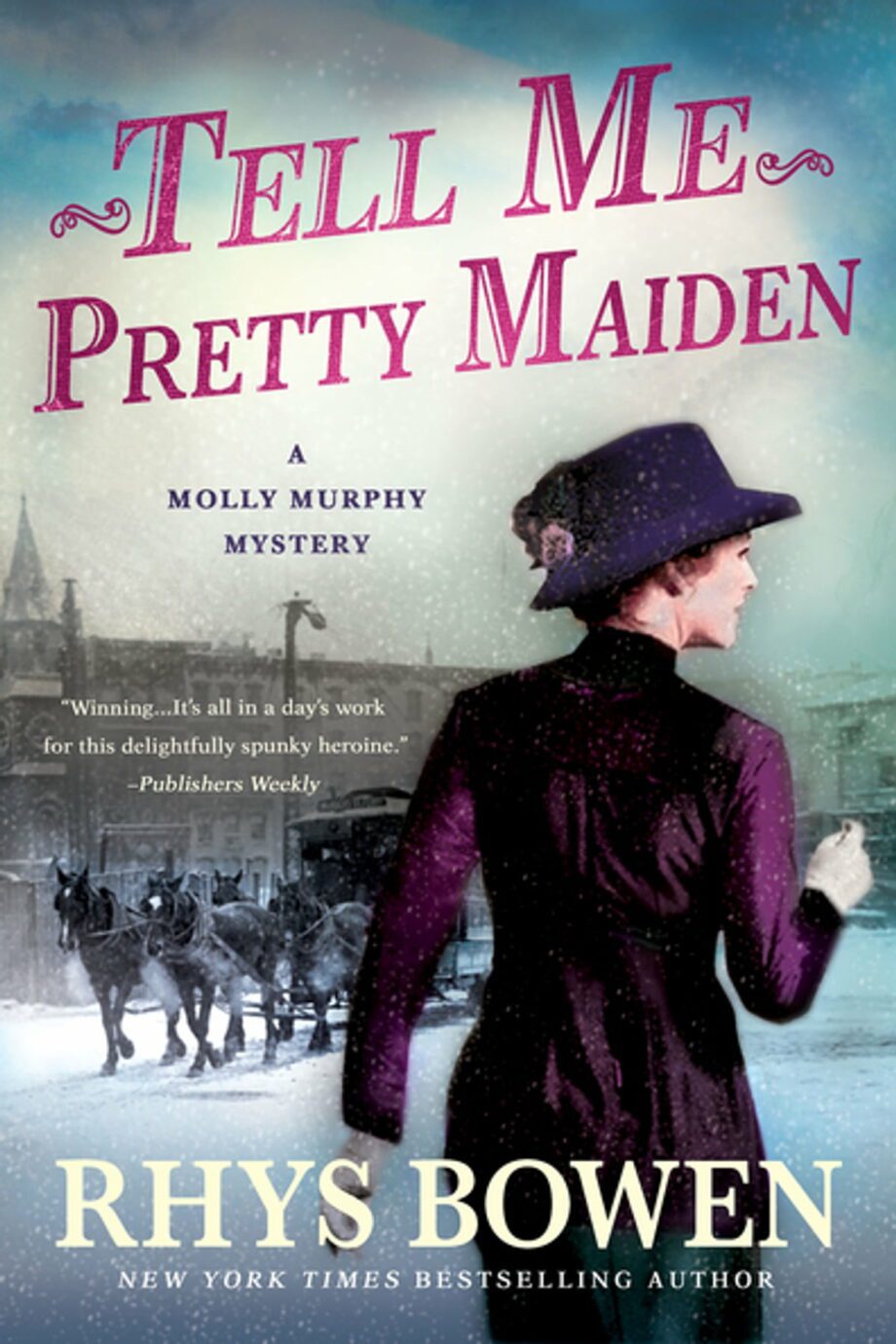 7. Tell Me, Pretty Maiden
It's wintertime in New York. For the first time since Irish immigrant Molly Murphy started her detective agency, she is completely snowed in with work.
While she's proving to be quite the entrepreneur and is very much in demand by some of Broadway's brightest stars and Fifth Avenue's richest families, she has to grudgingly admit that if she's going to work more than one case at a time, then she's going to need some help.
Molly's beau, the recently and wrongly suspended police captain Daniel Sullivan, would make an ideal associate. But before they can agree on the terms of his employment, they stumble upon a young woman lying unconscious in the middle of a snow-covered Central Park.
When the woman wakes up she is disorientated and has lost her ability to speak. Therefore, the authorities are preparing to send her to an insane asylum. But Molly can't help but step in and take on yet another case.
---
8. In a Gilded Cage
Irish immigrant Molly Murphy and her New York City P.I. business are in the midst of a sweeping influenza epidemic and a fight for women's suffrage that lands her in jail. Her betrothed, Police Captain Daniel Sullivan, finds her, but he hardly has time to bail her out, what with Chinese gangs battling for control of a thriving opium trade.
The only consolation Molly can take from her vexing afternoon in the clink is that it made her some new friends among the Vassar suffragists. And brought her a pair of new cases too.
For the first, Emily Boswell is sure her miserly uncle stole her inheritance. She wants Molly to uncover the truth behind her parents' lives and deaths.
Second, Emily's college roommate Fanny Poindexter wants Molly to find proof of her husband's philandering so that she can leave him without one red cent. But then Fanny dies. Her husband claims she's a victim of the epidemic, but it's more than Molly's conscience can take.
---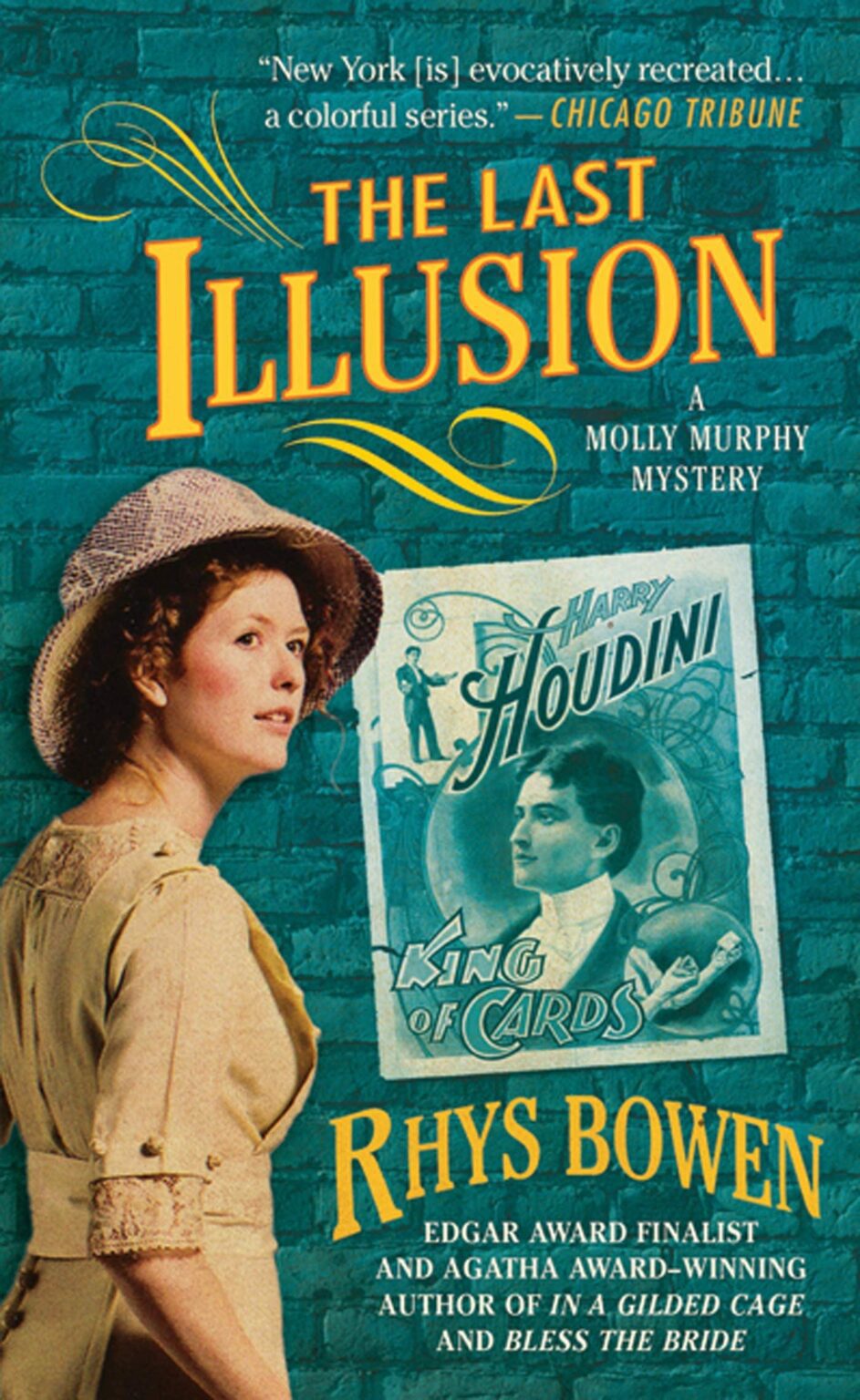 9. The Last Illusion
Irish immigrant and P.I. Molly Murphy is thrilled to have a ticket to the theater to see a trio of illusionists that are all the rage. Indeed, headlining is Harry Houdini, the most sensational of them all; he has just returned from entertaining European kings and queens for a brief run on Broadway.
But before Houdini can even take the stage, the opening act goes horribly wrong. To the crowd's shock, the illusionist saws into his assistant.
In the aftermath, the stunned performer accuses Houdini of tampering with the equipment he keeps under lock and key. And he's not the only one critical. Risking his life every night, Houdini has raised the stakes to such a perilous level that he's putting lesser acts out of business.
With everyone on edge, Houdini's wife hires Molly to be part investigator/part bodyguard. But how can she protect a man who literally risks his life every night? And how is she going to uncover whether these masters of illusion are simply up to their tricks or if there truly is something much more treacherous going on.
---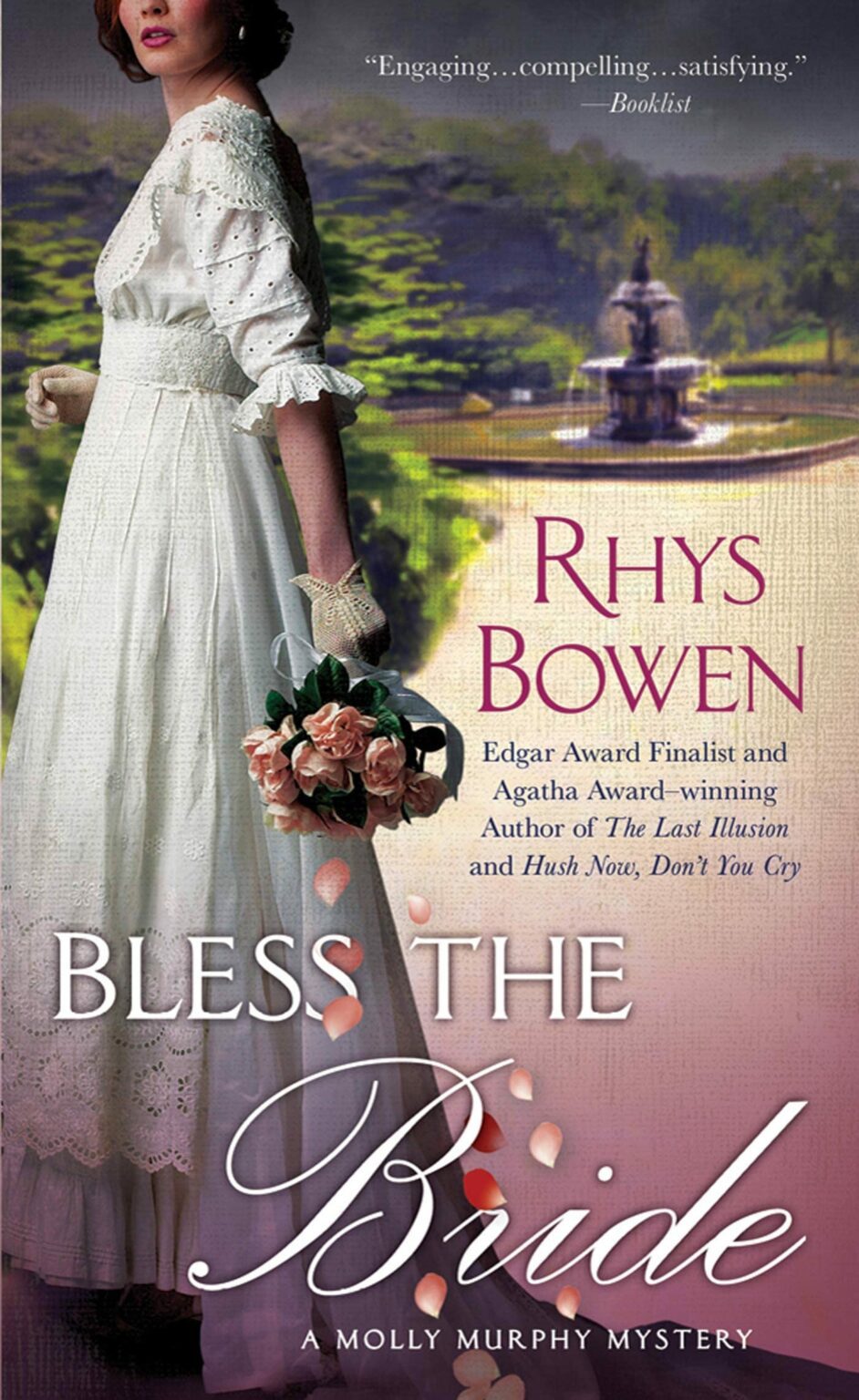 10. Bless the Bride
With Molly Murphy's wedding to NYPD Captain Daniel Sullivan quickly approaching, the Irish sleuth heads to the Westchester County countryside, where his mother can lend her a hand and advise her on a bride's proper place. And shockingly, Molly seems to be agreeing.
She has already promised that she'll close up her P.I. business and settle down after marrying. But she isn't a married woman yet. So, when she gets word of a possible case, she sneaks back into the city to squeeze in a little more sleuthing before the wedding bells can ring.
A wealthy Chinese immigrant wants her to find his missing bride, and Molly suspects that his bride ran off. She is sure she isn't getting the full story, but where could the bride go? The only Chinese women in early-twentieth-century New York are kept under lock and key, and Molly can't help but wonder if she's saving the woman from the streets or helping to lock her away for good.
---
Final thoughts on Rhys Bowen books in order
So now you know about all the Rhys Bowen books in order and have taken a closer look at her Molly Murphy series. Her books are entertaining historical mysteries that imbue a cozy atmosphere. Each series offers a slightly different take on the genre of historical mystery.
Looking for more books in order?
Check out this list of Jacqueline Winspear books in order.