Anne Perry is a unique voice within the thriller and historical fiction genres who has sold more than 25 million copies of her books worldwide. She is most well-known for her Victorian era murder mysteries with Detective Thomas Pitt or investigator William Monk, but she has written many other titles as well. So, keep reading to find out how to read all the Anne Perry books in order.
Anne Perry Books in Order
Charlotte and Thomas Pitt Books
Anne Perry's debut marked the beginning of her longest and most popular series. This historical mystery series takes place in Victorian London and follows Detective Thomas Pitt and his wife Charlotte as they endeavor to solve murders occurring around the city. Each title also references a physical location in London.
Daniel Pitt Series
The next Anne Perry series on this list is a spin-off series from Charlotte and Thomas Pitt. As the name suggests, Daniel Pitt is the son of Thomas and Charlotte. This series takes place in London during the 1910s and follows Daniel, a lawyer, as he works to prove the innocence of his clients; he also works with Miriam, one of the first female pathologists.
William Monk Series in Order
This series is Anne Perry's second most popular body of work and it follows the exploits of William Monk, a policeman during the late Victorian era. Unfortunately, William loses his memory following a coach accident. The series begins with him struggling to maintain his job despite his amnesia; he is later joined by Hester Latterly, a Crimean War nurse, and Sir Oliver Rathbone.
Tathea Books
This series is quite unlike any of the other Anne Perry books in order. It is a fantasy duology which follows an empress who has been thrust into exile from her palace due to a coup. Tathea then travels through her kingdom and must face consequences and good and evil. According to Perry, of everything she has written, these books most reflect her religious and philosophical beliefs; it is also one of the first drafts she ever wrote.
Tathea (1999)
Come Armageddon (2001)
World War I Books
Another complete series, this historical fiction series juxtaposes the tranquil life of the English countryside with the horrors of the First World War. Each book covers one year as the series follows a family from the assassination in Sarajevo in 1914 to the ceasefire on November 11, 1918. In addition to the juxtaposition, each family member also solves crime as they struggle to maintain hope, courage, and compassion during the darkest of days.
Timepiece Books
Timepiece is a young adult historical fiction series about a young girl, Rosie, who travels back in time to different eras.
Elena Standish Books
One of Anne Perry's more recent series, Elena Standish takes place on the brink of the Second World War. Elena is a young photographer who carries with her a world-shattering message from her dead lover; she travels with this message into the heart of Berlin as Hitler ascends to power. There is a fifth title expected in 2023 that is, as of yet, still untitled.
Christmas Murder Mystery Novellas
Anne Perry is also well-known for her Christmas novellas. These stories take place just before Christmas and feature characters from one of her Victorian series. Each novella concerns a crime that must be solved and has a happy ending just as the church bells ring out at midnight on Christmas.
The books marked below with an asterisk feature characters from the Charlotte and Thomas Pitt series. Therefore, the titles without an asterisk feature secondary characters from the William Monk series.
Anne Perry Standalones in Order
If you prefer to read standalones, Anne Perry has also published a handful of historical fiction mysteries.
Fashionable Funeral (1999) (Out of Print)
The One Thing More (2000)
A Dish Taken Cold (2001)
The Sheen on the Silk (2010)
Anne Perry Non-Fiction Books in Order
As well, Anne Perry has published one non-fiction book which draws from her life and experience living in the Scottish Highlands and two audiobooks on writing.
Letters from the Highlands (2004)
Anne Perry Short Stories in Order
Anne Perry has also written many short stories and edited many anthologies over the years, totalling more than two dozen titles.
Who is Anne Perry?
While Anne Perry has distanced herself for years from her past, it would be remiss not to include the more shocking aspect to her adolescence.
On her website, Perry details being born in Blackheath, London in October 1938 and moving around a lot during, and immediately after, the war. She was quite sick as a child and then moved from England to the warmer climates of the Bahamas and then New Zealand.
Due to her illness and unconventional upbringing, Perry says she missed much schooling as a child, but always loved to read and write, so she caught up quickly.
However, what is not on Perry's website is the darker side of her past before she adopted the pseudonym Anne Perry in her career as an author. Perry was born Juliet Hulme and convicted of murder at 15. When her past came to light in the 1990s Perry was already an established author and the revelation shocked many.
As a teenager Perry served five years for the murder of her best friend's mother; the best friend, Pauline Parker, was also convicted and served five years.
As previously mentioned, Perry does not often speak about this period of her life and skips over it in her website's biography. However, many of her books feature themes of redemption and forgiveness. One of her earlier series, and in fact one of the first drafts she ever wrote in her 20s, Tathea, largely focuses on these themes of actions and consequences, good and evil.
The majority of her books are also Victorian mysteries, which Perry says she writes because she loves the contrast of glamour and squalor. She also says that it is in a way the end of history and the beginning of the modern world, a time of unprecedented challenge and change.
Summary of the Anne Perry Books in Order
While Anne Perry has written more than 120 books and short stories during the course of her 40-year career as an author, the Charlotte and Thomas Pitt series remains one of her most popular bodies of work. For that reason, in this summary of the Anne Perry books in order, we'll take a closer look at her debut and the proceeding 14 books in the series.
If you have never read the Charlotte and Thomas Pitt books before, read the below summaries with caution as they may contain spoilers for character developments as the series progresses.
---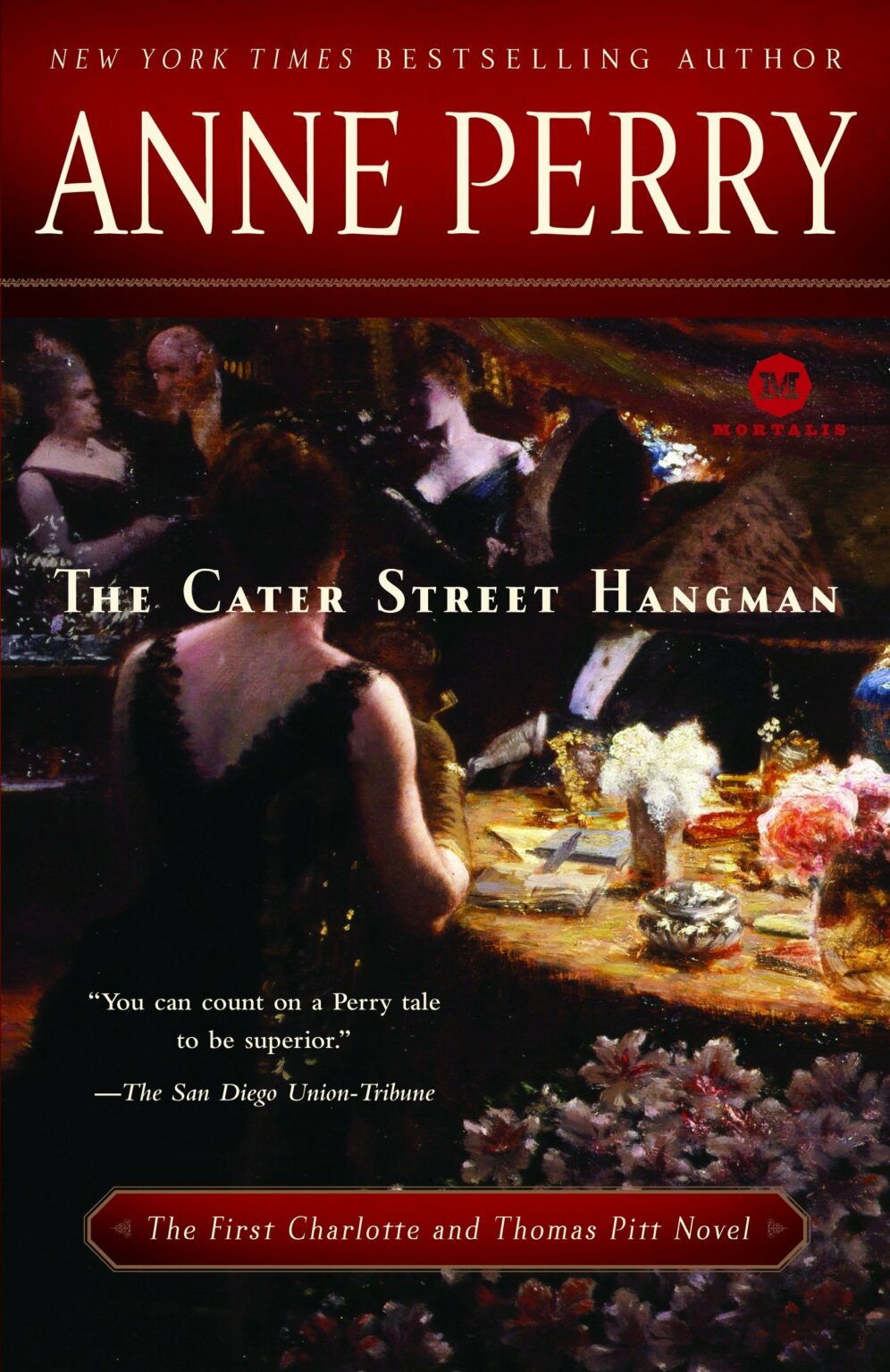 1. The Cater Street Hangman
Panic and fear strike the Ellison household when one of their own falls prey to the Cater Street murderer. While Mrs. Ellison and her three daughters are out, their maid becomes the third victim of a killer who strangles young women with cheese wire, leaving their swollen-faced bodies on the dark streets of this genteel neighborhood.
Inspector Pitt, assigned to the case, must break through the walls of upper-class society to get at the truth. His in-depth investigation gradually peels away the proper veneer of the elite world, exposing secrets and desires until suspicion becomes more frightening than truth.
Meanwhile, outspoken Charlotte Ellison, struggling to remain within the confining boundaries of Victorian manners, has no trouble expressing herself to the irritating policeman. As their relationship shifts from antagonistic sparring to a romantic connection, the socially mismatched pair must solve the mystery before the hangman strikes again.
---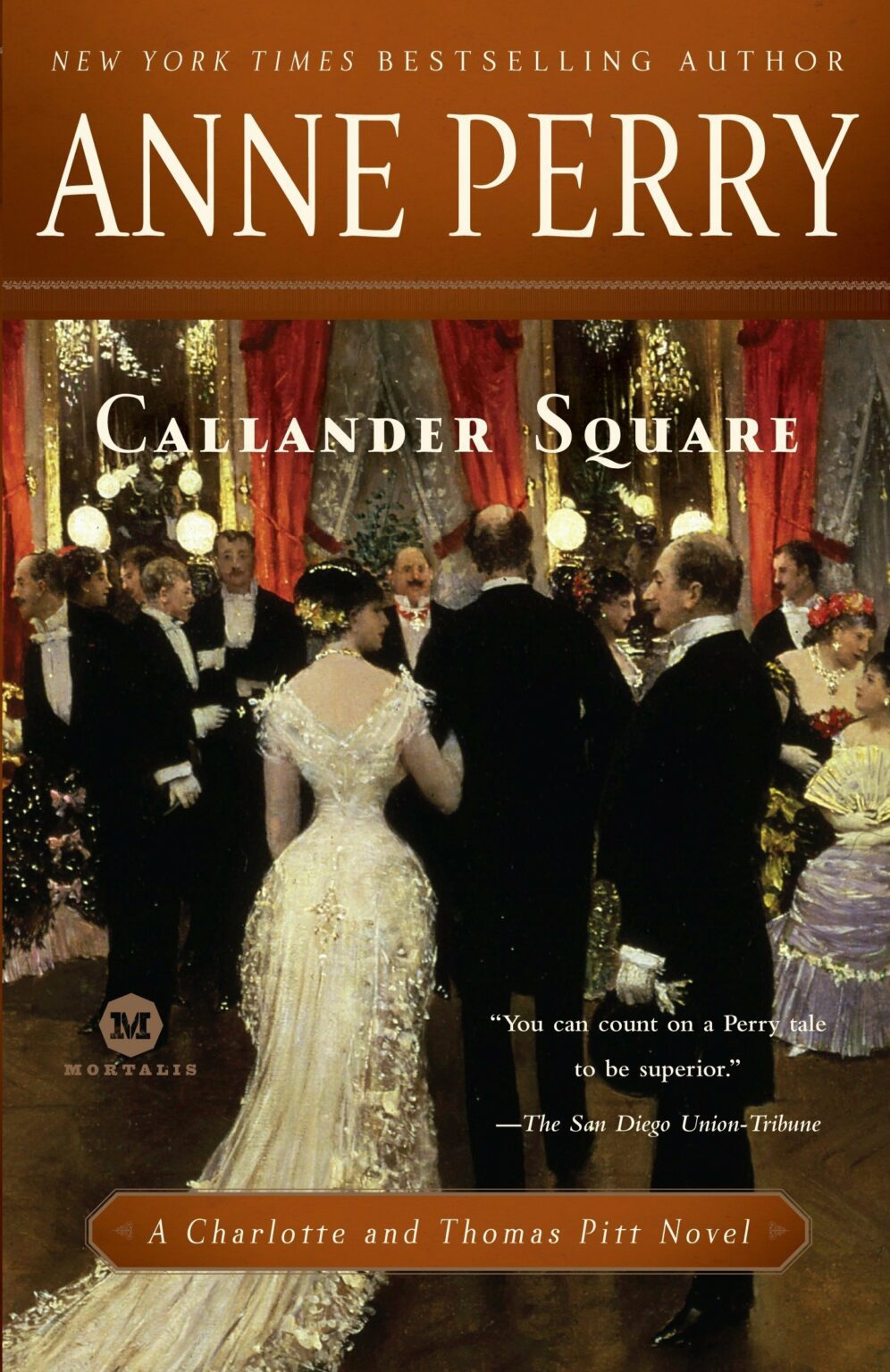 2. Callander Square
The bodies of two newborns are discovered buried in a garden in the posh Callander Square region of London. Following which, Thomas Pitt and his young wife, Charlotte, begin solving the crime from two different perspectives.
While Pitt pursues his investigations, Charlotte, behind the scenes, is rattling the closets of the very rich, listening to gossip, and unearthing truths that could push even the most proper aristocrat to murder…
---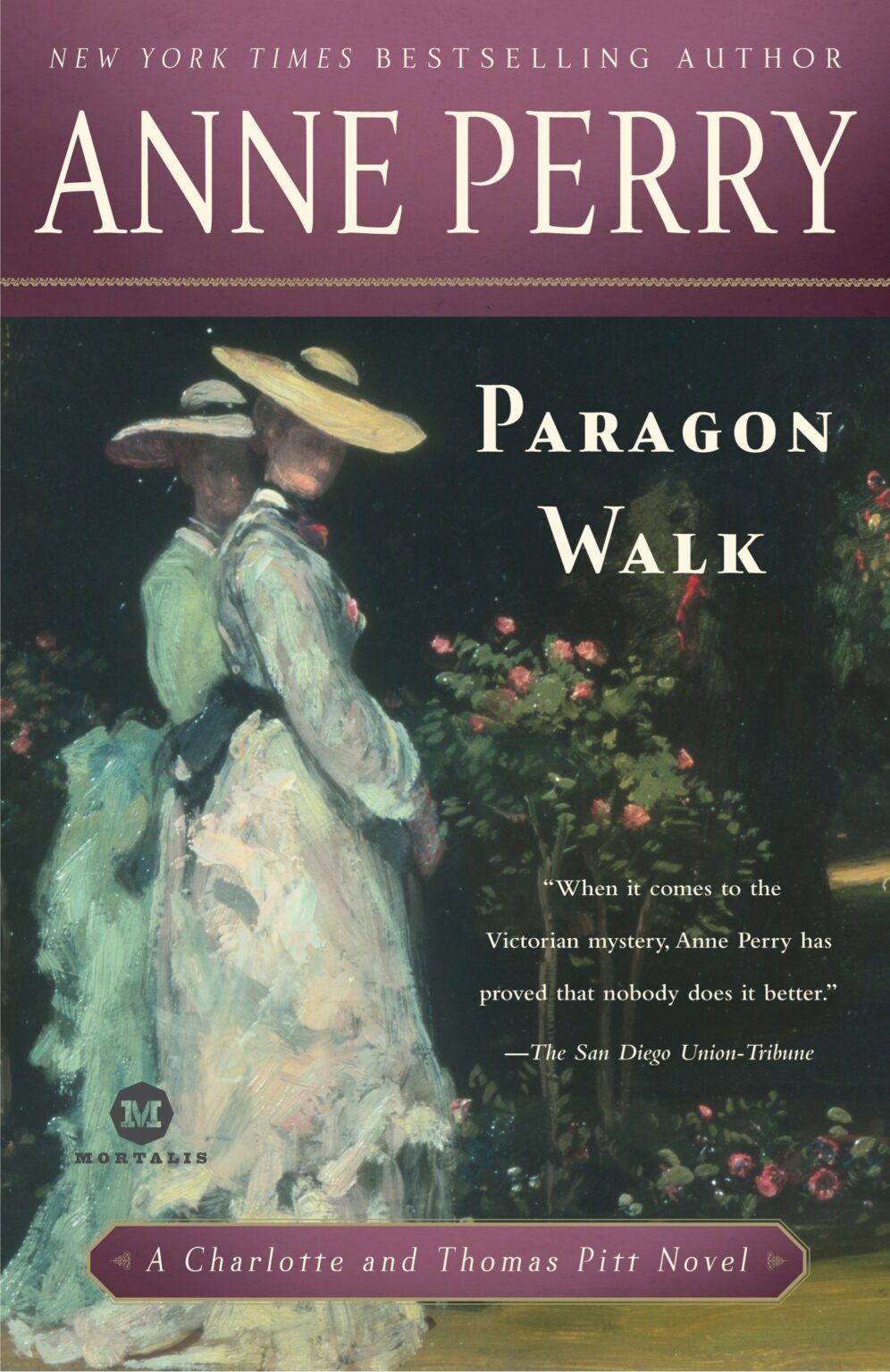 3. Paragon Walk
The residents of Paragon Walk tighten their lips when Inspector Pitt begins his investigation after young Fannie Nash is murdered. Therefore Pitt's wife, Charlotte, with the assistance of her sister Emily, must discover the ugly secrets that lurk behind the respectable face of Victorian society, something that could lead to more scandal, and more murder…
---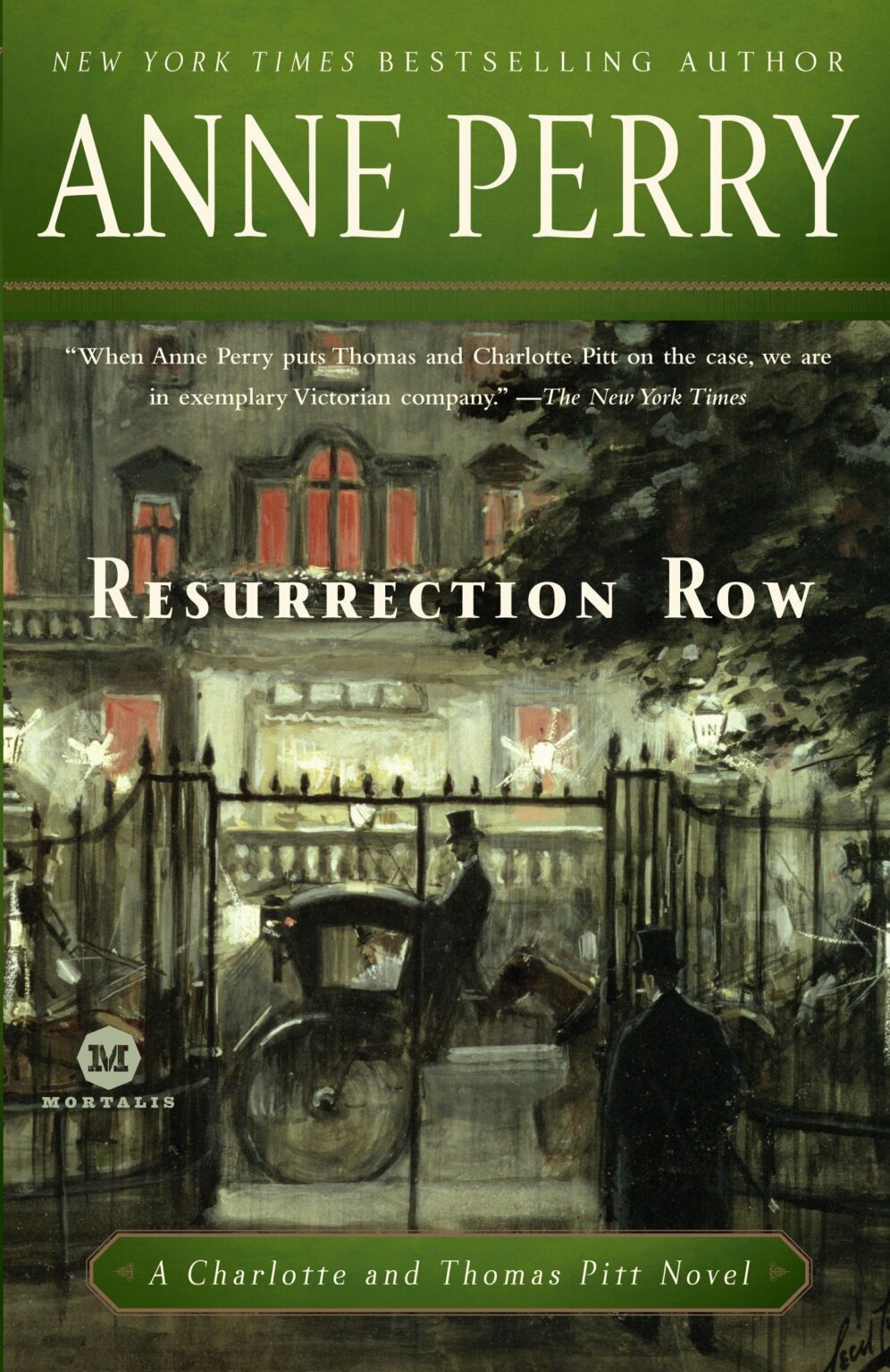 4. Resurrection Row
It is bad enough that the recently deceased Lord Fitzroy-Hammond has been removed from his grave, but when it happens a second time and then other buried corpses start popping up, Pitt is puzzled indeed. Is the perpetrator trying to hide a murder or call attention to one? The answer lies in a convoluted but logical merging of art, blackmail, politics, pornography, and prostitution…
---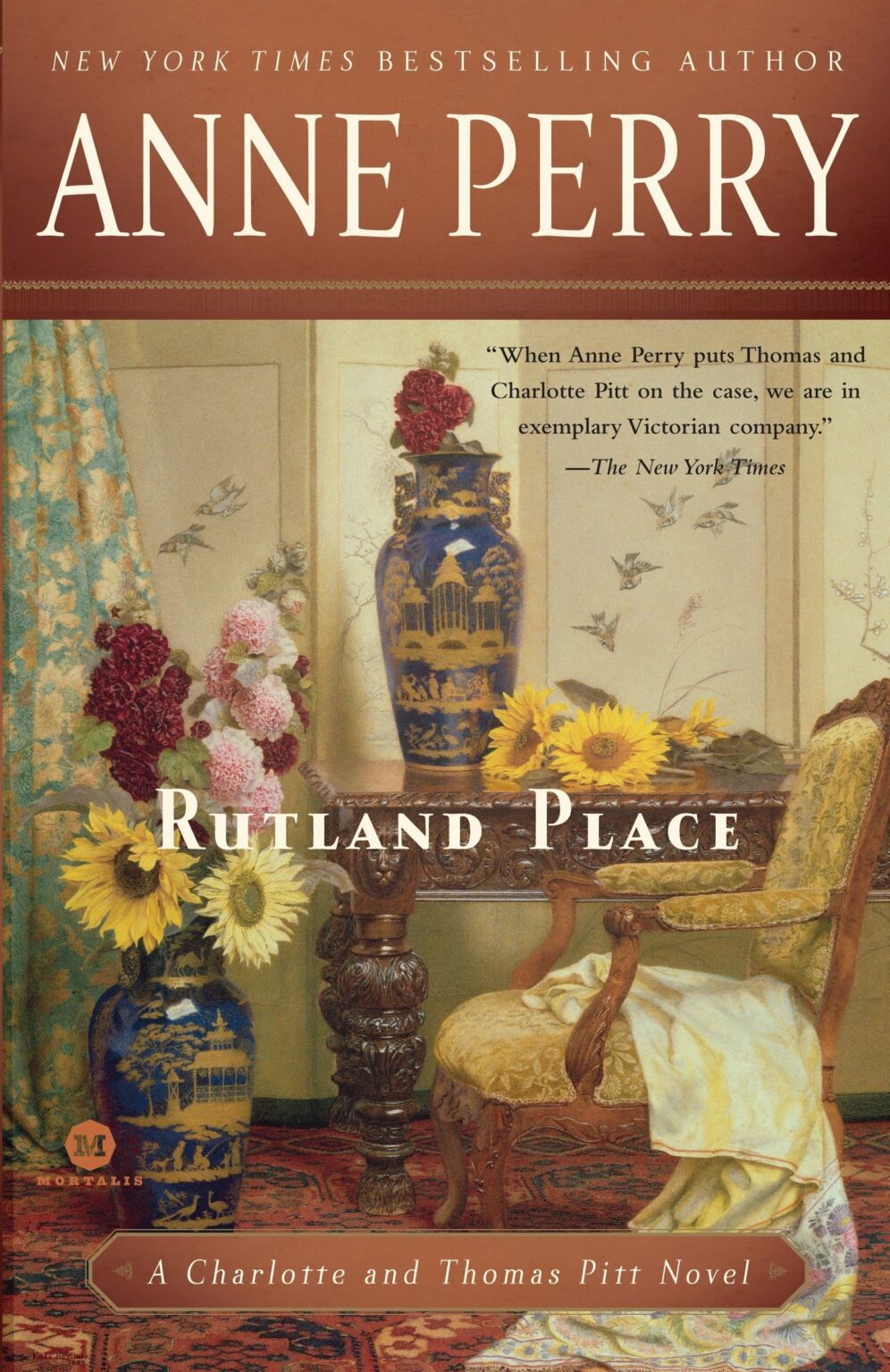 5. Rutland Place
When Charlotte learned of her mother's distress in losing a locket with a compromising picture in it, she did not know it was the beginning of several bizarre events that would end in sudden death. Hidden beneath the sumptuous elegance of Rutland Place were terrible secrets, secrets so horrible that only murder would conceal them…
---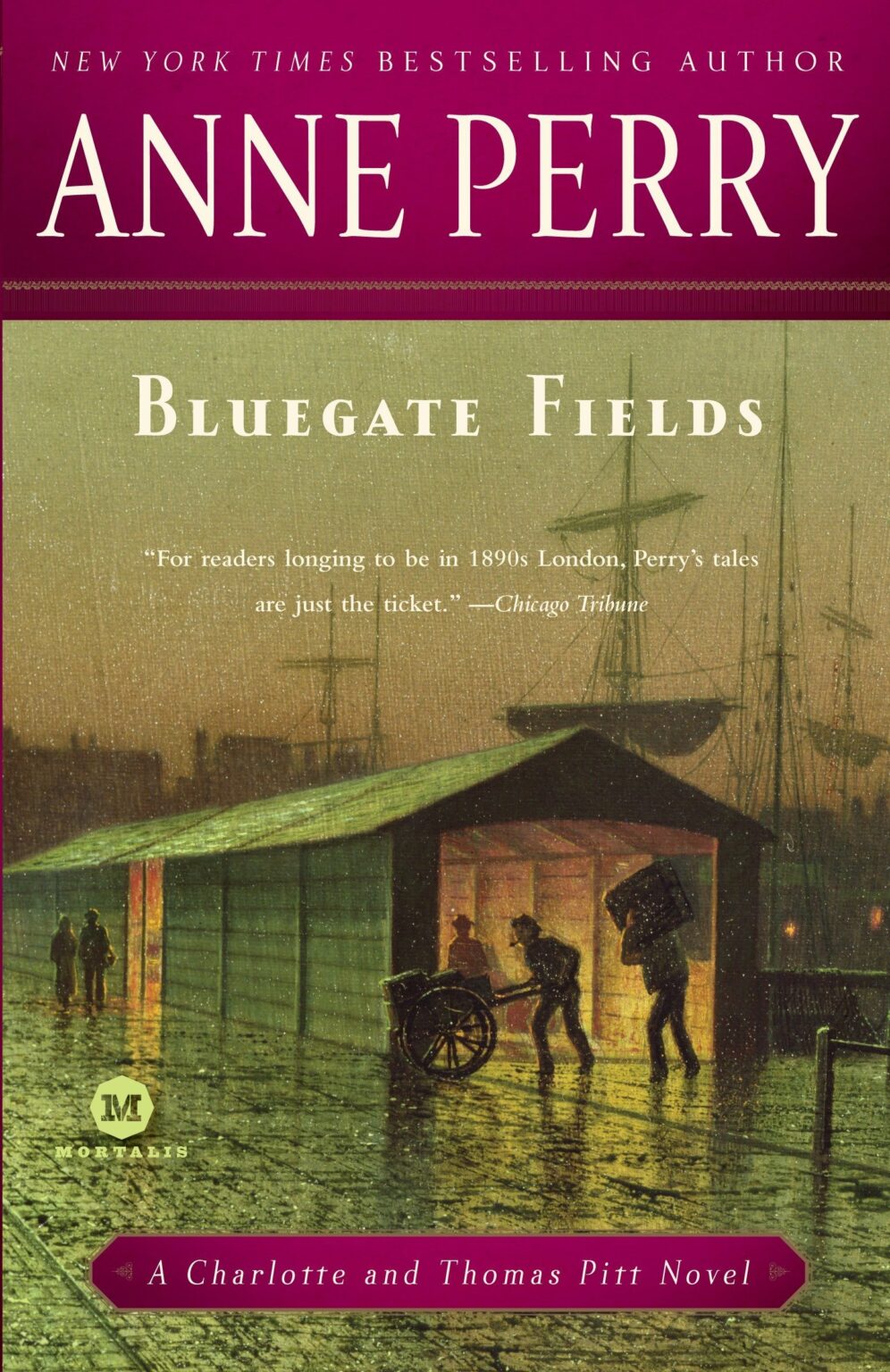 6. Bluegate Fields
When an upper-class boy is found violated and dead in London's most dangerous slums, Inspector Pitt is shocked, but when his family refuse to answer any of Pitt's questions, he begins to wonder what secrets they are trying so desperately trying to hide. Charlotte refuses to be sidelined from Pitt's work and begins her own investigation into this oh-so-proper family…
---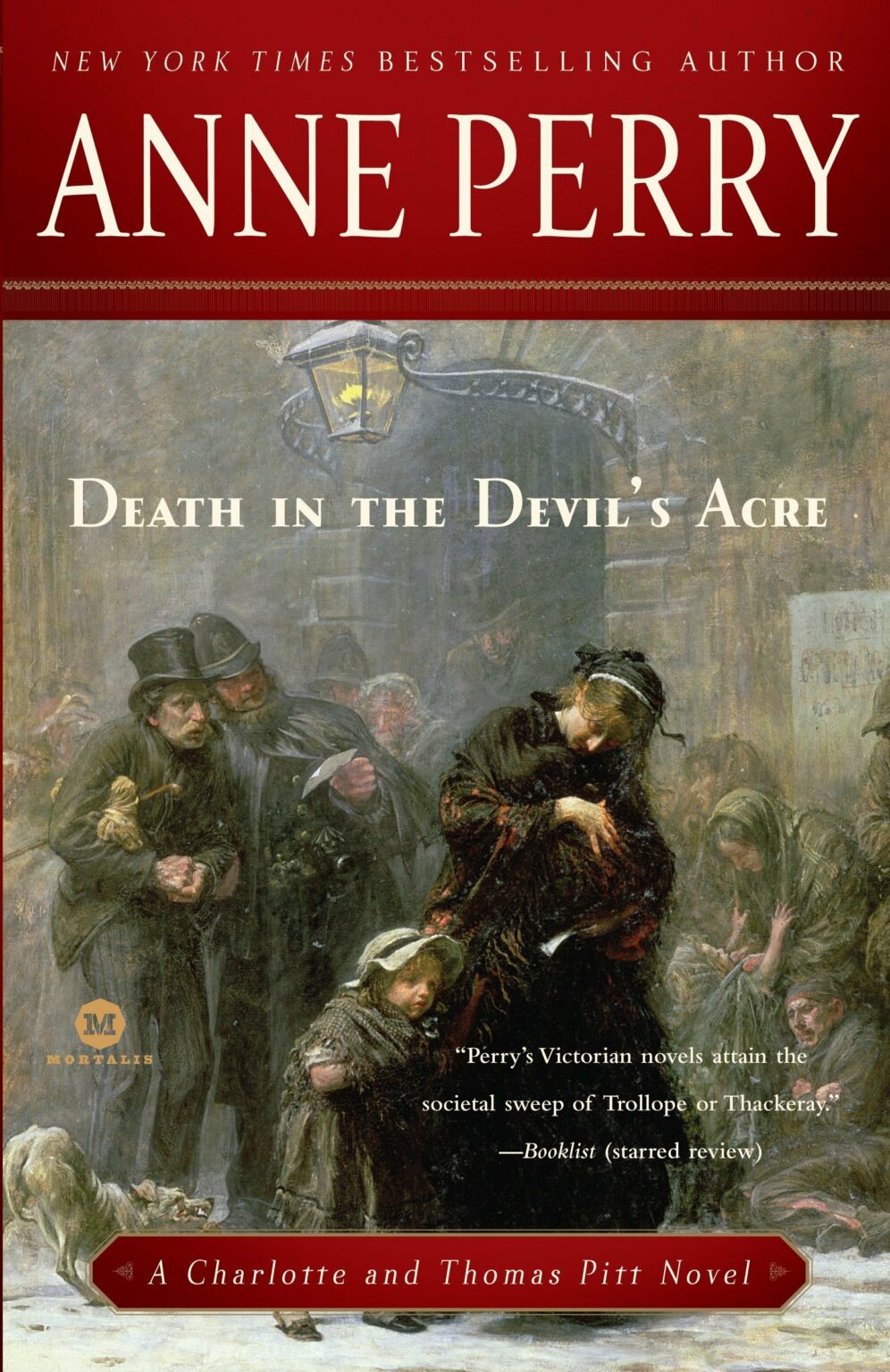 7. Death in the Devil's Acre
When a doctor is found brutally murdered, even the neighbourhood's most hardened residents are stunned. Then three more bodies are found, killed in the same inexpert way and Pitt and Charlotte race against time to find the killer, as a treacherous mystery unfolds…
---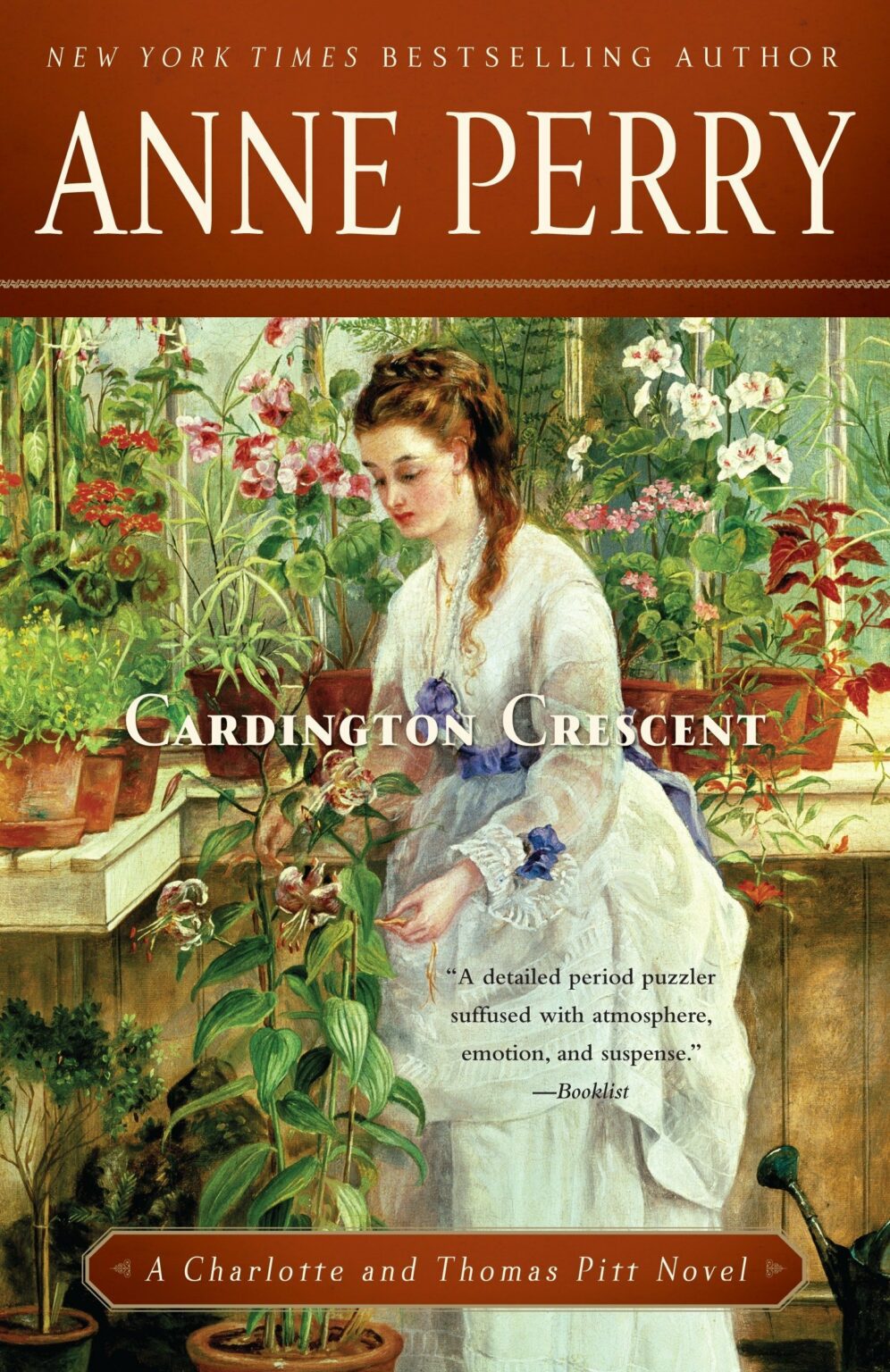 8. Cardington Crescent
When George March, a womanising aristocrat, is found dead over his morning coffee, his wife Emily is accused of murder. But Emily's sister is the indomitable Charlotte, who, with her husband Thomas, take on the seemingly irreproachable March clan and discover an insidious web of corruption and depravity that leads them from the elegance of Cardington Crescent into the hideous London slums, and more murder…
---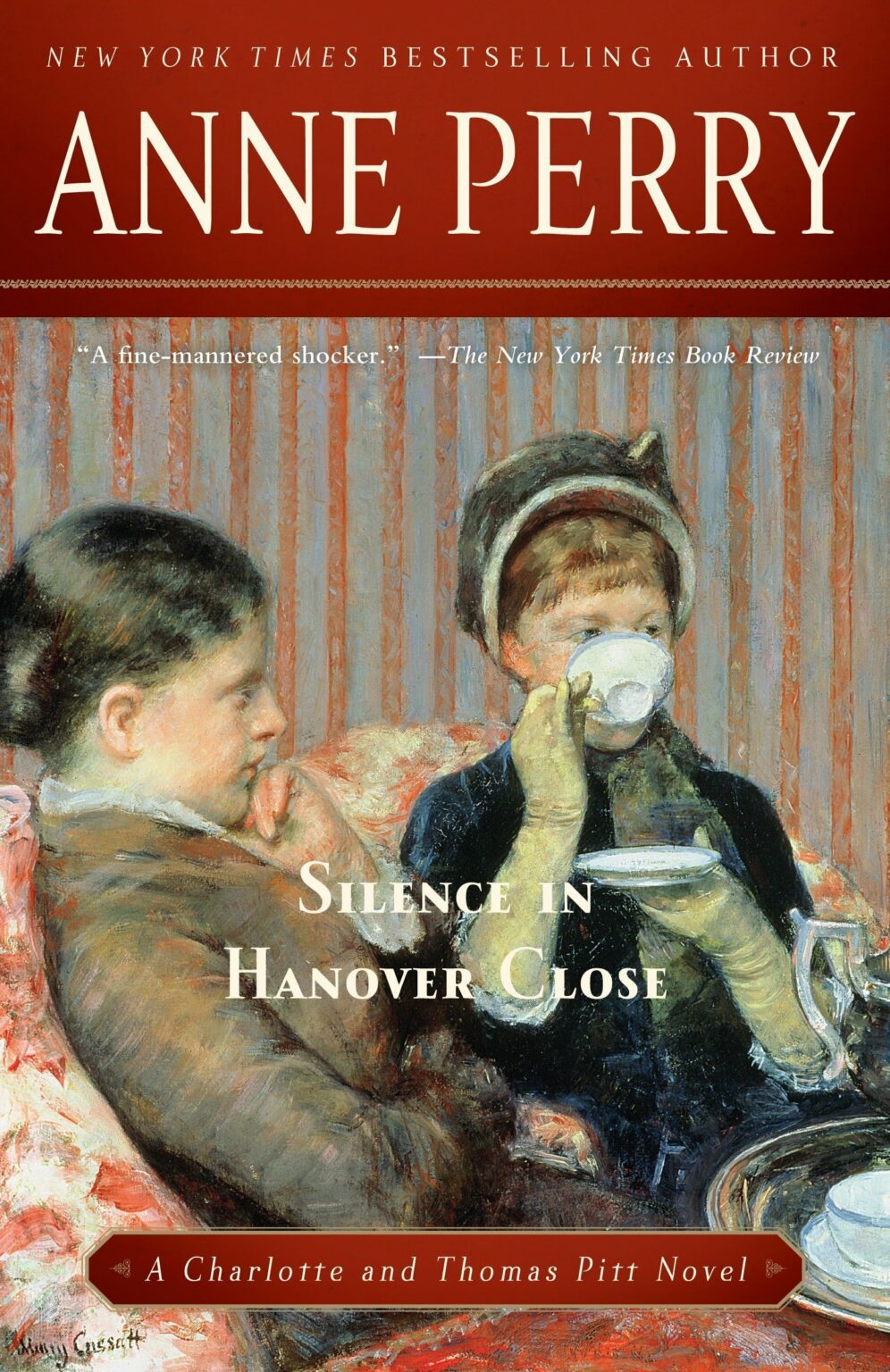 9. Silence in Hanover Close
When Pitt is asked to re-open a three-year-old murder case which had taken place in London's luxurious Hanover Close, he knows that his superiors want him to handle the investigation delicately and diplomatically to smooth everything over.
But that is not the way Pitt operates.
While Charlotte penetrates behind the reserve of high society to do her own brand of detective work, Pitt discovers more shocking secrets that could lead to further deaths, even his own…
---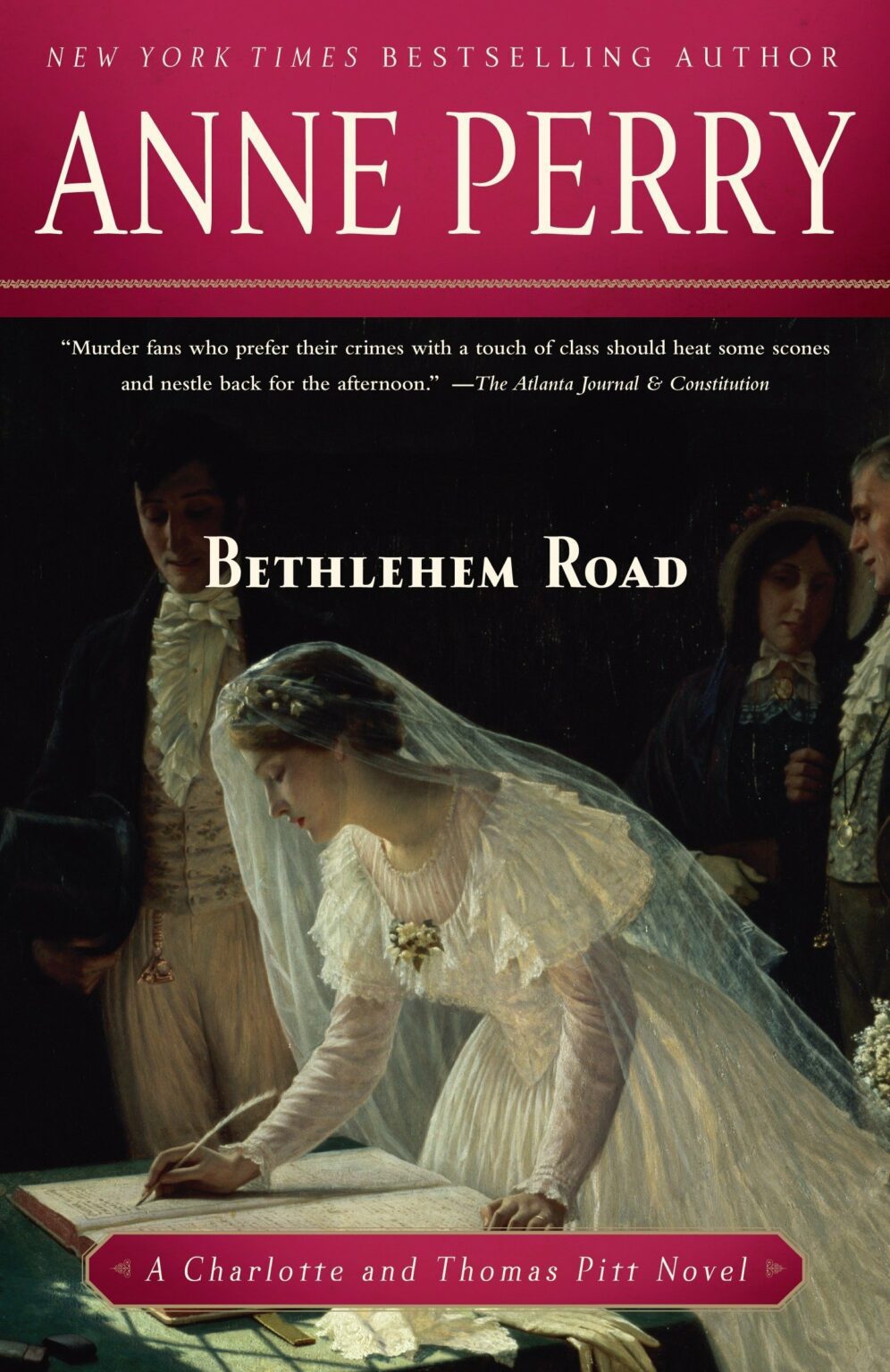 10. Bethlehem Road
The gentleman tied to the lamppost on Westminster Bridge is most elegantly attired — fresh boutonniere, silk hat, and white evening scarf — and he is quite, quite dead, as a result of his thoroughly cut throat.
But why should anyone kill Sir Lockwood Hamilton, the kindest of family men and most conscientious member of Parliament?
Before Inspector Thomas Pitt can even speculate on the reasons, a colleague of Sir Lockwood's meets the same fate in the same spot. Public indignation is boundless, and clever Charlotte Pitt, Thomas's well-born wife, can't resist helping her hard-pressed husband, as she scouts society's drawing rooms for clues to these appalling crimes. Meanwhile, the Westminster Bridge Cutthroat stalks another victim.
---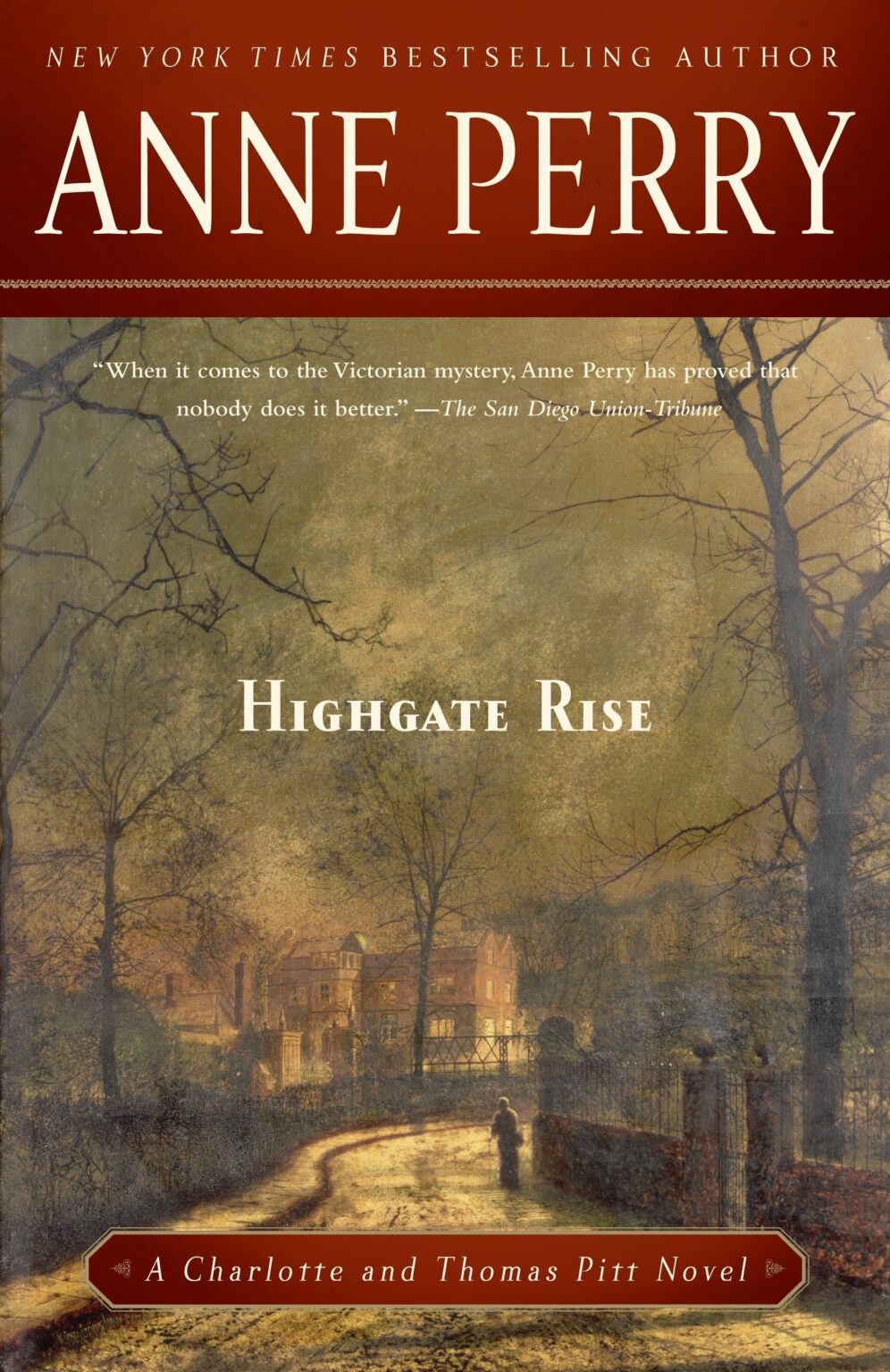 11. Highgate Rise
Clemency Shaw, the wife of a prominent doctor, has died in a tragic fire. But whether the blaze was set by an arsonist aiming for the doctor, or set by the doctor himself, Pitt is not certain.
With the scarcity of clues, Pitt turns to Clemency's stuffy but distinguished relatives. Meanwhile Charlotte retraces the dangerous path that Clemency walked the last months of her life, and finds herself enmeshed in a sinister web that stretches from the lowest slums to the loftiest centres of power…
---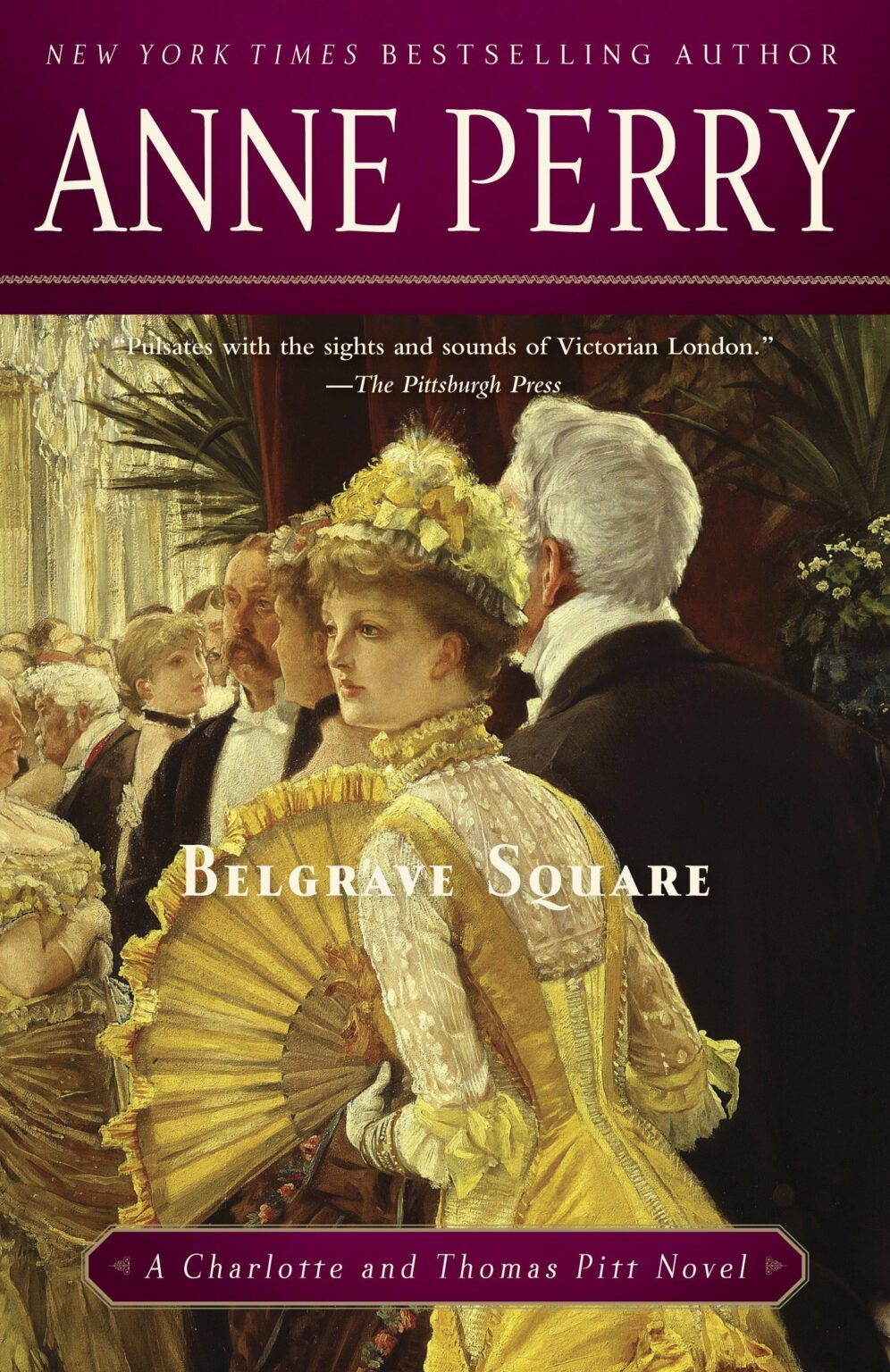 12. Belgrave Square
When low-life money lender William Weems is found murdered, there are few to mourn his passing. But when Pitt finds a list containing the names of some of London's most distinguished gentlemen in the murdered man's office, he recognises the smell of blackmail.
While Pitt investigates the victims of Weems' cupidity, Charlotte and Emily have entrée into London's upper crust that is closed to routine police investigation. Then it is there that the sinister influence of a secret society becomes apparent…
---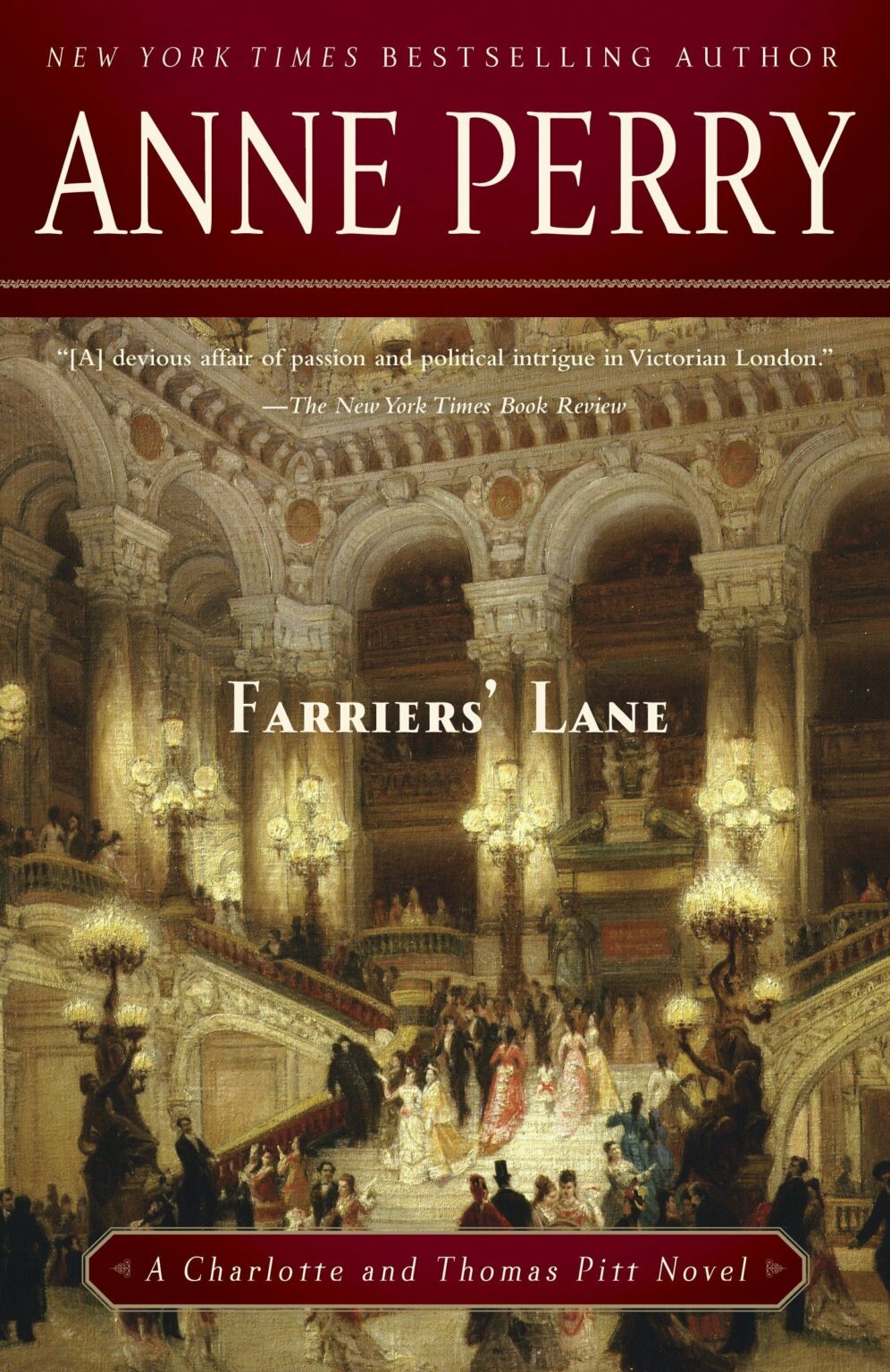 13. Farrier's Lane
When a distinguished judge dies of opium poisoning, the death of Kingsley Blaine five years before by crucifixion is brought back into the public eye and it is screaming for revenge. The police had arrested a Jewish actor who is condemned to be hanged soon. Pitt, who is investigating the judge's death finds that the judge was about to reopen the earlier case.
While Pitt faces a wall of silence from officialdom, Charlotte uses her high society connexions and they both come to the same sinister and deeply dangerous truth…
---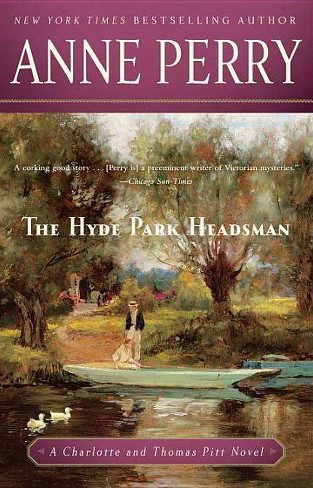 14. The Hyde Park Headsman
Newly promoted Pitt has to investigate the gruesome beheadings of three apparently unconnected victims, but he is bedevilled by a lack of cooperation from his superiors. Meanwhile, Charlotte is pre-occupied with moving house and Emily is absorbed with her husband Jack's election to Parliament. However, together they uncover domestic scandals and the invisible hand of the evil secret society: The Inner Circle.
---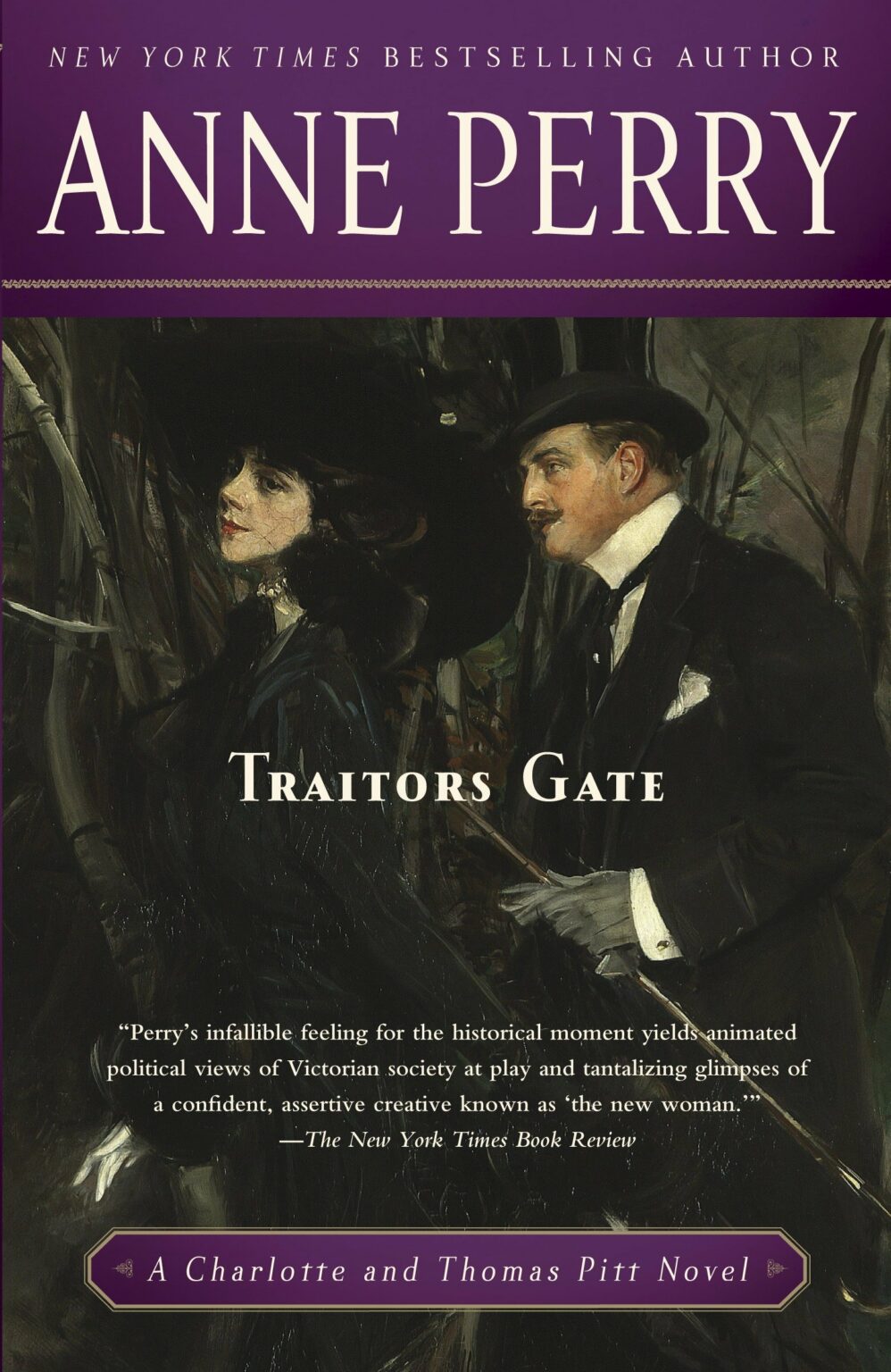 15. Traitors Gate
Someone in the Colonial Office is passing secrets to Germany about England's Africa policy. While Pitt investigates this treason, he is quietly looking into the tragic "accidental death" of his childhood mentor, Sir Arthur Desmond.
That is because Pitt believes he was murdered and that the crime is connected with the treachery in the Government. Only when a Thames waterman finds the strangled body of a society beauty floating near Traitor's Gate, do Pitt and Charlotte begin to untangle the threads of passion and intrigue…
---
Final thoughts on Anne Perry books in order
So, now you know about all the books Anne Perry has written and how to read them in order, as well as a little bit more about the author's history. While her adolescence was largely unknown during the start of her career as an author and she does not frequently speak on her past, it creates a very unique voice in the genre.
If you enjoy character-driven historical murder mysteries, then Anne Perry is an author you should explore.
Looking for more books in order?
Check out this list of the Rhys Bowen books in order.