Nick Petrie broke onto the literary scene with his crime thrillers relatively recently, but he has been making waves with his Peter Ash books. The series follows a former Marine adjusting to life post-war, and wandering America and further afield helping those in need. Keep reading to find out how to read all the Nick Petrie books in order.
Who is Nick Petrie?
Before he became an author, Nick Petrie worked as a carpenter, remodeling contractor, and building inspector. However, he has always loved to write. He first caught the writing bug in high school, and then went on to get a MFA in fiction from the University of Washington.
His debut publication was the first book in the Peter Ash series: The Drifter. It is an award-winning publication, winning both the ITW Thriller Award and the Barry Award for Best First Novel. It was also a finalist for the Edgar, Anthony, and Hammett awards. Two other books within the Peter Ash series, Light It Up and The Wild One, have also since been short-listed for a Barry Award.
All of Nick Petrie's subsequent publications since his debut in 2016 belong to the Peter Ash series. He currently lives in Milwaukee with his family.
Nick Petrie Books in Order: Peter Ash
As is the case with many thrillers, each Peter Ash book will follow a new mystery. However, you should read these Nick Petrie books in order of publication if possible. This will give you the proper introduction to the character of Ash and those surrounding him.
This is especially important when character development is an integral part of the overall plot. With Ash's war trauma impacting his actions, this is especially the case with this series.
If you read the books out of order you will learn about his backstory out of order, and his relationships will not feel linear. The publication order of these books is the same as the chronological timeline, so this is the order in which you should read the books.
About Peter Ash
Peter Ash has been compared to the likes of Jack Reacher, although to be fair, many protagonists within the genre have been. However, Nick Petrie's Peter Ash has received the praise and accolade from Lee Child himself.
Similar to Reacher, Ash is a drifter who helps people in need through his travels. However, Ash must also contend with his post-traumatic stress that is the result from serving in the Afghanistan and Iraq wars.
Ash refers to the buzzing claustrophobia he experiences as white static. That symptom is what has driven him to sleep under the stars and roam in nature for a year following his arrival home.
However, in the first book, Ash returns to civilization when one of his friends in the Marines commits suicide. Ash goes to help his friend's widow in her grief with some work around her home. But instead he finds a suitcase full of cash and explosives under her front porch.
This sets the tone for what ensues throughout the series. Ash frequently gets embroiled in convoluted, criminal plots while trying to help those in need.
The war veteran has a fierce loyalty and strong moral code. This means that when he is faced with a mystery or conundrum, he must seek out justice and see it through until the end. Even though he doesn't want to form attachments to those he helps, preferring to drift on the road, watching his character evolution throughout the series is special to behold.
Summary of the Nick Petrie Books in Order
Whether you're eagerly awaiting the eighth Peter Ash book or just finding the series for the first time, the below summaries will help orient you within this world a little bit better. However, if you haven't read these Nick Petrie books in order before, there will be minor spoilers for character development below as the series progresses.
---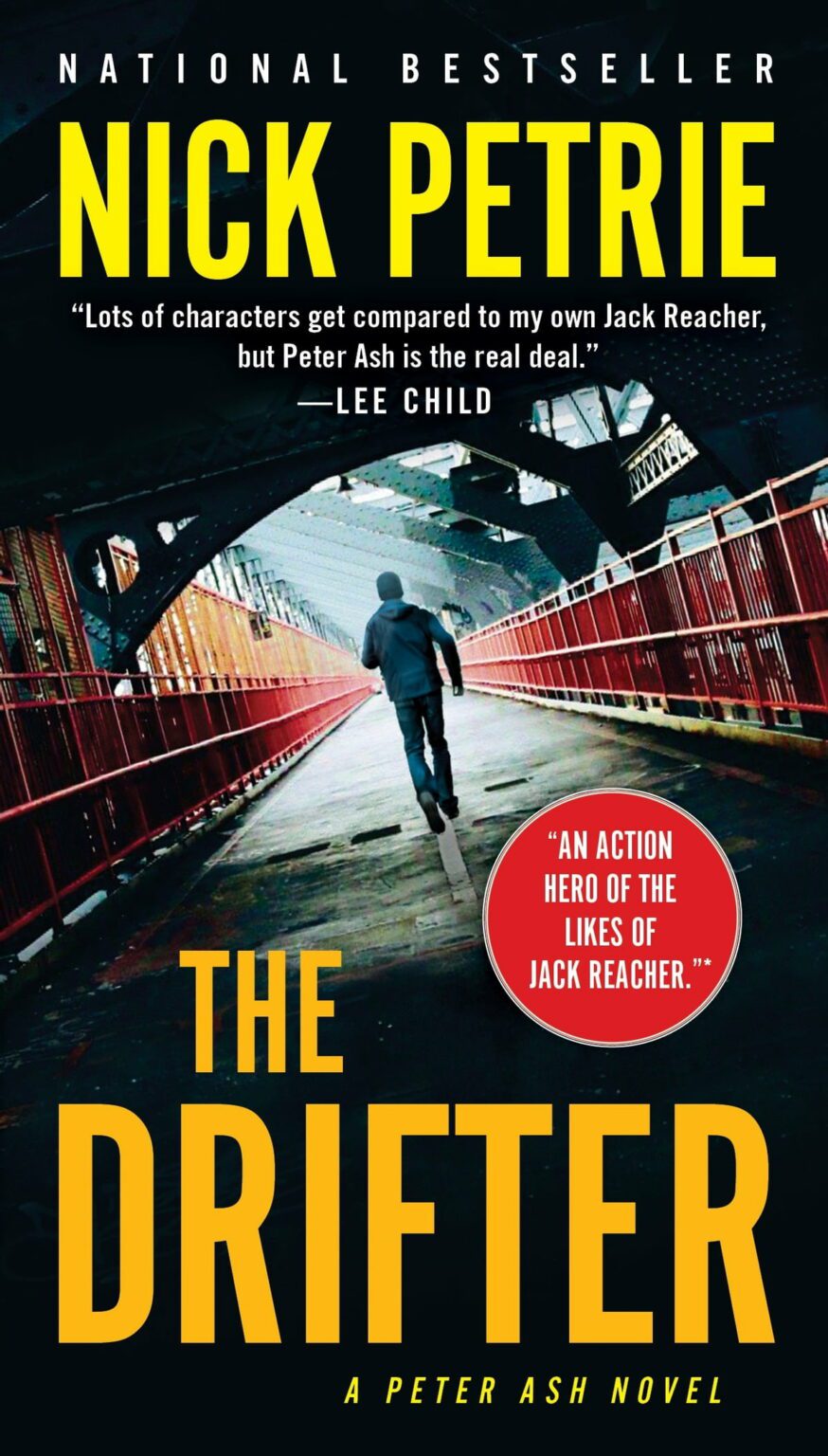 1. The Drifter
Peter Ash came home from the wars in Iraq and Afghanistan with only one souvenir: What he calls his "white static," the buzzing claustrophobia due to post-traumatic stress that has driven him to spend a year roaming in nature, sleeping under the stars.
But when a friend from the Marines commits suicide, Ash returns to civilization to help the man's widow with some home repairs. Under her dilapidated porch, however, he finds more than he bargained for. The largest, ugliest, meanest dog he's ever encountered…and a Samsonite suitcase stuffed with cash and explosives.
As Ash begins to investigate this unexpected discovery, he finds himself at the center of a plot that is far larger than he could have imagined… And it may lead straight back to the world he thought he'd left for good.
---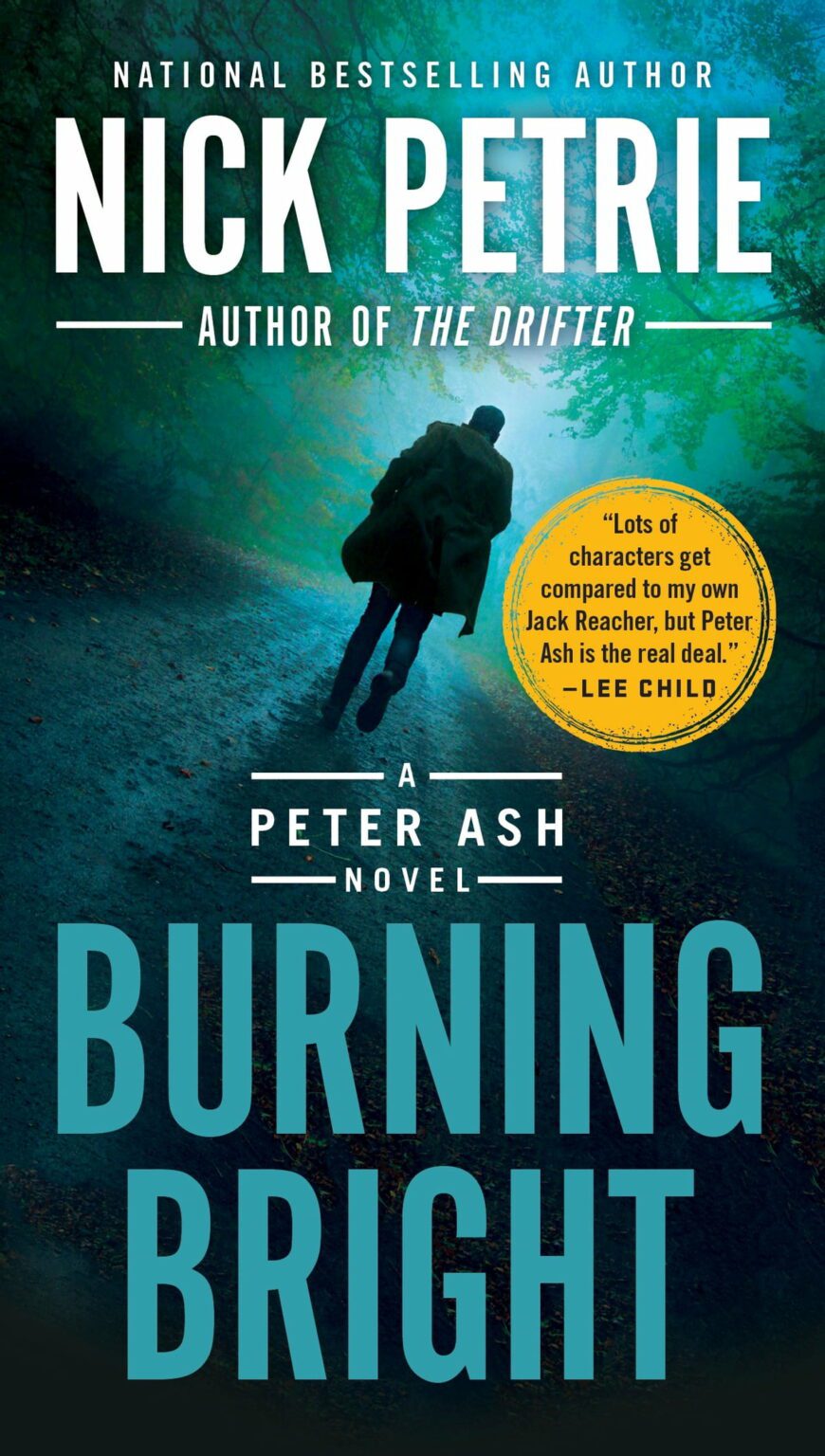 2. Burning Bright
War veteran Peter Ash sought peace and quiet among the towering redwoods of northern California. But the trip isn't quite the balm he'd hoped for.
The dense forest and close fog cause his claustrophobia to buzz and spark. Then he stumbles upon a grizzly, long thought to have vanished from this part of the country. In a fight of man against bear, Peter doesn't favor his odds, so he makes a strategic retreat up a nearby sapling.
There, he finds something strange: A climbing rope, affixed to a distant branch above. It leads to another, and another, up through the giant tree canopy, and ending at a hanging platform. On the platform is a woman on the run. From below them come the sounds of men and gunshots.
Just days ago, investigative journalist June Cassidy escaped a kidnapping by the men who are still on her trail. She suspects they're after something belonging to her mother, a prominent software designer who recently died in an accident. June needs time to figure out what's going on, and help from someone with Peter's particular set of skills.
Only one step ahead of their pursuers, Peter and June must race to unravel this peculiar mystery. What they find leads them to an eccentric recluse, a shadowy pseudo-military organization, and an extraordinary tool that may change the modern world forever.
---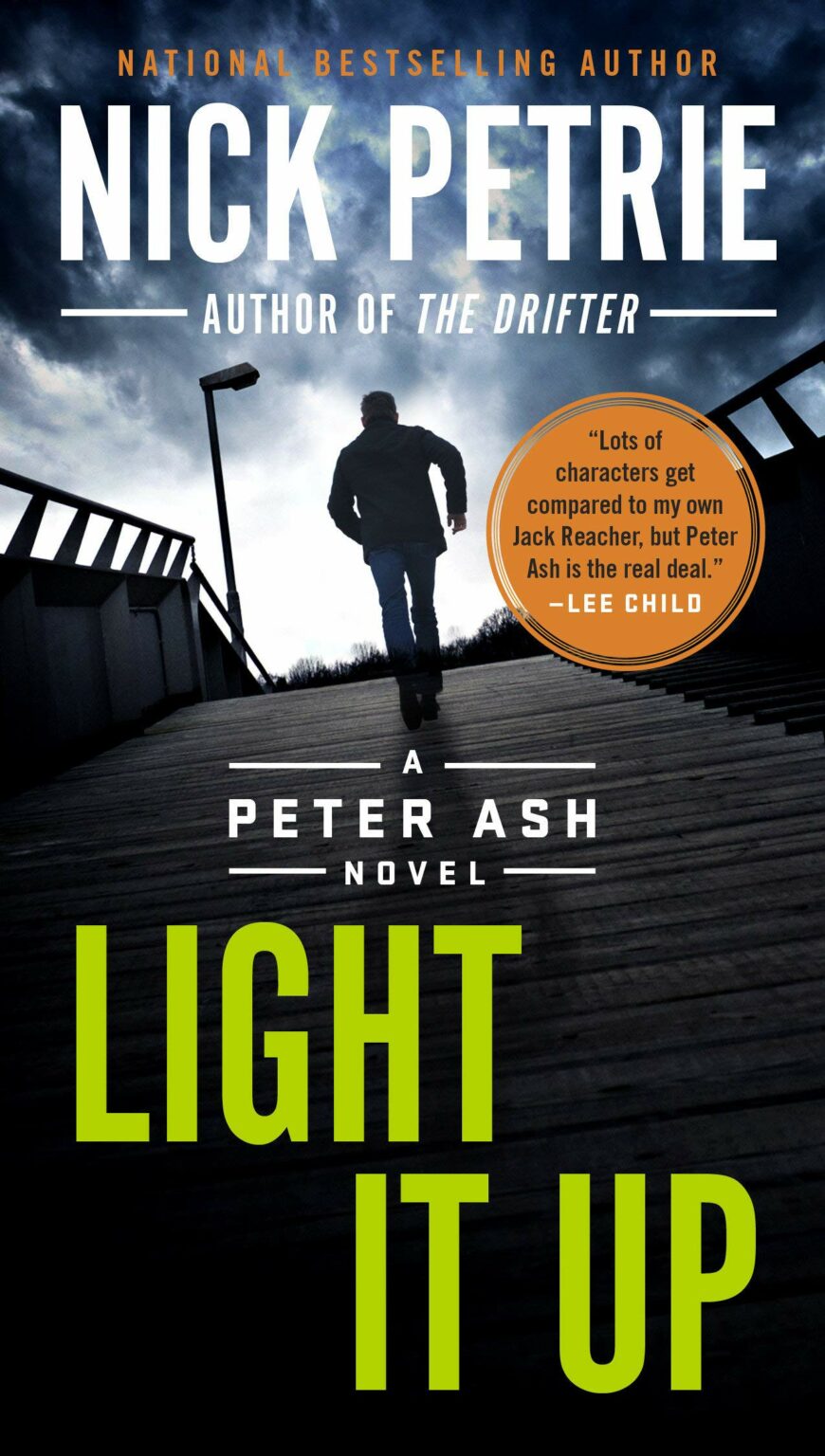 3. Light It Up
Combat veteran Peter Ash leaves a simple life rebuilding hiking trails in Oregon to help his good friend Henry Nygaard, whose daughter runs a Denver security company that protects cash-rich cannabis entrepreneurs from modern-day highwaymen.
Henry's son-in-law and the company's operations manager were carrying a large sum of client money when their vehicle vanished without a trace, leaving Henry's daughter and her company vulnerable.
When Peter is riding shotgun on another cash run, the cargo he's guarding comes under attack and he narrowly escapes with his life. As the assaults escalate, Peter has to wonder: For criminals this sophisticated, is it really just about the cash?
After finding himself on the defensive for too long, Peter marshals his resources and begins to dig for the truth in a scheme that is bigger — and far more lucrative — than he'd ever anticipated. With so much on the line, his enemy will not give up quietly… And now he has Peter directly in his sights.
---
4. Tear It Down
Iraq war veteran Peter Ash is restless in the home he shares with June Cassidy in Washington State. June knows Peter needs to be on the move, so she sends him to Memphis to help her friend Wanda Wyatt, a photographer and war correspondent who's been receiving peculiar threats.
But when Peter arrives in Memphis, he finds the situation has gone downhill fast. Someone has just driven a dump truck into Wanda's living room. But neither Wanda nor Peter can figure out why.
At the same time, a young homeless street musician finds himself roped into a plan to rob a jewelry store. The heist doesn't go as planned, and the young man finds himself holding a sack full of Rolexes and running for his life. When his getaway car breaks down, he steals a new one at gunpoint — Peter's 1968 green Chevrolet pickup truck.
Peter likes the skinny kid's smarts and attitude. But he soon discovers that the desperate musician is in far worse trouble than he knows. And Wanda's troubles are only beginning.
Peter finds himself stuck between Memphis gangsters — looking for Rolexes and revenge — and a Mississippi ex-con and his hog-butcher brother looking for a valuable piece of family history that goes all the way back to the Civil War.
---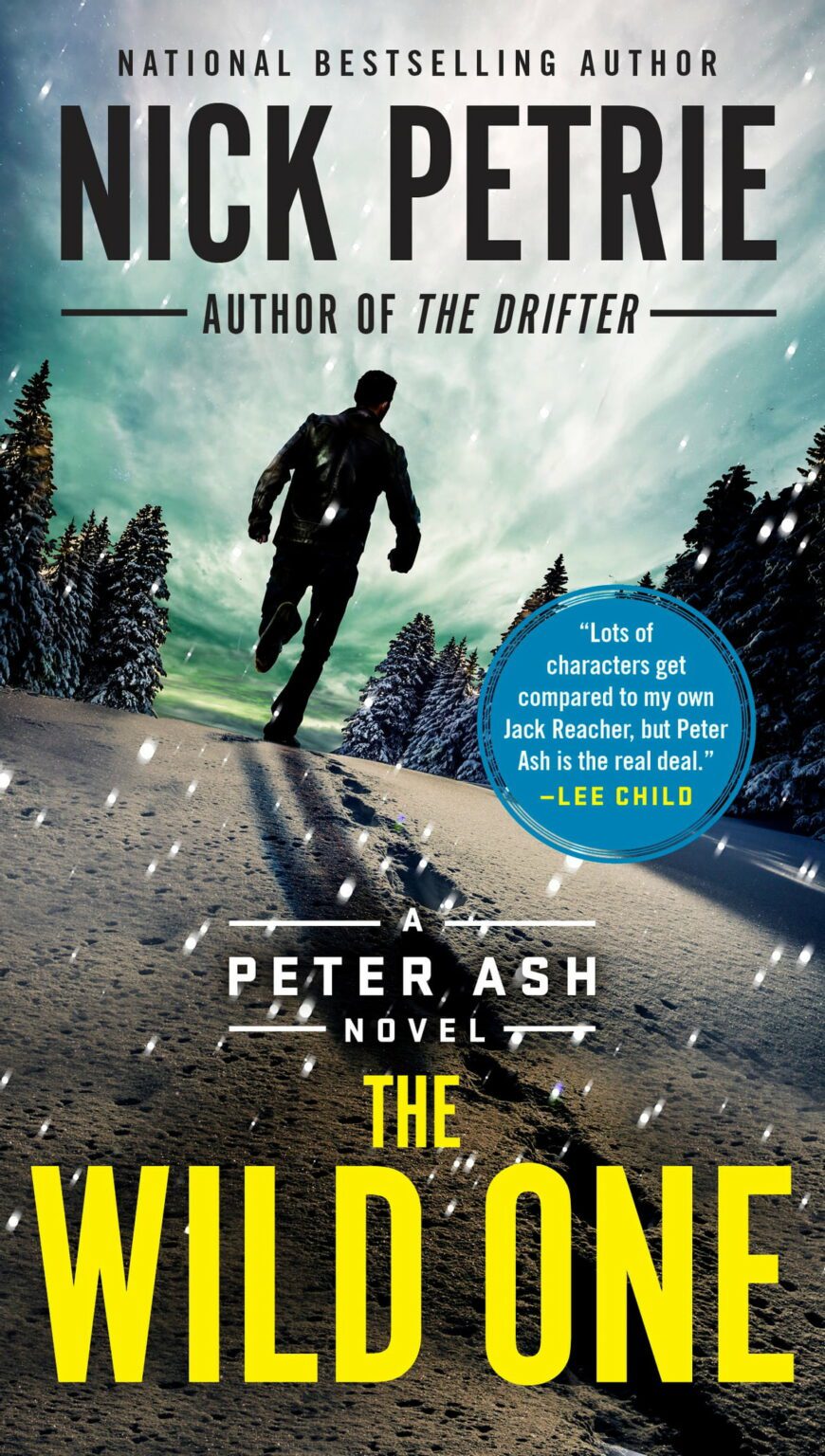 5. The Wild One
Losing ground in his fight against post-traumatic claustrophobia, war veteran Peter Ash has no intention of getting on an airplane. That is, until a grieving woman asks Peter to find her eight-year-old grandson. The woman's daughter has been murdered.
Erik, the dead daughter's husband, is the sole suspect. He has since taken his young son and fled to Iceland for the protection of Erik's lawless family.
Finding the boy becomes more complicated when Peter is met at the airport by a man from the United States Embassy. For reasons both unknown and unofficial, it seems that Peter's own government doesn't want him in Iceland.
The police give Peter two days of sightseeing in Reykjavik before he must report back for the first available seat home… When they realize Peter isn't going home until he accomplishes his mission, they start hunting him, too.
From the northernmost European capital to a rustbound fishing vessel to a remote farm a stone's throw from the arctic, Peter must confront his growing PTSD and the most powerful Icelandic snowstorm in a generation to find a killer, save an eight-year-old boy, and keep himself out of an Icelandic prison — or a cold Icelandic grave.
---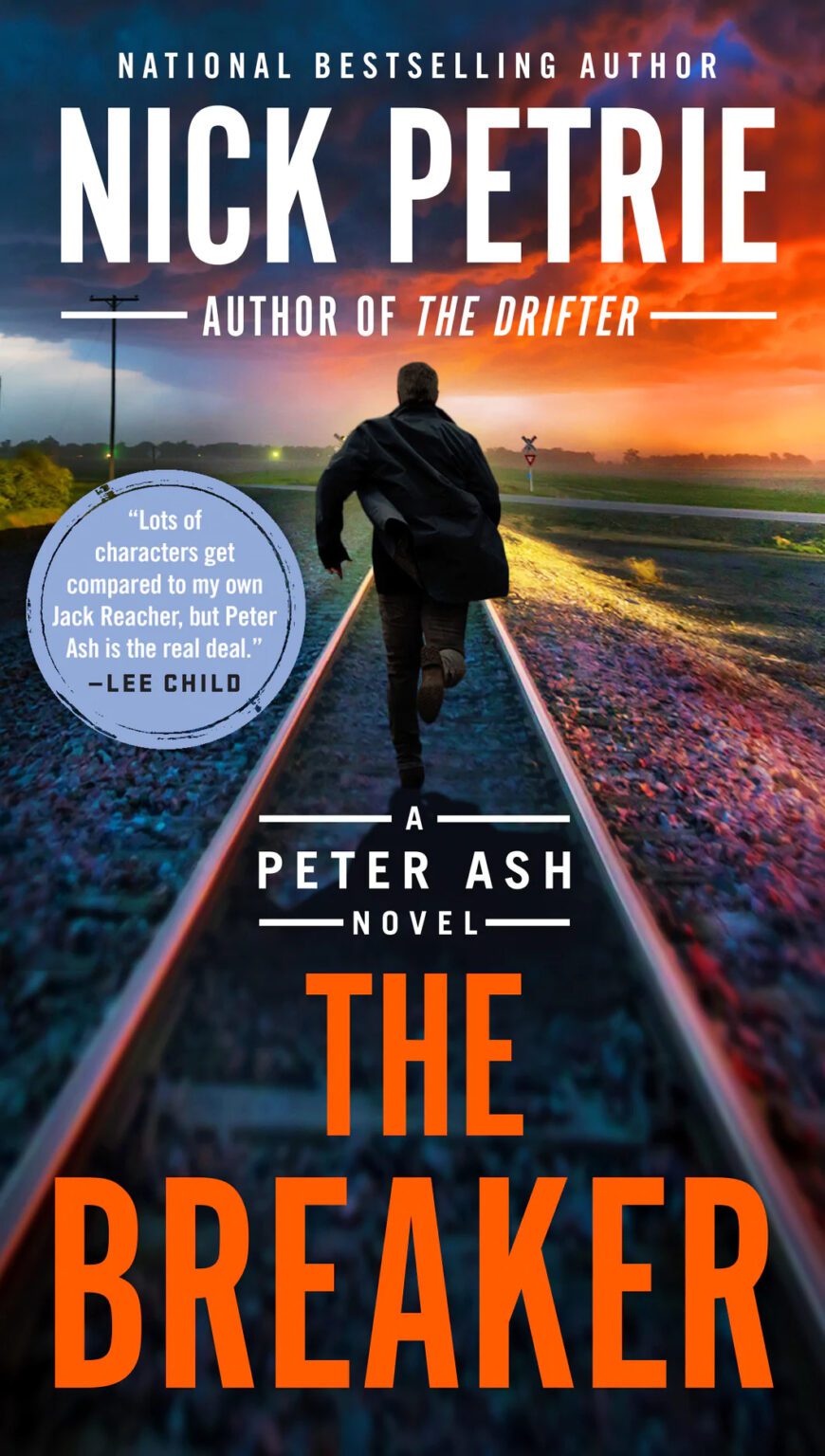 6. The Breaker
A man wanted by two governments, Peter Ash has found a simple, low-profile life in Milwaukee. He lives with his girlfriend June and renovates old buildings with his friend Lewis. Staying out of trouble is the key to preserving this fragile peace…
But when Peter spots a suspicious armed man walking into a crowded market, he knows he can't stand by and do nothing.
Peter does interrupt a crime, but it wasn't at all what he'd expected. The young gunman appeared to have one target and one mission. But when he escapes, and his victim vanishes before police arrive, it seems there is more to the encounter than meets the eye.
Peter's hunch is proven correct when a powerful associate from his past appears with an interest in the crime, and an irresistible offer. If he and June solve this mystery, Peter's record will be scrubbed clean.
While Peter and Lewis trace the gunman, reporter June digs into the victim of the incident. The victim's face is eerily familiar to her. As their parallel investigations draw together, they're thrust into the path of a ruthless tech thief, an eerily cheerful assassin, a brilliant and troubled inventor, and a revolutionary technology that could wreak devastation in the wrong hands.
But for Peter, even more is at stake. This investigation is his only path to a life free from the threat of prosecution or prison. Before the end, he'll have to fight harder than ever before to ensure that freedom doesn't come at too high a cost…
---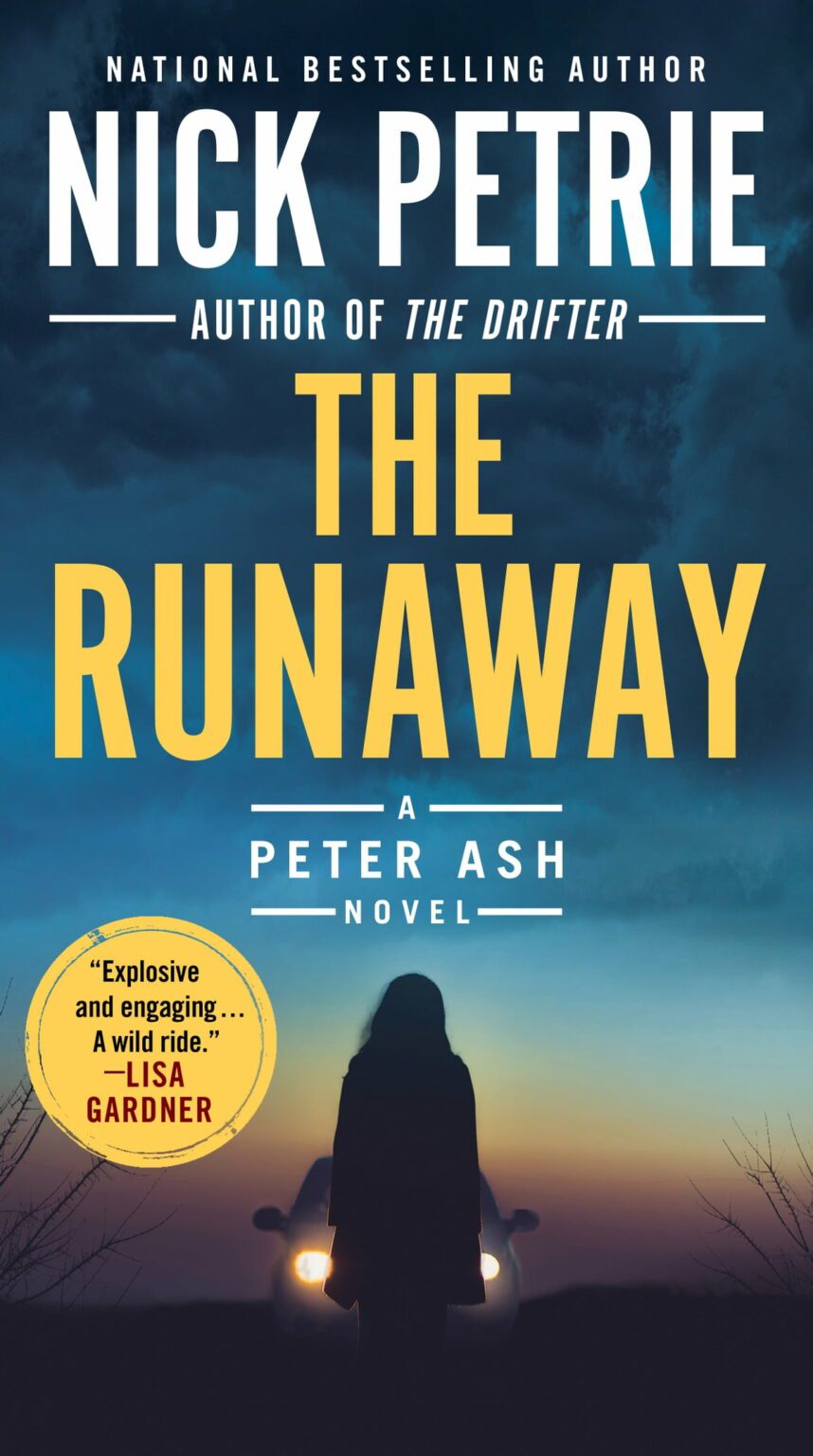 7. The Runaway
War veteran Peter Ash is driving through northern Nebraska when he encounters a young pregnant woman alone on a gravel road, her car dead. Peter offers her a lift, but what begins as an act of kindness soon turns into a deadly cat-and-mouse chase. They race across the lonely highways with the woman's vicious ex-cop husband hot on their trail.
The pregnant woman has seen something she was never meant to see… But protecting her might prove to be more than Peter can handle.
In order to save the woman and himself, Peter must use everything he has learned during his time as a Marine, including his knowledge of human nature, in order to escape a ruthless killer with instincts and skills that match — and perhaps exceed — Peter's own.
---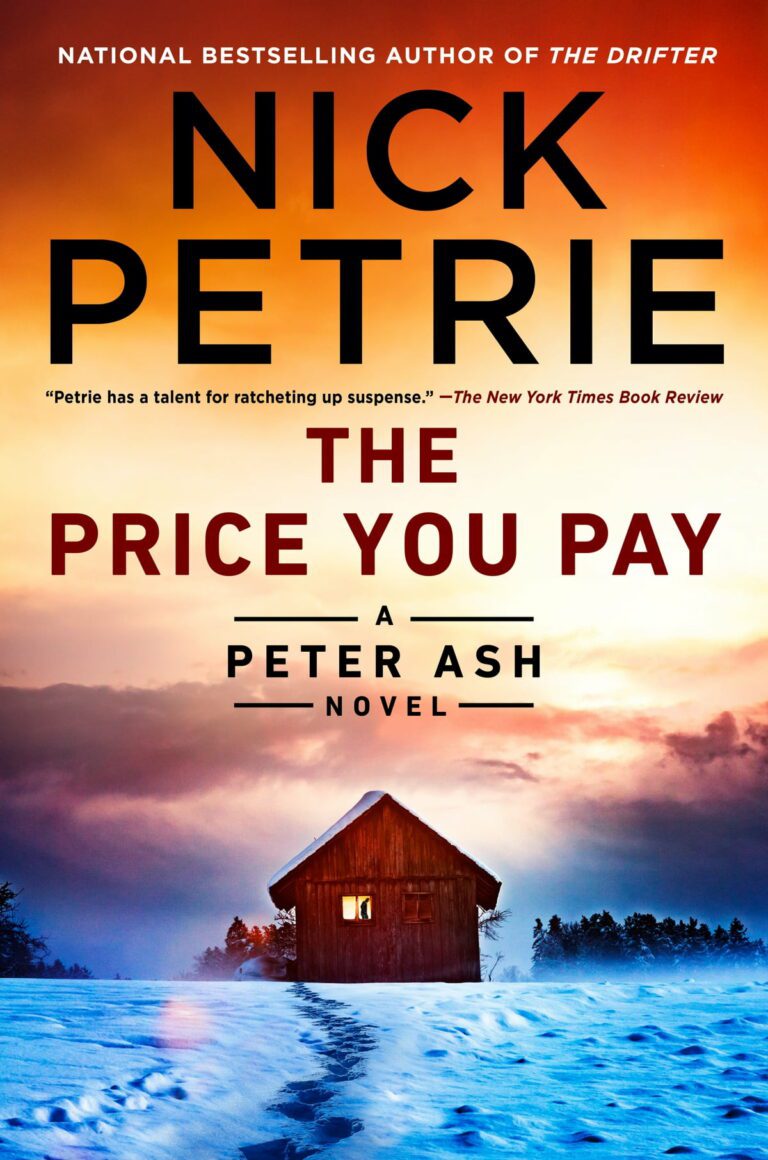 8. The Price You Pay
Peter Ash's friend Lewis has helped him out of a jam more times than he can count. He also has saved his life more than once. So, Ash doesn't hesitate when Lewis asks for a favor.
Lewis has left his criminal past behind, but a former associate may be in trouble. Which means he and Peter must make a trip to check in on the man.
But their visit immediately takes a dark turn when they arrive to find a smoldering cabin. They soon realize that someone has stolen notebooks full of incriminating secrets about Lewis's long-ago crimes.
Lewis and Peter must find the notebooks. They are full of details that not only endanger the family and home that Lewis has built, but place his very life at risk. With June's help, they begin to search.
Soon they find themselves up against professional criminals. Subsequently, the two men may have to tap into the dark sides that they have worked to keep hidden in order to take on particularly ruthless enemies.
---
Final thoughts on Nick Petrie books in order
If you enjoy suspenseful crime thrillers in a similar vein as Jack Reacher, then you should absolutely read the Nick Petrie books in order. Petrie has found tremendous success with his debut publication and its subsequent sequels. His books are compelling with mystery and thrilling with action, which will leave you reaching for the next one without hesitation.
More Suspense Thriller Resources