There are not a tremendous amount of Taylor Jenkins Reid books in order, which makes it feasible to pick up her backlist and binge if you have seen all the hype for this author around. It is not necessary to follow the publication order to enjoy her books, but we do have some recommendations for the best Taylor Jenkins Reid reading order.
About Taylor Jenkins Reid
Taylor Jenkins Reid says that she always wanted to work in Hollywood. After moving to Los Angeles to work in casting, she says the success of writing her first novel felt like a happy accident and she found a calling she had never anticipated.
Now, five of her eight novels have adaptations or are in the process of becoming adapted and Reid has accomplished both dreams. In addition to her novels, she has also recently written a screenplay with her best friend that is in the adaptation process as well.
Reid was born in Maryland and grew up in Massachusetts before she made her move to Los Angeles, California. After graduating from college in Boston, Reid says her career path took many twists and turns as she figured out what she wanted to do. This includes a period where she thought she knew exactly what she wanted to do and was wrong.
She worked various jobs; in addition to the casting position, Reid worked in the tech industry, for an entertainment company, and even as a teacher where she began writing her first book. She has been writing full-time since 2012 and still lives in Los Angeles.
Book-to-Screen Adaptations
As previously mentioned, Taylor Jenkins Reid has had several of her books optioned for adaptation. The first project to make its way onto screens was Daisy Jones & The Six in March 2023.
The book was adapted into a mini-series drama with one season starring Riley Keough as Daisy Jones, Sam Claflin as Billy Dunne, Suki Waterhouse as Karen Sirko, and Camila Morrone as Camila Alvarez. Even though the adaptation of the book is complete with the one season, Reid is open to a second season if they find there is a story they need to tell.
The adaptation received some criticism from fans for its changes from the book, but it was a huge critical success. It was nominated for nine Primetime Emmy Awards. Reid also spoke about the changes saying that she likes that it's different and doesn't feel the need to compare the two mediums.
The next Taylor Jenkins Reid book to hit screens was one of her earlier works: One True Loves. The script for this film adaptation was co-written by Reid and her husband, Alex Jenkins Reid. One True Loves premiered in April 2023 and stars Phillipa Soo as Emma Blair, Simu Liu as Sam, and Luke Bracey as Jesse.
The next books on the docket for adaptation are Reid's other historical novels: Evelyn Hugo, Malibu Rising, and Carrie Soto.
The Seven Husbands of Evelyn Hugo is currently in production with Netflix. There has been no official casting announcements yet, despite fans clamoring for the casting of Jessica Chastain. Meanwhile, the rights have been acquired for Malibu Rising with plans to adapt the book into a TV series according to Reid. Finally, the rights have also been acquired for Carrie Soto is Back with plans to adapt it into a film according to Reid.
Taylor Jenkins Reid Books in Order
With the huge success of her novels, it is likely that you have already read at least one Taylor Jenkins Reid book. However, if you have the opportunity and inclination, reading the Taylor Jenkins Reid books in order of publication will offer the best experience. That's because you will follow her natural growth and evolution as an author.
The first four Taylor Jenkins Reid books are contemporary romances, before she transitioned to writing historical fiction with The Seven Husbands of Evelyn Hugo and found great success. While all of her books are standalones, her historical fiction books do also take place in the same world with a recurring character. She describes her historical fiction novels as a quartet of books exploring and analyzing the lives of famous women.
Contemporary Romances
Historical Fiction
Taylor Jenkins Reid Short Story
She has also written one epistolary short story that explores the ramifications of an affair. Taylor Jenkins Reid writes from the perspectives of Carrie Allsop and David Mayer, as they sift through the affair between their spouses, as well as the perspectives of the lovers.
Evidence of the Affair (2018)
A Summary of Taylor Jenkins Reid Books in Order
Below you will find the summaries for all the standalone Taylor Jenkins Reid books in order. The summaries will help demonstrate the change in tone throughout her bibliography as she shifted from contemporary romance to historical fiction. Despite the shift in genre, family remains a core theme in her writing.
---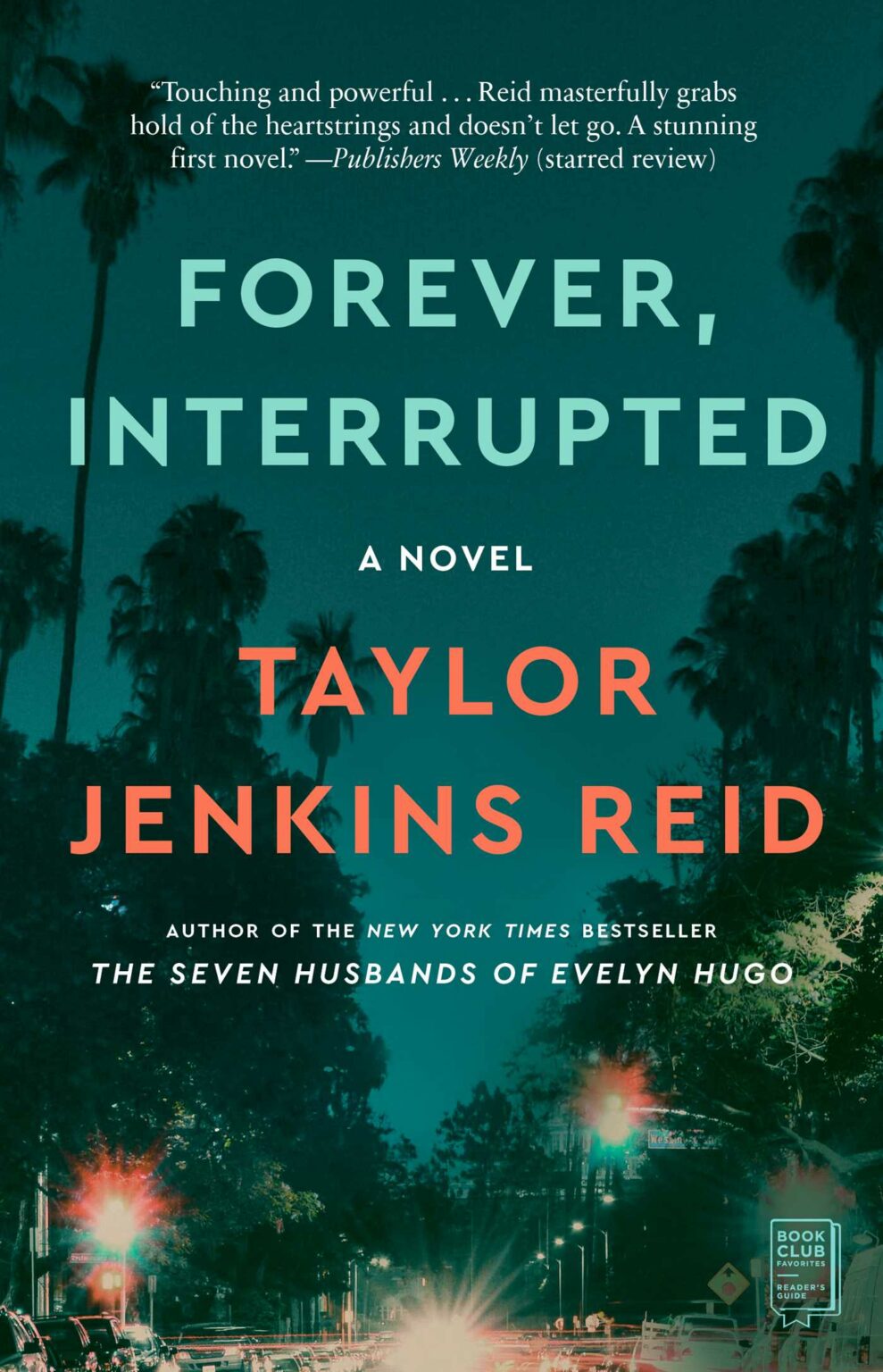 1. Forever, Interrupted
Elsie Porter went out to collect her individual pizza on a rainy New Year's Day. She was not expecting to meet the adorable and charming Ben Ross in the pizzeria, much less for the instant and electric chemistry to ignite between them.
Ben doesn't even wait a full day before asking to see her again. Within weeks they are in love and by May they have eloped.
But then tragedy strikes mere days after their elopement when Ben tragically dies. It is at the hospital that Elsie meets Susan, the mother-in-law who didn't even know she existed.
---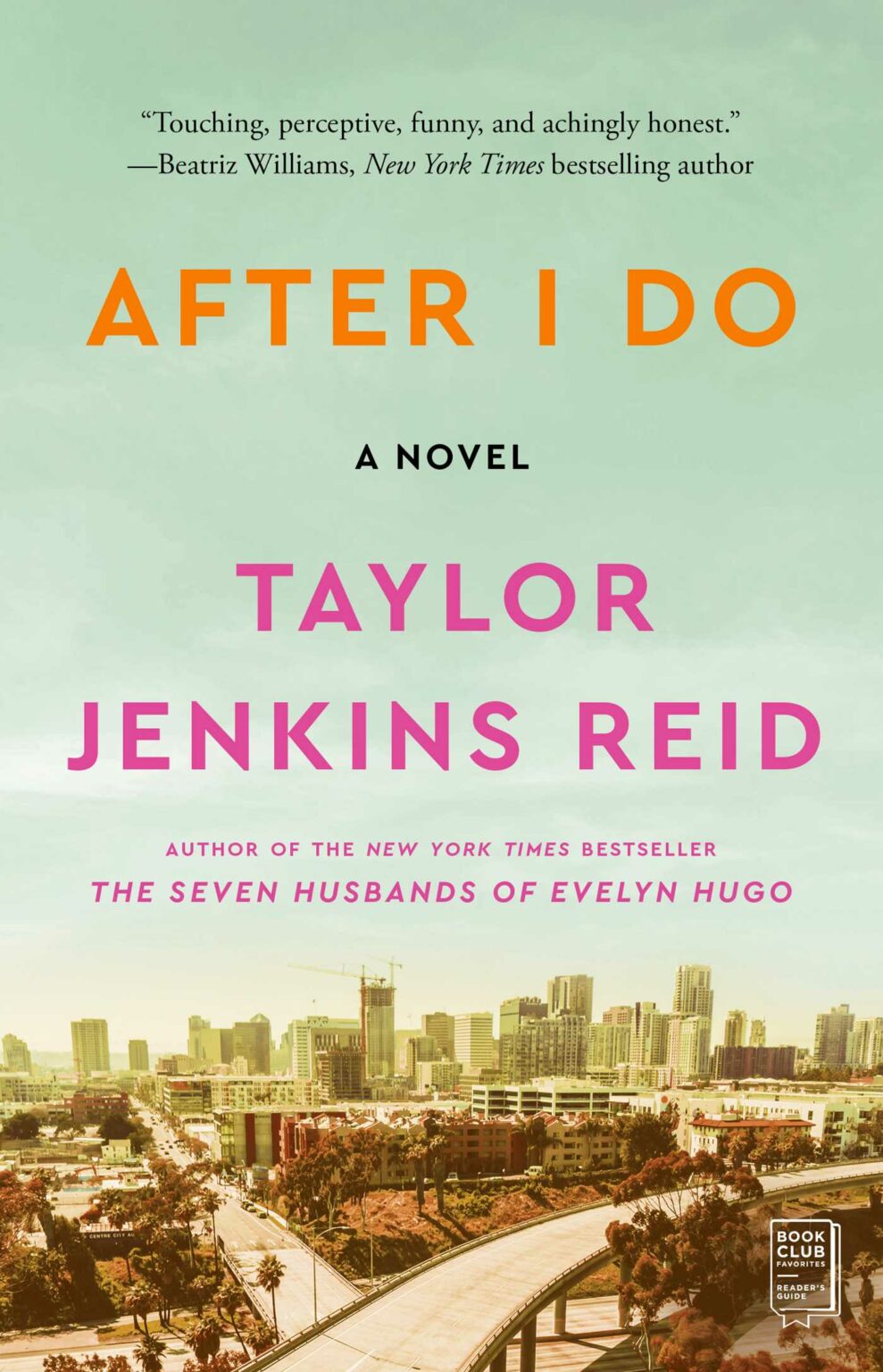 2. After I Do
Lauren and Ryan's marriage reaches a breaking point, which prompts them to come up with an unconventional plan. They will take a year-long break from their marriage and hopefully fall back in love. The only rule for the year is that they cannot contact one another.
Lauren embarks on a journey of self-discovery that prompts her to question her ideas of marriage and monogamy. Her friends and family each have their own opinions on the meaning of marriage and that, combined with her own healing and living apart from Ryan, begins to shape her new outlook.
---
3. Maybe in Another Life
Hannah Martin is 29 and has no idea what she wants to do with her life. Since graduating from college, she has lived in six different cities and held countless meaningless jobs. She has just moved back to her hometown of L.A. and into her best friend Gabby's guestroom.
Hannah and Gabby are out at a bar one night when Hannah runs into her high school boyfriend, Ethan. Then, just after midnight, Gabby asks Hannah if she's ready to go. At the same time, Ethan offers to give her a ride later if she wants to stay. What happens if she leaves with Gabby and what happens if she leaves with Ethan?
From there unfolds two different possibilities that rapidly develop into largely different realities for Hannah and those around her. The two alternate realities question how much of our life is chance and if there is such a thing as a soul mate.
---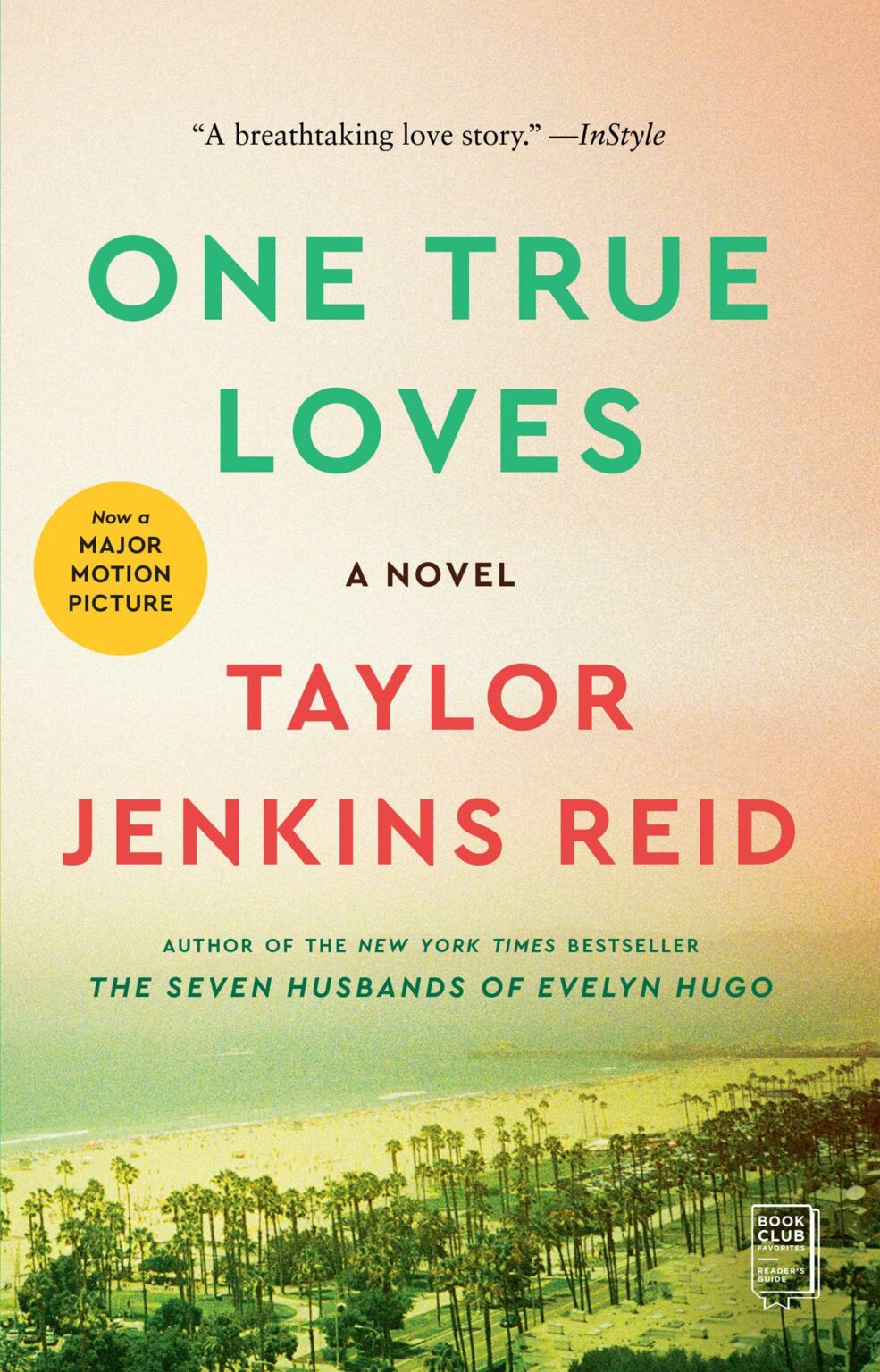 4. One True Loves
Emma Blair marries her high school sweetheart, Jesse, and they build a life for themselves far away from their hometown as they travel the world together and seize every adventure. Then on their first wedding anniversary Jesse is on a helicopter over the Pacific Ocean when it goes missing. He is declared dead.
Devastated, Emma quits her job and moves back to her hometown. Many years later she runs into an old friend, Sam, and finds herself falling in love for the second time. When Sam asks Emma to marry him, it feels like Emma has another chance at happiness.
Then Jesse turns up alive. He's been trying to find his way home to her all this time. Now, with a husband and a fiancé, Emma needs to figure out who she is and who she wants.
---
5. The Seven Husbands of Evelyn Hugo
Now an aging and reclusive Hollywood movie icon, Evelyn Hugo is ready to tell the truth about her youth and scandalous life. For the expose, she chooses an unknown magazine reporter Monique Grant, and no one is more surprised than Monique herself.
Her husband has just left her and her career seems to be frozen in place. So Monique is determined to make this biography jumpstart her career. She listens in fascination to the stories Evelyn tells of Los Angeles in the 1950s, leaving show business in the 1980s, and her seven husbands in between. It is a tale of ruthless ambition, unexpected friendship, and forbidden love.
---
6. Daisy Jones & The Six
In the late sixties Daisy was growing up in L.A., sneaking into clubs, sleeping with rock stars, and dreaming of singing. By the time she turns 20, her voice is getting noticed. She also has a heedless beauty that makes people do crazy things.
The Six, a band led by Billy Dunne, is also getting noticed. As they prepare to embark on their first tour, his girlfriend Camila finds out she's pregnant. This prompts Billy to go a little wild on the road with the pressure of fatherhood and fame on his shoulders.
When a producer realizes that Daisy and Billy together will lead to phenomenal success, Daisy Jones & The Six is created. What happens next will become the stuff of legend.
---
7. Malibu Rising
Every year Nina Riva throws an end-of-summer party. This year, 1983, is no exception. Everyone wants to be around Nina and her siblings, the children of legendary singer Mick Riva.
But Nina isn't looking forward to the party this year. The talented surfer and supermodel has just been very publicly abandoned by her husband. Her brother Hud isn't looking forward to the party either, because it is time he finally confesses something to his brother, Jay, from whom he's been inseparable since birth.
Jay, completely unaware, is counting down the minutes until the girl he can't stop thinking about promised she would arrive. Finally, their baby sister Kit is nursing a few secrets of her own, including a guest she invited without telling anyone.
By midnight, the party will be out of control and by morning, the mansion will have gone up in flames. But before that, the drinks will flow, the music will play, and secrets will come bubbling to the surface.
---
8. Carrie Soto is Back
Back in the 1980s, Carrie Soto was the greatest tennis player in the world. She claimed twenty Slam titles and established every record. But now it is 1994 and as she sits in the stands of the US Open, Carrie watches as Nicki Chan, a British Player, beats her record.
It is enough for Carrie, at 37, to come out of retirement and try to reclaim her record. She will be coached by her father for one last year and train with a man who she once almost gave her heart to, Bowe Huntley, who also has something to prove.
---
Final thoughts on Taylor Jenkins Reid books in order
The career of Taylor Jenkins Reid can be quite easily divided with The Seven Husbands of Evelyn Hugo serving as the marker. Before that Reid wrote contemporary romances, but with her first historical fiction she achieved bestseller status. With such a shift in tone and genre, if you plan on reading all her books it will make for the best reading experience to read the Taylor Jenkins Reid books in order.
More Contemporary Romances Resources