The Ruth Ware books in order are all compelling, claustrophobic reads. Ware creates a stifling setting in a variety of physical locations that is captivating.
Whether you prefer your psychological thrillers to have an isolated, locked door setting or a more modern, haunting manor house, there is a book for you in Ruth Ware's bibliography. Even though she hasn't been on the thriller scene for even a decade yet, Ware has quickly made a large name for herself in the genre.
Ruth Ware Books in Order
Standalone Books
Almost everything Ruth Ware has published is a standalone novel. These books take place in a variety of places from Scotland to Norway and many places in between. Ware then uses a variety of tropes and settings such as cruise ships or stately manor homes to create a feel of isolation and claustrophobia in her novels.
While each book is a standalone, there are benefits to reading these Ruth Ware books in order of publication. This reading order will allow you to witness her growth as an author.
Hush Collection
Ruth Ware has also written one short story which is part of the Hush collection. It is a collaboration from six authors in which the deception in each story is a matter of life and death.
Snowflakes (2020) (Short Story)
Anthology
As well, Ruth Ware has contributed to one anthology. This anthology is another collaboration from a variety of authors, but in this case they are all writing about the popular Agatha Christie character: Miss Jane Marple.
Marple: Twelve New Mysteries (2022)
Ruth Ware Books in Order as Ruth Warburton
However, that is not all the Ruth Ware books in order. At least, not quite.
Before In a Dark, Dark Wood became a bestseller, Ware had actually published a handful of other novels, but under her real name: Ruth Warburton.
These books are quite different from the books in which Ruth Ware found critical and commercial success. But if you're looking for some witchy YA romance reads, then these very early iterations of Ruth Ware books in order are worth checking out.
Winter Trilogy
The Winter Trilogy begins with Anna Winterson moving to the small town of Winter with her father. She didn't know she was a witch, but soon learns more than she could have ever imagined about her newfound power. Anna quickly falls for Seth, but unwittingly amplifies a deadly conflict between two witch clans and splits her own heart in two.
A Witch in Winter (2012)
A Witch in Love (2012)
A Witch Alone (2013)
Witch Finder Books
Ruth Ware's second YA series as Ruth Warburton is Witch Finder. This series is a historical paranormal romance, taking place in London during 1880. Fans of Blood & Honey by Shelby Mahurin will love this enemies-to-lovers story between a witch hunter and a witch.
Luke is an apprentice blacksmith, and also facing his initiation into the brotherhood that hunts and kills witches: Malleus Maleficorum. In order to complete his test and join the brotherhood Luke picks a name from the Book of Witches at random: Rosa Greenwood. He must find and kill her within one month or face death himself, but nothing is ever quite as simple as it seems.
Witch Finder (2013)
Witch Hunt (2014)
Who is Ruth Ware?
For as long as Ruth Ware can remember she has always been writing, and before that, telling stories. She says it is a dream come true for her to be a full-time author, and a bestselling one at that.
Ware found her footing as an author in 2015 with the publication of In a Dark, Dark Wood, which quickly became a bestseller on both sides of the Atlantic. However, this isn't quite Ware's debut.
Ruth Ware is actually a penname for Ruth Warburton. Under her real name, Ware published five YA fantasy romance novels, which we'll get into a little bit further below.
However, it is undoubtedly with In a Dark, Dark Wood that she made a name for herself as an author. Since the publication of her first psychological crime thriller, Ware has written six more books within the genre.
Frequently Ware puts her character into difficult, crime-ridden situations that they must overcome against great odds. This creates strong themes of defiance and resilience in her writing.
Ware says her characters are much more resilient than her. But resilience is a trait that Ware embodied on her path to becoming an author.
Like many others, Ware worked a variety of jobs before writing full-time. She began to work in the publishing industry in her twenties, but it wasn't until her thirties that she began sending out her writing to agents.
Ware says she got her fair share of rejections, heartbreak, and set backs during that time. However, her books have now been translated into more than 40 languages and there are more than 6.5 million copies of her books in print. As well, three of her books have been optioned for TV or film: In a Dark, Dark Wood; The Woman in Cabin 10; and The Lying Game.
A Summary of Ruth Ware Books in Order
Every novel that Ruth Ware has published, at least under that name, is a standalone. While this means it is not necessary to read the Ruth Ware books in order, there are benefits to doing so.
If you choose to read her books in order of publication, then you will get to see her growth as an author. So, below we have included the summaries for each of her books in order of publication. These will help you learn a little bit more about the tropes and themes that Ware uses in her writing.
---
1. In a Dark, Dark Wood
Nora hasn't seen Clare for ten years. Not since the day Nora walked out of her old life and never looked back.
Until, out of the blue, an invitation to Clare's hen party arrives. A weekend in a remote cottage — the perfect opportunity for Nora to reconnect with her best friend, to put the past behind her.
But something goes wrong. Very wrong. And as secrets and lies unravel, out in the dark, dark wood the past will finally catch up with Nora.
---
2. The Woman in Cabin 10
This was meant to be the perfect trip. The Northern Lights. A luxury press launch on a boutique cruise ship.
A chance for travel journalist Lo Blacklock to recover from a traumatic break-in that has left her on the verge of collapse.
Except things don't go as planned.
Woken in the night by screams, Lo rushes to her window to see a body thrown overboard from the next door cabin. But the records show that no-one ever checked into that cabin, and no passengers are missing from the boat.
Exhausted and emotional, Lo has to face the fact that she may have made a mistake — either that, or she is now trapped on a boat with a murderer…
---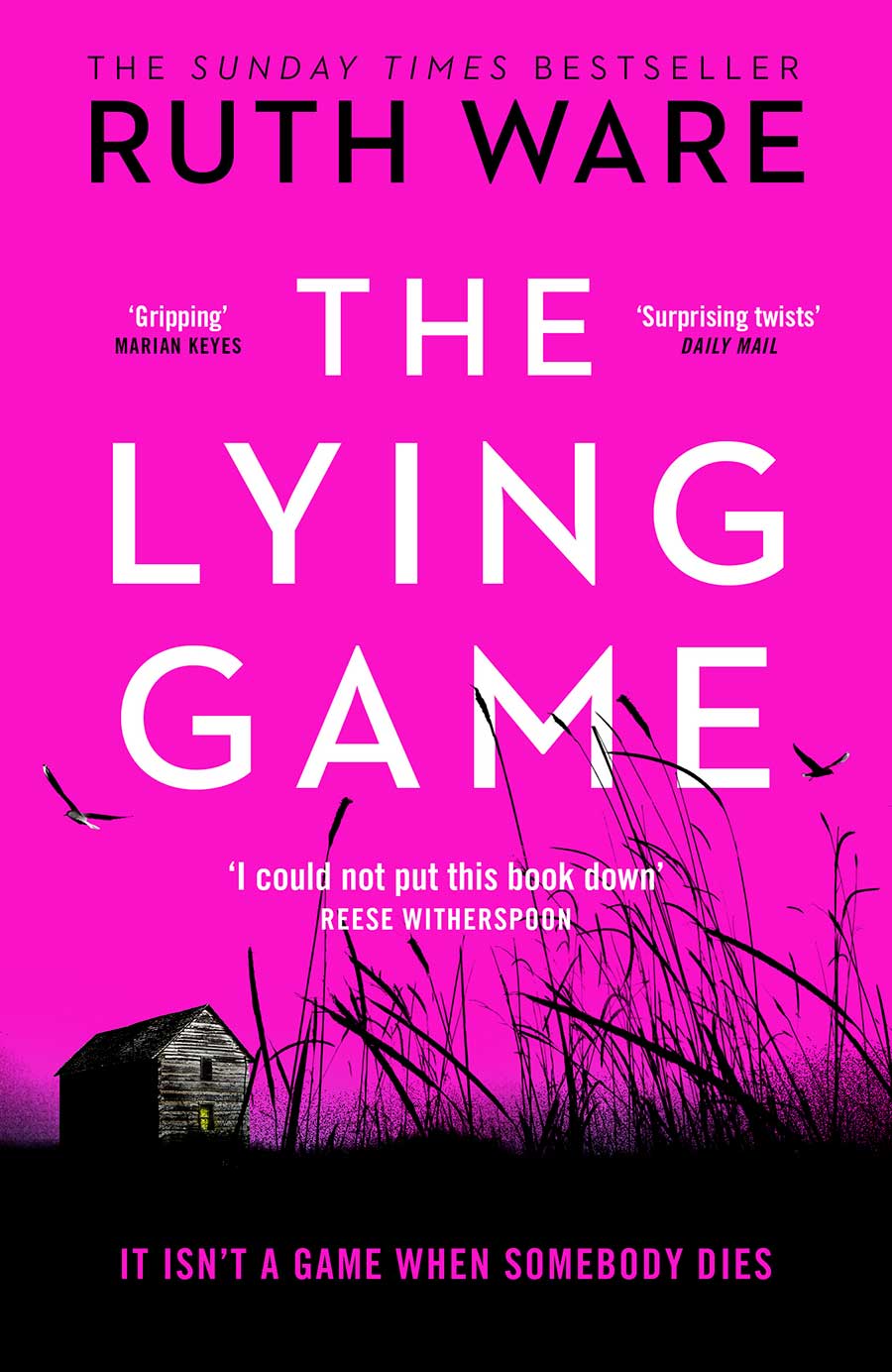 3. The Lying Game
The text message arrives in the small hours of the morning: I need you.
Isa drops everything, takes her baby daughter, and heads straight to Salten. She spent the most significant days of her life at boarding school on the marshes there, days which still cast their shadow over her.
Isa and her three best friends used to play the Lying Game, competing to convince people of outrageous stories. Now, after seventeen years of hiding the truth, something terrible has been found on the beach.
The friends' darkest secret is about to come to light…
---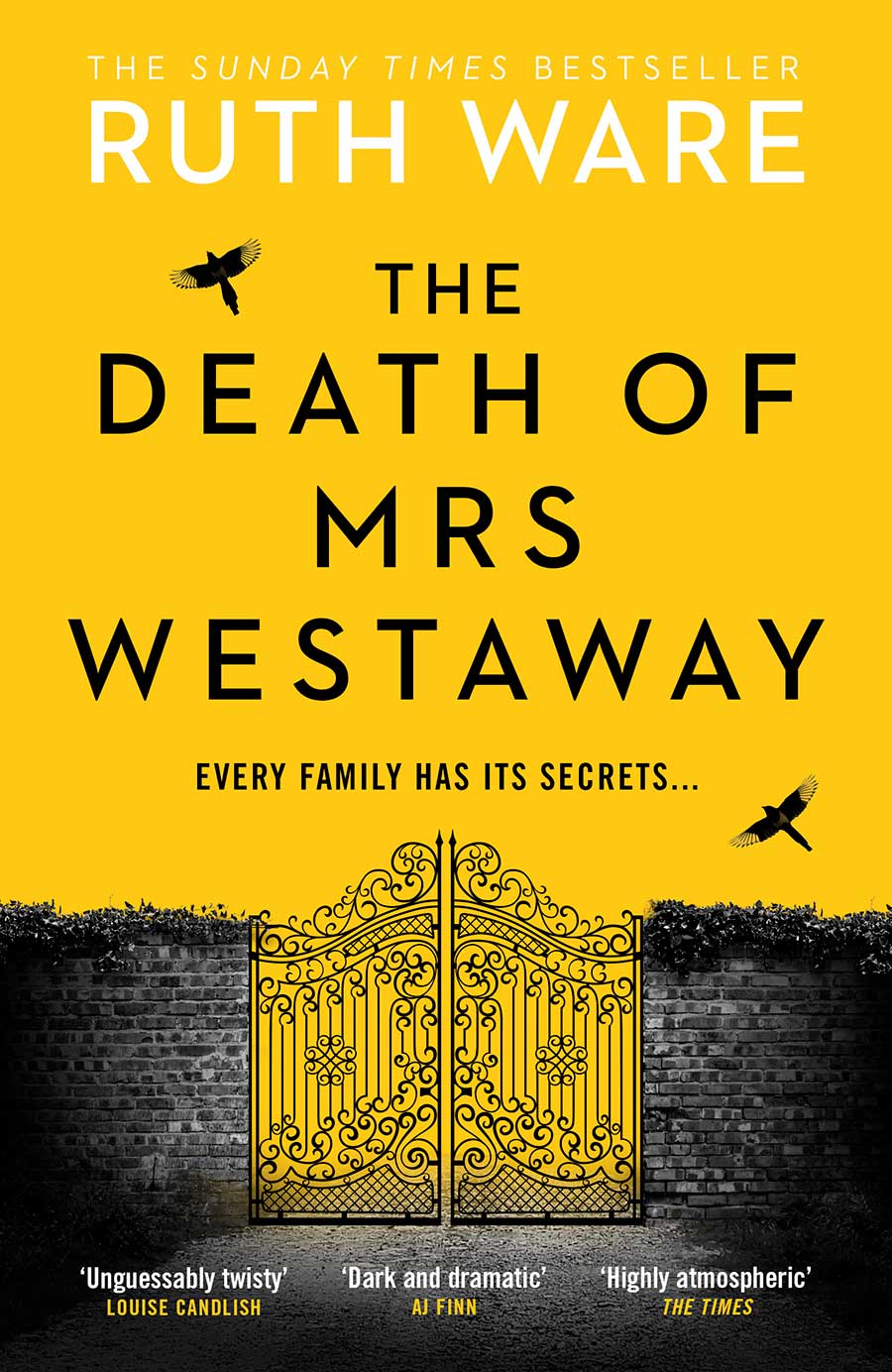 4. The Death of Mrs. Westaway
When Harriet Westaway receives an unexpected letter telling her she's inherited a substantial bequest from her Cornish grandmother, it seems like the answer to her prayers. She owes money to a loan shark and the threats are getting increasingly aggressive: She needs to get her hands on some cash fast.
There's just one problem — Hal's real grandparents died more than twenty years ago. The letter has been sent to the wrong person.
But Hal knows that the cold-reading techniques she's honed as a seaside fortune teller could help her con her way to getting the money. If anyone has the skills to turn up at a stranger's funeral and claim a bequest they're not entitled to, it's her.
Hal makes a choice that will change her life for ever. But once she embarks on her deception, there is no going back. She must keep going or risk losing everything, even her life…
---
5. The Turn of the Key
When she stumbles across the advert, she's looking for something else completely. But it seems like too good an opportunity to miss: A live-in nanny position, with a staggeringly generous salary.
And when Rowan arrives at Heatherbrae House, she is smitten by the luxurious "smart" home fitted out with all modern conveniences, by the beautiful Scottish Highlands, and by this picture-perfect family.
What she doesn't know is that she's stepping into a nightmare — one that will end with a child dead and her in a cell awaiting trial for murder.
She knows she's made mistakes. But, she maintains, she's not guilty — at least not of murder. Which means someone else is.
---
6. One by One
Getting snowed in at a beautiful, rustic mountain chalet doesn't sound like the worst problem in the world, especially when there's a breathtaking vista, a cozy fire, and company to keep you warm. But what happens when that company is eight of your coworkers…and you can't trust any of them?
When an off-site company retreat meant to promote mindfulness and collaboration goes utterly wrong and an avalanche hits, the corporate food chain becomes irrelevant and survival trumps togetherness. Come Monday morning, how many members short will the team be?
---
7. The It Girl
April was the first person Hannah met at Oxford.
Vivacious, bright, occasionally vicious, and the ultimate It Girl, she quickly pulled Hannah into her dazzling orbit, along with Will, Hugh, Ryan, and Emily. By the end of the term, the six were fast friends. By the end of the year, April was dead.
Now, a decade later, Hannah and Will are expecting their first child, and the man convicted of killing April, John Neville, has died in prison. But Hannah's world is rocked when a young journalist comes knocking with evidence that throws everything in doubt, and Hannah is forced to ask, did her testimony put an innocent man in prison?
She needs to know the truth. Because if the killer wasn't Neville, it's someone she knows…
---
8. Zero Days
This title currently has a publication date of July 11, 2023.
Hired by companies to break into buildings and hack security systems, Jack and her husband, Gabe, are the best penetration specialists in the business.
But after a routine assignment goes horribly wrong, Jack arrives home to find her husband dead. To add to her horror, the police are closing in on their suspect — her.
Suddenly on the run and quickly running out of options, Jack must decide who she can trust as she circles closer to the real killer.
---
Final thoughts
While all of Ruth Ware's books have a creeping, haunting claustrophobia to them, the books take place in a variety of settings. Whether it is in Northumberland, Norway, Cornwall, or Scotland, the books will keep you up late into the night as you race to the conclusion.
Have you read the Ruth Ware books in order? Let us know in the comments down below.
More Psychological Thriller Resources