Canines and crimes could be described as the M.O. to the David Rosenfelt books in order. His biggest series features a dog in a supporting role, almost as a main character herself. In this way Rosenfelt brings one of his passions in real life to fiction.
But in addition to being perfect books for dog lovers, Rosenfelt's books are also compelling mysteries. He has written police procedurals, standalones, and a spin-off from his popular Andy Carpenter series.
David Rosenfelt Books in Order
Andy Carpenter Reading Order
David Rosenfelt is most well-known for his Andy Carpenter books. This series follows the titular character in and out of the courtroom as an attorney alongside his faithful companion, the golden retriever Tara.
These legal thrillers are more humorous than many with a witty protagonist and are an absolute delight for dog lovers. These books are also compelling mysteries as the courtroom drama unfolds.
As is the case with many mystery series, it is possible to read these David Rosenfelt books in any order and understand the main premise. Each book will have its own individual case at the center. However, reading these books in order of publication will give you the best reading experience.
This reading order means there will be no spoilers as the books do follow a chronological timeline. So, this is the best way to read the Andy Carpenter books as you will get to know Andy and the other characters in a linear fashion.
Standalone Books
David Rosenfelt has also written a handful of standalone novels. If you've never read anything by Rosenfelt before, these are a great place to start to get a feel for his writing and style.
His first standalone is about a man who was under suspicion for his wife's death when another dead body brings him back under the microscope by police. The others are about a variety of protagonists from newspaper reporter to lawyer. All of them are powerful and shocking thrillers that show how he can play within the genre in a multitude of ways.
Doug Brock Books
More similar to his standalone novels than his Andy Carpenter novels in tone are these David Rosenfelt books in order about Doug Brock. These are police procedurals following the New Jersey state police officer as he struggles with amnesia, which was caused by a bullet wound that put him in a coma.
But just before he was shot, Brock was on the cusp of breaking open an infamous case. In the first book, Brock struggles to rediscover what he uncovered.
While each book in this series follows a new criminal investigation, it is important to read the books in order of publication. Brock's memory, or lack thereof, is integral to the overall plot of the series. So, reading the books out of order means you will learn about his backstory out of order.
Blackout (2015)
Fade to Black (2018)
Black and Blue (2019)
K Team Books
The last series in our guide to the David Rosenfelt books in order is a spin-off series from his popular Andy Carpenter books. The K Team books follow Corey Douglas and his K-9 partner Simon Garfunkel. They've recently retired from the force in Paterson, New Jersey but aren't quite ready to stop investigating all together.
So, they propose starting up a private investigation team, the K Team, with former cop Laurie Collins and her investigating partner, Marcus. There are appearances from Andy Carpenter in these books. To avoid spoilers for the main series, you should read these books after the Andy Carpenter books.
Nonfiction Books
Finally, David Rosenfelt has also published two nonfiction books. If you were interested in what life with more than 20 dogs is like, then you should absolutely read Dogtripping. This book documents his cross-country move from California to Maine with 25 dogs in tow, which is as big of an adventure as one might expect.
Lessons from Tara (2015)
Who is David Rosenfelt?
Before he became an author, David Rosenfelt worked in the film industry. He was born and raised in New Jersey before attending New York University. Following his graduation he began working at United Artists, where his uncle was president.
Rosenfelt was the president of marketing at Tri-Star Pictures before he decided to try his hand at writing. He began by writing scripts for feature films, and then TV movies before he penned his debut novel: Open and Shut.
The first book in the Andy Carpenter series began what would become his most popular series and solidified his career shift to novelist.
If you have already read any of his books then you may be aware that dogs often play a prominent role in his writing. Rosenfelt is an avid dog lover and rescuer.
Alongside his wife they started the Tara Foundation, which is in honor of their golden retriever Tara. The organization rescues dogs and provides them with safe, loving homes. Since its inception it has rescued almost 4,000 dogs.
Often Rosenfelt's own home becomes a sanctuary to dogs that are too old or sickly to be adopted by others. According to his website, Rosenfelt has 27 dogs. They frequently surround them as he works.
Summary of David Rosenfelt Books in Order
If you're curious about just how Rosenfelt manages to combine a faithful golden retriever companion with legal drama, then look no further than these summaries of the Andy Carpenter series in our list of David Rosenfelt books in order.
However, if you have never read these books before, proceed with caution in reading these summaries. There will be minor spoilers for character development as the series progresses.
---
1. Open and Shut
Attorney Andy Carpenter's legal maneuvers are legendary in and out of the courtrooms of Paterson, New Jersey. A talented lawyer who knows how to play all the cards, he is torn between mending a marriage that no longer works and growing attached to a beautiful, no-nonsense private investigator.
Besides his love for sports, Andy also adores Tara. She is a golden retriever clearly smarter than half the lawyers who clog the courts of Passaic County. But then one day the fun stops.
It all begins when Andy's father, venerated ex-district attorney Nelson Carpenter, asks him to take the appeals case of Willie Miller, a young black man on death row for the murder of a white woman. Nelson himself had prosecuted Miller but refuses to disclose why he wants Andy to represent the convicted man. A few days later, Nelson drops dead in front of his son at a game in Yankee Stadium.
Suddenly Andy finds himself the inheritor of a staggering fortune he never knew his father had. The astonished advocate soon unearths a mysterious old photograph of a much younger Nelson. It is a picture that may have a sinister connection to the Willie Miller case.
But before he can sort out the truth behind his father's life and death, Andy receives an anonymous threat — delivered in a most terrifying fashion.
Now the quick witted Andy, with his client's life hanging in the balance, must uncover a decades-old secret. It's a secret so shocking and unthinkable it threatens everything he believes in and everyone he has ever loved. Caught in an explosive endgame, he will face the heat of a deadly political firestorm…where the wrong move will close out his case for good.
---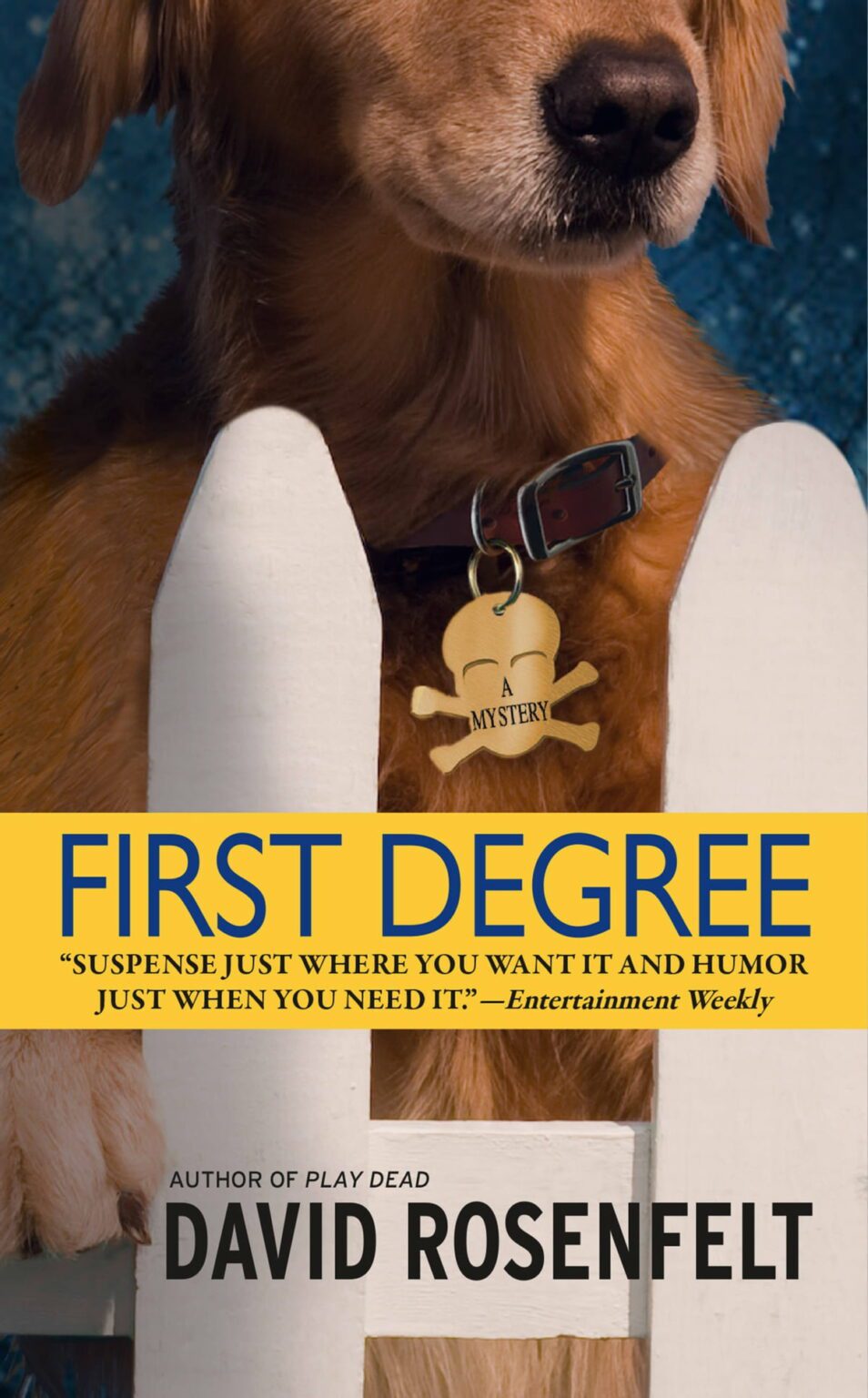 2. First Degree
An unabashed animal lover, Andy Carpenter has established a fast reputation as the rare lawyer who saves both dogs and humans from Death Row. Lately, with his newfound fortune, he has given up his home in the fashionable suburbs and returned to the house in which he grew up in the asphalt heart of Paterson.
These days his office is eerily quite, except for the scraping pen of his secretary, Edna, as she navigates across and down the New York Times crossword puzzle. Though his wallet isn't hurting, Andy's soul hungers for a case to sink his legal teeth into.
He's about to get his wish. And it'll be a first degree kick in the head.
It begins with the discovery of a once dirty, now decapitated cop. Then not one but three prime suspects emerge.
The first is fingered by the police. The second walks unannounced into Andy's office to confess to the crime. But most uncannily of all, the third is none other than Laurie Collins, Andy's lead investigator…and the love of his life.
Now to clear Laurie, Andy must spring a brilliant yet desperate courtroom trap — before it snaps them both in its steely, lethal jaws.
---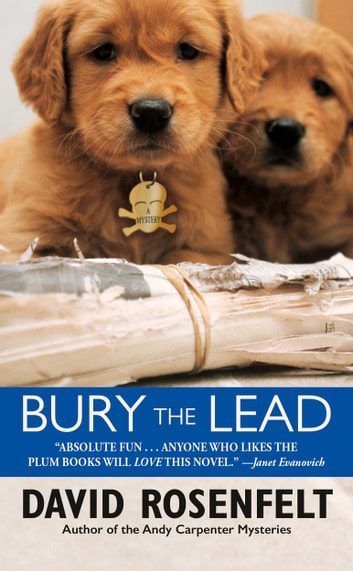 3. Bury the Lead
His streak of murder case acquittals made him a regular on cable talk shows. His recent $22 million inheritance bought him a dog rescue operation named the Tara Foundation after his own beloved golden retriever.
Yet after turning down cases left and right, Andy Carpenter thinks he's facing a midlife crisis. He knows he needs to get back to some real work as fast as the felonious world will allow.
But when a friend, a newspaper owner, calls in a favor and asks him to protect his star reporter, Andy is less than thrilled. His new client is Daniel Cummings, a journalist who is being used as a mouthpiece by a brutal serial killer.
Things only get worse when Daniel is discovered near the body of the murderer's latest victim. And after Andy himself starts collecting anonymous death threats, he hears the news every defense lawyer dreads…and moves to within a dangerous keystroke of becoming tomorrow's obituary.
---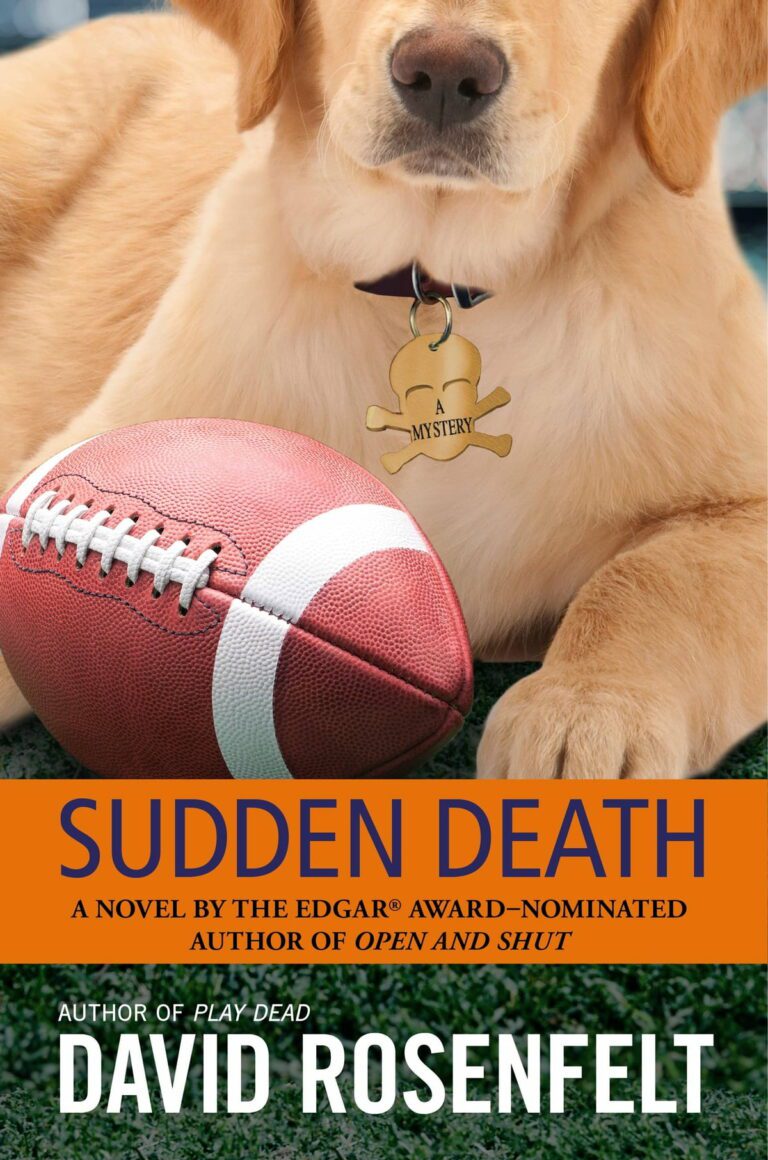 4. Sudden Death
First at the crime scene, Andy Carpenter wishes he never saw the folded torso with the large red stain on its back. The victim is Tony Preston, wide receiver for the New York Jets, and the suspect is Kenny Schilling, the New York Giants' star running back who is clamoring for Andy's services.
The upcoming high-profile murder case will be the benchwarming Andy's chance to get back into the legal game. It will also prove a handy distraction from the awful possibility that Laurie Collins is about to leave Paterson forever. Laurie is a private investigator and the one living thing Andy adores most next to Tara, his cherished golden retriever.
Digging into the case, Andy stumbles onto some of the seamier undercurrents rushing beneath the large-guy camaraderie, big-buck cushiness, and bone-mashing fun that is pro football. And he discovers that Preston's death is similar to a series of other mysterious murders.
The deaths are all seemingly unrelated yet connected by a horrible secret from many years ago. Despite the crushing evidence, Andy begins to believe in his client's innocence.
But when danger finds someone close to him, the unperturbed defender knows he's attracted the attention of a powerful enemy — one who will do anything to take Andy permanently off the field…
---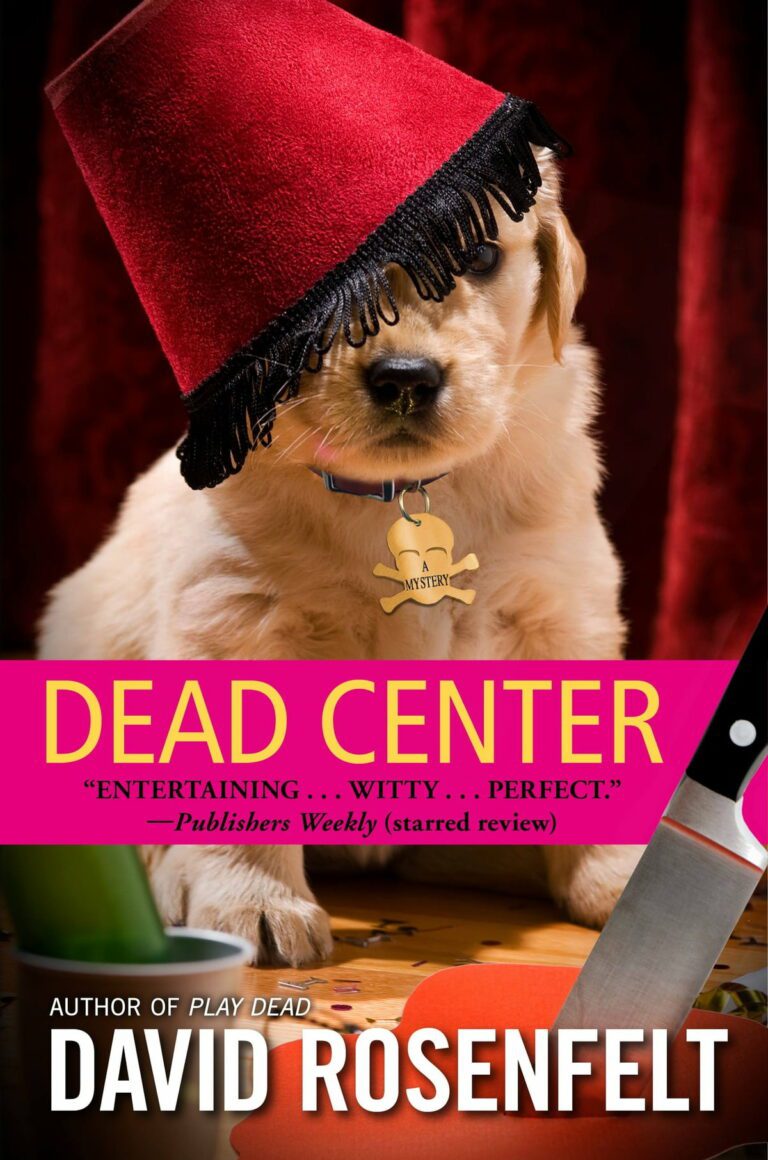 5. Dead Center
Trading the refineries and factories of Paterson for the frozen pastures of Findlay, Wisconsin, Andy soon finds himself in a small town handling a big-time double homicide case.
He begins by looking into Jeremy's romance with one of the victims. As well as the possible involvement of a bizarre religious cult. One that may sanction the most unholy, and vicious, of acts.
While Andy tries to save Jeremy, make sense of his love life, and find a decent pizza for his beloved dog, Tara, the secrets of an ultra-religious community begin to rain down on him like bricks from a cracked fortress. But the path to the truth is littered with lies and misdirection. And before it's all over, the unexpected is the only thing Andy can count on.
---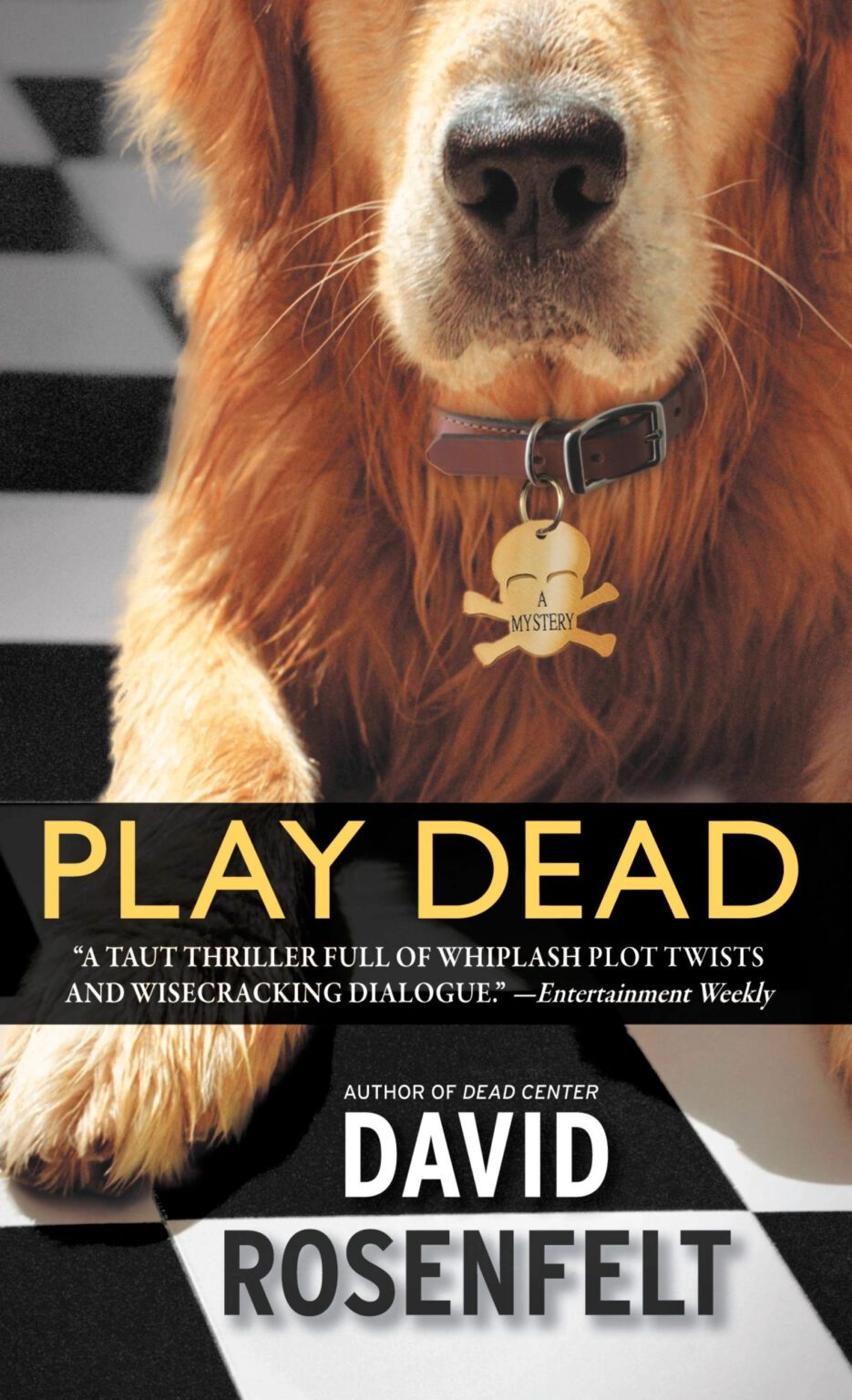 6. Play Dead
Few can rival attorney Andy Carpenter's affection for golden retrievers, especially his own beloved Tara. First he astonishes a New Jersey courtroom by successfully appealing another golden's death sentence. Then Andy discovers that this gentle dog is a key witness to a murder that took place five years before.
Andy pushes the boundaries of the law even further as he struggles to free an innocent man by convincing an incredulous jury to take canine testimony seriously. It will take all the tricks Andy's fertile mind can conceive to get to the bottom of a remarkable chain of impersonations and murder, and save a dog's life — and his own — in the process.
---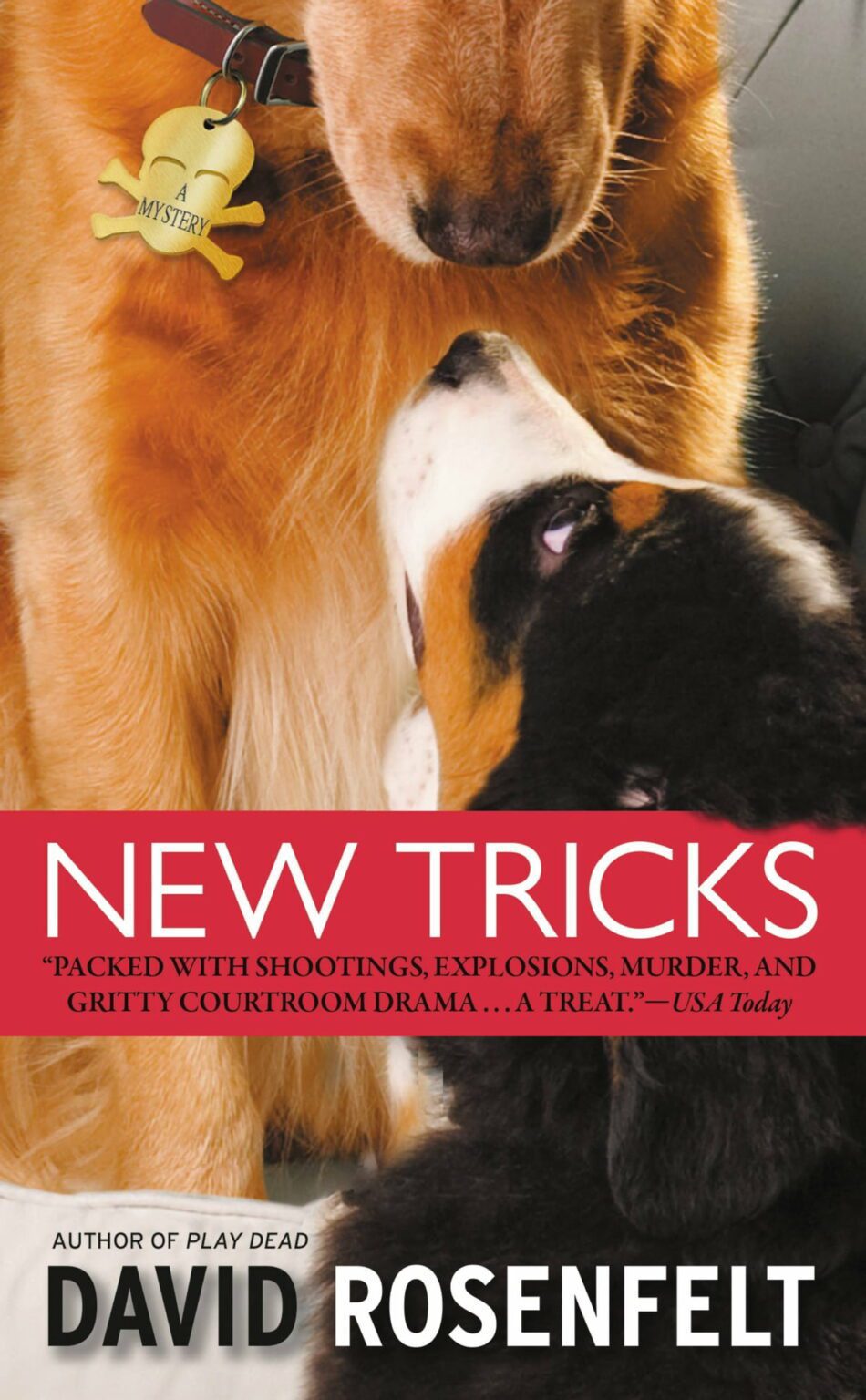 7. New Tricks
Andy Carpenter gains possession of an adorable Bernese puppy whose owner was brutally murdered. Few can rival Andy's affection for dogs, and he will do whatever it takes to insure that this little pup doesn't fall into the wrong hands.
However, his playful new friend is valued by several people, many of whom are willing to resort to violence to get what they want. It will take more than Andy's usual courtroom theatrics to save this dog. It will also require a little help from his beloved golden retriever, Tara.
Andy soon discovers that anyone around him is in danger, including his long-time girlfriend Laurie. He will have to muster all of his wits to save those he holds most dear.
---
8. Dog Tags
A German Shepherd police dog witnesses a murder and if his owner — an Iraq war vet and former cop-turned-thief — is convicted of the crime, the dog could be put down. Andy Carpenter's affection for dogs supersedes most, and he decides to represent the poor canine.
As Andy struggles to convince a judge that this dog should be set free, he discovers that the dog and his owner have become involved unwittingly in a case of much greater proportions than the one they've been charged with. Andy will have to call upon the unique abilities of this ex-police dog to help solve the crime and prevent a catastrophic event from taking place.
---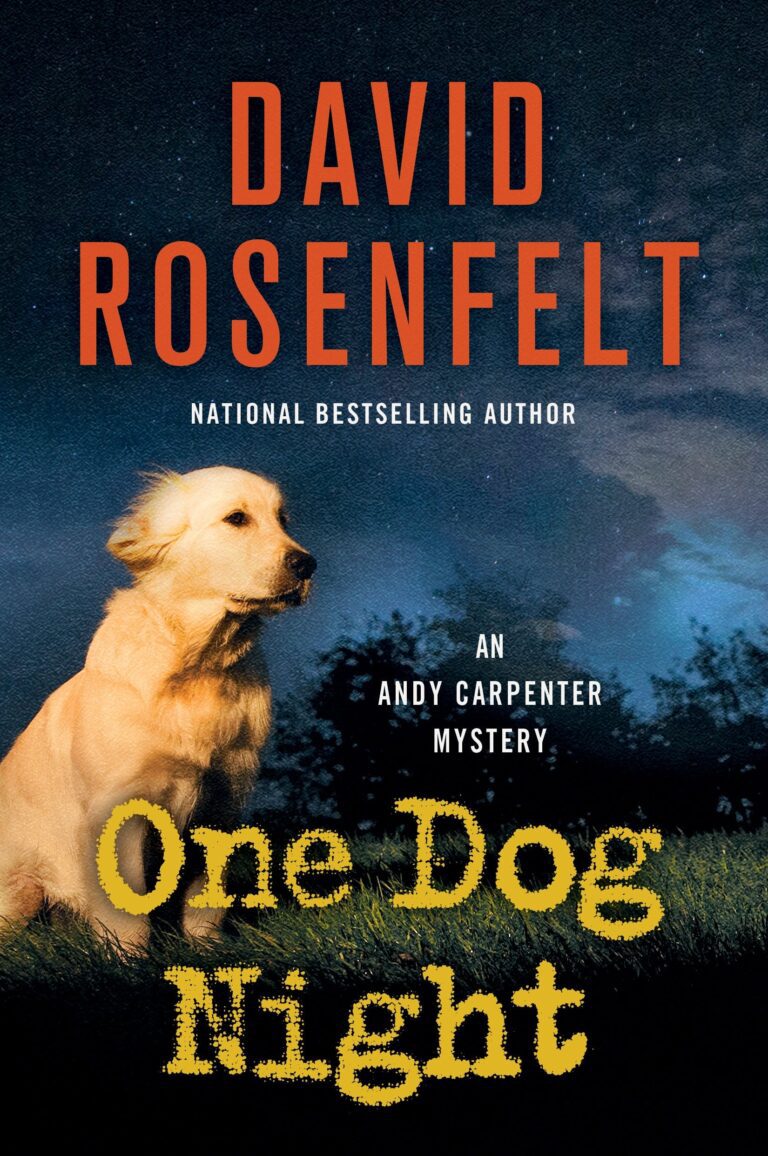 9. One Dog Night
For six years Noah Galloway has lived with a horrible secret and the fear that his rebuilt life could be shattered at any moment. Now his dread has become a certainty, and he has been arrested for the arson murder of twenty-six people.
What he needs now is defense lawyer Andy Carpenter. But Andy is most definitely not in the market for a new client. So Noah plays his hole card: A shared love for Andy's golden retriever, Tara, and the knowledge of what her life was like before Andy rescued her.
Because Andy wasn't her first owner. Noah rescued Tara first. But when he wasn't able to care for her any longer, he did everything in his power to make sure that she was placed in the right home: Andy's.
With that knowledge, Andy has little choice but to take Noah on. He soon learns that the long-ago event that may destroy Noah's life is only the beginning of an ongoing conspiracy that grows more deadly by the day. Andy will have to pull out all of his tricks to get to the bottom of this cold case turned white hot.
---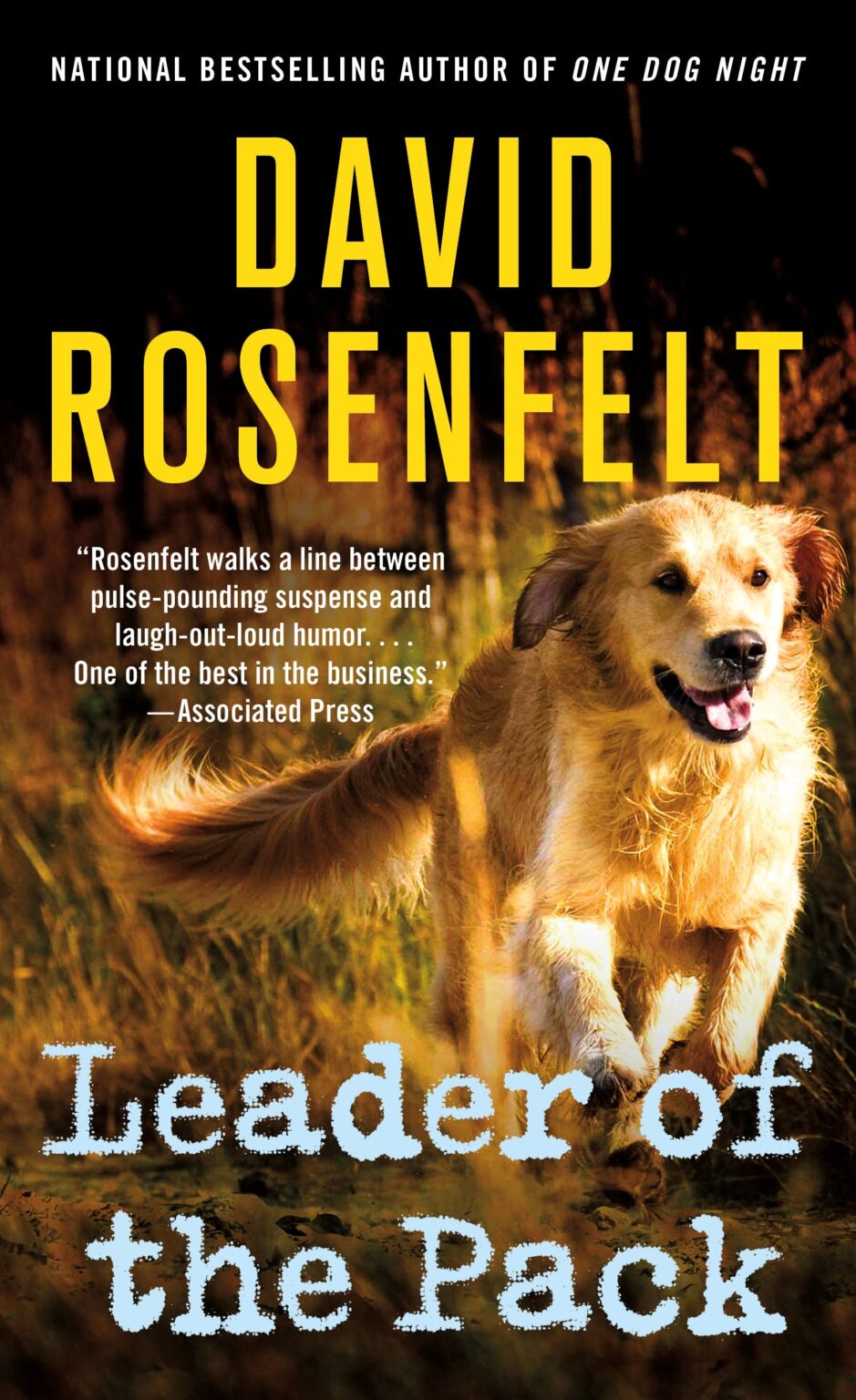 10. Leader of the Pack
Over the course of his legal career, Andy Carpenter has lost a few cases. But that doesn't mean he forgets his clients.
Andy has always been convinced that Joey Desimone, a man convicted of murder nine years ago, was innocent. He believes that Joey's family's connections to organized crime played a pivotal role in his conviction.
While there isn't much Andy can do for him while he serves out his prison sentence, Joey suggests that he check up on Joey's elderly uncle. He'd rather not, but as a favor to Joey, Andy agrees to take his dog, Tara, on a few visits.
The old man's memory is going, but when Andy tries to explain why he's there, it jogs something in the man's mind, and his comments leave Andy wondering if Uncle Nick is confused, or if he just might hold the key to Joey's freedom after all this time.
Andy grabs on to this thread of possibility and follows it into a world where the oath of silence is stronger than blood ties. A world where people will do anything to make sure their secrets are kept.
---
Final thoughts on David Rosenfelt books in order
While he is most well-known for his Andy Carpenter books, Rosenfelt has more than a dozen other books to discover in his bibliography. Readers with a love for dogs and mysteries can't go wrong by diving into one of his riveting and suspenseful books.
Have you read the David Rosenfelt books in order? Let us know in the comments below.
More Crime Thriller Resources