If you are a fan of cozy murder mysteries, then you should absolutely read the Miss Marple books in order. These books by the queen of crime fiction, Agatha Christie, are must-reads for any fan of the genre.
Miss Jane Marple is a quiet, unassuming woman who many might mistake for a grandmother rather than a shrewdly intelligent amateur sleuth. The result of that underestimation creates an interesting dichotomy in the series when Miss Marple inevitably steps forward to solve the crime at hand.
About Agatha Christie
Agatha Christie is one of the most recognized, read, and respected authors in print. She is the bestselling novelist of all time with more than two billion books sold in more than 100 languages. Christie is outsold only by the Bible and William Shakespeare.
Which is to say that she had an undeniable impact on not just the genre of murder mysteries, but also on writing as a whole. It would be foolish to dismiss her popularity and legacy.
All of that began with a bet between Christie and her sister.
At the urging of her sister and with the determination to prove that she could, Christie wrote her first detective novel: The Mysterious Affair at Styles. If you would like to learn more about that book and all her other works, you can read our article about everything Agatha Christie has written.
She was born in Torquay, England in 1890 and served during both World Wars. During the First World War she began as a nurse before joining the hospital pharmacy as an assistant dispenser. Christie would later become qualified as a dispenser in 1917, and this is also how she served during the Second World War.
It was through her first-hand experience that Christie was able to write about poisons so accurately in her books, thus making them seem so realistic.
Just like her character Miss Jane Marple, Christie was a keen observer and shrewdly intelligent. The inspiration for many of her books came through what she overheard and saw. Christie would write down her observations in a notebook, and later pull the plot points together in what would become one of her beloved mysteries.
Who is Miss Marple?
Part of the appeal and fascination surrounding Miss Jane Marple is her unassuming nature. When the first Miss Marple book was published in 1930, one can understand the surprise from the public in response to this elderly, white-haired lady peering past the expected to reveal the darkest truths about human nature.
For nearly 100 years that popularity has not waned as new readers find out about the Miss Marple books in order and begin these mysteries for the first time. There is an undeniable lure to the genre of cozy murder mysteries, even if it does sound like an oxymoron, and Miss Marple exemplifies this.
Most of the Miss Marple books in order take place in the quaint English village of St. Mary Mead. This setting itself lends itself well to a cozy atmosphere.
But there is also something to be said about a main character who is oft overlooked, who blends into the background and appears unassuming, to then have a righteous moment when she steps forward to unveil the murderer. While Miss Marple wears her unassuming nature like a shroud, she also acquires undeniable respect throughout the books. She is shrewd and intelligent, while also being a bit nosy, which are tools at her disposal as an amateur detective.
The very first appearance of Miss Marple came about in Christie's 1927 short story The Tuesday Night Club. She then appeared in five other short stories before the publication of her first full-length novel: The Murder at the Vicarage.
Throughout the years, there have been many Miss Marple adaptations. Some notable actors who have played her on screen include Margaret Rutherford, Angela Lansbury, Helen Hayes, Joan Hickson, Geraldine McEwan, and Julia McKenzie. In addition to screen adaptations, there have also been Miss Marple adaptations for stage and radio.
Miss Marple Books in Order
While each book contains a standalone crime, it is best to read the Miss Marple books in order of publication. That's because there are recurring characters throughout the twelve Marple books, and the books follow a chronological order.
In following the publication order of the books, you will recognize characters as they appear. You will also recognize the changes that occur within St. Mary Mead as the years pass by, which becomes an important aspect in the later books.
Perhaps most importantly, you will follow along with the evolution of Miss Marple herself. By the final novel Miss Marple has changed considerably from the depiction of her in the first book. She becomes less rigid and more forgiving as the century passes.
Miss Marple Collections
In addition to the twelve novels above, Agatha Christie also wrote 20 short stories featuring Miss Marple. There are various volumes with these short stories from throughout the years, a list of which is below. The most recent title, however, is a collection of Miss Marple stories by various authors such as Leigh Bardugo, Elly Griffiths, Val McDermid, and more.
The Thirteen Problems (1932)
13 Clues for Miss Marple (1966)
Miss Marple's Final Cases (1979)
Marple: Twelve New Cases (2022)
Summary of Miss Marple Books in Order
Below you will find summaries to the twelve Miss Marple books in order. These will be great refreshers on the contents of each book if you're preparing for a reread, or let you know a little bit more about the plot if you're reading these books for the first time.
---
1. The Murder at the Vicarage
"Anyone who murdered Colonel Protheroe," declared the parson, brandishing a carving knife above a joint of roast beef, "would be doing the world at large a favour!"
It was a careless remark for a man of the cloth. And one which was to come back and haunt the clergyman just a few hours later — when the colonel was found shot dead in the clergyman's study.
But as Miss Marple soon discovers, the whole village seems to have had a motive to kill Colonel Protheroe.
---
2. The Body in the Library
It's seven in the morning. The Bantrys wake to find the body of a young woman in their library. She is wearing evening dress and heavy make-up, which is now a mess across her cheeks.
But who is she? How did she get there? And what is the connection with another dead girl, whose charred remains are later discovered in an abandoned quarry?
The respectable Bantrys invite Miss Marple to solve the mystery…before tongues start to wag.
---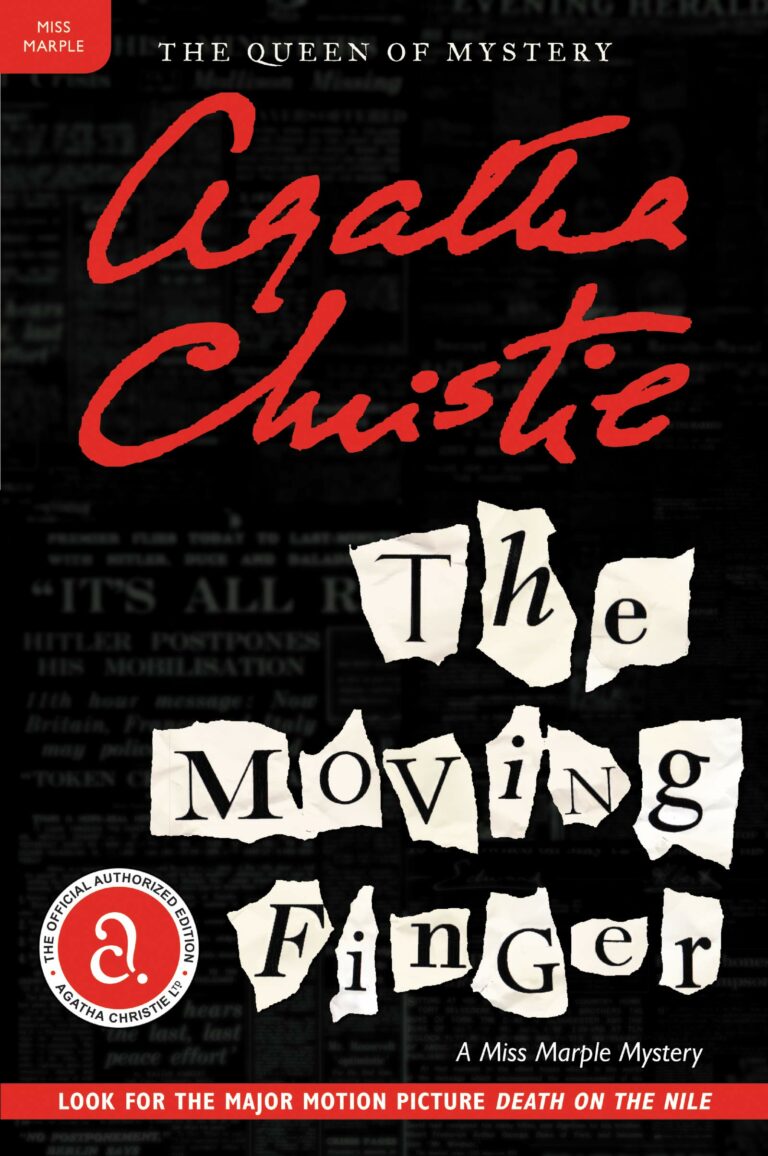 3. The Moving Finger
A spate of poison pen letters wreaks havoc on an English village. Once a place of trust, now all inhabitants are full of accusations. Who could be writing the letters and why?
This book is from the point of view of Jerry Burton, who is recuperating following an accident. Miss Marple only makes an appearance later in the book, just in time to crack the case wide open.
---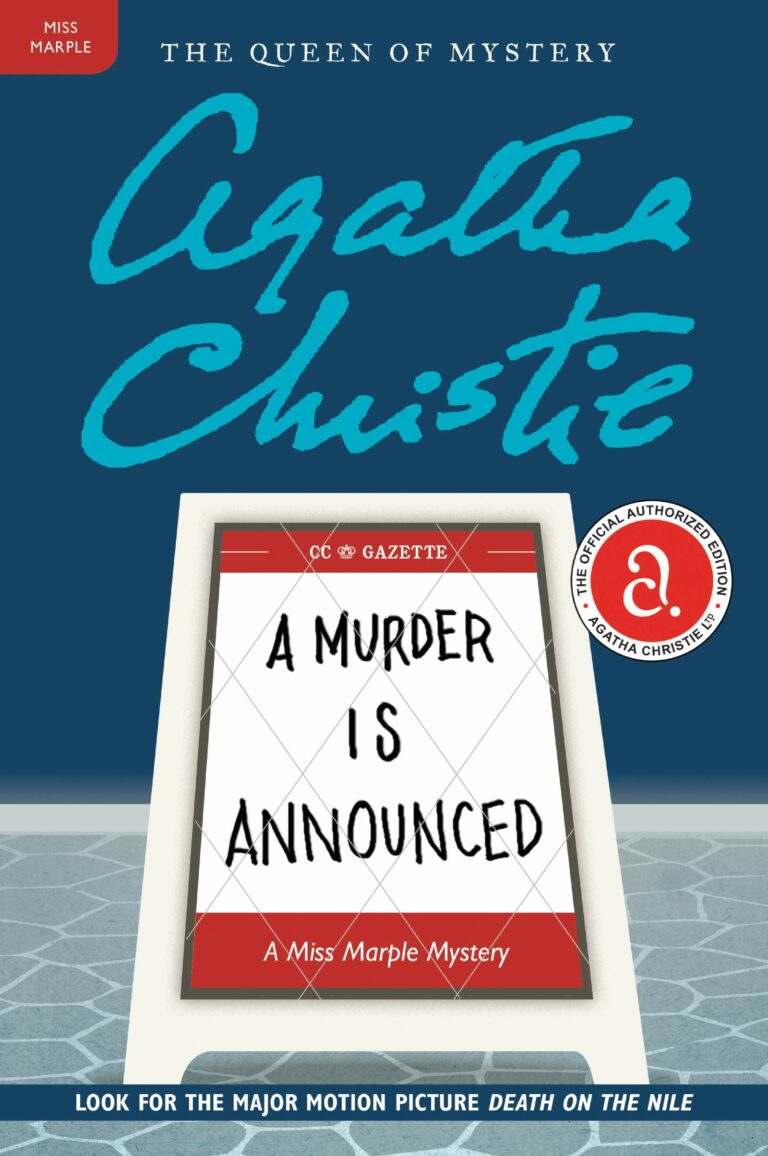 4. A Murder is Announced
The villagers of Chipping Cleghorn, including Jane Marple, are agog with curiosity over an advertisement in the local gazette announcing a murder. The announcement says the murder will take place on Friday October 29th, at Little Paddocks at 6:30 p.m.
Is it a childish practical joke? Or a hoax intended to scare poor Letitia Blacklock?
Unable to resist the mysterious invitation, a crowd begins to gather at Little Paddocks at the appointed time when, without warning, the lights go out…
---
5. They Do It with Mirrors
Miss Marple senses danger when she visits a friend living in a Victorian mansion which doubles as a rehabilitiation centre for delinquents. Her fears are confirmed when a youth fires a revolver at the administrator, Lewis Serrocold. Thankfully, neither is injured.
But a mysterious visitor, Mr. Gilbrandsen, is less fortunate — shot dead simultaneously in another part of the building.
Pure coincidence? Miss Marple thinks not, and vows to discover the real reason for Mr. Gilbrandsen's visit.
---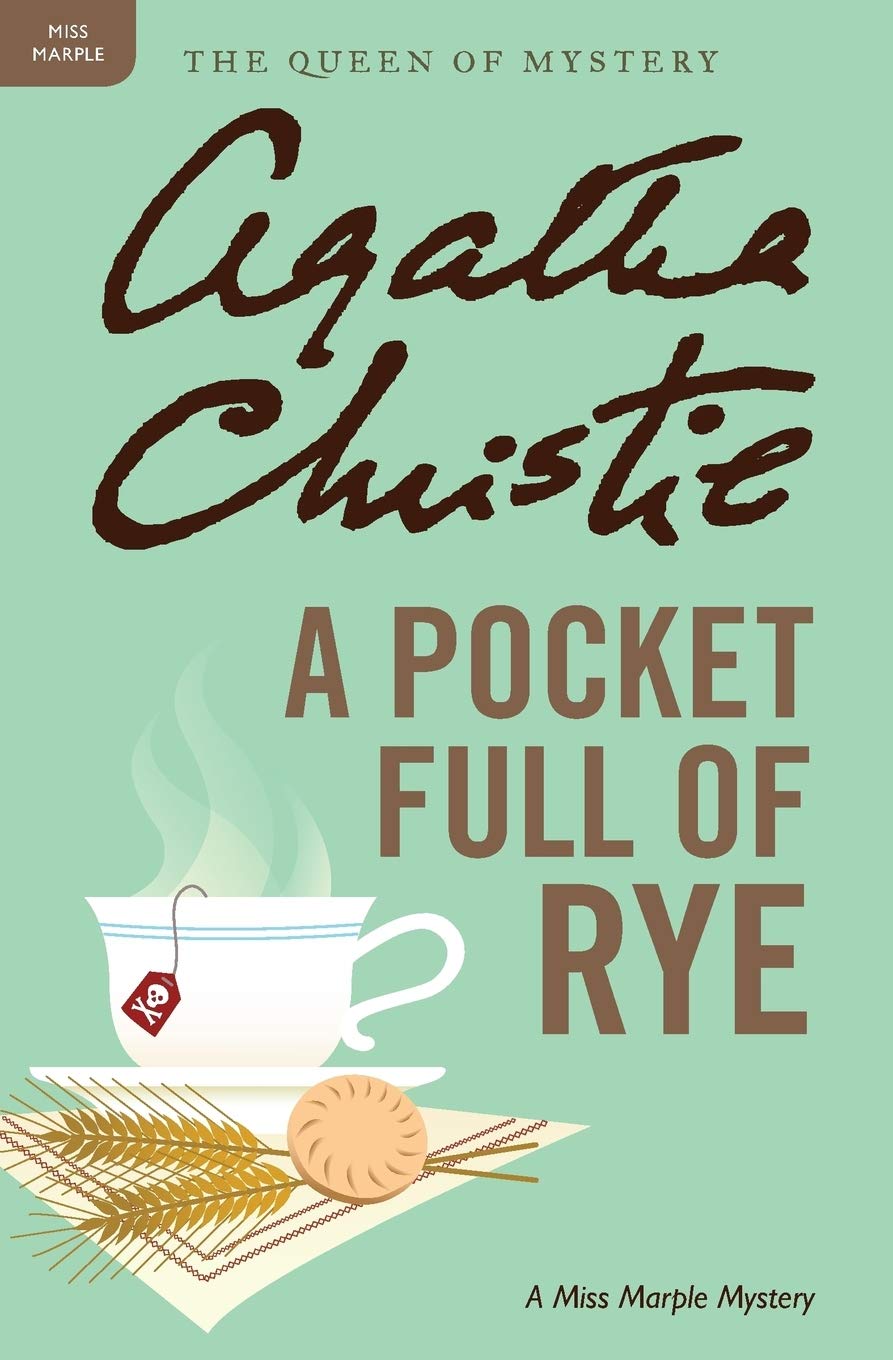 6. A Pocket Full of Rye
A handful of grain is found in the pocket of a murdered businessman…
Rex Fortescue, king of a financial empire, was sipping tea in his "counting house" when he suffered an agonising and sudden death. On later inspection, there were traces of cereals in his pockets.
Yet, it was the incident in the parlour which confirmed Jane Marple's suspicion that here she was looking at a case of crime by rhyme…
---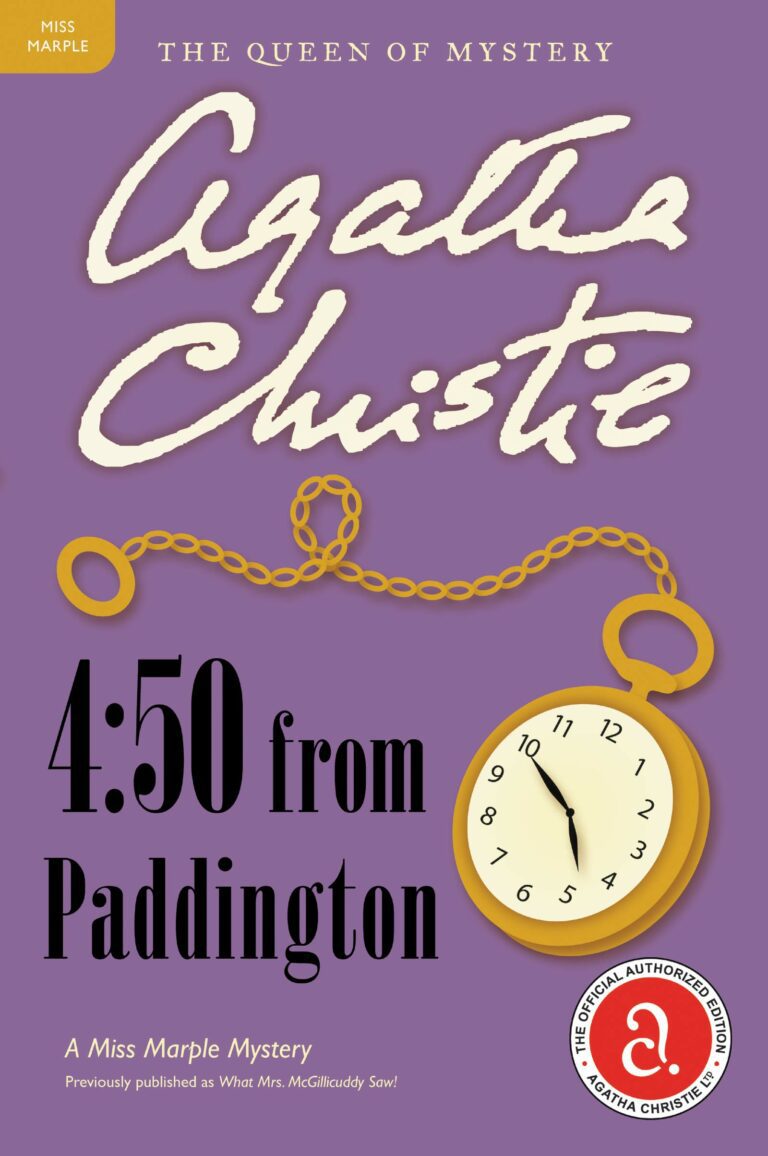 7. 4:50 From Paddington
For an instant the two trains ran together, side by side. In that frozen moment, Elspeth witnessed a murder.
Helplessly, she stared out of her carriage window as a man remorselessly tightened his grip around a woman's throat. The body crumpled. Then the other train drew away.
But who, apart from Miss Marple, would take her story seriously? After all, there were no suspects, no other witnesses…and no corpse.
---
8. The Mirror Crack'd from Side to Side
One minute, silly Heather Badcock had been gabbling on at her movie idol, the glamorous Marina Gregg. The next, Heather suffered a massive seizure. But for whom was the deadly poison really intended?
Marina's frozen expression suggested she had witnessed something horrific. But, while others searched for material evidence, Jane Marple conducted a very different investigation — into human nature.
---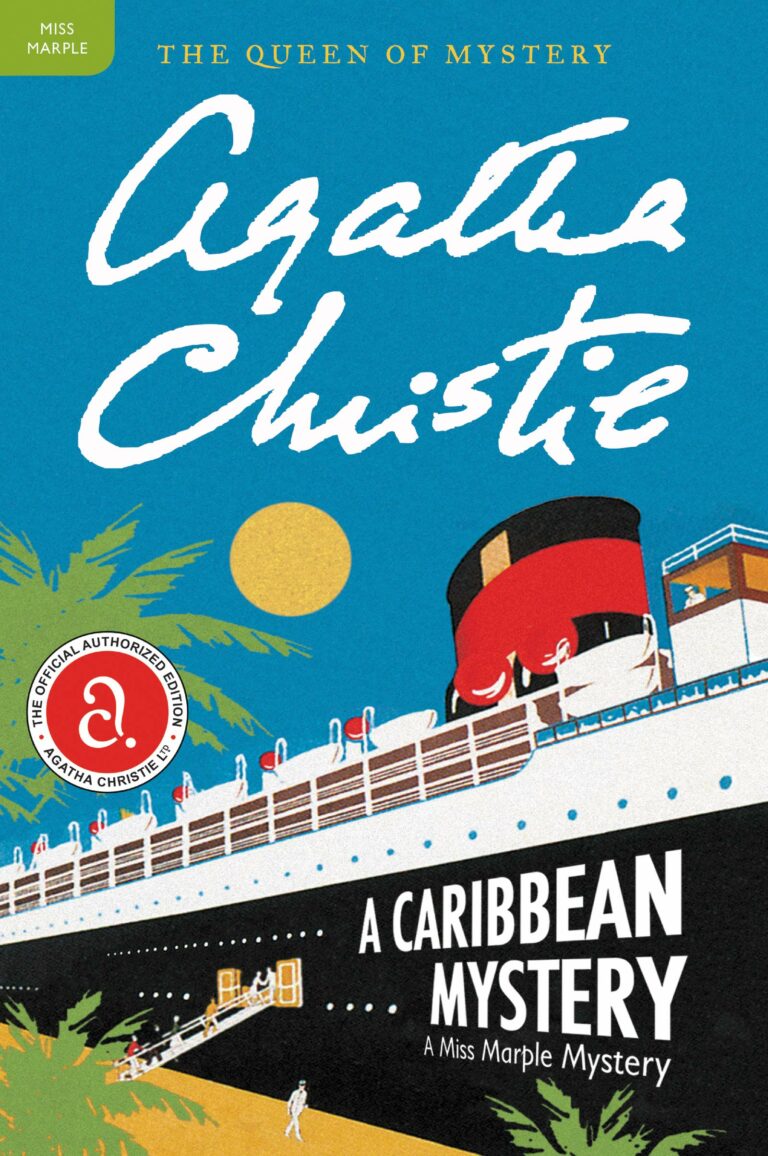 9. A Caribbean Mystery
An exotic holiday for Miss Marple is ruined when a retired major is killed…
As Miss Marple sat basking in the Caribbean sunshine she felt mildly discontented with life. True, the warmth eased her rheumatism, but here in paradise nothing ever happened. Eventually, her interest was aroused by an old soldier's yarn about a strange coincidence.
Infuriatingly, just as he was about to show her an astonishing photograph, the Major's attention wandered. He never did finish the story.
---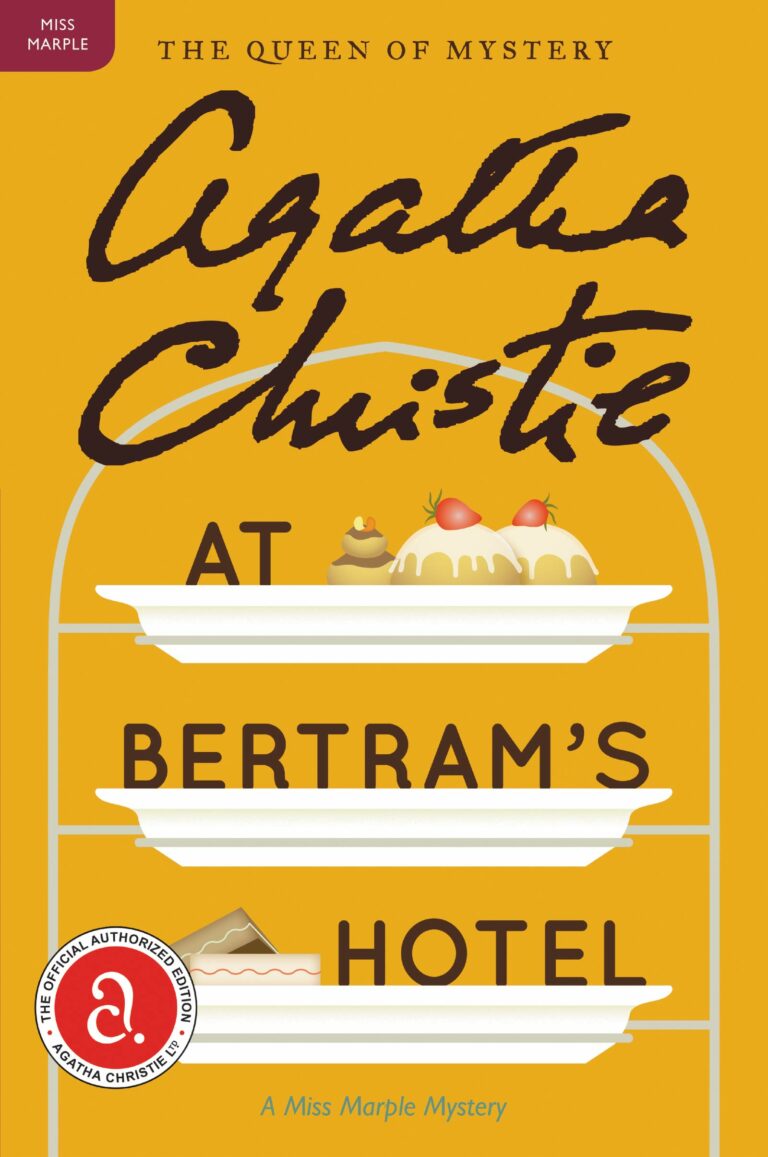 10. At Bertram's Hotel
An old-fashioned London Hotel is not quite as reputable as it makes out…
When Miss Marple comes up from the country for a holiday in London, she finds what she's looking for at Bertram's Hotel: Traditional décor, impeccable service, and an unmistakable atmosphere of danger behind the highly-polished veneer.
Yet, not even Miss Marple can foresee the violent chain of events set in motion when an eccentric guest makes his way to the airport on the wrong day…
---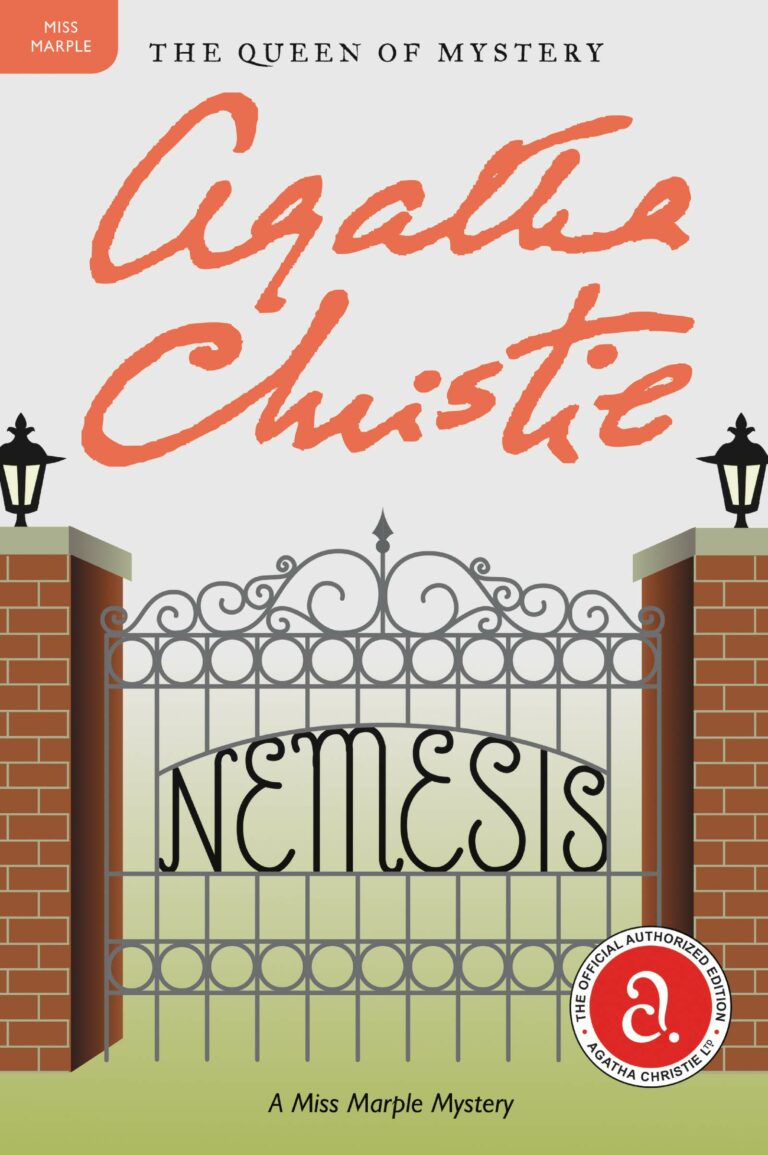 11. Nemesis
In utter disbelief Miss Marple read the letter addressed to her from the recently deceased Mr. Rafiel — an acquaintance she had met briefly on her travels. Recognising in Miss Marple a natural flair for justice, Mr. Rafiel had left instructions for her to investigate a crime after his death.
The only problem was, he had failed to tell her who was involved or where and when the crime had been committed. It was most intriguing.
---
12. Sleeping Murder
The owner of a seaside villa is plagued by strange feelings about its past…
Soon after Gwenda moved into her new home, odd things started to happen. Despite her best efforts to modernise the house, she only succeeded in dredging up its past. Worse, she felt an irrational sense of terror every time she climbed the stairs…
In fear, Gwenda turned to Miss Marple to exorcise her ghosts. Between them, they were to solve a "perfect" crime committed many years before.
---
Final thoughts on Miss Marple books in order
With her character of Miss Marple, Agatha Christie flipped the stereotypical expectation of a detective. Marple is a bit unassuming, but with a cunning perceptiveness that allowed her to unravel some of the most beguiling mysteries.
Christie is a formidable mystery author, creating a trail of clues and red herrings for readers to follow before her trademark climaxes and reveals. It's what makes rereading her books so enjoyable, so you can see the hints and references you might have missed upon first reading her books.
Additional Mystery Book Resources