It is very likely that Jennifer Weiner may be one of the first authors to come to mind when you think of women's literature or "chick lit." She has become a definitive voice for the genre and a fierce defender. The Jennifer Weiner books in order chronicle the highs and lows of womanhood and all the phases in between too.
Her characters are relatable and likeable with a poignant realism. They confront challenges and rise from moments of despair to forge forward, which is part of what makes Weiner such a favorite author to many.
About Jennifer Weiner
Jennifer Weiner broke onto the scene with her debut book Good in Bed, which is in its 59th printing. Collectively, her books have sold more than 15 million copies in 36 countries.
Before Weiner became a bestselling author, she was a newspaper journalist and worked for papers in Pennsylvania and Kentucky. However, she was born in Louisiana, raised in Connecticut, and attended Princeton University in New Jersey.
Weiner currently lives in Philadelphia with her family. She continues to contribute nonfiction writing to various publications. As previously mentioned, she is also a fierce advocate for the women's literature genre and will not hesitate to call out biases in publishing or name names.
A lot has changed in regard to how women's fiction is seen in the past two decades, and at least a small part can be credited to Weiner's popularity, success, and advocacy.
She says in all of her books she tries to balance heavy and light subject matter. A protagonist may be struggling with societal pressure, but Weiner will also lace humor through novel. That has been her recipe for success, proven by the fact that her books have been on the New York Times bestseller list for a collective 258 weeks.
One of her books was also made into a movie: In Her Shoes. The 2005 film starred Toni Collette, Cameron Diaz, and Shirley MacLaine. As well, Mrs. Everything is currently in development as a TV series and Mindy Kaling is developing and starring in an adaptation of Good in Bed.
Jennifer Weiner Books in Order
Cannie Shapiro Books
Our list of the Jennifer Weiner books in order begins with her debut, which remains one of her most popular and well-known novels. The main character in this series, Cannie Shapiro, does also have a small appearance in Weiner's first standalone book, In Her Shoes.
At the beginning of the series Cannie is 28 and her world upends when she discovers her ex-boyfriend has written a piece about loving a larger woman, her, for a national women's magazine. It plunges her into misery, yet also the most amazing year of her life as she charts a new course for herself.
Good in Bed (2002)
Certain Girls (2008)
Good Men (2013) (Prequel Novella)
Standalone Books
While you can read these books in any order, there is an added benefit to reading her books in publication order. That's because this list of Jennifer Weiner's standalones span from her second published novel to her latest, so following publication order will allow you to witness her growth and evolution as an author.
The Littlest Bigfoot Books
The next series on our list of the Jennifer Weiner books in order is a middle grade trilogy. It follows twelve-year-old Alice Mayfair who slips through the world unnoticed. She has been sent off to her eighth boarding school and would very much like a friend, when she finds one in Millie Maximus after she rescues her from drowning in a lake.
But Millie is a Bigfoot and most Bigfoots believe that people, No-Furs, are dangerous. Alice and Millie must put their faith in themselves and each other if they wish to survive the Bigfoot hunters on their trail.
The Littlest Bigfoot (2016)
Little Bigfoot, Big City (2017)
The Bigfoot Queen (Expected: October 24, 2023)
Short Stories
Jennifer Weiner has also written several short stories during her career on a variety of subjects.
Nonfiction Book
Weiner has also written one nonfiction book chronicling her life. Through a collection of essays, she touches on sex, weight, envy, money, and her relationship with her parents.
Anthologies
Finally, Jennifer Weiner has also contributed to a handful of anthologies throughout her career.
A Summary of Jennifer Weiner Books in Order
Below you will find the summaries for the first ten Jennifer Weiner standalone books in order. Again, you can choose to read these books in any order, but following the publication order will allow you to witness the growth and evolution of Weiner as an author.
---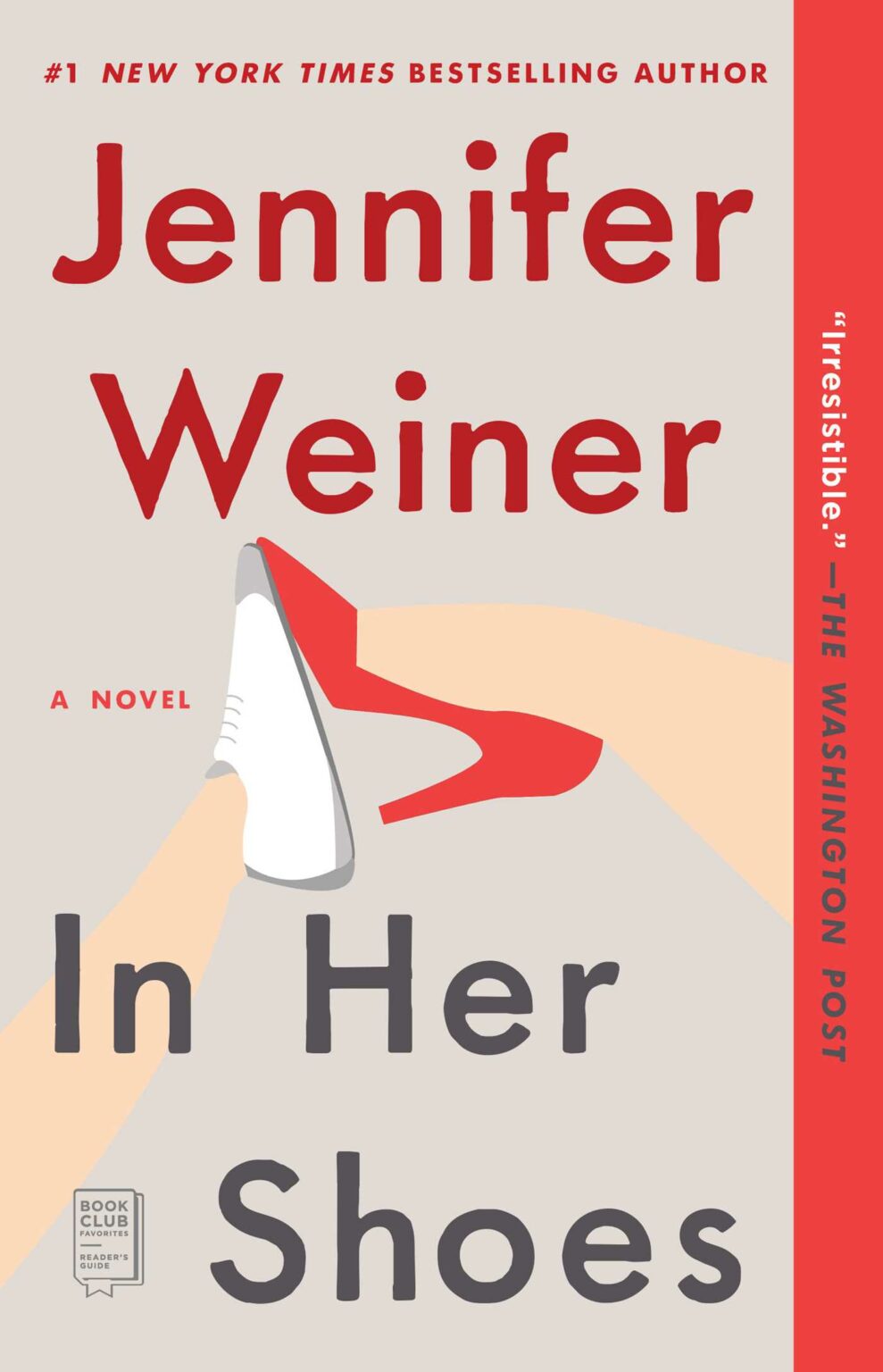 1. In Her Shoes
Rose Feller is a successful lawyer with high hopes of a relationship with Jim, a senior partner in her firm. Then her unpredictable, unemployed sister moves in with her and spoils her chance at romance by drinking and smoking as well as stealing her money and her shoes. Rose wishes Maggie would grow up and settle down.
Meanwhile, Maggie is waiting on her lucky break. She will be an amazing TV presenter or singer or actress; she just needs that chance. What she doesn't need is Rose interfering with her life and Maggie wishes she would lighten up and have some fun.
The two sisters think they have nothing in common except for their DNA, a shared childhood tragedy and the same size feet, but they're about to discover that they're more alike than they'd ever believe.
---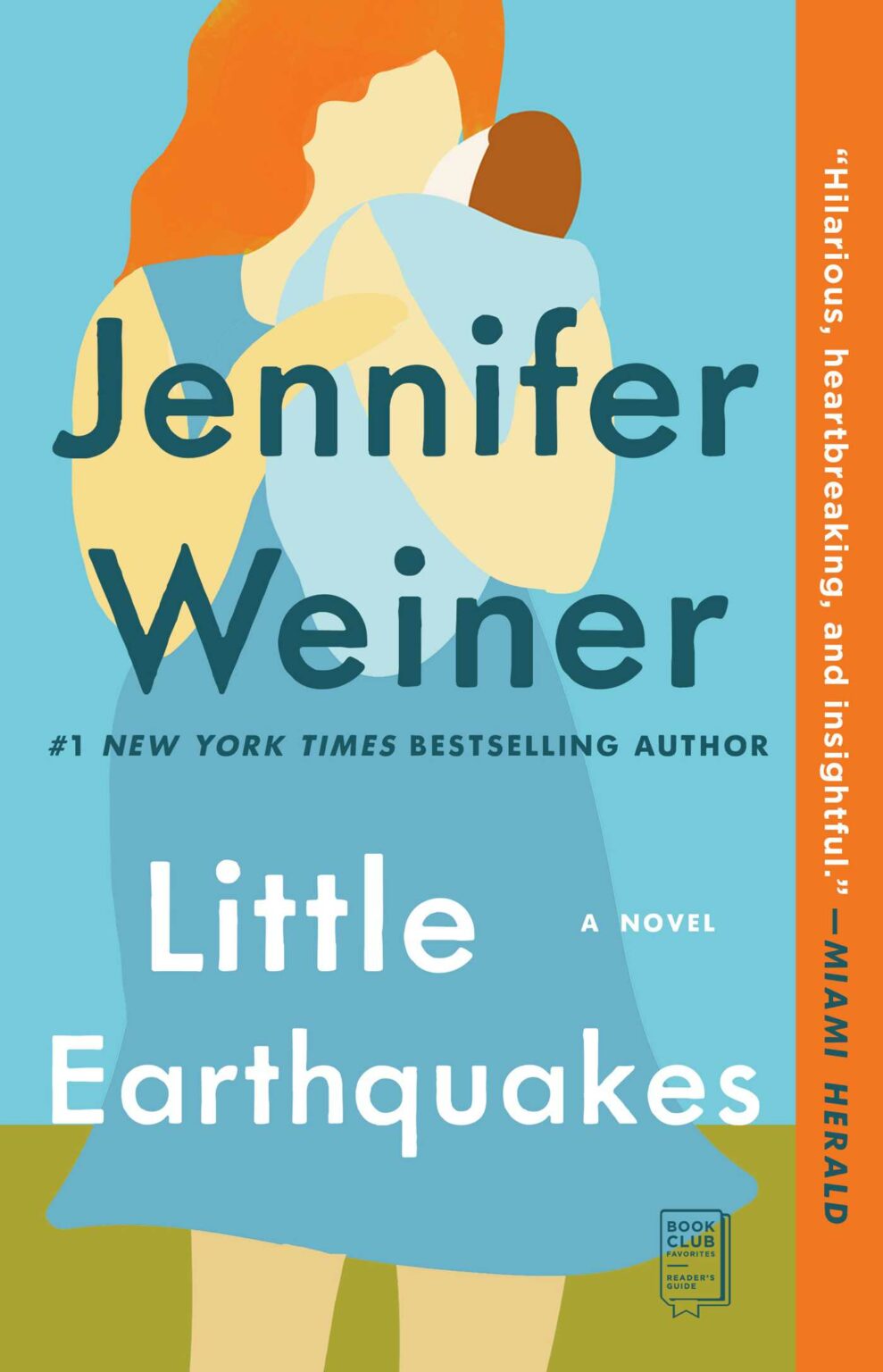 2. Little Earthquakes
Three very different women are learning to navigate the wonderful and perilous journey of new motherhood.
Becky is the plump, sexy chef of a restaurant that has city-wide acclaim and has a wonderful husband, baby girl, and a mother-in-law from hell. Meanwhile, Kelly is an event planner trying to find a work-life balance with motherhood and an unemployed husband. Finally, Ayinde's husband, a basketball superstar, breaks her trust at a vulnerable moment and thrusts their family even more into the public eye.
There is also Lia, who is a Philadelphia native who has left her Hollywood career behind. She is ready to start her life all over again, far from her husband and a tragic secret.
---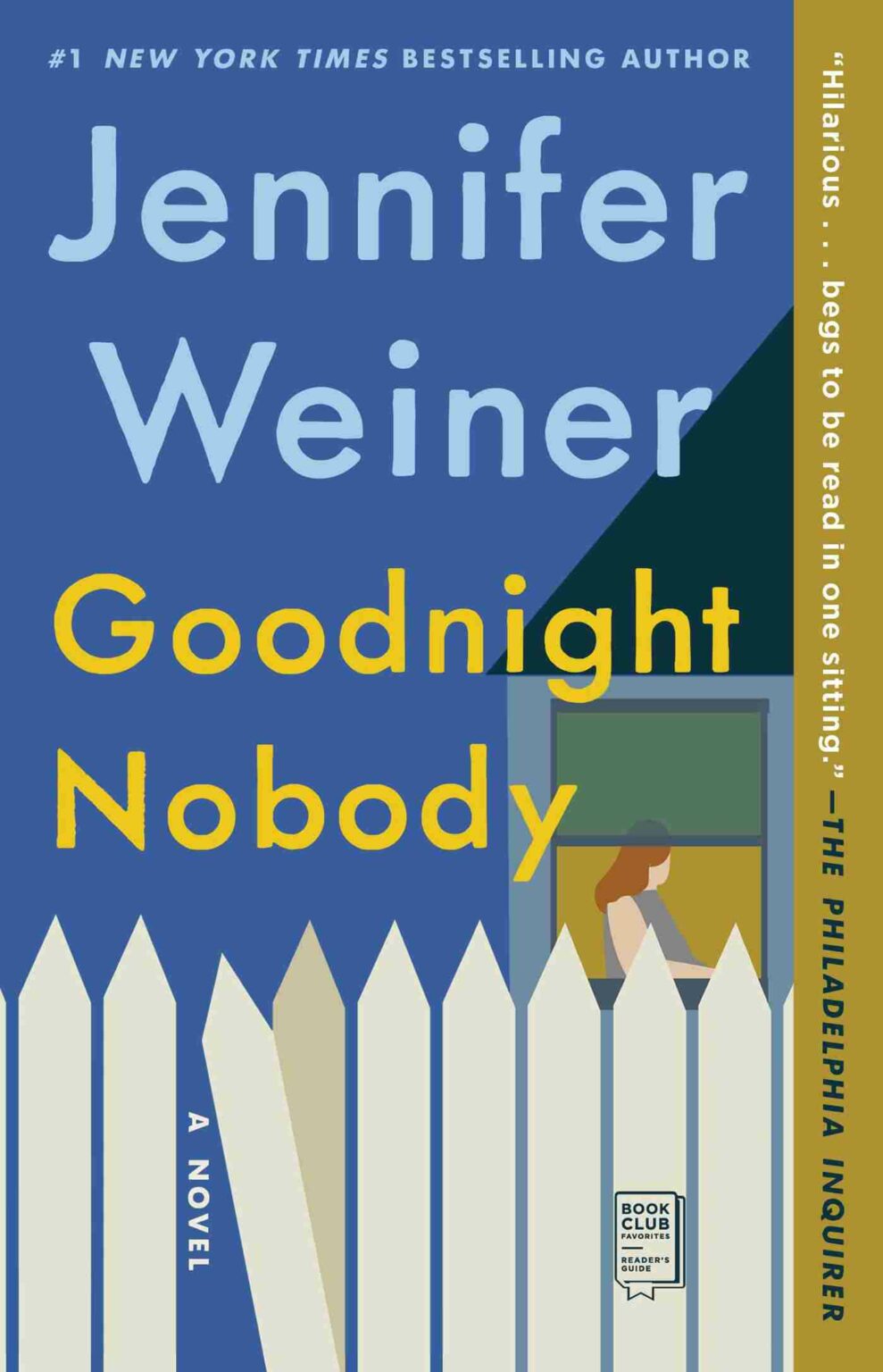 3. Goodnight Nobody
Kate Klein is a semi-accidental mother of three who is discontent with her life in suburbia. Her once-loving husband is hardly home, the other mothers frequently snub her, and most of her orgasms are of the do-it-yourself variety.
Then a fellow mother is murdered. Even though the police chief tells Kate to leave it to the professionals, she begins an unofficial investigation while her kids are in nursery school. As she begins to investigate, Kate uncovers secrets and lies behind Upchurch, Connecticut's perfect image.
---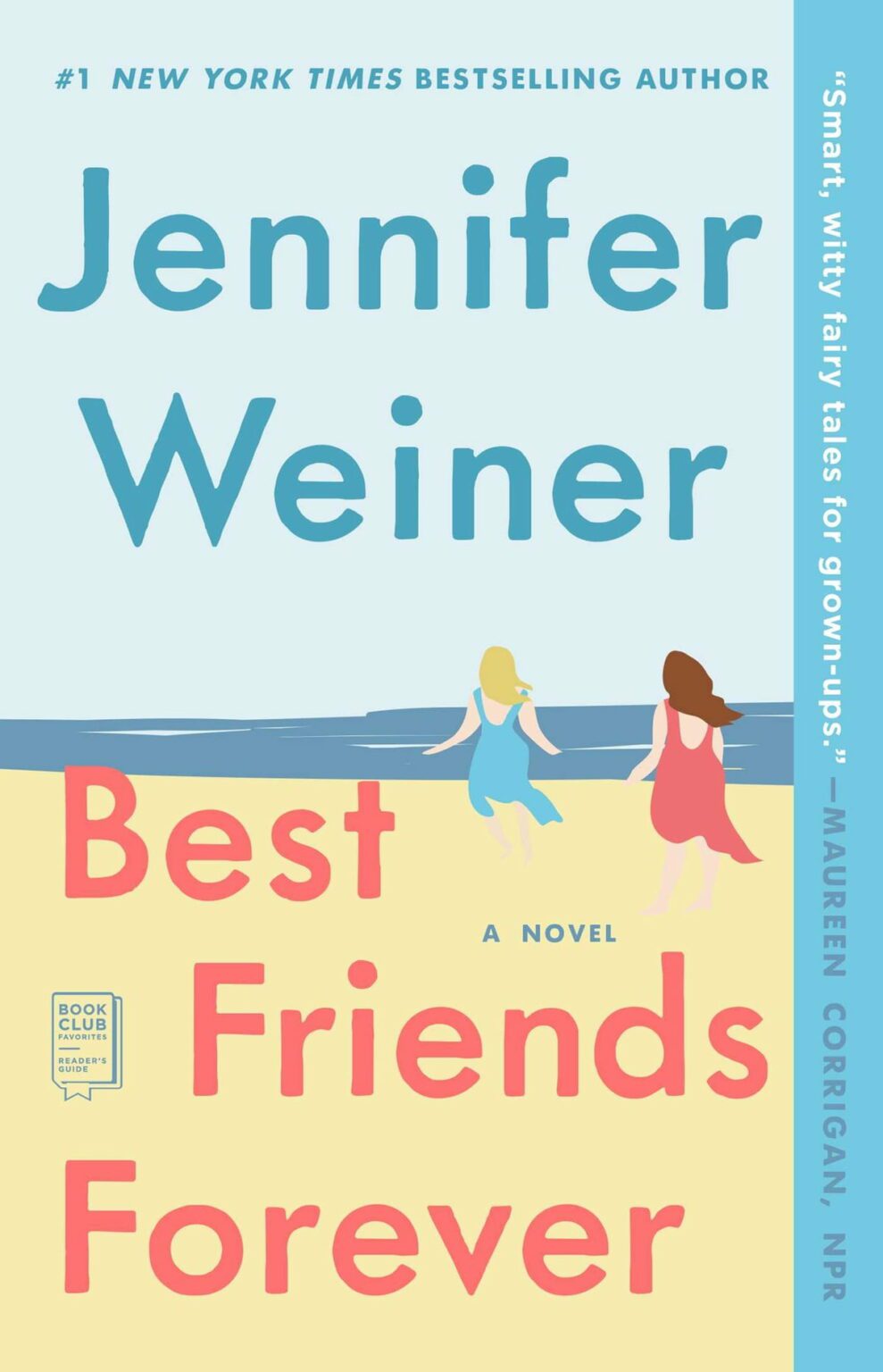 4. Best Friends Forever
When Addie Downs and Valerie Adler were eight years old, they decided they were going to be best friends forever. But then amidst tragedy and betrayal during their teenage years, everything changed. Val went on to fortune and fame, while Addie remained in their small Midwestern town.
But 25 years later, Val shows up at Addie's front door with blood on her clothes and terror on her face. So begins a wild adventure for two women with a shared history and formidable strength together.
---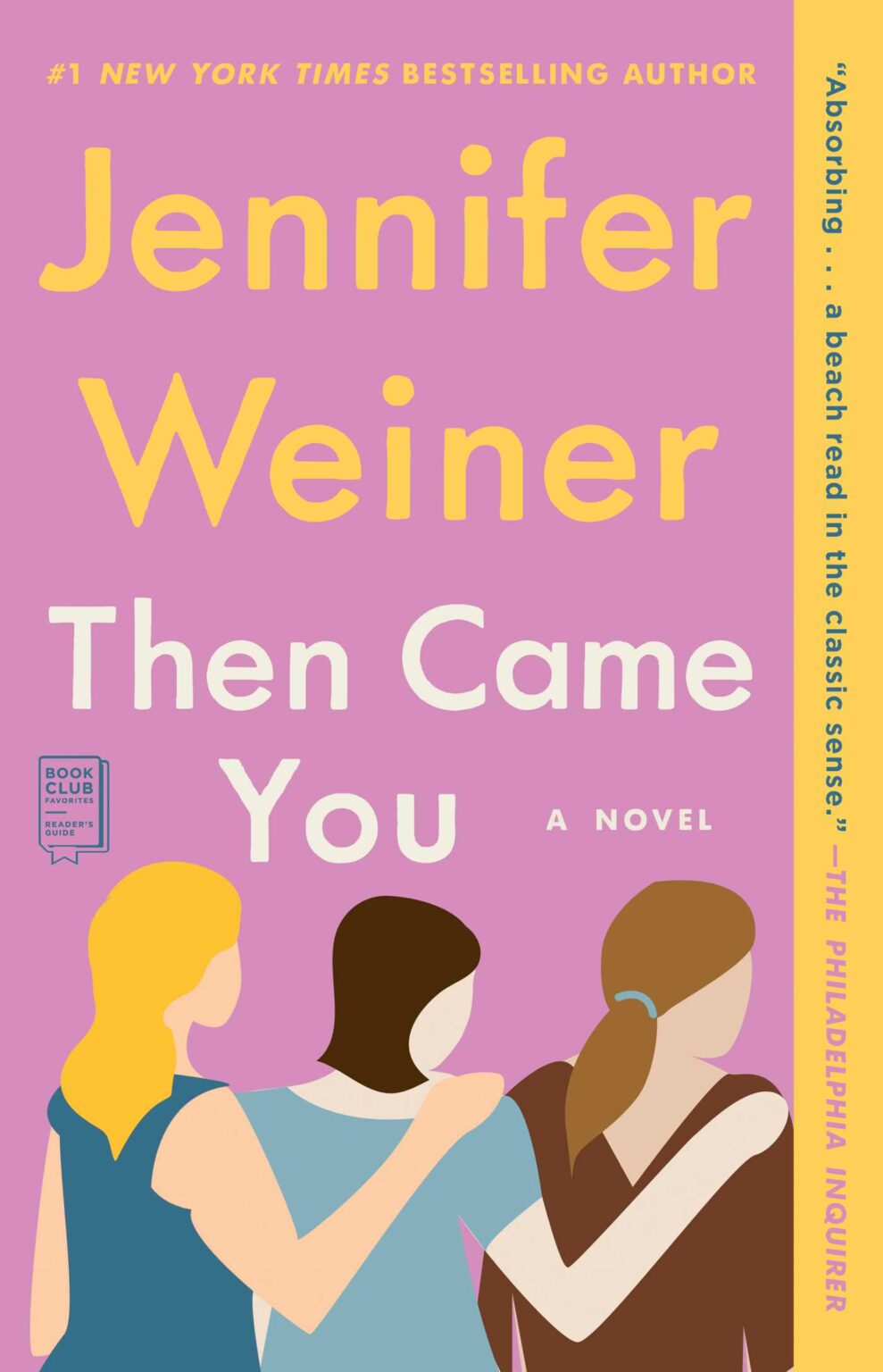 5. Then Came You
The stories of four women weave together to create a timely tale of class and entitlement, surrogacy and donorship, the rights of a parent and the measure of motherhood.
Jules Strauss is a Princeton senior on a full scholarship and the hopes that with the money she will receive for donating her eggs, she can save her father from addiction. Annie Barrow married her high school sweetheart and is the mother to two boys, but after struggling to support the family on her husband's salary, she thinks she's found a way to bring in extra cash.
India Bishop has reinvented herself and fallen for a wealthy older man in New York City, Marcus Croft. She decides that a baby will ensure their happily-ever-after. But when she can't get pregnant, she turns to Annie and Jules via technology to help make her dreams a reality.
Except Marcus's daughter wants to protect her father and she does not believe India is what she seems…
---
6. Fly Away Home
Sylvie Serfer met Richard Woodruff in law school with wild curls and lots of opinions, but decades later she has conformed herself into the image of the perfect politician's wife. Lizzie, their younger daughter, is a recovering addict at 24 and trying to keep her life under control.
Meanwhile, her older sister Diana seemingly has the perfect life Lizzie failed to achieve. Diana is an emergency room physician with a husband, young son, and the perfect home. But she's trapped in a loveless marriage with temptation close at hand.
Then Richard's affair dominates headlines and the three women are thrust into the national spotlight. Each woman must reconsider her life, who she is, and who she is meant to be.
---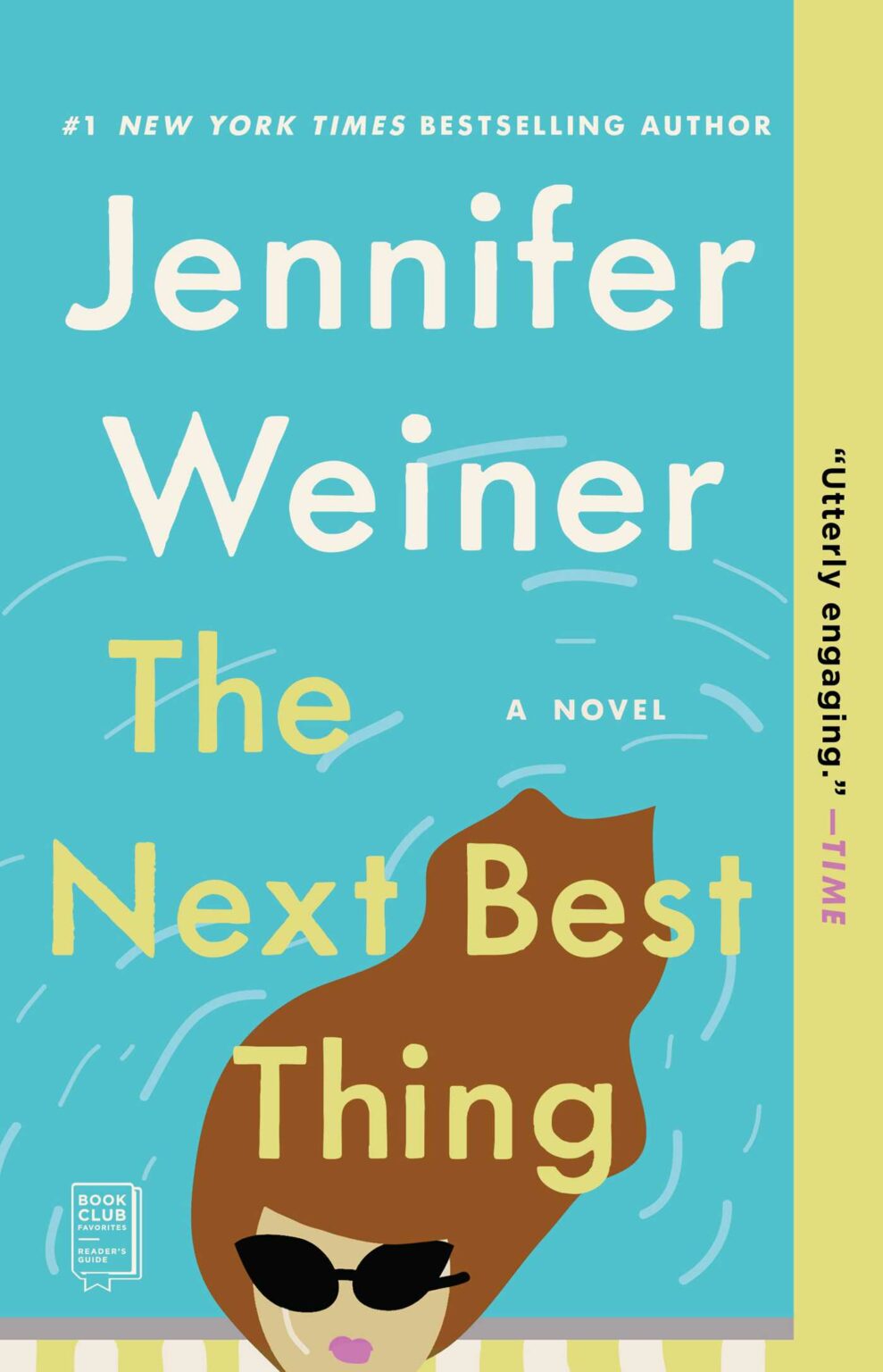 7. The Next Best Thing
Ruth Saunders travelled west with her 70-year-old grandmother with the hopes to find a job as a television writer when she was 23. Now four years later the sitcom she wrote, The Next Best Thing, has gotten the green light and she's going to be the showrunner.
But she never factored demanding actors, number-crunching executives, an unrequited crush on her boss, and her grandmother's upcoming nuptials into her Hollywood dreams.
---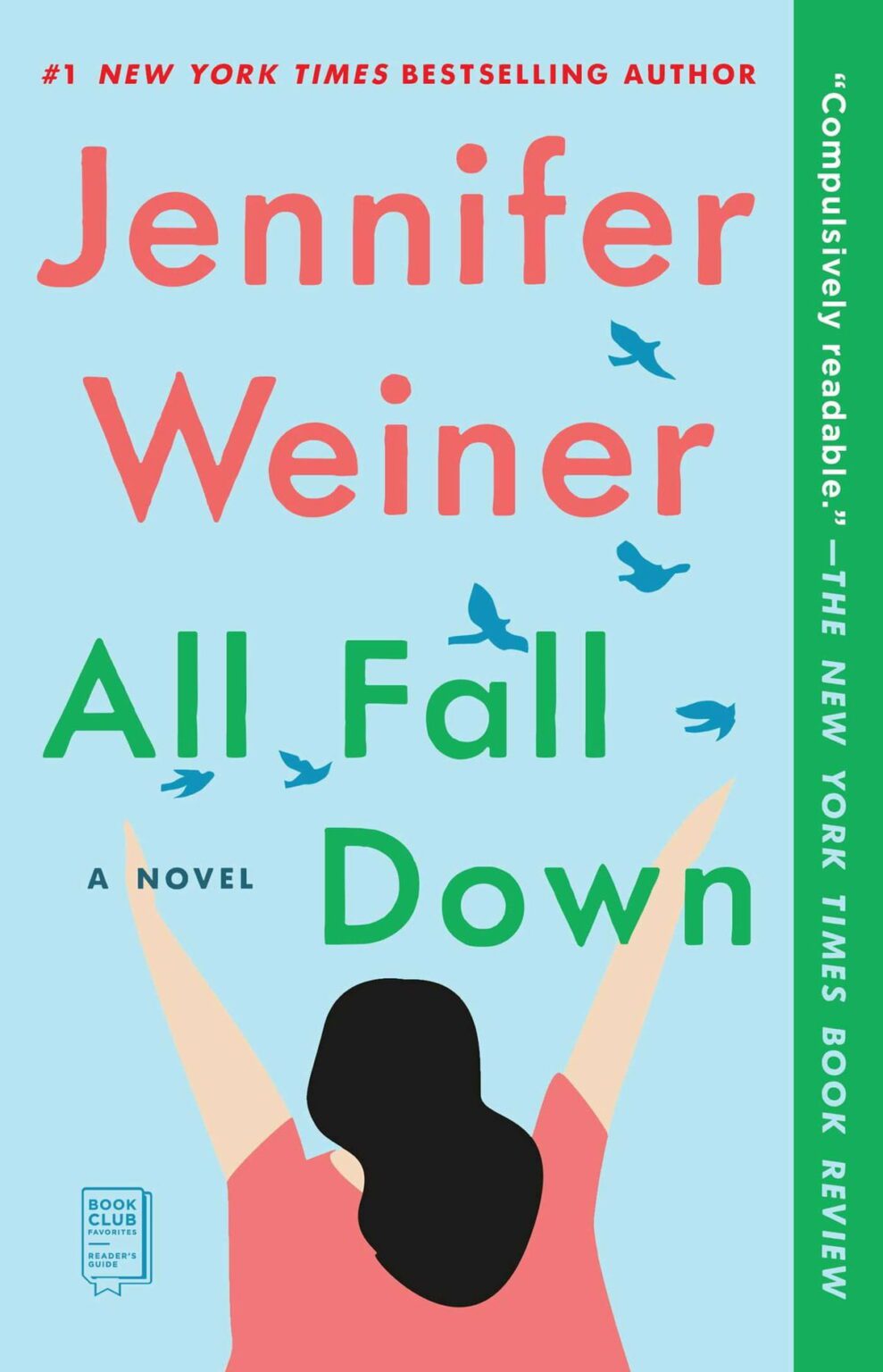 8. All Fall Down
Allison Weiss has a handsome husband, an adorable daughter, a job she loves, and a house in the suburbs. It's her happy ending. But while waiting in the pediatrician's office one day she begins to wonder if taking a Percocet at the end of the day is really different from having a glass of wine, or popping a Vicodin after a tough workout…or when her husband ignores her.
The pills help Allison manage her seemingly perfect life. That's because the truth is her husband is distant, her daughter is acting out, her father's Alzheimer's is getting worse, and her mother is struggling to cope. But is her increasing drug use, which is becoming more expensive and harder to hide, turning into her biggest problem?
---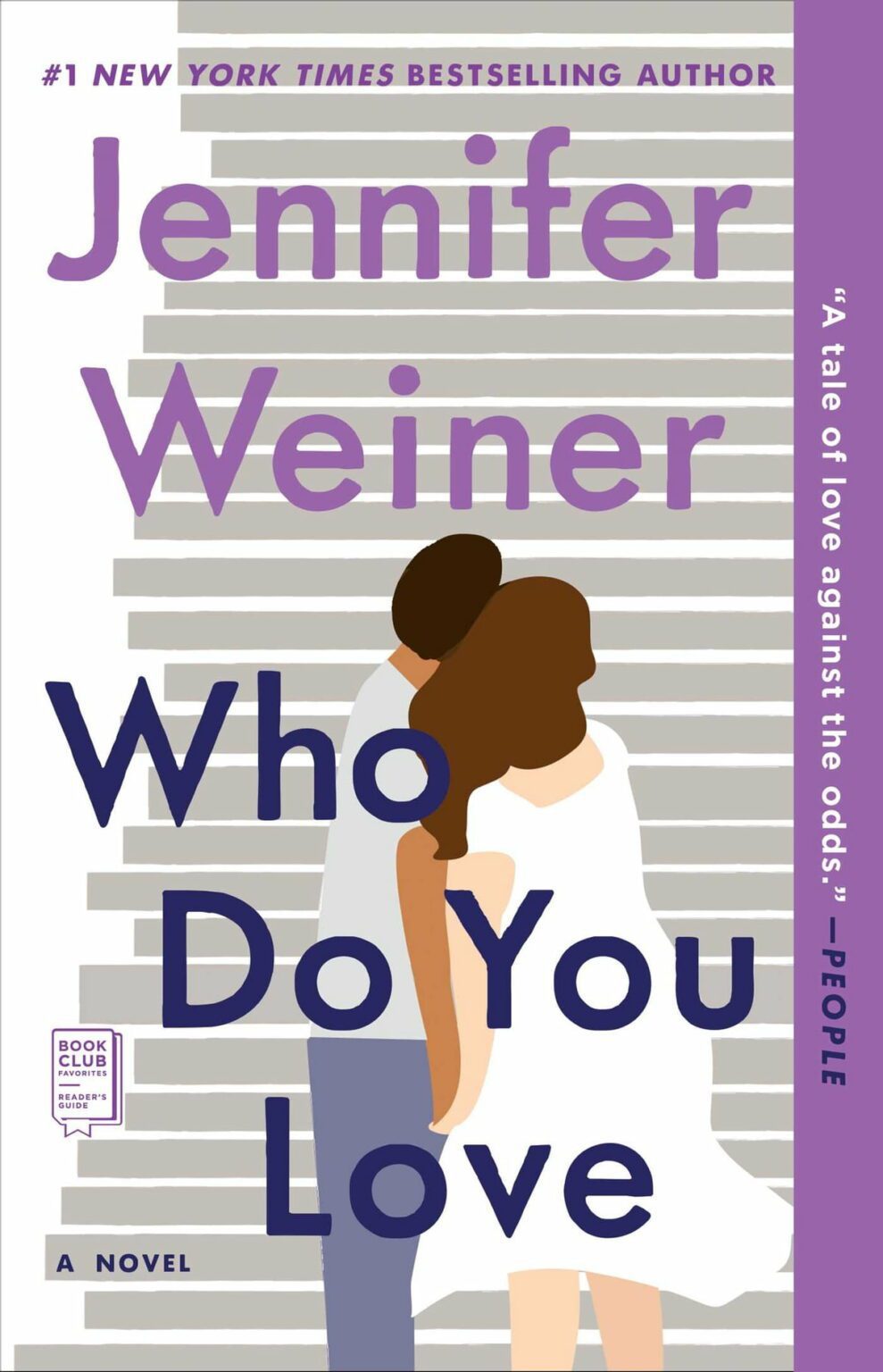 9. Who Do You Love
Rachel Blum and Andy Landis are eight when they meet in an ER waiting room one night. Rachel is a veteran of hospitals having been born with a congenital heart defect, and Andy shows up all alone with a broken arm. They think they will never see one another again.
Rachel is the protected and beloved daughter of two doting parents growing up in a fancy Florida suburb. Meanwhile, Andy grows up poor in Philadelphia with a single mom and a talent that will see him become one of the best runners in his generation.
They pair will find each other again and again during the next three decades. They will cross paths through high school and college, marriages and divorces, victories and defeats, until they finally have the chance to decide if love can surmount their differences.
---
10. Mrs. Everything
Jo and Bethie Kaufman grew up in 1950s Detroit in the perfect house and clear roles within their family. Jo is the tomboy and bookish rebel, while Bethie is the feminine good girl who dreams of a traditional life. But their futures end up very different from how they imagined as girls.
They survive traumas and tragedies. Bethie becomes an adventure-loving wild child up for anything and Jo become a young mother in Connecticut. Neither woman feels they have a life that is authentic and brings the joy, but is it too late for them to finally find their happily ever after?
---
Final thoughts on Jennifer Weiner books in order
Jennifer Weiner has become one of the most beloved and outspoken authors of women's literature, or "chick lit." She is a fierce defender of the genre and her writing helped shine a spotlight on the importance of stories about and for women. The Jennifer Weiner books in order feature complicated, realistic, likeable women navigating life, motherhood, and marriage.
More Women's Fiction Resources