If you're in the mood for a cozy mystery then picking up one of the Ellery Adams books in order will be the perfect, comforting read. Her books will engulf you like a warm hug with their loveable characters and humorous storylines, as well as a compelling, page-turning mystery.
About Ellery Adams
Ellery Adams has written under multiple pseudonyms including J. B. Stanley. In fact, Ellery Adams is a pseudonym itself with the author's real name being Jennifer Stanley. She has also published under Jennifer Stanley too.
Regardless of which moniker adorns the front cover, this guide has compiled everything that Adams has written throughout her career which has spanned more than 15 years now.
Adams grew up on a beach near the Long Island Sound and her love of the water shines through in many of her books. She moved inland in her adult life and that longing for the open water, violent storms, and salty tang of the sea in the air permeates through her books with the setting.
Before she became a bestselling author, Adams worked as a caterer, car salesperson, retail clerk, tutor, teacher, and tech writer. However, despite the multitude and variety of jobs, writing was her one constant. Adams was always writing poems, children's books, or novels.
She now lives in Virginia.
Ellery Adams Books in Order
Supper Club Mystery Books
Our list of the Ellery Adams books in order actually begins with books that were originally published under her J. B. Stanley penname. However, this was her debut publication and the books have since been republished under her Ellery Adams pseudonym as well.
The Supper Club Mystery books follow James Henry, who is also known as Professor Puff thanks to his love of cheese puffs. He is a divorced librarian in the Shenandoah Valley in Virginia who joins a supper club to expand his social circle and perhaps lose some weight. The supper club becomes a sleuthing team when a dead body turns up in their small community.
In each book James and the supper club find themselves investigating a new murder, but it is best to read these books in order. That way you will be able to follow along with James chronologically as he settles into the community without any spoilers.
Antiques & Collectibles Mysteries Books
These next books were also first published until the moniker J. B. Stanley, but have since been republished under the name Ellery Adams. The series follows Molly Appleby who is an antique collector and writer for Collector's Weekly magazine.
As she travels through the south reporting on the world of antiques and collectibles, Molly's sleuthing skills are put to the test when dead bodies turn up and her life is put in danger. Each book follows a new murder investigation, but it is best to read these books in order to appreciate Molly's character and how her job at the magazine leads her to the doorstep of murder time and time again.
Hope Street Church Mystery Books
Meanwhile, the first three books in the Hope Street Church Mystery series were actually first published under Adams's real name, which is Jennifer Stanley. These books have since been rewritten and republished under the name Ellery Adams too. The plot remains the same from the original publication to the second version, but the writing was polished in these three books before the series continued.
The main character in this series is Cooper Lee who, in the first book, joins a bible study group at Hope Street Church after her long-term boyfriend leaves her for another woman. When the woman who invited her to the study group turns up dead, Cooper and the rest of the group begin their own investigation when officials start pointing fingers at the victim's husband.
Once again, if you intend to read all the books in this series, it is highly recommended to read these books in order of publication so as to best understand the character development without stumbling across spoilers.
Books By The Bay Mystery Books
A Killer Plot was the first book to originally have Ellery Adams credited on the front cover. These books take place in Oyster Bay, North Carolina and Adams's longing for the seaside is abundantly clear with this beautiful setting.
Olivia Limoges is a restaurant owner and aspiring novelist who has moved back to her hometown with her beloved dog. She agrees to join the Bayside Book Writers club to make a few new friends and maybe break her writer's block, but then people start turning up dead with clues pointing to the murderer being a writer, so Olivia and her writing group needs to find the killer before one of them becomes the next victim.
A Charmed Pie Shoppe Mystery Books
The next series in the list of Ellery Adams books in order is about an amateur sleuth who has a touch of magic in her baking. When things get difficult, Ella Mae LaFaye turns to baking, so when she catches her husband cheating on her, that's just what she does. She moves back home to Havenwood, Georgia and when the popularity of her pies spreads like wildfire, she opens her own bakery: Charmed Pie Shoppe.
Then a body turns up dead and Ella Mae is a suspect, so she will need all her magic to prove her innocence.
In addition to cozy mysteries and sweet treats, these books also contain a touch of magical realism. So, you will absolutely want to read these Ellery Adams books in order to avoid any spoilers.
Book Retreat Mysteries Books
These next Ellery Adams books in order take place in Western Virginia at a leading literary resort. Jane Steward is the manager of Storyton Hall and to increase bookings she decides to hold a Murder and Mayhem week. But the acting turns to real mayhem when an actual murder takes place and Jane needs to figure out who the killer is before it's too late.
This series is perfect for bibliophiles who love a cozy mystery. For the best reading experience, you should read these Ellery Adams books in order of publication, even though each book contains a new murder mystery.
Secret, Book & Scone Society Books
The final series in the list of Ellery Adams books in order is the Secret, Book & Scone Society series. These books take place in Miracle Springs, North Carolina, which is a renowned spa town. The main character is Nora Pennington, who owns the bookstore Miracle Books.
Nora forms the Secret, Book, and Scone Society following the death of a tourist. The only stipulation to join the group is that members must reveal their deepest, darkest secret. The society meets in Nora's cozy bookstore as they share their stories, untangle corruption, and begin to discover the truth behind the tourist's demise.
Anthologies
Finally, Ellery Adams has contributed to a few anthologies throughout her career, which all include recipes.
A Summary of Ellery Adams Books in Order
Now that you have a general overview of everything Ellery Adams has written, under multiple pseudonyms, we'll take a closer look at her Books by the Bay Mysteries series. These cozy mysteries follow Olivia Limoges as she returns to her hometown of Oyster Bay, North Carolina with her dog Captain Haviland.
Each book contains a new mystery that Olivia must solve. However, there will be minor spoilers in the below summaries for character development.
---
1. A Killer Plot
Olivia Limoges is the subject of constant gossip. Ever since she came back to Oyster Bay, North Carolina — a return as mysterious as the day she left — Olivia has kept to herself, her dog, and her unfinished novel. With a little cajoling from the eminently charming writer Camden Ford, she agrees to join the Bayside Book Writers, break her writer's block, and even make a few friends…
But when townspeople start turning up dead with haiku poems left with the bodies, anyone with a flair for language is suddenly suspect. And it's up to Olivia to catch the killer before she meets her own surprise ending.
---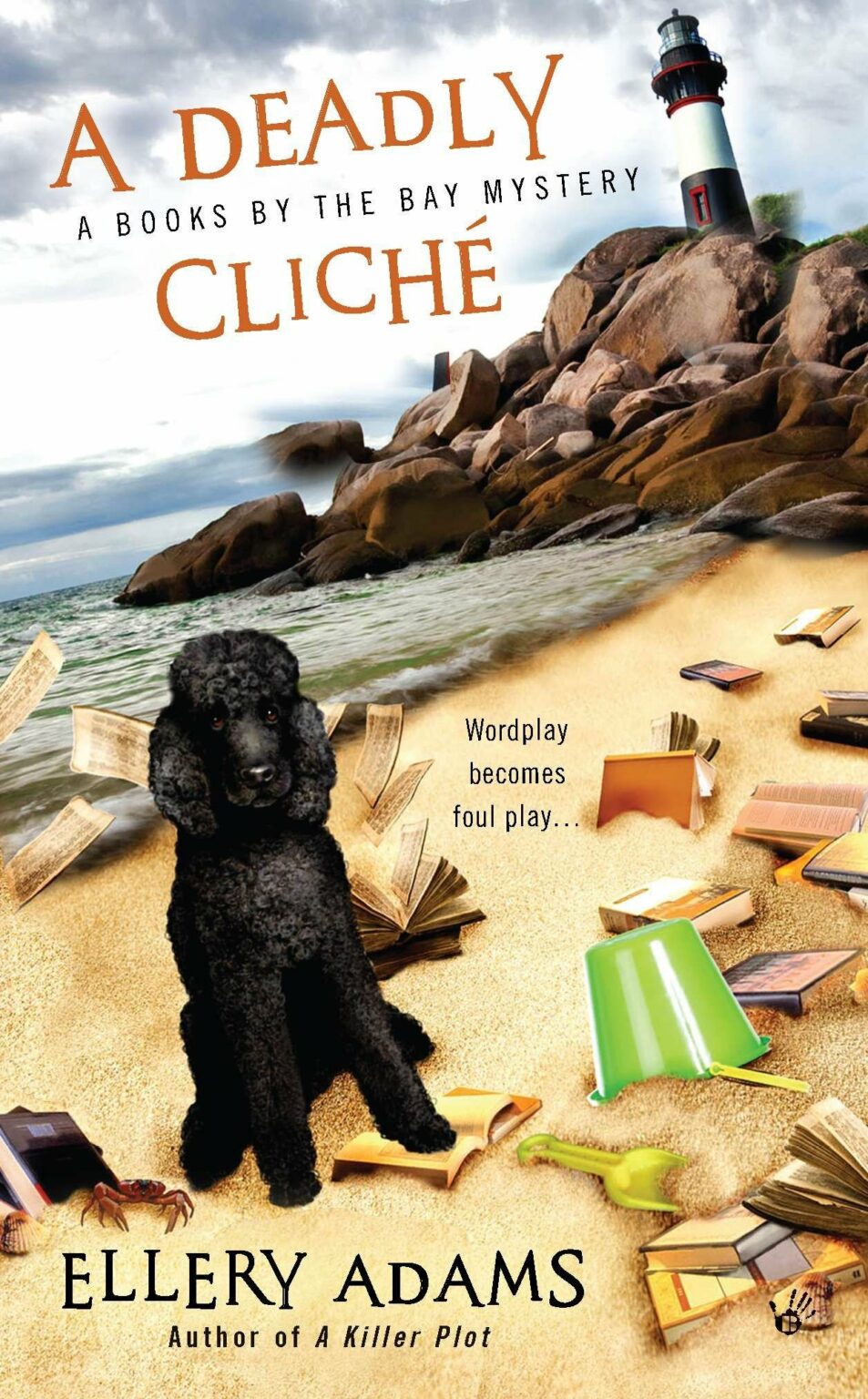 2. A Deadly Cliché
While walking her poodle, Olivia Limoges discovers a dead body buried in the sand. Could it be connected to the bizarre burglaries plaguing Oyster Bay, North Carolina?
At every crime scene, the thieves set up odd tableaus. A stick of butter with a knife through it, dolls with silver spoons in their mouths, then a deck of cards with a missing queen. Olivia realizes each setup represents a cliché. And who better to decode the cliché clues than her Bayside Book Writers group?
---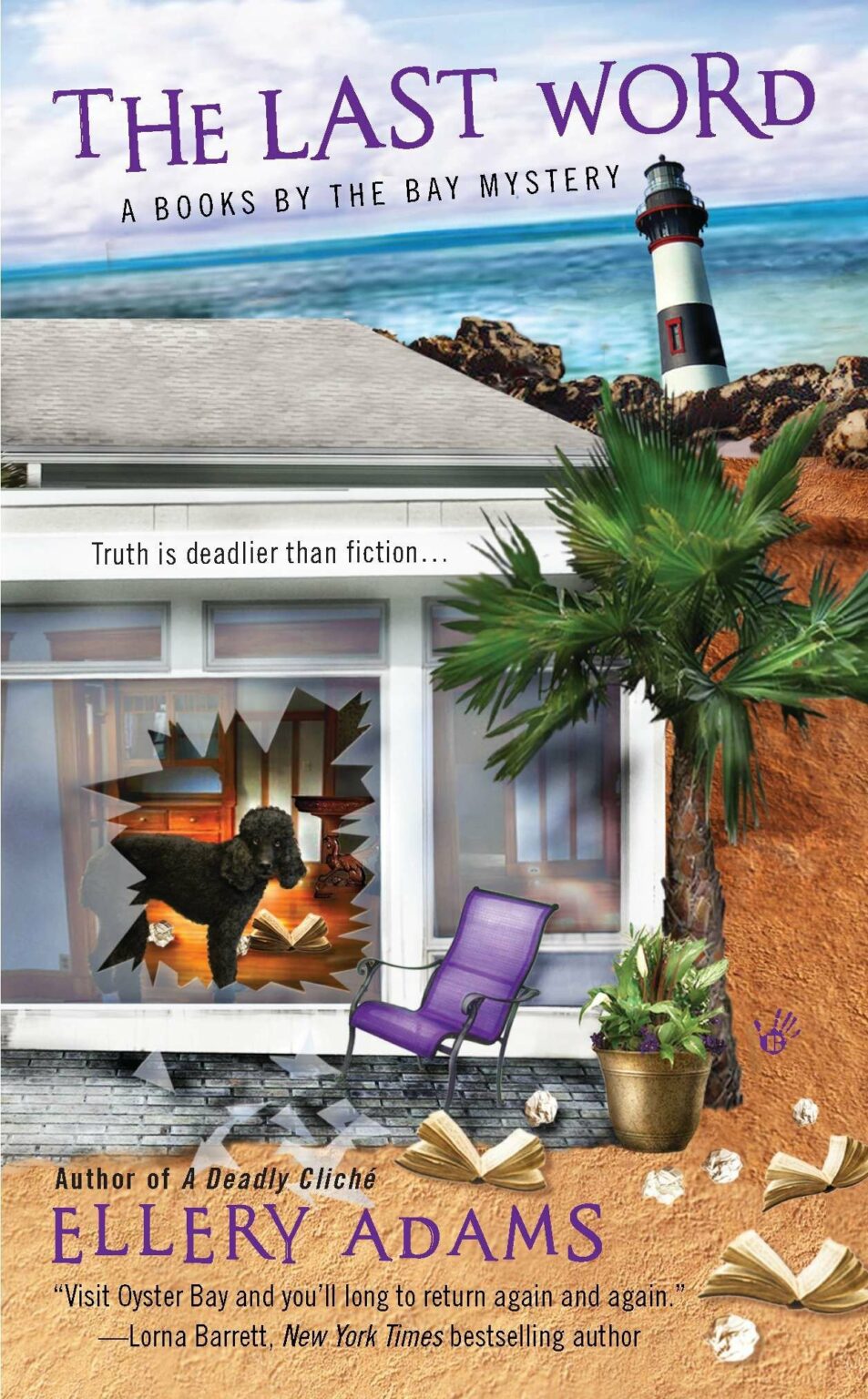 3. The Last Word
Olivia Limoges and the Bayside Book Writers are excited about Oyster Bay's newest resident. Bestselling novelist Nick Plumley has come to work on his next book. But when Olivia stops by Plumley's rental she finds that he's been strangled to death.
Her instincts tell her that something from the past came back to haunt him. But she never expects that the investigation could spell doom for one of her dearest friends…
---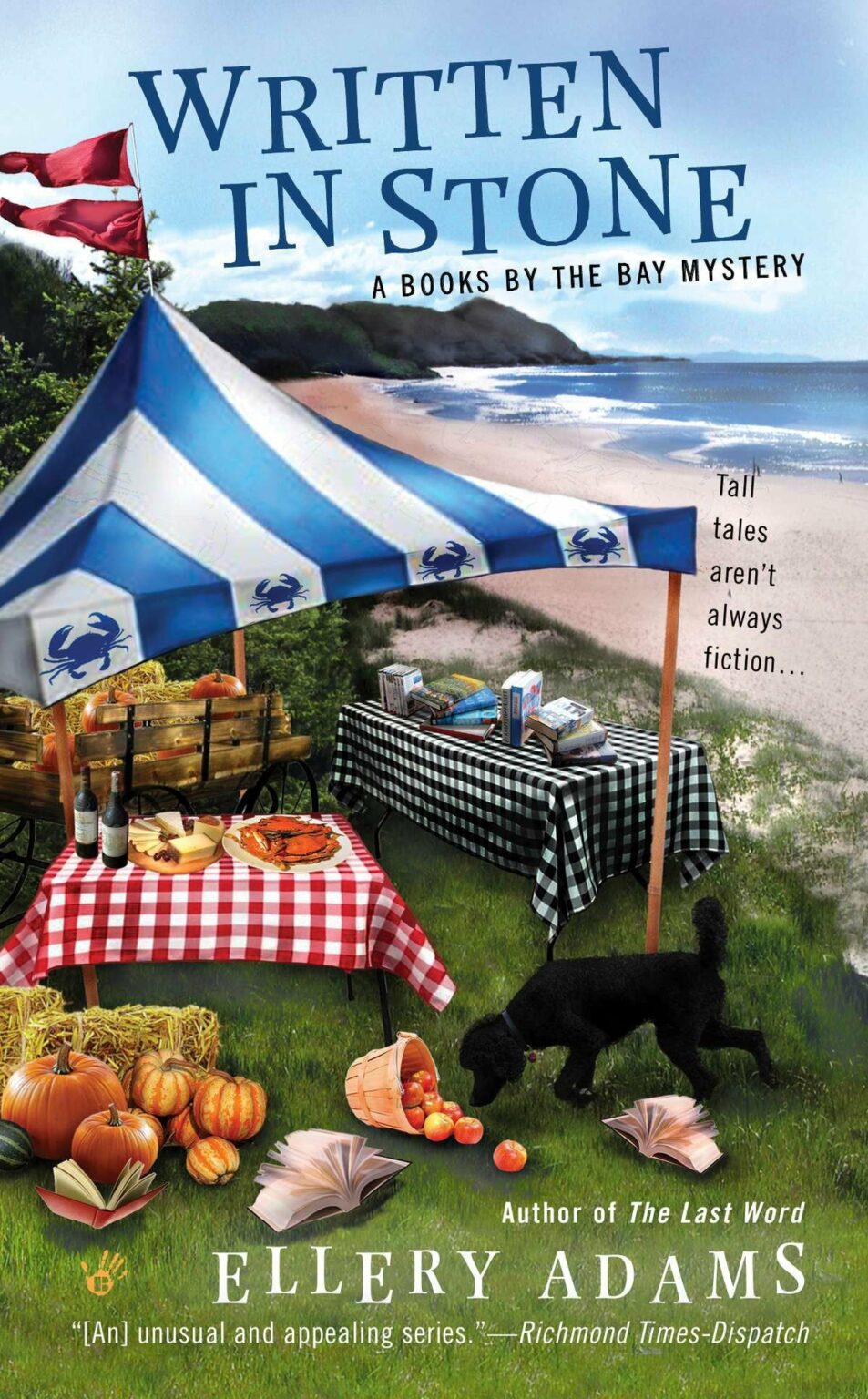 4. Written in Stone
When Munin Cooper, known as the Witch of Oyster Bay, warns Olivia Limoges that death is coming, neither of them realize that it is the older woman herself who will soon be found dead. And Olivia's instincts tell her that something — or someone — more sinister than a mystical force is at play… Olivia has a lot on her plate, but finding the murderer takes priority.
---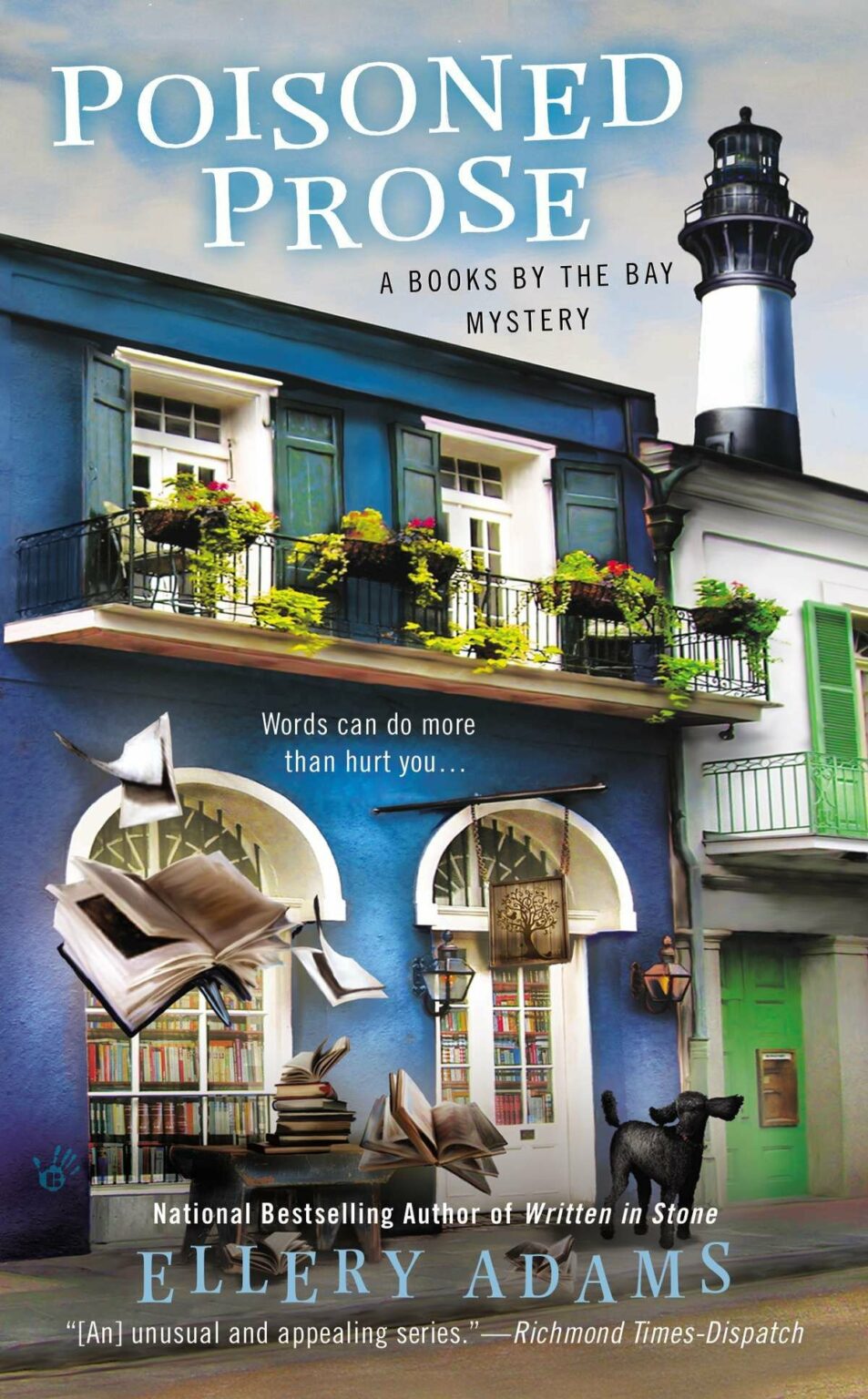 5. Poisoned Prose
Olivia thought gathering some of the most renowned storytellers in one place would be a nice, simple way for herself and the Bayside Book Writers to appreciate their talents. But things take a dark turn when the most famous storyteller in the nation — the captivating performer Violetta Devereaux — announces onstage that she will meet her end in Oyster Bay.
When Violetta is discovered murdered after the show, everyone involved with the retreat becomes a suspect. There are rumors that Violetta, who grew up in extreme poverty in the Appalachian Mountains, possessed an invaluable treasure. Now Chief Rawlings and the Bayside Book Writers must work at a frenzied pace to solve the crime before someone closes the book on them.
---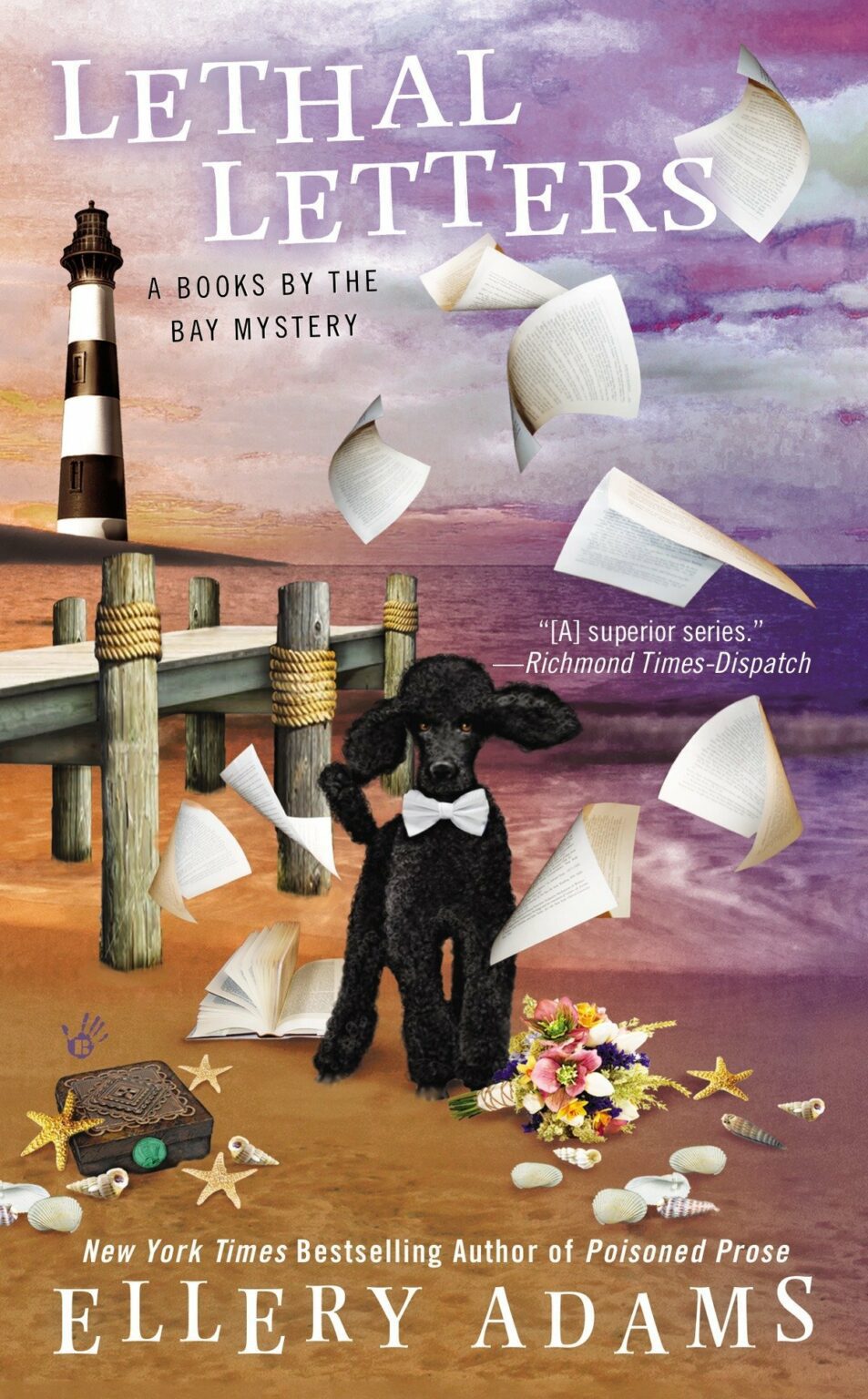 6. Lethal Letters
Everyone's got their hands full in Oyster Bay, North Carolina. Aside from two upcoming weddings, there's also the historical society's annual fund-raiser: The Secret Garden Party and Candlelit Ball.
Adding to the excitement, Olivia witnesses the discovery of a time capsule in the foundation of a local church. The historical society president hopes to display its contents at their party, but when the items are finally revealed to the public, Olivia notices one of them has vanished.
After a frightening find beneath the pier — the body of Ruthie Holcomb — Olivia is certain there's a connection between the young woman's death and the missing piece from the time capsule. With the help of her fellow Bayside Book Writers, Olivia sets out to uncover some clues and ensure a killer has no reason to celebrate…
---
7. Writing All Wrongs
After Olivia and Chief Rawlings enjoy a brief honeymoon on Palmetto Island, they're joined by the rest of the Bayside Book Writers for the Coastal Carolina Crime Festival. The festival's highlight is Silas Black, celebrity screenwriter and television producer, who is currently working on a popular television show in North Carolina.
As the festival gets under way, a trickster seems to be bringing famous local ghost stories to life. But when the body of a woman close to Black is found on the beach, Olivia and her friends must deduce who on the island could resort to murder — before the sands of time run out for someone else…
---
8. Killer Characters
Restaurant owner and aspiring novelist Olivia Limoges is happily enjoying her new marriage. Sadly, the same doesn't hold true for Laurel, a fellow Bayside Book Writer.
While struggling with a demanding job, twin boys, and a terminally ill mother-in-law, Laurel learns that her perfect marriage is mostly fictional. When she catches her husband fooling around with his mother's hospice nurse, she issues impassioned threats that will later come back to haunt her.
After the nurse meets a deadly denouement, Chief Rawlings is forced to take Laurel into custody. While Olivia protests the arrest, the rest of the Bayside Book Writers become a group divided. Rawlings and Harris are on one side and Olivia and Millay on the other.
Now the women must race against the clock to prove that Laurel's not the sort for murder before her story ends in tragedy…
---
Final thoughts
The Ellery Adams books in order are cozy murder mysteries that are perfect for fans of Agatha Christie. Regardless of series, these mysteries by Adams take place in a seemingly quaint town that is disrupted by murder which an amateur sleuth must investigate.
More Cozy Mystery Resources