The Donna Andrews books in order are humorous, cozy mysteries that are the perfect escape from reality. Her Meg Langslow books follow the amateur sleuth as she navigates life and investigates murders. Meanwhile, the Turing Hopper series by Andrews features a whip-smart artificial intelligence investigating crimes as well.
But both series by Andrews offer cozy, light-hearted mysteries that will help pass an afternoon or evening. Andrews has also written a handful of short stories and edited numerous anthologies.
Donna Andrews Books in Order
Meg Langslow Books
The largest part of the Donna Andrews books in order are the Meg Langslow books. These are the humorous mysteries that Andrews cut her teeth on in publishing and also the novels for which she is the most well-known. These books follow the antics of Meg Langslow as she navigates life as a blacksmith with a rambunctious family and a penchant for stumbling across dead bodies.
Each book within this series contains its own standalone mystery, so theoretically you can pick up any book in the series and enjoy the antics and fun. However, the best way to enjoy this series is by reading the books in order of publication.
This will introduce you to the cast of characters in the proper order and set up their history chronologically. This also means you will follow along with the characters as their relationships develop and avoid any potential spoilers.
Turing Hopper Books
The other series that makes up a core component of the Donna Andrews books in order are still cozy mysteries with fun, tongue-in-check titles, but a slightly different edge. That's because the Turing Hopper series has a science fiction slant as the main character, Turing Hopper, is an artificial intelligence personality residing outside Washington, D.C.
Again, while each book contains a new crime to solve, these books are best read in order of publication. This will properly introduce the world that Andrews has created in these books and the cast of the characters.
There is a pause on this series, but Andrews still has interest in continuing these books. However, it will require a change in publisher and the alignment of schedules.
Chesapeake Crimes Books
The Chesapeake Crimes books are anthologies which collect short stories from authors such as Art Taylor, Barb Goffman, Marcia Talley, and many more. Each installment has 15 stories from authors who are intimate with the Chesapeake Bay area either from living or working in the region.
In addition to being the editor for each book, Donna Andrews writes the introduction. She also contributes a few short stories to the series.
Cozy Case Files Mystery Sampler Books
If you are already a big fan of Donna Andrews, then checking out the Cozy Case Files Mystery Sampler books is a great option to find similar authors. These books compile excerpts of, at the time, upcoming publications from Minotaur Books. These samplers will feature other authors like M.C. Beaton, Paige Shelton, Ellen Crosby, as well as many more.
Cozy Case Files Volume 1 (2017)
Cozy Case Files Volume 2 (2017)
Cozy Case Files Volume 3 (2017) *
Cozy Case Files Volume 4 (2018) (Out of Print)
Cozy Case Files Volume 5 (2018) *
Cozy Case Files Volume 6 (2019) *
Cozy Case Files Volume 7 (2019) *
Cozy Case Files Volume 8 (2020)
Cozy Case Files Volume 9 (2020) *
Cozy Case Files Volume 10 (2020) *
Cozy Case Files Volume 11 (2021)
Cozy Case Files Volume 12 (2021) *
Cozy Case Files Volume 13 (2021) *
Cozy Case Files Volume 14 (2022)
Cozy Case Files Volume 15 (2022) *
Cozy Case Files Volume 16 (2022) *
Cozy Case Files Volume 17 (2023)
Cozy Case Files Volume 18 (Expected: May 23, 2023) *
Anthologies
Finally, Donna Andrews has also contributed to a handful of anthologies throughout her career with more short stories.
About Donna Andrews
Donna Andrews was born in Yorktown, Virginia, which is also the hometown of her popular character Meg Langslow. Her debut publication and the first book in the Meg Langslow series takes place in Yorktown, and writing what she knows was a tremendous success for her.
Following its publication in 1999, Murder with Peacocks won an Agatha, Anthony, and Barry Award for best first novel. It also received a Macavity nomination for the same accolade.
The first Turing Hopper book, You've Got Murder, also won an Agatha award for best first novel. Andrews has received numerous Lefty awards for her books, as well as multiple other nominations.
Andrews now lives in Reston, Virginia. When she is not writing her next book, Andrews is splits her free time between being on her computer or out in her garden.
A Summary of Donna Andrews Books in Order
While Andrews has written many short stories and the Turing Hopper series throughout her career, what she is most well known for are the Meg Langslow books. These humorous mysteries will have you laughing out loud at the antics of the amateur detective and her zany family. So, below are the summaries for these first ten Donna Andrews books in order.
---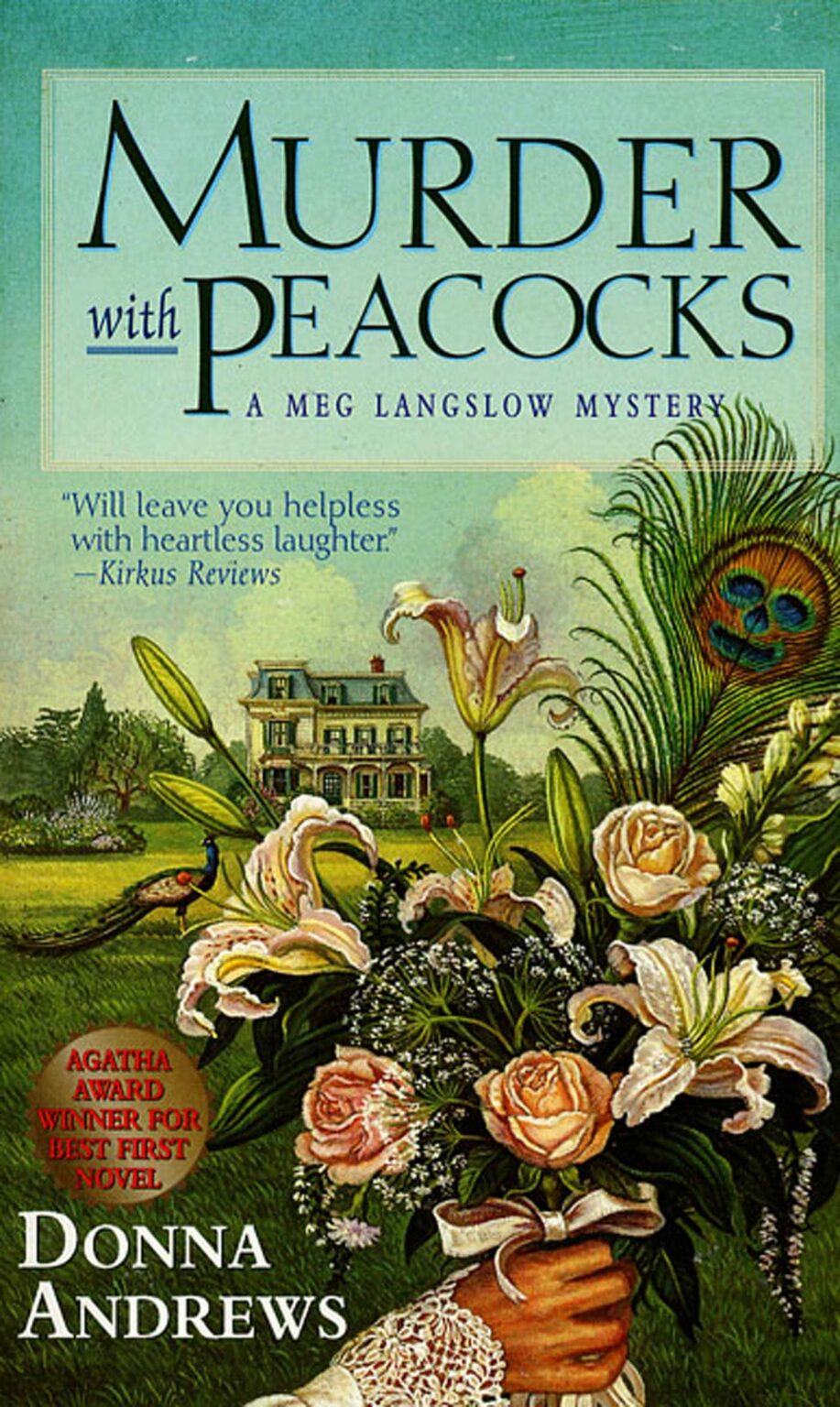 1. Murder with Peacocks
The Meg Langslow series begins with the titular character trying to balance three different weddings: Her mother's, her brother's, and her best friend's. But to complicate the juggling act, she she has been asked to be a bridesmaid in each wedding and Meg is apprehensive to say the least.
She is in charge of wrangling everyone and keeping things in order, which she thinks she can handle, until a body turns up dead. When the former sister-in-law of Meg's soon-to-be stepfather dies, suddenly she has a whole lot more on her plate than dresses for the bridesmaids and romantic attachments.
---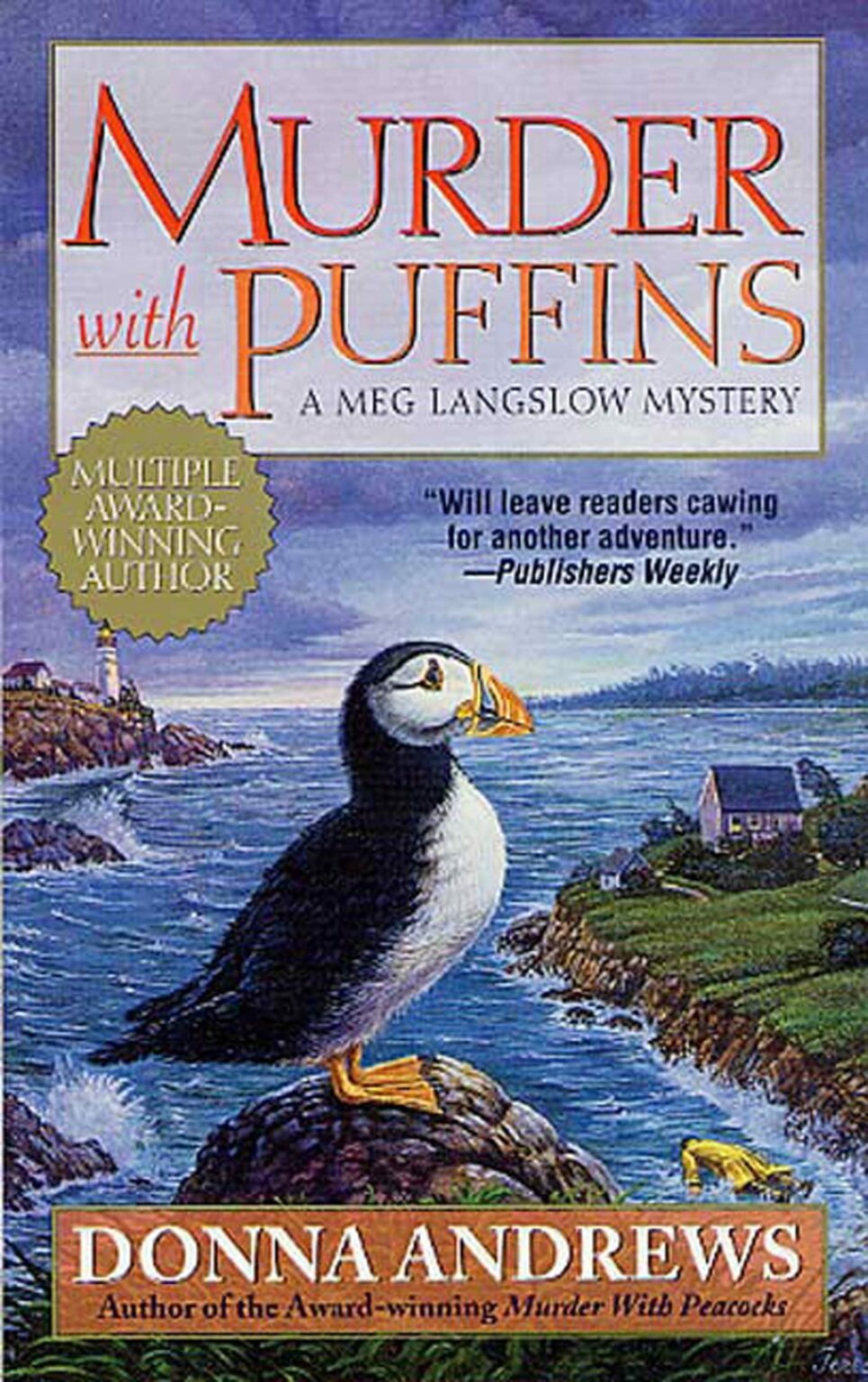 2. Murder with Puffins
Meg and her boyfriend have escaped to a tiny island off the coast of Maine for some time away from her family. But what should have been a romantic getaway quickly becomes a disaster.
First, they are marooned on the island by a hurricane, then they realize Meg's whole family is there too. When a murder takes place Meg's dreams of sitting by a cozy fireplace goes up in smoke. Instead, she must tramp around the muddy island to clear her father's name, who is the prime suspect.
---
3. Revenge of the Wrought Iron Flamingos
As a blacksmith Meg has returned to her hometown to sell her wares during the colonial craft fair to celebrate the anniversary of the British surrender during the Revolutionary War. This year the festivities will even include a re-enactment of the original battle. Meg must also make sure all the other vendors stay historically accurate, while also keeping an eye on her family.
That's because her brother Rob has caught the eye of a con man, and Meg is trying to stop the swindler from stealing the computer game her brother invented. But then the crook is found dead in Meg's own booth with one of her wrought-iron pieces. Now, Meg must also solve the murder.
---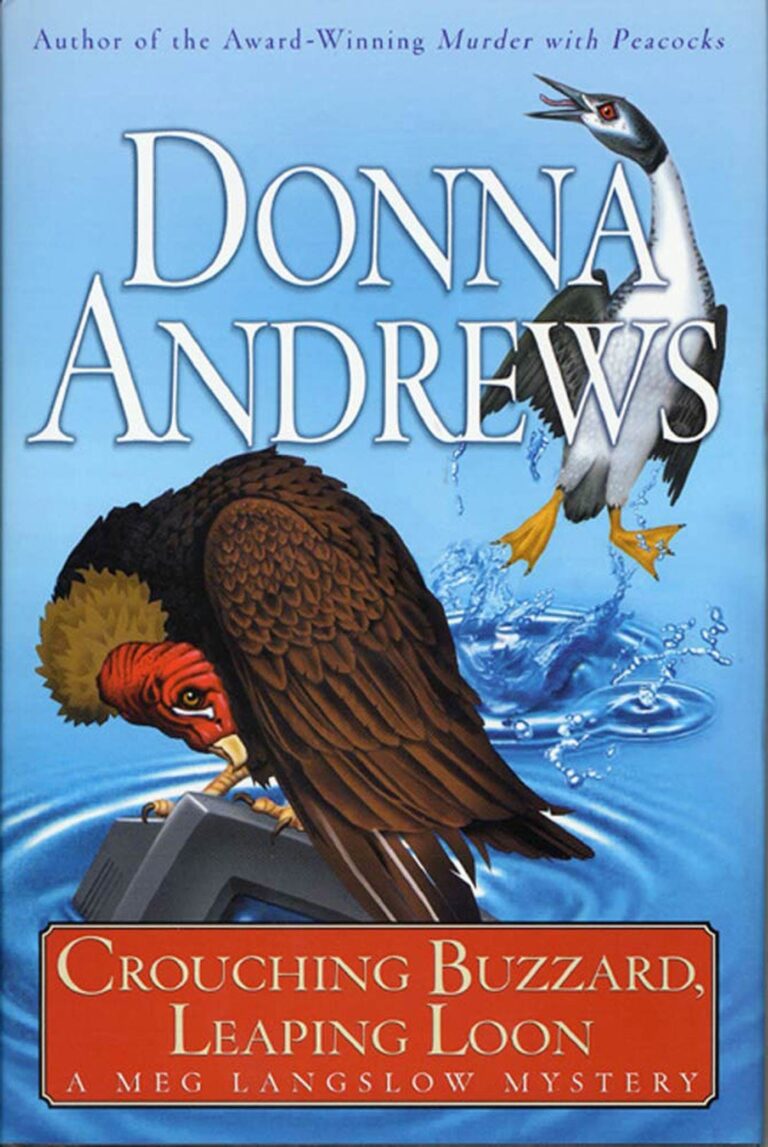 4. Crouching Buzzard, Leaping Loon
Meg's life finally seems to be going well. Her job as a blacksmith is successful, and her boyfriend dotes on her. But her friends and family are still putting up road blocks on her path to contentment.
One such road block is that Meg has been brought in to help at her brother's computer game company. Not only is the environment eccentric with the office pets and neighbors, but then the office practical joker pretends to be dead on the mail cart. Until Meg realizes he isn't joking at all.
---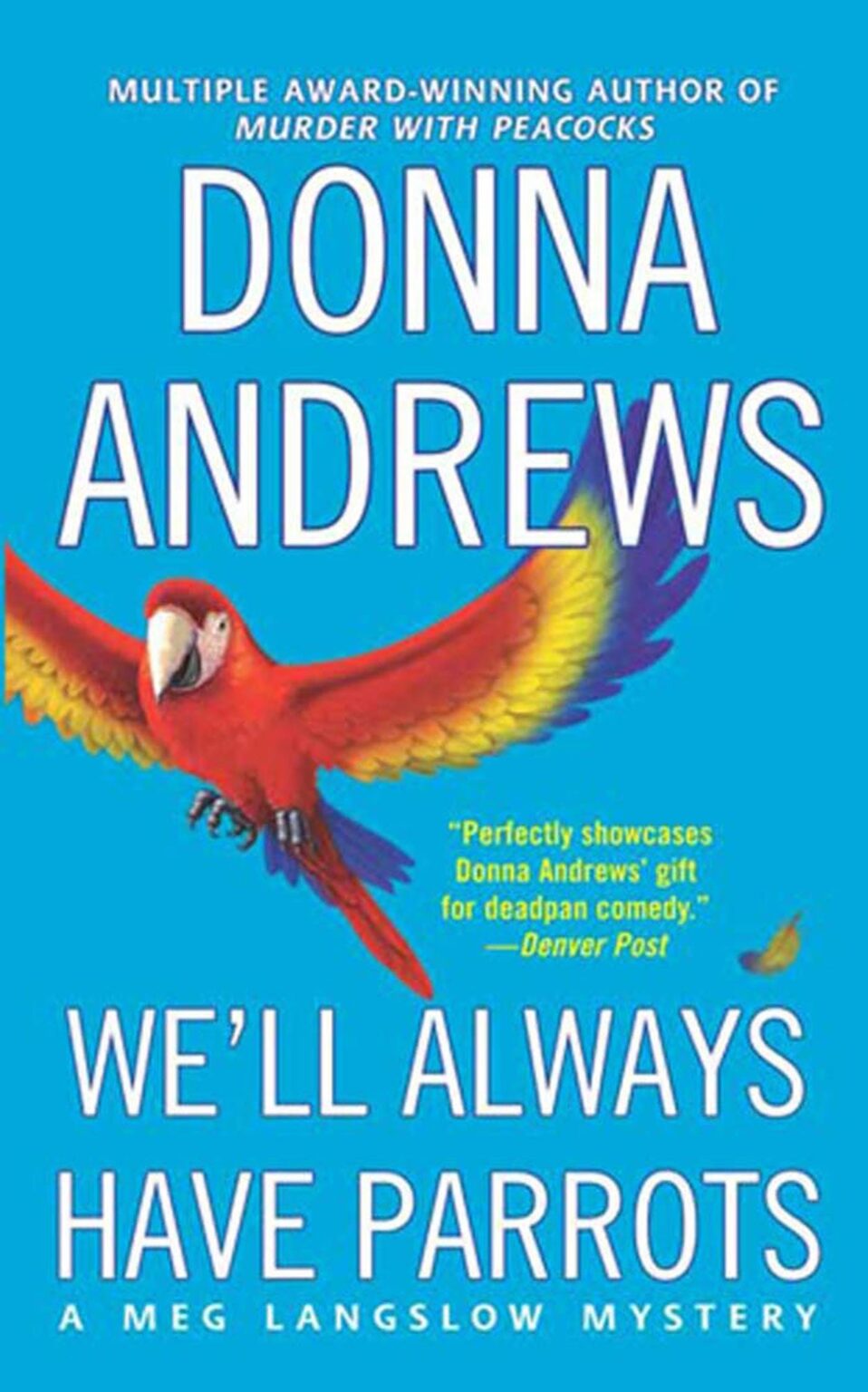 5. We'll Always Have Parrots
Meg and her partner Michael are travelling to a fan convention for the cheesy cult TV show Porfiria, Queen of the Jungle. That's because Michael has a minor role on the show and is hoping he'll have the opportunity to talk to the star and executive producer, Miss Wynncliffe-Jones, about not enforcing a provision in his contract.
But Michael isn't the only one the leading lady has manipulated. So, when she turns up dead, the police have plenty of suspects. Except Meg doesn't think they are on the right track, so she set out to find the murderer herself through a hotel filled with actors, fans, and a jungle of escaped animals.
---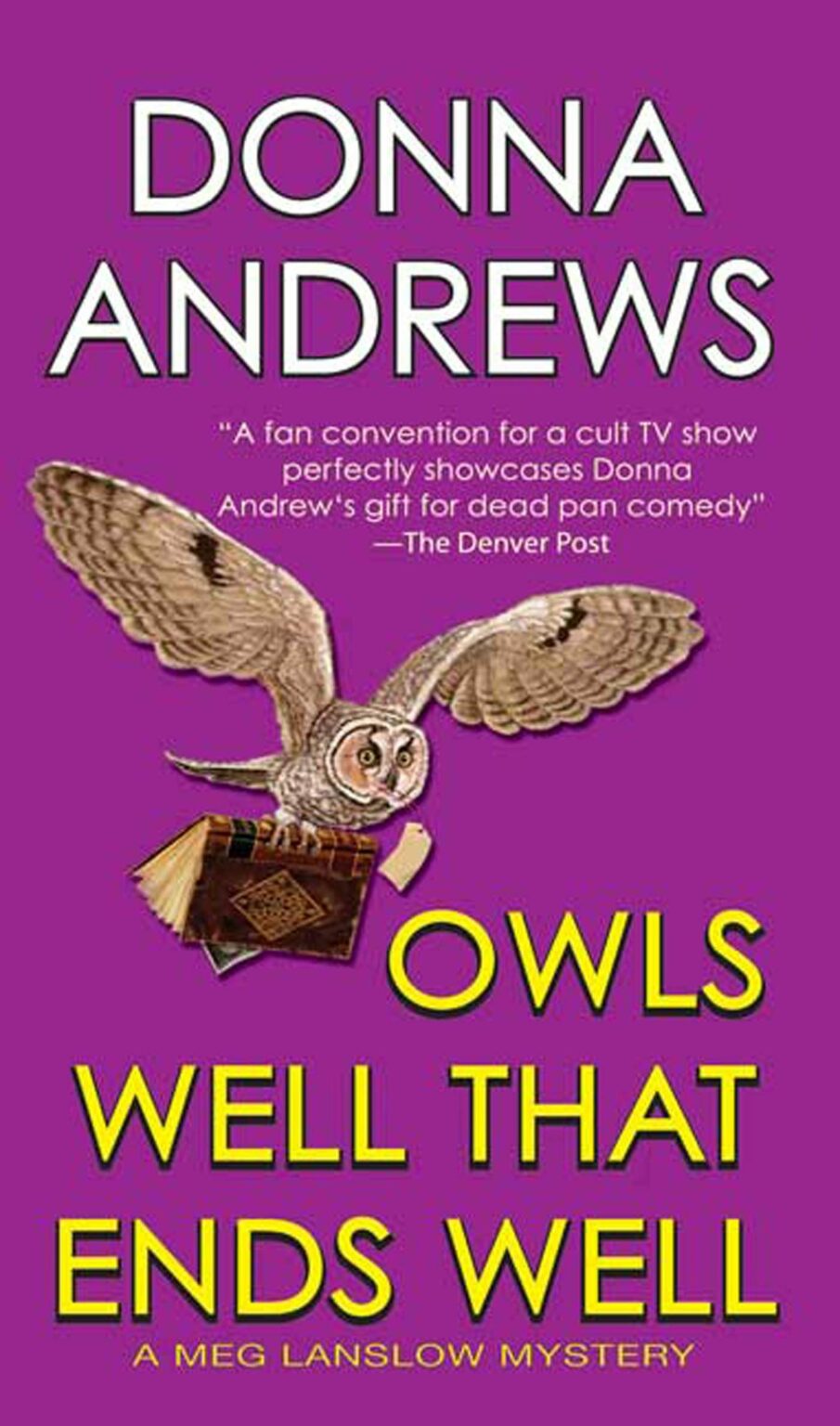 6. Owls Well That Ends Well
Meg and her partner Michael have just bought a house from a serious hoarder, so they decide to have a yard sale to sell the unwanted items. Meg's family is waiting in the wings to help, except they're bringing their own junk to add to the sale. But things take a turn when Meg discovers the body of a local antique dealer in an old trunk.
So, the police descend on the yard sale to find the murderer. Then, the professor who holds the key to Michael earning tenure becomes a suspect. So, Meg decides that it's up to her to prove his innocence and find the killer herself.
---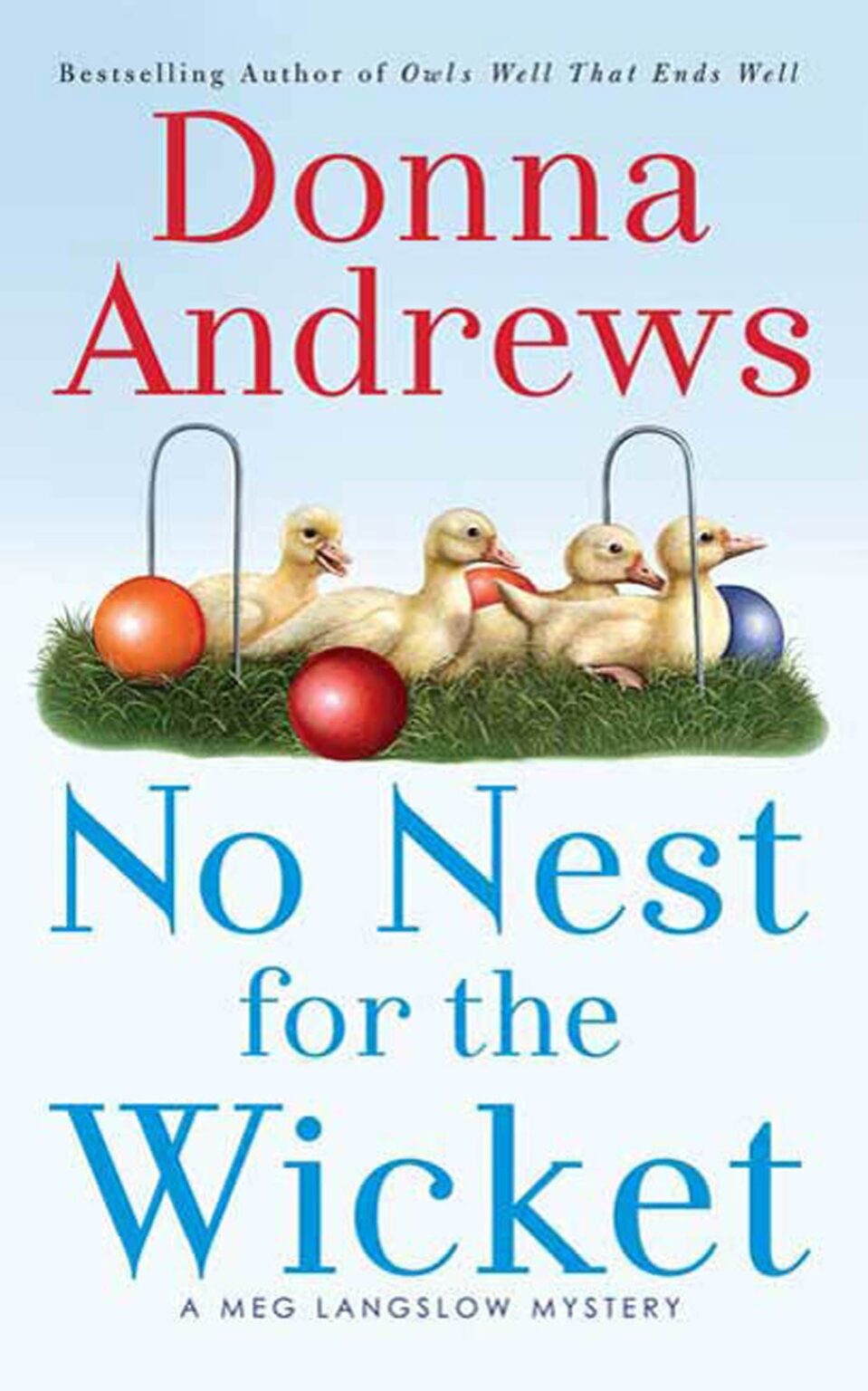 7. No Nest for the Wicket
Meg and Michael's new home has the perfect parcel of land for an intense croquet field, which has become all the rage in Caerphilly. But one person seems to have taken the rage too seriously. While Meg is chasing down a ball, she stumbles across a fresh corpse with a mallet-sized dent in her head.
Furthermore, it turns out that Michael even knew the woman years ago. So, Meg picks up her hat as an amateur sleuth once again to track down the killer. She soon finds herself in the perfect position to solve the murder, or become the next victim.
---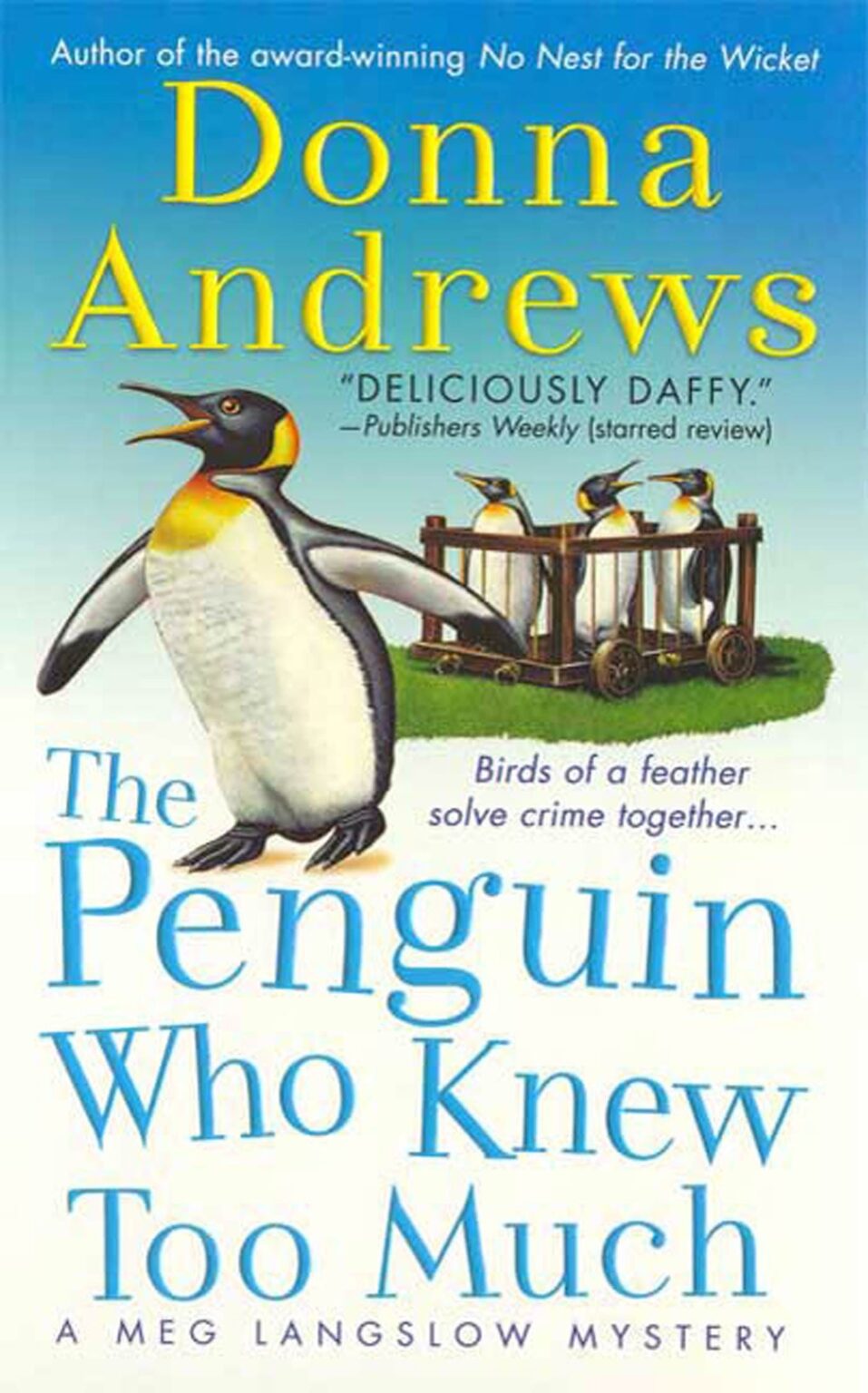 8. The Penguin Who Knew Too Much
Meg's father has agreed to take care of some borrowed penguins and while digging a hole to make them a pond, he unearths a body. Rumours quickly begin to spread that the corpse might be of the owner of the local zoo which is normally the penguins' home. So, anxious volunteers begin dropping off all sorts of animals for Meg's dad to foster: Llamas, sloths, and hyenas.
In an attempt to stop a new zoo from developing in her back yard, Meg knows she'll need to take things into her own hands to solve the crime. It would be an unnerving prospect at any time, but especially now, when Meg and Michael were hoping to escape their families and elope.
---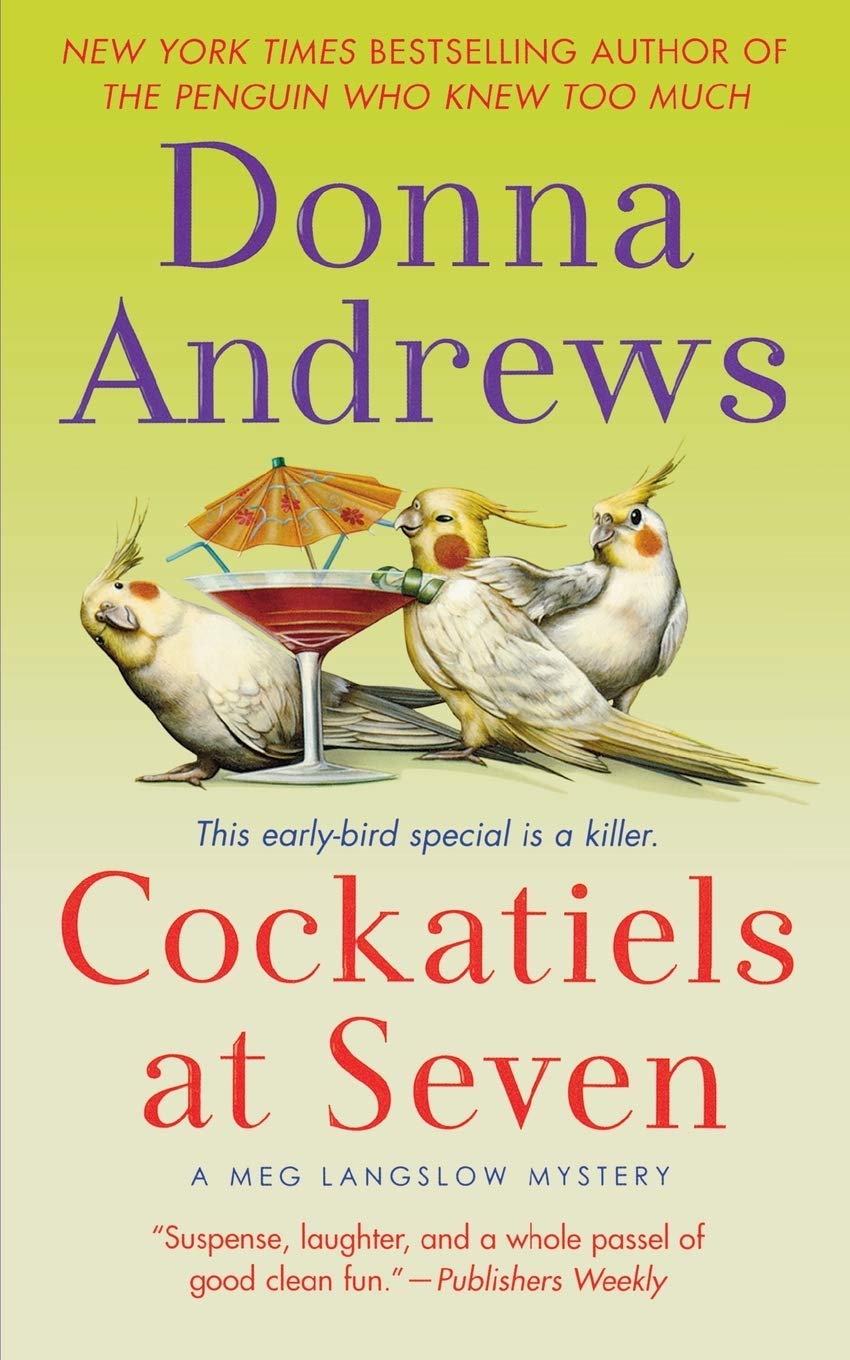 9. Cockatiels At Seven
After Meg's old friend Karen stops by for a visit with her two-year-old son Timmy, Meg agrees to babysit Timmy, but just for a little bit. Except then Meg finds herself investigating Karen's disappearance with the young boy by her side.
Meg has no clue what happened to Karen, or even what side of the law she is on. She also doesn't know if any member of her family is reliable enough to watch little Timmy, who might be of interest to some very dangerous people.
---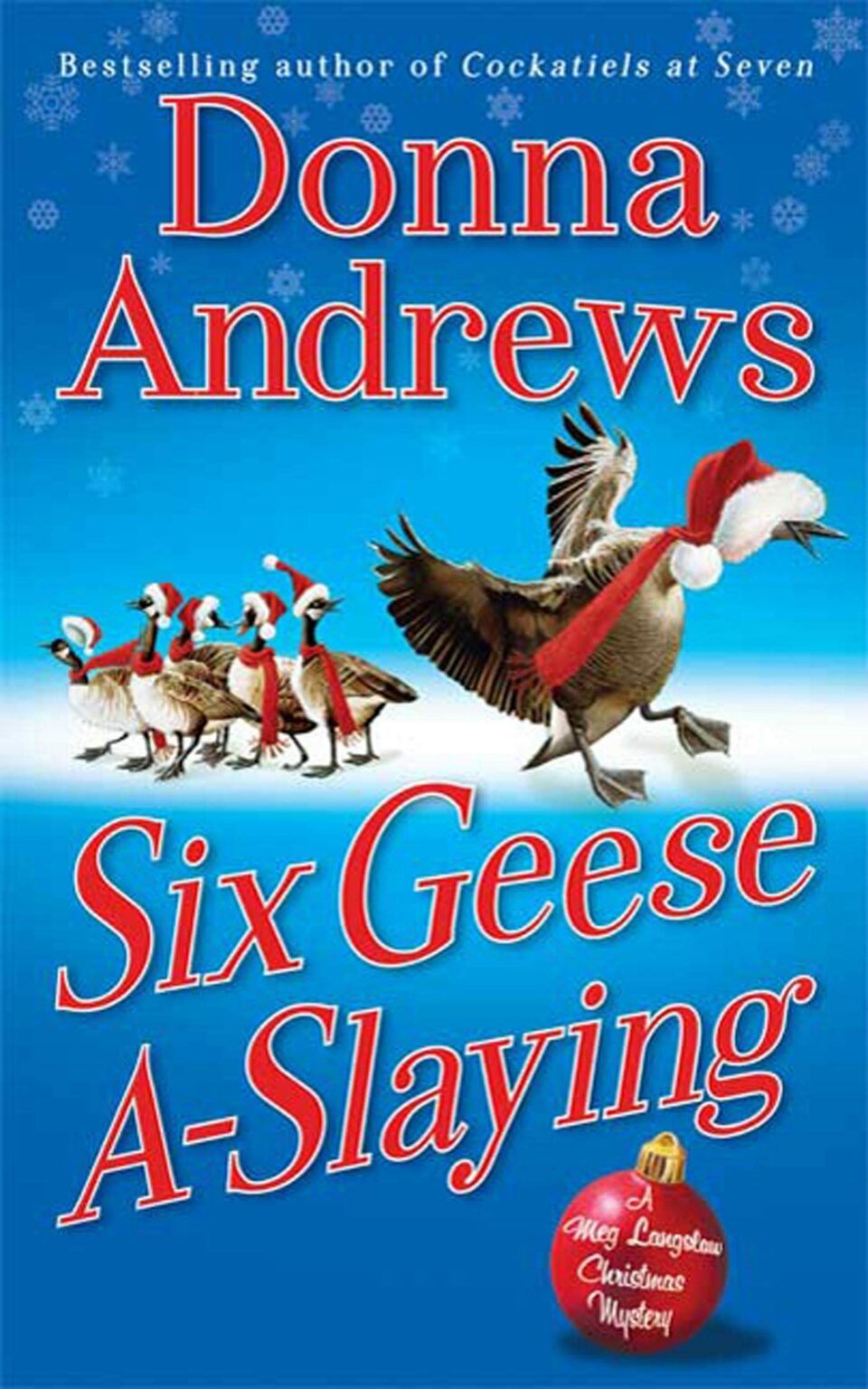 10. Six Geese A-Slaying
The annual Caerphilly Christmas parade is taking place and Meg and Michael's house is the marshaling point. Meg is also in charge of organizing the parade. In addition to the natural headaches of holiday stress, things become more difficult when Meg's nephew tell her something is wrong with Santa.
It turns out the local curmudgeon playing the role has been murdered. Now, the police chief, playing one of the wise men, and Meg must race to solve the murder and save Christmas.
---
Final thoughts
Reading the Donna Andrews books in order will be entertaining and fun reads. Her books are light-hearted mysteries laced with humour and wit that will have you laughing out loud from the antics of the characters. The majority of her works are the Meg Langslow books, so make sure you are up-to-date with every book in the series.
More Humorous Mystery Resources