If you once daydreamed about discovering ancient artifacts and had an obsessive phase about Egypt, then you will likely thoroughly enjoy reading the Amelia Peabody books in order. This historical mystery series by Elizabeth Peters is perfect for fans of The Mummy or Indiana Jones.
It takes place between England and Egypt during the Victorian Era as the amateur sleuth unravels curses, mysteries, and the darker side of humanity to solve murders.
About Elizabeth Peters
Not only was Elizabeth Peters the author of many books featuring Egypt and archaeology, but she was also an academic expert as well. Peters received her PhD in Egyptology from the University of Chicago at the age of 23.
However, it was immediately following the Second World War, and there weren't many opportunities for her within the field of archaeology after graduation. The expectations of a woman in her position were to marry and raise a family. Which she did for a time, before she decided to try her hand at writing.
Elizabeth Peters was a pseudonym she used along with Barbara Michaels when she decided to pursue writing. Elizabeth Peters is the combination of the names of her children. If you would like to learn more about everything she wrote during her lifetime, you can read our article about her entire bibliography here.
Peters wrote for more than 50 years before her death in 2013. Before that she won numerous awards, including the first Amelia Peabody Award, created in her honor and named for her most popular character.
Peters was also awarded the Grandmaster Lifetime Achievement Award from the Mystery Writers of America in 1998.
Before her death, Peters was working on the 20th Amelia Peabody book: The Painted Queen. The partially completed manuscript was finished by her friend and colleague Joan Hess and published posthumously.
#1 – Amelia Peabody Books in Publication Order
There are two ways to read the series for which Elizabeth Peters is most well-known. The first way to read the Amelia Peabody books is by following the publication order. This is the recommended reading order if you are new to the series, as this way you won't come across any potential spoilers.
Each Amelia Peabody book contains a new, standalone mystery. However, there are references to earlier events in later books and there is character development that occurs throughout the series. So, if you hope or plan to read the whole series, the Amelia Peabody books should be read in order.
The series begins after Amelia inherits a fortune from her father. This allows her to pursue her passion and travel to Egypt. Most of the books in the series are written as if Amelia is journaling her adventures.
#2 – Amelia Peabody Books in Chronological Order
The second way to read the Amelia Peabody books in order is only recommended if you've already read this series before. Perhaps you are looking for a new way to experience these books in a reread, or are looking to understand the timeline of the series better.
The chronological timeline does differ from the publication order for a few books.
Notably, the last book published in the series takes place several books earlier. This book, The Painted Queen, is also the book Peters was writing at the time of her death. The manuscript was partially completed by Peters, then finished by Joan Hess.
A Summary of Amelia Peabody Books in Order
Below you will find summaries for the first ten Amelia Peabody books in order. This is the best introduction to the series as it will follow the chronological order of the books. This way you won't stumble across any spoilers and you will follow along as Amelia's life and family grows.
However, if you have never read these books before, there will be minor spoilers in the summaries below for Amelia's relationships and family.
---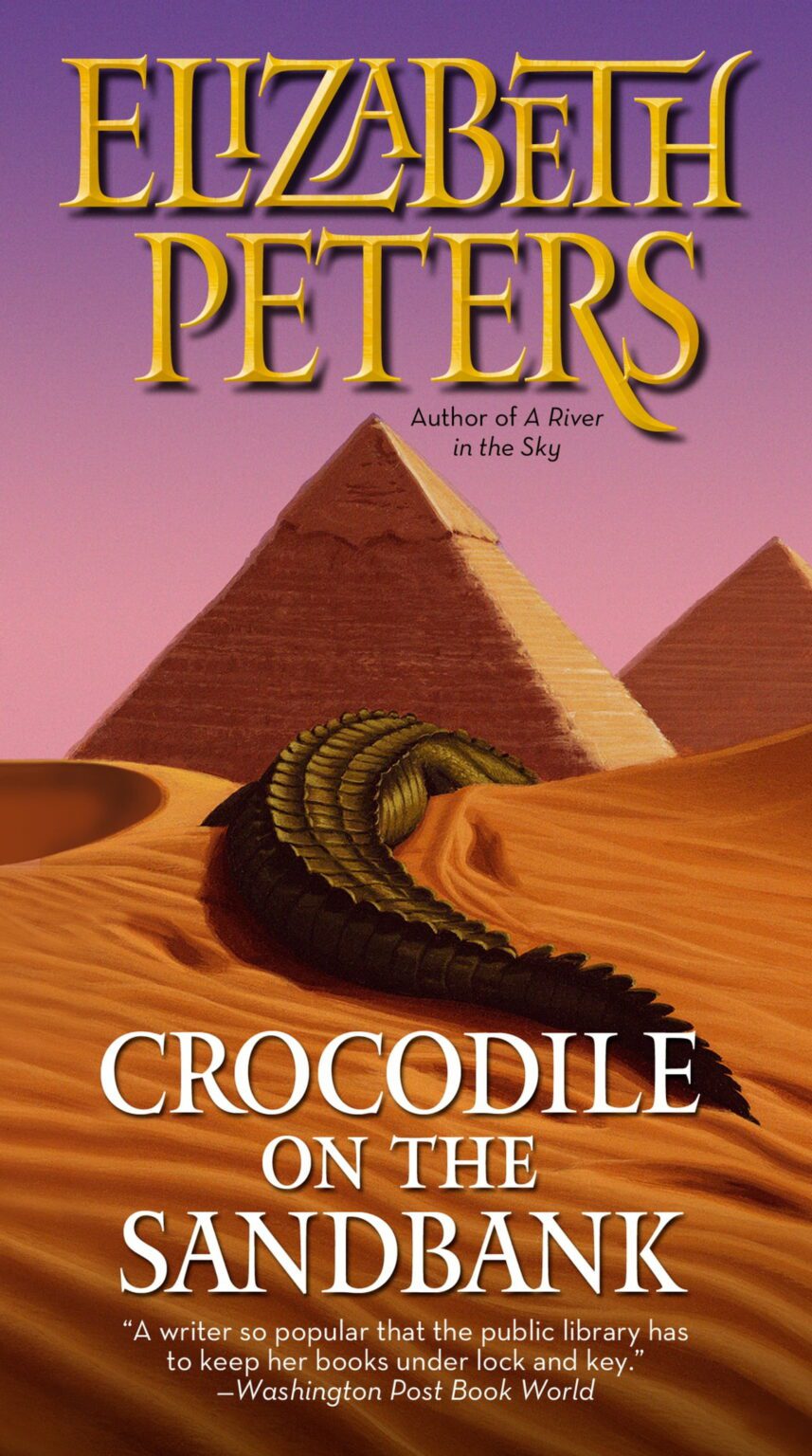 1. Crocodile on the Sandbank
Amelia Peabody embarks on her first adventure to Egypt with her journal, a sturdy umbrella, and her steadfast self-confidence. Before she makes it to Cairo, however, Amelia ends up rescuing Evelyn Barton-Forbes, who has been abandoned by her scoundrel lover.
The two women sail up the Nile together to finally reach the archeological site that the Emerson brothers are running: One is the dashing Radcliffe, and the other the amiable Walter. Then suspicious events convince Amelia that someone is out to hurt Evelyn, threatening to make her first trip to Egypt also her last.
---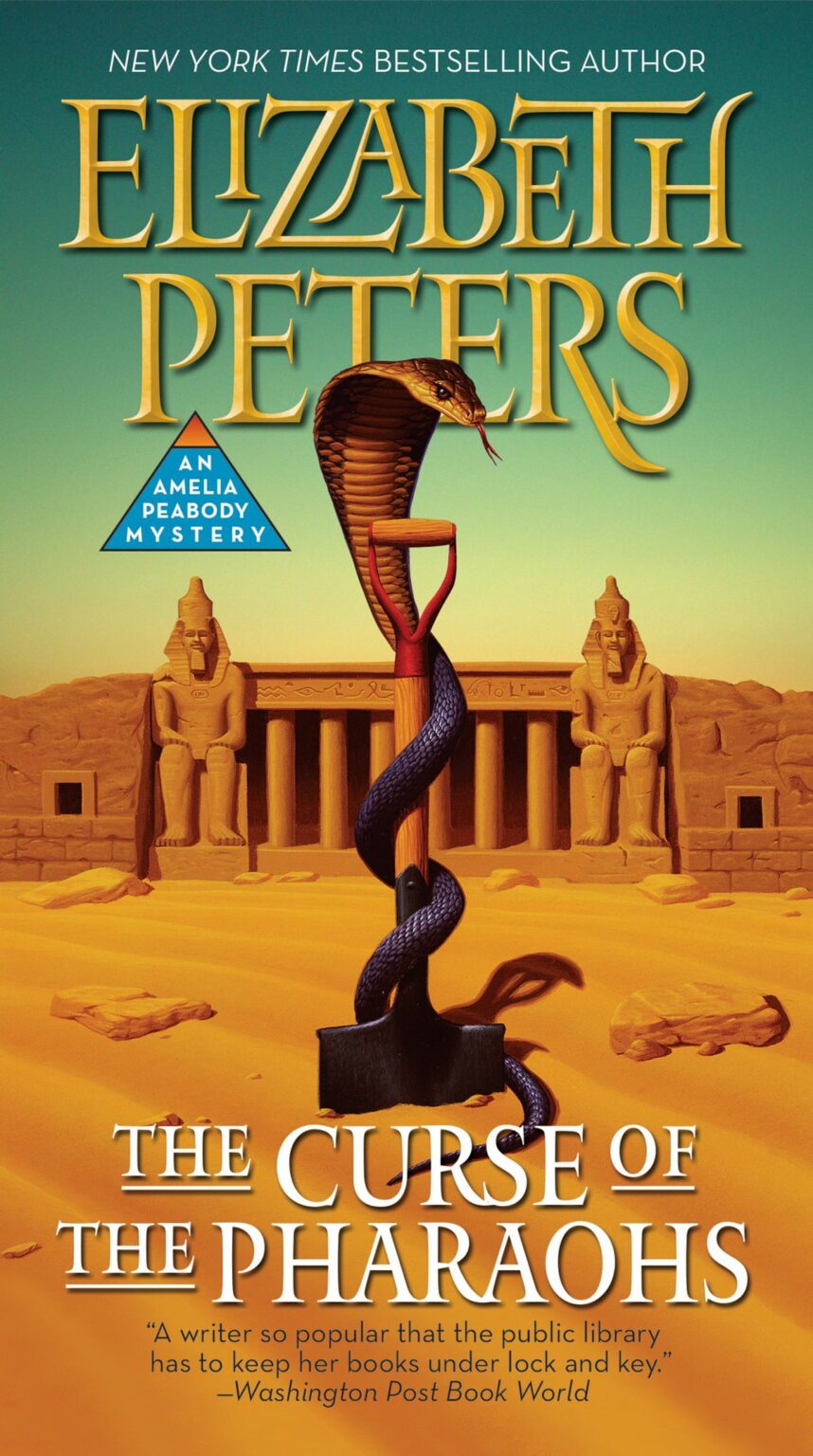 2. The Curse of the Pharaohs
Following her first adventure in Egypt, Amelia is back in England with her now-husband Radcliffe Emerson and their young son Ramses. Life seems to be normal, but then a damsel in distress contacts them looking for help.
Lady Baskerville's husband, Sir Henry, has died after discovering a potential royal tomb in Luxor. There are rumors of a curse haunting the dig, but despite this Amelia and Radcliffe embark to Egypt once more. They quickly realize that Sir Henry did not die a natural death.
There are numerous accidents taking place around the dig and the rumors about a curse are running rampant. Amelia is sure that the accidents are not supernatural and are the actions of a sinister human, but she needs to find out who.
---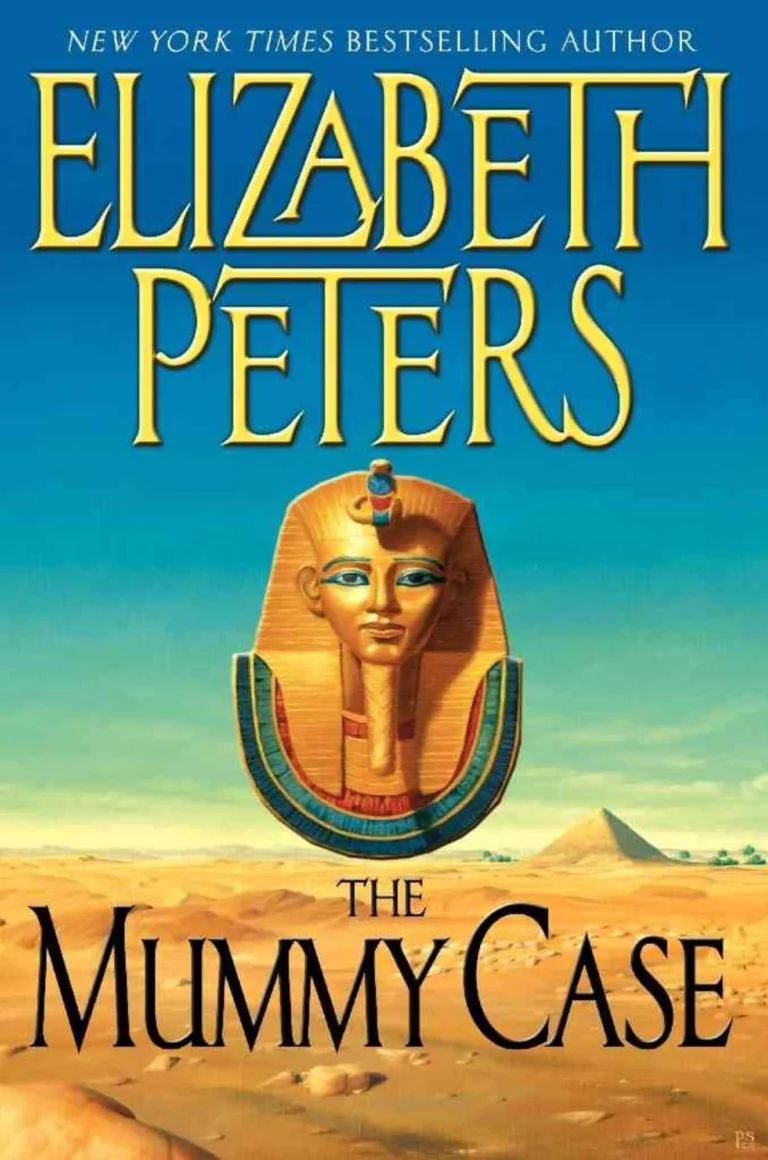 3. The Mummy Case
Amelia Peabody's husband and fellow archaeologist, the irascible Radcliffe Emerson, has the nickname "Father of Curses" and at their latest dig in Mazghunah, he demonstrates why. They did not get permission to dig at the pyramids of Dahshoor, so Amelia and Radcliffe are excavating mounds of rubble in the middle of nowhere.
At first there doesn't seem to be anything of interest in this area, but then an antiquities dealer is murdered in his store. Then there is a second sighting of a mysterious stranger from the crime scene, a strange piece of papyrus, and a missing mummy case. All of it has Amelia's curiosity piqued.
However, once the Emersons start looking for answers in an ancient tomb, things become dark and deadly, putting their survival into question.
---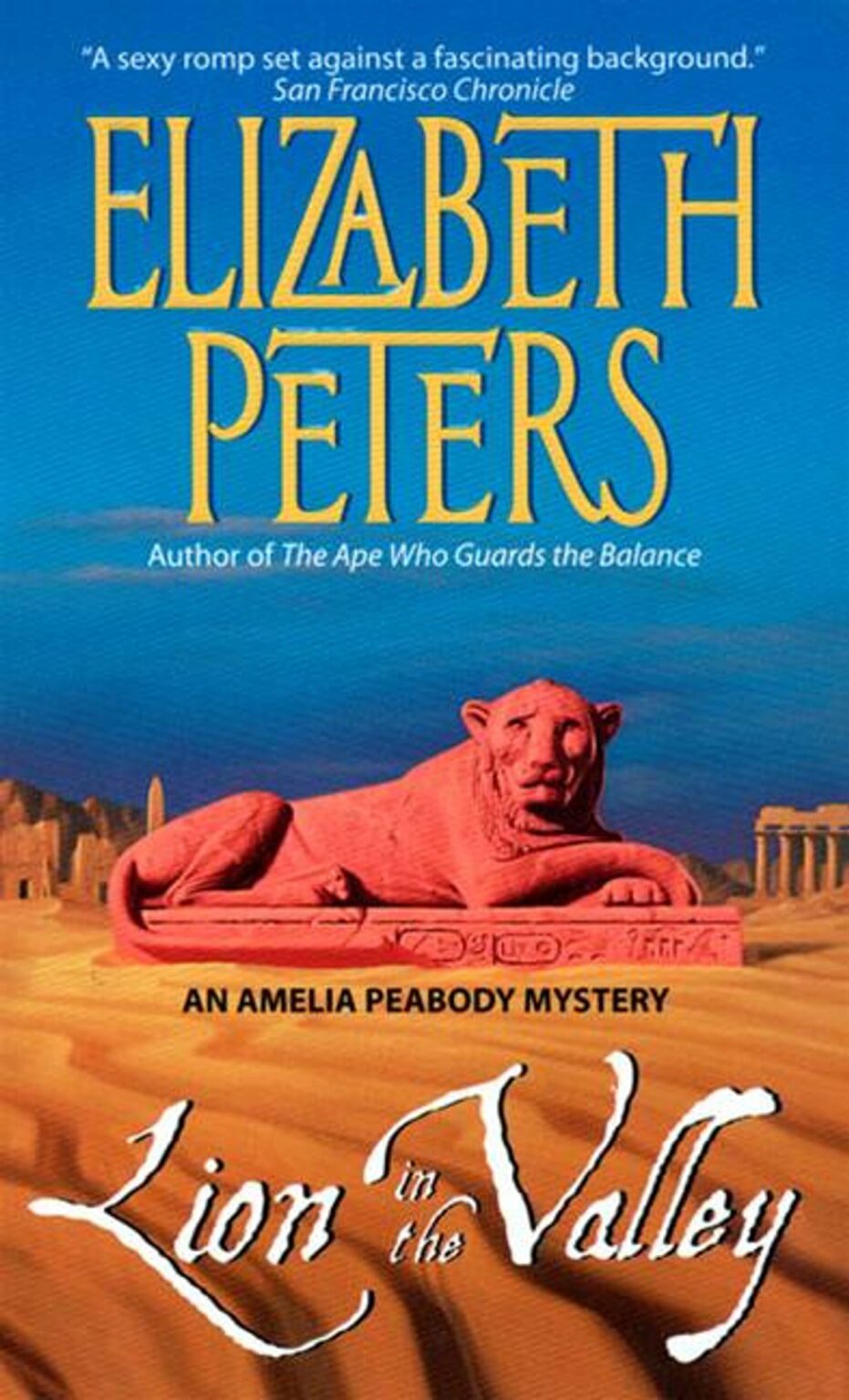 4. Lion in the Valley
The burial chamber of the Black Pyramid in Dahshoor is much-coveted and Amelia, Emerson, and their eight-year-old son finally have their opportunity to dig there. But there is a great evil that is lurking in the streets of Cairo.
There is a brazen moonlight abduction of Ramses, their son, and an expedition cursed by misfortune and death that has alerted Amelia to the likelihood her archnemesis Master Criminal is lurking in the shadows.
But this time the notorious criminal is after the most elusive prize of all: Amelia Peabody.
---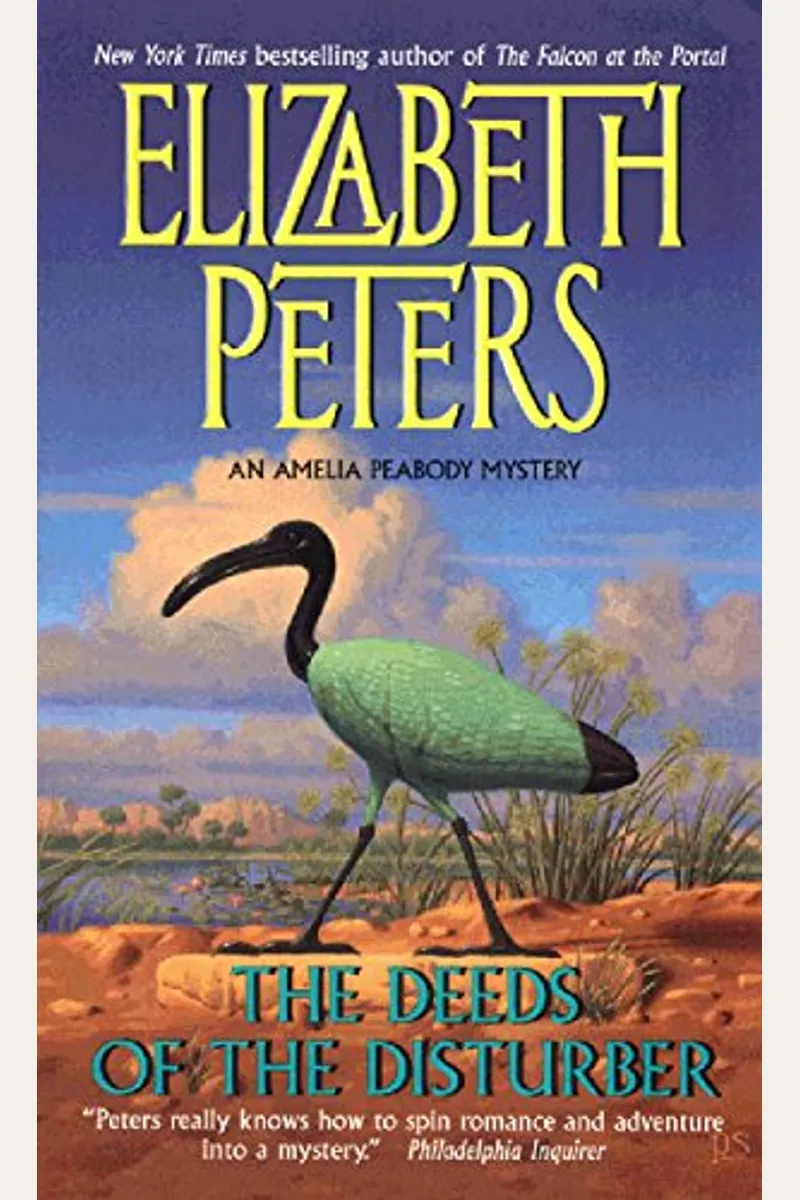 5. The Deeds of the Disturber
There are some people who believe that fear can kill, but Amelia isn't so sure. She is a respected Egyptologist and an amateur sleuth who has foiled dastardly deeds from Victoria's England to the Middle East. It is her professional opinion that the murderer in the death of a night watchman in the British Museum is something more human than a mummy's curse.
The body was found in the mummy's shadow with a look of terror on the guard's face. The mystery is too much for Amelia to pass up since her and her family are back in Britain. But the evil that lurks within modernity and the soul of man can be just as lethal as a centuries-old curse, especially when the perpetrator has set his sights on Amelia.
---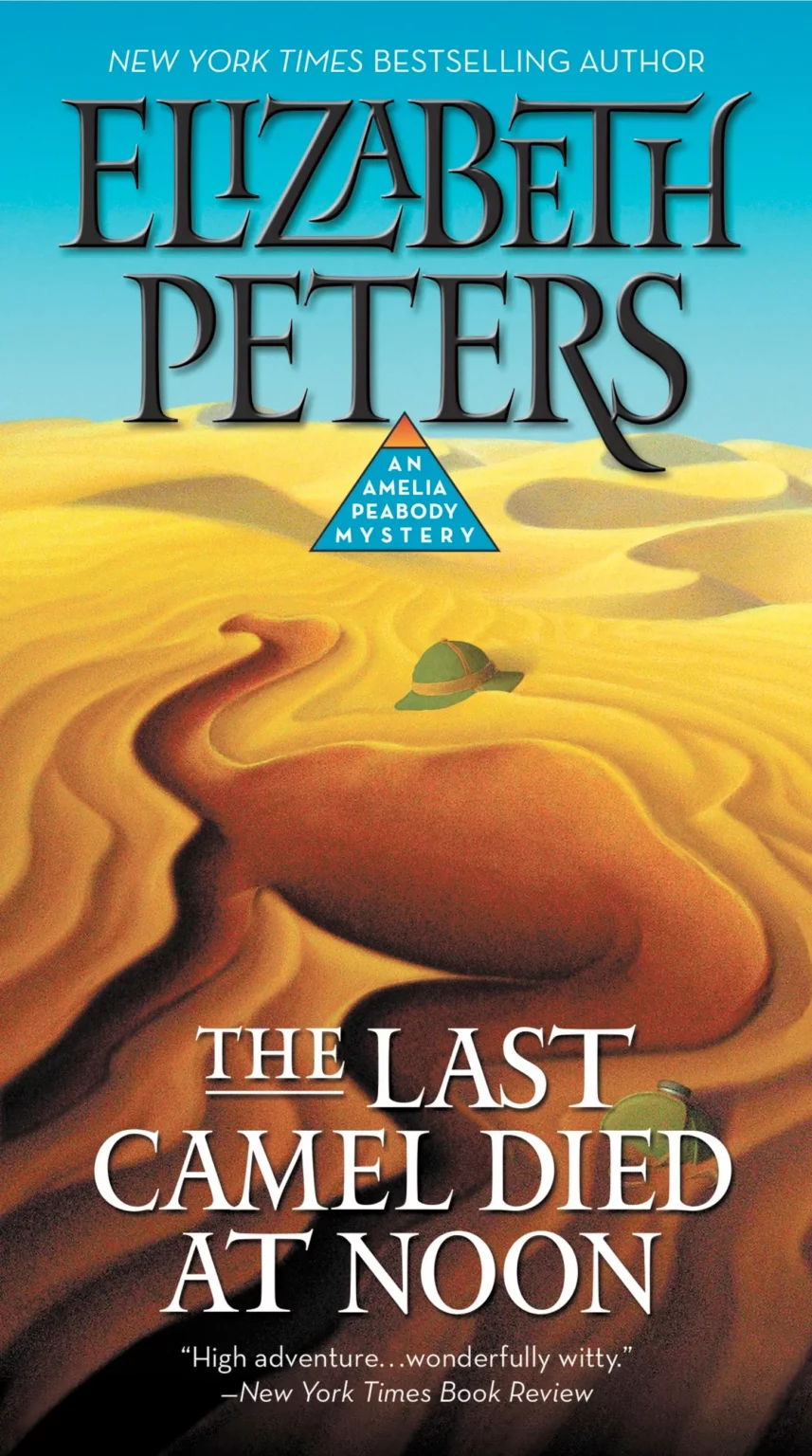 6. The Last Camel Died at Noon
The last camel is gone, which leaves Amelia, Emerson, and Ramses alone under the desert sun in the winter of 1897. They have a mysterious note and a map to aid them on their quest to find a lost English aristocrat and his wife, who disappeared more than a decade ago.
The survival of Amelia, Emerson, and Ramses will depend on solving a mystery as old as Ancient Egypt, and along the way they will meet a young girl Nefret, who will change their lives.
---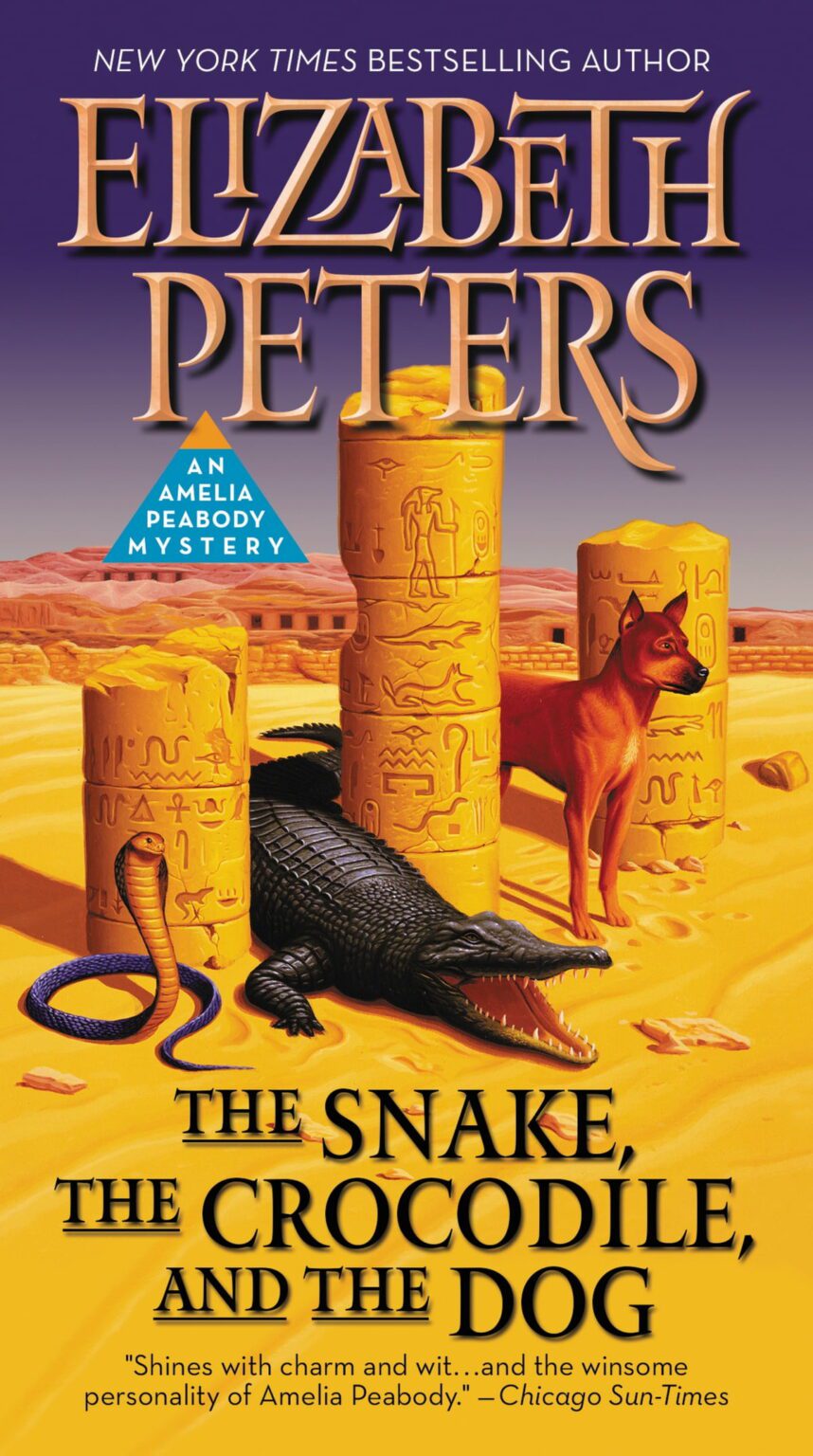 7. The Snake, the Crocodile and the Dog
Amelia and Emerson have been married for thirteen years now, and the pair have embarked on a new adventure, just the two of them, reminiscent of how and when they first met. They've returned to Amarna, the holy city of Akhenaton and his beautiful queen, Nefertiti. But their return threatens their very lives.
That's because Master Criminal is back and the couple is his latest target. Emerson is kidnapped and while Amelia manages to rescue him, he has lost his memory. Even though Amelia is so close to discovering what may have been Nefertiti's tomb, she must focus on regaining her husband's love.
---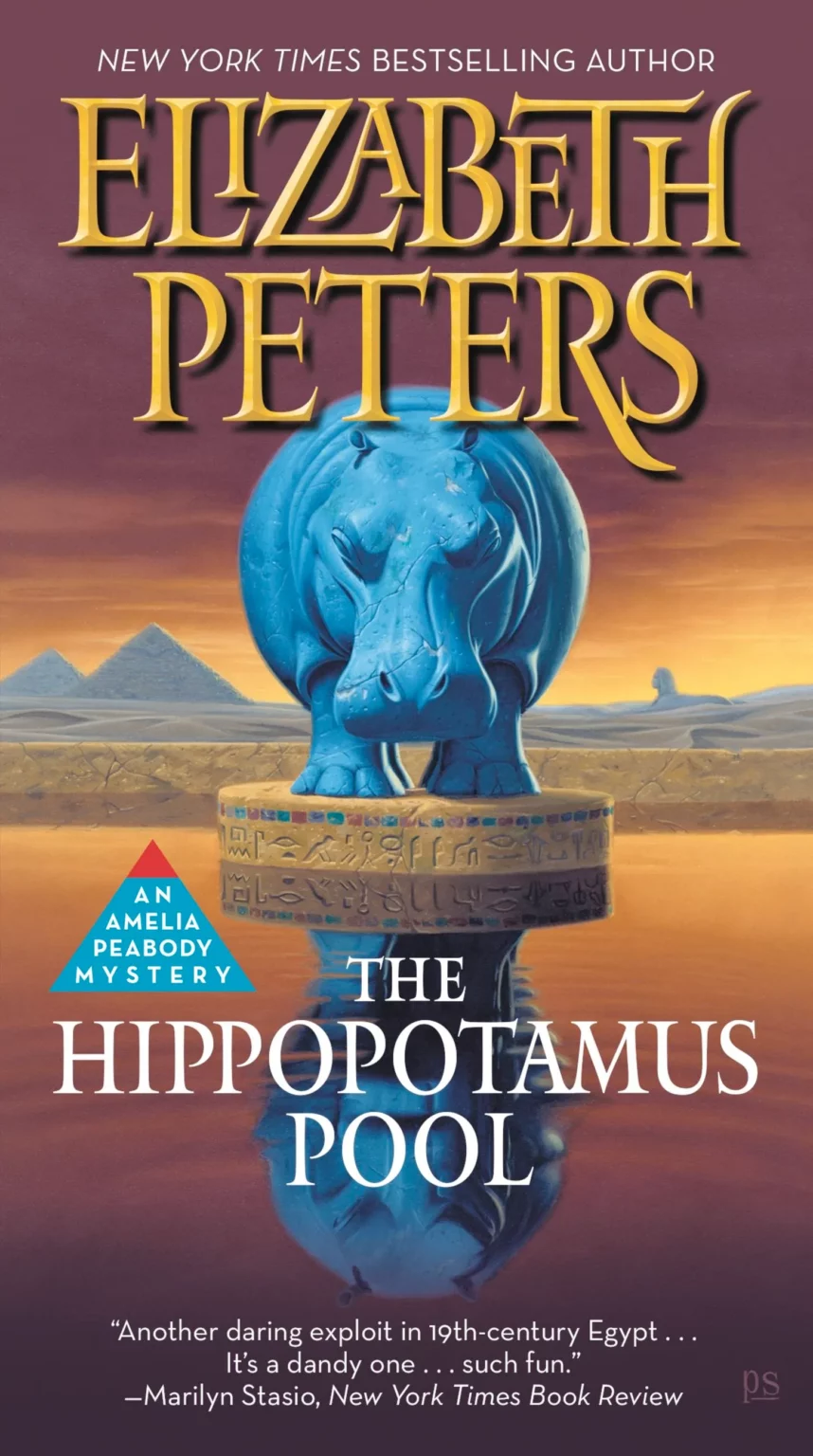 8. The Hippopotamus Pool
It is tempting to Amelia and Emerson when a stranger offers to reveal the location of the lost tomb of an Egyptian queen. The mysterious stranger's disappearance before he can share the secret only heightens their curiosity.
Which is how Amelia, Emerson, their teenage son Ramses, and beautiful ward Nefret have ended up sailing on the Thebes. Soon, the four of them are foiling murderers, kidnappers, grave robbers, and ancient curses. All the while Amelia is translating the Hippopotamus Pool, a legend of war and wits than warns her of a foe who may become her next archenemy.
---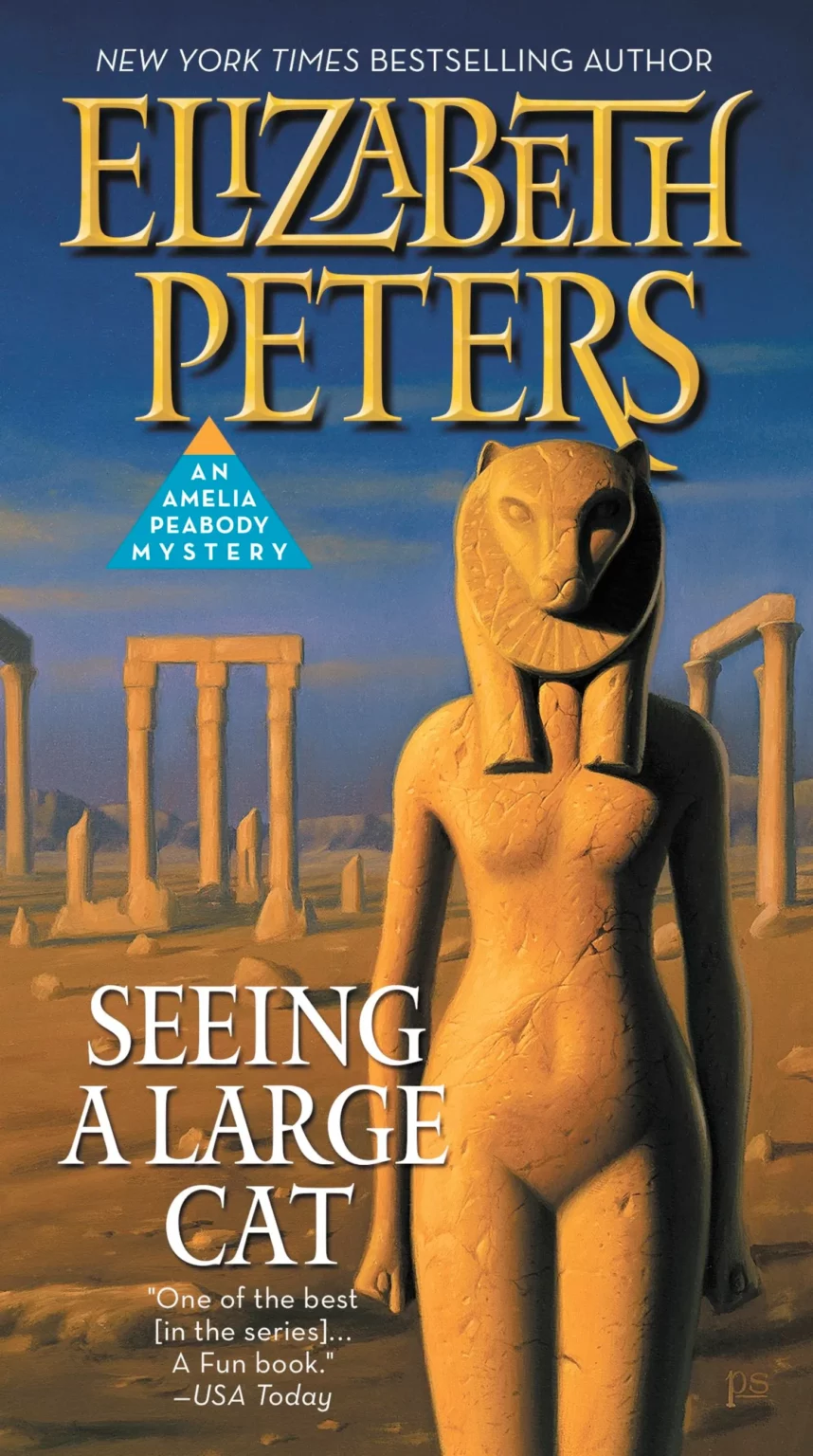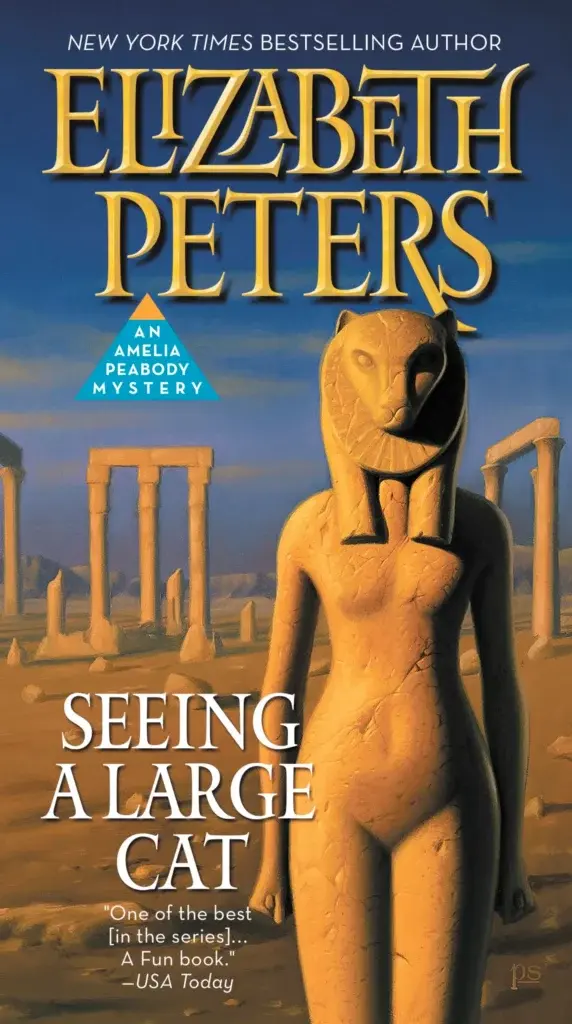 9. Seeing a Large Cat
There is an ancient Egyptian papyrus that claims dreaming of a large cat means good luck. That is just what Amelia could use as her growing family adjusts to the new century in 1903.
Then Emerson receives a warning to not enter the Valley of the Kings. But to his annoyance, Amelia's meddling distracts her attention as she exposes a fraudulent spiritualist, saves a marriage, and plays matchmaker. Diabolical forces are at work though, as an unknown tomb reveals a shocking murder and the Peabody family dodges bullets from an assassin.
---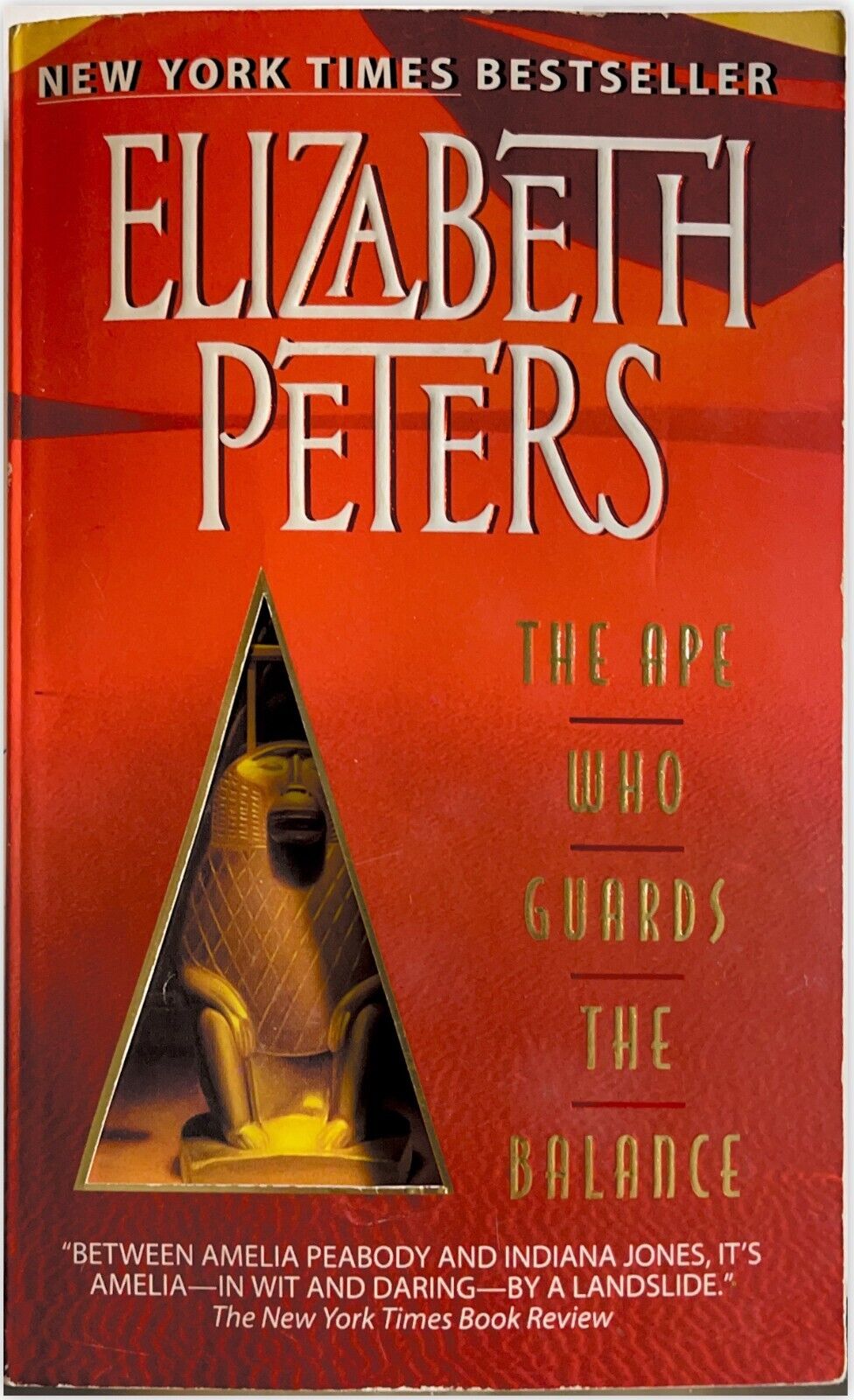 10. The Ape Who Guards the Balance
Amelia and her family are heading for Cairo once again after Amelia escapes from a kidnapping attempt. But they do not find a haven in Egypt. Instead, they find themselves caught up in a web of stolen treasures and bloodthirsty cults.
Evil is rampant in this 1907 archaeological season, but the Peabody-Emerson clan has already won challenges such as this. Except when a mint-condition papyrus of the Book of the Dead ends up in their possession and an unscrupulous dealer of stolen antiquities turns up dead in the Nile, their chances of escaping unharmed begin dwindling fast.
---
Final thoughts on Amelia Peabody books in order
If you enjoy archaeology and historical mysteries, then you should absolutely read the Amelia Peabody books in order. The beginning of the series includes a bit of romance, and then the series follows Amelia as her family grows. It is best to read these books in publication order for the best reading experience of her character growth and development.
More Historical Mystery Resources