With more than one million copies sold, the announcement of The Unhoneymooners movie created a lot of buzz and excitement.
It follows the recent celebration of the romance genre within mainstream media. Many other bestselling romance novels have also been optioned or already made it to the big screen. So, the Unhoneymooners movie is one of the latest in a long list of successful endeavors.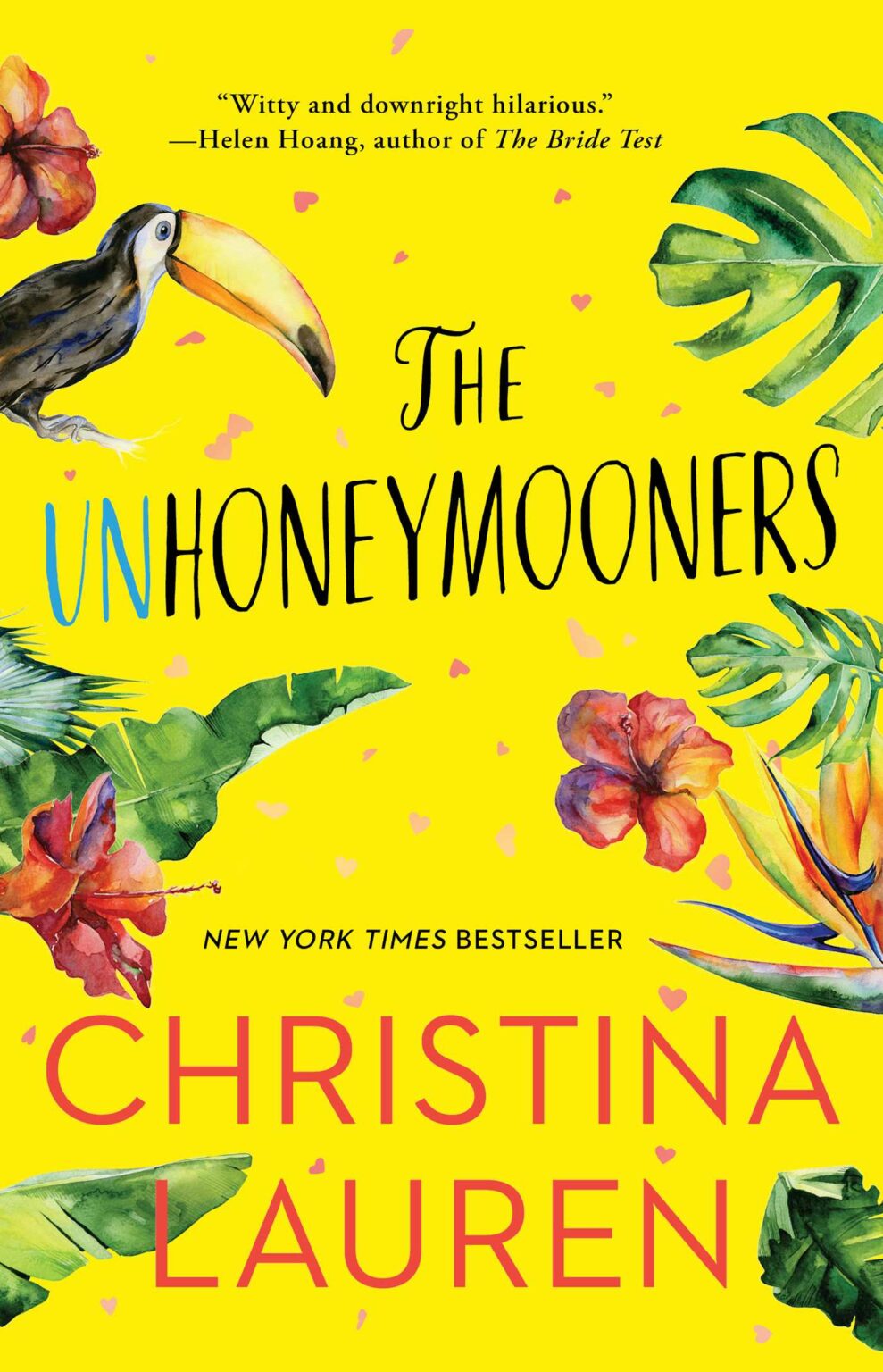 What is The Unhoneymooners Movie About?
The Unhoneymooners by Christina Lauren is a contemporary romance gem. Furthermore, the upcoming movie of this bestselling book promises to be a faithful adaptation.
Christina Lauren combines the beloved tropes of enemies-to-lovers and fake dating with sandy Maui shores and crystal-clear water. The author duo behind the book makes it impossible not to fall in love.
The book unfolds from the perspective of Olive. She describes herself as unlucky in almost every aspect of her life. But she is especially unlucky when she has to spend her twin sister's wedding with her sworn enemy, Ethan.
Her identical twin Amelia, on the other hand, has the perfect life out of a rom-com. She's madly in love with her fiancé, they had an adorable meet-cute, and she's won a series of Internet contests to entirely fund her entire wedding.
But all Olive needs to focus on is getting through the 24 hours of the wedding, and tolerating the best man Ethan, before she can return to her regular, unlucky life. That is, until the entire wedding party gets food poisoning. Everyone except for Olive and Ethan.
So, with an all-expenses-paid honeymoon up for grabs, they agree to put their mutual hatred aside for a trip to paradise with the explicit agreement to avoid each other at all costs. But when Olive runs into her future boss, she tells a little white lie that has big consequences.
Olive and Ethan now must pretend to be madly-in-love newlyweds. With the line between love and hate being precariously thin, soon Olive doesn't find herself feeling unlucky at all. Playing pretend with Ethan, surprisingly, comes quite naturally, and she soon finds herself feeling lucky.
The 2019 publication is a quick and humorous light-hearted read with the happily-ever-after that romance readers adore.
All We Know About The Unhoneymooners Movie
So, following the success and popularity of the book, the announcement of a movie adaptation on June 30, 2021 had fans excited for what was to come.
The announcement said BCDF Pictures acquired the rights to The Unhoneymooners and plans were underway for a movie adaptation. At the time, BCDF Pictures was in post-production of Sally Thorne's The Hating Game. That movie, starring Lucy Hale, has since released.
The announcement also said Joseph Muszynski is adapting The Unhoneymooners for the screen. Claude Dal Farra and Brian Keady of BCDF Pictures are producing the film alongside Kelsey Law.
When authors Christina Lauren took to social media to announce the movie deal, they said they've read the script and found it hilarious. On their website they said the script was true to the book and they couldn't wait to see Olive and Ethan in Hawaii.
There have been no casting announcements yet, so fans are still waiting to see who will be starring as this enemies-to-lovers duo. However, while there has not been any news since the initial announcement, in the latest September 2022 blog post on the Christina Lauren website, Christina alluded to a piña colada scented disruption in the force.
She acknowledged that while things have been quiet, big moves have been happening behind the scene. Any announcement is still under embargo, but Christina shared that hopefully they'll be able to share movie news soon.
About the Authors
While you're patiently, or not so patiently, waiting more information about the upcoming The Unhoneymooners movie, there are dozens of other Christina Lauren books you can read.
As we've already alluded to, Christina Lauren is actually two authors. It is the combined pen name of Christina Hobbs and Lauren Billings.
The pair met online in 2009 writing fanfiction. There was a mutual admiration and respect in their relationship that led them very quickly to collaborate.
Now, more than 20 books later, the long-time writing partners and best friends have hit their perfect writing formula. Their books have been translated into more 30 languages and many have become bestsellers.
Lauren Billings has a doctorate in neuroscience from US Irvine. Before she became a full-time author, she researched neurodegeneration in aging. She currently lives in California with her husband, two teenagers, and two dogs.
Meanwhile, Christina Hobbs lives in Utah with her husband and daughter. Before the duo transitioned to writing full-time, Hobbs worked as a junior high school counselor.
Other Christina Lauren Adaptations Underway
In addition to The Unhoneymooners, another book of theirs, Roomies, is also making its way to the big screen.
The rights to Roomies were acquired in a collaboration between Andy Fickman and Jenna Dewan through her company, Everheart Productions.
Fickman was the director of She's The Man and Heathers: The Musical. He will direct and produce the adaptation of Roomies. Betsy Sullenger and Jean Song will also produce.
As well, another Christina Lauren book, Beautiful Bastard, has had a tumultuous journey on its path to an adaptation.
The rights to Beautiful Bastard were first acquired back in 2012. When the rights then expired it was renewed by the same production company, but Christina Lauren passed on the second renewal. They are currently working on a television pilot themselves that encompasses the first three books of that series.
Final thoughts on The Unhoneymooners Movie
While the details surrounding the potential adaptation remain sparse, the possibility of a The Unhoneymooners movie remains exciting. Hopefully news surrounding casting, or potential behind-the-scenes snippets, becomes a reality soon. But while fans await such news, reliving Olive and Ethan's tropical romance through a reread is the next best thing.
More Romantic Comedy Resources