Jordan Peterson has made global headlines as a bestselling author and for not shying away from his controversial opinions. He is a polarizing figure with fans saying he saved their life with his books and lectures, and others critiquing his words as dangerous. Regardless of which side of the argument you fall on, the Jordan Peterson books have sold millions of copies around the world.
About Jordan Peterson
The former university professor and clinical psychologist published his first book in 1999, Maps of Meaning, but it was his 2018 publication which gave him the accolade of bestselling author.
12 Rules to Life: An Antidote to Chaos has sold more than five million copies around the world.
Peterson grew up in Alberta, Canada and worked as a clinical psychologist for decades. He also taught psychology at Harvard University and the University of Toronto. Peterson also has a successful YouTube channel which features his lectures and seminars.
Some of the controversy surrounding Peterson stems from before the publication of his bestselling book, when he refused to use gender-neutral pronouns at the University of Toronto. The controversy surrounding his refusal and the reaction of students and staff garnered international headlines. His views on women, masculinity, and gender identity have also caused controversy.
The spotlight on a global scale certainly did not negatively impact the success of 12 Rules to Life, or its sequel, with Peterson remaining in the headlines ever since.
Peterson currently lives in Toronto, Ontario, Canada.
Jordan Peterson Books
Nonfiction
The books for which Jordan Peterson is most well-known are his nonfiction books on psychology and philosophy. The below books are meant to be introspective reads to encourage critical thinking and assessment in order to improve the lives of the readers.
Poetry
Jordan Peterson's most recent publication is a work of poetry. For each letter of the alphabet Peterson has written a dark and tragic poem about a young child. The illustrations in the book are by Juliette Fogra.
The summary of the book explains that Peterson wanted to create a tragic comedy of innocence and vulnerability and create hauntingly beautiful portrayals of injustice and suffering. It is compared to A Nightmare Before Christmas, Coraline, Edward Gorey's Gashlycrumb Tinies, and the Brothers Grimm Fairy Tales.
However, reception was very mixed. All mentions of the book have been removed from Peterson's website, but the book is still available for purchase.
An ABC of Childhood Tragedy (2022)
Jordan Peterson Book Recommendations
Jordan Peterson is also well-known for his book recommendations. He has recommended hundreds of titles throughout his career as both a professor and a speaker in the public eye. That can, understandably, be an overwhelming place to begin, so this list will cast the spotlight onto his top 15 book recommendations.
However, Peterson does describe these books as the most terrifying books he has ever encountered. Many of the books discuss human tragedy and suffering, so it would be wise to research the content warnings for each book before beginning. Finally, Peterson's first book, Maps of Meaning, is including on this list, which is noted with an asterisk below.
A Summary of Jordan Peterson Books
However, if you are interested in learning more about the books that Peterson has personally wrote, below you will find summaries to the Jordan Peterson books from his debut to his poetry collection.
---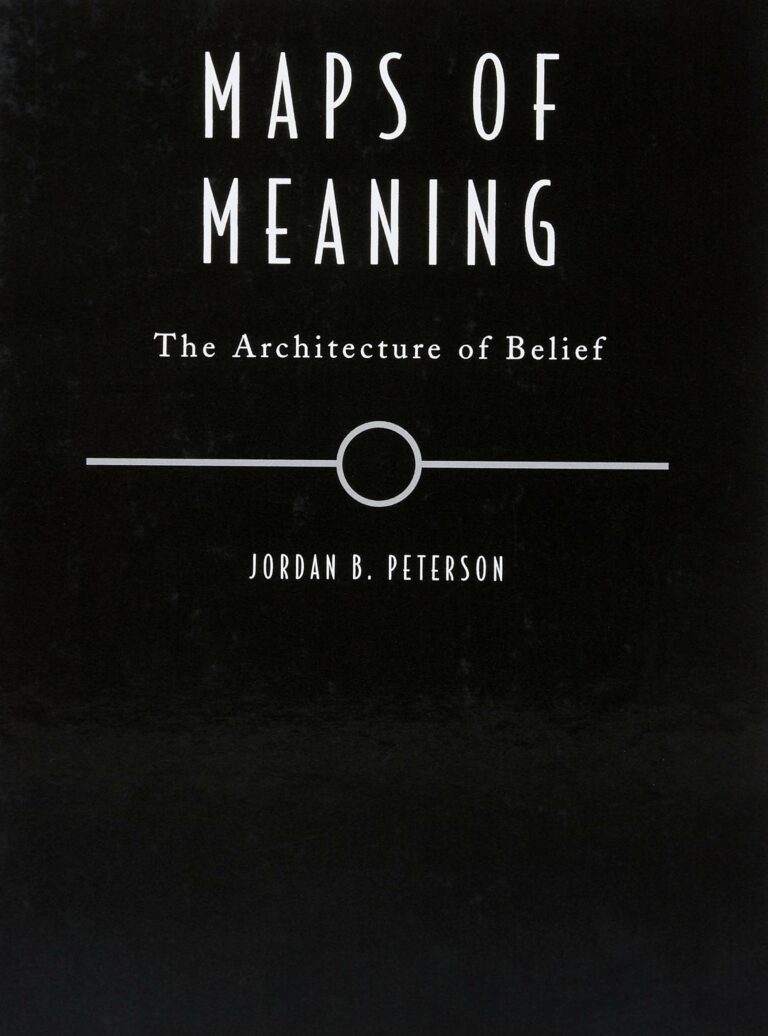 1. Maps of Meaning: The Architecture of Belief
Why have people from different cultures and eras formulated myths and stories with similar structures? Consequently, what does this similarity tell us about the mind, morality, and structure of the world itself?
Jordan Peterson offers a provocative new hypothesis that explores the connection between what modern neuropsychology tells us about the brain and what rituals, myths, and religious stories have long narrated.
A cutting-edge work that brings together neuropsychology, cognitive science, and Freudian and Jungian approaches to mythology and narrative, Maps of Meaning presents a rich theory that makes the wisdom and meaning of myth accessible to the critical modern mind.
---
2. 12 Rules for Life: An Antidote to Chaos
Humorous, surprising, and informative, Peterson tells us why skateboarding boys and girls must be left alone, what terrible fate awaits those who criticize too easily, and why you should always pet a cat when you meet one on the street.
What does the nervous system of the lowly lobster have to tell us about standing up straight (with our shoulders back) and about success in life? Why did ancient Egyptians worship the capacity to pay careful attention as the highest of gods? What dreadful paths do people tread when they become resentful, arrogant, and vengeful?
Peterson journeys broadly, discussing discipline, freedom, adventure, and responsibility, distilling the world's wisdom into 12 practical and profound rules for life. 12 Rules for Life shatters the modern commonplaces of science, faith, and human nature while transforming and ennobling the mind and spirit of its listeners.
---
3. Beyond Order: 12 More Rules for Life
In this sequel to 12 Rules for Life, Peterson delivers twelve more lifesaving principles for resisting the exhausting toll that our desire to order the world inevitably takes.
In a time when the human will increasingly imposes itself over every sphere of life — from our social structures to our emotional states — Peterson warns that too much security is dangerous. What's more, he offers strategies for overcoming the cultural, scientific, and psychological forces causing us to tend toward tyranny, and teaches us how to rely instead on our instinct to find meaning and purpose, even — and especially — when we find ourselves powerless.
While chaos, in excess, threatens us with instability and anxiety, unchecked order can petrify us into submission. Beyond Order provides a call to balance these two fundamental principles of reality itself, and guides us along the straight and narrow path that divides them.
---
4. An ABC of Childhood Tragedy
An ABC of Childhood Tragedy unforgettably depicts the doomed and desperate lives of Adella, Bertram, Cynthia, and their cohort of catastrophe. What follows are twenty-six dark and witty poems, each a tragic comedy of innocence and vulnerability.
Each poem is a hauntingly beautiful portrayal of injustice and suffering, and each also features an illustration by Juliette Fogra, illustrator of Beyond Order: 12 More Rules of Life.
If A Nightmare before Christmas or Coraline struck you to the heart; if the gothic raillery of Edward Gorey's Gashlycrumb Tinies seduced you to smile satirically; if the Brothers Grimm were nowhere near grim enough for you; then An ABC of Childhood Tragedy might just be the book you've been pining for.
However, it is recommended you check out the content warnings for this book of poetry.
---
Final thoughts
While his career has not been free from controversy, Peterson has nevertheless made a name for himself as an authoritative voice within psychology and philosophy. The Jordan Peterson books depict this, with a more exploratory pivot with his most recent publication of poetry.
More Philosophical Book Resources
Best Kurt Vonnegut Books
Best Time Travel Books