Mark Dawson has achieved great success as an independent author for his crime thrillers surrounding Group Fifteen, an illusive secret government agency for all things outside the scope of the law. It has been the inspiration for four different series, but Dawson has also written much more since his debut in 2001. Learn more about all the Mark Dawson books in order with this ultimate guide.

Mark Dawson Books in Order
John Milton Books in Order of Publication
John Milton has been called the British Jack Reacher. He was the British government's top agent in the secretive Group Fifteen. But after ten years of assassinating whoever the government points him towards, Milton's conscience led him to leave the job behind.
However, the trouble is that this type of job is not one that you can just walk away from. What ensues are 20 novels and two novellas of Milton trying to escape his former life and wash the blood from his hands, while getting pulled back into the action time and time again.
There are two ways to read this series, although the differences between reading orders are quite minimal. Reading these Mark Dawson books in order of publication is the recommended path, as this is how Dawson first intended to introduce the character.
John Milton Books in Chronological Order
The second way to read these Mark Dawson books in order is chronologically. This will place the two novellas in the series at the start of the reading order, as these are case files from before Milton left Group Fifteen. While you could begin your John Milton reading experience with this order, it may be better to read the novellas after you've already formed an attachment with the character.
However, if you would like to know the chronology of the series, the below list of books reflects the chronological sequence of events.
As well, like many crime thriller series, many of these books contain standalone mysteries that Milton pursues for the duration of the novel. However, parts of his character are revealed throughout the course of the series as his character develops. So, if you're looking for the best experience with no possible spoilers, reading the John Milton books in order of publication is the best way to get into the series for the first time.
Beatrix Rose Books in Order of Publication
The next series in our list of the Mark Dawson books in order is Beatrix Rose, which is a spin-off series to John Milton. Beatrix was also a dangerous assassin with the elusive government kill squad. However, instead of getting out through her own violation, she is ambushed and betrayed by her team, driving her underground with plenty of time to plot her revenge.
Like John Milton, this series also contains prequel novellas which shine more light on the character of Beatrix and what motivates her. The Hong Kong Stories are all novellas, and the Phoenix novella is a crossover between Beatrix Rose and John Milton. It features the two of them teaming up in Venezuela.
The Dragon and the Ghost is a re-edited bind-up edition of the Hong Kong novellas.
Beatrix Rose Books in Chronological Order
Again, it can be difficult to connect with a character through novellas, therefore this is not the recommended first time reading order for these Mark Dawson books in order. However, it can be useful when trying to plot the movements of Beatrix throughout the course of the series.
Mark Dawson Books in Order: Other Books
Isabella Rose Books
Next is a spin-off of a spin-off. Isabella Rose takes place in the same setting as John Milton and Beatrix Rose. As you may have gathered, Isabella Rose is Beatrix's daughter.
It is important to read this series after you read Beatrix Rose if you are intending to read all of the Mark Dawson books in order, elsewise there may be minor spoilers for character development between the two series.
Just like her mother and John Milton, Isabella is also part of the top-secret Group Fifteen and this series tracks her exploits with the group.
Group Fifteen Files Books
Continuing with the exploits of Group Fifteen is the Group Fifteen Files which sees Mark Dawson collaborating with fellow authors Steve Cavanagh and Michael Ridpath for the first three novellas.
This series sheds more light on the off-the-books agency that supports MI5 and MI6 with illegal solutions to national threats by featuring new special agents and clashes with the agency.
Soho Noir Books
In addition to his popular books surrounding Group Fifteen, Mark Dawson is also well-known for this historical fiction crime series. Soho Noir takes place in 1940s London and reveals a city of contrasts. In the first book, when a serial killer preys on prostitutes in Soho, three policemen with their own heavy baggage must band together to stop the murderer before it's too late.
Gaslight is a prequel short story that takes place in 1920s London. It features the Costello family, who are at the centre of the second Soho Noir novel. Both of these installments are no longer in print, so it may be hard to find copies.
The Black Mile (2012)
The Imposter (2013) (Out of Print)
Gaslight (2014) (Short Story) (Out of Print)
Standalone Novels
Mark Dawson's debuts were not huge commercial successes; however, you may still able to get your hands on used copies if you are interested in learning more about his origins. Both The Art of Falling Apart and Subpoena Colada are crime thrillers, but with a different, more rock and roll vibe than his later works.
The Vault is a spy thriller that largely takes place in Berlin with an unlikely partnership between the head of Berlin Station and a petty criminal from London.
The Art of Falling Apart (2001) (Out of Print)
Subpoena Colada (2002) (Out of Print)
The Vault (2020)
Atticus Priest Books
This relatively new series features the disgraced ex-detective Atticus Priest who is now working as a private investigator. He is irascible, impatient, and unpredictable. Priest also finds himself at odds with DCI Mackenzie Jones, with whom he shares both a professional and personal past.
Priest is hired to get Ralph Mallender acquitted, but Jones is sure that Ralph committed the murder of his father and two others, before he called it in. With the two of them on different sides, everything will unravel in a way neither of them could ever have predicted.
The House in the Woods (2020)
A Place to Bury Strangers (2021)
The Red Room (Early 2023)
After School Detective Club
Finally, this last series in our list of the Mark Dawson books in order is also published under F.S. Dawson, a pseudonym for Mark Dawson. It is a middle grade mystery about four friends who see a ghostly apparition walking along the Southwold beach one winter's night. However, the deeper they dig into the mystery, the bigger the adventure becomes.
The Secret of Ragnar's Gold (2022)
The Mystery in the Marshes (Expected: January 19, 2023)
Who is Mark Dawson?
Mark Dawson has been both traditionally and independently published, but he found his success as an author through self-publishing with millions of copies sold.
Before he became an author, Mark Dawson worked as a DJ, a door-to-door ice cream seller, a factory hand, and a club promoter. He was also a lawyer. This gives him a realistic edge in his crime thriller writing.
Dawson was a lawyer for ten years in London, firstly pursuing money launderers and then celebrity libel suits, before he needed a change. He published two books through traditional means in the early 2000s that were not met with great commercial success. Subsequently, he pursued a career within the British film industry before turning back to writing.
He has now published 50 books, novellas, and short stories with millions of copies sold. His works have also been translated into French, Spanish, Italian, Russian, and German.
Dawson is most well-known for his John Milton series, which centers around a former government assassin who is trying to escape the industry and live a better life.
This series inspired the spin-off Beatrix Rose series about another assassin within the lucrative Group Fifteen, and another spin-off about Beatrix's daughter, Isabella Rose. Dawson has also written a historical fiction mystery series: Soho Noir.
The Beatrix Rose series has been optioned for television, although not much more information has become public knowledge since 2019.
Dawson currently lives in Wiltshire, England with his wife and two young children.
Summary of Mark Dawson Books in Order
If you're looking to start reading Mark Dawson's books in order for the very first time, the John Milton series is a great place to begin. For that reason, below you will find the summaries for the first ten books in the series. The prequel novellas are not on this list so as to not disrupt the chronological flow.
While the summaries focus on the case at hand in each book, there may be potential character development spoilers below, so read the summaries with caution if you would like to avoid any and all spoilers.
---
1. The Cleaner
John Milton considers himself an artisan. He is a craftsman and his trade is murder.
Milton is the man the government sends after you when everything else has failed. Ruthless. Brilliant. Anonymous. Lethal. You wouldn't pick him out of a crowd but you wouldn't want to be on his list.
But now, after ten years, he's had enough — there's blood on his hands and he wants out. Except the trouble is, this job is not one you can just walk away from.
So, he goes on the run, seeking atonement for his sins by helping the people he meets along the way. But his past cannot be easily forgotten and before long it is Milton who is hunted, and not the hunter.
A career of state-sanctioned murder has taken its toll and Milton is having nightmares, a long line of ghosts who torment his dreams. He resolves to make his next job his last and, then, perhaps, he can start to make amends for everything that he has done.
Meanwhile, Sharon Warriner is a single mother in the East End of London, suicidal with fear that she's lost her young son to a life in the gangs. After Milton saves her life, he promises to help. But the gang, and the charismatic rapper who leads it, is not about to cooperate with him.
So as London burns through summer riots, Milton finds himself in unfamiliar territory, dealing with an unfamiliar foe. And when his employer sends another agent after him, the odds against him are stacked even higher.
---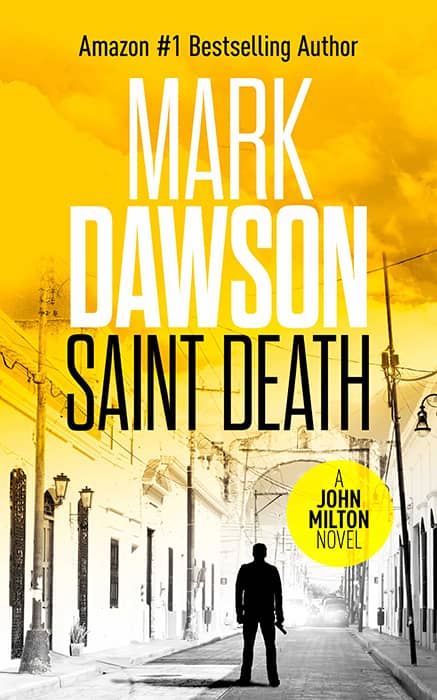 2. Saint Death
John Milton has been off the grid for six months. Then, he surfaces in Ciudad Juárez, Mexico, and immediately finds himself drawn into a vicious battle with the narco-gangs that control the borderlands.
He proceeds to save the life of an idealistic young journalist who has been targeted for execution, but the only way to keep her safe is to smuggle her into Texas. Working with the only untouchable cops in the city, and a bounty hunter whose motives are unclear, Milton must keep her safe until the crossing can be made.
But when the man looking for her is the legendary assassin Santa Muerta — Saint Death — the job suddenly becomes a whole lot more difficult.
---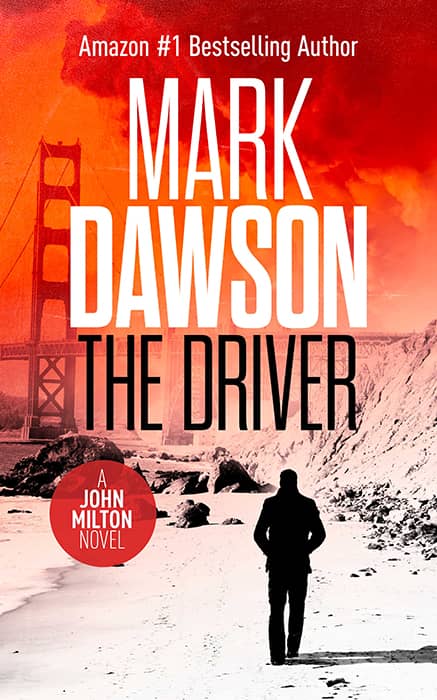 3. The Driver
John Milton had started to hope that he might have a future. He has a job driving a taxi around the streets of San Francisco. He has his anonymity and his solitude.
Being invisible has become a comfortable habit, because he doesn't want to be found.
But when a girl he drives to a party goes missing, Milton is worried. Especially when two dead bodies are discovered and the police start treating him as their prime suspect. Milton is a fugitive from the British Secret Service and a man in his position needs extra attention like he needs a hole in the head.
Then unpleasant secrets leak out, and the body count rises, leaving one thing for sure: Milton might just be the right guy in the wrong place at the wrong time.
---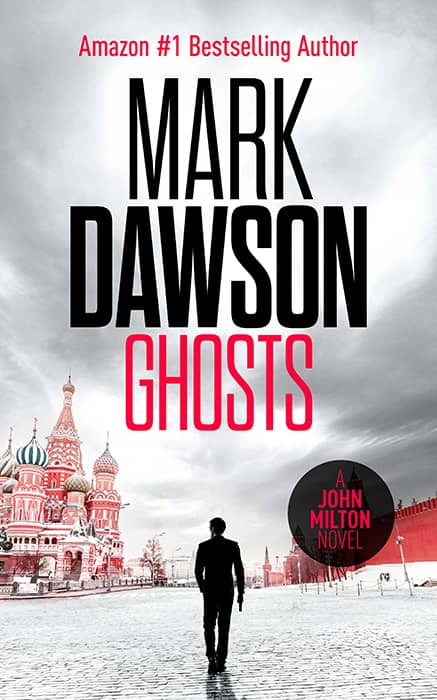 4. Ghosts
John Milton is a ghost.
He was Number One. The most dangerous assassin in Group Fifteen, the black-ops organisation that solves problems when diplomacy has failed. Now Milton is Her Majesty's most wanted fugitive — an anonymous loner with a deadly set of skills.
So, when he is arrested following a brawl in a Texas bar, the last person he expected to bail him out was a glamorous operative from the Russian Secret Service. But there's a catch.
Milton is blackmailed into finding his predecessor as Number One. But she's a ghost, too, and just as dangerous as him.
Consequently, he finds himself in deep trouble, playing the Russians against the British in a desperate attempt to save the life of his oldest friend.
Some ghosts are better left alone. But now that these two have been disturbed there's going to be hell to pay.
---
5. The Sword of God
John Milton has blood on his conscience.
He was an assassin for the British government for a decade until he got out. So now he treks into the Michigan wilderness for the solitude he needs to forget his guilt. Milton isn't looking for trouble, but trouble always seems to come looking for him.
Morten Lundquist, a man with his own dark secrets, is a deputy in the town of Truth. He finds himself investigating Milton, but Lundquist has no idea how dangerous his quarry is.
Double crossed and badly injured, Milton flees into the remote Porcupine Mountains with a posse on his tail. His enemies thought that they could hunt him down. But they were wrong — and where John Milton is concerned, there are no second chances.
---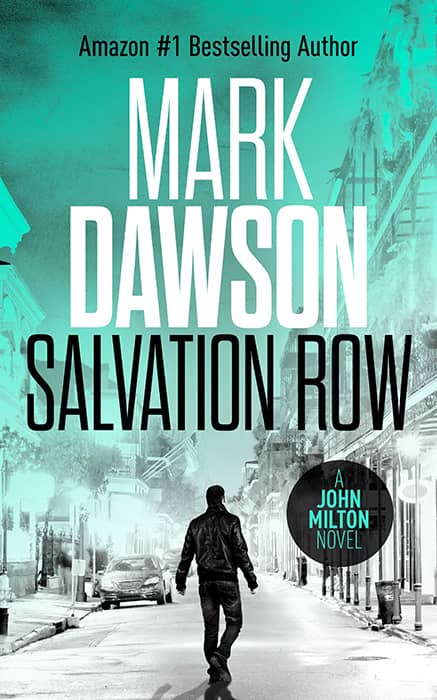 6. Salvation Row
John Milton is trying to make amends for a career spent killing for the British Secret Service. He has a burning need to right wrongs — and rewrite his own bloody past.
That's how he finds himself in Louisiana — the Big Sleazy, the bayou, and the post-Katrina wreckage of the Gulf Coast — with a debt of honor to repay. Isadora Bartholomew, who saved his partner's life, needs his help. That's because Joel Babineaux, a ruthless property magnate, is out to sink the charity she established to help rebuild the Lower Ninth Ward.
Just when Milton thinks he has neutralised Babineaux's scheming, a dangerous man from his past takes an unhealthy interest in his present. Claude Boon used to work for the Mossad and might be more than Milton can handle. And then the stakes get even higher…
---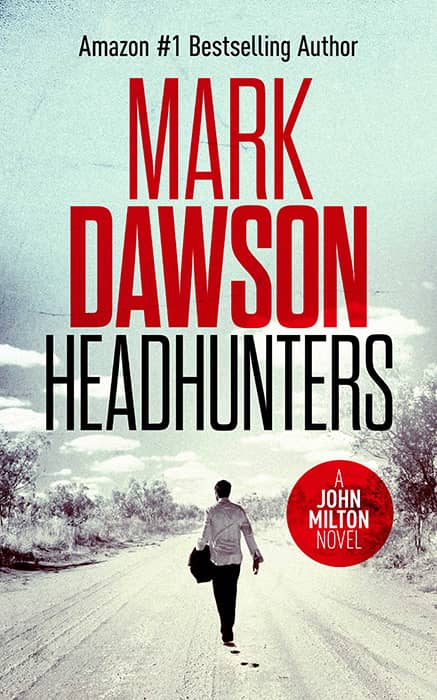 7. Headhunters
John Milton thought he was done with Avi Bachman. The most dangerous man he's ever known has been incarcerated in Angola, the brutal Louisiana prison. Inmates rarely leave Angola. Once you go in, the only way out is in a box.
But Bachman is no ordinary prisoner. He was an assassin for the Mossad, and he has favours to call in.
Milton is in the Australian outback with an old friend and his flirtatious kid sister, looking for a summer's peace to put his troubled mind to rest. But Bachman has other plans. He thinks that Milton killed his wife, and now he wants revenge.
From Australia to Israel, from Hong Kong to Croatia, here is the conclusion of this brutal chapter in Milton's life. The two headhunters are on a collision course, and only one of them will walk away.
---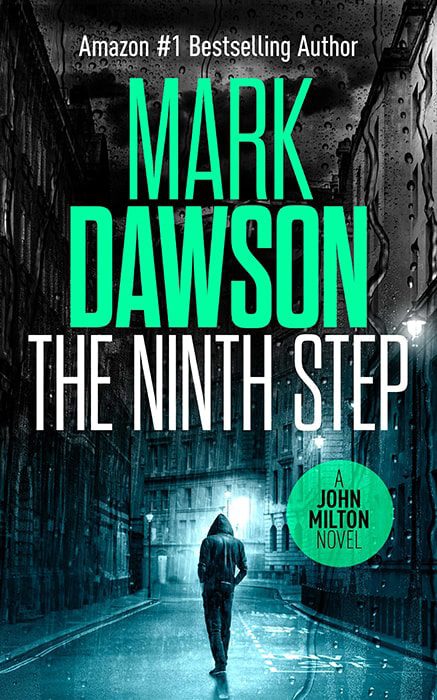 8. The Ninth Step
The ninth step of all twelve step programs requires addicts to make amends to the people they've hurt. John Milton's been trying to do that for months, but it's not a simple matter for him. That's because Milton used to be an assassin, and most of the people that he hurt are dead.
Milton is keeping a low profile in London. He is at his usual meeting when a man confesses the reason for his alcoholism: He was a victim of child abuse. Milton offers to help, but when the man is found dead in circumstances that Milton considers to be suspicious, events take a turn that no-one could have anticipated.
Milton's attempted good deed becomes a quest to unveil corruption at the highest levels of government and murder at the dark heart of the criminal underworld.
---
9. The Jungle
John Milton is no stranger to the world's seedy underbelly. But when the former British Secret Service agent comes up against a ruthless human trafficking ring, he'll have to fight harder than ever to conquer the evil in his path.
After Milton meets a refugee who lost a sister to people smugglers, he travels through war-torn Libya and the murkiest parts of Italy and France to get the girl back. As enemies watch his every move, Milton confronts a group of Albanian pimps and smugglers so dangerous, they could easily make this mission his last.
---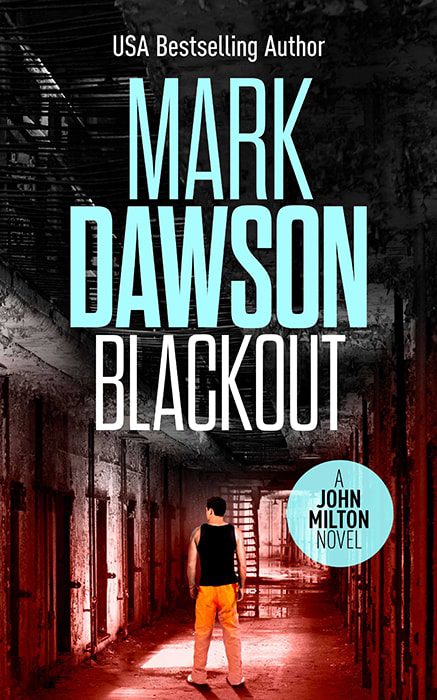 10. Blackout
John Milton's life is about to change as the former government assassin follows a lead to Manila that he hopes will change his life.
But he never expected to wake up in an unfamiliar hotel room beside a murder victim. And, unfortunately for him, Milton doesn't remember a thing about the night before.
Thrown into a gruesome Filipino prison, he puts together the clues that led to his betrayal. With no allies and even less hope, Milton must use his wits to escape and take revenge on the men who put him there. That is, if he doesn't lose his life in the process…
---
Final thoughts on Mark Dawson books in order
So, there you have all the Mark Dawson books in order, and where you should begin your reading adventure with his books for the first time. If you enjoy Lee Child's character of Jack Reacher, then you will very likely enjoy the hair-raising, heart-pounding adventures that John Milton finds himself on.
Looking for more books in order?
Check out this list of the Victor Methos books in order.