She has been called the Queen of Christian fiction by Time magazine and themes of family, friends, and faith are the bedrock of her books. From her start in writing true crime to finding her voice with life-changing fiction, this will be your ultimate guide on how to read all of the Karen Kingsbury books in order.
---
Upcoming Karen Kingsbury Books:
Being Baxters (Expected: February 21, 2023)
Just Once (Expected: November 14, 2023)
---
Karen Kingsbury Books in Order
Baxter Family Series
If you're interested in reading Karen Kingsbury's life-changing fiction, the Baxter Family is the best place to start, but it is important to read these books in order as this will avoid any potential spoilers. The books often follow a new protagonist and their struggle with their faith amidst marriage, love, divorce, and tragedy.
However, each character is strongly interconnected and the relationship they have with the Baxter family is intrinsic to the plot. Past main characters will frequently reappear in big and small roles within later books. Therefore, reading the books in the chronological order presented below will introduce you the characters in the proper succession.
Redemption Series
Firstborn Series
Sunrise Series
Above the Line Series
Bailey Flanigan Series
Coming Home Book
The Baxter Family Series
Redemption Series
The series you should begin your reading journey of the Baxter Family with is the Redemption series. As might be evident, Karen Kingsbury explores themes of redemption within this series, both spiritually and in terms of the characters' relationships. This series is co-written with Gary Smalley.
Firstborn Series
Next, you should read the Firstborn series. This series will spoil events which take place in the Redemption series as it follows the lives of Katy Hart, Dayne Matthews, and the Baxters.
Sunrise Series
Again, this series builds heavily upon the previous two, and should only be read after you complete the first 10 books. It picks up where Firstborn leaves off with Katy, Dayne, and the Baxters, while also exploring the Flanigan family, which will become integral to the overall series. As ever, themes of faith amidst turmoil are at the core of these books.
Above the Line Series
The fourth series in the timeline of the Baxter Family series introduces two new characters, Chase Ryan and Keith Ellison, and a chance meeting with John Baxter. While there is the introduction of new characters, familiar and beloved characters from past books will reappear within the Hollywood setting of Above the Line.
Bailey Flanigan Series
Bailey Flanigan is a reoccurring character in the previous Baxter Family books, but in this series she takes front-and-center stage as she embarks on the adventure of a lifetime in New York City.
Her move will expose cracks in her now long-distance relationship and she will battle with love, loneliness, and big opportunities. Through it all there will be cameos from beloved members of the Baxter family.
Coming Home Series
While this book is often categorized as its own series, with only one book, it's more accurately a standalone novel which weaves together the characters Kingsbury has created within this overarching series. In this installment they are all brought together in a story of tremendous victory and unprecedented loss. It is described as a portrait of family love.
Coming Home (2012)
The Baxter Family Standalones
Finally, Karen Kingsbury has also published 10 standalone novels about the Baxter family. As per the author's website, these books may be read in any order or as standalones.
Baxter Family Children Series
Kingsbury has also written a middle grade series about the Baxter family. Together with her son Tyler Russell, Kingsbury tells childhood stories of the Baxter children, which are meant to inspire and entertain.
Karen Kingsbury Standalone Books in Order
If the idea of reading more than 30 books about the Baxter family is intimidating, then you might prefer to read one of Karen Kingsbury's standalone novels. Her Christian themes and inspirational writing continue in these books, which depict the turmoil of life just as strongly as the Baxter Family books.
Karen Kingsbury Other Series in Order
Forever Faithful Series
This series features two novels following separate couples as they navigate traumatic grief and despair, and then brings them together for the final installment in Halfway to Forever.
Waiting for Morning introduces Hannah as she attempts to navigate a parent's worst nightmare following a traumatic tragedy. Next, A Moment of Weakness follows Jade and Tanner, childhood best friends driven apart by scandal, who fight for religious freedom in separate corners of the country.
Waiting for Morning (1999)
A Moment of Weakness (2000)
Halfway to Forever (2002)
Timeless Love Series
Timeless Love introduces John and Abby Reynolds on the brink of divorce. But as they prepare to tell their children the news, their daughter Nicole announces she's engaged. Suddenly they must carry on their lie a little bit longer, but the wedding bells remind them of their own vows of love and commitment to one another.
A Time to Dance (2001)
A Time to Embrace (2002)
Red Gloves Series
The Red Gloves series depicts four Christmastime miracles. The first, a seven-year-old leukemia patient determined to reach a lonely, heartbroken man. The second, two widows finding a connection beyond their wildest imaginations. The third, about the gift of love told through song, and the fourth, a young girl's hope to find her biological father by Christmas.
9/11 Series
This series begins with a tender and poignant love story which commemorates the tragedy and heroism of September 11, 2001.
Jake Bryan is a firefighter, but when he wakes in a hospital bed he has no recollection of rushing the south tower, being blasted from the building, or the woman beside him who says she is his wife. To help Jake regain his memories Jamie must share Jake's deep faith in God, which she has never done before.
One Tuesday Morning (2003)
Beyond Tuesday Morning (2004)
Cody Gunner Series
Cody Gunner swears he will never allow himself to love again, and Ali Daniels feels the same. But despite their conviction, their attraction is too strong, and then they must decide if love is worth the ultimate price.
A Thousand Tomorrows (2005)
Just Beyond the Clouds (2007)
This Side of Heaven (2009)
Lost Love Series
Three seemingly unconnected lives are woven together in a tapestry of love and loss in this series. Shane is ready to put down roots but can't help reminiscing about a woman from his past. Lauren is an international war correspondent that no longer believes in happily-ever-after but is haunted by her empty life.
Finally, Emily is a college freshman about to start at her first journalism internship. But first she learns about a tragic love story that resulted in her birth, and is drawn to seek out her biological mother.
Even Now (2005)
Even After (2006)
The Bridge Series
This is another series which depicts a heart-warming Christmas story, but this time set against a Tennessee bookstore. While it is also a love story, The Bridge features the struggle of an American bookstore amidst tragedy and the glimmer of hope that comes with the season.
The Beginning (2012) (Short Story)
The Bridge (2012)
Angels Walking Series
Angels Walking is a series about divine intervention and the trials and triumphs of life for a group of friends. A team of Angels Walking has been assigned to help a broken baseball player, the love he left behind, and a miracle that might save a whole city. And so readers are introduced to Tyler Ames, Sami Dawson, Virginia Hutcheson, Mary Catherine, and Marcus Dillinger.
Angels Walking (2014)
Chasing Sunsets (2015)
Brush of Wings (2017)
Heart of the Story Series
A fictional elaboration on scripture, Heart of the Story features short stories from the perspective of those closest to Jesus Christ: Mary, Joseph, John the Baptist, Peter, and more.
The Family of Jesus (2014)
The Friends of Jesus (2015)
Liberty University Short Story
This is a very brief short story from the perspective of incoming Liberty University freshman as they sit through the largest Christian student gathering in the world, convocation, and the daily college experience. Karen Kingsbury is an adjunct professor of writing at Liberty University.
Once Upon a Campus (2016) (Short Story)
Short Story Collections
This five-book collection of miracles curates real-life stories that revolve around a particular theme, Christmas or adoption, or targets a particular audience, women, teens, or friends. Utilizing her knack for positive speaking Kingsbury presents these miracles in an uplifting way as examples of the power of Christianity.
Karen Kingsbury Picture Books in Order
While most of her bibliography is composed of novels for an older audience, Karen Kingsbury has also written a dozen picture books for children. The below list includes those titles which bring her recurring themes of faith, family, and friendship to a younger audience.
Karen Kingsbury Non-Fiction Books in Order
Finally, in this ultimate guide to all of the Karen Kingbury books in order, are her non-fiction works. If you are interested in reading Kingsbury's debut and her first books on true crime, this list features those titles. However, as her voice shifted to Christian literature that change is represented in this list with more Christian-themed writing.
Who is Karen Kingsbury?
Before she was an author, Karen Kingsbury was a sports writer for the Los Angeles Times, but her love of reading and dream of becoming a novelist started long before that. On her website Kingsbury says she fell in love with Dr. Seuss when her father read her The Grinch Who Stole Christmas. She then had the book memorized at five years old.
Throughout her childhood Kingsbury had to move around a lot due to her father's job. In books, she says, she found friends she never had to leave.
But her young dream of becoming a novelist led her down the more practical path of studying journalism. Although if it wasn't for a stern professor in her first year at Pierce College she may have given up writing. Eventually she began writing for the Los Angeles Times following her graduation, which led her to submit a story to People magazine about a murder she covered.
It caught the attention of a literary agent who asked her to write a proposal that ended in a bidding war that was more than her annual salary.
She quit her job and wrote three more true crime books before she decided she needed a change from the graphic murder depicted on the page, which is when she found inspirational Christian writing, which she refers to as life-changing fiction.
Kingsbury has now written over 100 books including non-fiction and picture books. Collectively, there are more than 25 million copies in print. However, her most popular books by far fall within the Baxter Family series.
This is an over-arching series composed of six series, 10 standalones, and a spin-off children's series. It is also currently being made into a television series for a major network.
A Summary of the Karen Kingsbury Books in Order
With 100 titles listed above, it can be overwhelming to know where to begin. But to make things easier for you as you begin reading the Karen Kingsbury books in order, summaries for the first two series from the Baxter Family books have been included below.
If you have not read the Redemption or Firstborn series before, read the below summaries with precaution as they will contain spoilers for previous books.
---
Redemption Series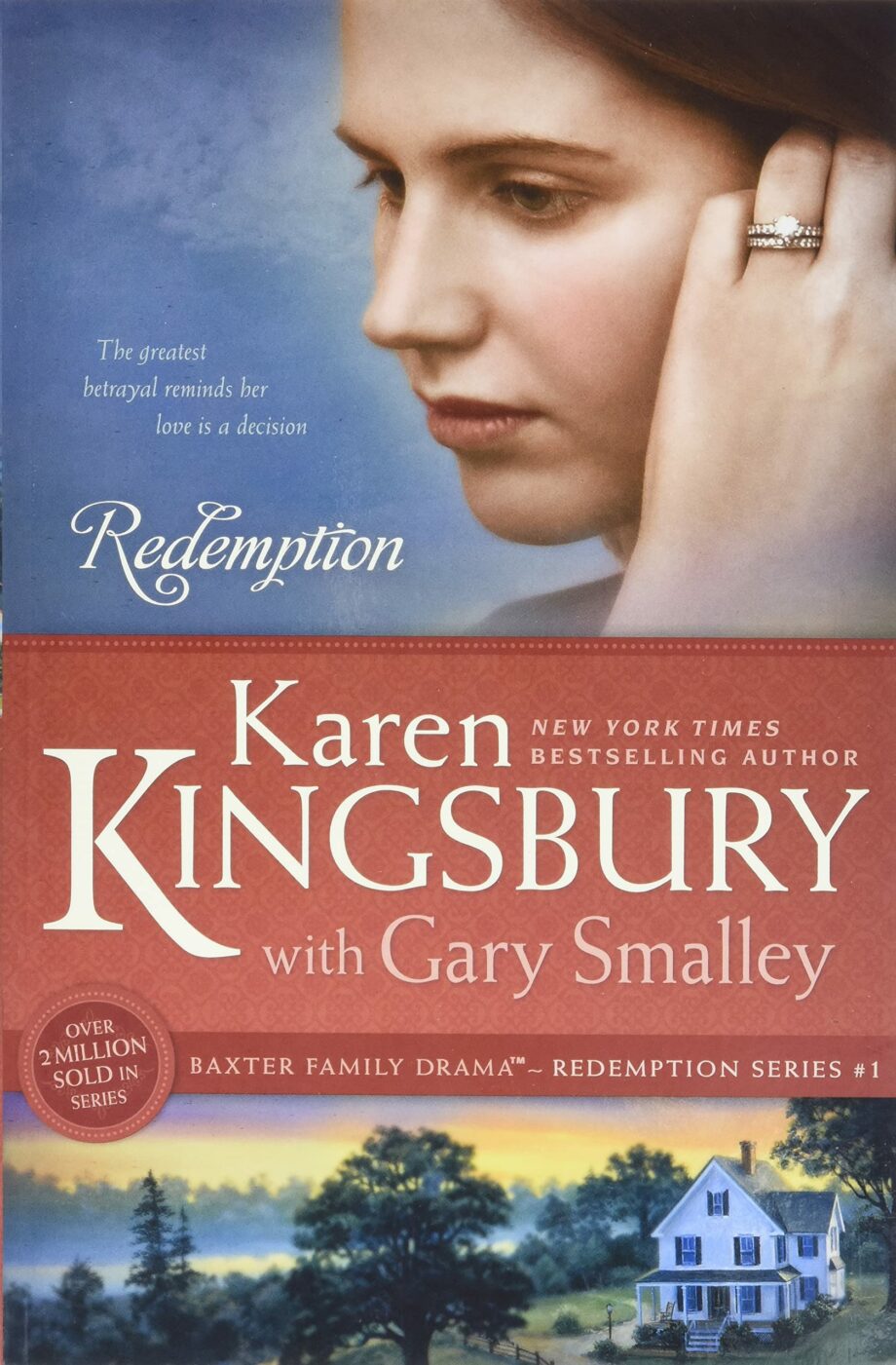 1. Redemption
Kari Baxter Jacobs is furious, hurt, and confused. This is because her husband, Tim, a respected professor of journalism, is having an affair with a student. Stunned, Kari returns home to the Baxter family to sort things out. But when an old flame comes back into her life, she is more confused than ever.
How can Kari forgive her husband? What could possibly ease the pain? And what about her own revived feelings for Ryan, a man she knows she should avoid?
As Kari searches for answers, an unexpected discovery gives her hope for the future. But when she faces her darkest hour, can she find the faith and strength she needs to move on?
---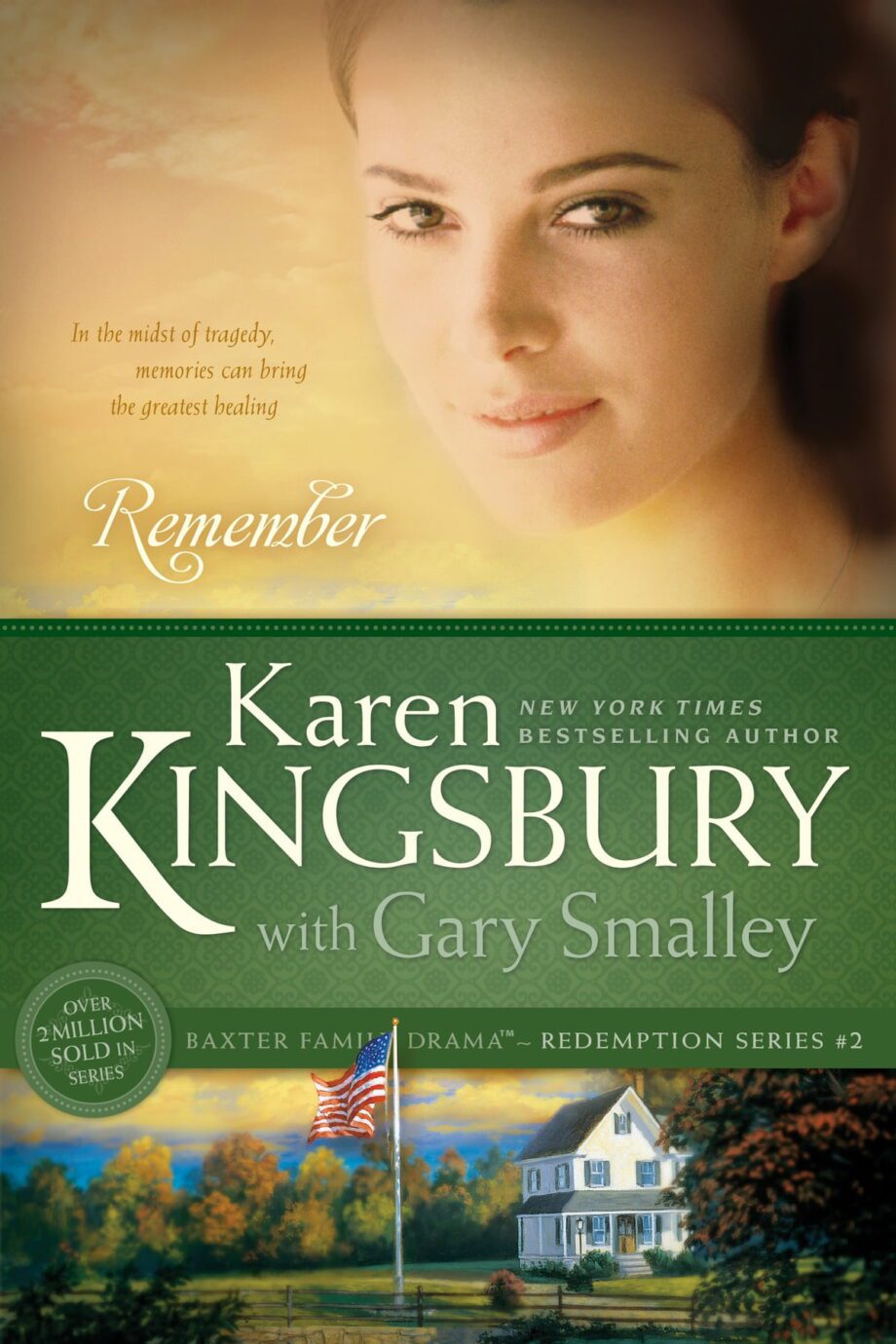 2. Remember
Though Ashley vowed to start a new life when she came back from Paris, the mistakes she made there continue to haunt her. She has locked up her heart, convinced that no one ― including God ― could forgive her. But four unlikely people ― Alzheimer's patients ― find the cracks in Ashley's heart and slowly help her heal.
Then comes the nightmare of September 11, which forever changes the lives of the Baxter family, causing them to remember what is important and leading them to make decisions that are both heartbreaking and hope-filled.
Landon Blake has loved Ashley since he was a teenager, but the heartache of her past has convinced her she'll never be able to love again. Landon tries to dull the pain of her rejection by immersing himself in the rescue efforts at Ground Zero. But will a new opportunity in New York keep him apart from Ashley forever?
---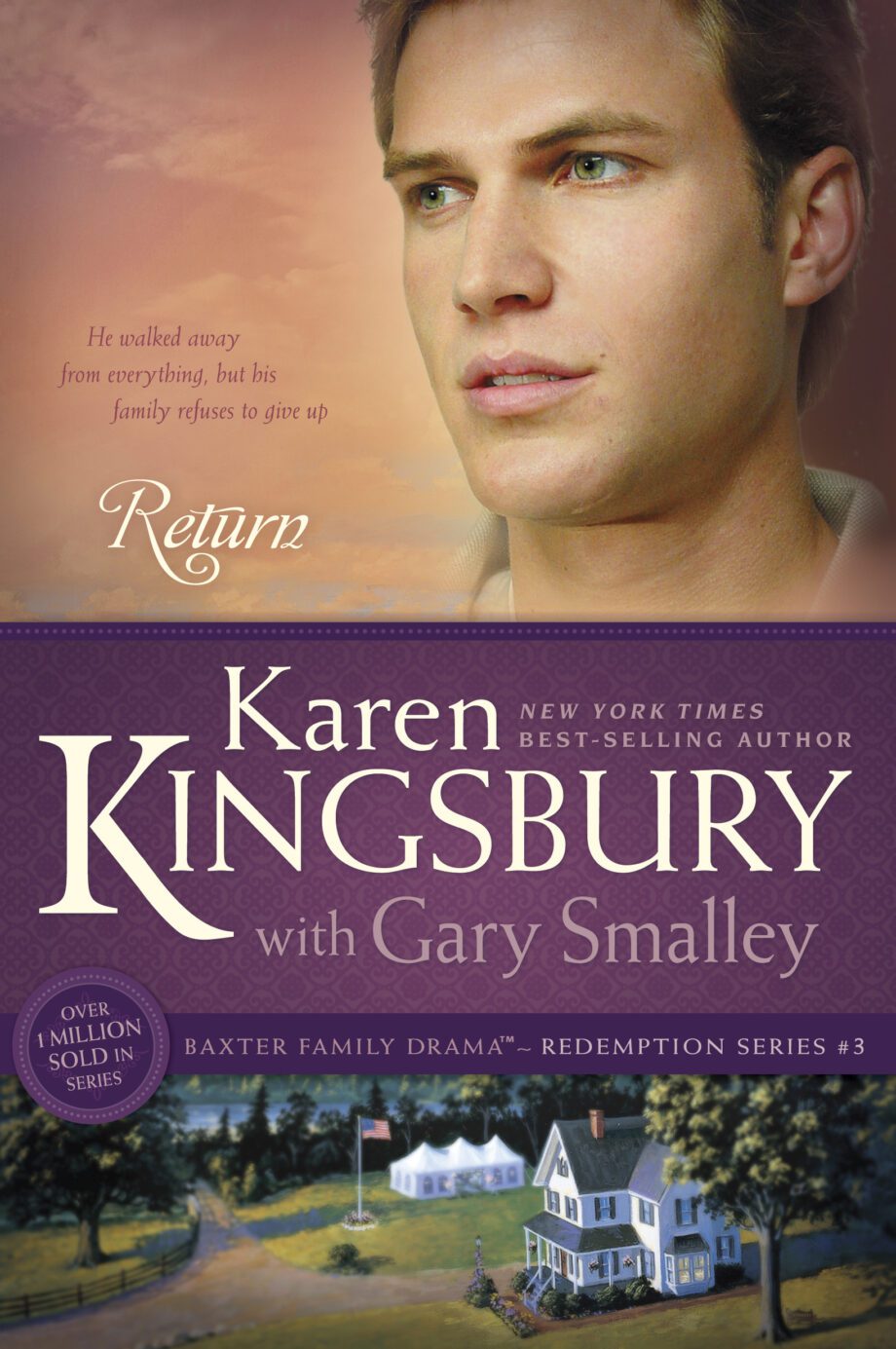 3. Return
Luke, the Baxter family's golden boy and only son, has walked away from everything that mattered most to him: His faith, his family, and Reagan, his only love. Devastated by the events of September 11, 2001, Luke decides that life is random, faith a fraud, and God a fantasy.
Meanwhile, a baby is about to be born, but with Reagan a thousand miles away in New York City, Luke has no idea he's the father. Now, though, someone in his family learns the truth. But she has a secret of her own, one that will change the Baxters' lives forever.
So what will it take for Luke to return to the family who loves and aches for him? And what extremes will a certain young firefighter take to help bring the Baxters together again, and in the process, find his place in the family?
---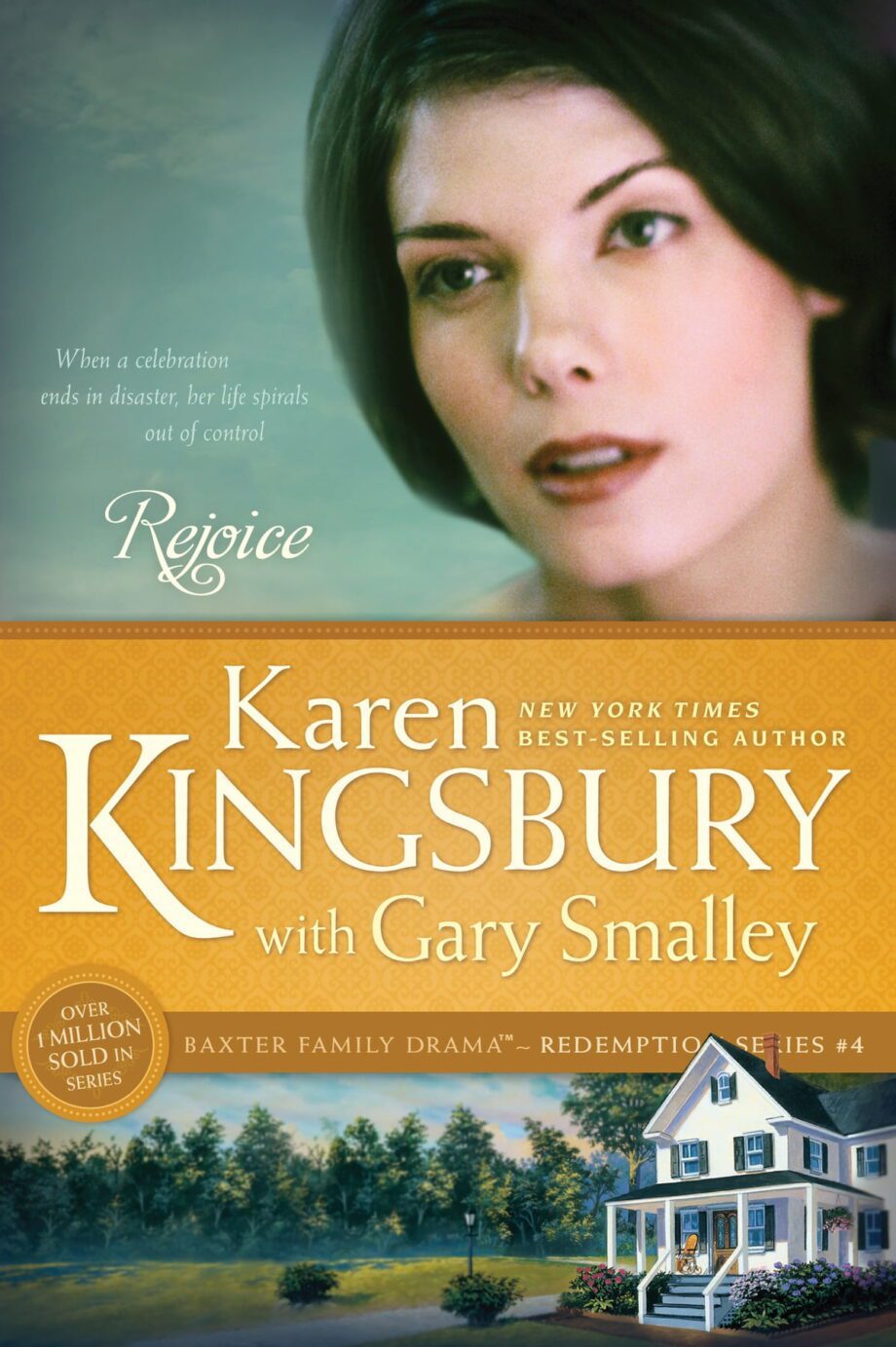 4. Rejoice
Brooke and Peter are struggling in their marriage when they're faced with the single worst moment ever. What was supposed to be a pool party for their two daughters ends in tragedy. As three-year-old Hayley fights for her life, the Baxter family draws together, not even sure how to pray.
Peter is devastated by Hayley's accident. Unable to see past his own guilt, he distances himself from his family and finds other ways to ease his pain. Illegal ways. Peter's choices send him spiraling into a cavernous abyss that threatens to destroy his relationship with Brooke and also his life.
Against the backdrop of great pain and loss, a Baxter wedding takes place in New York City, a wedding that gives all of them a reason to smile again. But now, what will it take for Brooke and Peter and the rest of the Baxters to move past the pain to a place of healing and redemption?
---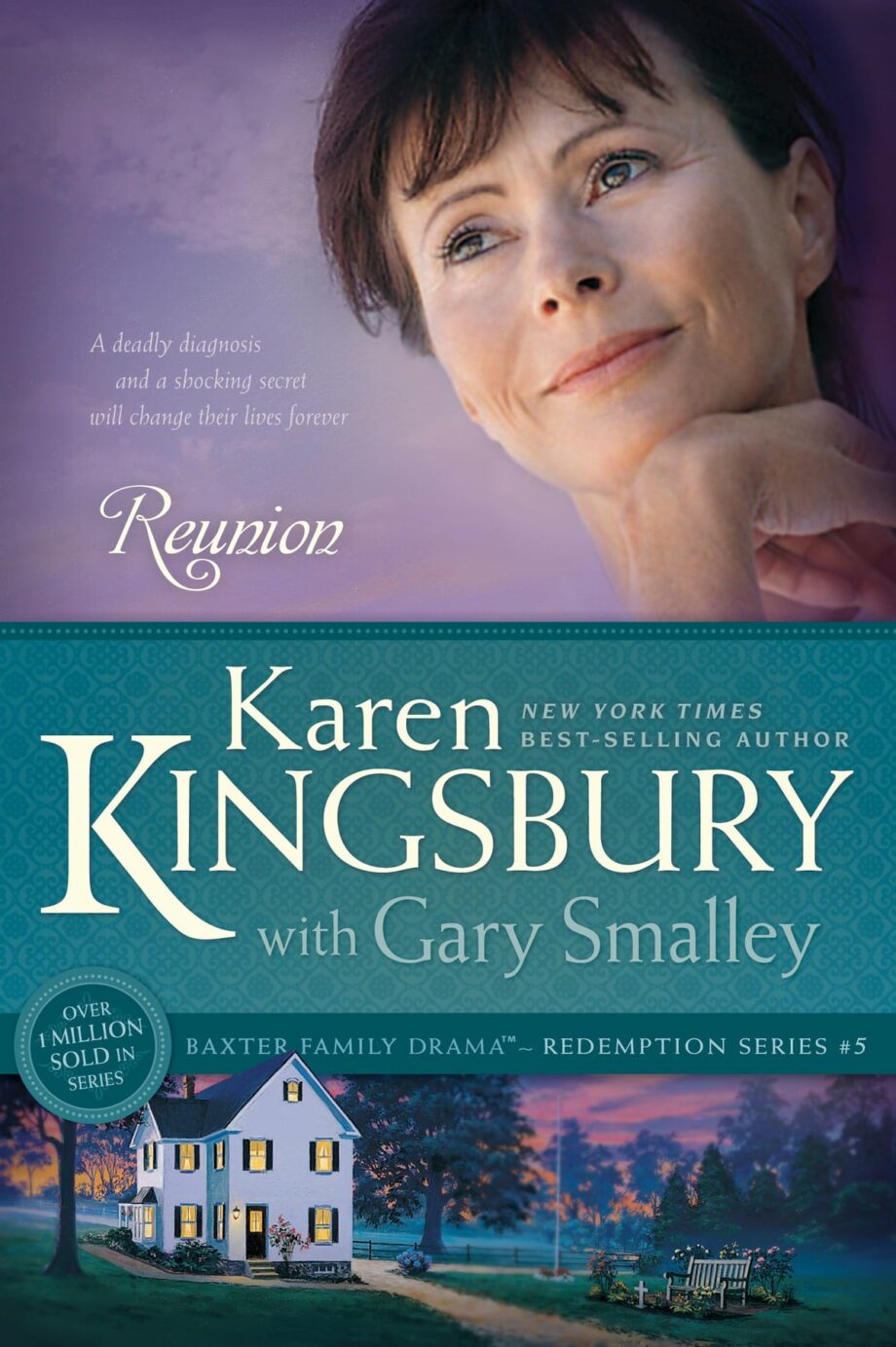 5. Reunion
In the fifth and final book in the Redemption series, plans are being made for a family reunion. Nearly all the Baxters have a reason to celebrate ― except one. Then, as the preparations get under way, a deadly diagnosis sends shock waves through the family and threatens to tear them apart.
The reality of what might lie ahead brings each of the Baxters to a place of faith and honesty. In the process, John and Elizabeth come to grips with a secret they haven't shared with anyone, a secret they rarely admit even to themselves. At the same time, a young man is making his rise in Hollywood and wondering about his place in life.
Amid the threat of sorrow, the Baxters also share in their most wonderful celebration of all ― a moment to remember that love always wins out, no matter how long the struggle, and God reigns even in the darkest night.
---
Firstborn Series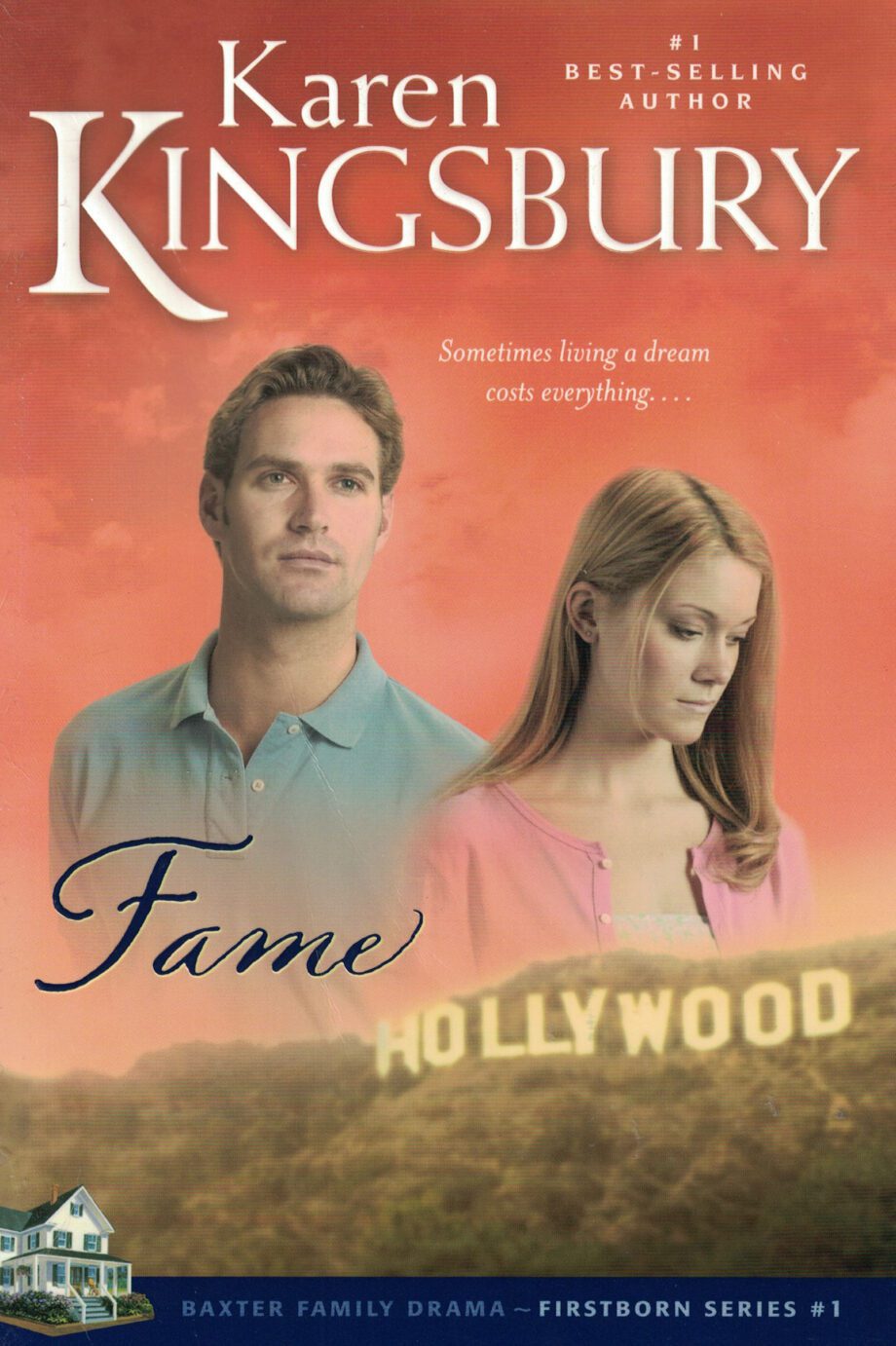 1. Fame
Dayne Matthews is at the top of the Hollywood list — a successful, popular actor with a bright future. He has everything a man could want — fame, fortune, and friends. But his heart is pulling him toward a woman and a family who have no idea how their lives are tied to his…
Meanwhile, Katy Hart, the director of Christian Kids Theater, is immersed in her new life. Glad to move on and forget her past, she finally feels at home in Bloomington, Indiana. With a successful community theater and the love of many friends, she thinks she is content. But that changes in an instant when she meets Dayne Matthews and he promises a future she left in her past.
Elsewhere, as Elizabeth Baxter lay dying, John made a promise that he must keep. It is a promise to reconnect the entire family — including the one child they never spoke of.
---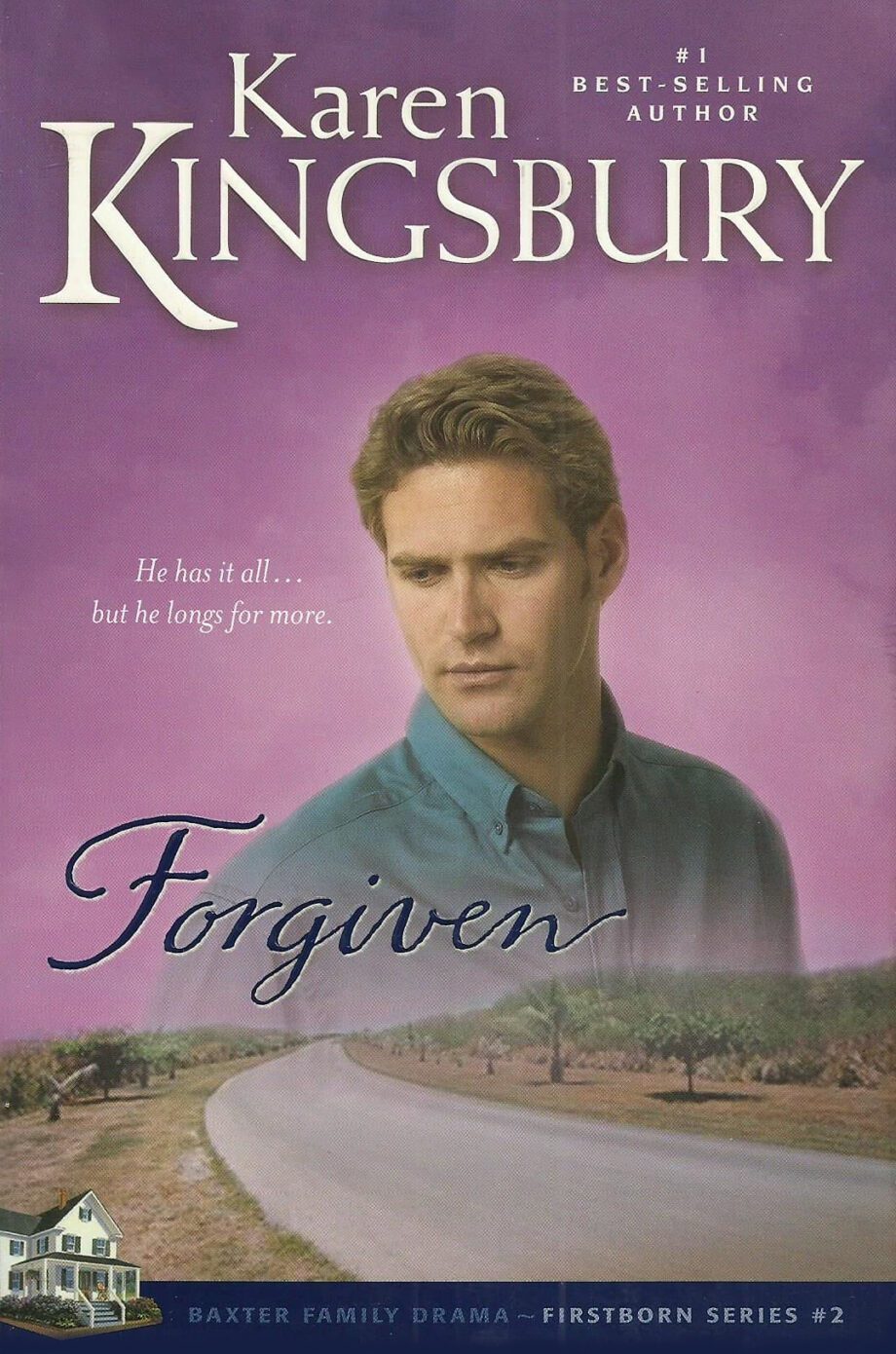 2. Forgiven
The Christian Kids Theater group is devastated by a tragedy greater than any of them could've imagined. Now their director, Katy Hart, must find a way to walk the kids through their grief and give them a reason to believe again. But will hatred and revenge have the final word?
Dayne Matthews is working on what could be his best movie yet. Still, he feels empty and unfocused, aching for real love and the family he'll never know. Then a friend tells him about a teaching center and a way to become like God. Is this the answer Dayne's been searching for?
Meanwhile John Baxter reconnects with an old friend and shares a buried secret, one that he and his wife kept hidden all their married lives. Now — in his wife's honor — he decides to continue a very special search. But in the process he makes a critical mistake and one of his daughters stumbles onto a letter she was never supposed to see. For the Baxters, grace and redemption will play a greater role in this season than ever before.
---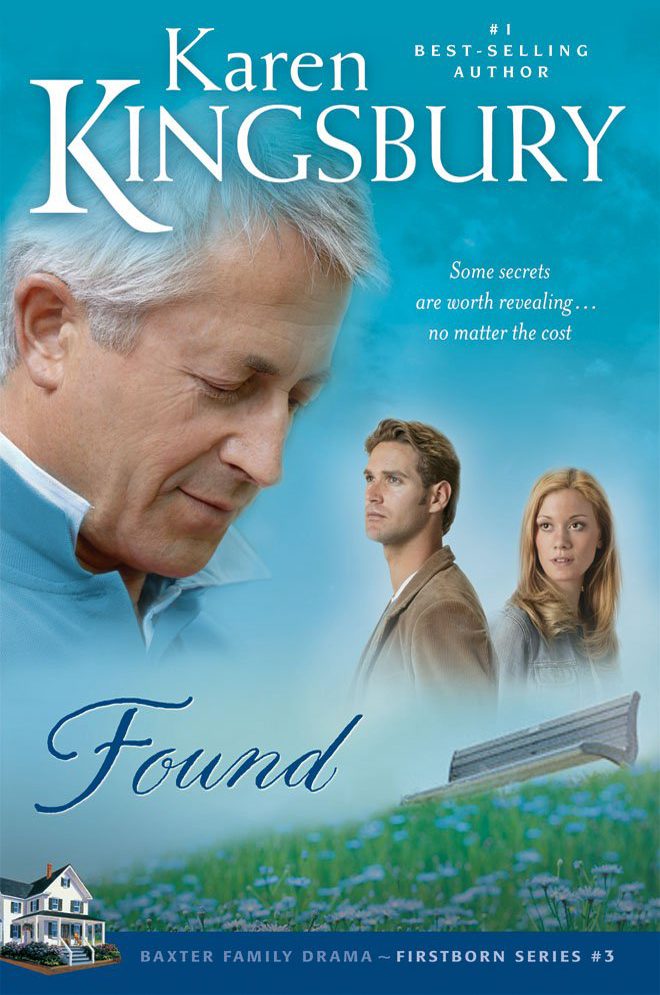 3. Found
Driven by his wife's dying wish to find their firstborn son, John Baxter sets about the search. His prayer? That Elizabeth's wish would be fulfilled before the upcoming Baxter family reunion.
One strange turn follows another, but when the answers finally come, they shake John to his core. Will he agree to walk away and keep the secret of a lifetime, or will he let the truth come to light, no matter the cost?
Dayne Matthews is questioning his adoptive parents' faith when he receives crushing news. He was ready to take on the responsibility of having a family, but now the future is drastically altered and Dayne is desperate for answers.
Wisdom and comfort come from visits with a long-lost friend and then from Katy Hart, the girl Dayne can't seem to forget. But will he find the strength he needs to face a future laced with loss, and will that strength lead him to the greatest love of all?
As the Baxters come together, the reunion is overshadowed by a miracle in their midst. But just as quickly, tragedy comes to Bloomington.
Ashley is eight months pregnant and in the early stages of labor when a tornado rips through the community, leaving one family missing. What will Dayne do when he hears about the storm? Will he finally find peace in a God he has been running from all his life?
---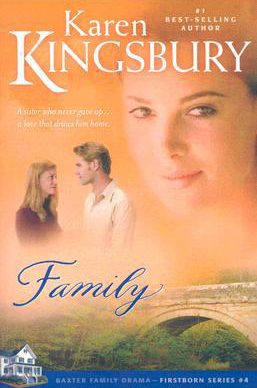 4. Family
When Katy Hart travels to Los Angeles to testify against the knife-wielding fan who tried to kill her, she is hunted by paparazzi who quickly realize she is the mystery woman photographed with movie star Dayne Matthews. Tension and pressure build to a dangerous level as Katy and Dayne seek private moments amidst the frenzy. In the end, Dayne's celebrity life makes Katy certain that a future with him is all but impossible.
Then, as the trial comes to a close, Dayne searches for answers. Not until he talks to his childhood friend does he realize his desperate need for wisdom and direction. Ultimately, his journey leads him to an isolated beach where God makes Dayne's future as clear as the waters of Cancún. But can he live with the decision God places before him?
Meanwhile, Landon and Ashley Blake are celebrating the happiest days of their lives, enjoying Cole and their newborn son. But Ashley cannot find peace until she finds her older brother — the firstborn Baxter sibling. Her constant questions to her father, John Baxter, have netted nothing. Now she receives news that rocks her world and threatens to end her search in heartbreaking finality.
---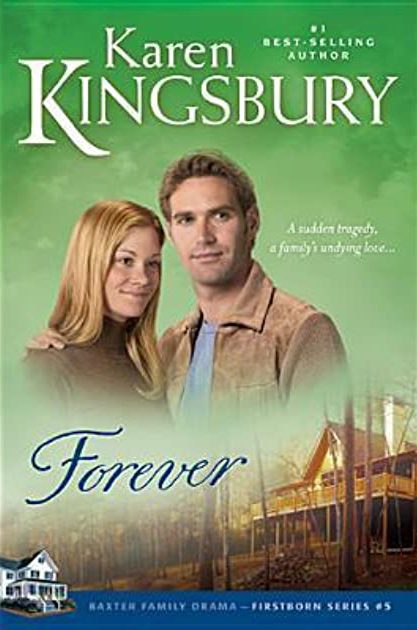 5. Forever
Katy Hart is thrilled about her future with Hollywood's Dayne Matthews. But as she plans a wedding and looks for a house on the shores of Lake Monroe, she receives tragic news. Now everything about the future they planned together is hanging on the brink. Only a miracle can help them find their way through.
So Katy and two of the Baxters travel to Los Angeles to sort through their options. While paparazzi open fire on the Baxter family, Luke helps field requests from the media. At the same time, he must wrestle with feelings that have troubled him for nearly a year.
Ultimately, the Baxter family must pull together one last time in an act of service, a labor of love to help Katy and Dayne find what they've always longed for — a chance at forever.
---
Final thoughts on the Karen Kingsbury books in order
So there you have all the Karen Kingsbury books in order, and where best to begin your reading journey with both the Redemption and Firstborn book summaries. If you enjoy Christian literature concerning the turmoil of love, life, and loss against a bedrock foundation of faith, despite doubts, then you will be sure to enjoy reading Karen Kingsbury.
Looking for more books in order?
Check out this list of Nora Roberts books in order.