Reading the John Grisham books in order introduces you to a series of legal thrillers that will make you fall in love with the nonstop suspense.
In the past three decades, John Grisham has written nearly a book each year, with a number of them adapted into popular movies.
Right from his debut novel, A Time to Kill, to the 2022 release, Boys from Biloxi, Grisham's books are nothing short of captivating.
Throughout the years, he has branched out from the legal stories he is most well-known for and published sports stories and a work of nonfiction as well. However, you will not notice much difference in his writing with this change, as all his books are intriguing and compelling.
Who is John Grisham?
Grisham is an American novelist who is one of only three authors to sell 2 million copies on a first printing alongside J.K Rowling and Tom Clancy.
Before becoming an author, he was a master of his own legal thrillers by working as a criminal defense attorney.
He wrote his first book, A Time to Kill, following inspiration from an actual court case.  His second novel, The Firm, got him into the spotlight and made him consider a career as an author.
Today, John Grisham has sold more than 300 million books worldwide that have been translated into 42 languages.
He has written more than 40 books, including fiction, thrillers, young adult books, and short stories.
John Grisham Books in Order of Publication
John Grisham's books can be categorized into two groups: Legal stories and non-legal stories. 
The legal stories are the first books we've listed below, because they have always drawn more attention from fans than the others. If you are a new reader of John Grisham's books, we propose you read his books in the orders presented below.
---
Recent & Upcoming John Grisham Releases:
The Boys From Biloxi (October 18, 2022)
The Exchange: After The Firm (Expected: October 17, 2023)
---
John Grisham Books in Order – The Legal Stories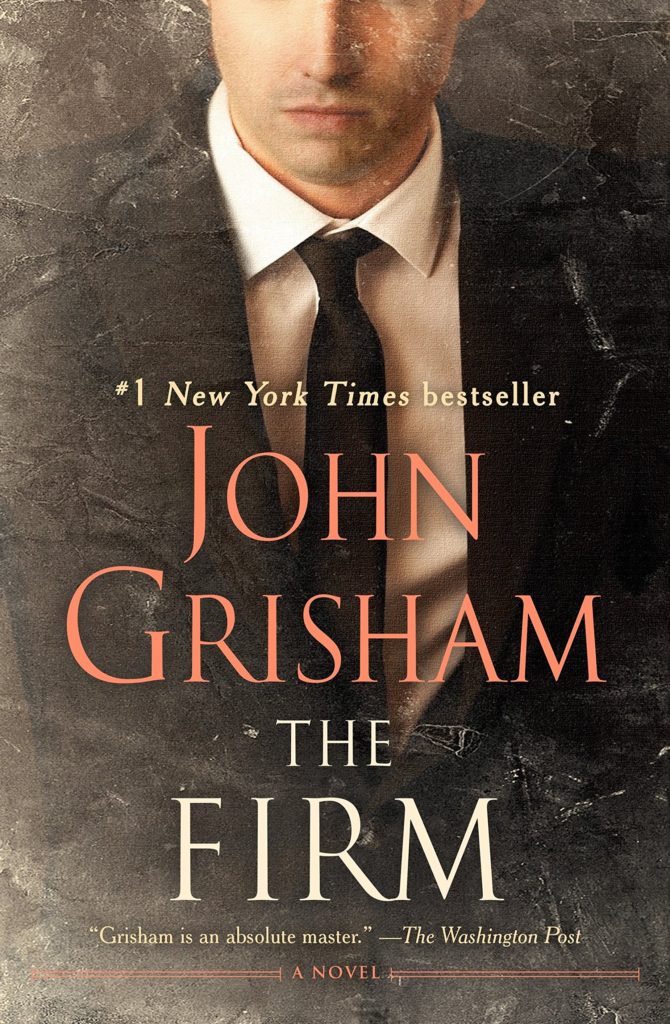 The Firm Books
While The Firm is the second book that Grisham ever published, this is the book which solidified his name as one of the best legal thriller authors around. For many years the story of Mitch McDeere was a standalone, but in March 2023 came the announcement of a long-awaited sequel.
The Exchange: After The Firm takes place 15 years after the conclusion of The Firm. It promises to follow up with just as many deadly secrets and corporate intrigue with a character that readers around the world fell in love with. The sequel also takes place upon a global stage.
The Firm (1991)
The Exchange: After The Firm (Expected: October 17, 2023)
Standalone Books
However, many more of John Grisham's books began, and have remained, as standalones. All of these books feature Grisham's compelling characters and high-stakes suspense, which makes any of them a great book to pick up next.
Rogue Lawyer Books
Next in our list of the John Grisham books in order is another short series with one full-length novel and one prequel short story. Rogue Lawyer introduces Sebastian Rudd who defends those that others won't go near, and he's willing to bend the law to give his clients a fair trial.
Sebastian's office is a bulletproof van and his only employee is his heavily-armed driver. Then the prequel short story dives into how Sebastian found his trusted driver. While this story is first chronologically, it does spoil some of the mystery and intrigue from Rogue Lawyer, so these titles are best read in order of publication.
Rogue Lawyer (2015)
Partners (2016) (Short Story Prequel)
Whistler Books
Unlike the previous series in which the prequel short story was written as a follow-up, for the Whistler books the short story prequel was published in anticipation of the first book as promotion. Witness to a Trial introduces the moving parts and pieces of the series with a very brief story.
Then The Whistler dives right in to the story of a corrupt judge and the lawyer, Lacy Stoltz, who receives the complaint regarding the judicial misconduct. The sequel, The Judge's List, takes place three years later and follows Lacy once again as she finds herself neck deep in danger in her attempt to bring a judge to justice.
Witness to a Trial (2016) (Short Story Prequel)
The Whistler (2016)
The Judge's List (2021)
Theodore Boone Books
This John Grisham book series is about Theodore Boone, a 13-year-old who lives in Strattenburg, Pennsylvania. These are young adult books, which tailor Grisham's legal themes and twists for a younger audience. Theo has spent much of his childhood growing up around the courtroom and knows that he has what it takes to become the best lawyer in the state.
Theo knows every judge, court clerk, police officer and a lot about the law, and he happily dispenses legal advice to his friends leading to new adventures in pursuit of justice. These John Grisham books should also be read in order of publication.
John Grisham Books in Order – Jake Brigance
The series includes John Grisham's debut novel, which introduced Jake Brigance for the very first time. He is an attorney in Canton, Mississippi, a small town which is horrified by the rape of a ten-year-old girl, but even more horrified when her Black father takes matters into his own hands against her rapists. Jake must now save his client's life amidst a mire of racial violence and uncertain justice.
The following books in the series continue to track Jake throughout his career, so it is best to read them in order of publication.
John Grisham Books in Order – Other Non-Legal Stories
While his legal thrillers are what John Grisham is most well-known for, as we've already mentioned, he has also written non-legal stories.
Standalone Books
Similar to his legal thrillers, the majority of John Grisham's non-legal stories are also standalones. This is great for new readers because it means you can easily pick up whichever book strikes your fancy without worrying about spoilers. These books are character driven and three pertain to sports.
Camino Island Books
The Camino Island books are not legal thrillers, but Grisham has injected mystery into each book with a whodunnit. The first book introduces Bruce Cable, the proprietor of a bookshop in Santa Rosa on Camino Island, Florida. Bruce's real money, however, comes from selling rare books and occasionally dabbling in the black market with its lucrative stolen books and manuscripts.
Mercer Mann, a young novelist, has been recruited to infiltrate Bruce's circle of friends in order to learn his secrets. But then she learns too much, and trouble is biting at her heels.
These John Grisham books should definitely be read in order of publication.
Camino Island (2017)
Camino Winds (2020)
John Grisham Book-to-Screen Adaptations
There are many adaptations of John Grisham's books. In fact, it was the success of The Firm adaptation in 1993, starring Tom Cruise and Jeanne Tripplehorn, which gave Grisham the financial security to walk away from his day job as a lawyer and pursue writing full-time.
That same year The Pelican Brief was adapted with another star-studded cast. Julia Roberts plays the main character alongside Denzel Washington.
The following year in 1994 saw the adaptation of one more John Grisham novel: The Client. Once again it was another star-studded cast with Susan Sarandon and Tommy Lee Jones. Brad Renfro was cast as the young main character, Mark Sway, because Grisham had final casting approval and insisted the actor hail from near Memphis.
Two years later in 1996 saw the adaptation of two more Grisham novels: The Chamber and A Time to Kill. First came A Time to Kill, based on Grisham's debut, starring Matthew McConaughey, Samuel L. Jackson, Sandra Bullock, Kevin Spacey, Oliver Platt, Donald Sutherland, Kiefer Sutherland, Ashley Judd, and many more. Then the second Grisham movie that year was The Rainmaker starring Matt Damon, Danny DeVito, Claire Danes, and more.
It would be a few more years before the next John Grisham adaptation, but in 2003 Runaway Jury premiered. Like the ones before it, this adaptation had another star-studded cast including John Cusack, Rachel Weisz, Gene Hackman, Dustin Hoffman, and more.
Finally, nearly all of Grisham's adaptations are ones of his legal thrillers, but there is one notable exception which has become an annual tradition for many. The 2004 Christmas with the Kranks movie starring Tim Allen and Jamie Lee Curtis is an adaptation of Grisham's novel, Skipping Christmas.
A Summary of John Grisham Books in Order
If you're still uncertain where you should begin your John Grisham reading journey, or trying to remember which books of his you've already read, these summaries will be helpful. Below you will find the summaries to the first ten standalone John Grisham books. All of these are his legal thrillers and will have you racing to the last page.
---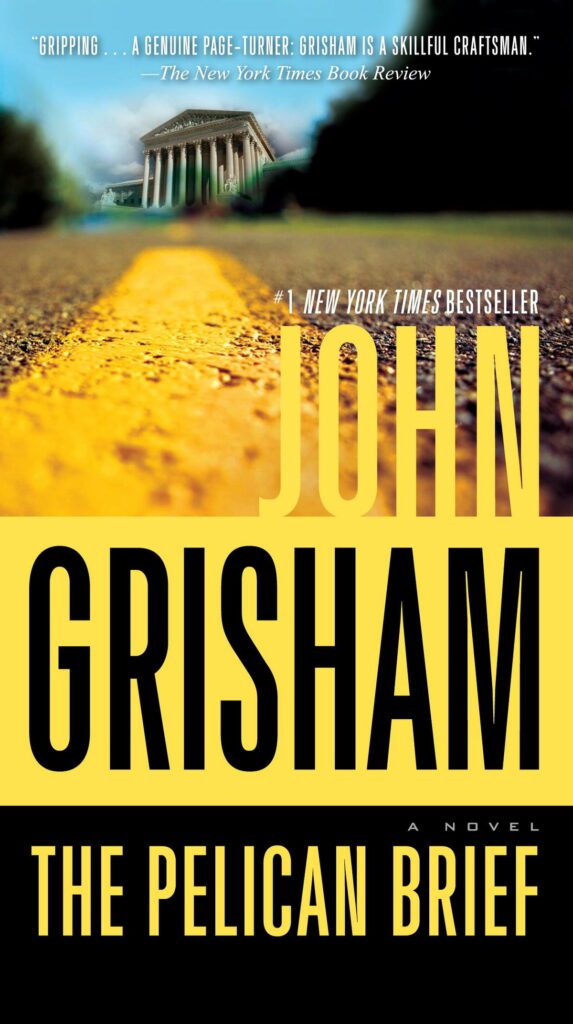 1. The Pelican Brief
One night two Supreme Court justices are assassinated, and a young law student in New Orleans prepares a legal brief.
It was a shot in the dark for Darby Shaw, merely a guess, but suddenly she is witness to a murder that was meant for her. Now she must go underground to save her life and she finds that there is only one person, an ambitious reporter, that she can trust to help her understand what is going on.
That's because someone is engineering a deadly cover-up. Someone who has read Darby's legal brief and will do anything to destroy the evidence of an unthinkable crime.
---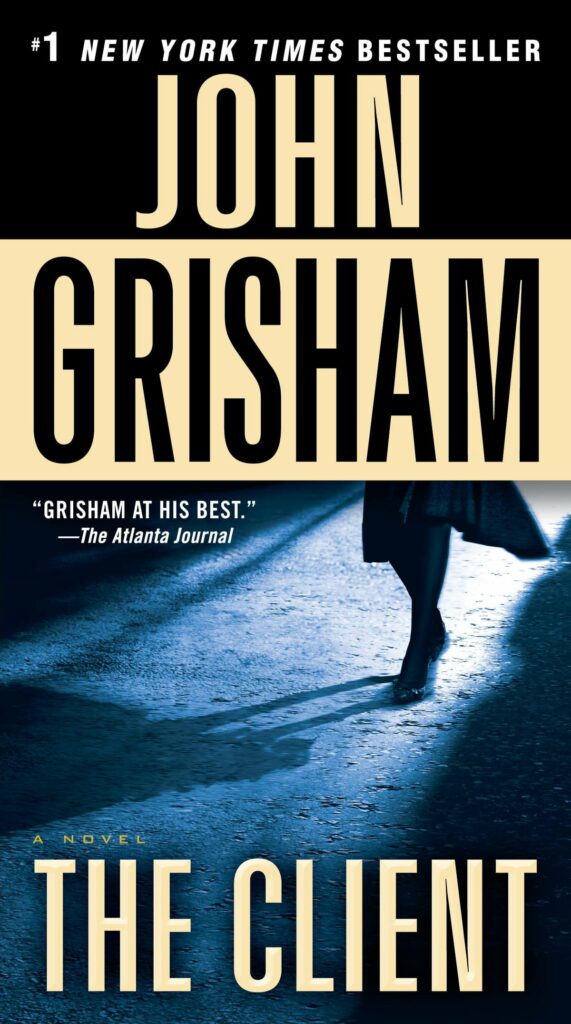 2. The Client
Mark Sway was sharing a forbidden smoke with his younger brother when a shiny Lincoln pulled up to the curb and the eleven-year-old learned a dangerous secret. That's because the unexpected visitor, a suicidal lawyer, means Mark now knows the whereabouts of the most sought-after dead body in America.
Now the young boy is in the middle of a dangerous fight between the legal system and a desperate mob killer. Reggie Love is the only one in his corner, a young lawyer who will do anything to protect her client, including make a gamble that could bring his freedom, or cost them their lives.
---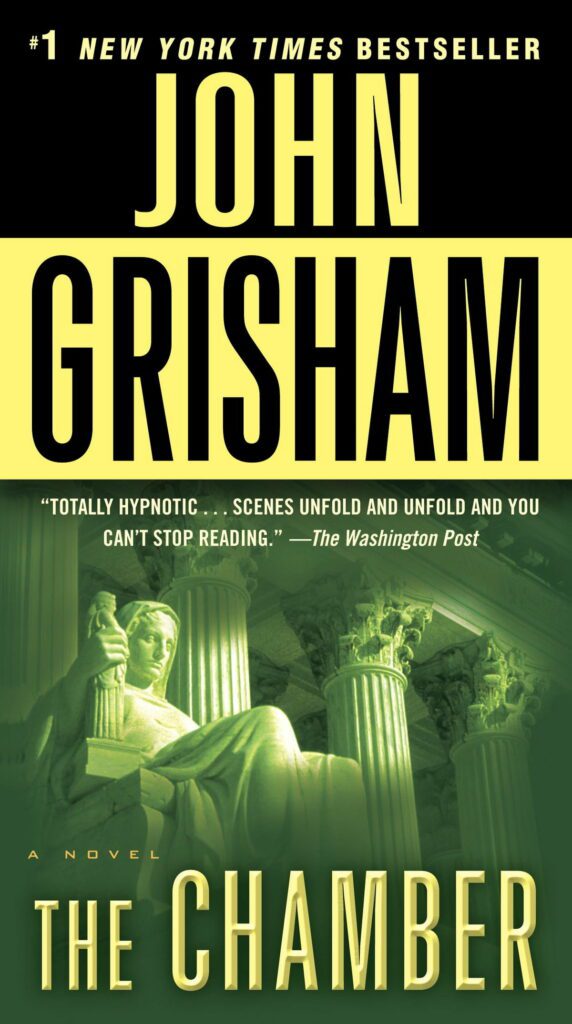 3. The Chamber
Adam Hall is on the brink of a brilliant career in law when he risks it all for a killer on death row. Sam Cayhall is a former Klansman now facing the death penalty in Mississippi for a fatal bombing in 1967. His only hope is the twenty-six-year-old liberal lawyer from Chicago, because Adam happens to be his grandson.
The bond between the two men is rife with shame, family lies, and secrets. Adam has only days to try and save his client from the gas chamber, but there is one secret that could save Sam's life or cost Adam his own.
---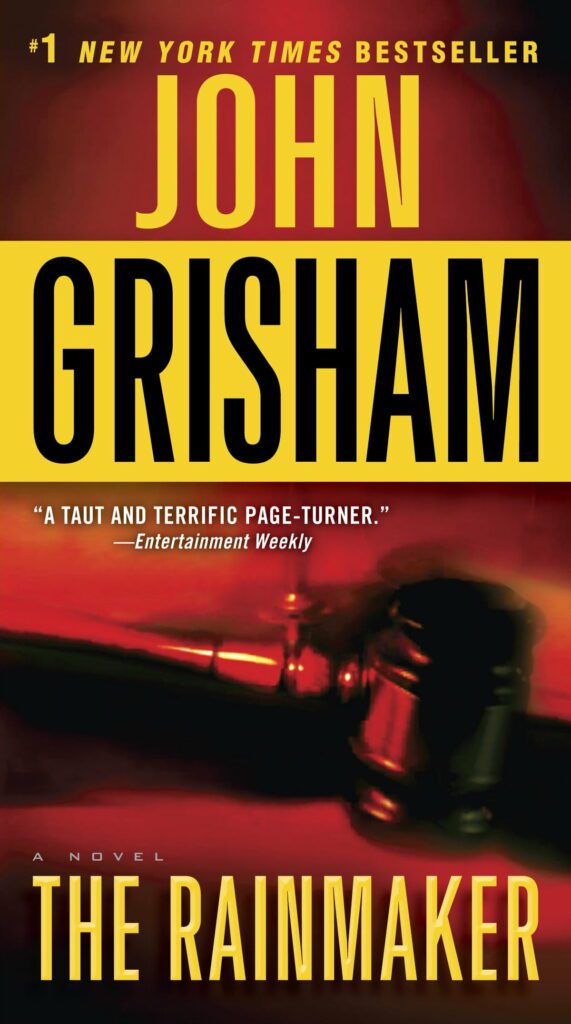 4. The Rainmaker
Rudy Baylor does not have much. He doesn't have a job and his creditors are calling. But he does have a client if Rudy can find a way to file the lawsuit against the insurance company for a devastated family.
The case quickly explodes into something much bigger than Rudy ever anticipated though. When he arrives in court, there is a heavyweight corporate defense team to meet him and they plunge him into a nightmare of lies and legal maneuverings. It has become a fight that could cost Rudy his life, or make him the biggest rainmaker in the land.
---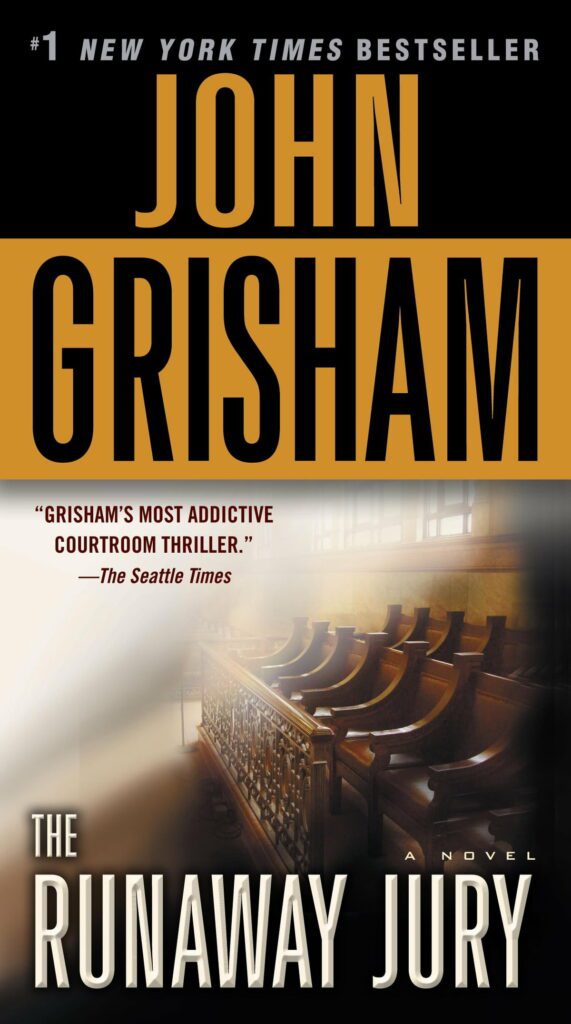 5. The Runaway Jury
The twelve members of the jury at the center of an enormous lawsuit against a giant tobacco company have been investigated and harassed by lawyers and consultants intent on a verdict. The civil trial is sure to be the most explosive of the century with everyone waiting to hear their decision. But the jury has a leader, and he will be the one who decides the verdict.
While he is known only as Juror #2 within the trial, his life and his past has led him to this moment. A woman on the outside helped him plot and plan, but now as a corporate empire waits for a decision, the truth about Juror #2 will explode like wildfire.
---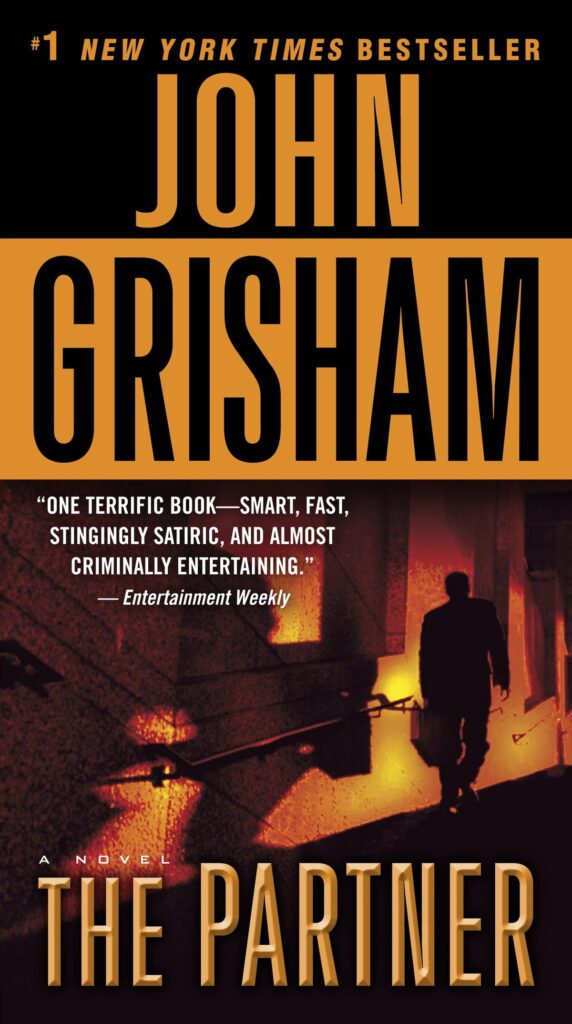 6. The Partner
Patrick Lanigan stole $90 million from his Mississippi law firm and then ran for his life. He managed to evade capture for four years, but the rich and powerful men seeking him eventually caught him. Now they're taking him home.
His trial promises to be extraordinary, but not all is what it seems. Everyone thinks they know what took place, but Patrick knows the truth.
---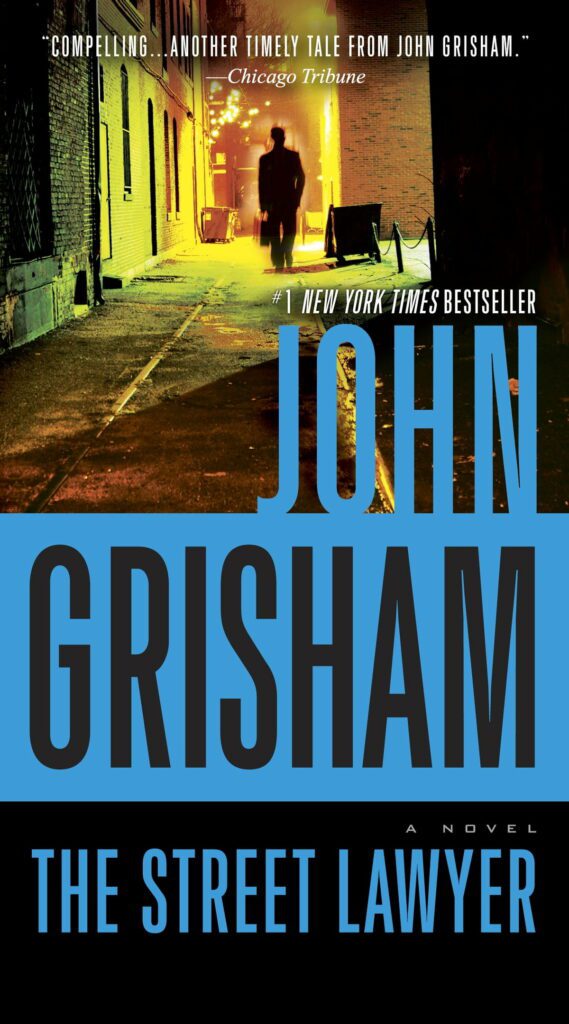 7. The Street Lawyer
Michael Brock is one step away from partnership when everything changes. A homeless man takes nine lawyers hostage, but it ends with the man's blood on Michael's face and the rediscovery of Michael's conscience. He leaves the big time to take to the streets and help society's powerless by advocating for justice on their behalf.
But a confidential file and a deadly conspiracy from his former D.C. law firm are things that Michael can't leave in the past. His former colleagues are about to become his enemies.
---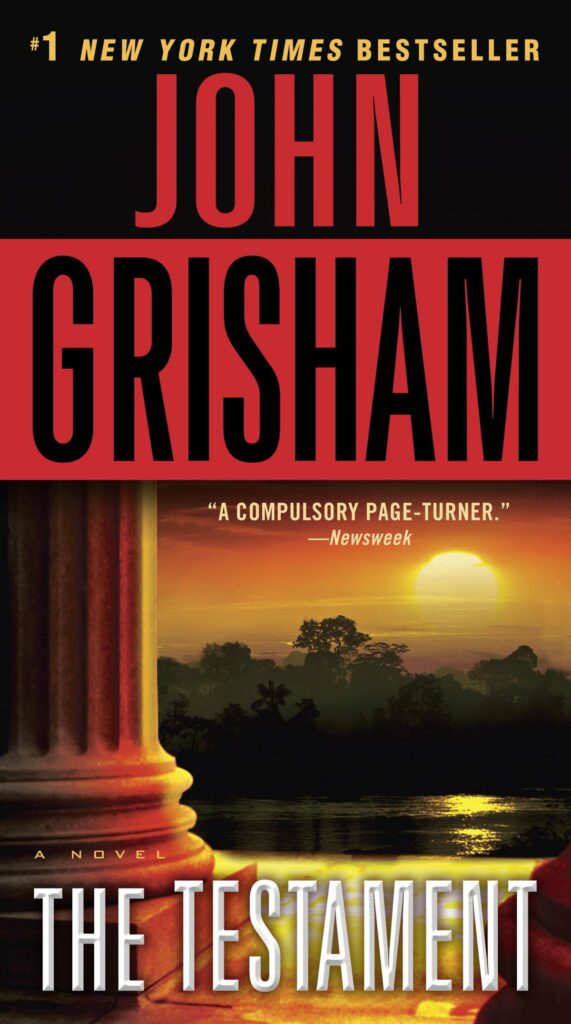 8. The Testament
His death is mere hours away, but Troy Phelan is frantically writing a new will that will send a message to all those around him. That's because he has named a new sole heir to his $11 billion dollar fortune. The new heir is a missionary who lives deep in the jungles of Brazil, Rachel Lane, and it prompts a vicious legal battle.
Nate O'Riley is a disgraced corporate attorney who has been chosen to find Rachel Lane no matter the cost. He will stumble through the Brazilian jungle to find her, but Rachel has a surprise of her own.
---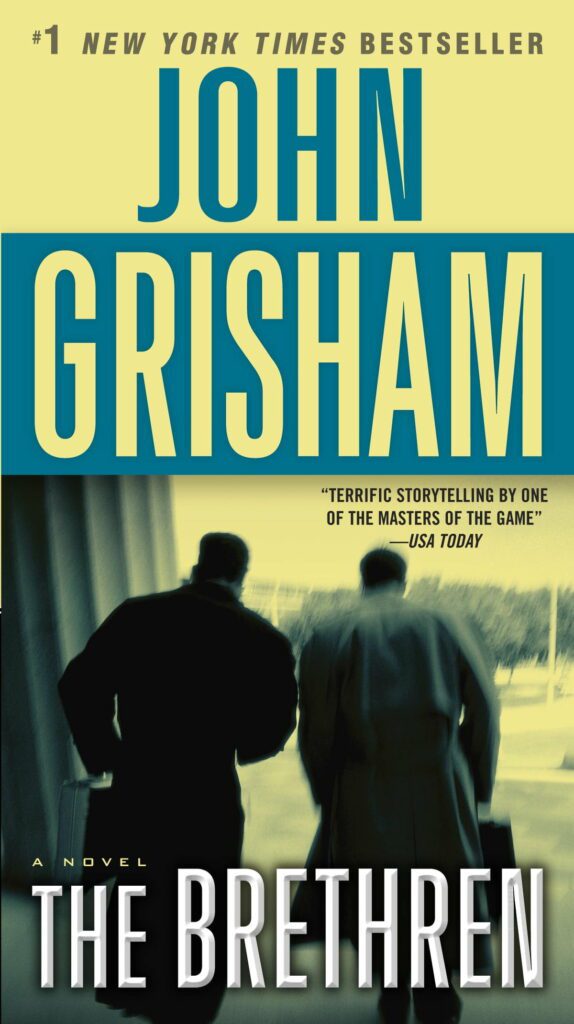 9. The Brethren
The Brethren are three disgraced former judges who have all wound up in a Florida federal prison. One for tax evasion, one for skimming profits from bingo, and the last for a drunken joyride. They meet each day in the prison law library and collectively decide to use their time behind bars to get very rich.
They begin writing letters as part of an extortion scam as a presidential election holds the nation in its grips, which provides them with the perfect opportunity. That's because they've found the perfect victim.
---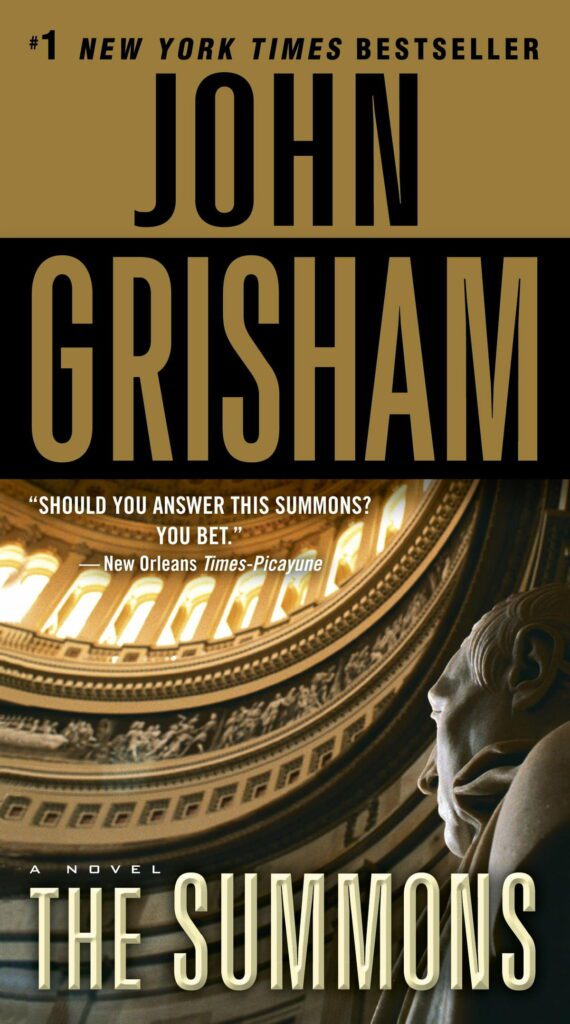 10. The Summons
Judge Atlee was a pillar of his local community, but as he accepts that his end is near, he requests that his two sons return home to Clanton, Mississippi. Ray Atlee is a Virginia law professor and newly divorced, while the younger brother, Forrest, is the black sheep.
But the Judge dies too soon for their family reunion to take place. He leaves behind a shocking secret known only to Ray, and perhaps to someone else.
---
Final Thoughts on John Grisham books in order
Are you a huge fan of John Grisham's books? Have you just begun reading these books and don't know where to start? You now have many options to read through the John Grisham books in order from the first to the last. 
Which order is best for you? Let us know!
More Legal Thriller Resources