Cotton Malone is a beloved protagonist, in part due to the unassuming duality of his character. While he tries to leave his past behind and run a quiet second-hand bookshop in Copenhagen, his past life as a top-secret U.S. operative is never far behind. If this premise intrigues you, keep reading to find out how to read the Cotton Malone books in order.
This series is Steve Berry's most popular and takes place around the world as Cotton rushes to save the day. Berry combines intriguing historical fact with a bit of modern speculation, which results in action-packed historical crime thrillers.
Who is Steve Berry?
Before he became an author, Steve Berry was a trial lawyer for 30 years. In 1990 he decided to write his first novel and thus began his path to becoming an author.
Berry wrote for 12 years and produced eight manuscripts during that time, with each one being a learning experience. Six years into his journey he landed an agent. During the next seven years, five different manuscripts were shopped around, accumulating 85 rejections, before Berry's debut was picked up by Ballantine Books: The Amber Room.
He has since become a best-selling and award-winning author. Cumulatively, his works have been translated into 41 languages with more than 25 million copies sold in 52 countries.

About Cotton Malone
Steve Berry's Cotton Malone series is his most abundant series with multiple books, short stories, and spin-offs. The main character in this series is, as you might predict, Cotton Malone.
The premise for this character and his background came to Berry while he was sitting at a café in Højbro Plads in Copenhagen, Denmark. The origins of this character became integral to the story. This is because Cotton owns a bookstore in Copenhagen as homage to this strike of inspiration.
Cotton Malone is a former Justice Department operative trying to leave behind his past career to quietly sell and collect rare books. Unfortunately for him, and fortunately for readers, this does not go to plan. Trouble and his past frequently creeps up on Cotton.
While his previous government ties make Cotton a formidable opponent when cornered, Berry also crafted a conflicted man with this titular character. Cotton has a previously failed marriage, a difficult relationship with his teenage son, and is not great with women. He also, charmingly and conveniently, has an eidetic memory.
In addition to 16 full-length novels, the popular character has been optioned for a television series adaptation. Waterman Entertainment and Riven Rock Projects acquired the rights to develop a TV series in 2019. Unfortunately, not much more has become public since the original announcement.
Cotton Malone Books in Order
But now let's dive into the Cotton Malone books in order. Here we have included all the books in publication order including short stories and novellas.
Steve Berry remarks on his website that he wrote each book to stand on its own; therefore, it's not necessary to read all the Cotton Malone books in order. However, he does add that if you choose to read the books in publication order, you might recognize certain things that crop back up.
It is important to note that this is not a chronological list. The most significant example of this is that The Bishop's Pawn, the thirteenth book in the series, harkens back to Cotton's first case. Therefore, it takes place before The Templar Legacy chronologically.
The Templar Legacy (2006)
The Alexandria Link (2007)
The Venetian Betrayal (2007)
The Charlemagne Pursuit (2008)
The Paris Vendetta (2009)
The Balkan Escape (2010) (Short Story)
The Emperor's Tomb (2010)
The Devil's Gold (2011) (Short Story)
The Jefferson Key (2011)
The Admiral's Mark (2012) (Short Story)
The Tudor Plot (2013) (Novella)
The King's Deception (2013)
The Lincoln Myth (2014)
Extenuating Circumstances (2014) (Short Story in Anthology)
The Devil's Bones (2014) (Short Story)
The Patriot Threat (2015)
The 14th Colony (2016)
Shadow Tag (2016) (Short Story w/ Raymond Khoury) (Out of Print)
The Lost Order (2017)
The Bishop's Pawn (2018)
The Malta Exchange (2019)
Past Prologue (2019) (Short Story w/ Diana Gabaldon)
The Devils' Due (2020) (Short Story)
The Warsaw Protocol (2020)
The Kaiser's Web (2021)
The Last Kingdom (2023)
The Atlas Maneuver (Expected: February 20, 2024)
Summary of Cotton Malone Books in Order
After all that, let's dive into some summaries of Steve Berry's most popular series. In this list of Cotton Malone books in order we have included the summaries for the first 10 novels. These books are the perfect way to begun your Steve Berry reading journey.
---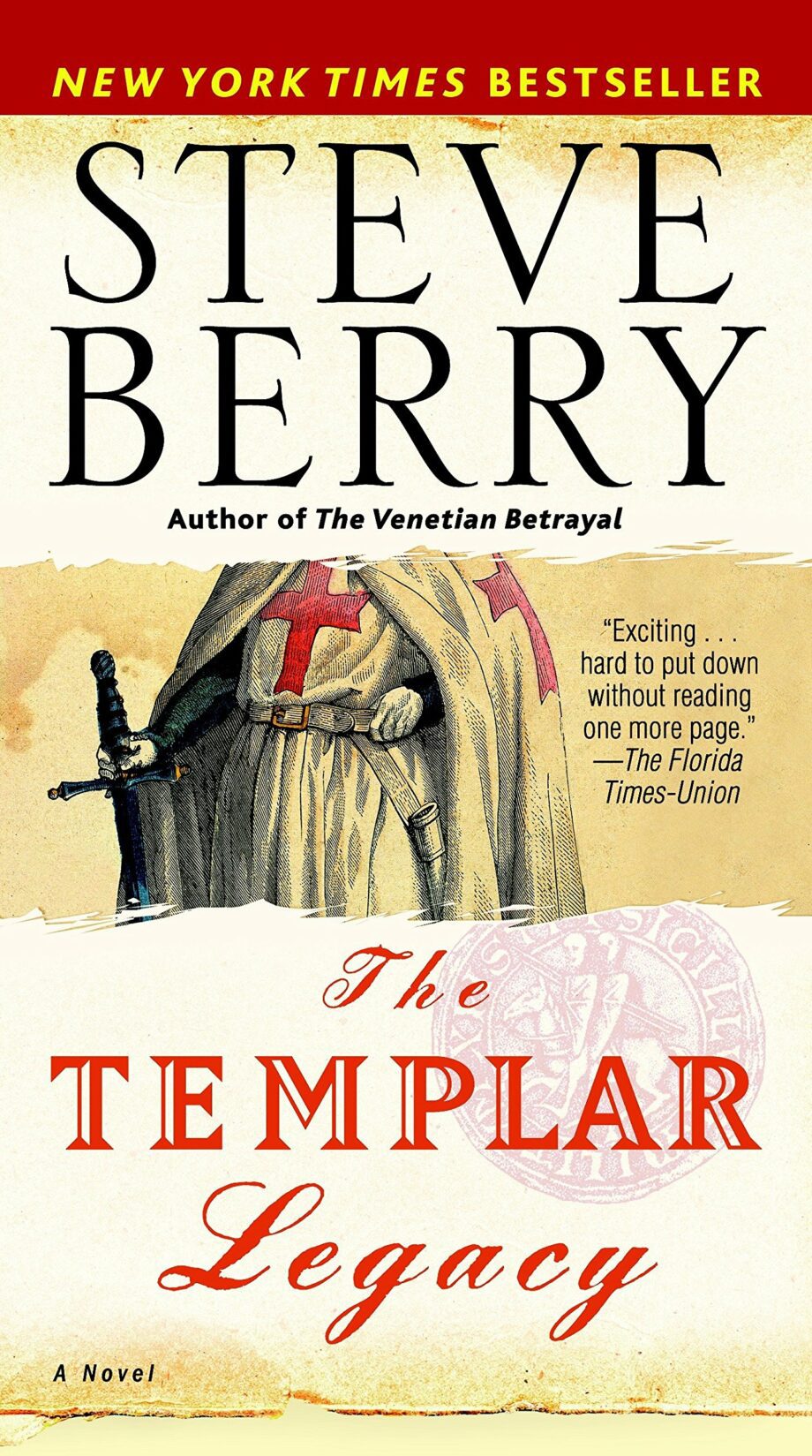 1. The Templar Legacy
The ancient order of the Knights Templar held untold wealth and absolute power. Until the Inquisition, when they were wiped from the face of the earth, their hidden riches lost. But now two forces vying for the treasure have learned that it is not what they thought it was. Its true nature could change the modern world.
Cotton Malone, one-time top operative for the U.S. Justice Department, is enjoying his quiet new life as an antiquarian book dealer in Copenhagen. But then an unexpected call to action reawakens his hair-trigger instincts. It plunges him back into the cloak-and-dagger world he thought he'd left behind.
It begins with a violent robbery attempt on Cotton's former supervisor, Stephanie Nelle. She is far from home on a mission that has nothing to do with national security. Armed with vital clues to a series of centuries-old puzzles scattered across Europe, she means to crack a mystery that has tantalized scholars and fortune-hunters through the ages.
She is searching for the legendary cache of wealth and forbidden knowledge thought to have been lost forever when the order of the Knights Templar was exterminated in the fourteenth century. But she's not alone.
Competing for the historic prize and desperate for information is Raymond de Roquefort. He is a shadowy zealot with an army of assassins at his command.
Welcome or not, Cotton seeks to even the odds in the perilous race. But the more he learns about the ancient conspiracy, the more he realizes that more than lives are at stake.
It is rife with intrigue, treachery, and craven lust for power. At the end of a lethal game of conquest, lies a shattering discovery that could rock the civilized world. And, in the wrong hands, bring it to its knees.
---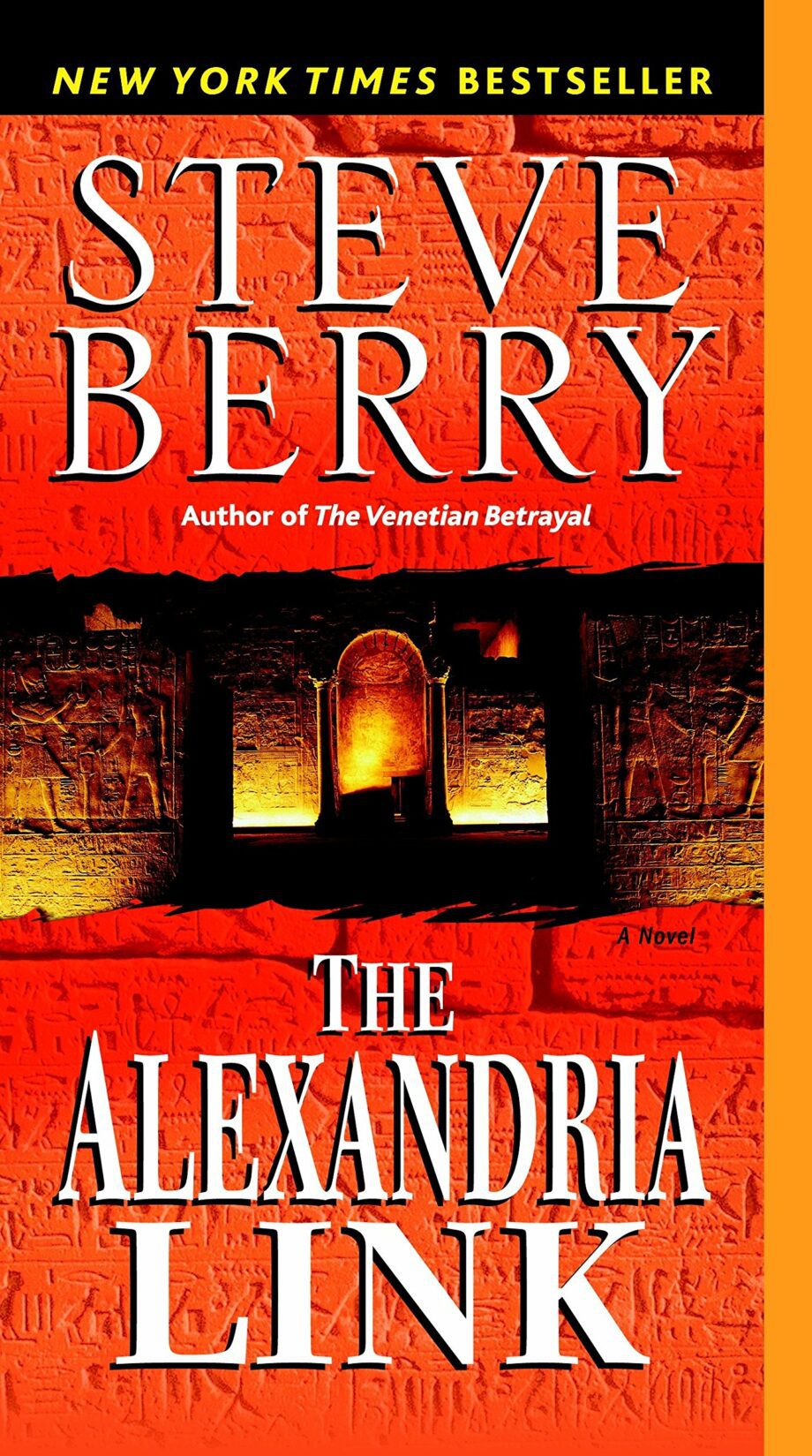 2. The Alexandria Link
Cotton Malone retired from the high-risk world of elite operatives for the U.S. Justice Department to lead the low-key life of a rare-book dealer. But his quiet existence ends abruptly when he receives an anonymous e-mail.
"You have something I want. You're the only person on earth who knows where to find it. Go get it. You have 72 hours. If I don't hear from you, you will be childless."
His horrified ex-wife confirms that the threat is real: Their teenage son has been kidnapped. Then Malone's Copenhagen bookshop burns to the ground. It soon becomes brutally clear that those responsible will stop at nothing to get what they want. And what they want is nothing less than the lost Library of Alexandria.
A cradle of ideas — historical, philosophical, literary, scientific, and religious — the Library of Alexandria was unparalleled in the world. But fifteen hundred years ago, it vanished into the mists of myth and legend. Its vast bounty of wisdom coveted ever since by scholars, fortune hunters, and those who believe its untold secrets hold the key to ultimate power.
Now a cartel of wealthy international moguls is desperate to breach the library's hallowed halls. They are bent on altering the course of history and only Malone possesses the information they need to succeed. At stake is an explosive ancient document.
It has the potential not only to change the destiny of the Middle East. But also to shake the world's three major religions to their very foundations.
Pursued by a lethal mercenary, Malone crosses the globe in search of answers. His quest will lead him to England and Portugal, even to the highest levels of American government. The shattering outcome, deep in the Sinai desert, will have worldwide repercussions.
---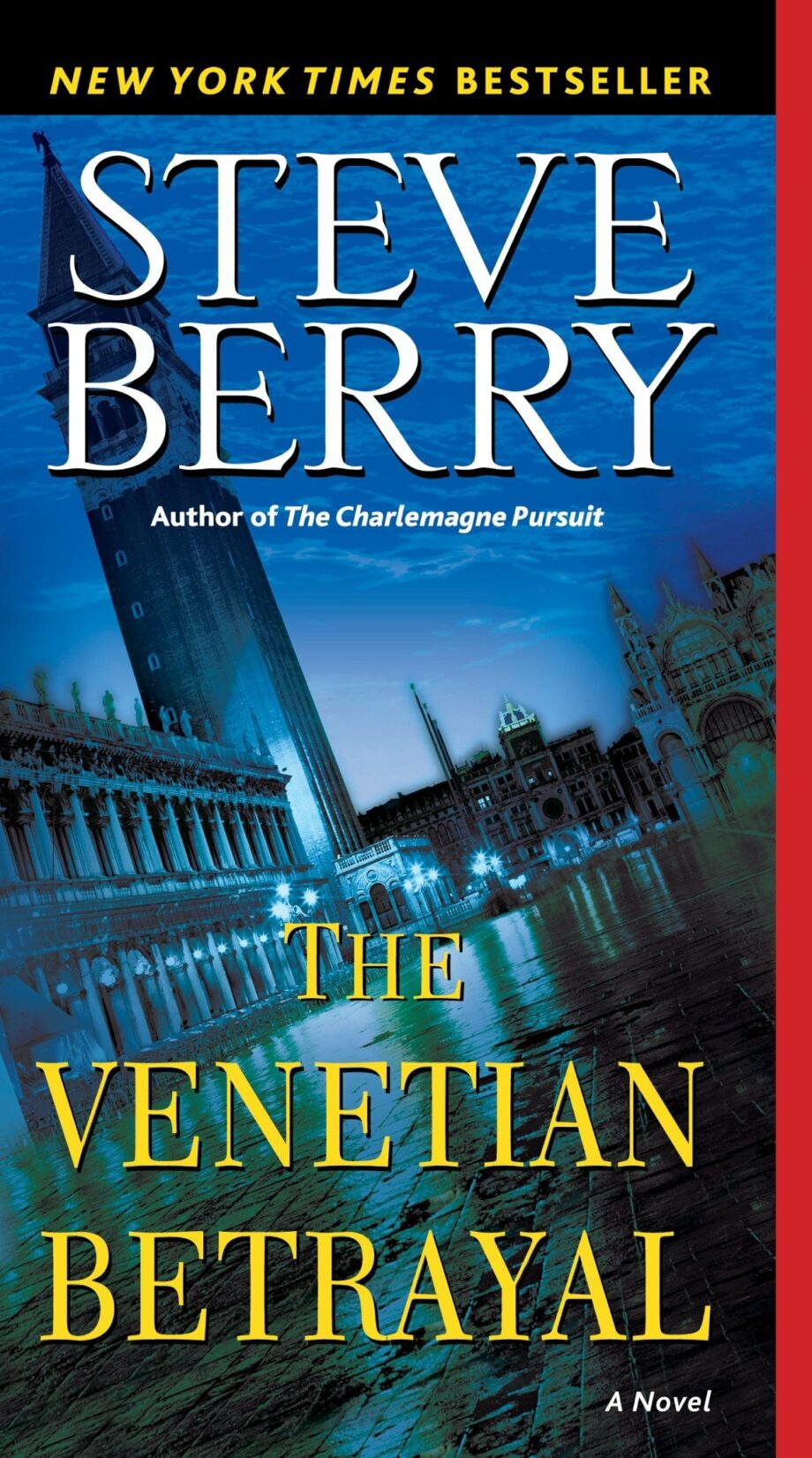 3. The Venetian Betrayal
In 323 B.C.E, Alexander the Great set his sights on Arabia, then suddenly succumbed to a strange fever. Locating his final resting place — unknown to this day — remains a tantalizing goal for many.
Now the quest for this coveted prize is about to heat up. And Cotton Malone drawn into an intense geopolitical chess game.
Cotton narrowly escapes incineration in a devastating fire that consumes a Danish museum. Then he learns from Cassiopeia Vitt that the blaze was neither an accident nor an isolated incident. It is part of a campaign of arson with a far more diabolical design. Buildings across Europe are being devoured by infernos of unnatural strength.
And from the ashes of the U.S.S.R., a new nation has arisen. Former Soviet republics have consolidated into the Central Asian Federation.
At its helm is Supreme Minister Irina Zovastina. A cunning despot with a talent for politics, a taste for blood sport, and the single-minded desire to surpass Alexander the Great as history's ultimate conqueror.
Backed by a secret cabal of powerbrokers, the Federation has amassed a harrowing arsenal of biological weapons. Equipped with the hellish power to decimate other nations at will, only one thing holds them back. A miraculous healing serum, kept secret by an ancient puzzle and buried with the mummified remains of Alexander the Great.
Together, Cotton and Cassiopeia must outrun and outthink the forces allied against them. Their perilous quest will take them from Denmark, to Venice, and Central Asia. They must unravel a riddle whose solution could destroy or save millions of people — depending on who finds the lost tomb first.
---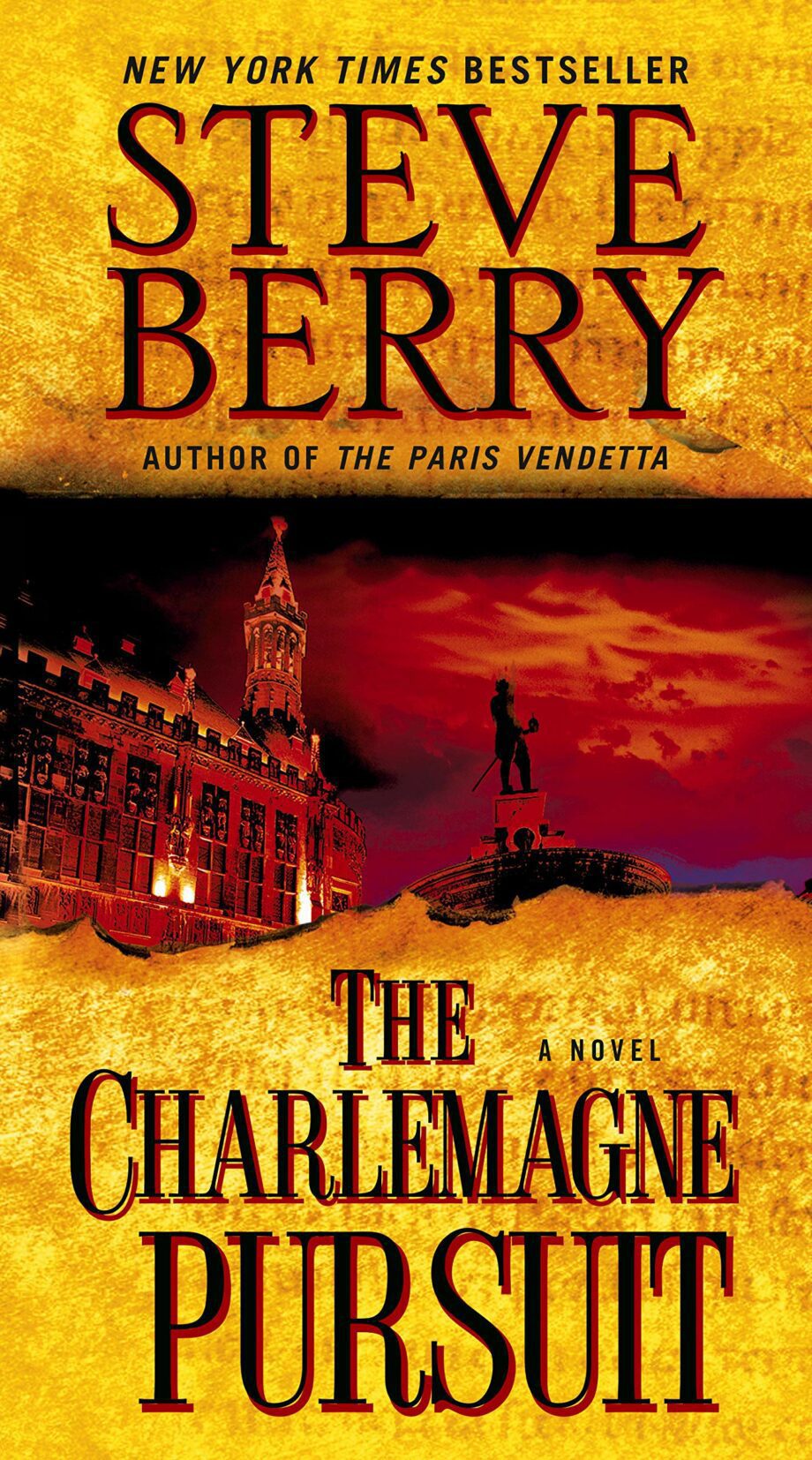 4. The Charlemagne Pursuit
As a child, Cotton Malone was told his father died in a submarine disaster in the North Atlantic. But now he wants the full story and asks his ex-boss, Stephanie Nelle, to secure the military files. What he learns stuns him: His father's sub was a secret nuclear vessel lost on a highly classified mission beneath the ice shelves of Antarctica.
But Malone isn't the only one after the truth.
Twin sisters Dorothea Lindauer and Christl Falk are fighting for the fortune their mother has promised one of them. Whoever discovers what really became of their father, who died on the same submarine that Malone's father captained.
The sisters know something Malone doesn't. Inspired by strange clues discovered in Charlemagne's tomb, the Nazis explored Antarctica before the Americans, as long ago as 1938. Now Malone discovers that cryptic journals penned in "the language of heaven," inscrutable conundrums posed by an ancient historian, and the ill-fated voyage of his father are all tied to a revelation of immense consequence for humankind.
Langford Ramsey, an ambitious navy admiral, has begun a brutal game of treachery, blackmail, and assassination. All that to ensure this explosive information never rises to the surface.
So Malone embarks on a dangerous quest with the sisters. One that will lead them from an ancient German cathedral to a snowy French citadel to the unforgiving ice of Antarctica. Along the way he will finally confront the shocking truth of his father's death and the distinct possibility of his own.
---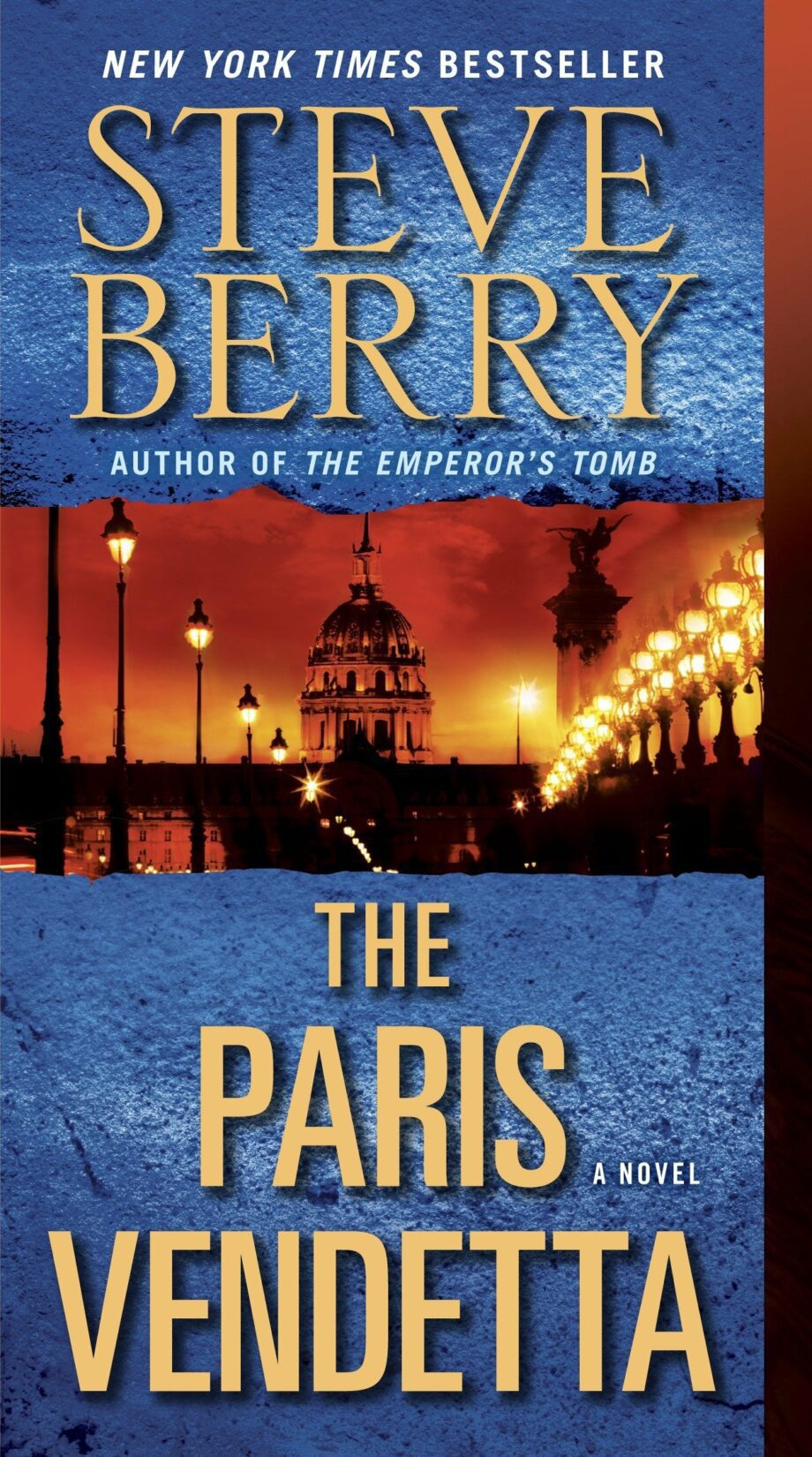 5. The Paris Vendetta
When Napoleon Bonaparte died in exile in 1821, he took to the grave a powerful secret. As general and Emperor, he had stolen uncountable riches from palaces, national treasuries, even the Knights of Malta and the Vatican. In his final days, his British captors hoped to learn where the loot lay hidden. But he told them nothing and in his will he made no mention of his treasure.
Or did he?
Former-Justice Department operative Cotton Malone is about to find out after trouble comes knocking at his Copenhagen bookshop. Actually, it breaks and enters in the form of an American Secret Service agent with a pair of assassins on his heels. Malone has his doubts about the anxious young man, but narrowly surviving a ferocious firefight convinces him to follow his unexpected new ally.
Their first stop is the secluded estate of Malone's good friend, Henrik Thorvaldsen. The wily Danish tycoon has uncovered the insidious plans of the Paris Club, which is a cabal of multi-millionaires bent on manipulating the global economy. Only by matching wits with a terrorist-for-hire, foiling a catastrophic attack, and plunging into a desperate hunt for Napoleon's legendary lost treasure can Malone hope to avert international financial anarchy.
But Thorvaldsen's real objective is much more personal. A vendetta to avenge the murder of his son by the larcenous aristocrat at the heart of the conspiracy. Which places Malone in an impossible quandary. One that forces him to choose between friend and country, past and present.
Starting in Denmark, moving to England, and ending up in the storied streets and cathedrals of Paris, Malone plays a breathless game of duplicity and death, all to claim a prize of untold value.
But at what cost?
---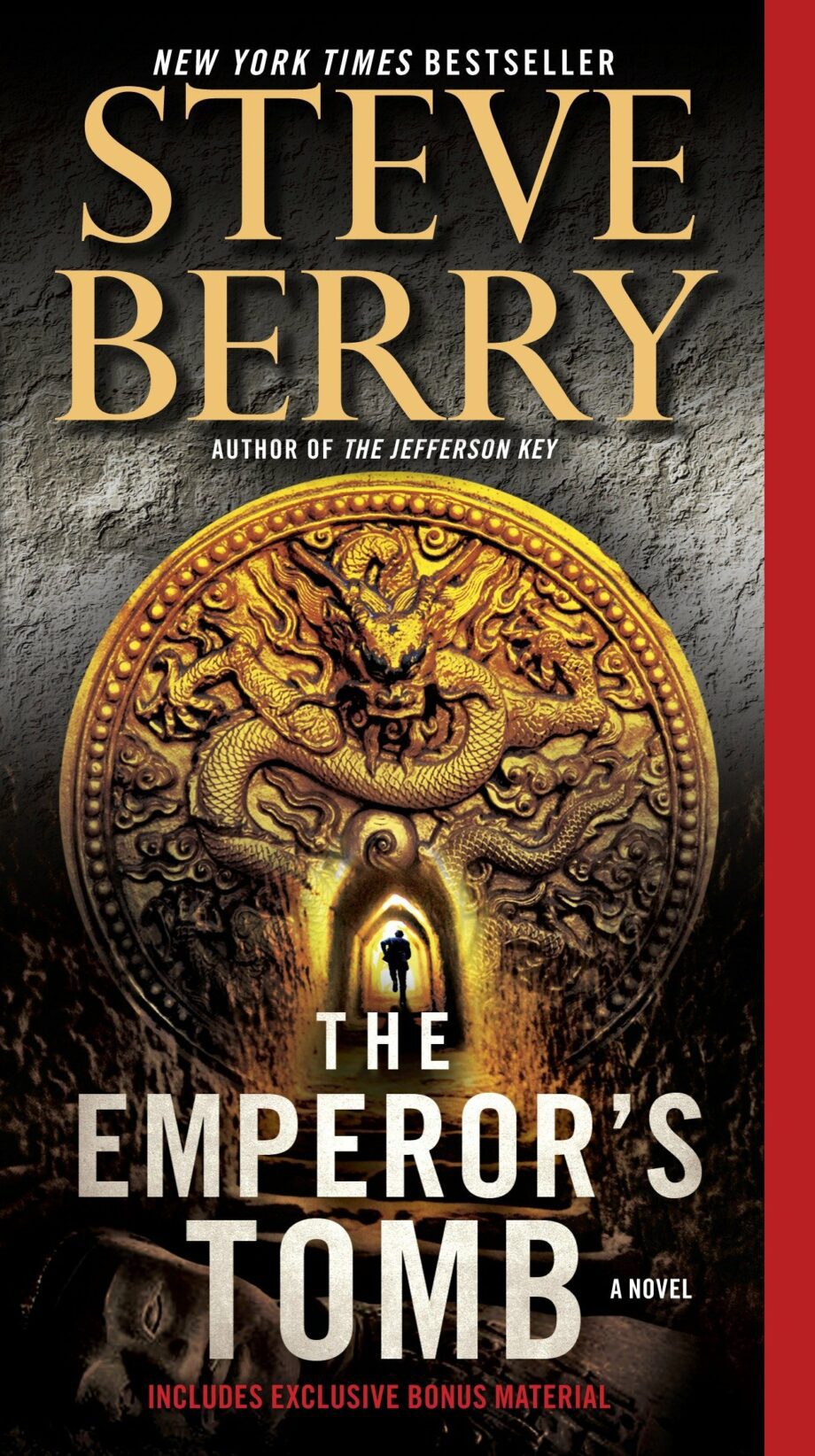 6. The Emperor's Tomb
The tomb of China's First Emperor, guarded by an underground army of terra cotta warriors, has remained sealed for 2,200 years. Though it's regarded as one of the greatest archeological sites in the world, the Chinese government won't allow anyone to open it.
Why not?
That question is at the heart of former-Justice Department operative Cotton Malone's dilemma. His life is shattered when he receives an anonymous note carrying an unfamiliar web address.
Cassiopeia Vitt has saved his life on more than one occasion. Logging on, he sees her being tortured at the hands of a mysterious man. There is a single demand: "Bring me the artifact she's asked you to keep safe."
One problem: Malone doesn't have a clue what the man is talking about, since Cassiopeia has left nothing with him. So begins Malone's most harrowing adventure to date.
It will offer up astounding historical revelations while pitting him against a ruthless ancient brotherhood. Moreover, it will send him around the world, with danger lurking at every turn.
---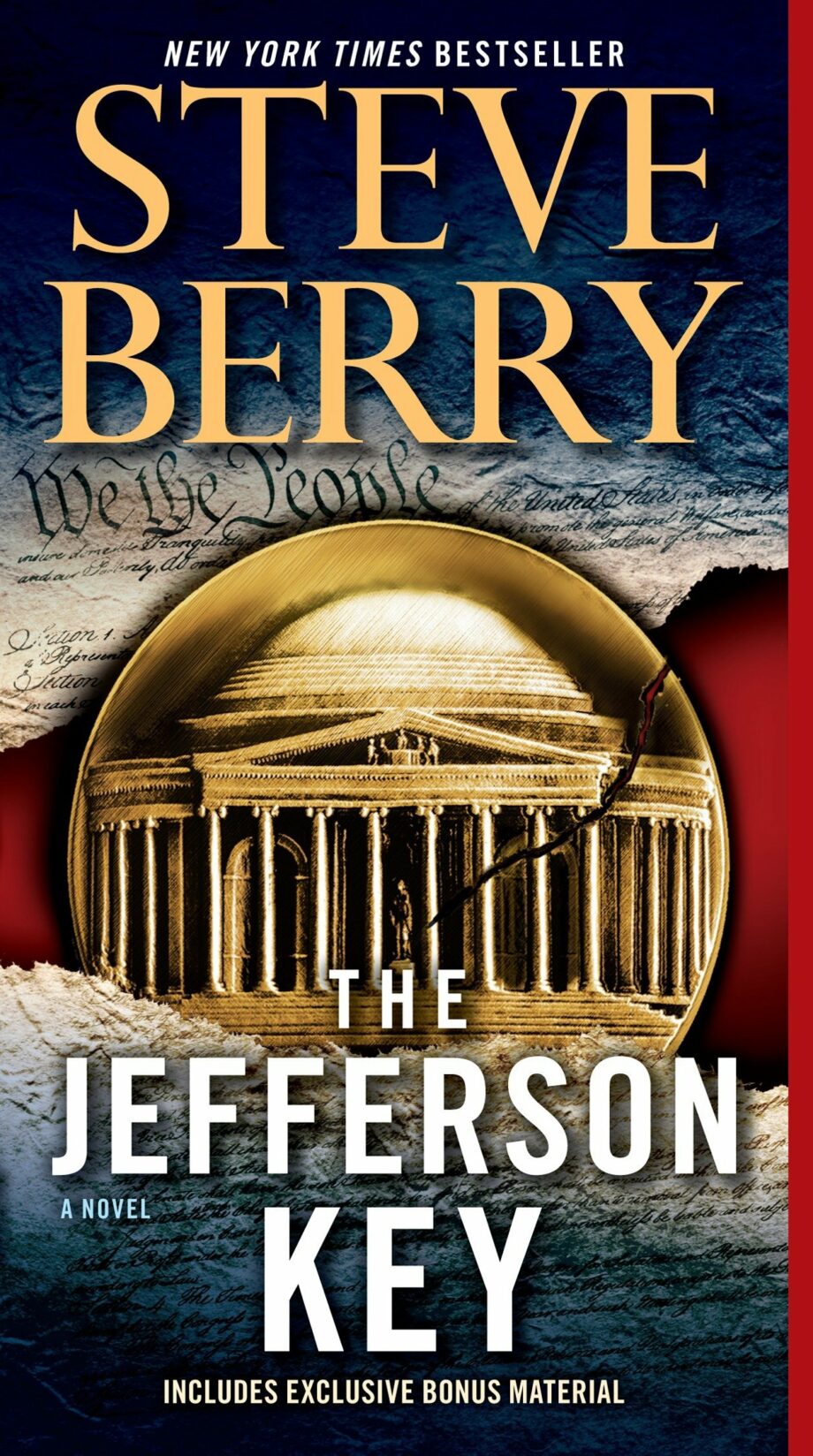 7. The Jefferson Key
Four United States presidents have been assassinated — in 1865, 1881, 1901, and 1963. Each murder seemingly unrelated and separated by time.
But what if those presidents were all killed for the same reason? A clause in the United States Constitution that would shock Americans?
This question is what faces former Justice Department operative Cotton Malone in his latest adventure. When a bold assassination attempt is made against President Danny Daniels, Malone risks his life to foil the killing. Only to find himself at dangerous odds with the Commonwealth, a secret society of pirates first assembled during the American Revolution.
In their most perilous exploit yet, Malone and Cassiopeia Vitt race across the nation and take to the high seas. Along the way they break a secret cipher originally possessed by Thomas Jefferson, unravel a mystery concocted by Andrew Jackson, and unearth a centuries-old document forged by the Founding Fathers themselves. One powerful enough — thanks to that clause in the Constitution — to make the Commonwealth unstoppable.
---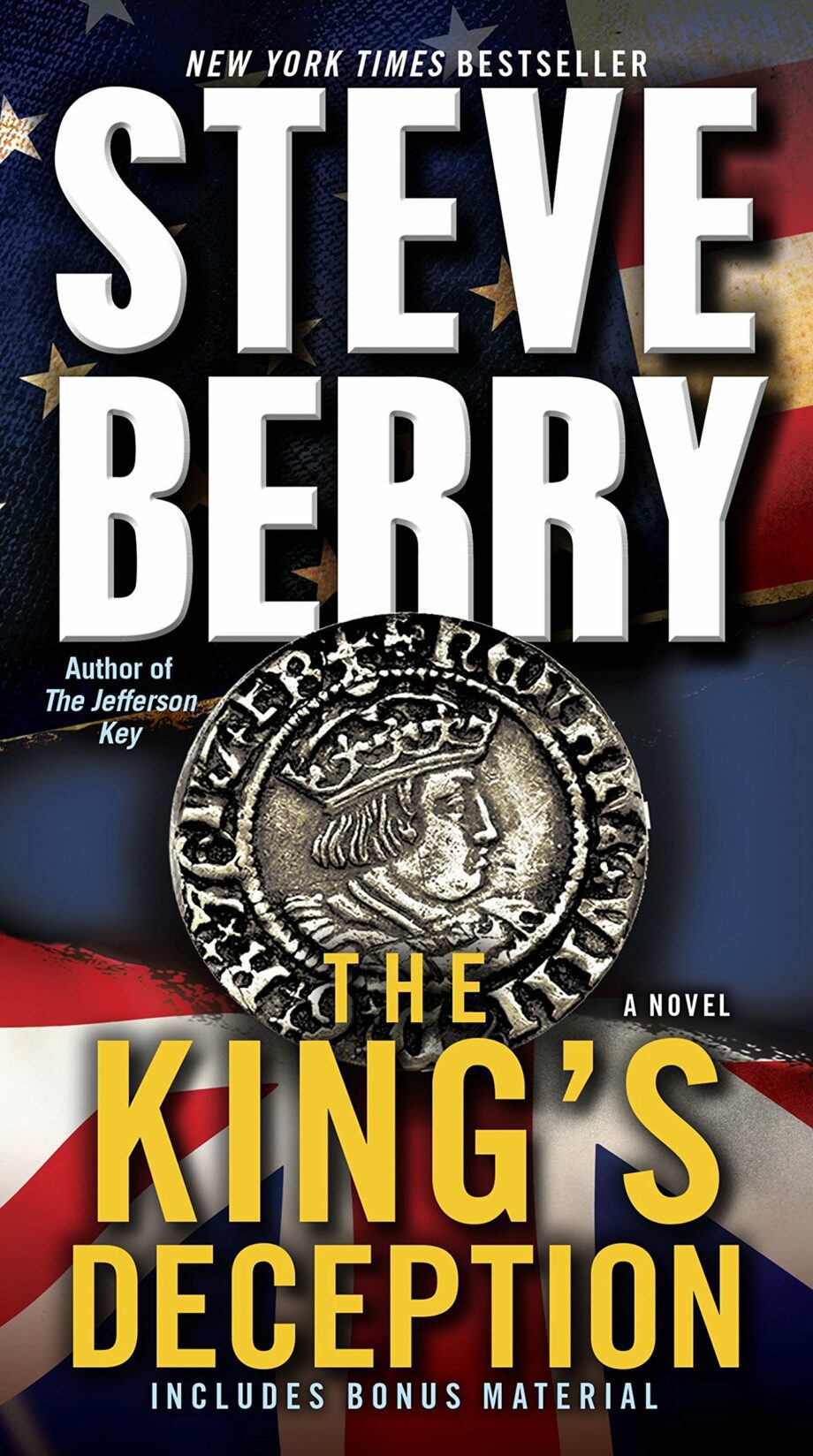 8. The King's Deception
Cotton Malone and his fifteen-year-old son, Gary, are on their way to Europe. As a favor to his old boss at the Justice Department, Malone agrees to escort a teenage fugitive back to England. After a gunpoint greeting in London in which both the fugitive and Gary disappear, Malone learns that he's now part of a high-stakes diplomatic showdown — an international incident of geopolitical gamesmanship and shocking Tudor secrets.
At its heart is the Libyan terrorist convicted of bombing Pan Am Flight 103, who is set to be released by Scottish authorities for "humanitarian reasons." An outraged American government wants that stopped, but nothing can persuade the British to intervene.
Except, perhaps, Operation King's Deception. It is run by the CIA and the operation aims to solve a centuries-old mystery. One that could rock Great Britain to its royal foundations.
CIA Operative Blake Antrim, in charge of King's Deception, is hunting for the spark that could rekindle a most dangerous fire: The one thing that every Irish national has sought for centuries — a legal reason why the English must leave Northern Ireland.
The answer is a long-buried secret that calls into question the legitimacy of the entire 45 year reign of Elizabeth I, the last Tudor monarch, who completed the conquest of Ireland and seized much of its land. But Antrim also has a more personal agenda, a twisted game of revenge in which Gary is a pawn.
With assassins, traitors, spies, and dangerous disciples of a secret society closing in, Malone is in a lethal bind. To save Gary he must play one treacherous player against another — and only by uncovering the incredible truth can he hope to stop the shattering consequences of the King's Deception.
---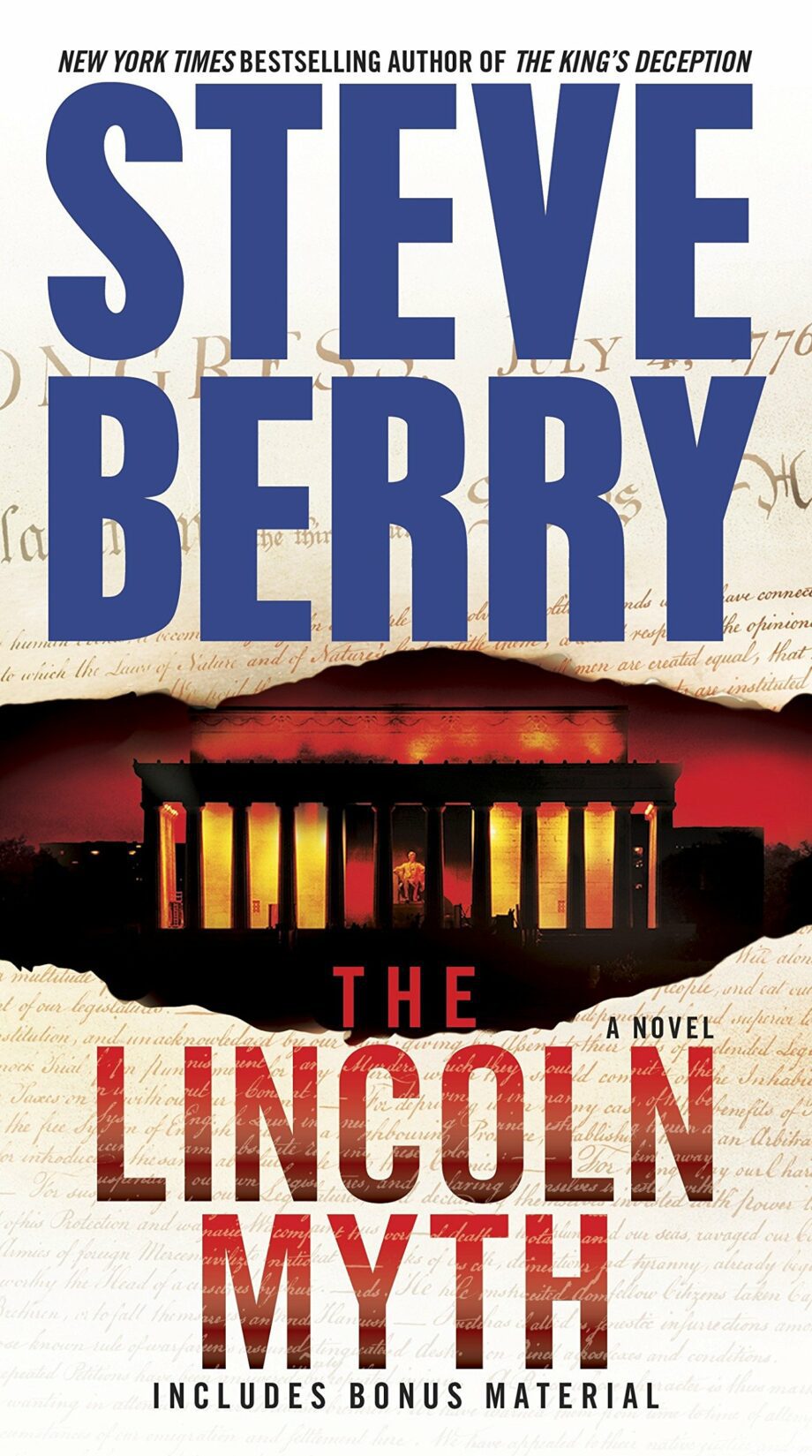 9. The Lincoln Myth
September, 1861: All is not as it seems. With these cryptic words, a shocking secret passed down from president to president comes to rest in the hands of Abraham Lincoln. And as the first bloody clashes of the Civil War unfold, Lincoln alone must decide how best to use this volatile knowledge: Save thousands of American lives? Or keep the young nation from being torn apart forever?
Currently in Utah, the fabled remains of Mormon pioneers, whose 19th century expedition across the desert met with a murderous end, have been uncovered. Then in Washington, D.C., the official investigation of an international entrepreneur, an elder in the Mormon church, has sparked a political battle between the White House and a powerful United States senator. Meanwhile in Denmark, a Justice Department agent, missing in action, has fallen into the hands of a dangerous zealot.
And then in a matter of a few short hours, Cotton Malone has gone from quietly selling books at his shop in Denmark to dodging bullets in a high-speed boat chase.
All it takes is a phone call from his former boss in Washington, and suddenly the ex-agent is racing to rescue an informant carrying critical intelligence. It's just the kind of perilous business that Malone has been trying to leave behind, ever since he retired from the Justice Department. But once he draws enemy blood, Malone is plunged into a deadly conflict.
From the streets of Copenhagen to the catacombs of Salzburg to the rugged mountains of Utah, the grim specter of the Civil War looms as a dangerous conspiracy gathers power. Malone risks life, liberty, and his greatest love in a race for the truth about Abraham Lincoln — while the fate of the United States of America hangs in the balance.
---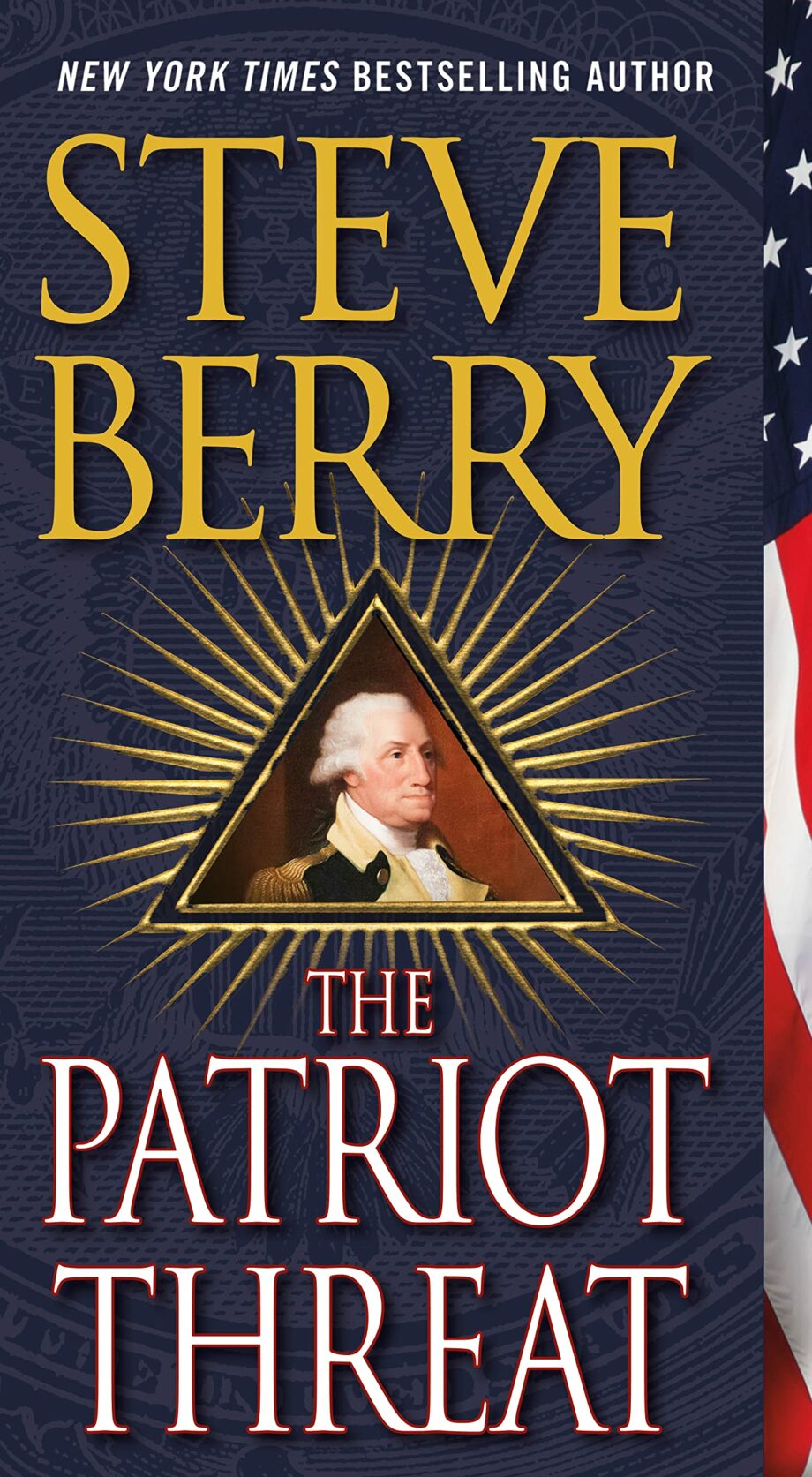 10. The Patriot Threat
The 16th Amendment to the Constitution is why Americans pay income taxes. But what if there were problems with that amendment? Secrets that call into question decades of tax collecting? In fact, there is a surprising truth to this hidden possibility.
Cotton Malone was once a member of an elite intelligence division within the Justice Department known as the Magellan Billet. But he is now retired and owns an old bookshop in Denmark. He's content to live a quiet life.
But then his former-boss, Stephanie Nelle, asks him to track a rogue North Korean. This person may have acquired some top-secret Treasury Department files. The kind that could bring the United States to its knees. Consequently, Malone is vaulted into a harrowing twenty-four hour chase that begins on the canals in Venice and ends in the remote highlands of Croatia.
With appearances by Franklin Roosevelt, Andrew Mellon, a curious painting that still hangs in the National Gallery of Art, and some eye-opening revelations from the $1 bill, this riveting, non-stop adventure is trademark Steve Berry — 90% historical fact, 10% exciting speculation — a provocative thriller posing a dangerous question: What if the Federal income tax is illegal?
---
Final thoughts on Cotton Malone books in order
There you have all you need to know on how to read the Cotton Malone books in order. Steve Berry brilliantly combines historical secrets with a modern twist. Through this Cotton Malone must leave his books behind and race against time to save the fate of the world time and time again.
If you enjoy history, crime thrillers, and deeply guarded secrets, this is one series you will definitely want to read. Have you read the Cotton Malone books in order before? Let us know in the comments below.
Looking for more books in order?
Check out this list of Daniel Silva books in order.