Witty, satirical, and cutting are a few words to describe the Carl Hiaasen books in order. Many take place in Florida and focus on exposing corruption and greed with a tongue-in-cheek sense of humour. He has written both young adult novels and more mature crime thrillers as part of his long career as an author.
If you've found one, or watched an adaptation of his books, and are eager to read more by Hiaasen, keep reading to find out more about all the Carl Hiaasen books in order.
Who is Carl Hiaasen?
Carl Hiaasen was born and raised in Florida, and still calls the Sunshine State home. His love for the state shines through in his writing as many of his books take place in Florida. In describing his books on his website, he says they can be read as more documentary than fiction.
Before he became a published author, Hiaasen was a journalist. He began working for The Miami Herald at 23 years old after graduating from the University of Florida with a journalism degree. Even after the success of his novels, Hiaasen continued to contribute to the newspaper with a weekly column until he retired in March 2021.
He says one of his proudest moments was when a Miami City Commissioner became so enraged by one of his columns, they introduced a resolution officially denouncing Hiaasen. That steadfast bluntness in exposing corruption bleeds through in his fiction writing as well.
His first published novel was with a fellow journalist, William D. Montalbano. Together they wrote three crime thrillers, then Hiaasen wrote his first solo debut in 1986: Tourist Season.
Hiaasen has written more than 30 books during his career, both for adults and young adults. Collectively, Hiaasen's books have been published in 34 languages and two of his books have been adapted for the screen.
Strip Tease, a 1993 book, was adapted in 1996 under the same title starring Demi Moore and Bert Reynolds. Then, in 2006 his young adult novel Hoot was adapted for the screen. It stars Logan Lerman, Brie Larson, Cody Linley, and Luke Wilson.
Hiaasen also makes a cameo appearance in the film, as does his good friend and fishing companion Jimmy Buffett.
Currently, an adaptation for the first book in his Andrew Yancy series, Bad Monkey, is underway. It will star Vince Vaughn.

Carl Hiaasen Books in Order
Black Lizard Series
Carl Hiaasen's official debut was a collaborative effort with his good friend and fellow journalist William D. Montalbano. He is credited as Bill Montalbano in publication. Together they drew from their reporting experience to pen a three-part mystery thriller series.
The first two books, Powder Burn and Trap Line, take place in Florida and concern the drug trade. But the third book, A Death in China, takes place in China. It follows an art history professor racing to discover the truth about his friend's murder before a brutal conspiracy closes in on him.
Powder Burn (1981)
Trap Line (1982)
A Death in China (1984)
Standalone Novels
Following the Black Lizard series, Hiaasen wrote his first solo novel: Tourist Season. While you can read these Carl Hiaasen books in any order as they are standalones, there is something special about reading them in order of publication.
If you read them in publication order, you get to experience the growth and development of Hiaasen. As well, you can see how Hiaasen found his satirical tone.
Skink Series
Not long after Hiaasen published his first solo standalone novel, he wrote the first book in the Skink series: Double Whammy. Like many of his novels, these books are humorous mystery thrillers.
While each book on this list follows a new main character, each one stays true to Hiaasen's iconic satirical tone and trademark Florida setting. Most of the titles on this list are adult fiction; however, Skink – No Surrender, marked with an asterisk below, is written for young adults.
Mick Stranahan Series
Carl Hiaasen first introduced the character of Mick Stranahan in 1989 with Skin Tight, and long-time fans of Hiaasen would be pleased by his return in 2004 with Skinny Dip.
Mick is a former Florida state investigator and in Skin Tight he must come out of retirement to pursue one last case: Who is trying to murder him? Then, in Skinny Dip he becomes involved in a case once again when Joey is thrown off a cruise liner by her husband Chaz and is seeking revenge.
Skinny Dip may also be read as part of the Skink series as the fifth book.
Skin Tight (1989)
Skinny Dip (2004)
Young Adult Standalones
Carl Hiaasen's first foray into the YA genre was a success with Hoot. In these standalones Hiaasen tailors his satirical wit for a younger audience, while integrating ecological conscience. As well, Flush won the Agatha Award for Best Children/Young Adult Fiction in 2005.
Andrew Yancy Series
It is best to read this duology in order of publication to best understand the character of Andrew Yancy.
In Bad Monkey, former Miami Police, now with the Key West Police, Yancy has a human arm in his freezer; as well as a perfectly logical explanation for it. He believes that if he can prove murder, his commander might relieve him of Health Inspector duties. But first he must negotiate his way through an ever-surprising course of events.
Bad Monkey (2013)
Razor Girl (2016)
Non-Fiction Books
Just as entertaining as his fiction are Carl Hiaasen's non-fiction works. With his first non-fiction book Hiaasen didn't leave his investigative journalism roots far behind with a scathing look into the Disney corporation and its effects on his beloved Florida. Also in this list are two collections of his columns and a bleak, blunt graduation speech.
Anthologies
Finally, Carl Hiaasen has contributed to two anthologies over the course of his career as an author.
Naked Came the Manatee (1997)
A Summary of Carl Hiaasen Books in Order
Carl Hiaasen's standalone books are a great place to start with his writing. There are two ways you can go about reading his standalones, and both include a debut of sorts.
The first way to read these Carl Hiaasen books in order is with his adult standalones. Summaries for this list of books are below and include his first solo novel. The second way is to read his young adult standalones, which include his first foray into the genre with Hoot; summaries for these books are also below.
---
Standalone Novels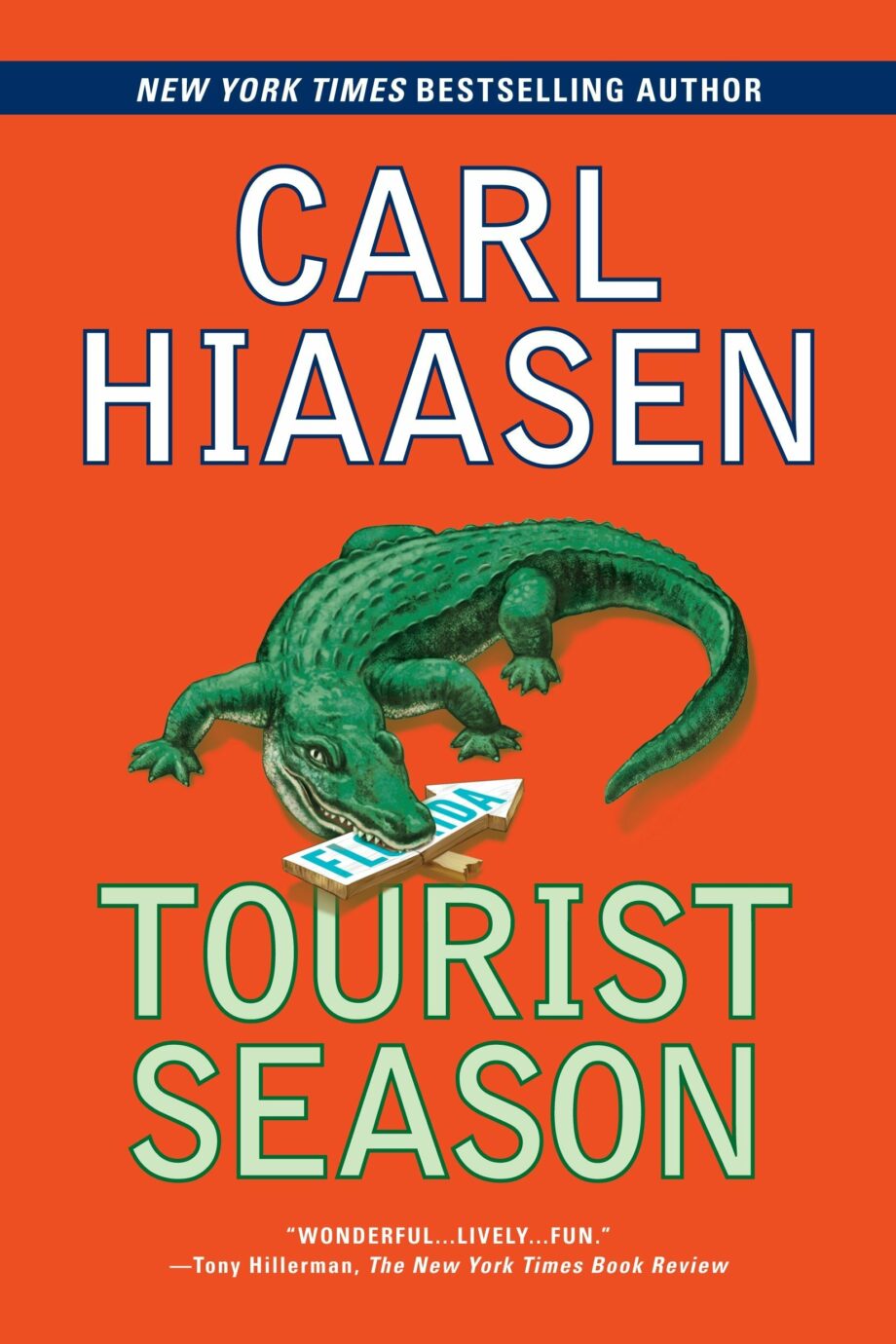 1. Tourist Season
The only trace of the first victim was his Shriner's fez on the Miami beach. The second victim, the head of the city's chamber of commerce, was found dead with a toy rubber alligator lodged in his throat. And that was just the beginning…
Now Brian Keyes, reporter turned private eye, must move from muckraking to rooting out murder, in a caper that will mix football players, politicians, and police with a group of fanatics and a very hungry crocodile.
---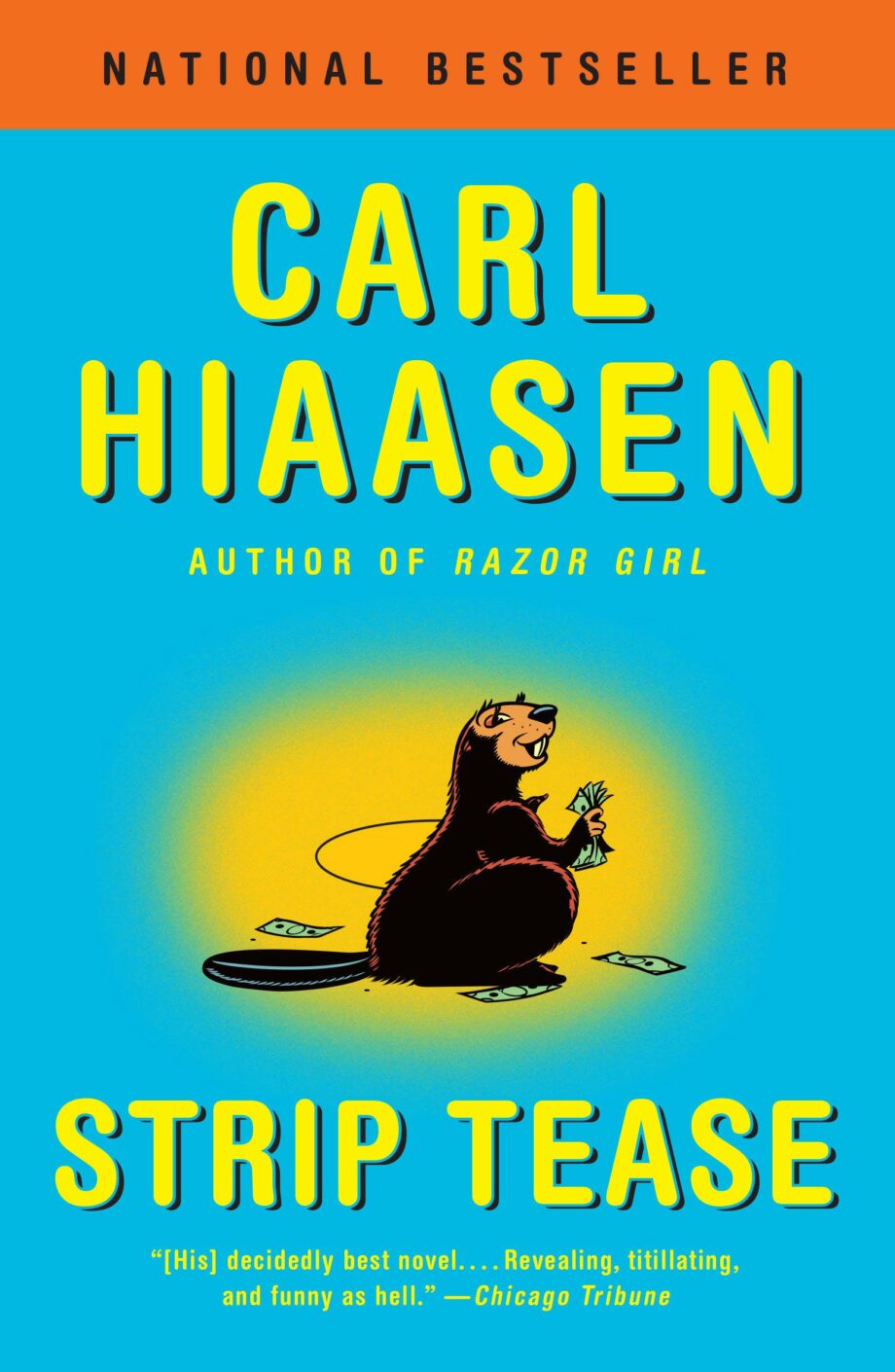 2. Strip Tease
Congressman David Dilbeck has a bad problem. "I should never," he says, "be around naked women." But he just can't stay away. And then late one night, at a gaudy Fort Lauderdale strip joint, Dilbeck loses control.
He leaps onto the stage with the performers and proceeds to demonstrate his affections in a most unconventional way.
The congressman barely escapes the scene, but not before being recognized by an odd little customer known as Mr. Peepers — an unlikely blackmailer, but (it turns out) a cunning one. To save himself from an election-year sex scandal, David Dilbeck desperately turns to Malcolm "Moldy" Moldowsky, a devious and cold-blooded political fixer.
It is Moldy's mission to protect the congressman's reputation, shaky as it might be, and soon the stakes are murderously high. Meanwhile, the lust-struck Dilbeck secretly pursues the current woman of his dreams, a formidable nude dancer named Erin Grant. She has her own special plans for the wayward politician.
The chase leads from the staid corridors of Congress to the sweltering cane fields of Lake Okeechobee, from a topless wrestling pit to a sunken Guatemalan banana boat.
---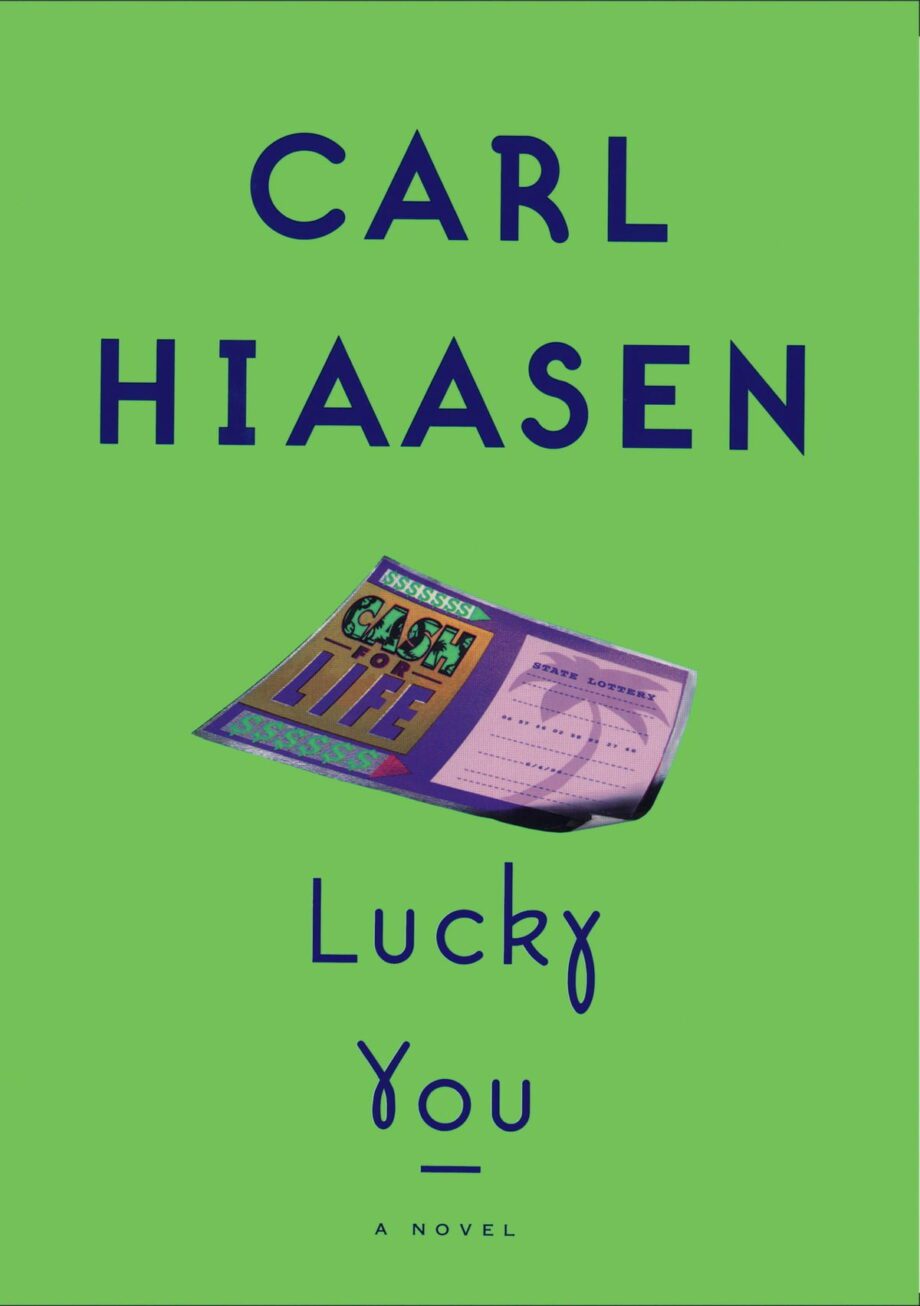 3. Lucky You
Grange, Florida, is famous for its miracles — the weeping fiberglass Madonna, the Road-Stain Jesus, the stigmata man. And now it has JoLayne Lucks, unlikely winner of the state lottery.
Unfortunately, JoLayne's winning ticket isn't the only one. The other belongs to Bodean Gazzer and his raunchy sidekick, Chub, who believe they deserve the whole $28 million jackpot. And they need it quickly, to start their own underground militia before NATO troops invade America.
But JoLayne Lucks has her own plans for the Lotto money — to save an Eden-like forest in Grange from becoming a strip-mall. When Bode and Chub brutally assault her and steal her ticket, JoLayne vows to track them down, take it back — and get revenge.
The only one who can help is Tom Krome, a big-city investigative journalist now bitterly consigned to writing frothy features for a midsized central Florida newspaper. With a persuasive nudge from JoLayne, Krome is about to become part of a story that's bigger and more bizarre than anything he's ever covered.
Chasing two heavily armed psychopaths down the coast of Florida is reckless enough, but Tom's got other problems — the murderous attention of a jealous judge; an actress wife who turns fugitive to avoid divorce court; an editor who speaks in tongues; and Tom's own growing fondness for the future millionairess with whom he's risking his neck.
The pursuit takes them from the surreal streets of Grange to a buzzard-infested island deep in Florida Bay, where they finally catch up with the fledgling militia — Chub, Bode Gazzer, a newly recruited convenience-store clerk, and their baffled hostage, a Hooters waitress.
---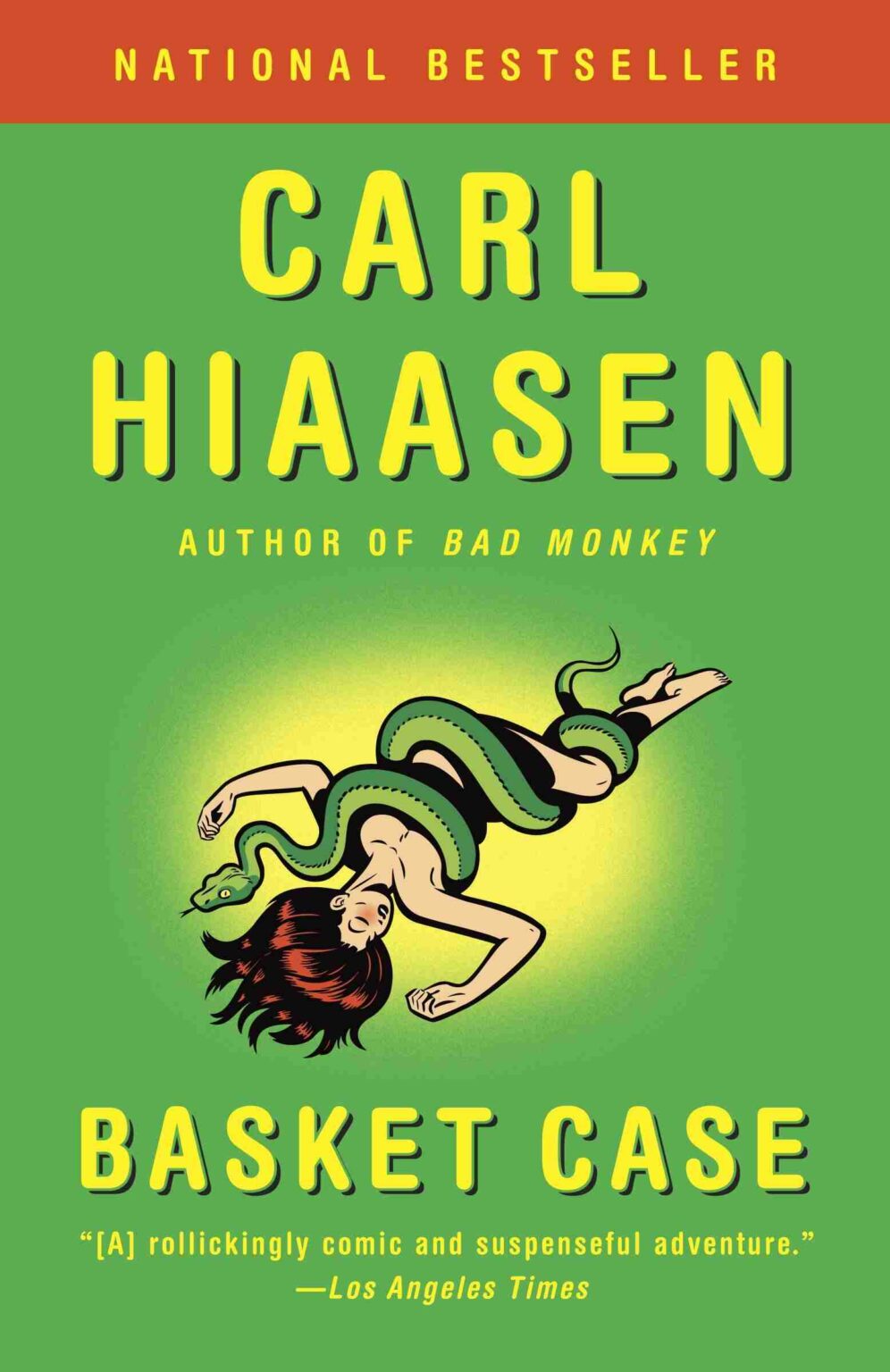 4. Basket Case
Once a hotshot investigative reporter, Jack Tagger now bangs out obituaries for a South Florida daily, "plotting to resurrect my newspaper career by yoking my byline to some famous stiff." Jimmy Stoma, the infamous front man of Jimmy and the Slut Puppies, dead in a fishy-smelling scuba "accident," might be the stiff of Jack's dreams — if only he can figure out what happened.
Standing in the way are (among others) his ambitious young editor, who hasn't yet fired anyone but plans to "break her cherry" on Jack; the rock star's pop-singer widow, who's using the occasion of her husband's death to re-launch her own career; and the soulless, profit-hungry owner of the newspaper, whom Jack once publicly humiliated at a stockholders' meeting.
With clues from the dead rock singer's music, Jack ultimately unravels Jimmy Stoma's strange fate — in a hilariously hard-won triumph for muckraking journalism, and for the death-obsessed obituary writer himself.
---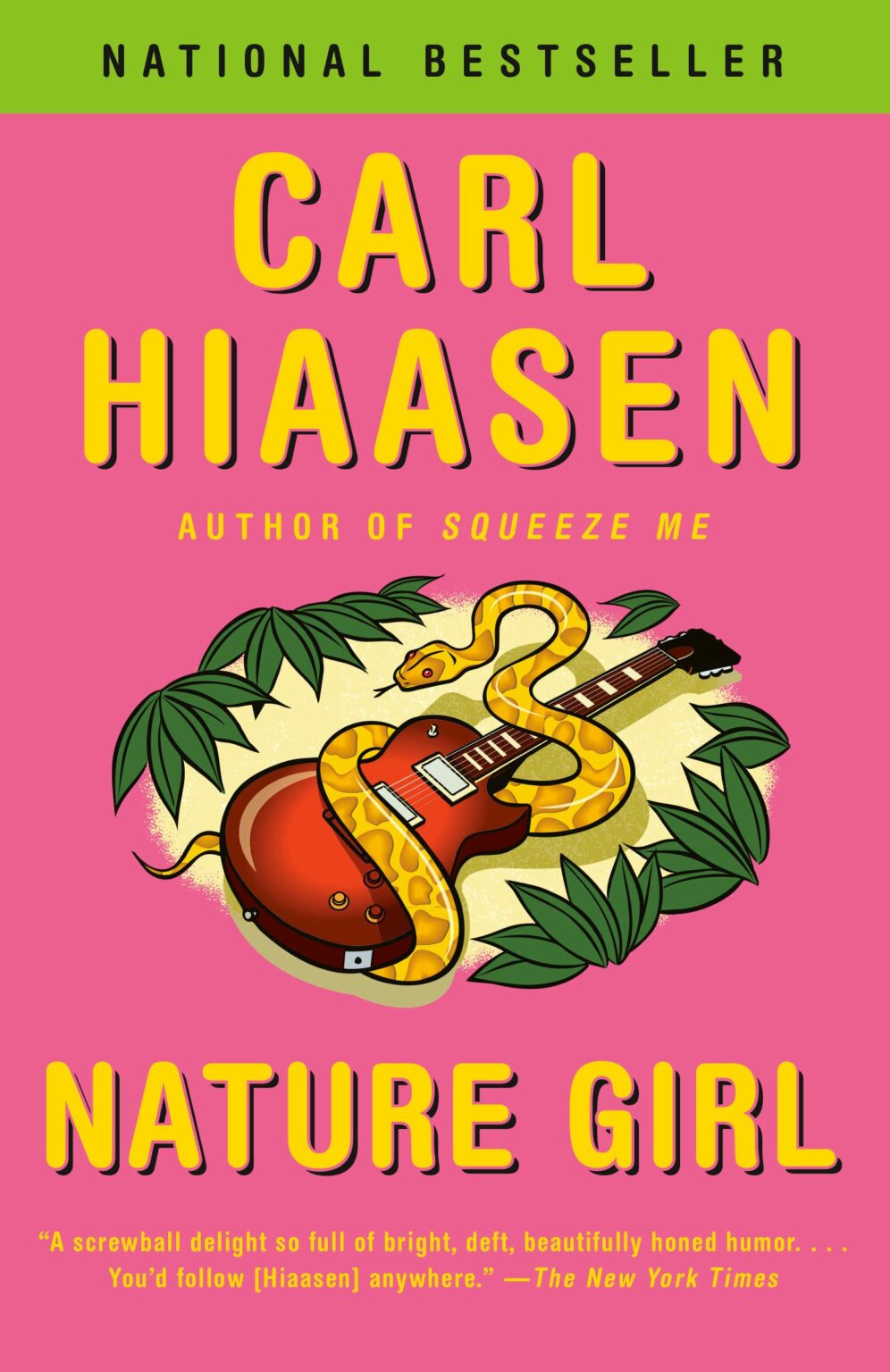 5. Nature Girl
Honey Santana — impassioned, willful, possibly bipolar, self-proclaimed "queen of lost causes" — has a scheme to help rid the world of irresponsibility, indifference, and dinnertime sales calls. She's taking rude, gullible Relentless, Inc., telemarketer Boyd Shreave and his less-than-enthusiastic mistress, Eugenie — the fifteen-minute-famous girlfriend of a tabloid murderer — into the wilderness of Florida's Ten Thousand Islands for a gentle lesson in civility.
What she doesn't know is that she's being followed by her Honey-obsessed former employer, Piejack (whose mismatched fingers are proof that sexual harassment in the workplace is a bad idea). And he doesn't know he's being followed by Honey's still-smitten former drug-running ex-husband, Perry, and their wise-and-protective-way-beyond-his-years twelve-year-old-son, Fry. And when they all pull up on Dismal Key, they don't know they're intruding on Sammy Tigertail, a half white/half Seminole failed alligator wrestler, trying like hell to be a hermit despite the Florida State coed who's dying to be his hostage…
Will Honey be able to make a mensch of a "greedhead"? Will Fry be able to protect her from Piejack — and herself? And will Sammy achieve his true Seminole self? Will Eugenie ever get to the beach? Will the Everglades survive the wild humans?
---
Young Adult Standalones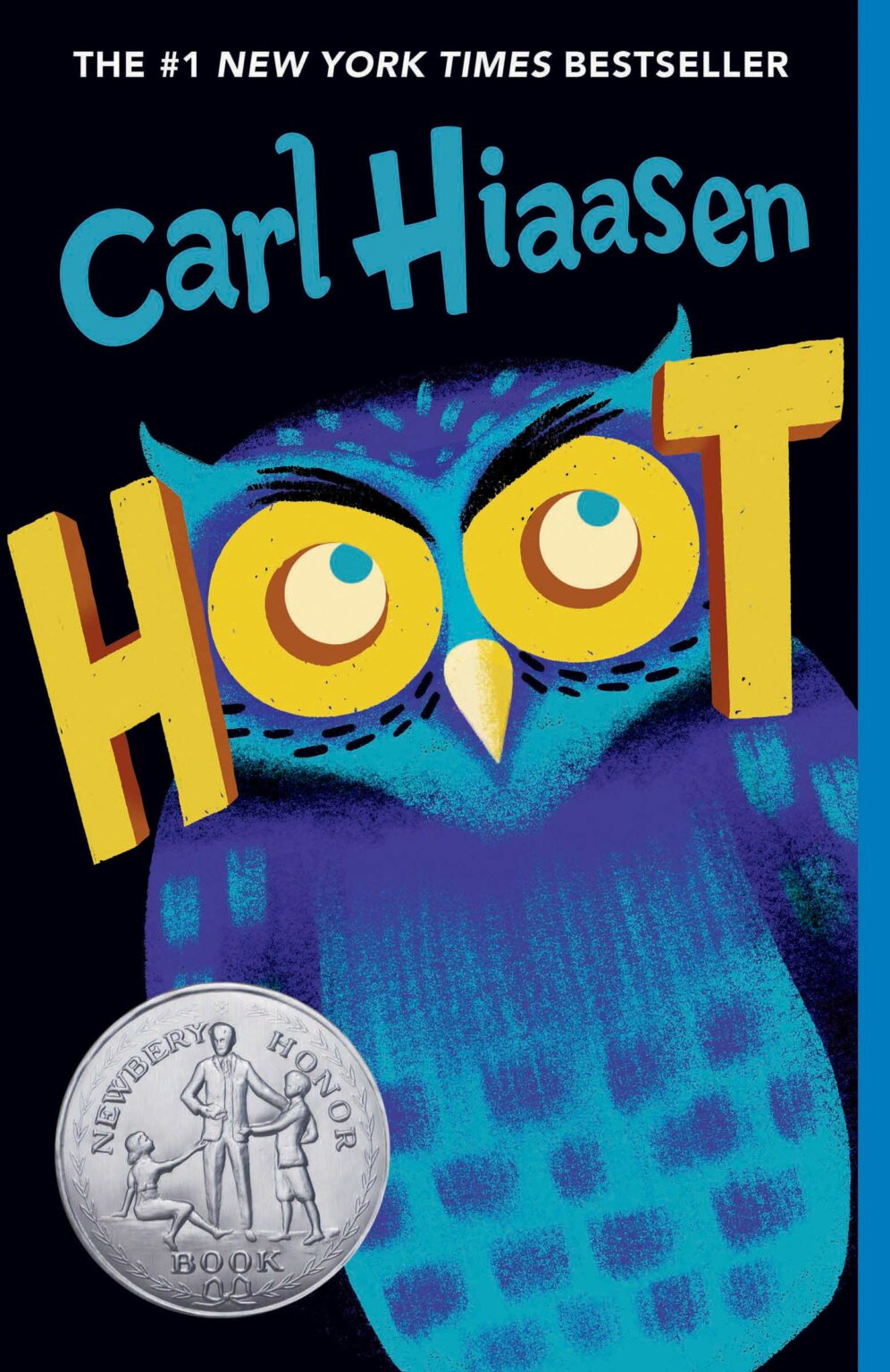 1. Hoot
Roy Eberhardt is the new kid — again. This time around it's Trace Middle School in humid Coconut Grove, Florida. But it's still the same old routine: Table by himself at lunch, no real friends, and thick-headed bullies like Dana Matherson pushing him around.
But if it wasn't for Dana Matherson mashing his face against the school bus window that one day, he might never have seen the tow-headed running boy.
And if he had never seen the running boy, he might never have met tall, tough, bully-beating Beatrice. If he had never met Beatrice, he might never have discovered the burrowing owls living in the lot on the corner of East Oriole Avenue. And if he had never discovered the owls, he probably would have missed out on the adventure of a lifetime.
Apparently, bullies do serve a greater purpose in the scope of the universe. Because if it wasn't for Dana Matherson…
---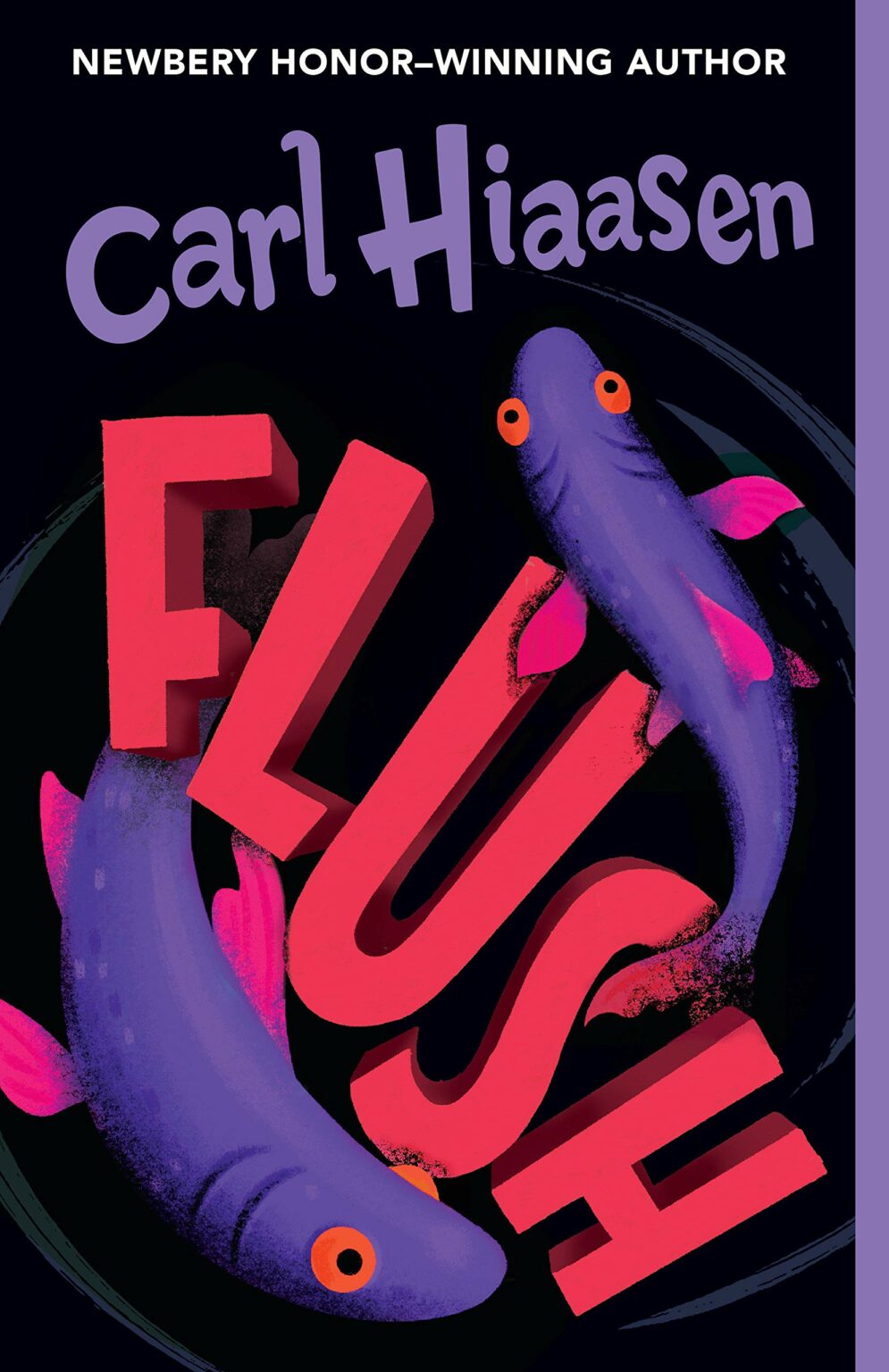 2. Flush
You know it's going to be a rough summer when you spend Father's Day visiting your dad in the local lockup.
Noah's dad is sure that the owner of the Coral Queen casino boat is flushing raw sewage into the harbor — which has made taking a dip at the local beach like swimming in a toilet. He can't prove it though, and so he decides that sinking the boat will make an effective statement. Right. The boat is pumped out and back in business within days and Noah's dad is stuck in the clink.
Now Noah is determined to succeed where his dad failed.
He will prove that the Coral Queen is dumping illegally…somehow. His allies may not add up to much — his sister Abbey, an unreformed childhood biter; Lice Peeking, a greedy sot with poor hygiene; Shelly, a bartender and a woman scorned; and a mysterious pirate — but Noah's got a plan to flush this crook out into the open. A plan that should sink the crooked little casino, once and for all.
---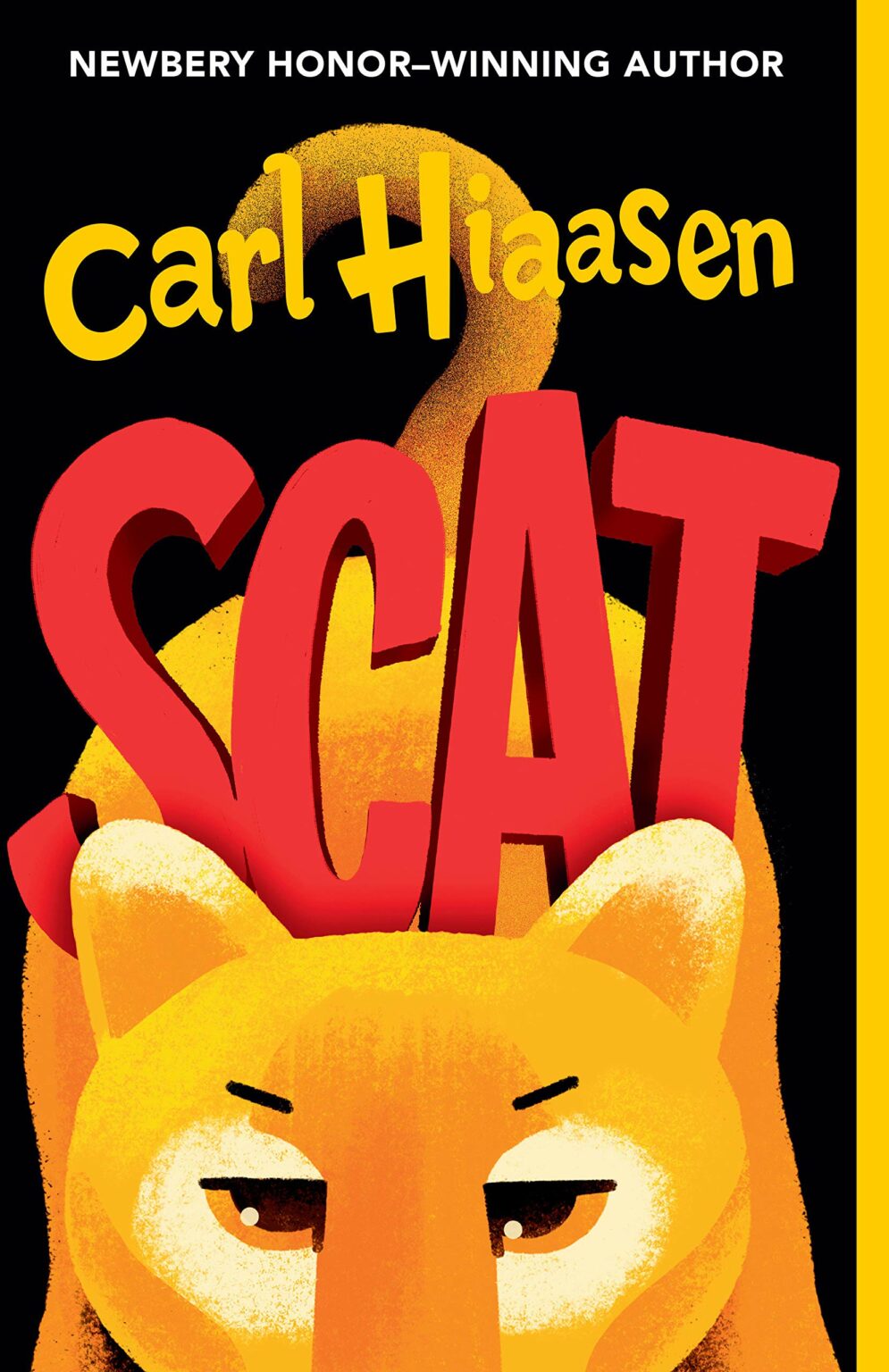 3. Scat
Mrs. Starch — fearsome biology teacher — never returned from a field trip to Black Vine Swamp.
The principal says she was called away on a "family emergency," but Nick and Marta don't buy it. They think Smoke, the class delinquent, has something to do with her disappearance.
And he does! But not in the way that they think.
There's a lot more going on in Black Vine Swamp than any one player in this twisted tale can see. And Nick and Marta will have to reckon with an eccentric eco-avenger, a stuffed rat named Chelsea, a wannabe Texas oilman, a singing substitute teacher, and a ticked-off Florida panther before they'll really begin to see the big picture.
That's life in the swamp, kids.
---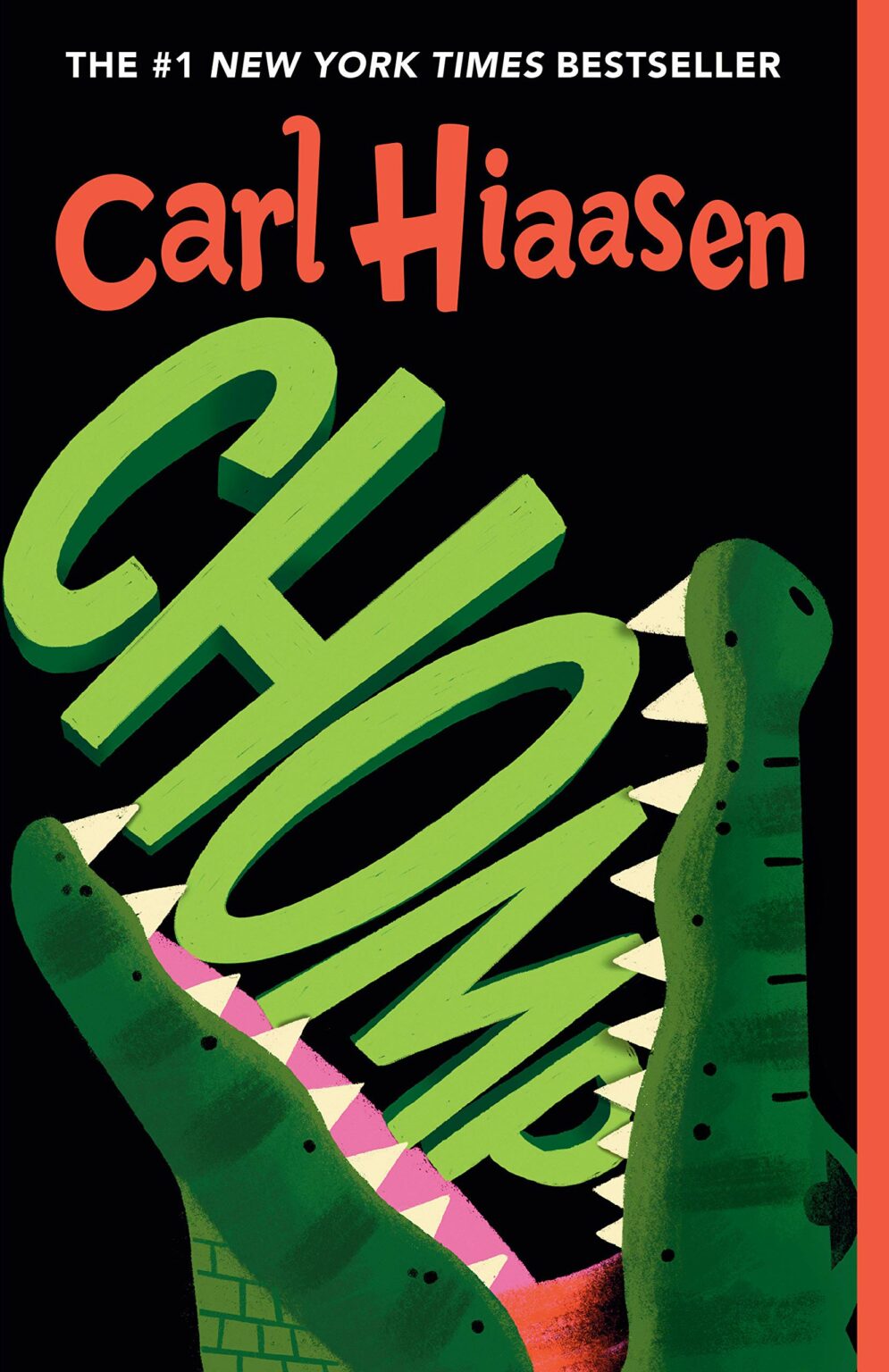 4. Chomp
Wahoo Cray lives in a zoo. His father is an animal wrangler, so he's grown up with all manner of gators, snakes, parrots, rats, monkeys, snappers, and more in his backyard.
The critters he can handle. His father is the unpredictable one.
So, when his dad takes a job with a reality TV show called "Expedition Survival!", Wahoo figures he'll have to do a bit of wrangling himself — to keep his dad from killing Derek Badger, the show's boneheaded star, before the shoot is over. But the job keeps getting more complicated.
Derek Badger seems to actually believe his PR and insists on using wild animals for his stunts. And Wahoo's acquired a shadow named Tuna — a girl who's sporting a shiner courtesy of her old man and needs a place to hide out.
They've only been on location in the Everglades for a day before Derek gets bitten by a bat and goes missing in a storm. Search parties head out and promptly get lost themselves. And then Tuna's dad shows up with a gun…
It's anyone's guess who will actually survive "Expedition Survival!"…
---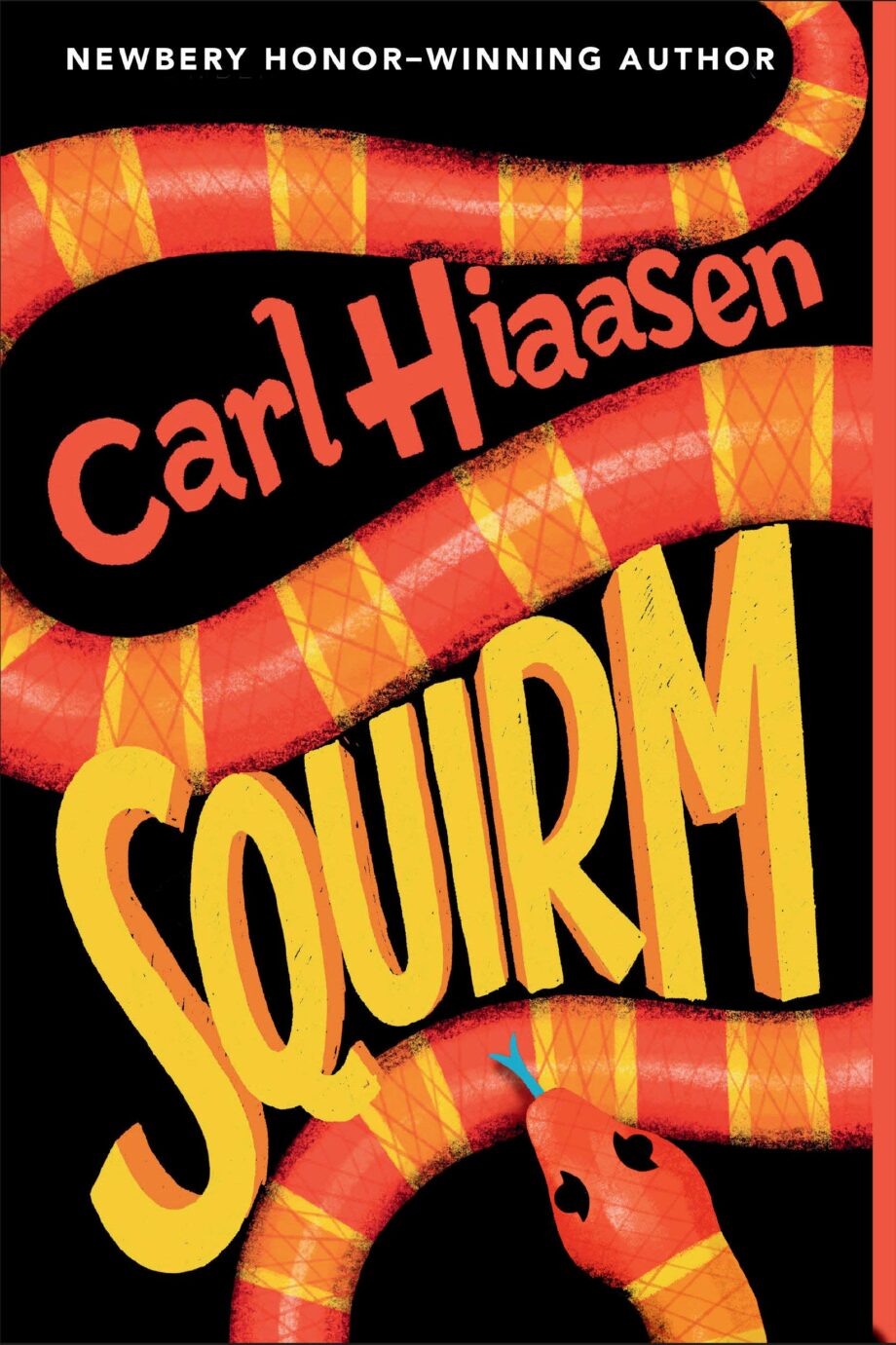 5. Squirm
Some facts about Billy Dickens: He once saw a biker swerve across the road in order to run over a snake. Later, that motorcycle somehow ended up at the bottom of a canal. And Billy isn't the type to let things go.
Some facts about Billy's family: They've lived in six different Florida towns because Billy's mom insists on getting a house near a bald eagle nest. Billy's dad left when he was four and is a total mystery. Finally, Billy has just found his dad's address — in Montana.
This summer, Billy will fly across the country, hike a mountain, float a river, dodge a grizzly bear, shoot down a spy drone, save a neighbor's cat, save an endangered panther, and then try to save his own father.
---
Final thoughts on Carl Hiaasen books in order
Carl Hiaasen has carved a niche for himself through writing satirical, witty novels primarily about his beloved home state of Florida. In doing so he has created a lasting career for himself. Not only will reading these Carl Hiaasen books in order give you a few good belly laughs, but the books will also stay with you long after you turn the last page.
Looking for more books in order?
Check out this list of Lisa Jewell books in order.