Windwitch is the second book in the Witchlands series by Susan Dennard.
The cover, as always, is gorgeous. You get a real sense of the story from looking at it. In the opening pages we discover that Merick has been disfigured by seafire, though how much seems to be up for debate throughout the novel.
However, it's enough that Merick is conveniently facing away from us on the cover. As an overall novel I don't know that I enjoyed this one quite as much as Truthwitch, though I did read it in a much quicker time span, in fact finishing the last 46% in a single sitting.
Once I'm invested in a series, it doesn't matter for me, I'll see it through.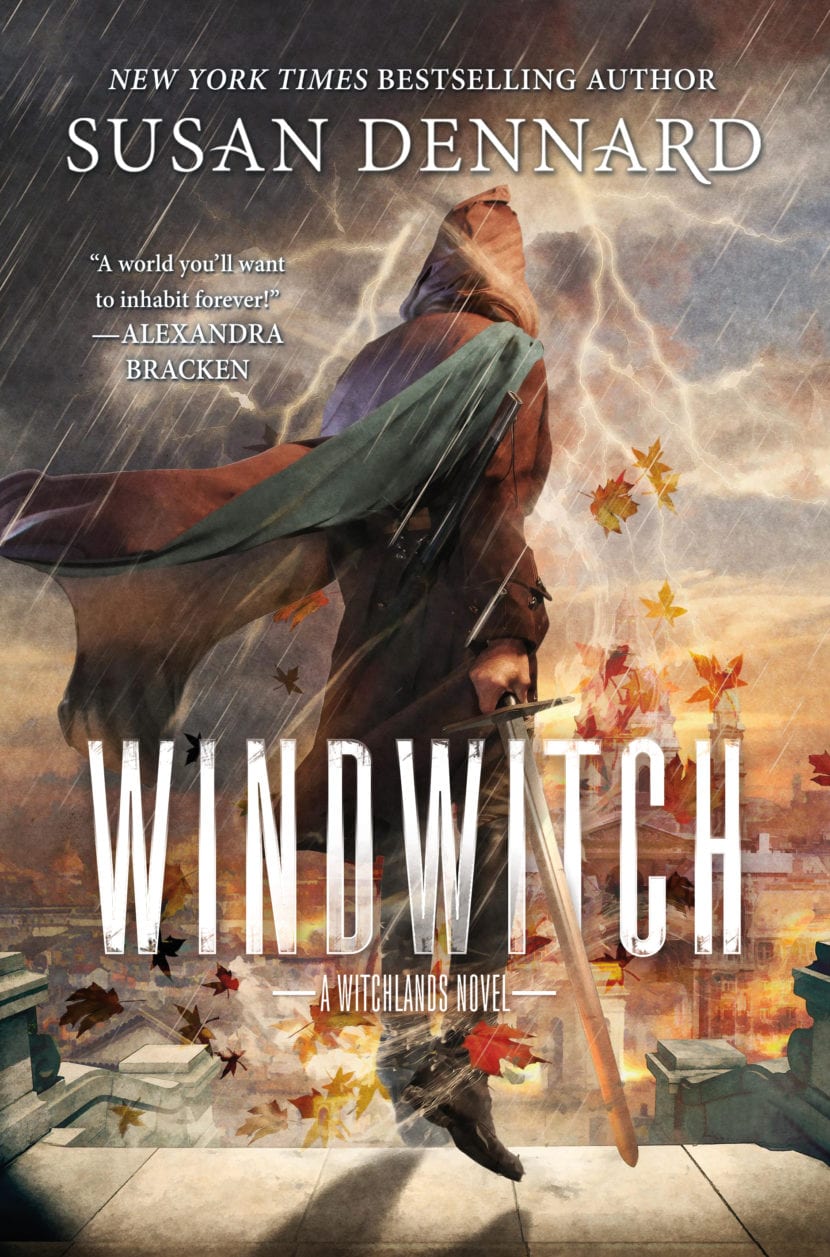 Review of Windwitch
Windwitch is a bit more disjointed than Truthwitch. In Truthwitch, everything was about Safi and about Safi's escape from fate. Even though there were multiple POVs, there were rarely instances where those POVs weren't working towards Safi or concerned with Safi in some way or another.
In Windwitch, we have 5 unique POV characters, none of which are new characters mind you, but 3 distinct storylines.
Windwitch starts off with Merick in the prologue, and admittedly a large majority of the chapters are about Merick. This is primarily his story, though the other two storylines get their fair share of coverage as well.
Merick is almost killed when an assassin comes to kill him and his ship is set aflame. He manages to escape, and one of his crew finds him–a girl named Cam. Together, Merick and Cam go in search of the person who had hired the assassin to kill him.
Right away, Merick suspects Vivia, which is a pretty good guess all things considered what we saw in Truthwitch.
One of the other POVs we get is Vivia. At the beginning, I despised Vivia's POV and tried to skip through it, but by the end she turned out to be a pretty decent POV character, though her story is still a bit lackluster compared to the others when in comes to "unputdownableness."
The Story
Merick and Vivia's POVs are wrapped into a single story focusing on the Nubrevnan capital city of Lovats. The worldbuilding and the descriptions of the scene in Lovats are firstclass and Dennard does a fantastic job of this in Windwitch as with Truthwitch.
I can't say much more about that storyline, unfortunately, as a lot the progress and discovery made there is too close to spoiling it.
Then we have our faithful character, Safi, who is always good for a great storyline, though of the three it was not my favorite. It was better than Vivia's perspective of things, though slightly less interesting than Merick's.
As a whole, her storyline was more riveting than the Lovats storyline, but took awhile to get into. She and Vaness very quickly end up on their own and never make it to the Marstoki capitol city. And very quickly at the beginning of the book they find themselves captured by Hell-Bards.
What's even more interesting is that one of them is the "Chiseled Cheater" from Book 1. This storyline benefits from the most improvement from start to finish in terms of character development, and I found myself really really looking forward to where this is going in Bloodwitch.
And that brings me to our third storyline, which is by far my favorite because I love Iseult and Aeduan. It doesn't take long before these two characters are brought together once again.
Aeduan is tasked with taking Iseult back to that guy, Corlant, from Truthwitch who had tried to capture her in her home village. But Aeduan does his own thing and could care less about taking her back there. They form a tenuous alliance and I'm hopeful it develops into a bit of a romance subplot in Bloodwitch.
Iseult is trying to find Safi, of course, but more important things come up and much more goes on with the Puppeteer in this book that throws a lot of interesting twists in the mix.
I found myself itching to read more and more of this particular story than any of the others.
The Characters
I've been dying to talk about this since the end of Truthwitch, and since I can assume you've read it, I can talk about this now.
The Cahr Awen.
This is such a cool concept, I love it. The thought that Safi and Iseult are this mythical duo with amazing magical powers is pretty neat.
There are some developments as regards to the Cahr Awen in Windwitch, and I do apologize if you didn't want to know this as I generally don't share spoilers, but it is determined that only HALF of the Cahr Awen must have been present at the Nubrevnan Origin Well because it wasn't brought fully alive.
There are of course speculations about this. Iseult immediately assumes that she is worthless and that it must be Safi who is the truth half.
You want to know my theory?
This isn't spoilerish because it's not answered in Windwitch, so I can speculate to my heart's content. But I believe the Cahr Awen is Aeduan and Iseult.
They are both Voidwitches, or so I assume. Esme, the Puppeteer, says that Iseult is a Weaverwitch, and it would really seem so. But here's why I think what I do: Aeduan can't smell Iseult's blood, which he finds odd, and Iseult can't see Aeduan's threads, which she finds out.
Here are two characters that break the norms of the world, it's not so far of a stretch to believe that the Cahr Awen is both of them.
I guess we'll have to wait and see.
Overall Thoughts
Windwitch moved a lot slower than Truthwitch for me in terms of interest and action. I think this primarily had to do with the format this time around.
Since I had to leave my beloved character sometimes for 3-4 chapters before seeing them again, it meant that I was a little disjointed from the story–constantly being ripped from one to another to another.
Since Truthwitch all focused on a single tale from multiple angles, it flowed better, but Windwitch has 3 unique stories happening in 3 different locations seen through the eyes of 5 separate characters.
It was just a lot going on.
Even so, I have already pre-ordered a hardcover copy of Bloodwitch which comes out in 2 days.
I'll give Windwitch a 3.5/5 which rounds up to 4 on Goodreads.
On Pinterest? Here's a pinnable graphic:
Interested in more reviews? Check out my review of Warrior of the Wild by Tricia Levenseller.