Warrior of the Wild is a stand-alone fantasy adventure by Tricia Levenseller, author of Daughter of the Pirate King.
I want to say a quick thank you to Macmillan for sending me an advanced copy of this book. Warrior of the Wild is set to publish on February 26th, 2019.
I love this cover so much. Who can turn down that beautiful ax? It's gorgeous.
As you can probably tell, this book is inspired by vikings. Though there are no stormy seas or ships in this book, the influence is evident.
They say not to judge a book by it's cover, but you definitely should here, because what lies inside is even more epic.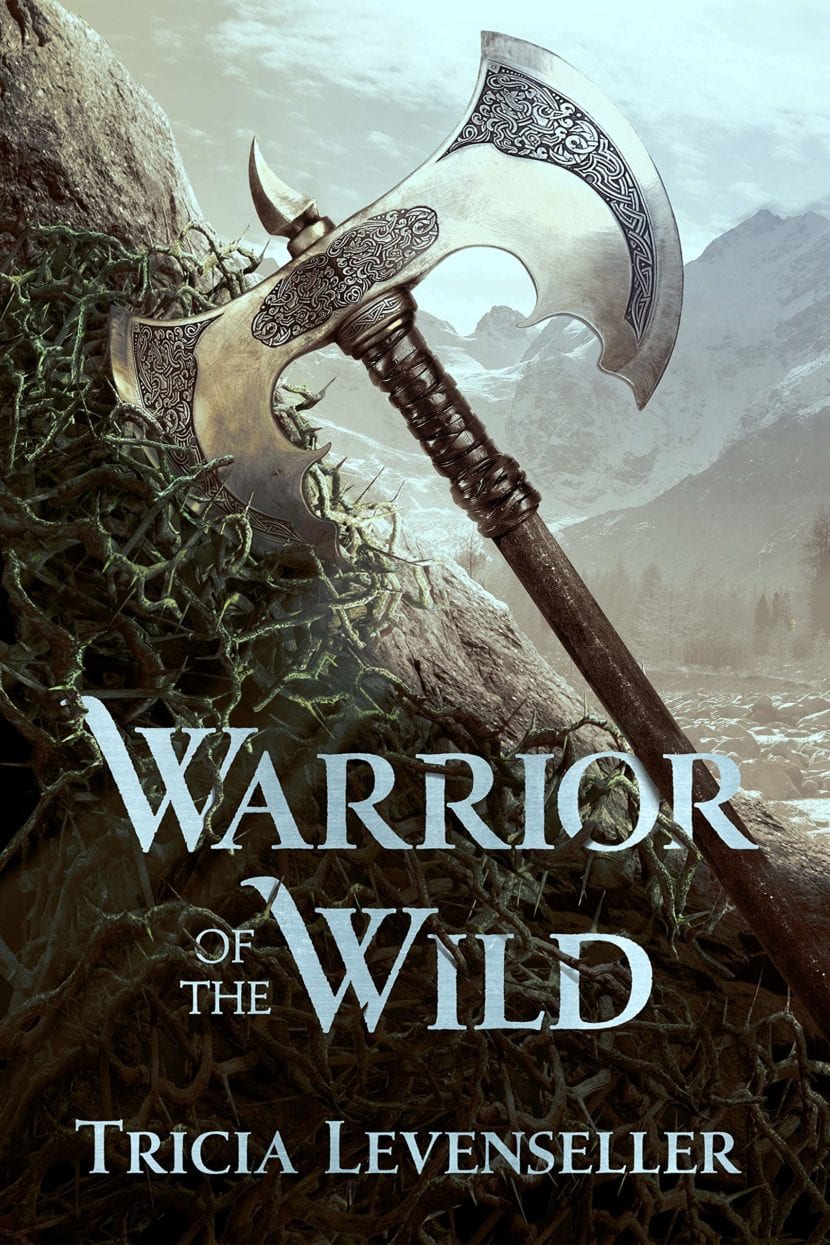 Review of Warrior of the Wild
Warrior of the Wild is an exhilarating adventure from start to finish. Join Rasmira on this epic journey to find her inner strength and regain her honor.
If you thought Dolores Umbridge was cruel, Rowling has got nothing on Levenseller. Umbridge was by far, hands down, the meanest, vilest, most terrible antagonist I had ever come across… until today.
I mean really, what did Umbridge do? Make Harry write lines with a pen that literally etched the words into his skin. So she should have had CPS called on her, but otherwise what did she really do?
I can't tell you why the character in Warrior of the Wild is worse because that would be telling, and I never spoil a book, but trust me when I say this: Rasmira faces 10x worse than Harry Potter.
It was shocking.
I nearly threw my book.
How can someone be so cruel? So mean? So heartless?
Bravo Tricia. I didn't think anyone could top Rowling.
This book is a whirlwind. I finished the whole thing in less than 24 hours. That never happens for me.
Never.
Never ever ever.
I just don't read very fast. But this book sucked me in and wouldn't let me go. I barely had a chance to breath for air.
The action is intense, the characters are engaging, the romance is juicy, the worldbuilding is first class. Everything about Warrior of the Wild is fantastic and I can't recommend it highly enough.
The Story
Straight off the back of the book, Warrior of the Wild's story is about an eighteen year old girl named Rasmira is fails her coming-of-age trial and is banished to the wilderness.
Anyone who fails is exiled from civilization and the only way to re-enter it is to win back their lost honor. To do this, they must complete an impossible task that is meant to kill the quest-taker.
They call this a mattugr. There are a lot of funny names in this book, and I don't presume to know what they mean or how to pronounce them, but an example of a mattugr given in Warrior of the Wild is "Walk for 1,000 days straight without stopping to eat or sleep."
Levenseller lists a couple of more equally ridiculous tasks, and at first blush, Rasmira's mattugr seems about as far-fetched, kill a god. But you quickly figure out that the task doesn't seem like it will be as difficult as initially thought.
Secondly, Rasmira's exiled friends' tasks are relatively simple and easily achievable tasks like plucking a feather from a bird–Okay, so it's a mythical bird no one is sure exists, but the point remains, that the earlier examples of a mattugr are plainly far more dangerous the ones tasked to our heroes.
That doesn't make the book any less exciting, it was just a thought I had while reading it.
The Characters
So let's talk about the characters then.
We've got Rasmira, our heroine. The book is told in the first person present with a single POV: Rasmira's. She starts off all "woe is me" "I'm a victim" "I don't deserve all this" and really turns into a kind, yet strong woman by the end of the book.
Her father, Torlhon, and her mother are pretty much idiots. I'm sorry, they are. Her father is the village chief, but he sure doesn't act like it. And no mother should ever act like Rasmira's mother. We don't see much of them after the initial pages, but their attitudes sucked enough to be worth mentioning.
Then there's Soren.
Soren is a boy that Rasmira meets in the wild. He had been exiled from his village the year before when he failed his trial and he'd managed to survive with the help of his friend Iric, who also failed the previous year.
Together they weather through the difficulties of living in a dangerous and often lethal place that the wilds are.
Initially, Rasmira isn't interested in them at all, choosing rather to forge her own path, but as the story progresses she discovers that trying to fight alone is what wound in her predicament in the first place.
It's really hard to say anything else. Warrior of the Wild is a stand-alone, which means there are no more books coming. The story is complete from cover to cover, and it's a short one, too, topping out at about 320 pages.
The main antagonist, the god Peruxolo, is a bit elusive, and there's a lot to be learned about him. I didn't always know where the story was going with regards to him as I could have seen it going a multitude of different ways.
By about the 60% mark, it was fairly obvious what was going on, yet there was still enough mystery surrounding him to keep me interested. There's was nothing mind-blowing and no major twists, but there were plenty of moments where I found myself congratulating Levenseller's cleverness at leaving bread crumbs.
Overall Thoughts
Even though it's early in the year, I would say any book is going to have a hard time topping the best book I've read this year, City of Brass, but Warrior of the Wild comes pretty close.
My attention didn't wain for a minute, and I was immediately sucked in. Warrior of the Wild is a book worthy of any avid YA Fantasy fan's bookshelf.
The only thing holding this book back from a full 5 stars for me was that it was a little short, a little too simple at times, and there wasn't a lot of meat to the story. I'm not saying it needed to turn into a Sanderson phone book-sized tome, but perhaps just a little bit more going on in the background or some plot thread that tied it all together to give me that "aha!" moment would have been nice.
Even so, I give Warrior of the Wild and impressive 4.5/5 and can wholeheartedly recommend that you bump it to the top of your TBR.
Without a doubt, I will be continuing to watch Levenseller and already have a copy of Daughter of the Pirate King on my nightstand to start as soon as I have the time.
On Pinterest? Here's a shareable graphic:
Interested in more reviews? Check out my review of Dark Shores by Danielle L Jensen.