Will Trent is one of Karin Slaughter's most popular characters, who she describes as hard not to love. He is intelligent and resolute, but also bears the scars of his difficult childhood. You've likely seen Slaughter's books adorning bookstore shelves everywhere, so keep reading to find out how to read her Will Trent series in order.
About Karin Slaughter
With a surname like Slaughter, it is perhaps not surprising that Karin Slaughter found her way to writing graphic crime thriller novels. As a child growing up near Atlanta, Georgia, Slaughter found great solace in her local library, reading, and writing.
Slaughter has also always had an interest in the dark and macabre side of life. She was even expelled from her Catholic primary school for ripping up a bible.
That tenacity bleeds through into her writing, in which she continues to push boundaries. As recently as 2020 Slaughter spoke about the gendered questions she gets regarding the level of violence in her books.
She also speaks about this on her website, saying she wants to show violence for what it is in her writing. She says that growing up women did not speak about the violence against women. Slaughter wants to contribute, alongside other authors, to the conversation about abuse and sexual assault and offer her perspective.
The result is hauntingly gruesome books that will get underneath your skin with their horrific, and realistic, depictions.
In that same interview above Slaughter said she wants her books to also show what the "new South" is like. She strives to find the balance between character and plot in her books, saying she loves character-driven novels, but doesn't want the crime to feel secondary.
That balance between crime and character development is apparent in all of her novels. She has written 24 books, 10 of which form the Will Trent series. If you would like to learn more about everything Slaughter has published, you can read this article about all the Karin Slaughter books in order.
Collectively, Slaughter's books are published in 120 countries and she has sold more than 40 million copies internationally.
Who is Will Trent?
Will Trent works for the Georgia Bureau of Investigation, but he has a troubled past. He grew up within the care system and was never able to find a permanent foster family. So, when he turned 18, he left and started forging his own path, which led him to the GBI.
Will's difficult past often crops up throughout the series with cases he is investigating having links back to his childhood, or returning to haunt him. While he is a brilliant, whip-smart detective, Will is also allegedly difficult to work with. That only makes the working relationships he develops, or tries to maintain, throughout the series all the more special.
Throughout the series he also has a tumultuous on-again off-again relationship with Angie Polaski, who he met in the care system when he was eight. To best understand this relationship and others, it is important to read the Will Trent series in order.
Will Trent Series in Order
While Karin Slaughter says she herself is a stickler for reading books in order, she also says she writes her books so readers can pick any one up and follow along with the story. That said, the recommended reading order would be to read the Will Trent series in order of publication.
Slaughter says the best thing about reading a series is the recurring characters and knowing their history, with secondary characters adding to the fabric of the story. That is the case with the Will Trent books as there are recurring characters appearing throughout the series.
As well, the Will Trent series intersects with Slaughter's other series Grant County and forms the Georgia series. Again, if you would like to know how best to read these additional series, you can read the Karin Slaughter books in order article.
If you would prefer just a general overview, however, the books marked with an asterisk below are the ones which intersect with her other series.
The third book in this series, Undone, is titled Genesis internationally.
Will Trent Series in Order: Short Stories and Novella
Karin Slaughter has also written additional Will Trent material. Both short stories are now available in the paperback version of the book they precede chronologically; so, Snatched is available in Criminal and Busted is available in Unseen. As well, Cleaning the Gold is a novella in collaboration with Lee Child which features both Jack Reacher and Will Trent.
Snatched (2012) (Short Story)
Busted (2013) (Short Story)
Cleaning the Gold (2019) (Novella) *
Is there a Will Trent TV show?
There is not currently a Will Trent television show available to stream, but such a project is getting closer to reality.
ABC is developing a pilot episode of a Will Trent adaptation with Liz Heldens and Dan Thomsen at the helm of the project as writers and executive producers. The pilot will star Ramón Rodríguez as Will Trent and he will also be a producer on the project.
Joining him as Angie Polaski will be Erika Christensen, as well as Sonja Sohn as his boss Amanda Wagner. Jake McLaughlin will star as Michael Ormewood and Iantha Richardson will star as Faith Mitchell. Filming has not yet begun on the project.
Summary of the Will Trent Series in Order
Now that you know how to read the Will Trent series in order to best experience the character development and relevant backstory, let's dive into a little bit more about each book.
As with many mystery thriller series, the crime in most of these books will be resolved by the conclusion of the novel.
However, minor spoilers for character progression will be in the summaries as the series progresses, so read the below summaries with caution if you would like to avoid any spoilers.
---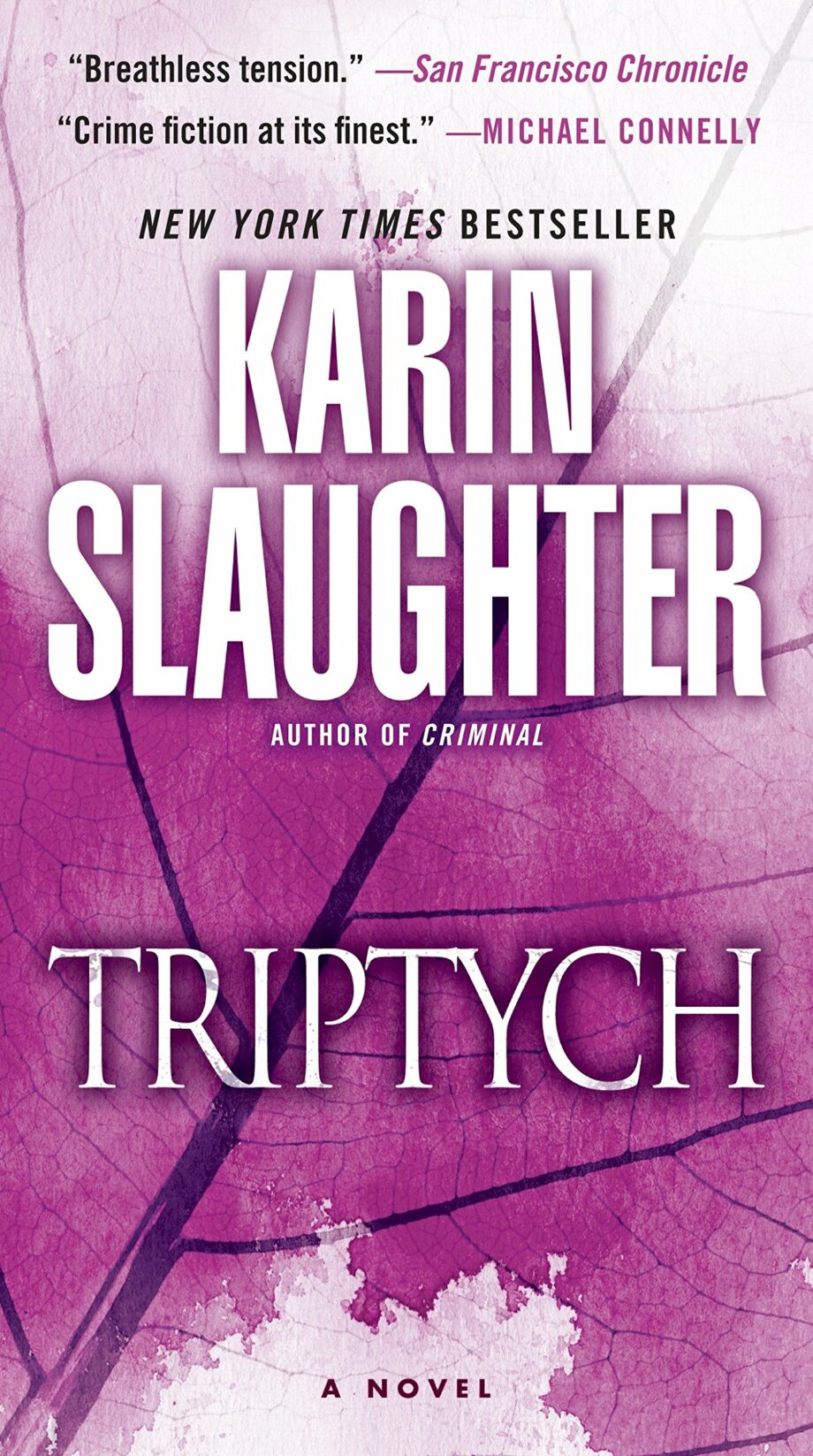 1. Triptych
From Atlanta's wealthiest suburbs to its stark inner-city housing projects, a killer has crossed the boundaries of wealth and race. And the people who are chasing him must cross those boundaries, too.
Among them is Michael Ormewood, a veteran detective whose marriage is hanging by a thread. His arrogance and explosive temper are also threatening his career. And Angie Polaski, a beautiful vice cop who was once Michael's lover before she became his enemy.
But unbeknownst to both of them, another player has entered the game. A loser ex-con who has stumbled upon the killer's trail in the most coincidental of ways. And he may be the key to breaking the case wide open.
---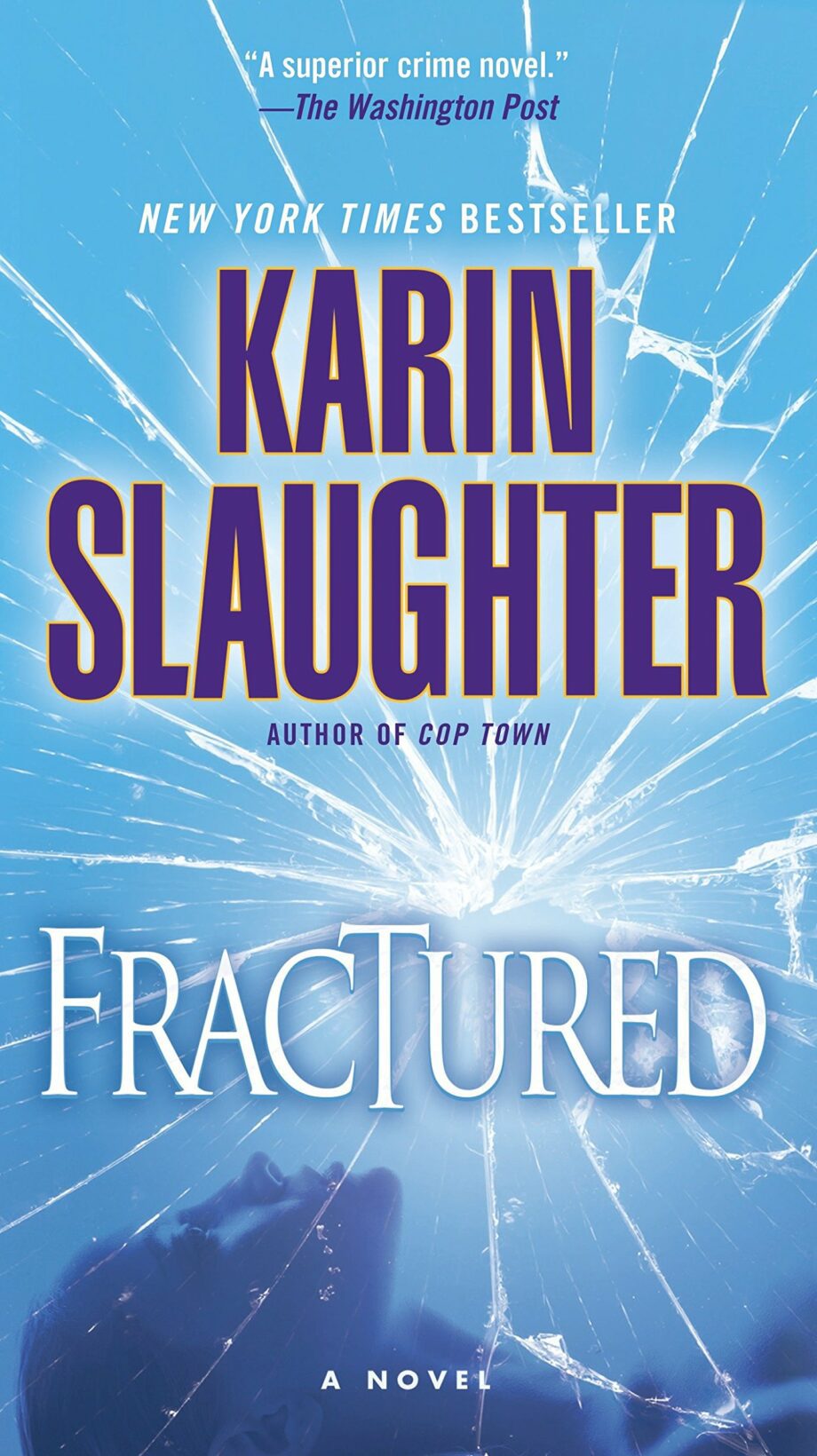 2. Fractured
With its gracious homes and tree-lined streets, Ansley Park is one of Atlanta's most desirable neighborhoods. But in one gleaming mansion, in a teenager's lavish bedroom, a girl has been savagely murdered. And in the hallway, her horrified mother stands amid shattered glass, having killed her daughter's attacker with her bare hands.
Detective Will Trent of the Georgia Bureau of Investigation is here only to do a political favor; the murder site belongs to the Atlanta police. But Trent soon sees something that the cops are missing; something in the trail of blood, in a matrix of forensic evidence, and in the eyes of the shell-shocked mother.
Within minutes, Trent is taking over the case — and adding another one to it. He is sure that another teenage girl is missing, and that a killer is on the loose.
Armed with only fleeting clues, Trent has enemies all around him. His female partner on the case also has her own personal reasons for hating him. He has a gnawing feeling that this case, which started in the best of homes, is cutting quick and deep through the ruins of perfect lives broken wide-open: Where human demons emerge with a vengeance.
---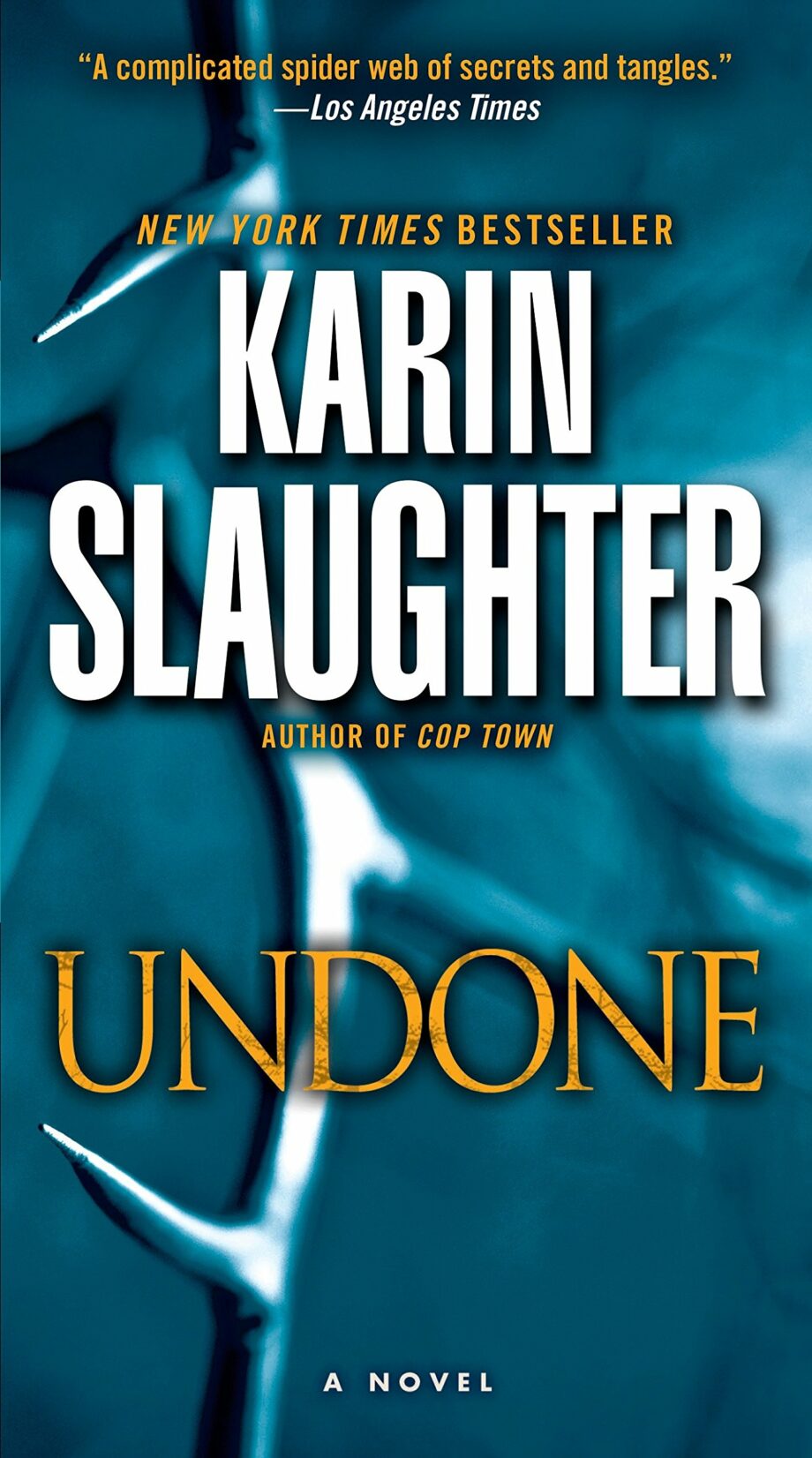 3. Undone
In the trauma center of Atlanta's busiest hospital, Sara Linton treats the city's poor, wounded, and unlucky. She also finds refuge from the tragedy that rocked her life in rural Grant County. Then, in one instant, Sara is in the middle of a frantic police investigation, coming face-to-face with a tall driven detective and his quiet female partner…
In the backwoods of suburban Atlanta, where Sara's patient was found, local police have set up their investigation. But Georgia Bureau of Investigation detective Will Trent doesn't wait for the go-ahead from his boss. He plunges through police lines, through the brooding woods, and single-handedly exposes a hidden house of horror buried beneath the earth.
Then he finds another victim…
Wresting the case away from the local police chief, Will and his partner, Faith Mitchell, begin a related investigation. Faith is keeping explosive secrets of her own, but another woman — a smart, upscale, independent young mother — has been snatched.
For the two cops out on the hunt, for the doctor trying to bring her patient back to life, the truth hits like a hammer. Despite the discovery of the killer's torture chamber, the killer is still at work.
---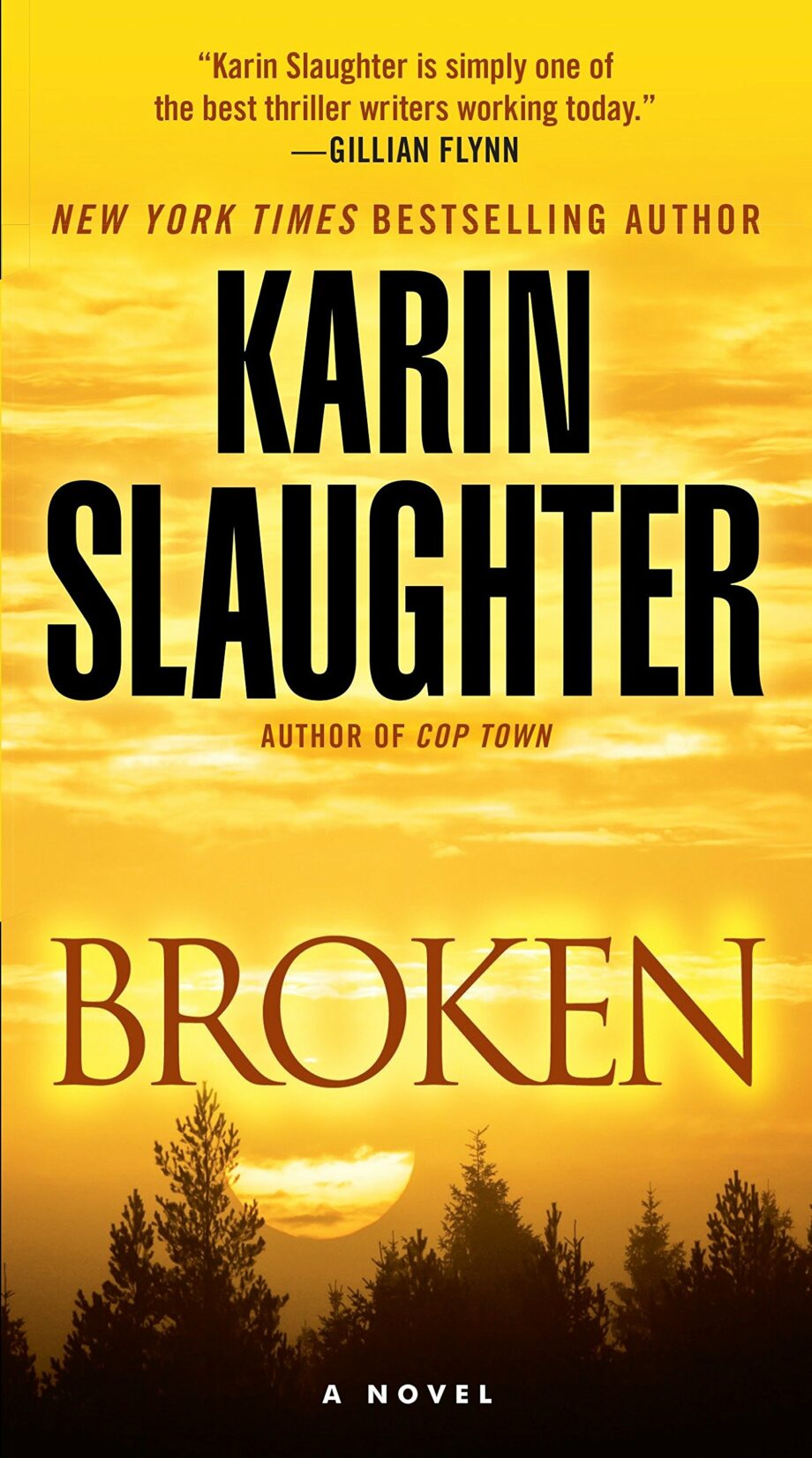 4. Broken
When Special Agent Will Trent arrives in Grant County, he finds a police department determined to protect its own and far too many unanswered questions about a prisoner's death.
Will doesn't understand why Officer Lena Adams is hiding secrets from him. He doesn't understand her role in the death of Grant County's popular police chief. He also doesn't understand why that man's widow, Dr. Sara Linton, needs him now more than ever to help her crack this case.
The police force is investigating the murder of a young woman pulled from a frigid lake. Meanwhile, Trent investigates the police force, putting pressure on Adams just when she's already about to crack.
Trent is trying to understand Linton's passionate distrust of Adams, the facts surrounding Chief Tolliver's death, and the complexities of this insular town. But Trent will unleash a case filled with explosive secrets ― and encounter a thin blue line that could be murderous if crossed.
---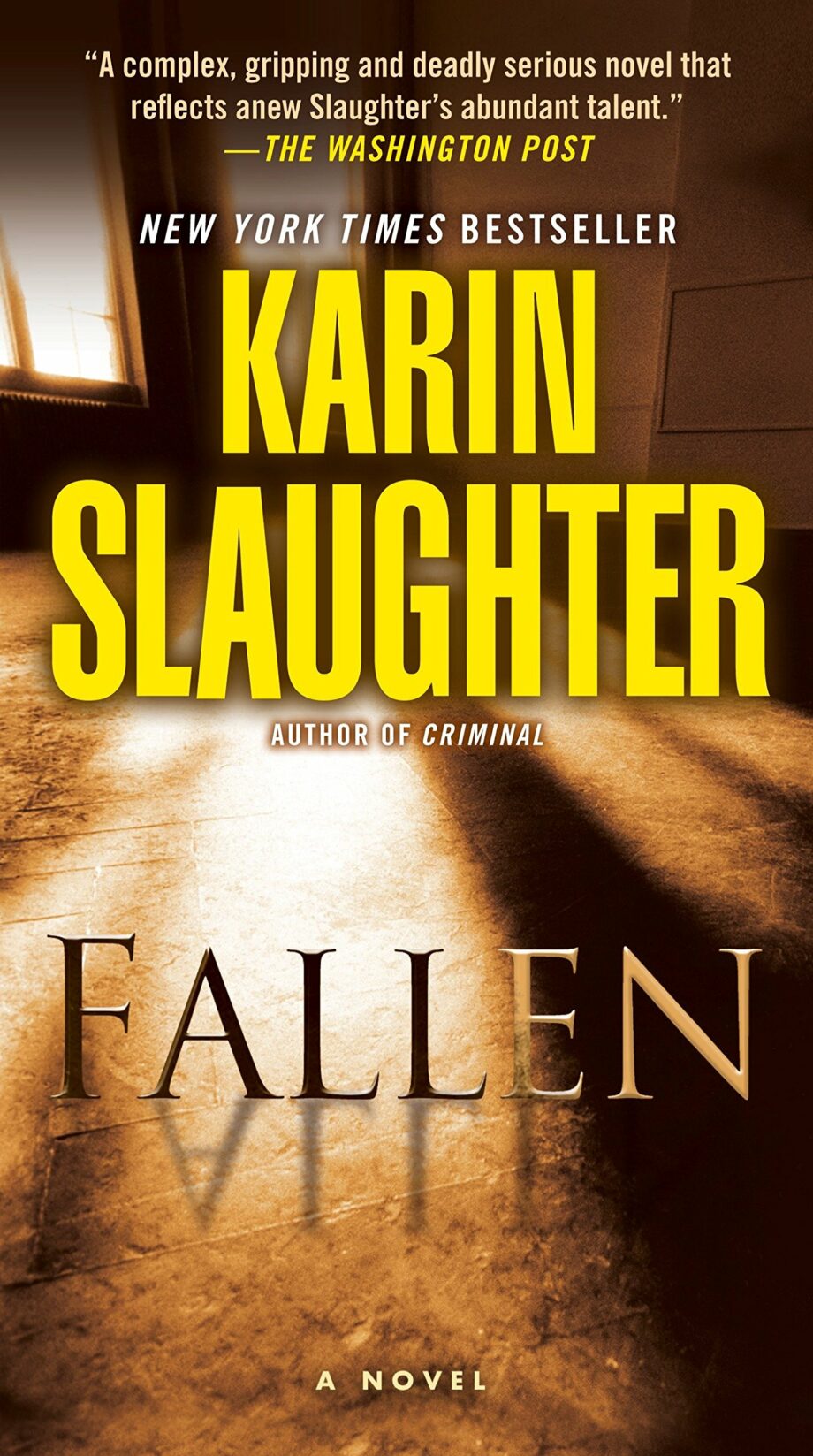 5. Fallen
There's no police training stronger than a cop's instinct.
Faith Mitchell's mother isn't answering her phone. Her front door is open. There's a bloodstain above the knob. Her infant daughter is hidden in a shed behind the house.
All that the GBI taught Faith Mitchell goes out the window when she charges into her mother's house, gun drawn. She sees a man dead in the laundry room. She sees a hostage situation in the bedroom. What she doesn't see is her mother…
"You know what we're here for. Hand it over, and we'll let her go."
When the hostage situation turns deadly, Faith finds herself with too many questions and not enough answers. To find her mother, she'll need the help of her partner, Will Trent, and they'll both need the help of trauma doctor Sara Linton. But Faith isn't just a cop anymore — she's a witness. She's also a suspect.
The thin blue line hides police corruption, bribery, even murder. Faith will have to go up against the people she respects the most in order to find her mother and bring the truth to light. Or bury it forever.
---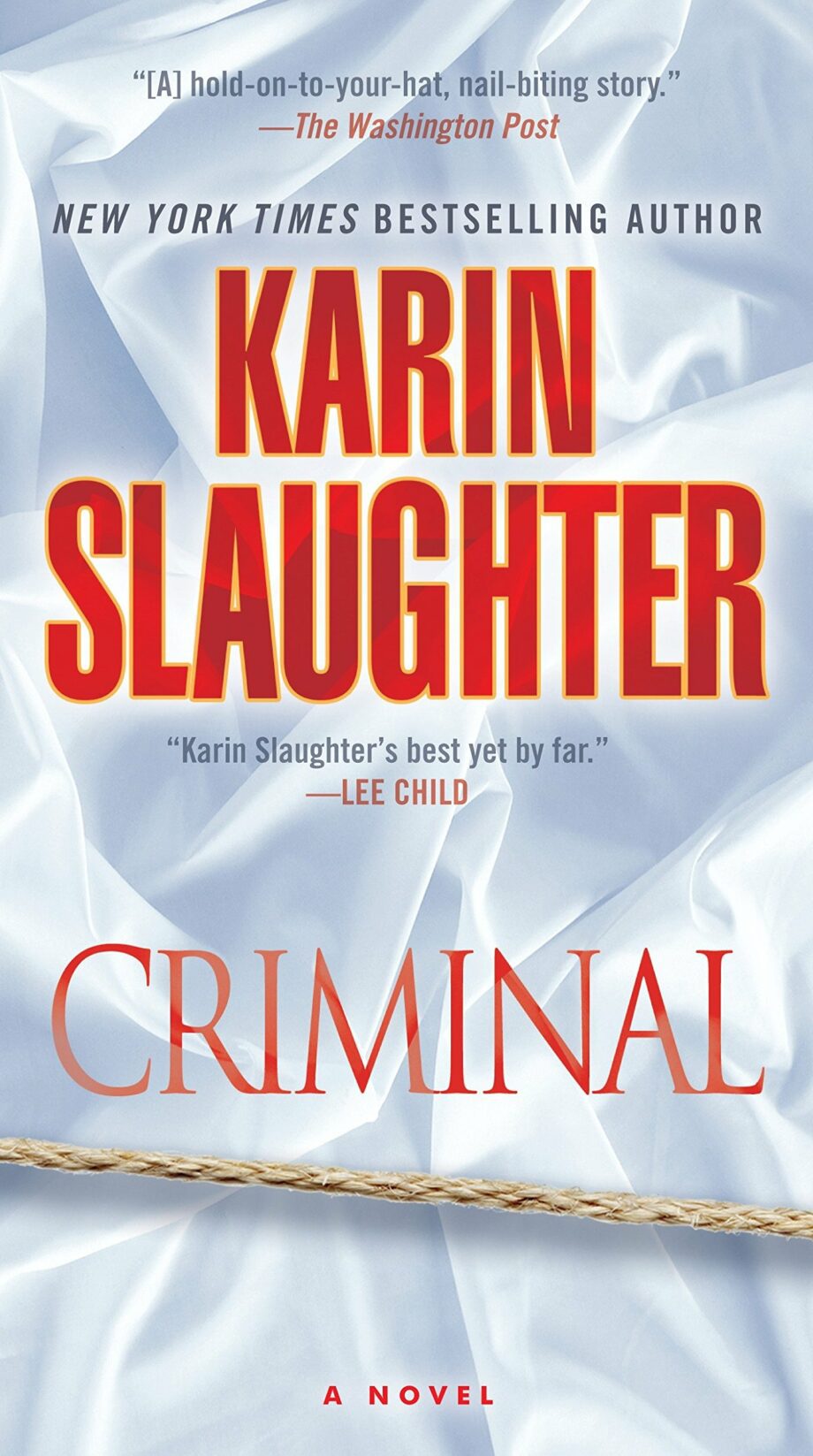 6. Criminal
Will Trent is a brilliant agent with the Georgia Bureau of Investigation. Newly in love, he is beginning to put a difficult past behind him. Then a local college student goes missing, and inexplicably deputy director Amanda Wagner keeps Will off the case.
Will cannot fathom Amanda's motivation. That is until the two of them literally collide in an abandoned orphanage they have both been drawn to for different reasons. Decades before — when Will's father was in prison for murder — this was his home…
Flash back nearly forty years: In the summer Will Trent was born, Amanda Wagner is going to college, making Sunday dinners for her father, taking her first steps in the boys' club that is the Atlanta Police Department. One of her first cases is to investigate a brutal crime in one of the city's worst neighborhoods. Amanda and her partner, Evelyn, are the only ones who seem to care about making an arrest.
Now the case that launched Amanda's career has suddenly come back to life. But it is intertwined with the long-held mystery of Will's birth and parentage. And these two dauntless investigators will each need to face down demons from the past if they are to prevent an even greater terror from being unleashed.
---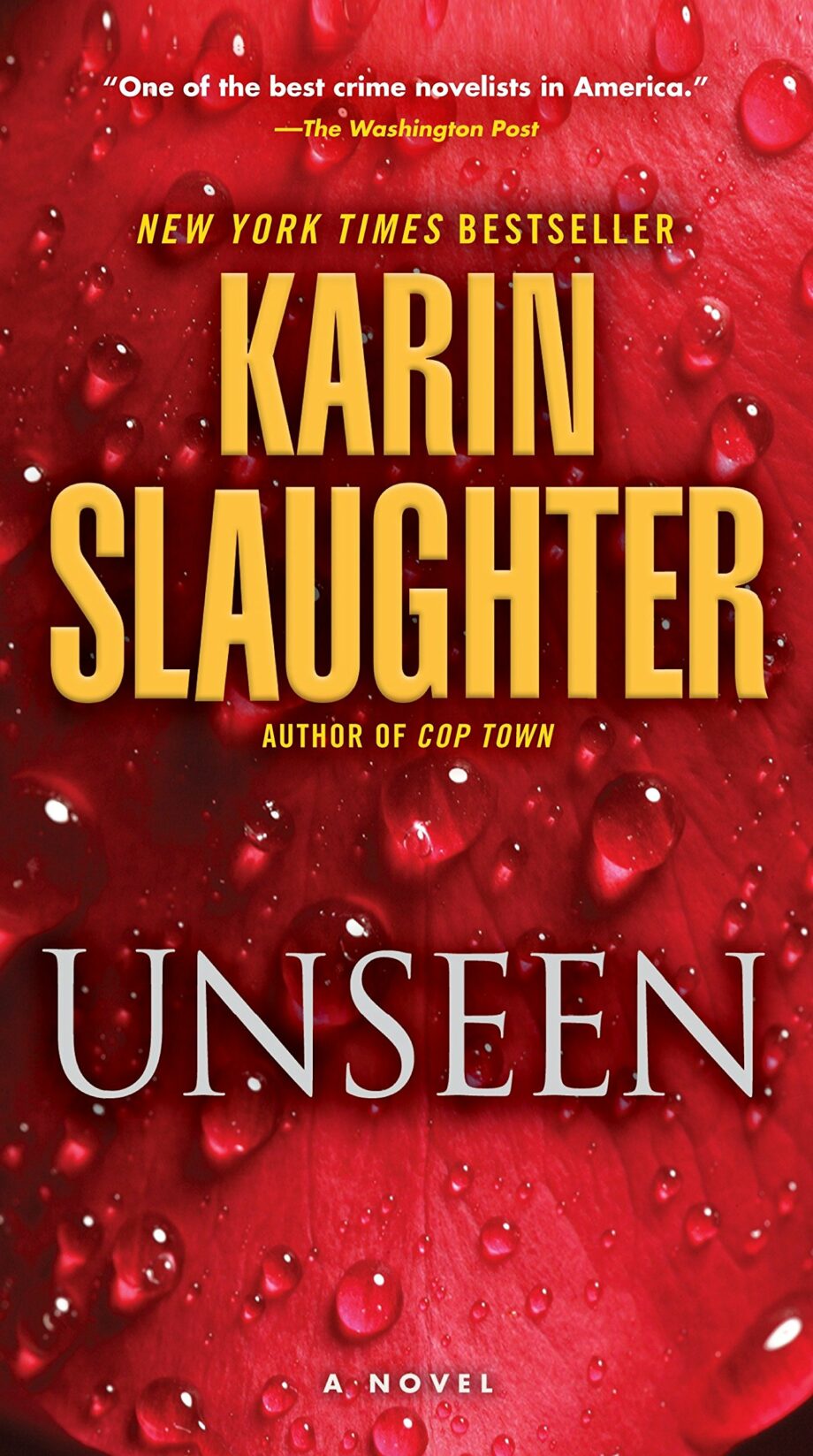 7. Unseen
Will Trent is a Georgia Bureau of Investigation agent. His latest case has him posing as Bill Black, a scary ex-con who rides a motorcycle around Macon, Georgia. Behind him trails an air of violence.
But the cover has worked. Trent has caught the eye of a wiry little drug dealer who thinks he might be a useful ally. But undercover and cut off from the support of the woman he loves, Sara Linton, Will finds his demons catching up with him.
Although she has no idea where Will has gone, or why, Sara herself has come to Macon because of a cop shooting: Her stepson, Jared, has been gunned down in his own home. Sara holds Lena, Jared's wife, responsible. Lena, a detective, has been a magnet for trouble all her life, and Jared's shooting is not the first time someone Sara loved got caught in the crossfire.
Furious, Sara finds herself involved in the same case that Will is working without even knowing it. Soon danger is swirling around both of them.
---
8. The Kept Woman
With the discovery of a murder at an abandoned construction site, Will Trent of the Georgia Bureau of Investigation is brought in on a case that becomes much more dangerous when the dead man is identified as an ex-cop.
Studying the body, Sara Linton — the GBI's newest medical examiner and Will's lover — realizes that the extensive blood loss didn't belong to the corpse. Sure enough, bloody footprints leading away from the scene indicate there is another victim — a woman — who has vanished…and who will die soon if she isn't found.
Will is already compromised, because the site belongs to the city's most popular citizen. A wealthy, powerful, and politically connected athlete protected by the world's most expensive lawyers. A man who's already gotten away with rape, despite Will's exhaustive efforts to put him away.
But the worst is yet to come. Evidence soon links Will's troubled past to the case…and the consequences will tear through his life with the force of a tornado, wreaking havoc for Will and everyone around him, including his colleagues, family, friends — and even the suspects he pursues.
---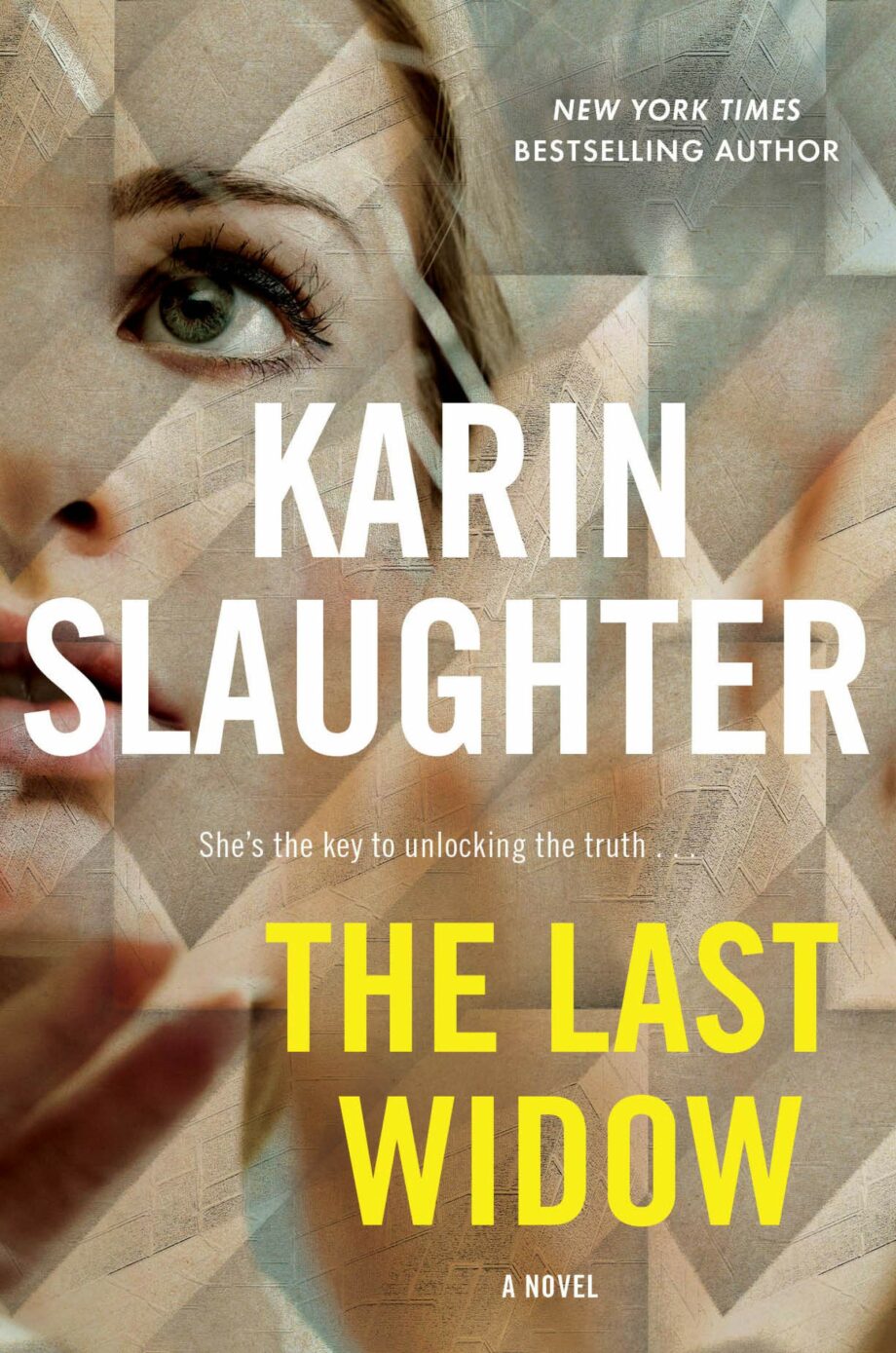 9. The Last Widow
On a hot summer night, a scientist from the Centers for Disease Control is grabbed by unknown assailants in a shopping center parking lot. Vanished into thin air, the authorities are desperate to save the doctor.
One month later, the serenity of a sunny Sunday afternoon shatters with the boom of a ground-shaking blast — followed by another seconds later. The bombing takes place in one of Atlanta's busiest and most important neighborhoods — the location of Emory University, two major hospitals, the FBI headquarters, and the CDC.
Medical examiner Sara Linton and her partner Will Trent, an investigator with the Georgia Bureau of Investigation, rush to the scene — and into the heart of a deadly conspiracy that threatens to destroy thousands of innocent lives. When the assailants abduct Sara, Will goes undercover to save her and prevent a massacre — putting his own life on the line for the woman and the country he loves.
---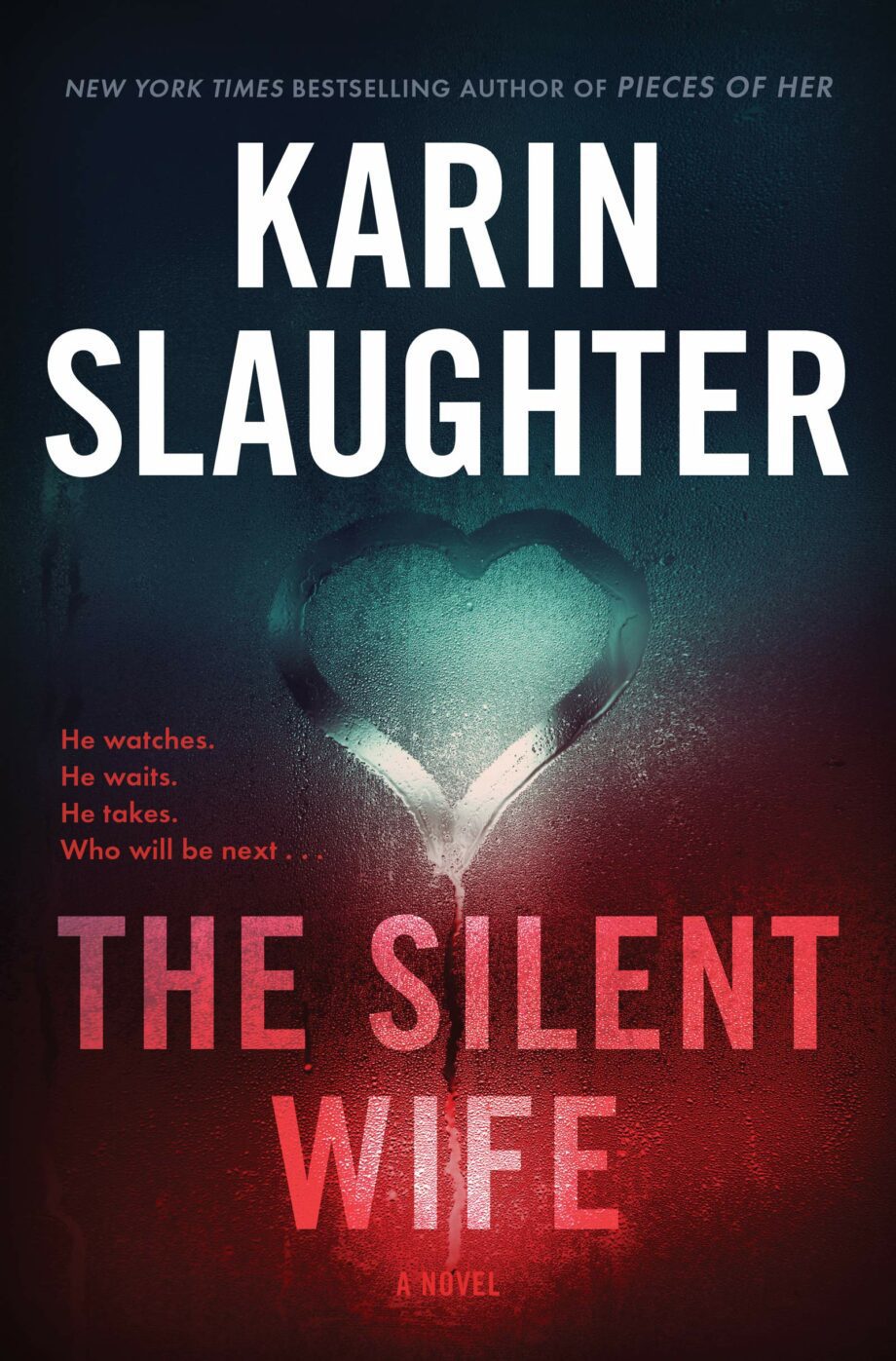 10. The Silent Wife
A young woman is brutally attacked and left for dead. The police investigate but the trail goes cold. Until a chance assignment takes GBI investigator Will Trent to the state penitentiary, and to a prisoner who says he recognizes the MO.
The attack looks identical to the one he was accused of eight years earlier. The prisoner's always insisted that he was innocent, and now he's sure he has proof. The killer is still out there.
As Will digs into both crimes it becomes clear that he must solve the original case in order to reach the truth. Yet nearly a decade has passed — time for memories to fade, witnesses to vanish, evidence to disappear. And now he needs medical examiner Sara Linton to help him hunt down a ruthless murderer.
But when the past and present collide, everything Will values is at stake…
---
Final thoughts on Will Trent series in order
With its setting in the modern day, reading the Will Trent series in order offers a critical look at sexual violence against women, childhood trauma, and drug addiction. Karin Slaughter has become an award-winning fan favorite for her heart-pumping mysteries that delve deep under your skin. If you like crime thrillers, you will be sure to enjoy her books.
Looking for more books in order?
Check out this list of Lee Child's Jack Reacher books in order.