Reading the Tom Gates books in order will involve bonkers excitement and brilliance as readers follow along with Tom navigating school, friends, and family. This illustrated middle grade series encapsulates the growing pains and joy of adolescence in an approachable and relatable manner.
With a new book in the series coming out this fall, now is the perfect time to get caught up and read the Tom Gates books in order.
Who is Liz Pichon?
The author of the popular Tom Gates book series is Liz Pichon. Before she became an author, she studied graphic design at Camberwell School of Art in London and worked as an art director in the music industry. She was also a freelance designer and many of her designs have been used on greeting cards, calendars, and all kinds of other products.
The idea to write and illustrate her own ideas came about when she was still a freelance designer. She was asked to illustrate other people's books and suddenly considered doing it herself, to great success.
While the Tom Gates series is not Liz Pichon's debut, it is her most recognizable work. It has been translated into 44 languages and sold more than 11 million copies around the world.
The first book in the series has also won the Roald Dahl Funny Prize, The Red House Book Award Best Book for Young Readers, and the Waterstone's Best Fiction for 5-12 year olds prize.
What's more, the fourth book in the series won the Blue Peter Award for Best Story in 2013. There was also a Tom Gates stage adaptation that toured throughout the UK in 2019.
Readers absolutely adore the hysterical prose documenting Tom's life and the illustrations as he navigates school and adolescence. Tom often squabbles with his older sister Delia, struggles to pay attention during boring classes, and has big, lofty dreams for his band DogZombies.
In writing this series Pichon also finds inspirations from events that happened to her while she was in school. She is currently married with three children and lives in Brighton, England.
Tom Gates Books in Order
While each book can be read as a standalone, the best way to read the Tom Gates books in order is in order of publication. This is because each book naturally builds upon its predecessor in a chronological fashion.
It will make the most sense if you read the books in order because you will be introduced to the characters in the correct order. You will learn all about Tom and his relationships with his family members, best friends, and enemies.
Other Tom Gates Books
In addition to the main books in the series, Liz Pichon has also published companion books set within the Tom Gates universe. These books are perfect for any die-hard Tom Gates fan.
A Summary of the Tom Gates Books in Order
If you want to learn a little bit more about the shenanigans Tom and his friends get up to throughout the series, below you will find summaries for the first 15 Tom Gates books in order.
Due to the nature of the books there will not be any major spoilers for the overarching series in the below summaries. However, you should still read the Tom Gates books in order of publication for the novels to make the most sense.
---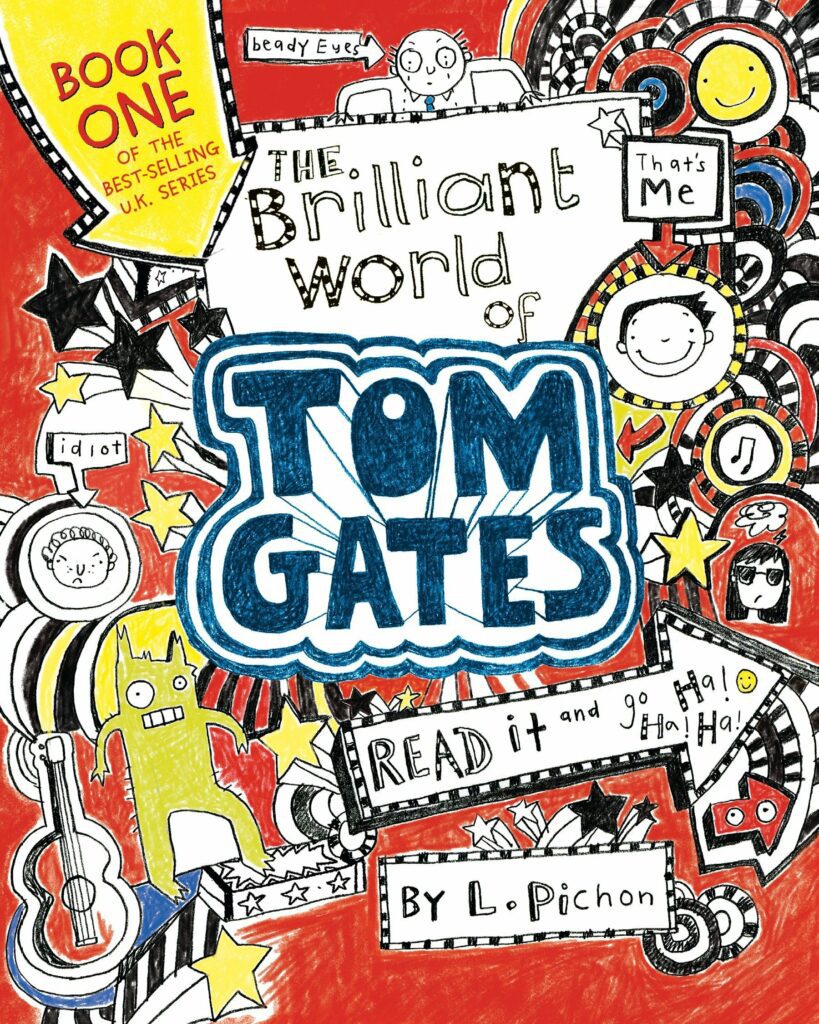 1. The Brilliant World of Tom Gates
Tom Gates is the master of excuses for late homework: Dog attacks, spilt water, lightning…
Tom's exercise book is full of his doodles, cartoons, and thoughts, as well as comments from his long-suffering teacher, Mr. Fullerton. But after gaining five merits for his Camping Sucks holiday story, Tom's work starts to go downhill — which is a pity, as he is desperate to impress Amy Porter, who sits next to him…
---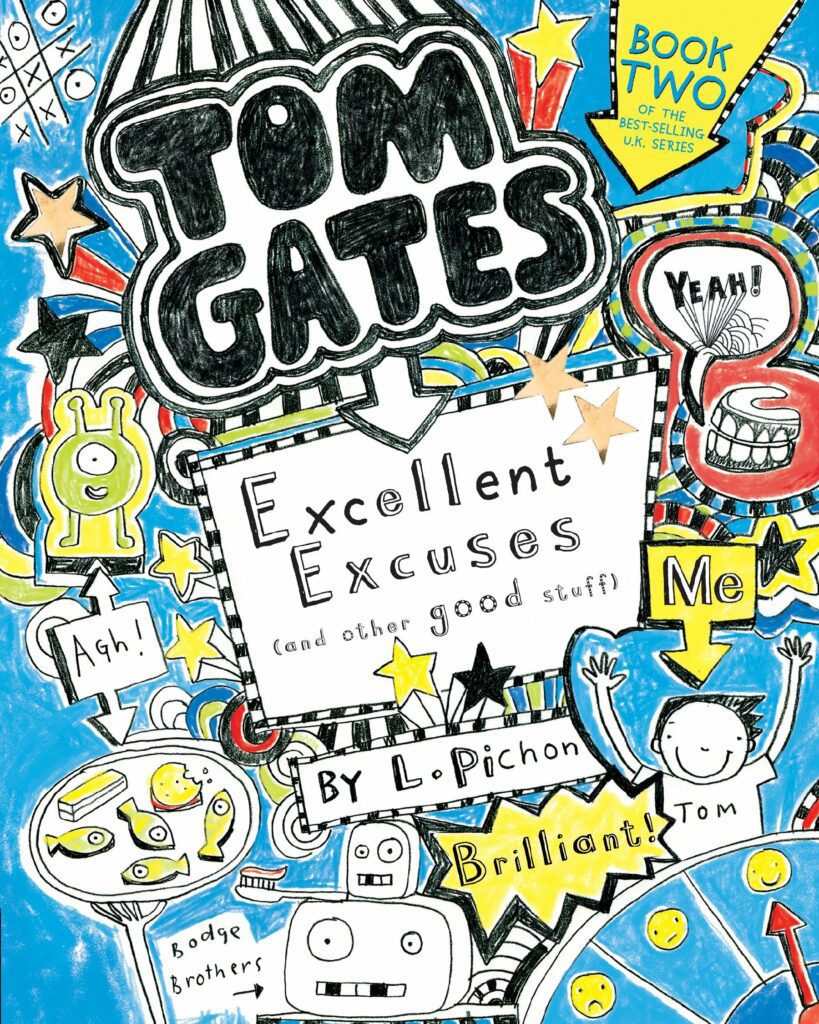 2. Excellent Excuses (And Other Good Stuff)
Tom is out of school for two whole weeks! He's looking forward to forgetting all about lessons (and irritating things like Marcus Meldrew) and concentrating on all the good stuff in life.
Such as inventing new ways to annoy his sister Delia (so many) and band practice for DogZombies (with his best mate Derek). His very important plans also include watching TV and eating caramel wafers…and eating caramel wafers and watching TV. All excellent.
Unfortunately, a couple of small problems called the dentist and his big weirdo sister, Delia, seem to be getting in the way of his brilliant plans…
---
3. Everything's Amazing (Sort Of)
Tom is back to school, but it's not all bad. Sports Day, the school fair, and his birthday are all coming up. And even better, his awful big sister Delia won't be at any of those events!
On the downside, Granny Mavis is threatening to make his birthday cake — uh oh! But on the other hand, Mr. Keen has asked DogZombies to perform in front of the whole school! Maybe they can even play at the school disco too.
How can the term turn out any less than seriously amazing?
---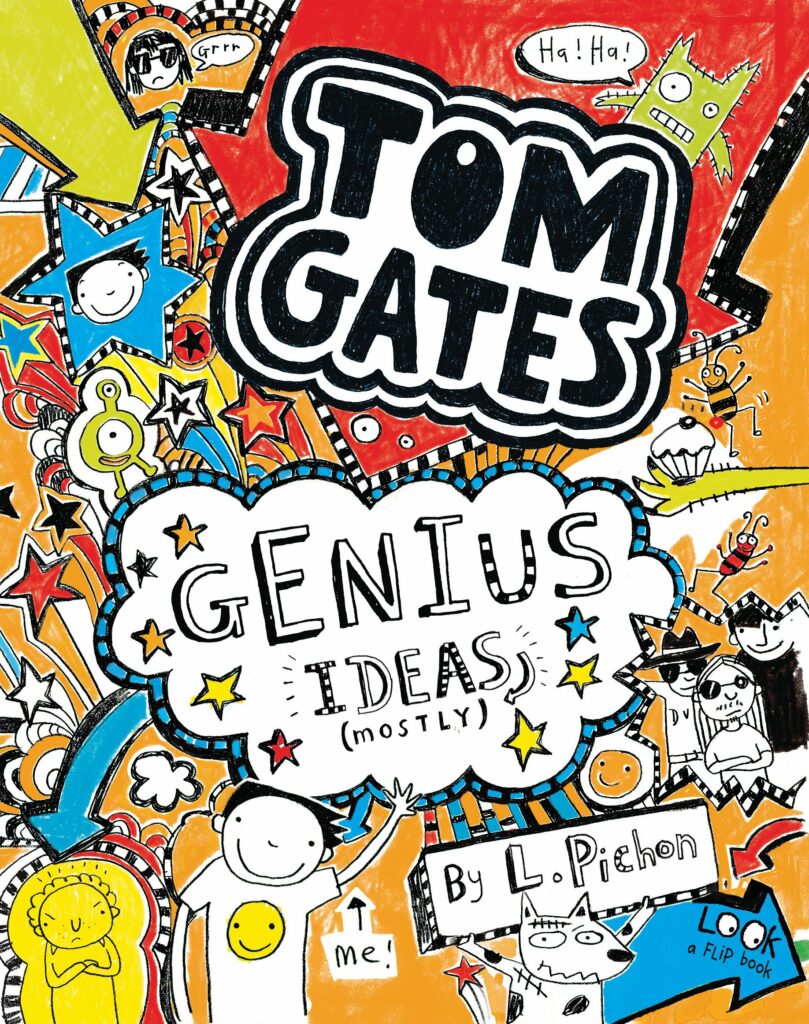 4. Genius Ideas (Mostly)
Seeing Delia without her sunglasses on is a big shock for Tom, but that's nothing compared with the surprise that his dad has in store for him with his new-found fitness regime! He says he's going to compete at the school Sports Day. Can you even imagine the horrendous shame that will bring?
Meanwhile Tom, Derek, and Norman are also busy with a training regime of their own — practising with DogZombies to make sure they're ready for the school talent show.
---
5. Absolutely Fantastic (At Some Things)
Things look to be taking an exciting turn when Mr. Fullerman announces that Class 5F are going on an activity break. Tom is looking forward to it…so long as he doesn't get suck in a group with anyone who snores or, worse still, with Marcus Meldrew.
Delia is already threatening to paint his room funny colours while he is away, which is annoying. But Tom is just hoping that the only surprise he comes home to is the new pet that his mum and dad have been talking about. Because he has always wanted a pet.
---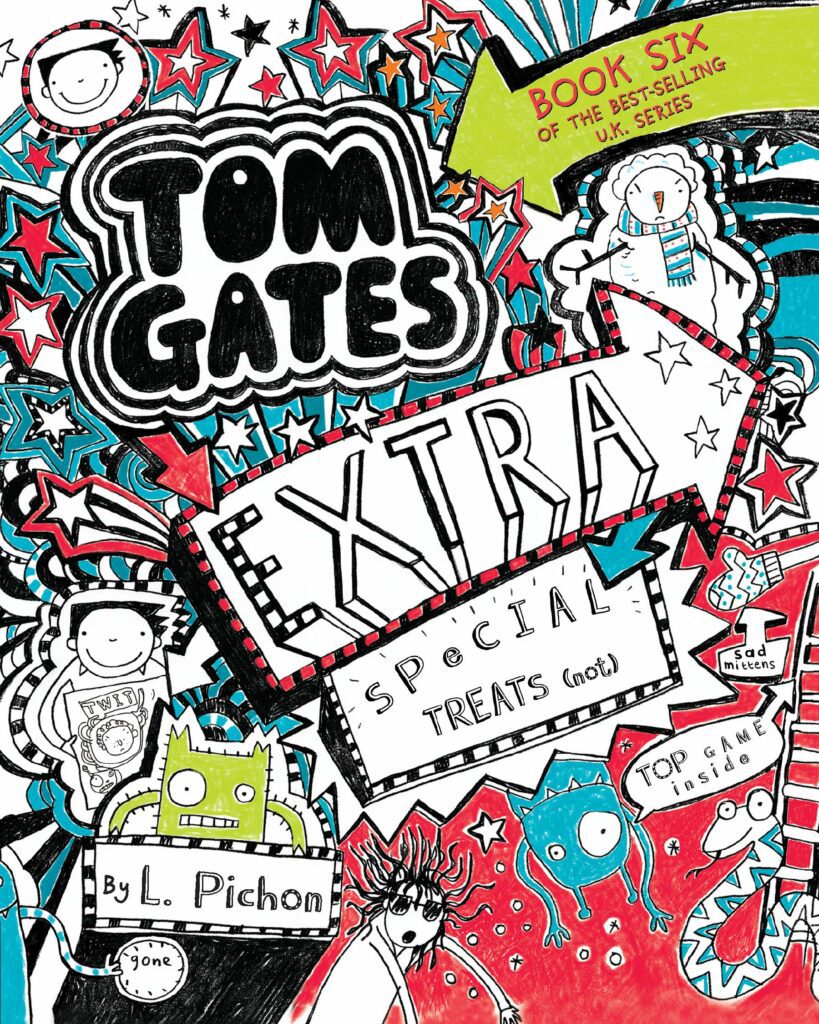 6. Extra Special Treats (…not)
It's really cold outside and everyone is hoping it's going to snow. Derek and Tom could make a snow Rooster and have a snowball fight — perhaps using his older sister Delia as target practice. Meanwhile, Tom's Granny Mavis has also started to knit him a new winter jumper, but by the looks of things he's not sure it's going to fit…
---
7. A Tiny Bit Lucky
Tom's dad wants to make a kite so they can go out together and get some fresh air. This would be okay with Tom if he had a dog, but that's just not going to happen. That's because Tom's older sister Delia is allergic to dogs!
But Tom has other things on his mind. The Rock Weekly Band Battle Audition is coming up, and Tom, Derek, and Norman need some serious band practice. But Tom's not panicking because they have loads of time…time that passes quickly…time that's running out!
Will Tom and his friends pull it together in time for the audition?
---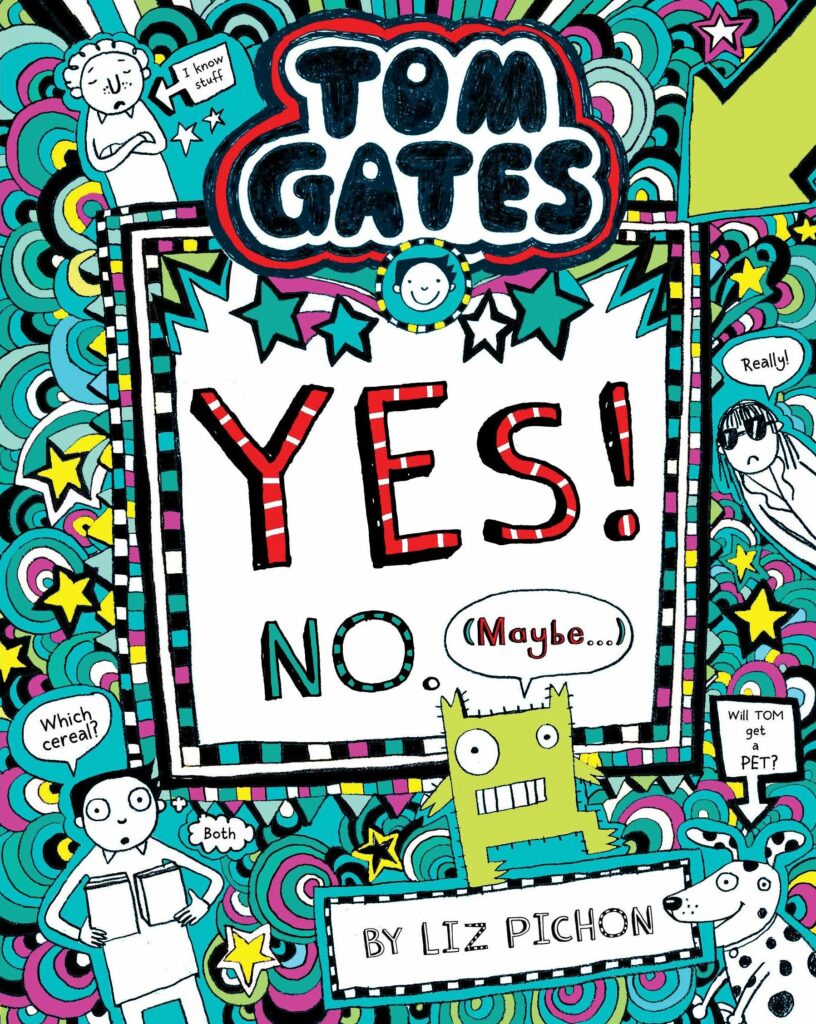 8. Yes! No (Maybe)
Tom's mum is madly gathering stuff from around the house to sell off at a boot sale. Tom's worried that she might get rid of some of his prized things, but then again he might make a little money selling his stuff to buy a scooter!
Meanwhile, Business Day is coming up at school. Tom comes up with a brilliant idea for an item his team can sell for Business Day. But because he was busy doodling, Tom accidentally gets himself switched to another group.
And Tom's sister Delia continues to be grumpy, but now she has a key to her bedroom. What is she keeping locked behind that door?
---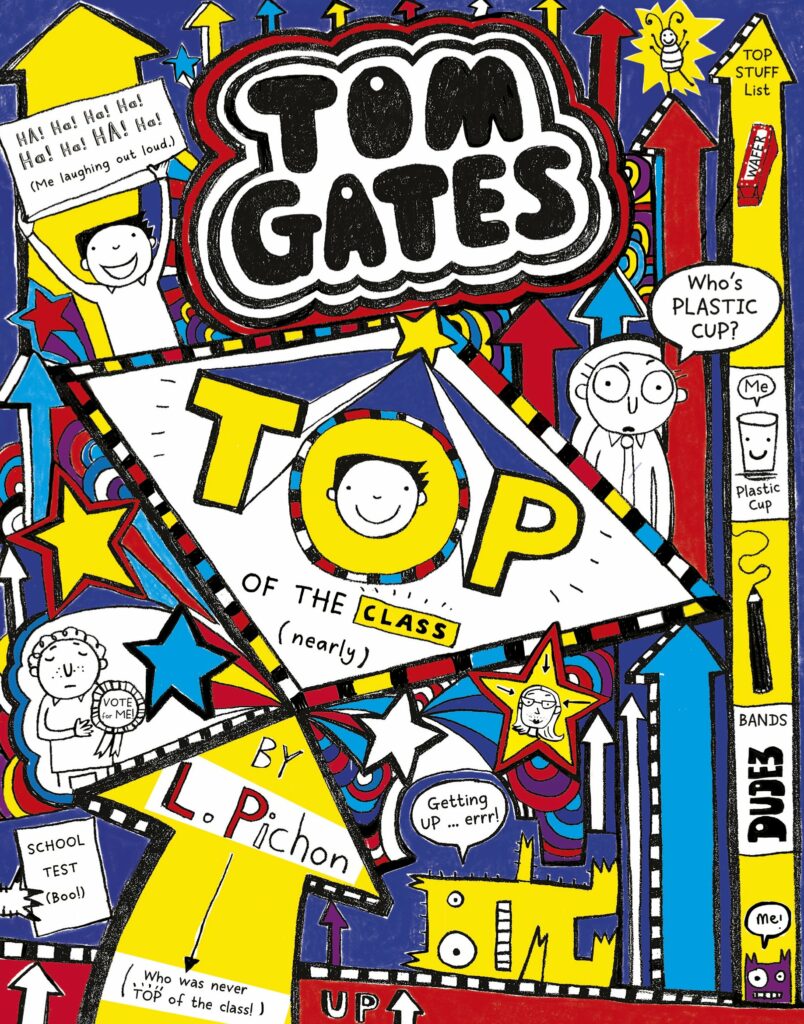 9. Top of the Class (Nearly)
To be the top of the class you should stay awake in lessons, not draw hilarious pictures of your teachers, avoid the class bully to stay out of trouble, and not let your mum or dad write anything in your school planner. You also shouldn't let your grumpy older sister boss you around, which isn't technically a school issue, but it's just as important.
Unfortunately, Tom did none of those things.
He's trying to be the top in the class and also get voted onto the school council, but because of the aforementioned list, it's not exactly going to plan.
---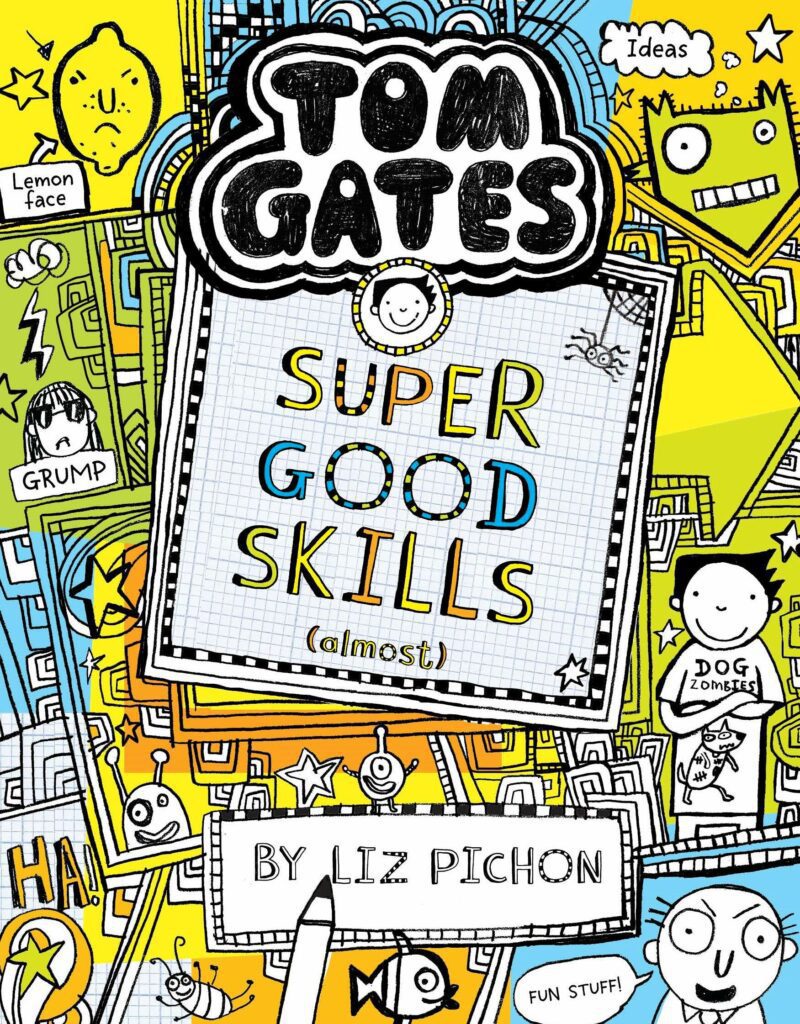 10. Super Good Skills (Almost)
Tom, Delia, and the whole Gates family are going on holiday. How will Tom manage to keep himself busy on the most boring campsite ever? By doodling, of course!
---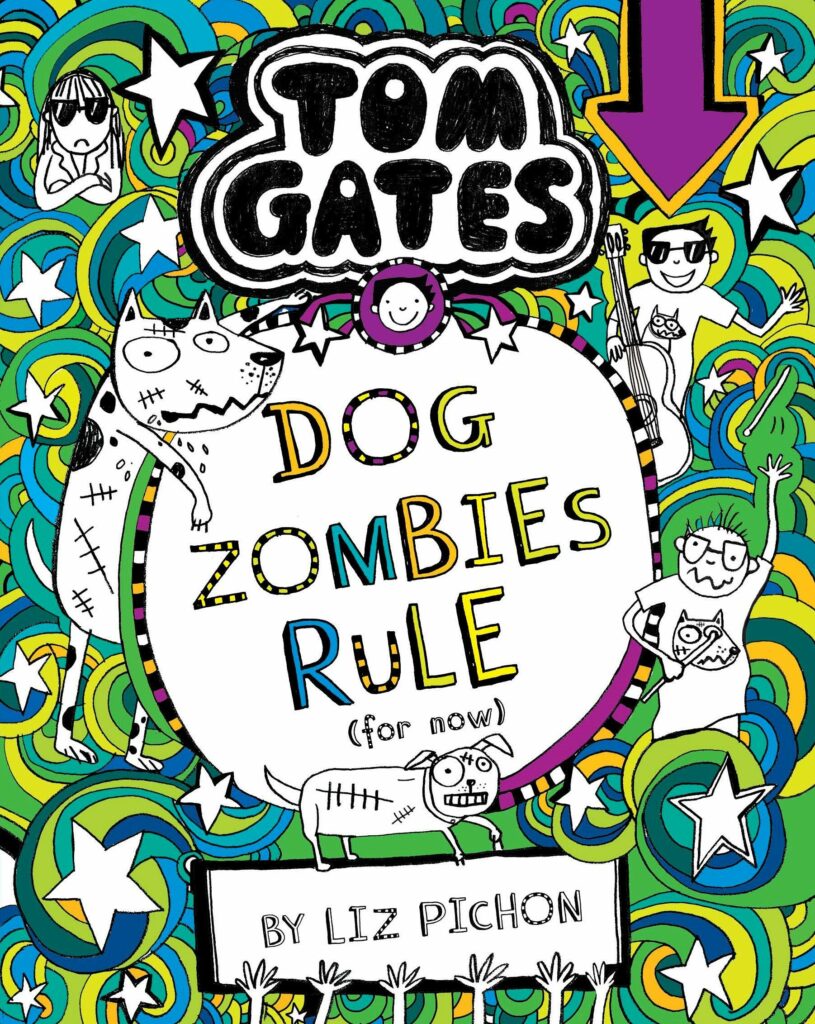 11. DogZombies Rule (For Now)
Tom has an excellent plan to make DogZombies the best band in the whole wide world. How hard can it be?
He's going to write more songs (not about teachers), make a spectacular music video (easy), get some sleep (tricky when he's being kept awake by loud noises), and annoy Delia. The last one has nothing to do with DogZombies, but is always fun.
---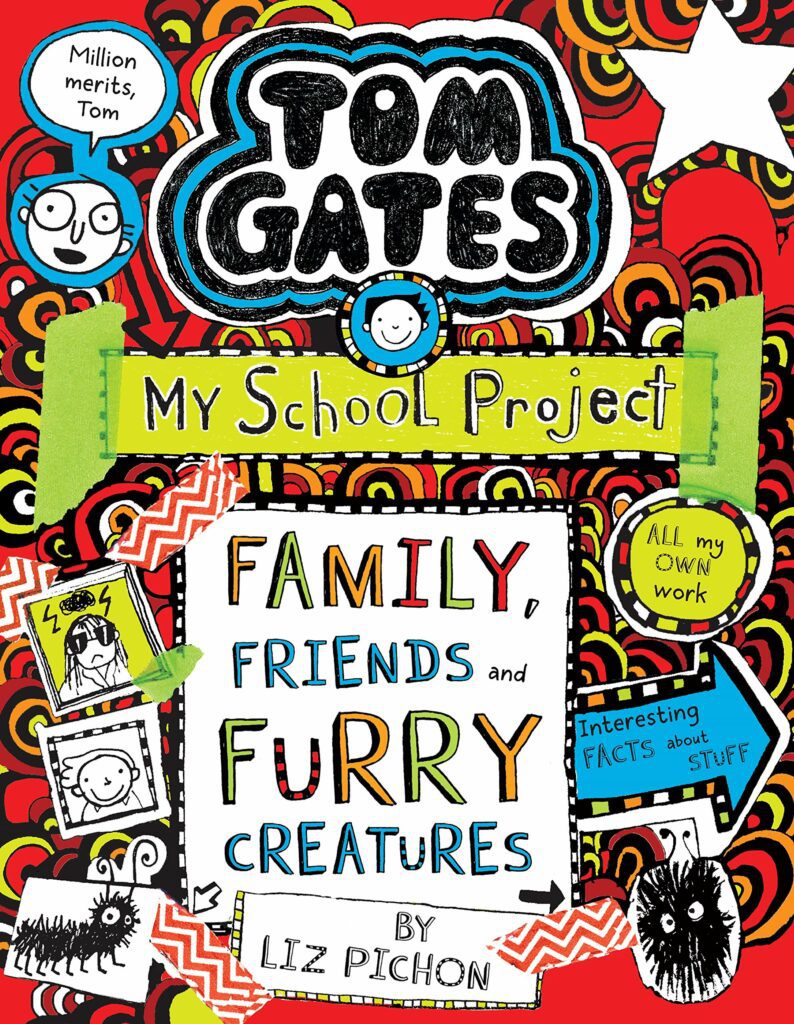 12. Family, Friends and Furry Creatures
Mr. Fullerman has a class assignment: A family tree! Tom's ready to learn all about the Gates family, his friends, and a furry creature (or two!).
But just what is that squeaking sound coming from Tom's shoes?
---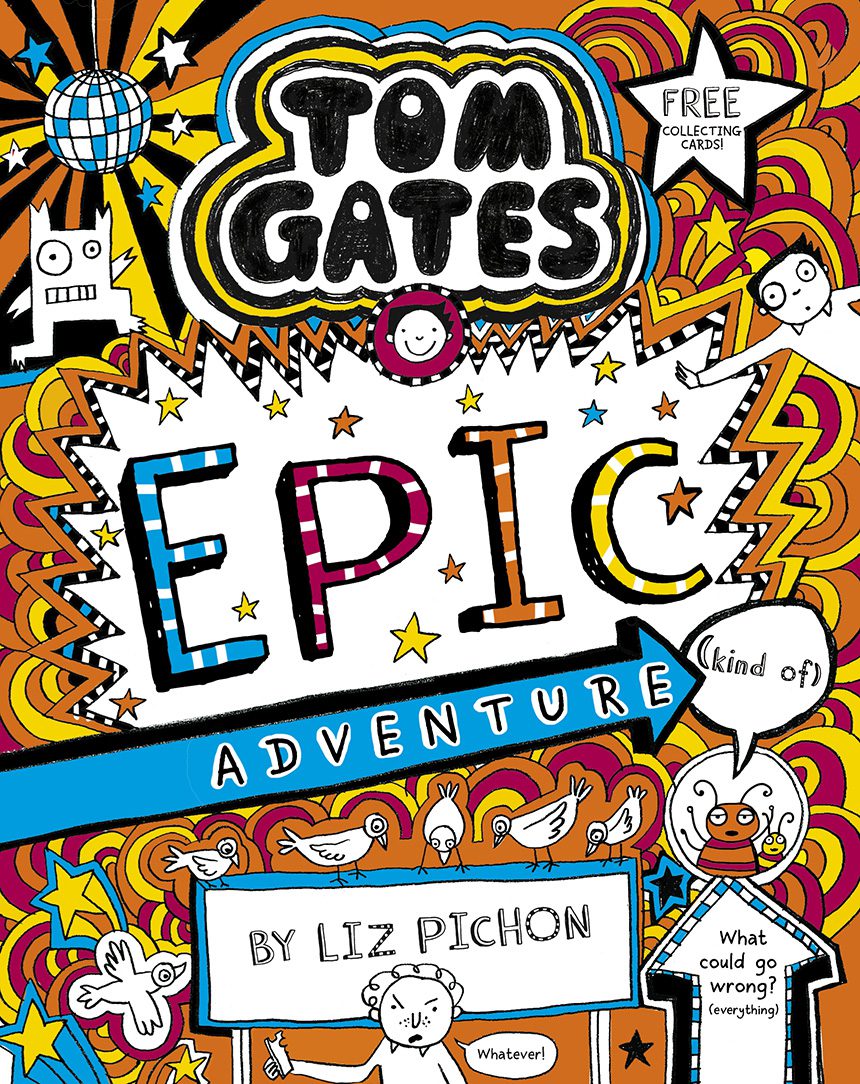 13. Epic Adventure (Kind Of)
Having two set of grandparents is turning out to be very good for Tom. They're keen on giving presents, and they're planning a family outing which will be epic! Even Delia wants to come, but Tom can always ignore her.
---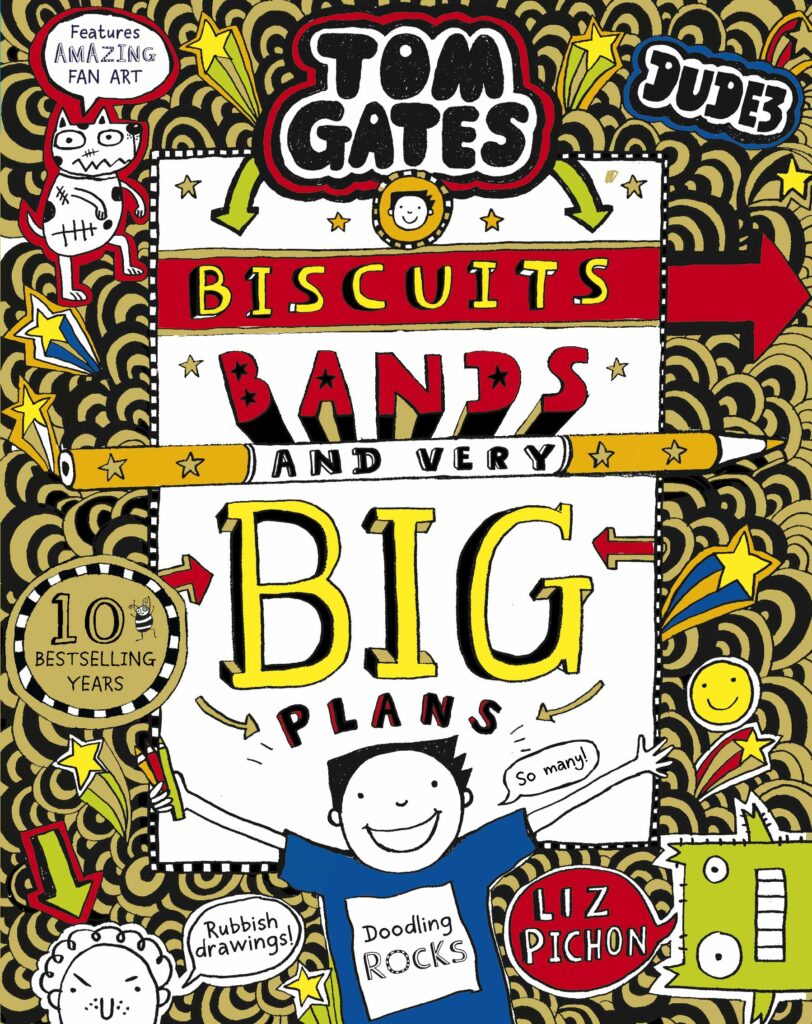 14. Biscuits, Bands and Very Big Plans
Tom Gates has an announcement to make: This book is very important because it contains biscuits, bands, and all of his top secret, doodled plans to make him and his friends global superstars and their band the DogZombies the best band in the world.
First he's going to write more songs about very important things like biscuits. Then he's going to make sure there's a good supply of snacks for band practice.
Next he must avoid Delia at all costs, because she thinks he's been snooping in her room…which Tom has, but she doesn't need to know that. Finally, Tom is going to doodle as much as possible, especially if Marcus is watching.
---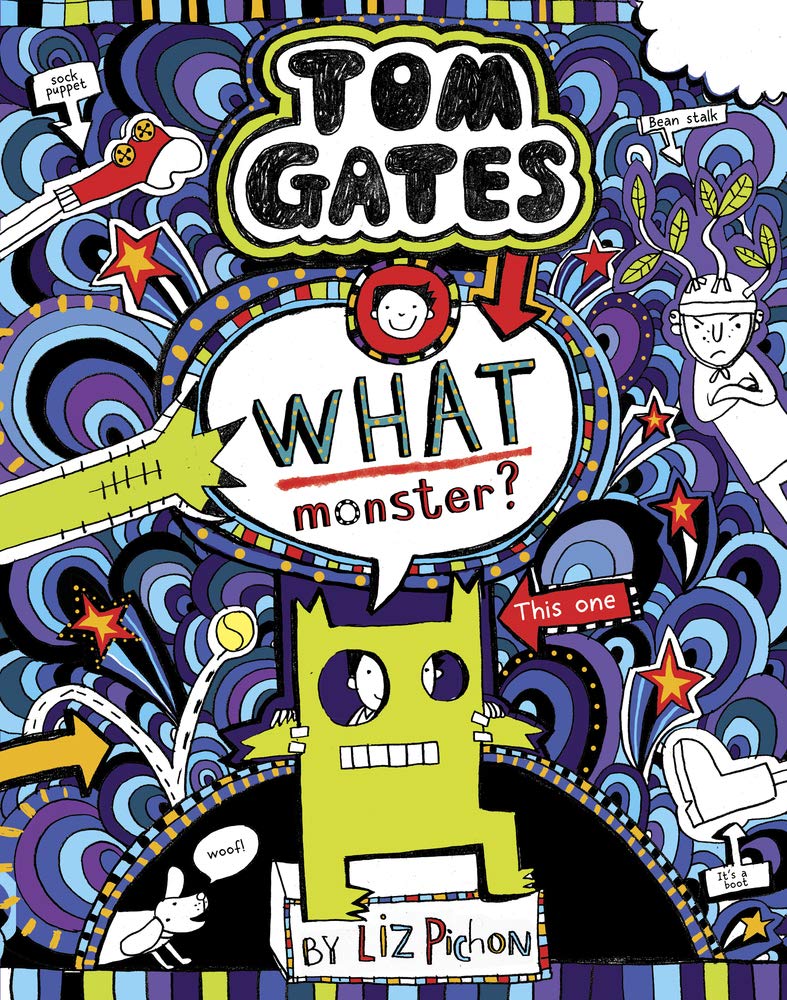 15. What Monster?
This book contains monsters, mystery, a music festival, and missing stuff. But not necessarily in that order. It also contains a very strict supply teacher, but don't let that put you off.
All will be revealed in the book. Such as how has this scary beast escaped into Tom's sort-of-normal world? Is it one of his doodles? Is it Delia on a rampage or Mr. Fullerman during the full moon?
---
Final thoughts on Tom Gates books in order
Aimed at younger readers, reading the Tom Gates books in order pokes fun and embraces the shenanigans that come with adolescence in an approachable and relatable way. Liz Pichon also brilliantly depicts the rivalry that takes place between siblings, especially between brothers and sisters. These are great, easy-to-read books.
Looking for more books in order?
Check out this list of the Diary of a Wimpy Kid books in order.