Wow.
Wow wow wowzers.
I just finished A Kingdom of Flesh and Fire by Jennifer L. Armentrout just minutes ago and I'm absolutely floored.
I need The Crown of Gilded Bones, like now.
I've not felt such a rush in a story since House of Earth and Blood. A Kingdom of Flesh and Fire is absolutely everything you could ask for in a sequel and them some.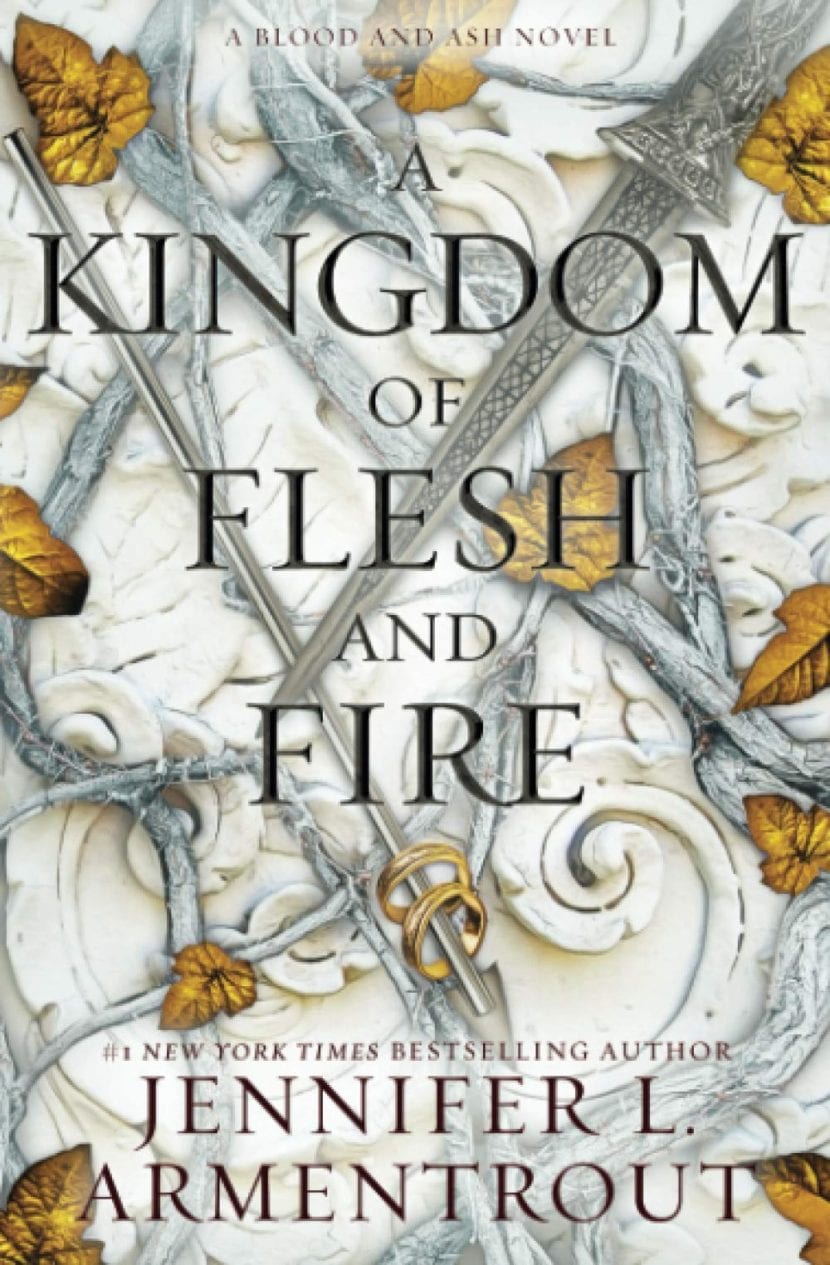 A Kingdom of Flesh and Fire Review
All right, I need to get something off my chest first, because I have nearly nothing but praise for Kingdom of Flesh and Fire.
The romantic tension from the enemies to lovers storyline in this book drove me nuts. And not always in a good way. It sort of flirted the lines between tolerable and downright frustrating.
Considering everything that happened in From Blood and Ash, I granted Poppy some leniency earlier on in the story. She was upset with Hawke. And I don't blame her.
During my moments of understanding, Hawke was so infuriating because all the man had to do was come out and say he was sorry and explain his true feelings, which were very clearly there.
Instead he keeps dancing around it, perpetuating this farce of a reason for marrying Poppy that every reader knows its a load of crap.
But somewhere along the way in the story, my frustration switched to Poppy. It's not because Hawke admitted anything groundbreaking and Poppy refused to believe it, but just because Poppy seemed to cling to this line of reasoning like a wet shirt.
She would. not. let. go.
And so I began to feel bad for Hawke, and annoyed with Poppy.
But it all works out, it just took an insanely long time to get there.
The payoff, as with the first book, is well worth all the frustration in my opinion.
Summary
Something I really appreciated about A Kingdom of Flesh and Fire was that it literally picked up the moment that From Blood and Ash ended.
Almost to the second.
I love that because it helped me stay immersed in the story from one book to the next when binge reading.
A Kingdom of Flesh and Fire is entirely focused on Poppy's escape from the Ascended and their eventual pursuit of her.
There are three really memorable battle scenes, with the ending being one of the most epically written scenes I've ever read. There were a few moments I was certain something else was going to happen, and even though it didn't go EXACTLY as I'd wanted, it was still absolutely awesome.
There's plenty of sex scenes for those interested in them, I skipped them as I usually do. There's a bit more cursing going on in this book, but it doesn't come anywhere close to rivaling SJM in House of Earth and Blood.
That's something else I appreciated.
My Favorite Moments
I have three really memorable moments in this book and they all involve death.
Isn't that awful?
I won't ruin the moments for you, but two of them involve our heroes, the Ascended, and their demise. I hope that wasn't too spoilery!
I didn't say who, I didn't say how, and I didn't say when! But the situations leading up to those two moments kept me on the edge of my seat and provided the ultimate in satisfaction.
The other moment was the most epic of them all, and it's the last like page of the book.
That's a fair warning for anyone who hasn't started reading this book yet. The ending will leave you shooketh.
Not in a bad way!
I just promise you that as soon as you read the last like paragraph, heck the last line, you're going to NEED Book 3 pronto.
Closing Remarks
I loved A Kingdom of Flesh and Fire. Buy this book. Read this book. Devour this book.
Drop absolutely everything you're doing and read it.
NOW.
Gosh, I can't say it any better than that.
5/5 stars
Looking for more great books?
Check out this list of books similar to A Court of Thorns and Roses.