Johansen began her career as an author churning out romance novels at an impressive pace, before transitioning into the crime fiction genre. So, between her shift in genres and the steady pace at which she has written books during the past nearly 40 years, it can be overwhelming to know where to begin with the Iris Johansen books in order.
In this guide we're going to break her bibliography into two sections: Her romance novels and then her crime fiction books. In these two genres Johansen has written more than 110 titles and some of those books fall between those two genres in the genre of romantic suspense. There are multiple series in addition to her popular Eve Duncan books, as well as many standalones.
But first let's learn a little bit more about the woman behind all of these books.

Who is Iris Johansen?
Iris Johansen didn't begin writing until later in life. It wasn't until her children had grown up and moved out that she turned to writing fiction, and quickly found success as a Loveswept romance author. The Loveswept series ran from 1983 until 1999 and features many different authors.
During this period Johansen was published a new book every month, which is a pace she would keep up for a long time. However, after writing traditional romance novels for nearly a decade, Johansen was craving a change, and began her shift between genres.
This began with a slow transition into writing romantic suspense novels, then writing crime fiction novels with a hint of romance. During this period of change, and after, Johansen continued to write romance novels. Even still some of her more recent books have a stronger romance theme than others.
On her website Johansen says she began writing romance novels because she loves happy ever after endings, but she wanted to challenge herself more. That led to her genre shift, following which she began the Eve Duncan series, which has since become the most well-known series from her body of work.
While Johansen began writing when her children had grown up and she found herself needing to fill her time, she now works very closely with her children. Her son, Roy Johansen, is an Edgar Award winning author himself, and has co-written books with his mother. Meanwhile, Iris Johansen's daughter, Tamara, is her research assistant.
Johansen has had more than 30 consecutive New York Times bestsellers. She currently lives in Florida and Georgia.
Does the Eve Duncan series need to be read in order?
The best way to read these Iris Johansen books in order would be to follow the publication order. This is especially true for the trilogies that make up subseries within the world.
Each book within the main series follows a chronological timeline, so each book inherently builds upon the previous. The books tend to follow a new investigation, but there is more that is revealed about Eve Duncan with each book. For that reason, following the order of publication will allow you to experience the suspense and growth of the character the way that Johansen intended.
Then the trilogies are much more entwined and follow a larger story arc through the three books. You should absolutely read these Iris Johansen books in order.
Iris Johansen Crime Books in Order
Wind Dancer Books
However, in terms of Iris Johansen's genre shift, The Wind Dancer is largely seen as the book that defines that movement from romance to suspenseful historical romance which led into crime fiction. It begins in Renaissance Italy, travels through eighteenth-century France and into the modern day following the search for the exquisite Wind Dancer statue through the years and across the world.
Eve Duncan Books
This series is by far Johansen's most well-known series, and it is also her longest. These Iris Johansen books in order follow Eve Duncan, a forensic sculptor who finds her motivation from the darkest period of her life. That's because years ago, her seven-year-old child, Bonnie, was kidnapped and murdered. So, now Eve tries through her work to bring closure to other parents who have lost their children.
Eve Duncan Subseries
Within the overarching Eve Duncan series, there are also multiple subseries. While the main series follows a chronological timeline and character development, each book usually follows a new case and investigation. However in these subseries, the plot and progression within each of the books are much more inextricably linked.
2011 Eve Duncan Trilogy
Eve (2011)
Quinn (2011)
Bonnie (2011)
2013 Eve Duncan Trilogy
Taking Eve (2013)
Hunting Eve (2013)
Silencing Eve (2013)
2015 Eve Duncan Trilogy
Shadow Play (2015)
Hide Away (2016)
Night and Day (2016)
Hannah Bryson Books
As previously mentioned, Iris Johansen works closely with her children, and this was the first book to be co-written with her son, Roy Johansen. This series follows the titular Hannah Bryson, who is a marine architect, on the assignment of a lifetime working on a decommissioned Soviet submarine to give it the all-clear for a tourist destination. However, events then turn lethal and Hannah will stop at nothing to reveal its secrets.
Silent Thunder (2008)
Shadow Zone (2010)
Catherine Ling Books
This next series is another spin-off series from Iris Johansen's Eve Duncan series, with Chasing the Night being a crossover novel for both series. Catherine Ling has been a CIA operative since she was fourteen and grew up on the streets of Hong Kong.
The first book features Catherine partnering with Eve when, eight years after her toddler was kidnapped, she is still haunted by that nightmare. Catherine seeks Eve out to leverage her forensic skills to use age progression and see what her child would look like today.
Kendra Michaels Books
This is another series that Iris Johansen has written with her son, Roy Johansen. The exception to their co-authorship is with Killer View, because that book is written exclusively by Roy Johansen. The Kendra Michaels books also take place within the same universe as the Eve Duncan series, and the third title on this list, Sleep No More, is a crossover book between the two series.
Kendra Michaels is a secret weapon for the FBI with an uncanny capability for acute observation and analysis. In the first book Kendra is brought into a serial murder investigation. However, she must make a choice when the next name on the killer's hit list is her ex-lover, an FBI agent who disappeared without a trace.
Alisa Flynn Books
This next series in our list of the Iris Johansen books in order follows a CIA agent, Alisa Flynn, as she goes rogue. Alisa is willing to do whatever it takes to catch the most heartless band of criminals she's ever encountered. But the line between right and wrong wavers as she tries to save a group of kidnapped schoolgirls in Africa with the help of a billionaire and a horse whisperer.
Chaos (2020)
Logan Tanner Books
This new series from Iris Johansen combines her crime fiction writing with the high stakes world of gambling. The titular character, Logan Tanner, is a professional gambler used to taking risks with nerves of steel.
But behind the glitz and glamor of his live lies a dark and violent past. Then that world comes back knocking with the arrival of the beautiful and innocent Lara Balkon. Soon, Logan is caught between two Russian mafia bosses in an effort to save Lara's life.
High Stakes (2021)
Murphy Jordan Books
There is not much known about Johansen's upcoming book yet. It is the beginning of a new series following Murphy Jordan and her rescue dog who take on an explosive case with global implications.
On the Hunt (Expected: September 3, 2024)
Standalones
Finally, Iris Johansen has also published more than a dozen crime fiction standalones throughout her career as an author. If you aren't sure where to begin with her bibliography, or if you've read the Eve Duncan books and are looking for something else by Johansen to read next, these are great options without committing to a lengthy series.
Iris Johansen Romance Books in Order
Donovan Enterprises Books
Iris Johansen's debut novel was Stormy Vows, with another book taking place within the same world being published just one month later. Stormy Vows involves a sudden marriage and a heartbreaking misunderstanding between our characters Michael and Brenna. Then, Tempest at Sea follows Jane and Jake's month-long cruise of the Caribbean after Jake found Jane sneaking aboard his yacht.
Stormy Vows (1983)
Tempest at Sea (1983)
Reluctant Lark Books
Next, again in quick succession, came two more romance novels. The Reluctant Lark came out in November, with The Bronzed Hawk being published one month later in December. Both feature wild free spirits unexpectedly finding love and needing to make a choice to let their love blossom.
The Reluctant Lark (1983)
The Bronzed Hawk (1983)
Sedikhan Books
The next romance series in the Iris Johansen books in order has hints of magical realism and otherworldliness while taking place in a fictional desert land. This series contains both historical and contemporary romances.
As well, the last title on the below list, The Golden Barbarian, is a prequel. However, reading the books in original publication order would be the recommendation for first time readers.
Clanad Books
The Clanad series is largely a subseries within the larger Sedikhan series. However, The Lady and the Unicorn was written first, and therefore belongs exclusively within the Clanad series.
These are paranormal romances with magic throughout the books. Each one follows new protagonists, but still takes place within the same world.
Louis Benoit Books
This is another subseries from the Sedikhan series, taking place within the same world and timeline. The first book follows the love story between a man who is used to getting everything he wants and an independent woman who rebels at his arrogance.
The Trustworthy Redhead (1984)
The Spellbinder (1987)
Santa Flores Books
When Return to Santa Flores was published, Iris Johansen hadn't yet been a published author for a full year and had already written eight books, keeping up her impressive streak of publishing one book a month.
The first book within this duology follows Steve, a jaded Las Vegas casino owner and Jenny, the girl he once adopted but who is now a woman in love with him. No Red Roses is about the love between a celebrity musician and a small-town girl, and whether they can overcome their different lifestyles for the love they feel for one another.
Return to Santa Flores (1984)
No Red Roses (1984)
Beau Landry/White Satin Books
Many of Iris Johansen's books feature an interesting power dynamic between her love interests. These books then follow the pair as they work together to find harmony, and this series from our list of the Iris Johansen books in order is no exception.
The first book follows the fiery attraction and passion Joel, a director, feels after mistaking Kendra for a starlet. The next book features a wild, free spirit in the form of Kate Gilbert, and a lovestruck male lead, Beau Landry, who is willing to risk everything for her.
Finally, And the Desert Blooms brings readers back to Sedikhan after Pandora ran off to tour the world with her rock group Nemesis. Now she is returning to the desert state, and the man she once loved, Sheik Philip El Kabbar.
White Satin (1985)
Blue Velvet (1985)
And the Desert Blooms (1986)
The Delaneys Books
This next series within the list of Iris Johansen books in order is a collaborative trilogy from multiple Loveswept authors. It is an overarching series with multiple subseries within it, but each book follows a new member of the Delaney family.
The Shamrock Trinity Books
In The Shamrock Trinity series the first book was written by Kay Hooper and the third book was written by Fayrene Preston. Meanwhile, Johansen wrote York, The Renegade. Each book follows a different Delaney brother as they find love.
Rafe, The Maverick (1986)
York, The Renegade (1986)
Burke, The Kingpin (1986)
Delaneys of Killaroo Books
Then, there is another subseries trilogy, but this time following three women in the Delaney family. Again, Kay Hooper wrote the first book with Fayrene Preston writing the third, and Johansen wrote Matilda, The Adventuress.
Adelaide, The Enchantress (1987)
Matilda, The Adventuress (1987)
Sydney, The Temptress (1987)
Lion's Bride Books
This duology is a historical romance taking place within a medieval setting from Damascus to the Scottish Highlands. The first book follows one sister, Thea, while the second book follows the other sister Selene on her journey from being a harem slave, to escaping to her native Scotland, and then embarking on a perilous quest with a former assassin to win her freedom.
Lion's Bride (1996)
The Treasure (2008)
Standalone Novels
Finally, at least for the romance section of the Iris Johansen books in order, she also wrote more than a dozen standalone romances before her genre shift. Some of these titles, such as Star-Spangled Bride, are more classic Loveswept romances.
However, if you read these books in order of publication, you will see the transition and ebb and flow as Johansen began including more suspenseful plot lines within her books. For example, An Unexpected Song can be seen more accurately as romantic suspense, with a killer lurking in the background of the book and dangerous secrets laying in wait.
Summary of Iris Johansen Books in Order
While she has written more than 110 books, we're going to take a closer look at her most popular series: Eve Duncan. Below you will find the first ten Eve Duncan by Iris Johansen books in order.
If you haven't read these books, there will be minor spoilers in the summaries below, so proceed with caution. However, if you're looking for a refresher of the series in preparation for a reread, these summaries will be perfect to remind you about the very beginning of the series.
---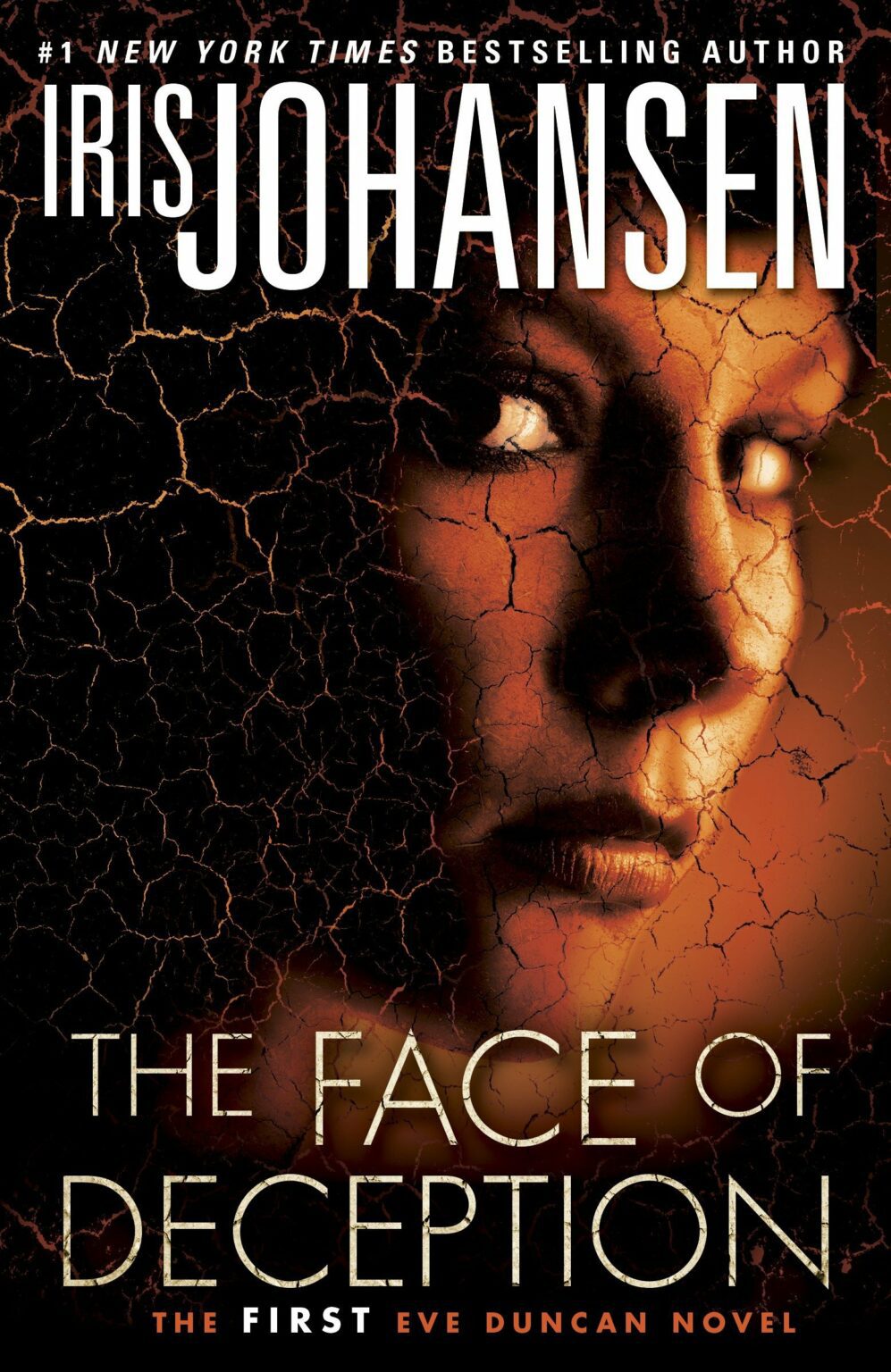 1. The Face of Deception
After losing her beloved child to a serial killer, forensic sculptor Eve Duncan survives by focusing on her career. The best in her field at rebuilding faces from bare skull bones, Eve specializes in identifying missing children. When billionaire John Logan requests her help in identifying an adult skull, Eve — already busy with work — turns him down.
But when he volunteers to donate a large sum of money to a charity for missing children in exchange for her time, Eve reluctantly agrees. However, Logan neglects to tell her that there are powerful, desperate people who want to keep the skull's true identity a secret at any cost.
Eve's gut instincts tell her that Logan is holding back vital information: Does the billionaire really believe that he's uncovered new insight into the Kennedy assassination? Or does the skull tie him to a mysterious murder?
Eve's wildest guesses don't even come close to the stunning truth that she discovers when she at last studies the restored face. Now she and Logan have proof of a dark secret that could get them killed. And it will take all of their combined cunning and sheer nerve to survive.
---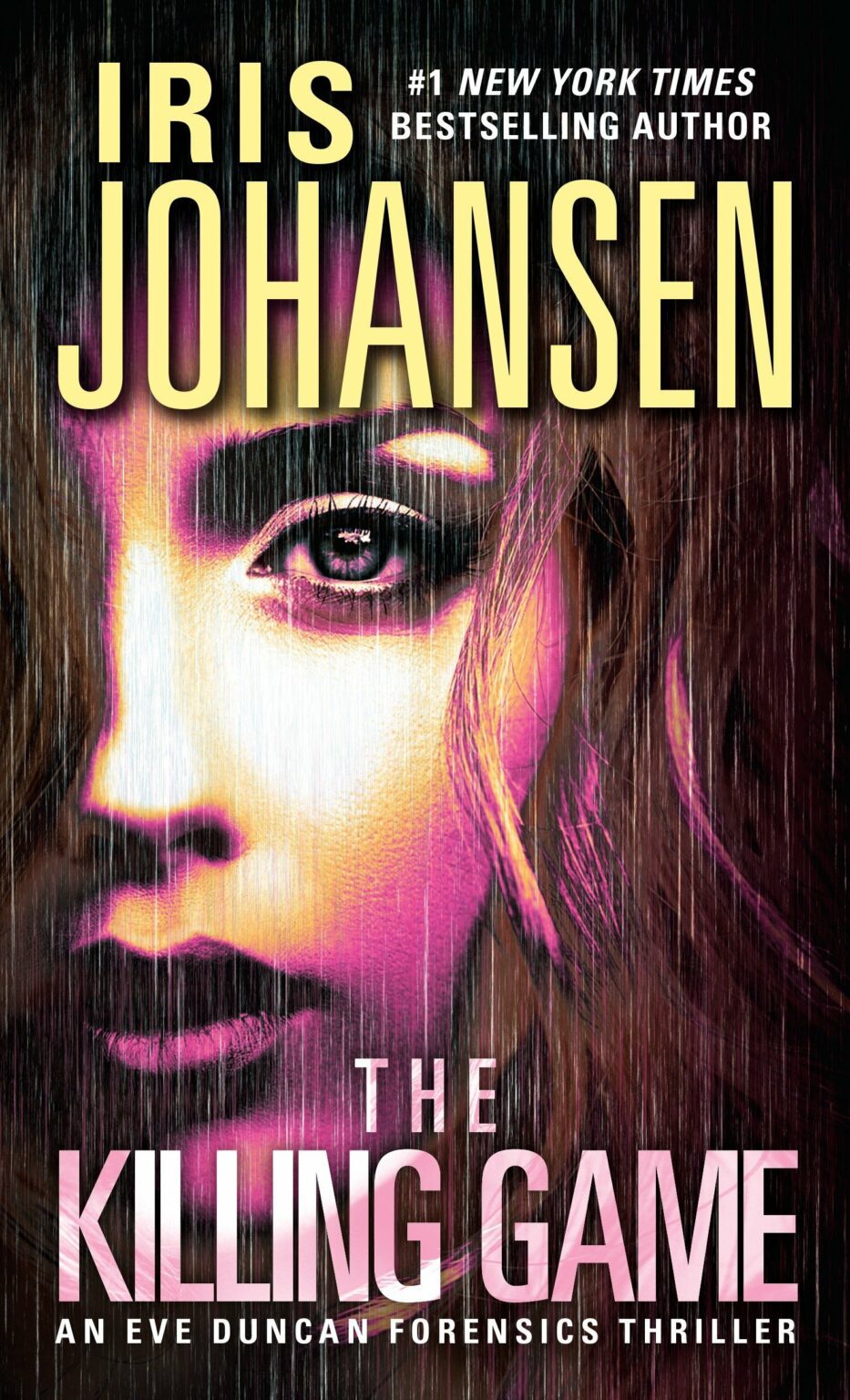 2. The Killing Game
After the murder of her daughter Bonnie and years of work as a forensic sculptor, Eve had hoped to find some solace in semi-retirement. But when her friend Joe Quinn informs her of the unearthing of multiple bodies, including those of children, Eve cannot resist getting caught up.
Those bones may be Bonnie's, and somewhere out there is a dangerous serial murderer. So, with Joe's loyal help, Eve grimly sets out to find a killer. Determined to remain objective, Eve begins to reconstruct the face of one of the victims.
But the killer wants her to become involved, and manipulates Eve's life like a puppeteer. Terrified of the killer but spurred on by her memories of Bonnie, Eve takes a gamble with her life. She will do whatever the murderer demands: She will be the bait, betting her life for the chance to save others.
---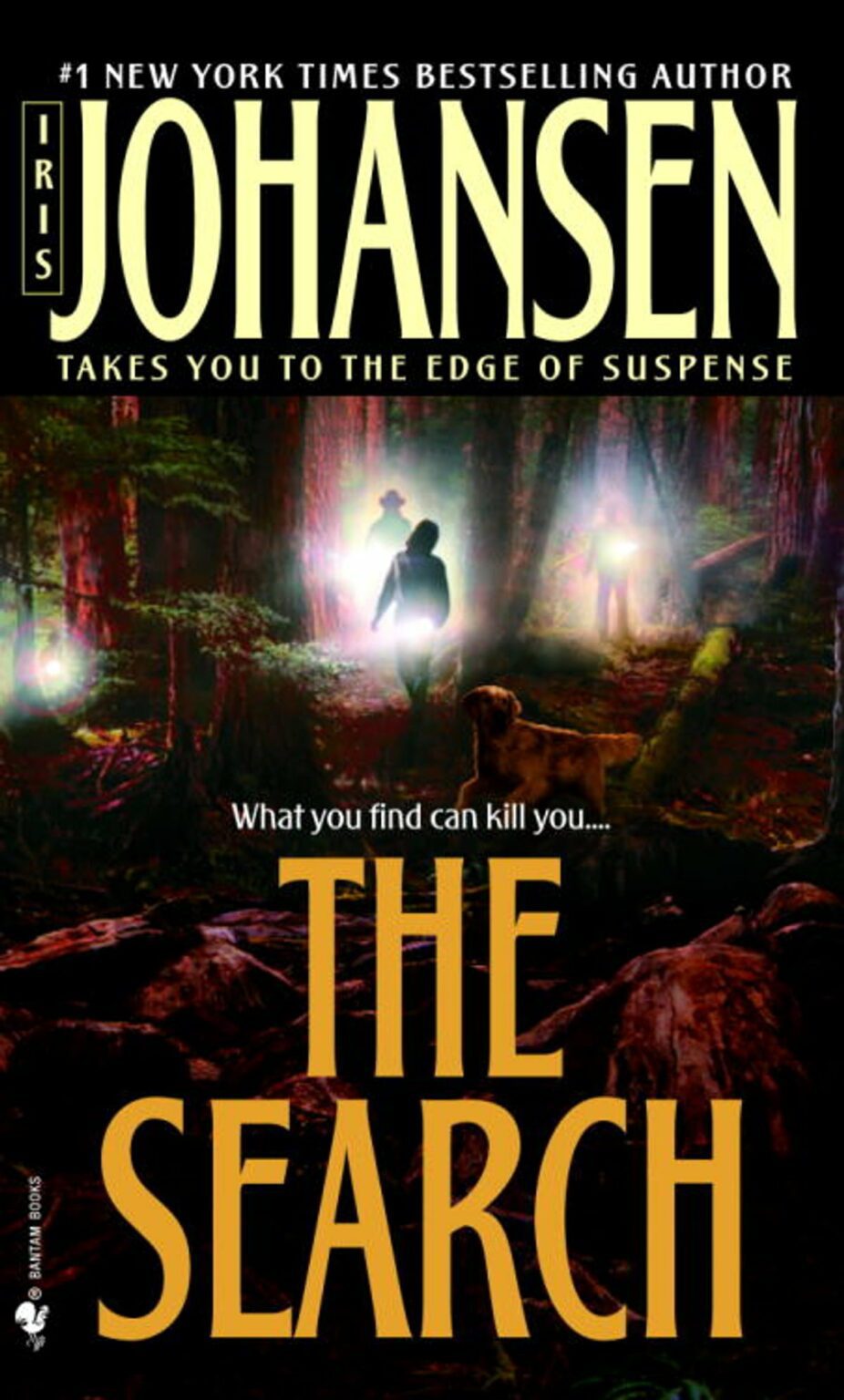 3. The Search
Sarah Patrick was first introduced as a secondary character in The Killing Game and takes center stage in this next Eve Duncan book. John Logan from Face of Deception is also back. The charismatic billionaire whose very personal vendetta against a stop-at-nothing killer pulls Sarah into a high-stakes game of search and destroy.
When Logan's top-secret research station in South America is attacked and his chief scientist kidnapped, Sarah and Monty manage to track the hostage through the jungle and save his life. But that's only the beginning in what turns out to be a series of sadistic and deadly attempts to destroy Logan.
Despite Sarah's initial distrust, she comes to respect and ultimately love Logan — which makes her and Monty targets for the killer's vengeance, too. The action moves swiftly across the globe, from the American Southwest to Colombia to Taiwan, and finally to North Dakota, in a tense, dramatic denouement.
---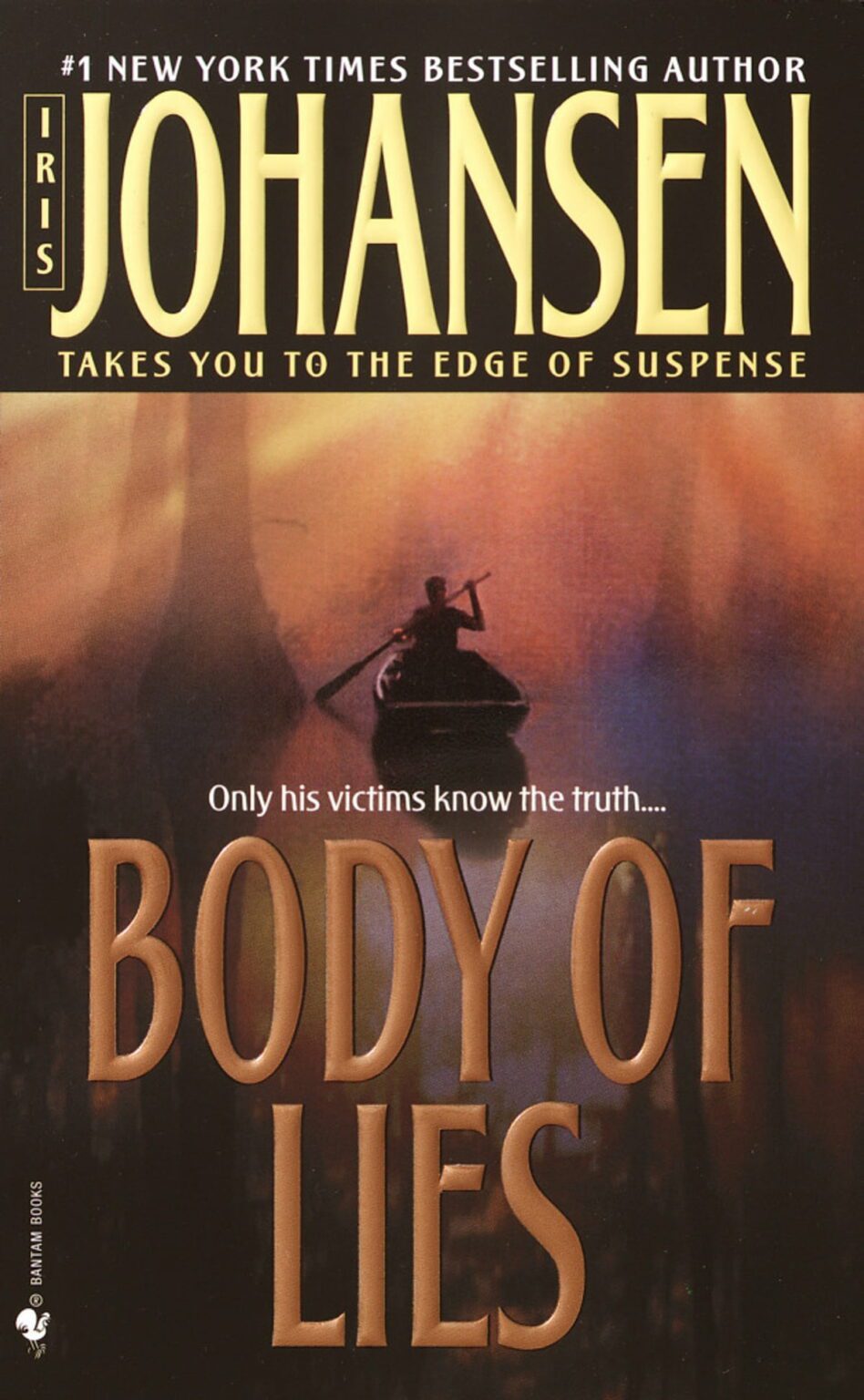 4. Body of Lies
Just as there are sculptors who insist they liberate forms from within marble and granite, Eve Duncan is a forensic sculptor who needs to liberate innocence from the shroud of death. Top in her field, Eve obsesses over recreating the likenesses of faceless, decomposed murder victims, using only their bare skulls as a guide. It's a spooky career that began when Eve's own daughter, Bonnie, vanished and was later discovered, the girl's remains unrecognizable.
In this installment, a killer uncovers a shocking truth about Bonnie, driving a rattled Eve to take a dangerous assignment in the darkest heart of bayou country. There, at the weird behest of a shady senator, Eve rebuilds the visage of the politician's late rival, a challenge that nearly results in her murder, strains her romance with a hard-bitten detective, and uncovers a fantastic global conspiracy over energy profits and much else.
---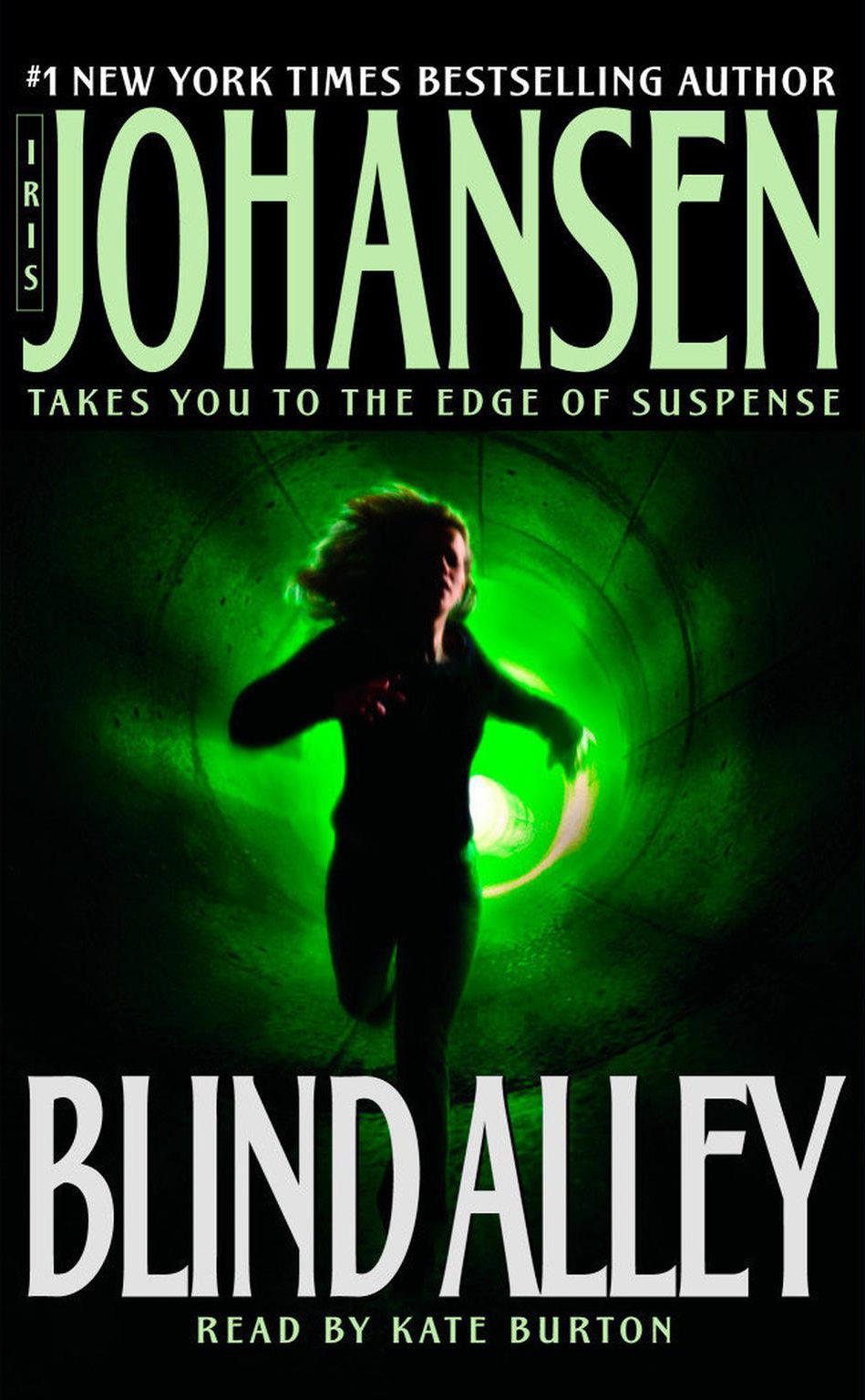 5. Blind Alley
In her latest thriller about Atlanta detective Joe Quinn and the love of his life, forensic sculptor Eve Duncan, Joe gives Eve a skull to reconstruct. Eerily enough, the face resembles 17-year-old Jane MacGuire, who has been offered sanctuary by Eve and Joe after surviving a rough-and-tumble life on the streets.
Now it seems that a killer is trying to erase all evidence of her face because it is identical to that of a statue of a woman who died during the eruption of Mount Vesuvius. Several look-alikes have already been killed in Europe, and Scotland Yard sends in hunky Mark Trevor to help. Eve mistrusts him, but Jane, who has had recurring nightmares related to the killings, believes that he's there to help her.
Eve and Joe want to protect Jane, but the intrepid teenager knows that unless she confronts the killer, she will live the rest of her life in fear.
---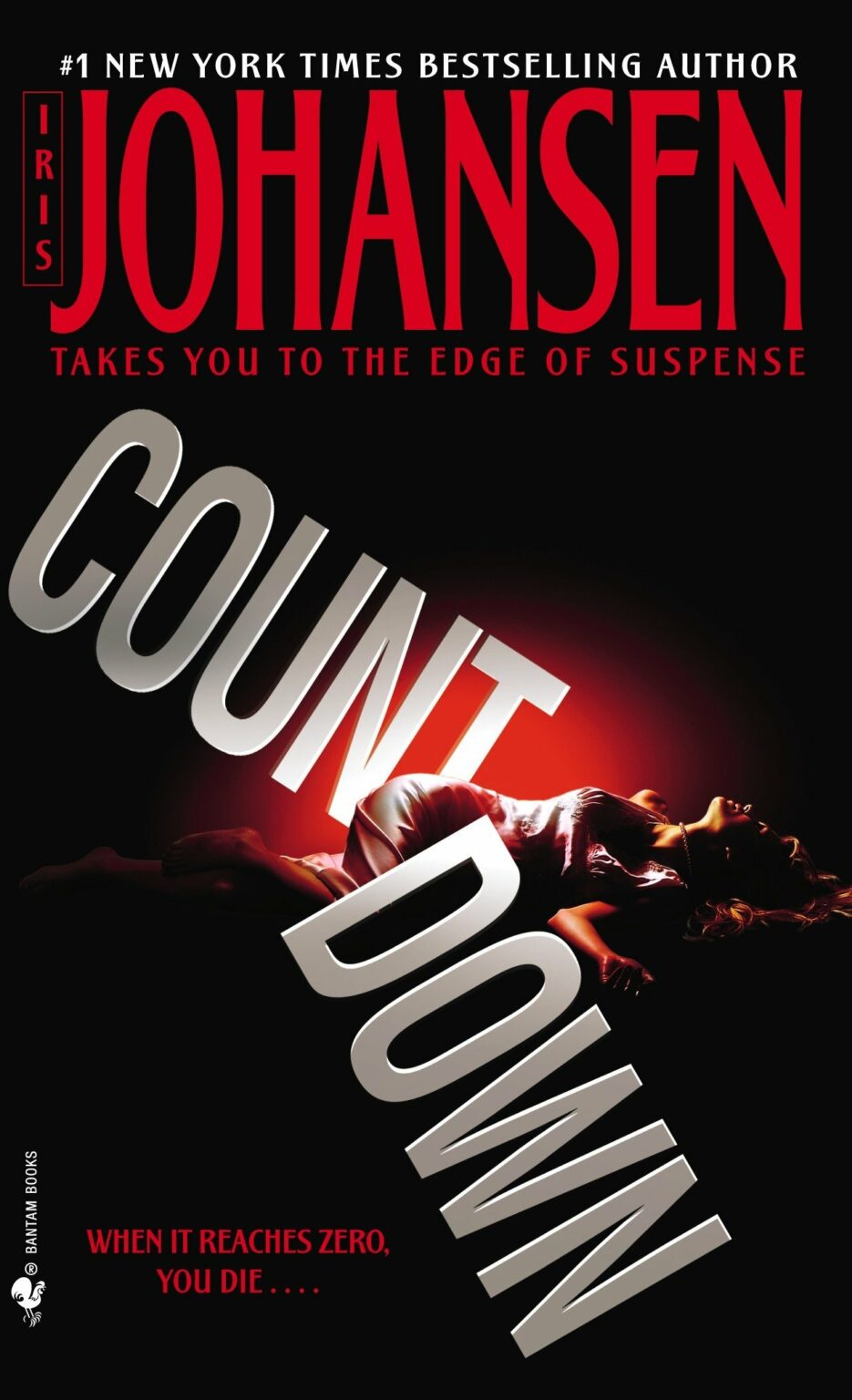 6. Countdown
The legend of Cira and her gold intrudes once again on Jane MacGuire's life. In Blind Alley, the streetwise adopted daughter of forensic sculptor Eve Duncan and Atlanta detective Joe Quinn became a serial killer's pawn. Now she's a target for terrorists who believe she has the key to a lost treasure.
When one of Jane's childhood friends is killed, she realizes that she must find out why, especially when, as before, Scotland Yard's handsome Mark Trevor becomes involved. He has tried to keep Jane out of his latest escapade, but he swoops in to the rescue, bringing her to Scotland to keep her safe.
Never completely on the right side of the law, Jane questions Trevor's motives. All the while trying to keep in check the sexual tension between them as they try to quell a deranged madman who is after Trevor and the lost treasure.
Along the way, Jane discovers that many people are trying to find the truth about Cira, and that Jane herself is perceived as the reincarnation of that fabled Roman figure.
---
7. Stalemate
Forensic sculptor Eve Duncan is a complicated woman. She has survived her years in the school of hard knocks, although not without scars. And she has suffered the worst event a parent can, losing a child to abduction.
Now she helps other stricken parents by reconstructing skulls so that victims can be identified. In this, she is one of the best.
In addition to her work, she has Joe, a wonderfully understanding man with many military and government connections. But all this abruptly changes when Eve gets a phone call from Montalvo, a drug lord in South America in need of her services. Eve initially refuses to make the journey, but after he promises to use all his resources to find her daughter's killer and her body, this scarily single-minded and stubborn woman agrees to go, despite knowing that she will most likely be killed.
But then Eve is simultaneously repelled by and attracted to Montalvo. Johansen strikes again, creating both a nonstop thriller and a character study about an individual who has long seen the world in black and white, and now perceives only shades of gray.
---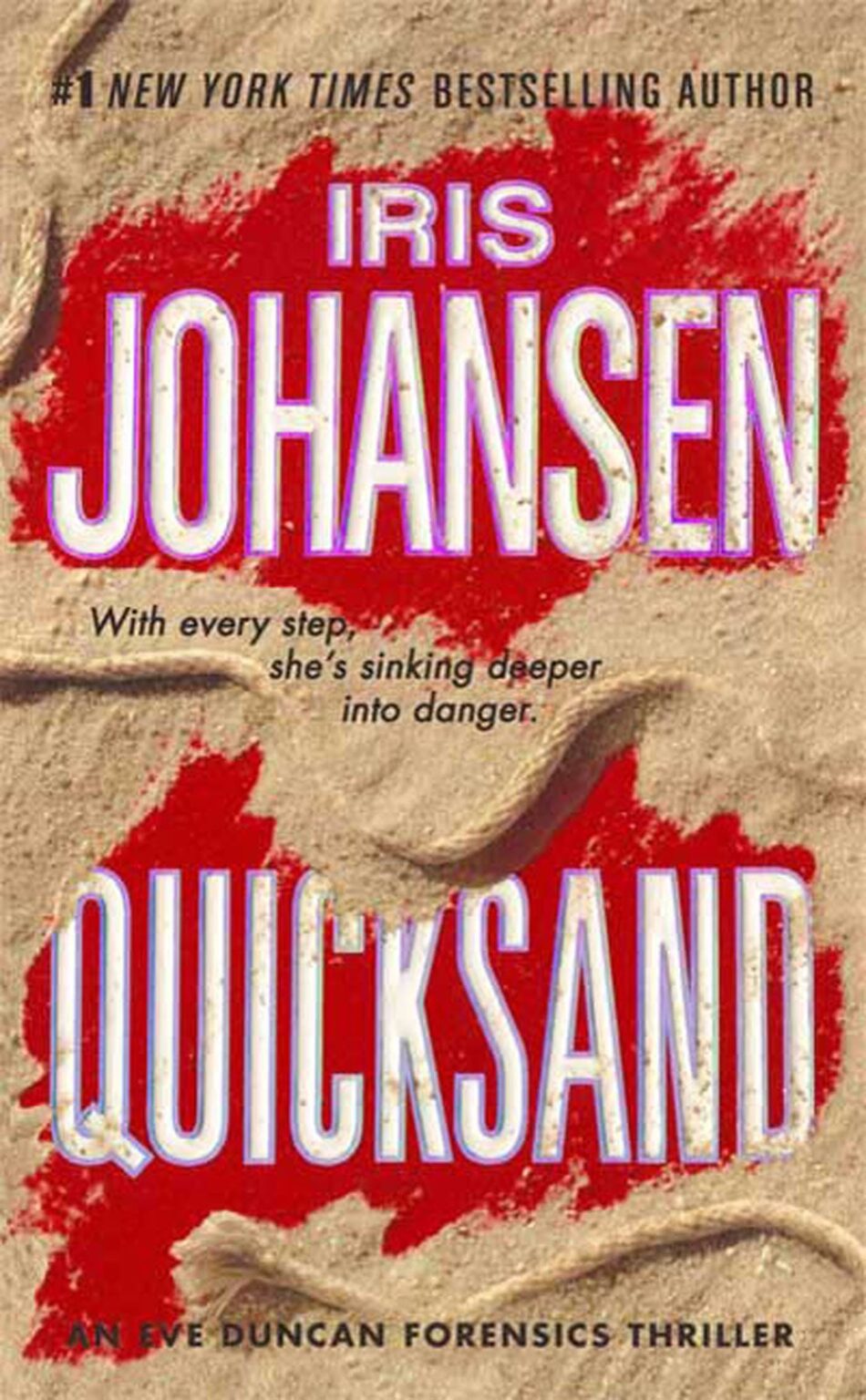 8. Quicksand
Forensic sculptor Eve Duncan is still reeling from the disappearance of her daughter, Bonnie. Deciding to take matters into her own hands, she enlists the clairvoyant skills of Dr. Megan Blair to help find her. No strangers to looking for clues where there seem to be none, the two women use their highly specialized talents to hunt down Bonnie's elusive kidnapper and return her to her mother's arms.
But is Bonnie still alive? Will the two women find her in time?
---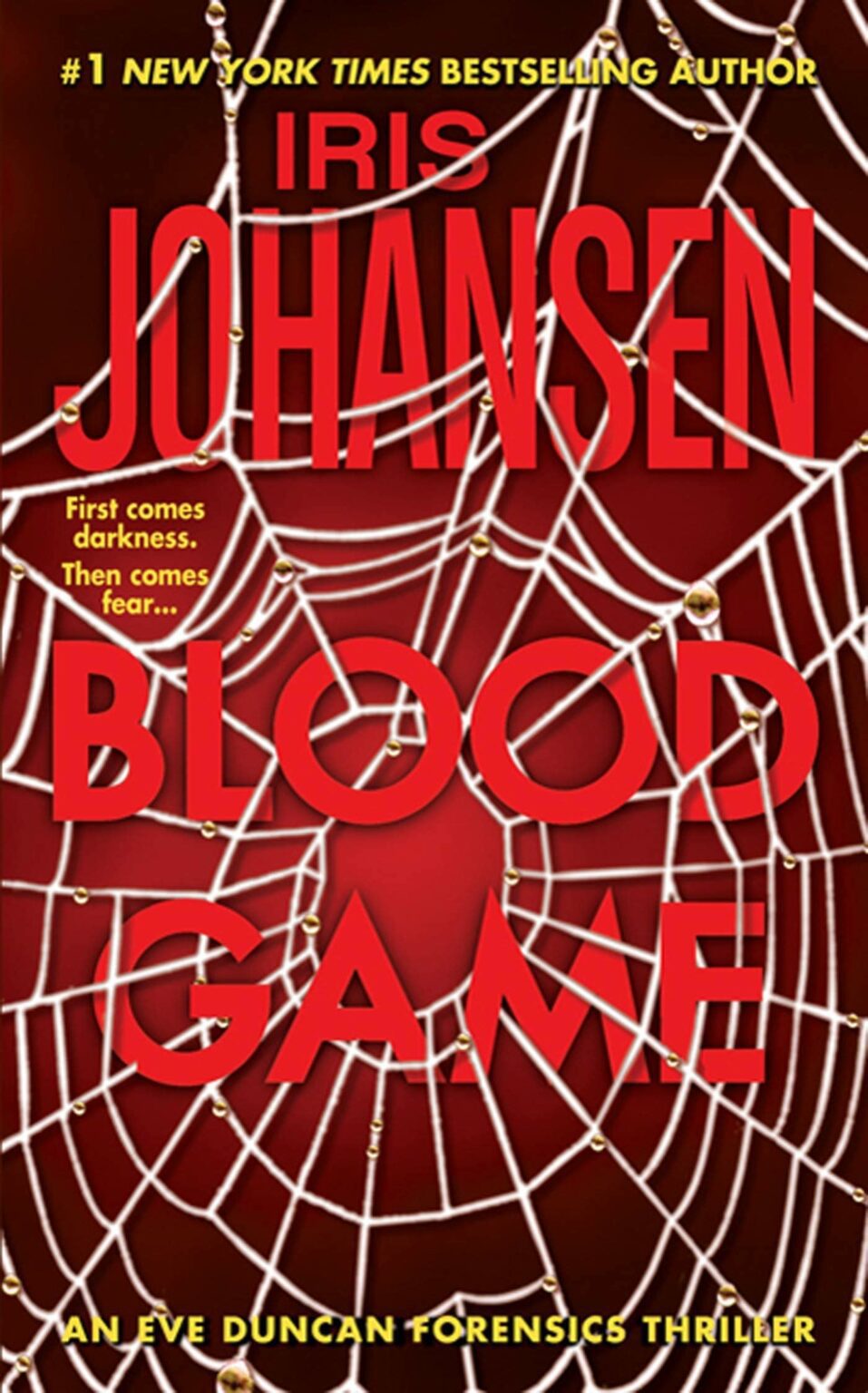 9. Blood Game
First comes darkness, then comes fear…
Eve Duncan is pitted against the most evil mind she has ever encountered: A ruthless killer who taunts her with his every move…and who has a special affinity for blood. When a Georgia senator's daughter is found murdered, and her body drained of blood, Eve Duncan is drawn into the web of Kevin Jelak — a serial murderer who is on Eve's short list of killers who might know something about her missing daughter Bonnie.
When a goblet of blood is found in Eve's refrigerator, she knows the taunting is over…and the games have begun. As Eve and Jelak engage in a dance of death, Eve must call upon those she loves and trusts the most…even if it means bringing them into the game with her.
---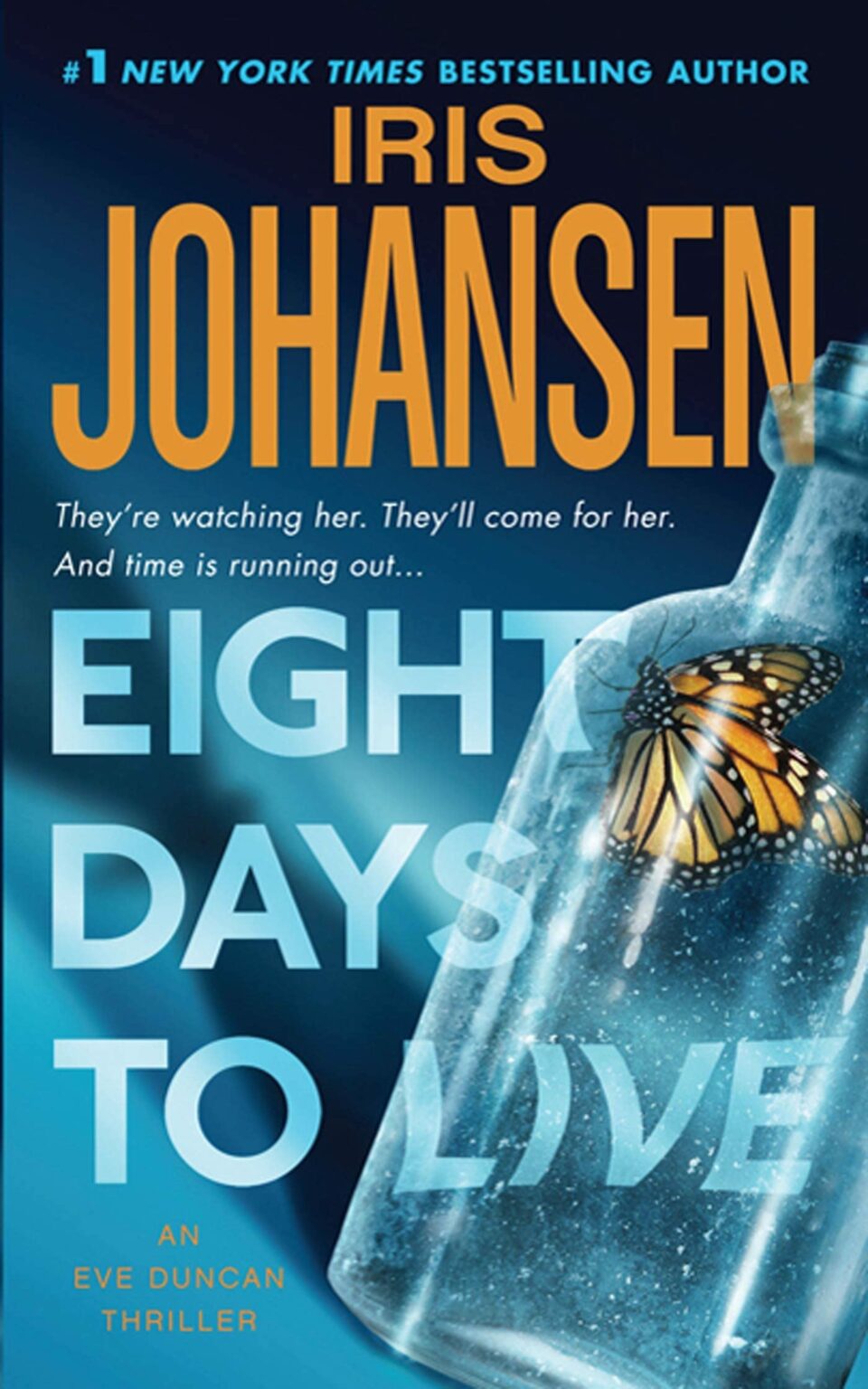 10. Eight Days to Live
Eve Duncan and her adopted daughter, Jane Macguire, are pitted against the members of a secretive cult who have targeted Jane and have decided that she will be their ultimate sacrifice.
In eight days they will come for her. In eight days, what Jane fears the most will become a reality, because in eight days, she will die.
It all begins with a painting that Jane, an artist, displays in her Parisian gallery. The painting is called "Guilt" and Jane has no idea how or why she painted the portrait of the chilling face. But the members of a cult who worship Judas Iscariot believe that Jane's blasphemy means she must die.
But first, she will lead them to the eight pieces of missing silver that Judas received for his betrayal of Christ. The silver, and Jane's death, are all that they need for their power to come to ultimate fruition. With Eve's help, can Jane escape before the clock stops ticking?
---
Final thoughts on Iris Johansen books in order
The bibliography of Iris Johansen can very easily be divided by her genre shift. Whether you first heard of her name from her original romance novels, or with her more recent Eve Duncan series and other popular crime fiction title, there is a plethora of books to enjoy as you set out to read the Iris Johansen books in order.
Additional Crime Fiction Resources