The Guido Brunetti series has spanned more than three decades with a new book published each year. It's understandable then that it might be a little overwhelming to know where to begin. Keep reading to find out how to read all of the Donna Leon books in order.
Who is Donna Leon?
Donna Leon is the author of the popular crime fiction series: Guido Brunetti. It is by-and-large her biggest literary work, but she has also published a standalone novel and a handful of non-fiction books.
Leon grew up in New Jersey, but she has traveled, lived, and taught in multiple countries. She lived in Venice, Italy, where her Guido Brunetti books take place, for more than 30 years. She then moved to Switzerland and now splits her time between Zurich and a small village in the mountains.
While Leon's books have been translated into more than 20 languages and published in 35 countries, Leon has specifically requested that her books not be translated into Italian. She says this is because she doesn't like fame and prefers anonymity among the locals in Venice.
Despite her aversion to fame Leon has accumulated many accolades and fans, including Ursula K. Le Guin. In regards to Leon's writing Le Guin said that she always portrays vivid portraits of people and of Venice. As well, in reviewing the sixteenth Brunetti novel Le Guin said it has the same offhand, elegant excellence as Leon's debut.
About the Guido Brunetti Series
Death at La Fenice marked the beginning of Donna Leon's career as an author and the long-standing Guido Brunetti series. The series has 31 books published across 31 years. Leon's debut novel was published in 1992 and the latest book was published in 2022.
Leon was in her 40s when she wrote Death at La Fenice. The idea of which came to her while in the conductor's dressing room with friends during a rehearsal of Donizetti's La Favorite. Then the name for her popular protagonist came from a tombstone, and the rest is history.
According to her editor George Gibson, the first novel of the Guido Brunetti series combines Leon's love of opera, gift of character, and deep appreciation of Venice.
The series follows the commissioner of police in Venice, Guido Brunetti, as he investigates and solves high-end crimes that take place in or around the city. Leon says she purposefully wrote a very likeable and trustworthy main character. As well, her books aren't particularly bloody or graphic, but rather focus on the motivations of the criminals as Brunetti works to uncover the culprit.
Themes of ecology and the environment are prevalent throughout the series. While Leon's characters don't appear to age, current events do play a role in each book. However, through what Leon refers to as a stroke of dumb luck, those events are only alluded to and never named.
Leon also believes she offers a depiction of Venice in her literature that is not often present in English books or seen by tourists. This is a benefit of inhabiting the city herself for so many years.
All of this combined has contributed to Leon and Brunetti's long-standing relevance throughout the decades.

Donna Leon Books in Order
The best way to read this series is in order of publication, which is also the chronological order.
As with many mysteries, you could choose to read the Donna Leon books in any order and you will experience the resolution of the crime by the novel's conclusion. However, if you want to fully understand the character progression and development, it is best to read the books in order of publication.
This reading order will allow you to get to know the main cast of characters as Leon intended, shield you from any potential spoilers, and also allow you to witness the growth and development of Leon herself as an author.
Guido Brunetti Series Order
Non-Fiction
In addition to her popular Guido Brunetti series, Leon has also published a handful of non-fiction books. Her first non-fiction work still pertains to the world of Brunetti in the form of a cookbook, while the remainder are about classical music and Venice.
Standalones
Leon's only standalone is also her only work of fiction that takes place outside the world of Brunetti's Questura. However, she doesn't stray too far. This standalone also combines Leon's love of opera with the setting of Venice amidst an enthralling mystery.
The Jewels of Paradise (2012)
Is there a Guido Brunetti adaptation?
If you adore the character of Guido Brunetti and are looking for even more content to binge, you're in luck. This is because Donna Leon's popular character does have his own adaptation. Brunetti was brought to the small screen in 2000 with the German television show Commissario Brunetti.
The first 18 episodes are available to stream with English subtitles and there are 26 episodes in total. The show stars Joachim Król as Brunetti and Barbara Auer as his wife Paola in the first four episodes. From the fifth episode onwards Uwe Kockisch stars as Brunetti and Julia Jäger as Paola.
Each episode in this series adapts one Brunetti novel and has a runtime of roughly one hour and 30 minutes. Almost every episode bears the same name as its novel counterpart when translated into English. The exception to this is the first episode, Vendetta, which adapts A Venetian Reckoning, also published as Death and Judgement.
A Summary of the Donna Leon Books in Order
Now that you know all about how to read the Donna Leon books in order, let's dive into a little bit more about her Guido Brunetti series. Here we have included summaries for the first ten books in this series.
---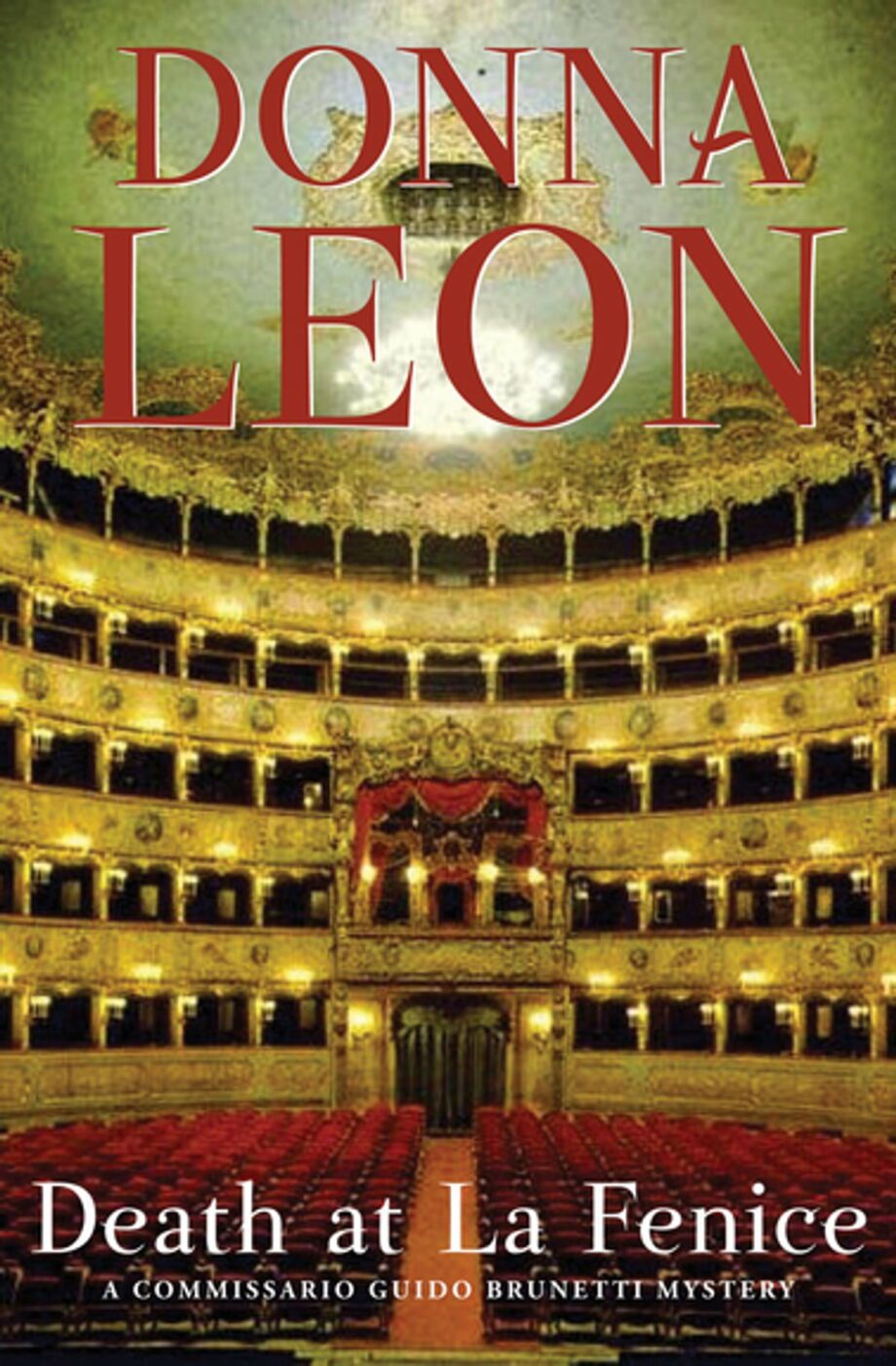 1. Death at La Fenice
There is little violent crime in Venice, a serenely beautiful floating city of mystery and magic, history and decay. But the evil that does occasionally rear its head is the jurisdiction of Guido Brunetti, the suave, urbane vice-commissario of police and a genius at detection.
Now all of his admirable abilities must come into play in the deadly affair of Maestro Helmut Wellauer, a world-renowned conductor who died painfully from cyanide poisoning during an intermission at La Fenice.
But as the investigation unfolds, a chilling picture slowly begins to take shape: A detailed portrait of revenge painted with vivid strokes of hatred and shocking depravity. And the dilemma for Guido Brunetti will not be finding a murder suspect, but rather narrowing the choices down to one…
---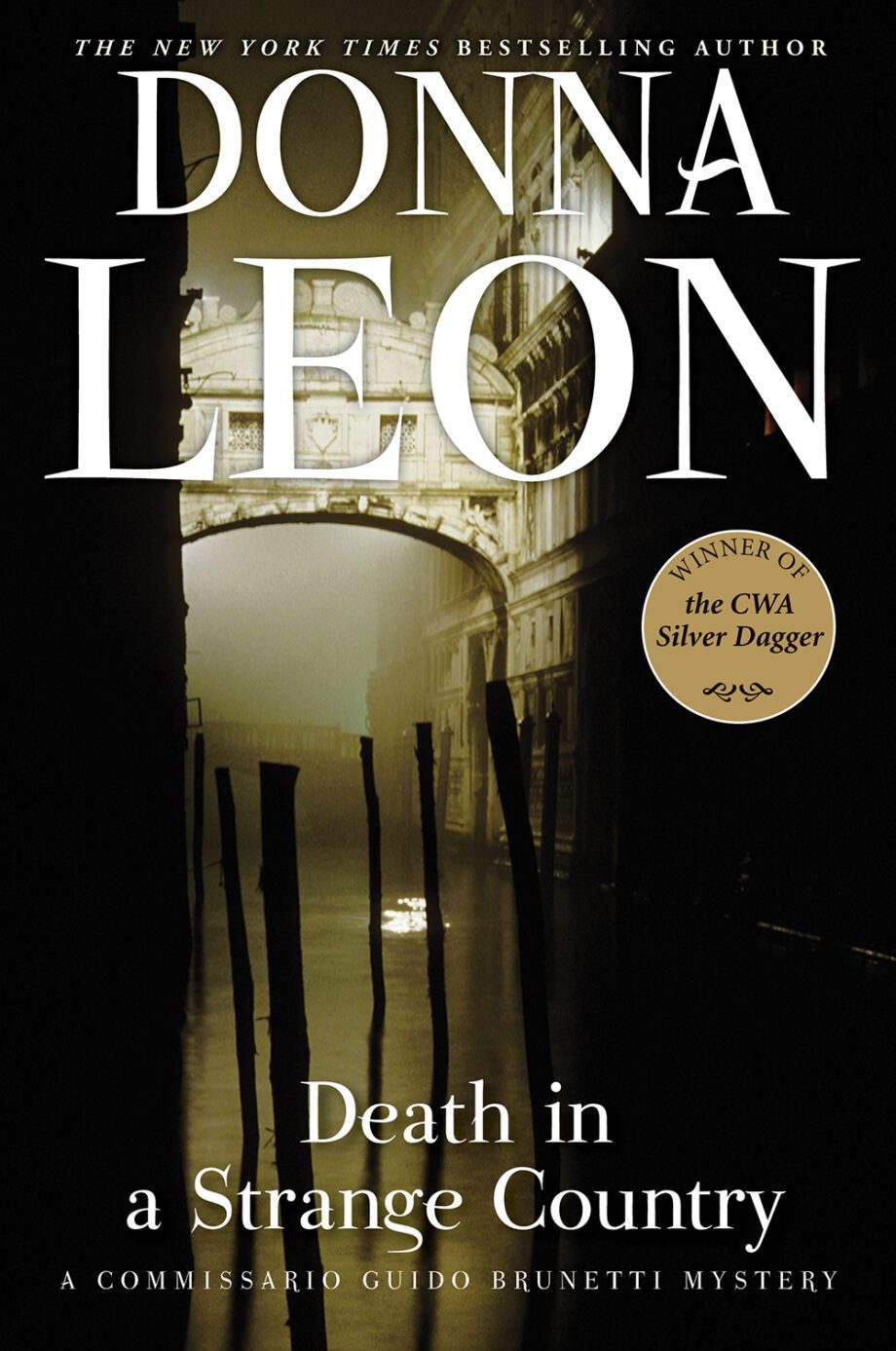 2. Death in a Strange Country
Early one morning Commissario Guido Brunetti of the Venice Police confronts a grisly sight when the body of a young man is fished out of a fetid canal. All the clues point to a violent mugging, but for Brunetti the motive of robbery seems altogether too convenient.
Then an item in the victim's apartment suggests the existence of a high-level conspiracy. Brunetti is sure that somebody, somewhere, is taking great pains to provide a ready-made solution to the crime.
---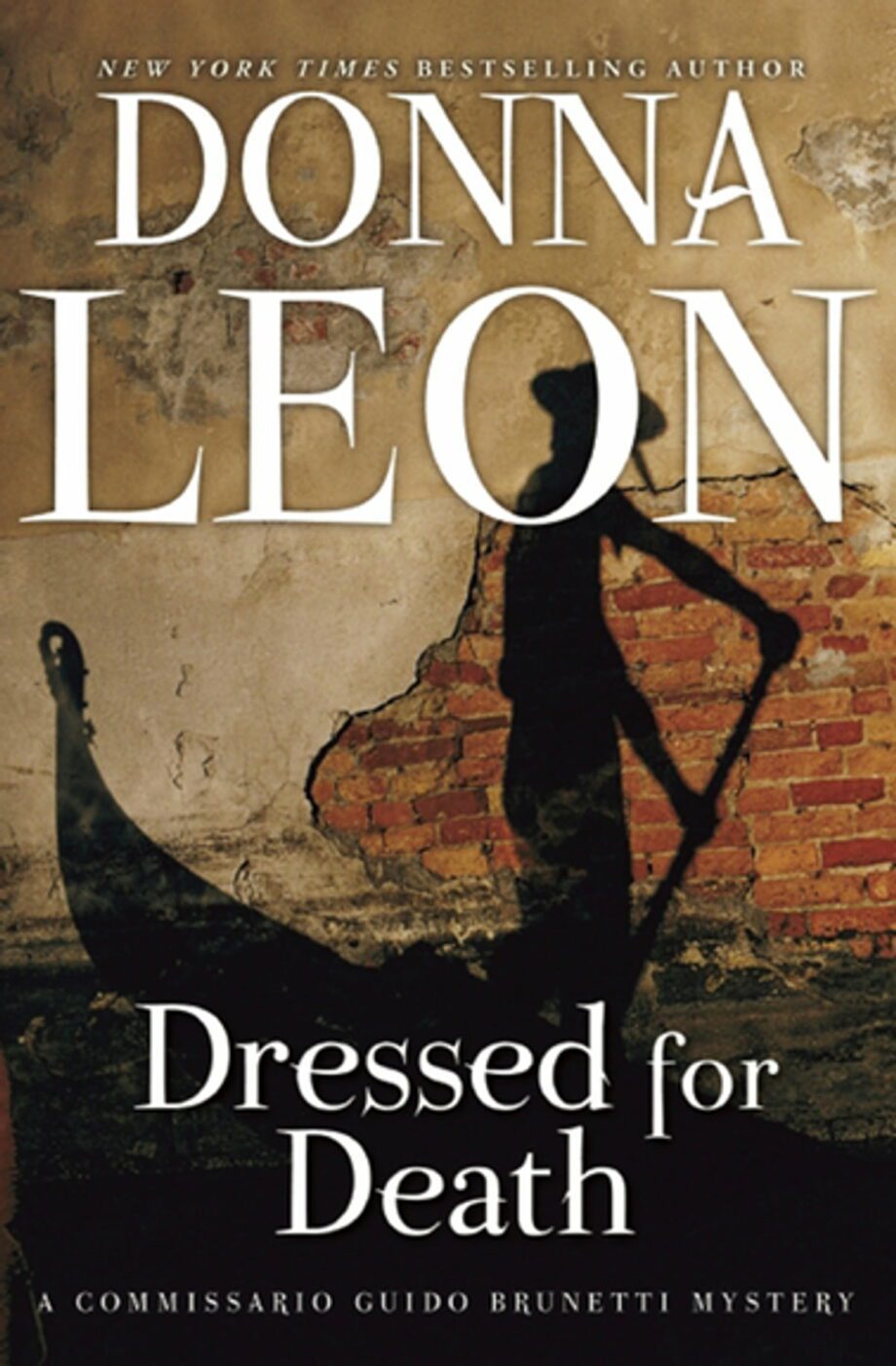 3. Dressed for Death
Commissario Guido Brunetti's hopes for a refreshing family holiday in the mountains are once again dashed when a gruesome discovery is made in Marghera. A body turns up so badly beaten the face is completely unrecognizable.
Brunetti searches Venice for someone who can identify the corpse, but is met with a wall of silence. He then receives a telephone call from a contact who promises some tantalizing information. And before night is out, Brunetti is confronting yet another appalling, and apparently senseless, death.
The title of this novel for the British edition is The Anonymous Venetian.
---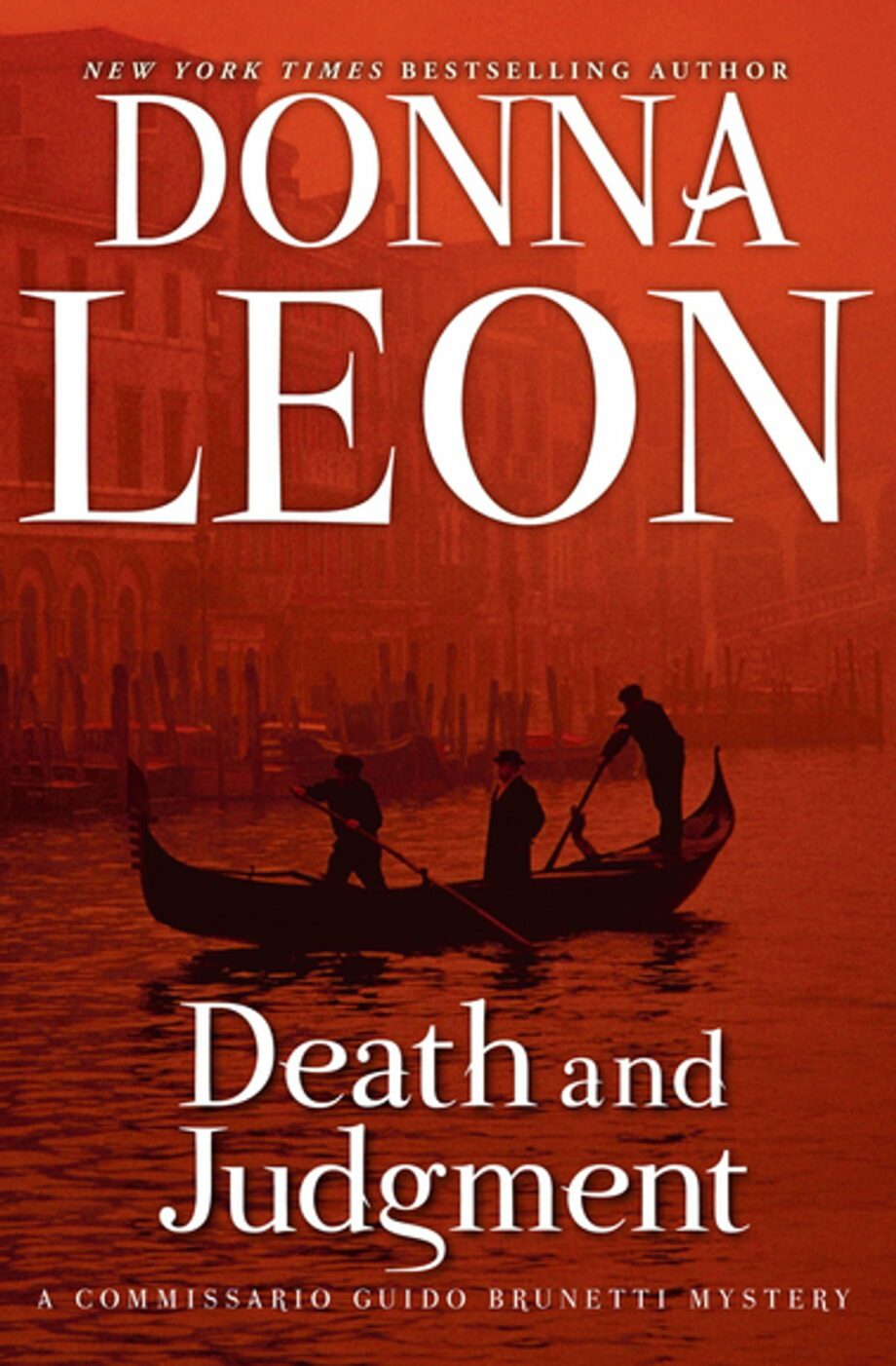 4. Death and Judgment
A truck crashes and spills its dangerous cargo on a treacherous road in the Italian Dolomite mountains. Meanwhile, in Santa Lucia, a prominent international lawyer is found dead aboard an intercity train.
Suspecting a connection between the two tragedies, Brunetti digs deep for an answer, stumbling upon a seedy Venetian bar that holds the key to a crime network that reaches far beyond the laguna. But it will take another violent death in Venice before Brunetti and his colleagues begin to understand what is really going on.
The alternate title of this novel is Venetian Reckoning.
---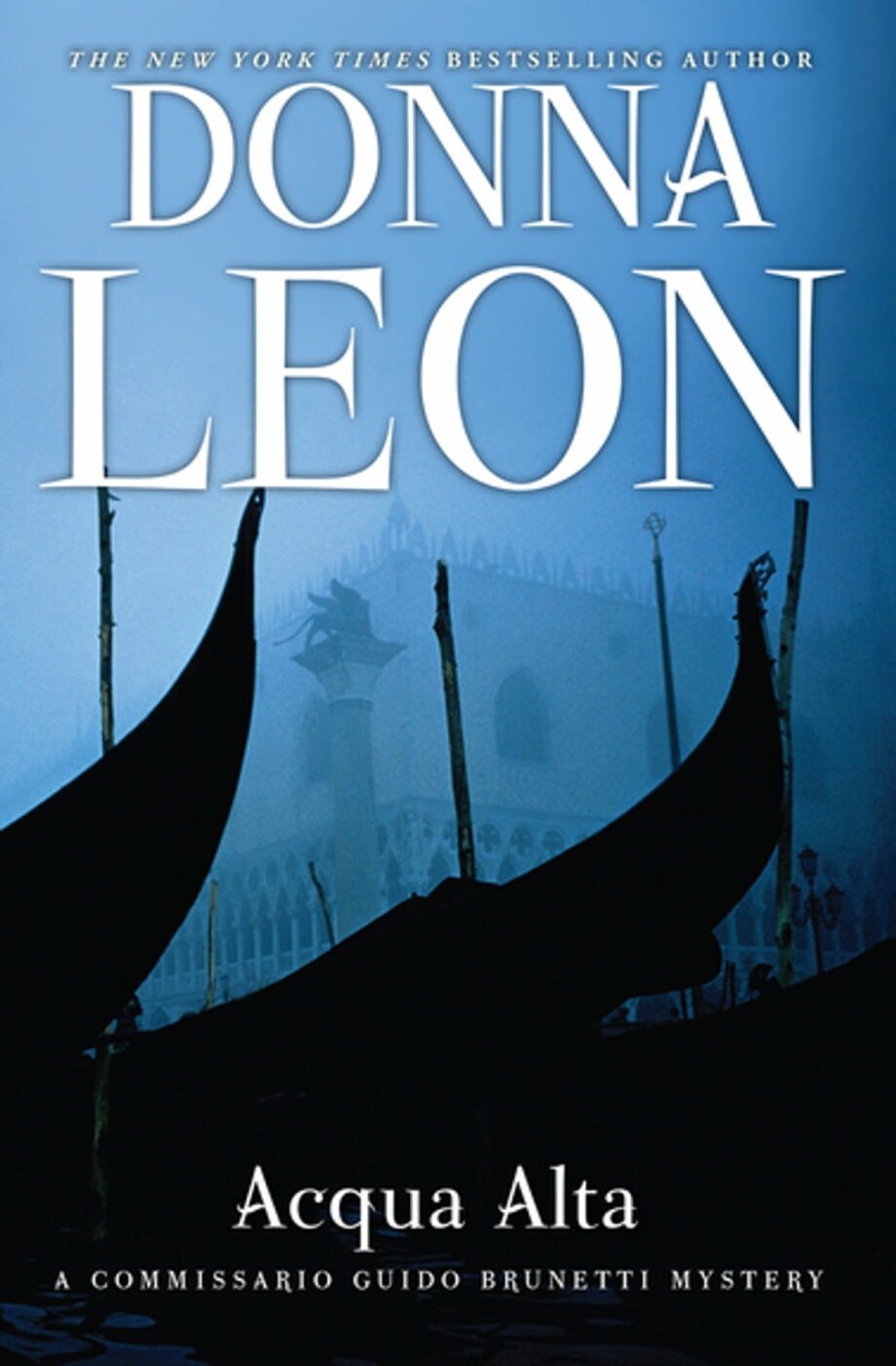 5. Acqua Alta
As Venice braces for a winter tempest, intrepid Italian sleuth Commissario Guido Brunetti finds out that an archaeologist and old friend has been savagely beaten at the palazzo home of opera singer Flavia Petrelli.
Then, as the floodwaters rise, the corpse of a museum director turns up — and Brunetti must wade through the chaotic city to solve his deadliest case yet.
The alternate title of this novel is Death in High Water.
---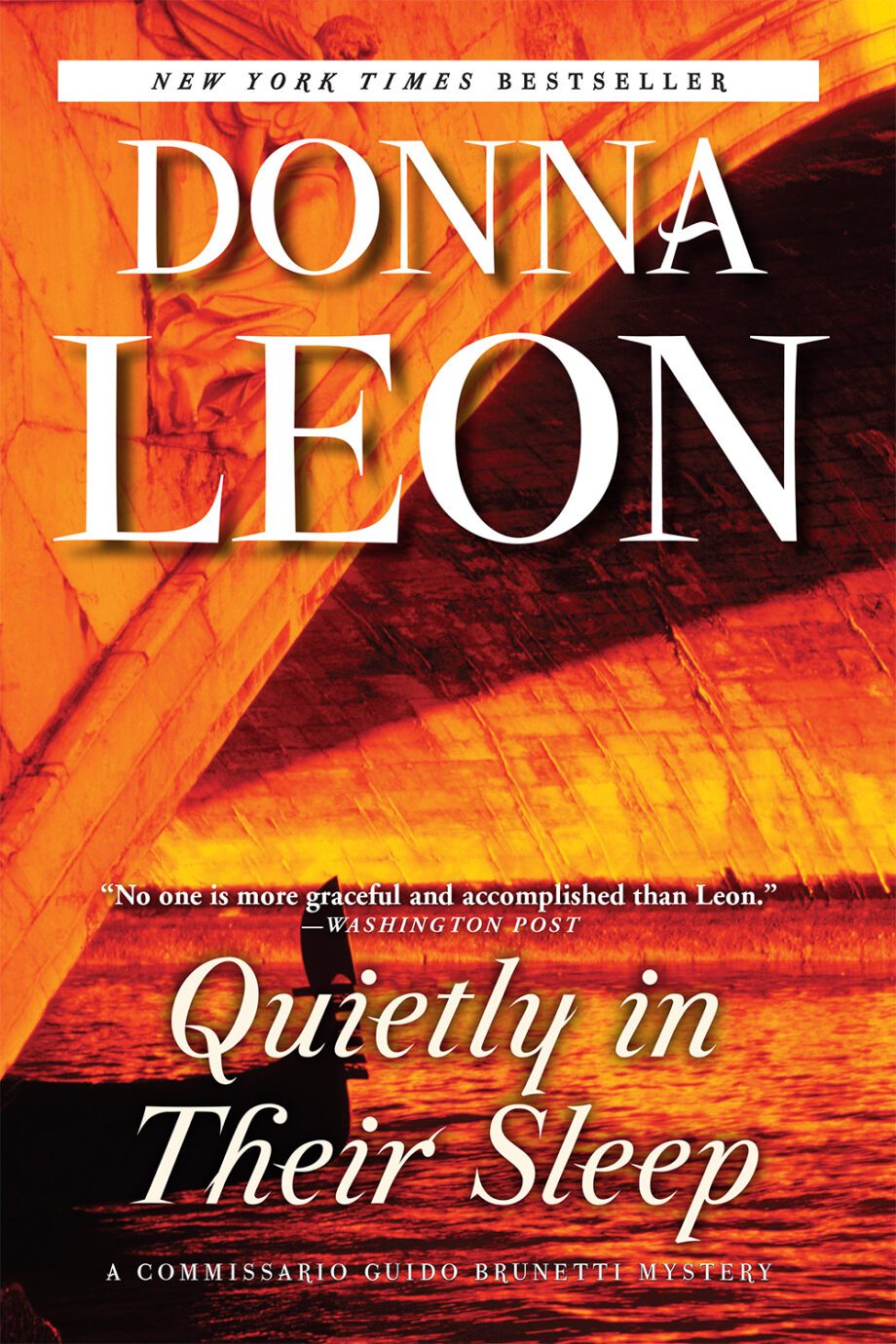 6. Quietly in Their Sleep
In Venice, Italy, Commissario Guido Brunetti comes to the aid of a young Catholic sister, who has left her convent after five of her nursing home patients died unexpectedly. In the course of his inquiries, Brunetti encounters an unusual cast of characters, but discovers nothing that seems criminal.
The police detective must determine whether the nun is simply creating a smoke screen to justify abandoning her vocation — or if she has stumbled onto something very real and very sinister that places her own life in imminent danger.
The title of this novel for the British edition is The Death of Faith.
---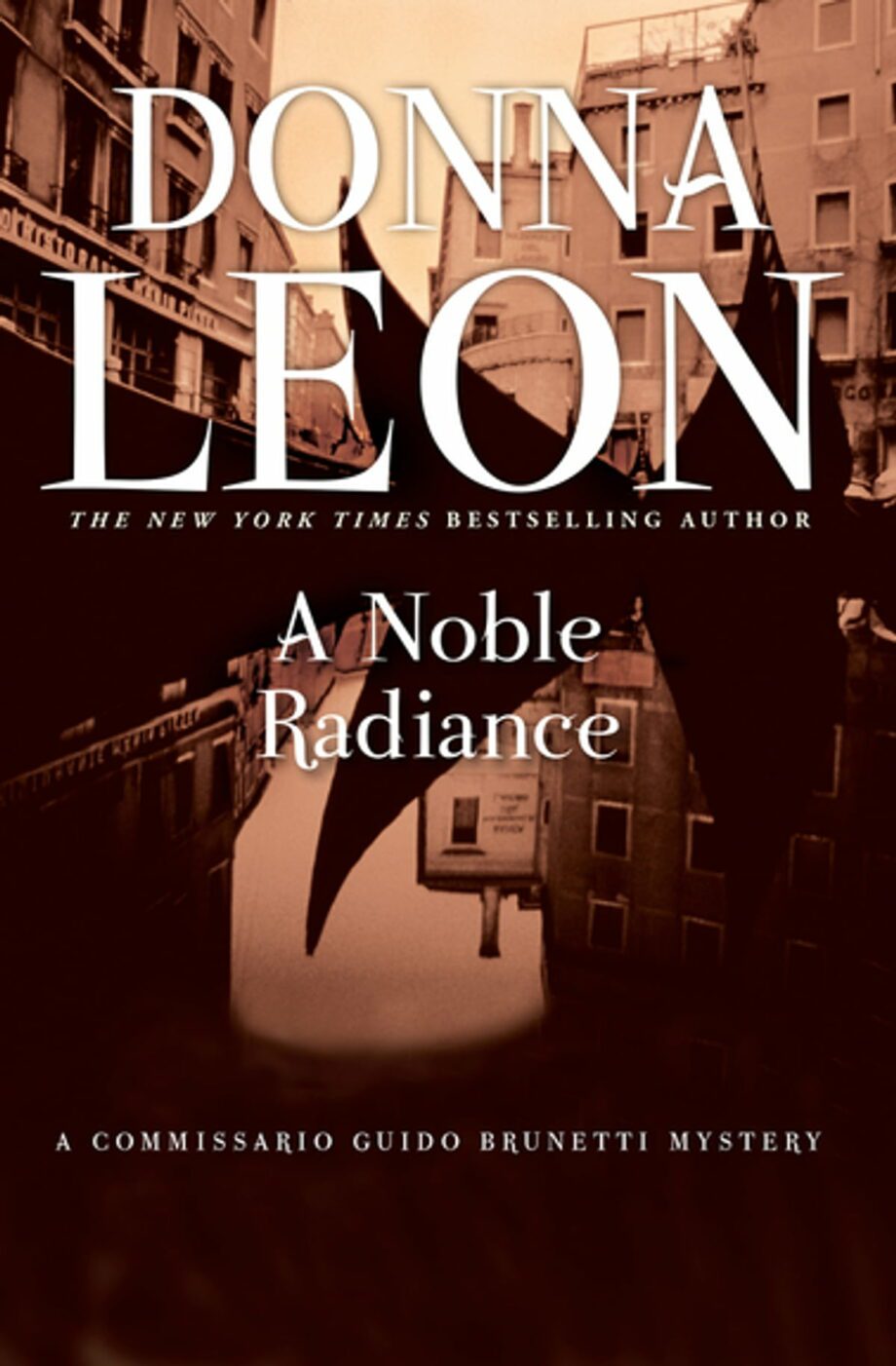 7. A Noble Radiance
In A Noble Radiance, a new landowner rushes to his house not far from Venice when workmen accidentally unearth a macabre grave.
The human corpse is badly decomposed, but a ring found nearby proves to be a clue that reopens an infamous case of kidnapping involving one of Venice's most aristocratic families. Only Commissario Brunetti can unravel the clues and find his way into both the hearts of patrician Venice and that of a family grieving for their abducted son.
---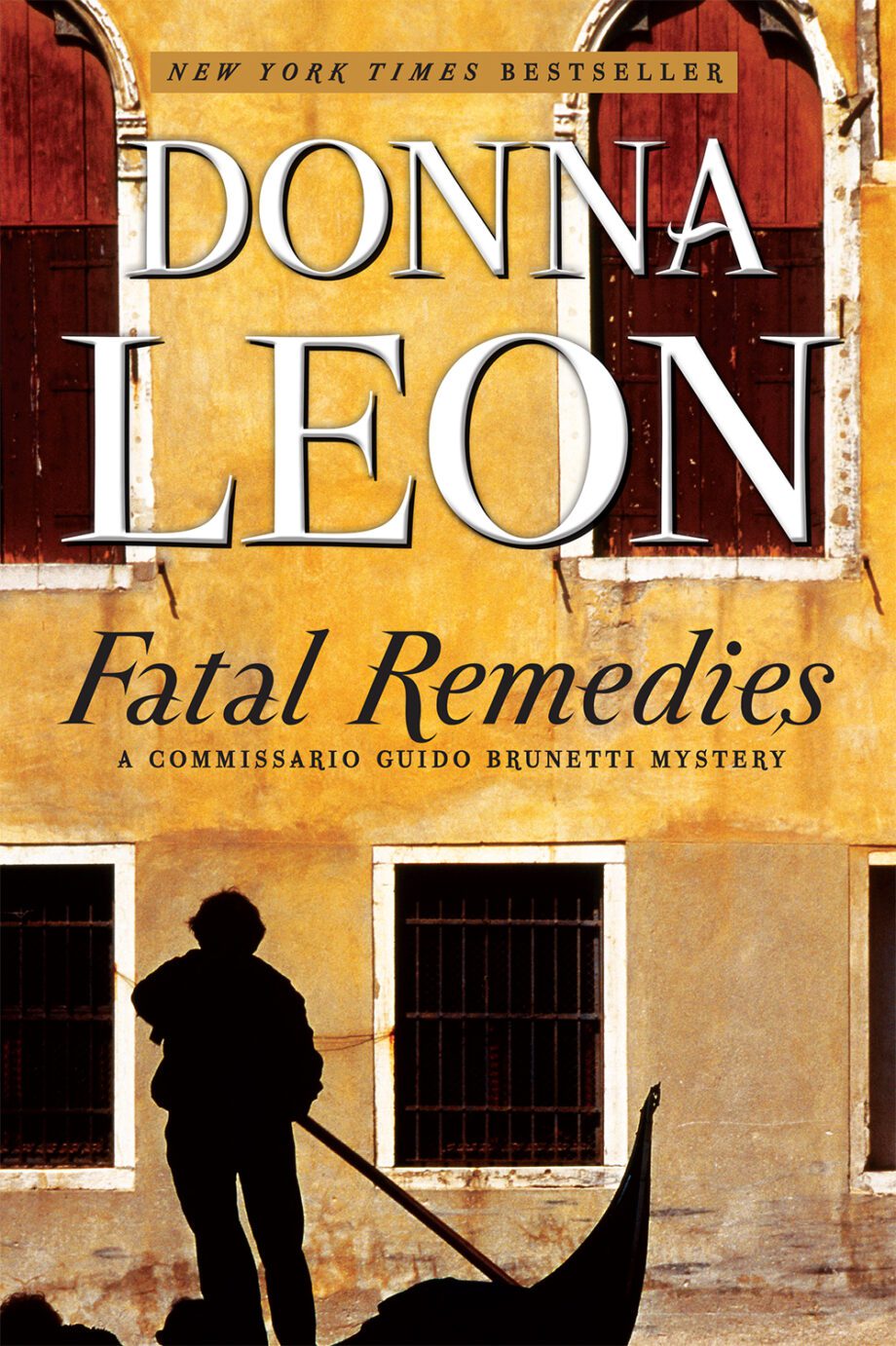 8. Fatal Remedies
A sudden act of vandalism has just been committed in the chill Venetian dawn. But Commissario Guido Brunetti soon finds out that the perpetrator is no petty criminal. For the culprit waiting at the scene of the crime is none other than Paola Brunetti, his wife.
As Paola's actions provoke a crisis in the Brunetti household, Brunetti himself is under increasing pressure at work: A daring robbery with Mafia connections is linked to a suspicious death and his superiors need quick results. As his professional and personal lives clash, Brunetti's own career is under threat — and the conspiracy which Paola had risked everything to expose draws him inexorably to the brink…
---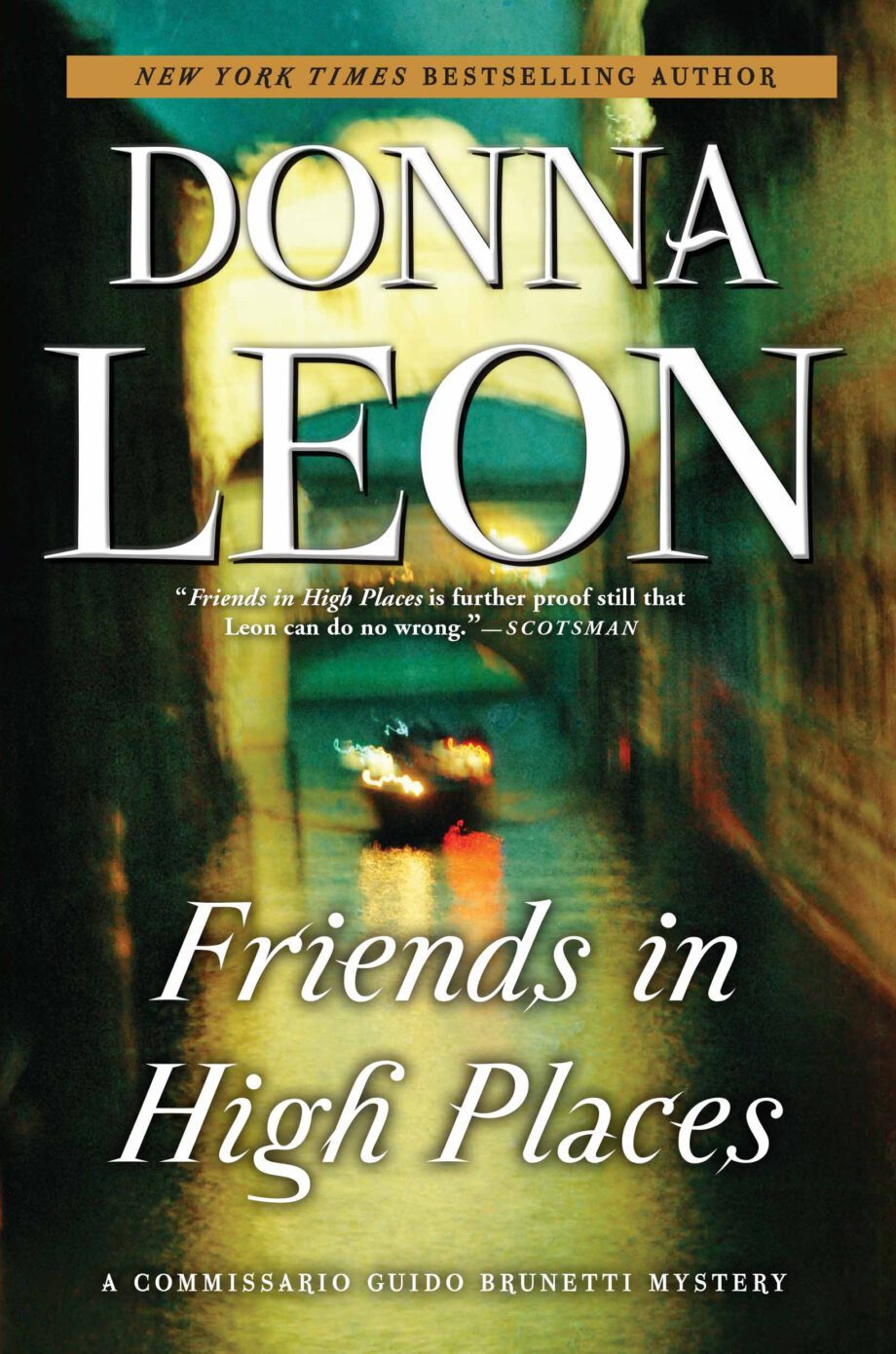 9. Friends in High Places
Commissario Guido Brunetti is visited by a young bureaucrat investigating the lack of official approval for the building of his apartment years earlier. His first reaction, like any other Venetian, is to think of whom he knows who might be able to pressure the relevant government department.
But then the bureaucrat rings Brunetti at work, clearly scared, before being found dead after a fall from scaffolding. Something is obviously going on that has implications greater than the fate of Brunetti's apartment…
---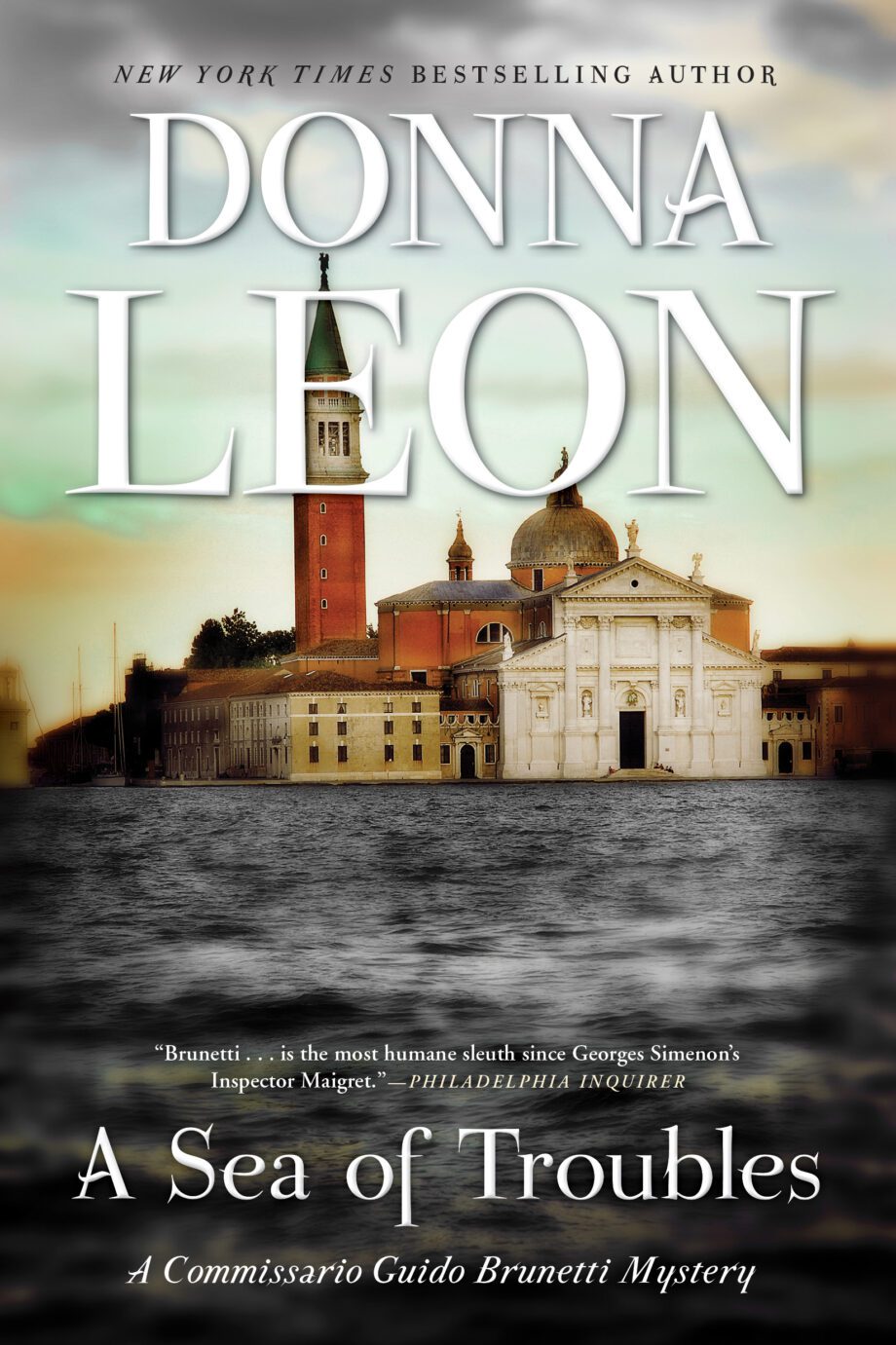 10. A Sea of Troubles
The island of Pellestrina is south of the Lido on the Venetian lagoon. The murder of two clam fishermen just off this island draws Commissario Brunetti into this close-knit community, bound together by a code of loyalty and a suspicion of outsiders worthy of the Mafia.
When the boss' secretary Signorina Elettra volunteers to visit the island, where she has relatives, Brunetti finds himself torn between his duty to solve the murders, concerns for Elettra's safety, and his not entirely straight-forward feelings for her…
---
Final Thoughts on Donna Leon Books in Order
There you have all you need to know to start reading the Guido Brunetti series and enjoy the Donna Leon books in order. Have you read these books before? What did you think of the evocative Venetian setting?
Looking for more books in order?
Check out this list of the Jacqueline Winspear books in order.