Dav Pilkey's beloved graphic novels are approachable and fun to millions of readers. The ideas were first thought of when he was a child himself and it has since made its way into the hands of many children. If you want to read the Captain Underpants books in order, this will be your ultimate guide to the series.
Who is Dav Pilkey?
The author of Captain Underpants was diagnosed with ADHD and dyslexia as a kid. This meant Dav Pilkey was often disruptive in class so every day he was made to sit out in the hallway. But luckily, he loved to draw and make up stories, which is what he spent his time in the hallway doing.
These made-up stories and comic books became the first iterations of his Dog Man and Captain Underpants books. If you would like to learn more about his Dog Man series, you can read this article all about the Dog Man books in order.
From his time in the school hallway to today, Pilkey has created an iconic name for himself within the genre of children's literature. He has written and illustrated a number of bestselling and award-winning children's books. As well, his Dog Man and Captain Underpants graphic novels have sold millions of copies worldwide and been translated into many languages.
He currently lives in the Pacific Northwest with his wife. But he says his writing is inspired by children and adults around the world. More than anything his writing explores positive themes that celebrate the triumph of the good-hearted.
Captain Underpants Movie
Dav Pilkey's world of George and Harold has already been brought to life on the big screen. In 2017, Captain Underpants: The First Epic Movie premiered. The movie adapts various elements from the series, rather than one particular book.
It stars the voice-acting of Thomas Middleditch as Harold Hutchins and Kevin Hart as George Beard. Also, Nick Kroll voices Professor Poopypants, Ed Helms voices Captain Underpants, and Jordan Peele voices Melvin Sneedly.
The voice-acting in the animated movie won two BTVA Feature Film Voice Acting Awards.
Ed Helms as the voice of Captain Underpants and Mr. Krupp won for Best Male Lead Vocal Performance in a Feature Film. As well, Jordan Peele as the voice of Melvin Sneedly won for Best Male Vocal Performance in a Supporting Role. Kevin Hart and Nick Kroll both received nomination nods for their performances.
Theodore Shapiro also won Best Original Score for an Animated Film from the International Film Music Critics Awards.
Collectively, the film grossed $125.4 billion worldwide at the box office. There are rumors of a second installment in the works, but there has been no official release announcement.
Captain Underpants Books in Order
The best way to read the Captain Underpants books in order is in order of publication. This is the same as the chronological order. There are 12 books within the series, with the latest installment published in 2015.
By starting at the beginning of the series you will understand how Harold and George accidentally hypnotized their school principal into becoming the superhero that is Captain Underpants. With this reading order you will best understand all the ensuing havoc. Then, as their problems grow in scale, you won't accidentally read any spoilers for events that occur later in the series.
Captain Underpants Activity Books in Order
Dav Pilkey has also published quite a few interactive activity books that compliment his Captain Underpants series.
A Summary of Captain Underpants Books in Order
If you're now eager to dive in to the series and enjoy more than just a few belly laughs, here are the Captain Underpants books in order. If you haven't read these books before and don't want to see any spoilers, approach the below summaries with caution. That is because there will be spoilers for the sequence of events in the series.
---
1. The Adventures of Captain Underpants
The first book in the series introduces two fourth-grade boys who write comic books and love to pull pranks. But they've found themselves in big trouble.
That's because the mean Mr. Krupp, their principal, videotapes George and Harold setting up their stunts and threatens to expose them. But then the boys' luck changes when they send for a 3-D Hypno-Ring and hypnotize Krupp, turning him into Captain Underpants, their own superhero creation.
---
2. Captain Underpants and the Attack of the Talking Toilets
George and Harold are up to their usual tricks. Last time they hypnotized Mr. Krupp into believing he was Captain Underpants. But now, by mistake, they bring to life the most disgusting, life-threatening monster: The terrible Turbo Toilet 2000.
Can anyone save the school from the terrifying attack of the Talking Toilets? Watch out world, because big briefs are back!
---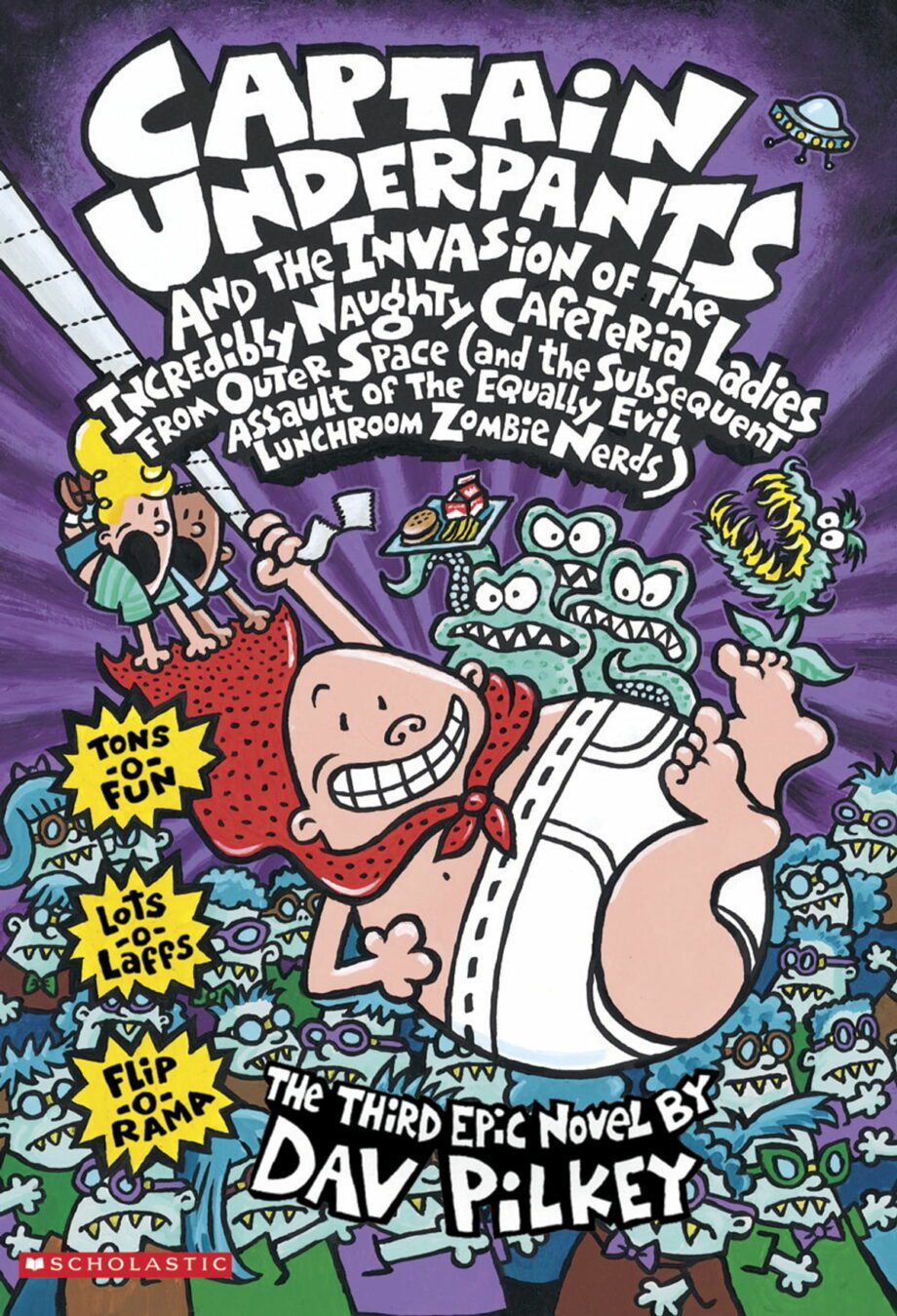 3. Captain Underpants and the Invasion of the Incredibly Naughty Cafeteria Ladies from Outer Space
George and Harold — surprise, surprise — are at it again. The cranky lunch ladies quit after George and Harold fool them into baking super-volcanic krispy kupcakes that flood the school with gigantic green globs o' goo. Mr. Krupp finds replacements and fast, but he unwittingly hires the tentacled alien trio of Zorx, Klax, and Jennifer in disguise!
Will they turn everyone in school into evil zombie nerds? Can George and Harold save the world before it's too late? All seems lost until the diabolical Zorx snaps his tentacles in front of Mr. Krupp, and the power of wedgies comes to the rescue once again.
---
4. Captain Underpants and the Perilous Plot of Professor Poopypants
George and Harold aren't bad kids. They just like to "liven things up" for everybody. But, unfortunately, their thoughtful jokes sometimes get them into a LOT of trouble.
And when Professor Pippy P. Poopypants becomes their new science teacher… Well, George and Harold almost cause the entire planet to be taken over by a maniacal, mad-scientist guy in a giant robot suit!
Who will stop the perilous plot of Poopypants? This looks like a job for Captain Underpants!
---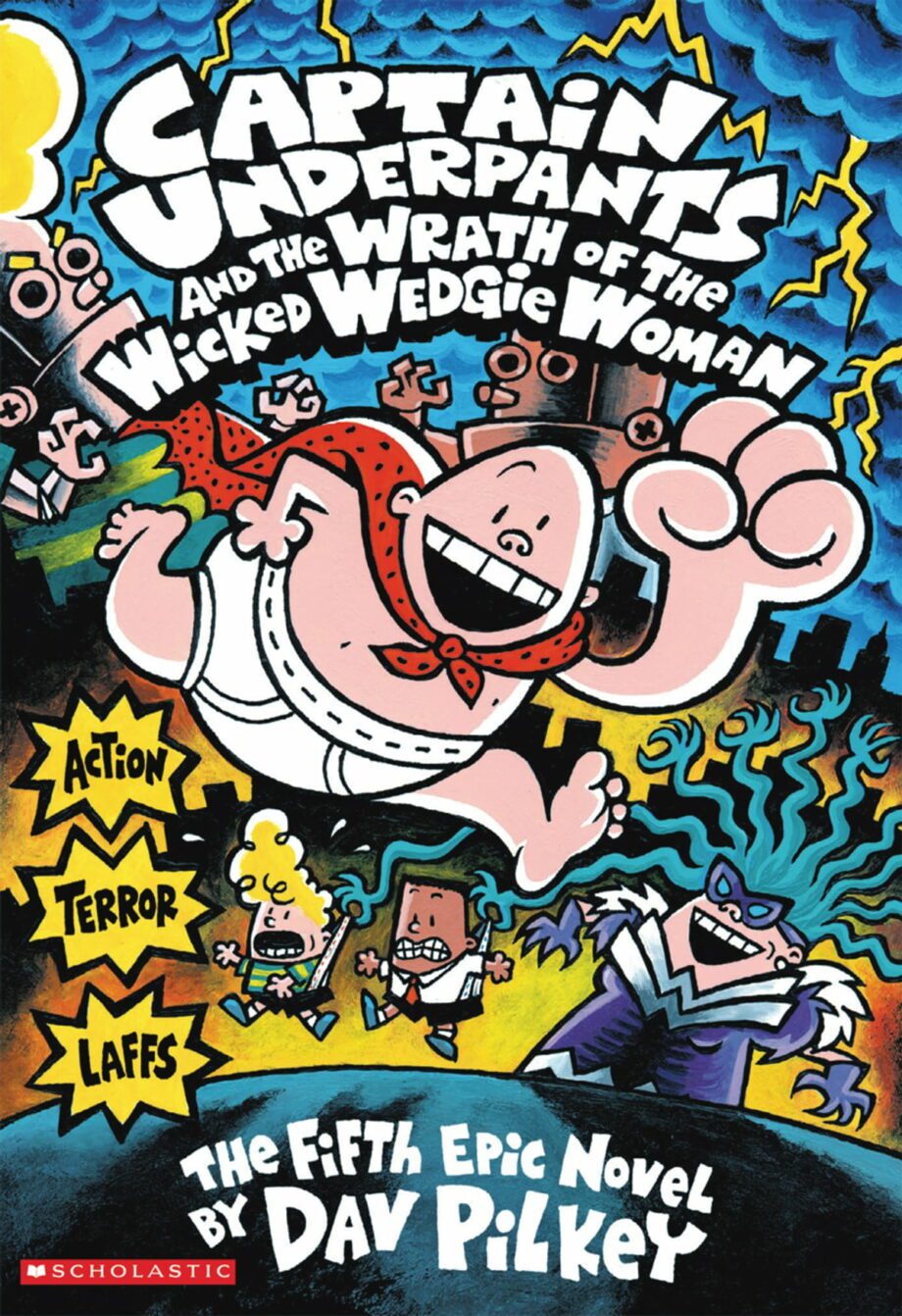 5. Captain Underpants and the Wrath of the Wicked Wedgie Woman
George and Harold have REALLY done it this time… They've created a monster! She's faster, smarter, and more evil than anything the world has seen before — she's Wedgie Woman!
With the help of her horrible robots and her horrendous hairdo, Wedgie Woman is on a mission to take over the world, and she'll give a whopping wedgie to anyone who stands in her way — including Captain Underpants.
So, will Wedgie Woman's wicked ways spell the end for our heroes? You'll have to read the book to find out. And in the meantime…watch your back!
---
6. Captain Underpants and the Big, Bad Battle of the Bionic Booger Boy, Part 1
George and Harold are "C" students (and bad spellers), but they are very good at "saving the entire planet from the nasty forces of unrelenting evil" and also at ketchup-toilet pranks. Unfortunately, they can't save Melvin Sneedly from getting paddled by his bionic hamster.
But, frankly, they wouldn't want to. That's because besides being the school brainiac, Melvin is also a tattletale. When his robot-making hobby backfires horribly, Melvin transforms himself into the Bionic Booger Boy instead of a bionic superboy. Can Captain Underpants save everyone from this "greenish, glistening behemoth?"
---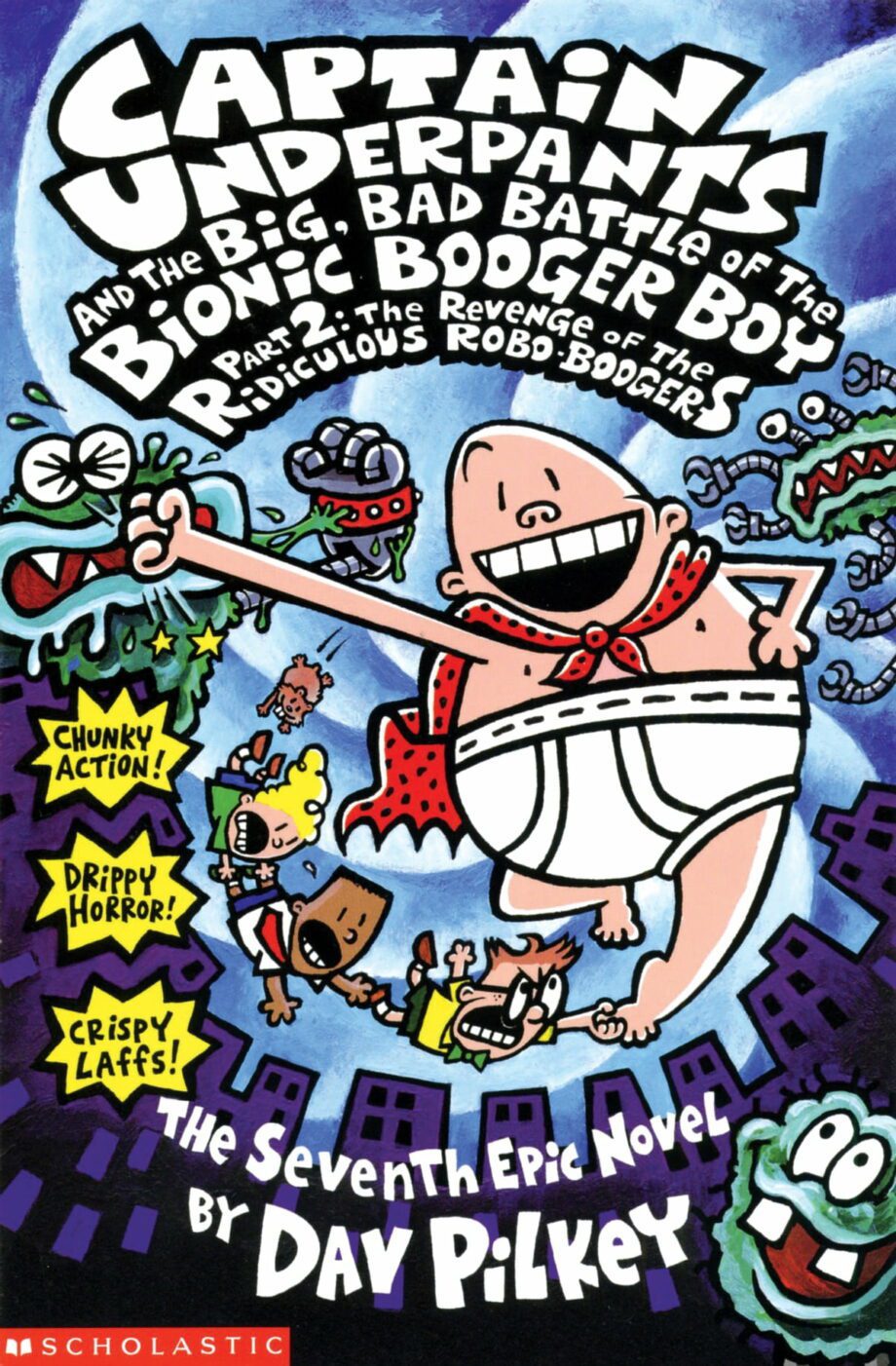 7. Captain Underpants and the Big, Bad Battle of the Bionic Booger Boy, Part 2
Just when they thought they were out, it pulls them back in!
Our heroes beat the Bionic Booger Boy, but they forgot about those rascally Robo-Boogers. Join George, Harold, Mr. Krupp, Melvin Sneedly, and Sulu the Bionic Hamster on an adventure that will take them into the deepest regions of outer space and back through time to the mysterious and uncharted world of the day before yesterday! It's a monster-mashin', robo-wranglin', time-travelin', brain-switchin', nose-pickin' good time!
---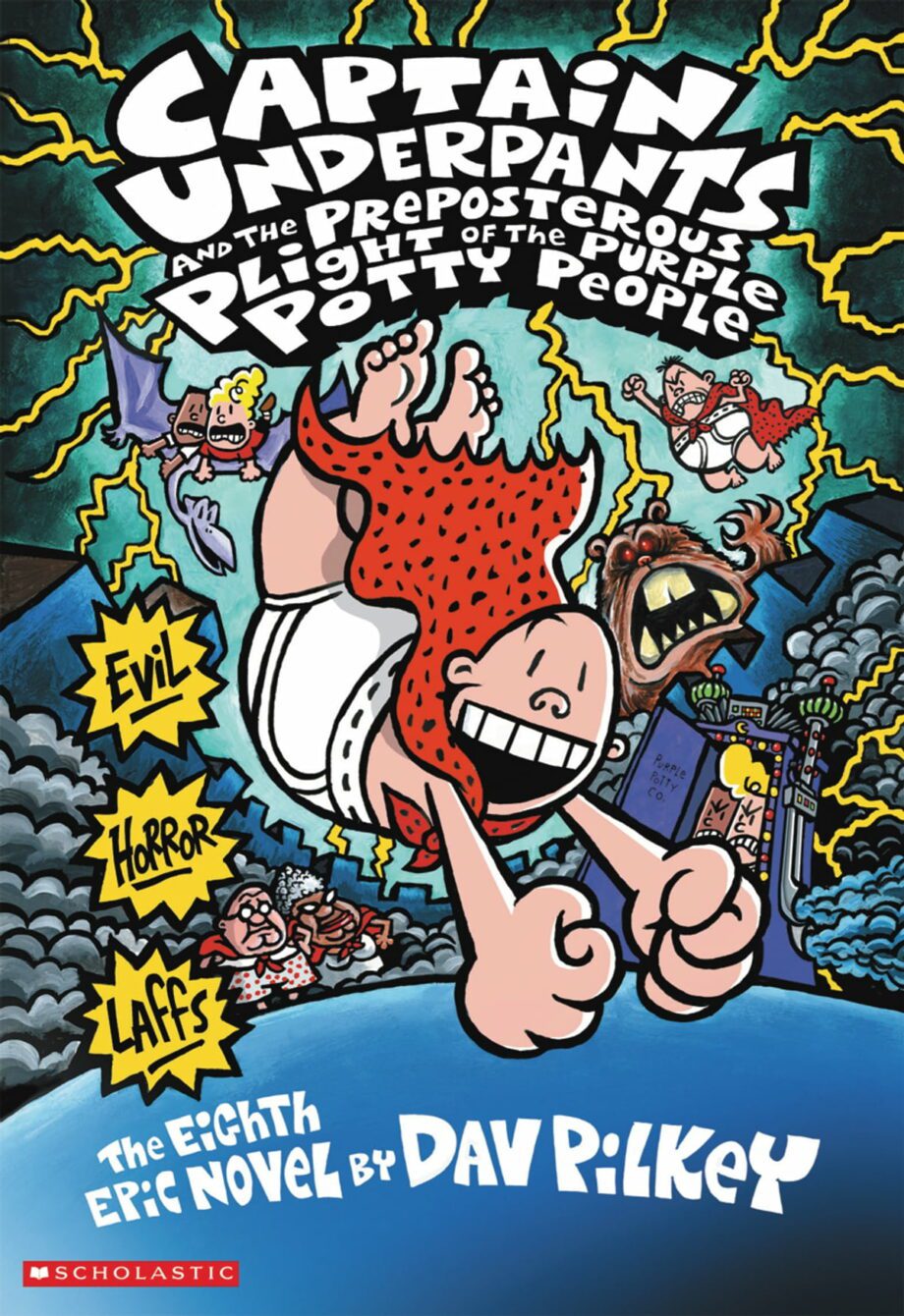 8. Captain Underpants and Preposterous Plight of the Purple Potty People
Have George and Harold completely lost their minds?
Potty has landed them in a crazy place where the teachers are always nice, the cafeteria serves delicious food, and the school principal, Mr. Krupp, actually thinks they're funny. Something is very, very wrong — and it gets even WRONGER when the boys' pet pterodactyl, Crackers, and Sulu the Bionic Hamster are kidnapped by George and Harold's evil-twin look-alikes.
Now George and Harold must face their cleverest enemies yet: Themselves! Could this be another job for the amazing Captain Underpants?
---
9. Captain Underpants and the Terrifying Return of Tippy Tinkletrousers
When we last saw George and Harold, they were headed to jail for the rest of their lives. What could be worse? How about being pulled from prison by a time-traveling tyrant named Tippy Tinkletrousers!
Now the boys are taking a trip back in time to the carefree days of kindergarten, when the scariest thing they had to face was NOT evil mad scientists or alien cafeteria ladies but a sixth-grade bully named Kipper Krupp, the nephew of the clueless Mr. Krupp. And because George and Harold don't invent Captain Underpants until they're in fourth grade, the clever kindergartners are on their own. Will their brains be enough to beat the bully?!!
---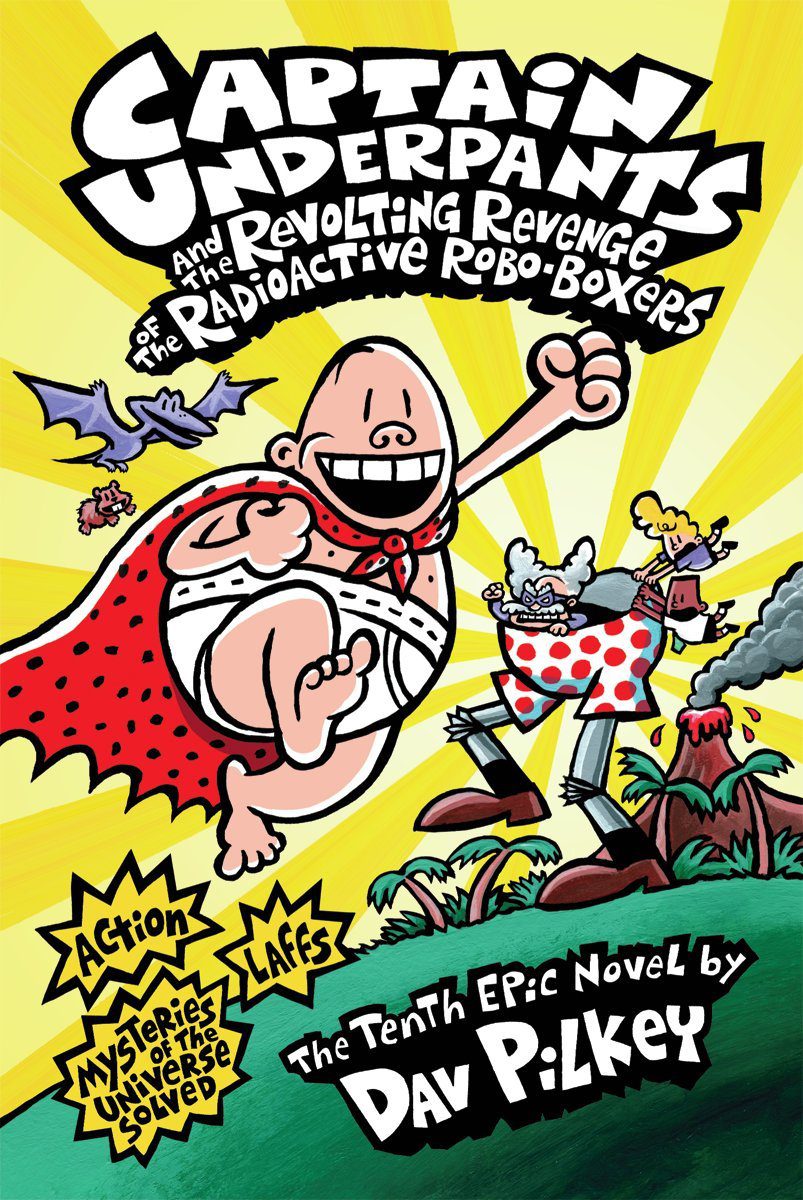 10. Captain Underpants and the Revolting Revenge of the Radioactive Robo-Boxers
When we last saw our heroes, George and Harold, they had been turned into evil zombie nerds doomed to roam a devastated, post-apocalyptic planet for all eternity.
But why, might you ask, didn't the amazing Captain Underpants save the boys from this frightening fate? Because Tippy Tinkletrousers and his time-traveling hijinks prevented George and Harold from creating Captain Underpants in the first place! Now, having changed the course of human history forever, they'll have to figure out a way to change it back!
---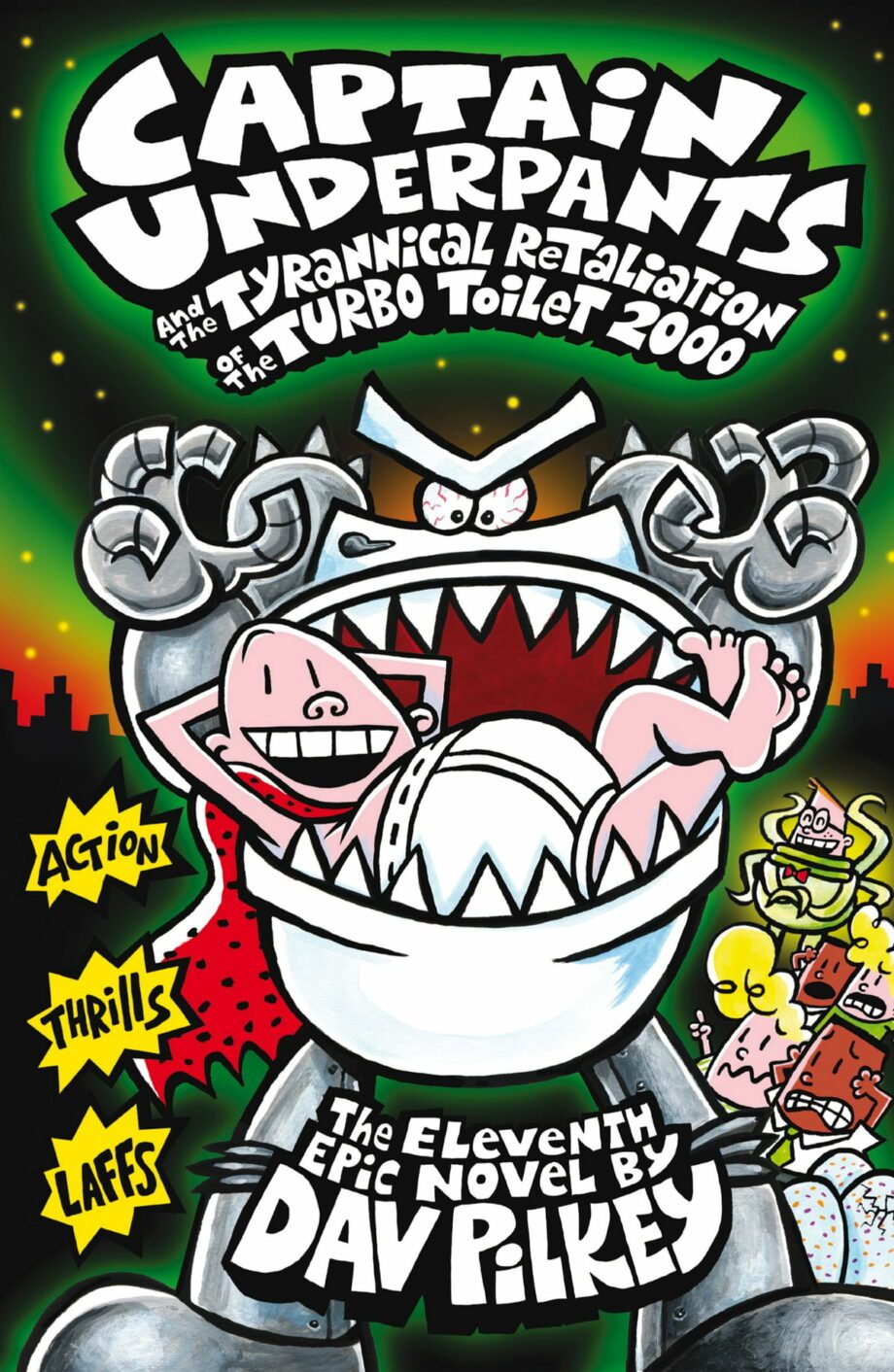 11. Captain Underpants and the Tyrannical Retaliation of the Turbo Toilet 2000
When the Incredible Robo-Plunger defeated the evil Turbo Toilet 2000, George and Harold thought their toilet troubles were over. Unfortunately, their porcelain problems were only beginning…
Just when you thought it was safe to flush… The Turbo Toilet 2000 strikes back! The carnivorous commode known for devouring everything in its path has built up a real appetite…for revenge!
Join Captain Underpants for another epic showdown of Wedgie Power vs. Potty Power as our tighty-whitey-wearing superhero goes to eleven!
---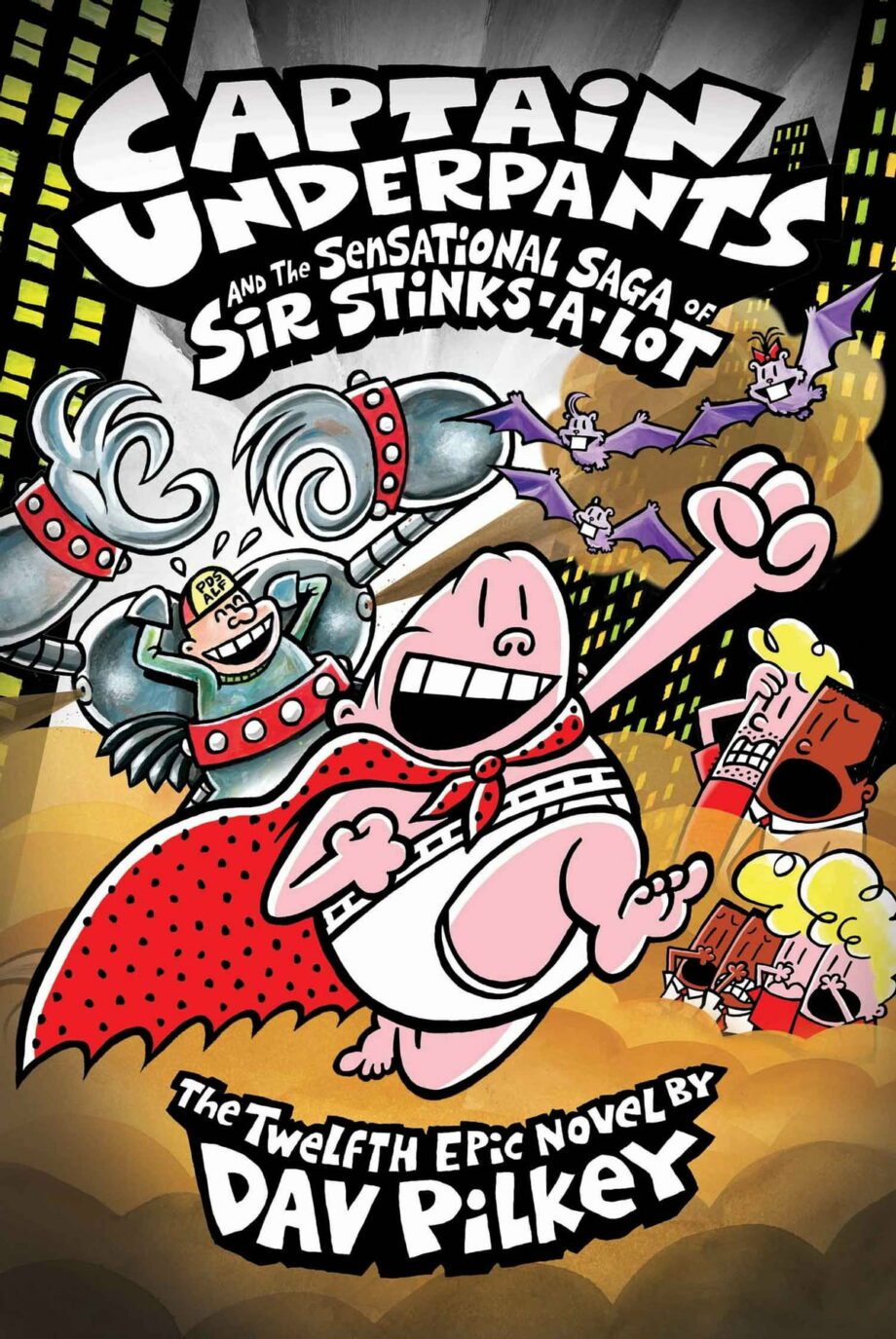 12. Captain Underpants and the Sensational Saga of Sir Stinks-A-Lot
George and Harold, and their doubles, Yesterday George and Yesterday Harold, have a good thing going. Two of them go to school, while the other two hide in the tree house and play video games all day — then they switch!
But it turns out there's something rotten in the state of Ohio, and it's smellier than a pile of putrid gym socks. The boys' malicious gym teacher, Mr. Meaner, has created a method of mind control that transforms their fellow students into attentive, obedient, perfect children.
Now the future of all humanity is in George and Harold and Yesterday George and Yesterday Harold's hands!
---
Final thoughts on Captain Underpants books in order
Dav Pilkey's hilarious world is, as Scholastic recommends, perfect for emerging readers. While Pilkey celebrates the triumph of the good-hearted and other positive themes, he does so in an approachable, laugh-out-loud funny way.
Looking for more books in order?
Check out this list of the Diary of a Wimpy Kid books in order.