Where Dreams Descend by Janella Angeles is the first book I've DNF'd (Did not finish) in a long, long time.
I was gifted an ARC of Where Dreams Descend from NetGalley, so thank you to Wednesday Books and Macmillan for the opportunity to read and review this book.
Let's hope straight to the review.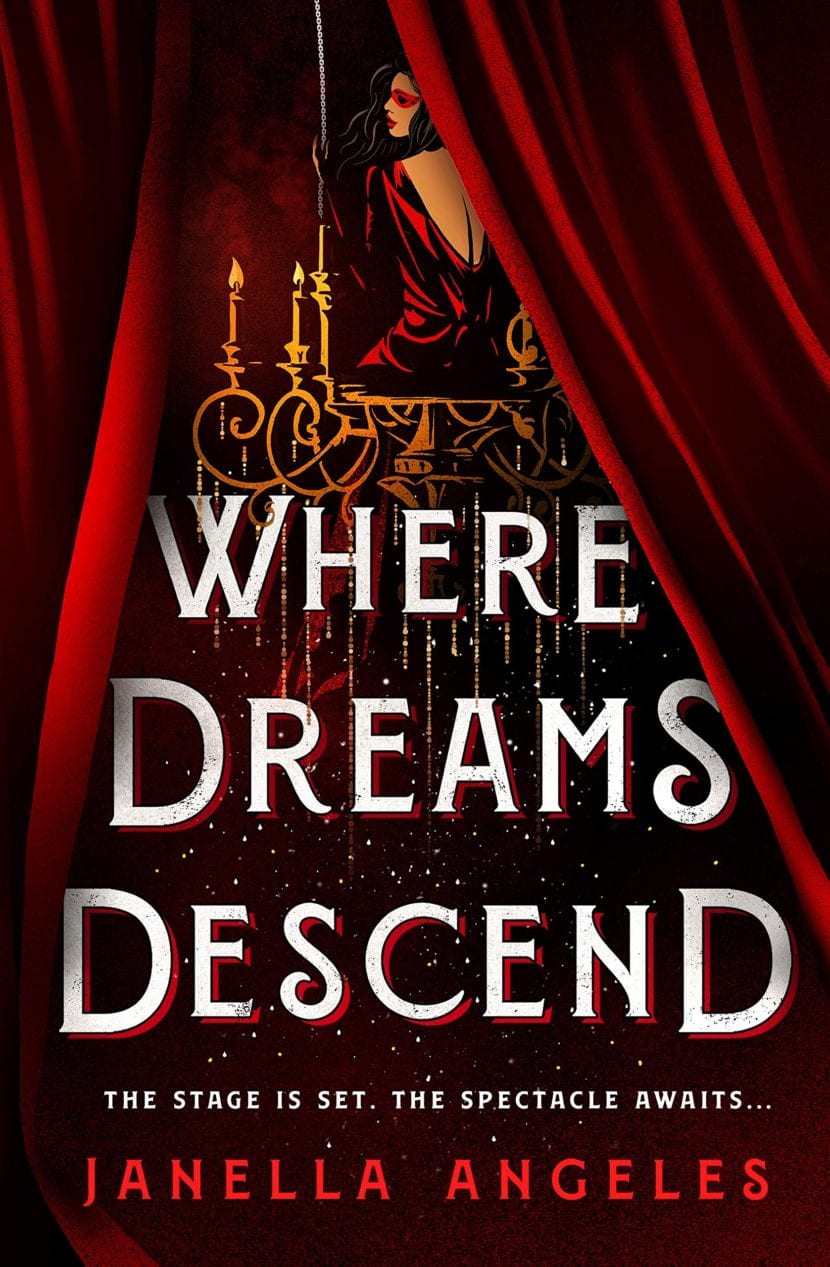 Where Dreams Descend Review
Let's talk about what Where Dreams Descend gets right.
Take a look at that cover. It's gorgeous is it not? In fact, it's one of the reason I looked at this book in the first place.
Then read the blurb.
A group of magicians face off in a daring game of magical feats.
Oh my gosh, doesn't this sound amazing?
I love a good competition book. It's why I applied for an ARC of Where Dreams Descend.
The Star: Kallia, a powerful showgirl out to prove she's the best no matter the cost.
The Master: Jack, the enigmatic keeper of the club, and more than one lie told
The Magician: Demarco, the brooding judge with a dark past he can no longer hide.
The three heroes of the story sound powerful, amazing, and a little mysterious don't they? The more I read the blurb, the more and more excited I got!
Let's look at the part that sealed it for me:
Where Dreams Descend is the startling and romantic first book in Janella Angeles' debut Kingdom of Cards fantasy duology where magic is both celebrated and feared, and no heart is left unscathed.
Startling and romantic?
I'm in.
The problem?
Everything I was excited about above was near non-existent and left me really really disappointed.
Allow me to explain step by step.
Magician Competition
First, the competition.
There is a competition. But Where Dreams Descend is a LONG book. My kindle estimated 9 1/2 hours to read (typical book is 7 hours).
The first level of the competition didn't even hit until the 35% mark, a full 3 1/2 hours into the story.
Some of the most agonizing 3 1/2 hours I've ever read.
And when the competition finally rolled around?
Boy was it disappointing.
Kallia takes the whole competition with ease. The rest of the magicians are shams or birthday party level at best. The author glosses over every single competitor as boring.
Then Kallia takes the stage and she ignores all the requirements and pulls out a showstopping performance, which was interesting, but just not what I was looking for.
I was looking for equally talented, if not more talented competitors that force Kallia to get crafty and use whit to outsmart them. But nope. Kallia is OP (overpowered) and wholly uninteresting because of it.
From what I can see of the story and where it's going, the book isn't about the competition at all, despite the blurb misleading me to believe it is.
Three Powerful Characters
Kallia is about what you'd expect from reading the blurb. She's the primary character who this story revolves around.
She's beautiful, witty, and powerful.
But the other two. smh.
Remember, I didn't finish Where Dreams Descend, so I'm sure there's more too them, but I don't have the patience to find out.
I thought Jack was going to be super interesting at first.
Kallia is basically held prisoner by Jack in the first 5 chapters of the book. She tries to escape and he recaptures her and steals her memories so she doesn't remember trying to escape.
Then he crafts believable illusions. Full on people that care for and teach Kallia. But they aren't real, none of her meaningful friendships are real, because they're fake people.
Now doesn't this sound like an interesting situation? I was so intrigued.
But Kallia escapes on her second attempt and Jack doesn't pursue her. Which I felt was pretty lame.
For the next 15 chapters, Jack is non-existent in the story. That's where I quit reading.
Demarco has the makings of an interesting character, but the story was simply progressing far too slowly.
The scenes are wordy and drawn out.
I just couldn't take it anymore. We weren't moving fast enough, and there seems to be little point to the story. The one thing I was holding out for (the competition) was a huge let down, so I gave up.
Mystery and Romance
I love a good surprising plot line and an interesting romance subplot.
Unfortunately, at 35% into the story, Where Dreams Descend hinted at neither.
There's plenty of unanswered questions of course, but I have no desire to find out the answers. There's nothing pulling me into this story. Nothing compelling me to hang in there and keep reading.
It's taken me six days. SIX DAYS to get to 35%. By comparison, I can read a book in 3 days average.
I just can't devote any more of my precious reading time to a book that is wholly uninteresting.
Final Thoughts
The true story in Where Dreams Descend seems to be wrapped around the city Glorian.
Why is it isolated in the middle of an enchanted wood that does everything it can to steer people away? Why is it cold and icy? Why is it basically a dead town, but people still live there? What is this circus? Why are magicians disappearing? And what does Jack have to do with all of this? What's up with Demarco and his past and is it related to Glorian?
Where Dreams Descend is NOT about a magical competition and it is NOT about Kallia growing into her powers and showing the world a female can be a magician.
Both were my highest expectations for this book, and both fell far below what I wanted.
As with all books I DNF, I'll not provide a star rating.
Where Dreams Descend is touted as a book similar to Phantom of the Opera or Moulin Rouge!
If you like either of those movies, you may enjoy Where Dreams Descend.
Looking for more reviews?
Check out my review of House of Earth and Blood (Crescent City) by Sarah J. Maas.