The Skaar Invasion is the second book in the Fall of Shannara series by Terry Brooks.
If you haven't read Book 1, The Black Elfstone, I'd recommend you check out my review of that first.
I absolutely love the covers for all of the books in this series. It's what initially drew my attention to The Fall of Shannara, even though I hadn't read any of the previous books.
It wasn't until I read The Skaar Invasion that I realized the character on the cover is Ajin, the Skaar Princess. This isn't apparent in the first book, but it definitely is by the second.
In fact, Ajin is by far my favorite character in this whole series. More on that later.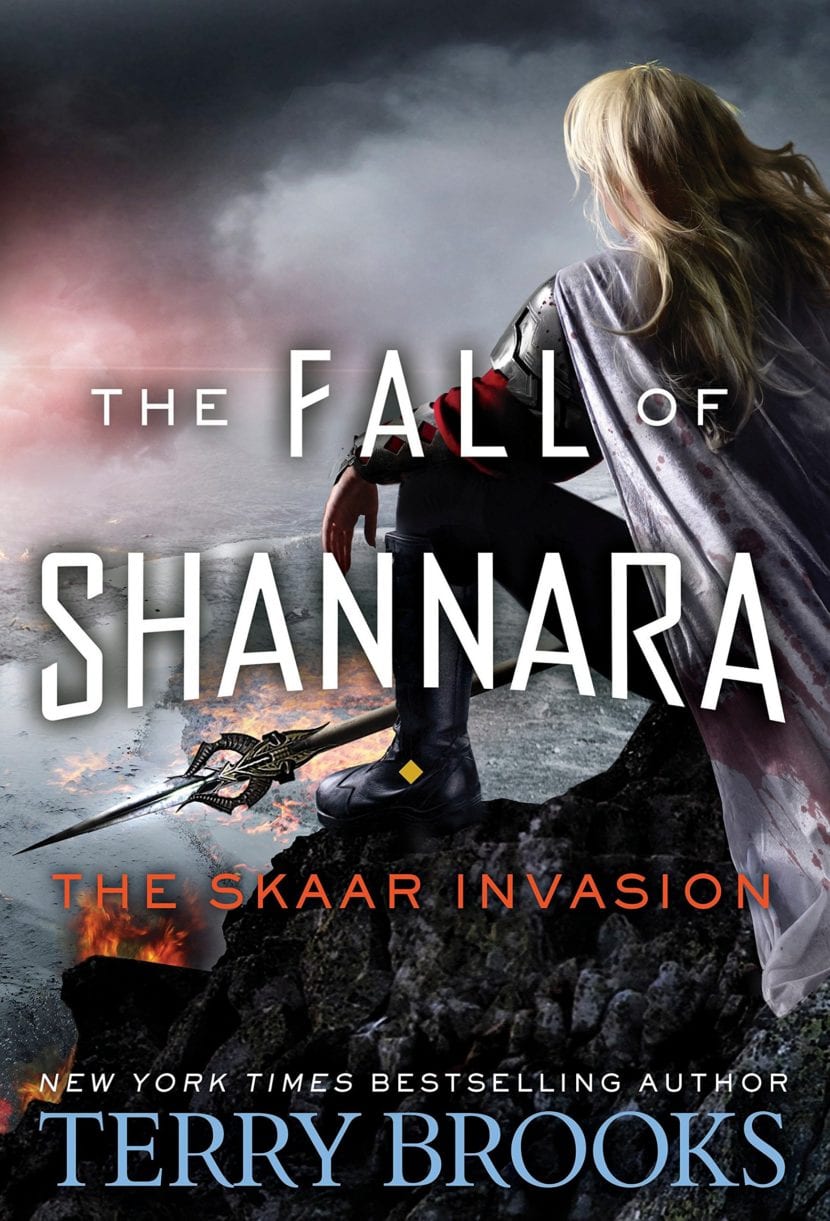 Review of The Skaar Invasion
The Skaar Invasion's story picks up right where we left off in the last book. In fact, seconds later, which I always appreciate in sequels. I tend to feel like I'm missing out on the story if we skip a few weeks or months into the future.
A lot of the burning questions that I had at the end of The Black Elfstone were answered immediately within the opening pages of The Skaar Invasion, namely who is the white cloaked figure and what are these invaders about?
We get a rather bland summary of Ajin and her history straight from her mouth as she explains it to Dar Leah. Why she explains it is a bit of an enigma to me. The evil, nefarious bad guy always seems to wax eloquent and reveal all their plans and motivations to the unwitting hero.
As we come to find out, though, Ajin is actually not as bad as we were led to believe in the last book. To be quite honest, I have come to view Ajin as the hero, or maybe an anti-hero, but certainly not the villain in this story.
The Characters
The Skaar Invasion continues to follow Tarsha and Tavo and there are a few confrontations in this book that make things interesting. Clizia Porse makes sure of that.
We also follow Drisker Arc, though his story is a bit lackluster and he disappears from the pages of the book for a majority of it. He's certainly there, but we don't see him as often as I would have liked since he's trapped in the disappeared Paranor.
We meet a new character, Brecon, he's an elf prince and friend to Dar Leah. Together, they set out to find Tarsha, who was last off searching for her brother. There's an interesting dynamic between these two and I really enjoyed all the scenes with them.
Surprisingly, we also got another new, yet familiar, POV character in The Skaar Invasion. Young street rat, Shea Ohmsford who bears the name of the greatest wishsong magic user of all time gets his own storyline.
I am going to come right out and say it, I didn't like Shea's POV. I didn't like anything to do with his storyline working with a gambling rebel set on taking down the Federation. I read enough of it to know what's going on, but really skipped a lot of it because I just found it uninteresting.
By far my favorite POV character was Ajin. I soaked up her storyline and wished I could have a whole book just about Ajin and her rise to power in the Skaar army.
The short of it is that she's a disowned princess who fought and clawed her way to the top of the military and she's trying to win back her father's approval and find a suitable new place to live for her people.
We aren't told much about why the homeland of the Skaar people is disappearing, but they are dying. They need a new place to live and that's the realm of the Four Lands.
Ajin's motivations are admirable, and in fact the backstory for her is more twisted and convoluted than I could have imagined and I look forward to seeing how it develops in the next book.
I should have been rooting for the defenders of the Four Lands, but instead I found myself happy when the Skaar people annihilated army after army.
Of course, I still feel a soft spot for Dar, Tarsha, and Drisker, but I am hoping that they come to align with the Skaar in fighting against what appears to be a corrupt Federation and that they will also help her gain the recognition that she desires from her father.
Brooks hinted at a possible relationship between Dar Leah and Ajin as well, of which I hope it will come to fruition.
Overall Thoughts
I think The Skaar Invasion was much better than The Black Elfstone. That could be just because I was able to jump right in without having to learn a new world. It might also be because Brooks skipped all the boring worldbuilding details since we literally are just continuing right where The Black Elftstone left off.
At the same time, there were a few added storylines in this book that I just didn't care for, namely Shea and any time we saw The Federation's side of the conflict with the Skaar.
I wished I had gotten a bit more Drisker, but Brooks more than made up for it by giving me an Ajin POV.
I'm also not a bit fan of cliffhanger endings, of which there is one in the Skaar Invasion. The only saving grace is that I already have an ARC of the next book and can begin right away.
The Black Elfstone ended with a bit of a resolution. Still unanswered questions, but not a whole lot left in limbo, besides Drisker being stuck. Yet The Skaar Invasion will have you yelling "No!" when you read that last line because it is a literal drop off that desperately leaves you wanting to know more.
For those who enjoy cliffhangers, you'll love it!
Conclusion
I give The Skaar Invasion a 4/5
Those who enjoyed The Black Elfstone, will also love The Skaar Invasion. It ramps the story up and I eagerly await the next installment, The Stiehl Assassin.
Update: My review of The Stiehl Assassin is live.
Interested in more reviews? Check out my review of The City of Brass by S.A. Chakraborty.