Are you a thriller enthusiast intrigued by the process of solving a mysterious crime or murder case? Robert Galbraith's books in the Cormoran Strike series will run your fantasy wild. The series centers on solving enthralling crime cases by detective strike and his colleague Robin Ellacott. But what's the best way to read the Robert Galbraith books in order?
Below we'll show you what order to read the Cormoran Strike books and share a brief summary of each book.
Robert Galbraith Books in Order of Publication
Cormoran Strike TV Adaptations
BBC announced adapting Galbraith's Strike Series for TV in 2016. Tom Burke and Holliday Grainger are the casts for the series as Strike, and Robin respectively. The TV series premiered on August 2017. HBO confirmed it to distribute in Canada and USA.
The first books in the series, The Cuckoo's Calling, The Silkworm, and Career of Evil, are adapted for TV, with Lethal White and Troubled Blood to be produced soon.
Adapting Cuckoo's Calling from a book to a television program, Ben Richards strives to balance maintaining the authenticity of Galbraith's story with the ridiculous standards of the genre. The Strike character is portrayed as not disgusting yet shelved to achieve grubby decency. Tom Edges adopted The Silkworm, Career of Evil, and Lethal White.
Who is Robert Galbraith?
Potterheads (fans of Harry Potter) and book readers everywhere are well aware of the series' world-renowned author, J.K. Rowling. But did you know that Robert Galbraith is a penname for none other than Rowling herself?
So the obvious question becomes, why did J.K. Rowling write as Robert Galbraith instead of herself? As you might already suspect, the answer is that she didn't want the pressure of writing as Rowling. With the wide-spread success of Harry Potter, certain expectations are placed upon Rowling for any book she publishes.
The ability to write something new and different without the hype of her name allowed her to remove stress from the process of writing a novel. Of course, Galbraith's identity didn't stay secret for long or we still wouldn't know about it today.
Rowling's first novel, Harry Potter and the Philosopher's Stone, was published in 1997. J.K. Rowling did not publish any books for adults until she published The Casual Vacancy in 2011 under her own name which was received with mixed reactions.
Hence why later in 2013, she published her first book as Robert Galbraith, The Cuckoo's Calling.
Her books have been adapted for TV, translated into many languages, and won numerous awards and honors. Her fifth book in the Comoran Strike series, Troubled Blood, got the Book of the Year Award in the British Book Awards, Crime and Fiction category.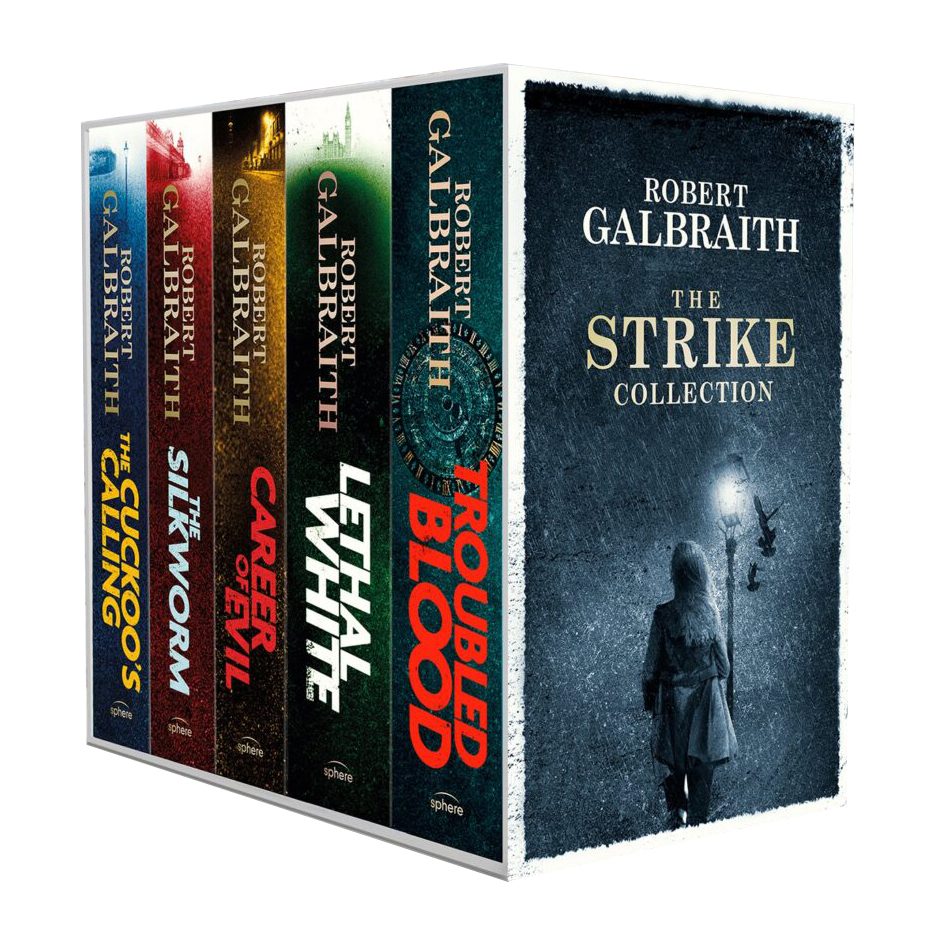 Cormoran Strike Series Summary by Robert Galbraith
For those who love crime fiction, the Cormoran Strike novel series will keep you entertained throughout. The story revolves around detective Cormoran Strike. He is a retired military soldier who is broke and wounded when he starts a PI company.
He works closely with his assistant, Robin, later to become his partner in the series. They solve mysterious crime cases that not only lead to more danger but also challenge his boundaries.
Besides investigating mysterious criminal cases, the story also revolves around his love life. Although his partner is gorgeous and develops strong feelings for him, Cormoran continues to engage in meaningless relationships. On top of this, he experiences family issues seeing that he is the illegitimate son of a rock star.
His journey dealing with dangerous crime cases, spiced by his challenging life, engages the reader throughout the books.
In total, five books are in the series so far. All of them were straightaway successes and accommodated by HBO and BBC for TV.
Summary of Robert Galbraith Books in Order
1. The Cuckoo's Calling
Published in 2013, The Cuckoo's Calling was Rowling's first mystery novel. In it, Cormoran Strike investigates the death of a supermodel. Ruled a suicide by police, her brother doesn't believe it and hires Strike to prove otherwise.
---
2. The Silkworm
The Silkworm is Book 2 in the Cormoran Strike series. Strike's newest case is to find a novelist that has disappeared, Owen Quine. Quine's wife hires Strike because she wants her husband to come home, but she just suspects he's off on his own as he is wont to do.
Soon, Owen's body is discovered and it's revealed latest book is about people he knew, each with a motive for murder to prevent the book from going public. Can Strike uncover the true killer?
---
3. Career of Evil
Cormoran Strike receives a mysterious package in Galbraith's third book, Career of Evil, and it contains a severed leg.
Its content is a human being's severed leg. Strike suspects four people from his past could be involved. While the police focus on one particular person whom Strike has already ruled out, he must take matters into his own hands before time runs out on his own life.
---
4. Lethal White
Lethal White is Book 4 in the Cormoran Strike series by Robert Galbraith. A troubled and mentally distressed young man named Billy asks Strike to investigate a crime he witnessed as a child. But when Billy mysteriously bolts from his office, Strike is led on a journey that leads to the dirty secrets of Parliament.
---
5. Troubled Blood
In Troubled Blood, the fifth book of the Cormoran Strike series, Strike is tasked with another cold case. While visiting his family, a woman approaches him and asks him to find her mother who disappeared 40 years ago. As the case unfolds, Strike finds himself up against a serial killer and untrustworthy witnesses.
---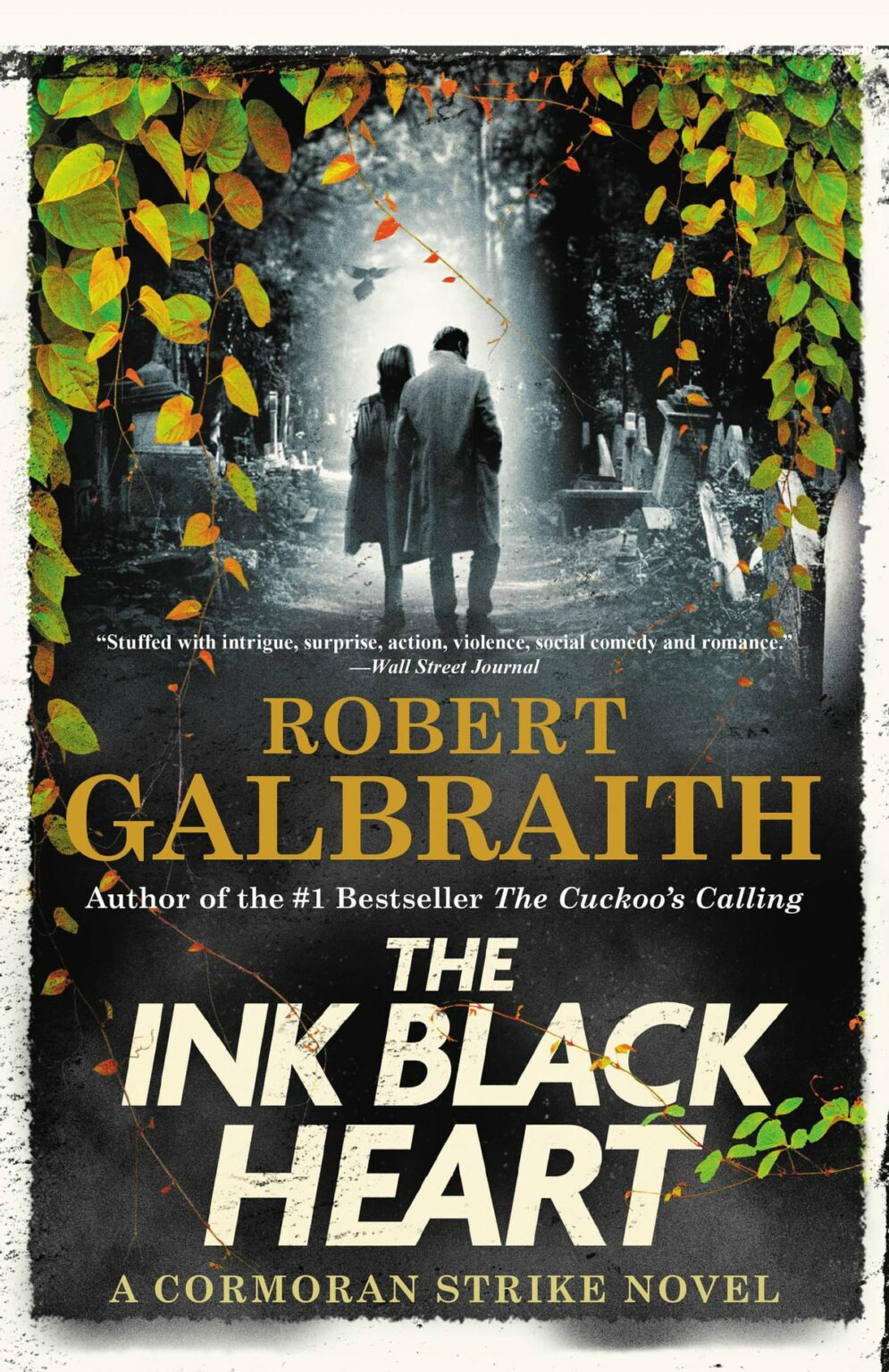 6. The Ink Black Heart
In The Ink Black Heart, Robin, Strike's partner, is approached by a man who claims he's being harassed online by one of his followers. Robin, believing there is nothing they can do, brushes him off until days later when she's reading the paper and discovers the man has been murdered.
Now it's up to her and Strike to determine the identity of the mysterious online stalker and bring him to justice.
---
Have you read the Robert Galbraith books in order? What did you think? Which of the books are your favorite?
Looking for more books in order?
Check out my list of Jack Reacher books in order.