While the Broken Earth books by N.K. Jemisin are a relatively new trilogy published within the last decade, it has the markings of a modern classic. It is not Jemisin's debut, but it is the series that brought Jemisin onto the international stage with many accolades.
Jemisin was the first author to win the Hugo Award for Best Novel in three consecutive years for each novel in her Broken Earth trilogy. She also became the first author to win a Hugo Award for each book in a trilogy with the series. The final book in the trilogy, The Stone Sky, also won the Locus and Nebula awards.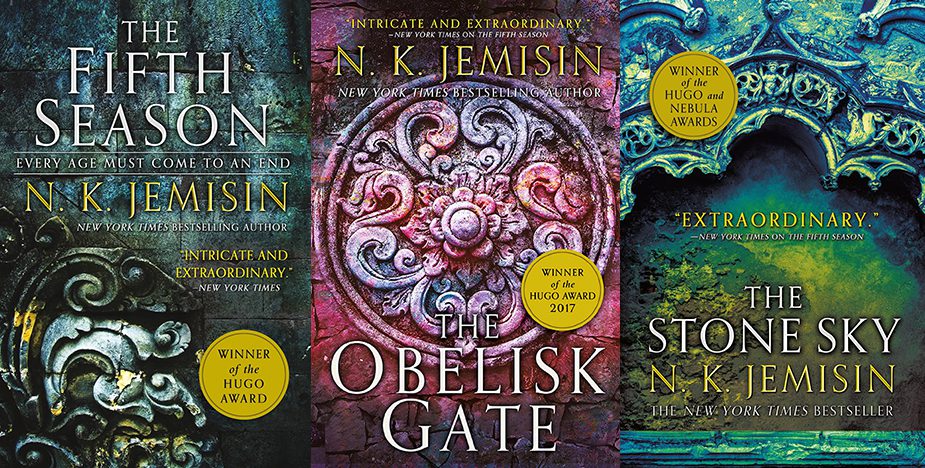 The Broken Earth Books in Order of Publication
The story of the Broken Earth trilogy opens with the world ending. But this is not the first time the world has ended. However as it ends this time, citizens are murdered to satiate a madman's vengeance and the earth splits open spewing ash as a mother embarks on a relentless search to save her daughter.
In this trilogy N.K. Jemisin blends both fantasy and science fiction in a post-apocalyptic world in which a form of magic exists. She incorporates themes of survival and desperation with the complicated bond between mother and child. It is necessary to read these books in order of publication.
The Fifth Season (2015)
The Obelisk Gate (2016)
The Stone Sky (2017)
Short Story
In addition to the trilogy above, N.K. Jemisin has also written one short story which takes place within the same world as Broken Earth. This predates the publication of the trilogy, so you can choose to read it before The Fifth Season if you wish.
If you enjoy short stories, you will appreciate this one for the way it reveals more about the Stone Eaters that are a part of Jemisin's world.
Stone Hunger (2014)
If you'd like to read more great science fiction books, check out our recommendations for the Best Post Apocalyptic Books.