The Crescent City books are the third series by Sarah J. Maas. All of her books take place in the same world, so there are references and world-building that take place across the multiple series.
As Maas publishes more novels, this interconnectedness is becoming more apparent, which means there are now multiple ways that you can enjoy these books.
Crescent City in Publication Order
The most straight-forward way to enjoy reading the Crescent City books is, of course, reading the series in publication order. This will introduce you to Bryce Quinlan, who will do anything to avenge the death of her friends. Her vengeance has led Hunt Athalar, a Fallen angel, into her orbit and set them both on the path to freedom.
House of Earth and Blood (2020)
House of Sky and Breath (2022)
House of Flame and Shadow (Expected: January 30, 2024)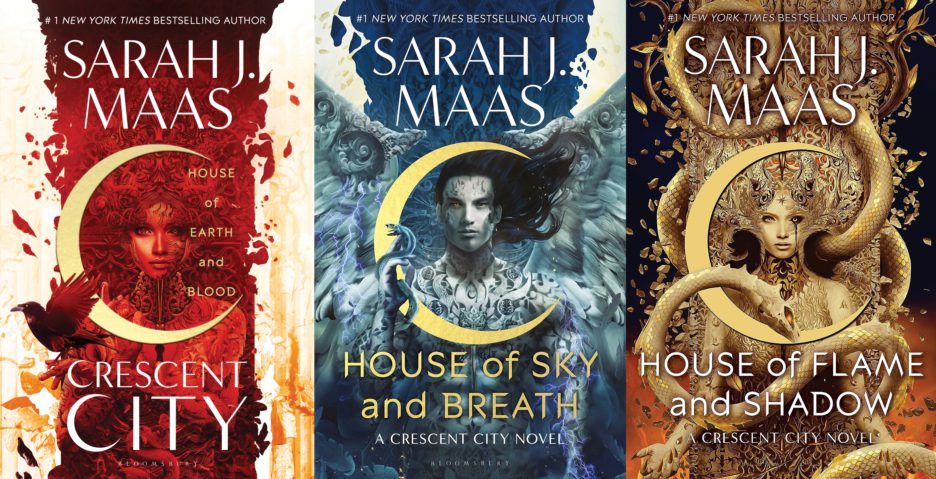 Chronological Order of Maas's Books
With the conclusion of House of Sky and Breath, Sarah J. Maas introduced a crossover event with A Court of Thorns and Roses.
It's too early to provide more details as we're awaiting the anticipated release of House of Flame and Shadow. But if you wish to understand more about the characters that Bryce meets at the end of Book 2 and who likely will play a larger role in Book 3, then it would benefit you to read A Court of Thrones and Roses.
Below is a list of all ACOTAR and Crescent City books in chronological order.
A Court of Thorns and Roses (ACOTAR 1)
A Court of Mist and Fury (ACOTAR 2)
A Court of Wings and Ruin (ACOTAR 3)
A Court of Frost and Starlight (Novella)
A Court of Silver Flames (ACOTAR 4)
House of Earth and Blood (Crescent City 1)
House of Sky and Breath (CC 2)
House of Flame and Shadow (CC 3)
Untitled ACOTAR #5
Untitled ACOTAR #6
Untitled ACOTAR #6.5
If you would like to learn more about the shared universe of these books, check out our dedicated Sarah J. Maas Books in Order article.